Introduction to Oyaki
Oyaki is a Japanese dumpling stuffed with seasoned vegetables, fruits, and even anko bean paste. It is a local dish of Nagano prefecture and locals wrapped different ingredients in wheat flour and buckwheat flour and baked. It is soul food that locals from Nagano prefecture ate for a long time and it is within their culture. Nagano prefecture is one of Japan's true food bowls. It is a region of dramatic mountains and bountiful farmlands and they produce some of Japan's best fruit, vegetables, meat, and rice. That's why the prefecture's specialty is kind of related to it. Now,  I will guide you through one of their specialty – Oyaki. 
Etymology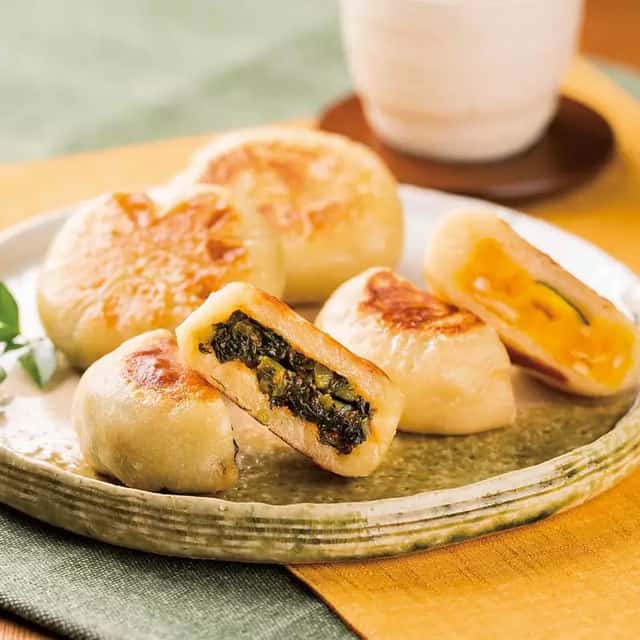 Oyaki in the past are often grilled or steamed, depending on local and personal tastes. So the name given to it relates to that. The "yaki (やき)" of the name oyaki (おやき) means "to grill," since they were originally simply grilled on an open hearth. 
What is Oyaki?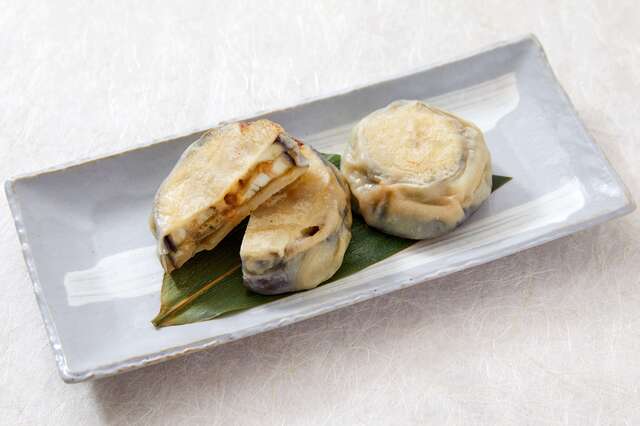 Oyaki (おやき) is a traditional Japanese food from Nagano made by dissolving wheat flour, buckwheat flour, etc. in water then kneading it. Locals usually wrap it with bean paste, vegetables, etc. and thinly spread the dough, and bake it. Oyaki is usually made at home to enjoy as either a meal or a snack. Ingredients and preparations may differ widely, but whatever its form, the flavors of the humble oyaki are straightforward, best characterized by fresh local pickles, eggplant, mushroom, pumpkin, and other local produce. This food is handed down to each household as a substitute for rice in the winter. In addition, they made it as an offering in front of Buddha on August 14 every year in Obon.
History of Oyaki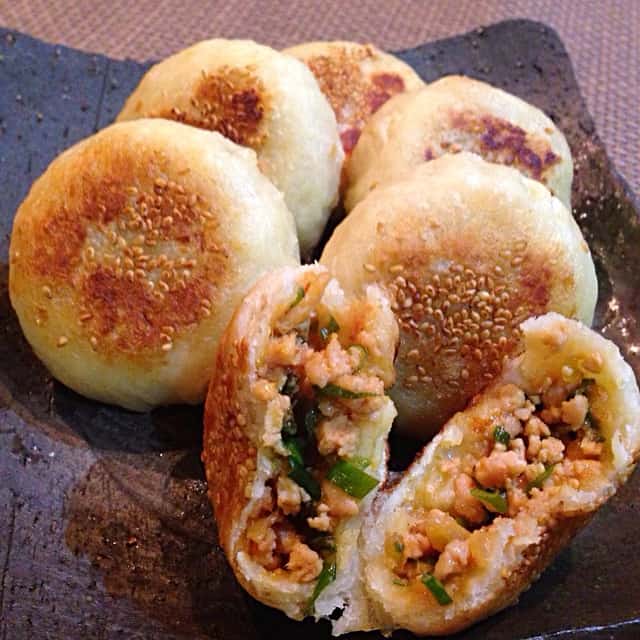 Oyaki was and is comfort food. Traditionally families would sit around an open griddle and eat together on a cold snowy night. It is a specialty of the Nagano region, and Nozawa Onsen is close by. You can even go and see the snow monkeys of Japan which are also close by too just as an aside. Nagano Prefecture's steep mountains and cold climate made rice cultivation difficult and produced poor yields in pre-industrial Japan. Farmers in Nagano turned to buckwheat or soba instead. This flour was then mixed with water and filled with local wild vegetables and often seasoned with soy sauce and salt and hence we get oyaki, steamed dumplings, or steamed buns if you will. 
Oyaki Recipe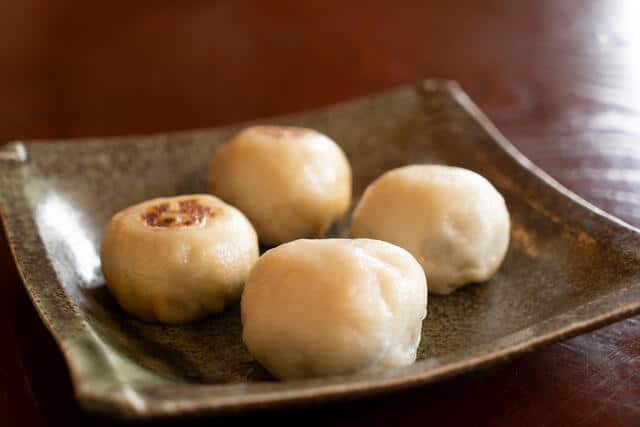 Oyaki Ingredients
| | |
| --- | --- |
| Ingredients for oyaki dough (6 servings) | |
| cake flour | 75g |
| Strong flour | 75g |
| salt | 1g |
| Hot water | 150g |
| water | 100g |
| | |
| --- | --- |
| Ingredients for bean paste (Nozawana) | |
| Nozawana (pickles) | 60g |
| Fried tofu | 100g |
| Minced pork | 30g |
| Sesame oil | 4g |
| Dark soy sauce | 4g |
| sugar | 2g |
| sake | 4g |
| | |
| --- | --- |
| Ingredients for bean paste (pumpkin) | |
| pumpkin | 65g |
| Salad oil | 2g |
| water | 100g |
| Dark soy sauce | 8g |
| sugar | 2g |
| sake | 4g |
| | |
| | |
| --- | --- |
| Ingredients for bean paste (dried daikon) | |
| Kiriboshi daikon (dried) | 15 g |
| carrot | 30g |
| Fried tofu | 100g |
| water | 150g |
| Japanese-style granules | 1g |
| Dark soy sauce | 8g |
| sugar | 2g |
| sweet sake | 4g |
| salt | 1g |
How to make Oyaki?
Oyaki dough procedure
Making dough
Put salt, cake flour and strong flour in a bowl and mix well. While adding boiling water, mix with chopsticks until it becomes a lump to some extent. When the whole thing is mixed, put it together by hand.
Cutting the dough into parts
When the dough becomes smooth, let it sit for 30 minutes. Cut into 6 equal parts in a stick shape. Dust it and spread it to a diameter of about 10 cm.
Bean paste procedure (Nozawana)
Preparing tofu
Drain the fried tofu and cut it into diced pieces.
Frying pork and other ingredients
Heat sesame oil in a frying pan, add minced pork and pickled Nozawana and fry. After lightly frying, add fried tofu and all seasonings and fry to remove the juice.
Bean paste procedure (pumpkin)
Preparing and removing pumpkin seeds
Remove the pumpkin seeds and cut them into bite-sized pieces.
Seasoning and frying pumpkin
Heat the vegetable oil in a pan, add the pumpkin from 1 and fry to blend. Add water and seasonings, bring to a boil, reduce to medium heat, cover, and simmer. Boil it so that it doesn't burn until the juice is gone.
Crush the pumpkin
Roughly crush them and let them cool.
Bean paste procedure (dried daikon radish)
Soaking dried daikon
Soak the dried daikon in water and put it back. After returning it, wash it well with running water and squeeze it well.
Julienne carrots
Peel the carrots and cut them into julienne, and for the fried tofu, drain the oil and cut into thin strips.
Frying all ingredients
Heat sesame oil in a pan, add 1 dried daikon radish, and fry, and when the oil is heated, add more carrots and fry.
Adding other seasonings
Add the fried tofu, soup stock, and other seasonings cut into half and mix. When it boils, cover it with a lid and simmer over low heat for about 20 minutes.
Wrapping-baking procedure
Shaping the oyaki
Roll each oyaki ingredient into a shape that is easy to wrap. Lift the dough in the middle so that the surroundings are deflated, and close the side.
Frying the oyaki
Arrange the oyaki in a frying pan heated on low heat. Turn over the dough in order from the one with the burnt texture on high heat.
Steam over medium heat and serve
Add 100 ml of water to the frying pan, cover, and steam over medium heat for 7 minutes. Then, serve it.
Common Ingredients of Oyaki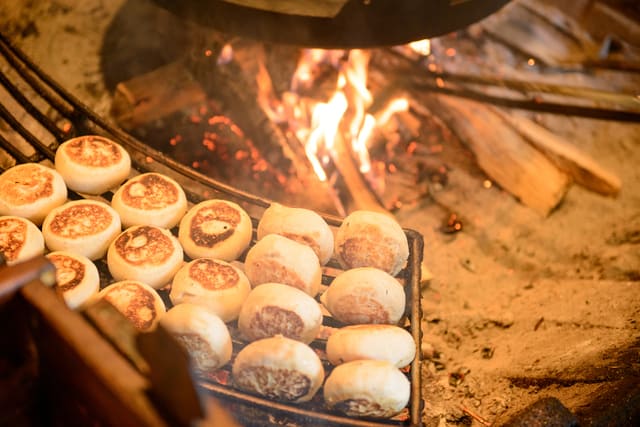 Nozawana
This is Oyaki stuffed with pickled mustard green inside.
Eggplant
Locals generally used round eggplant instead of the general thin eggplant because it does not easily crumble and has a good texture.
Mushrooms
Japanese uses both dried and raw shiitake mushrooms so that they can enjoy the overflowing taste of dried shiitake mushrooms and the chewy texture of raw shiitake mushrooms at the same time.
Pumpkin
They used ripened pumpkin so that the starch in the fruit turns into sugar, and the sweet flavor that comes out of the nose becomes very strong.
Vegetables
Mainly locals packed it with lots of vegetables seasoned with Shinano miso and boiled well.
Are dumplings common in Japan?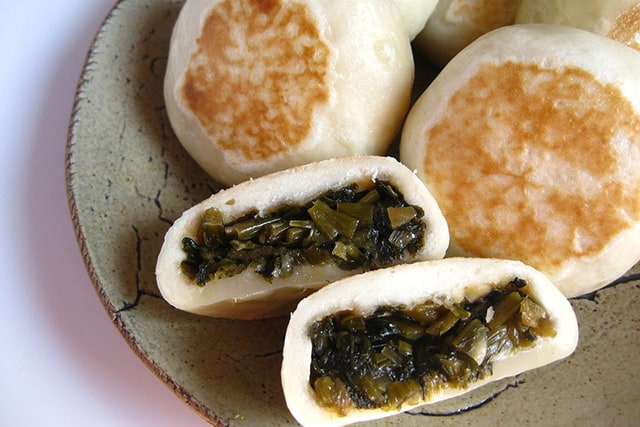 Yes, dumplings are very common in Japan and Japanese restaurants. Japanese dumplings are called Gyoza. It is the equivalent of a variety of Chinese dumplings called Guo tie.
Why are dumplings popular in Japan?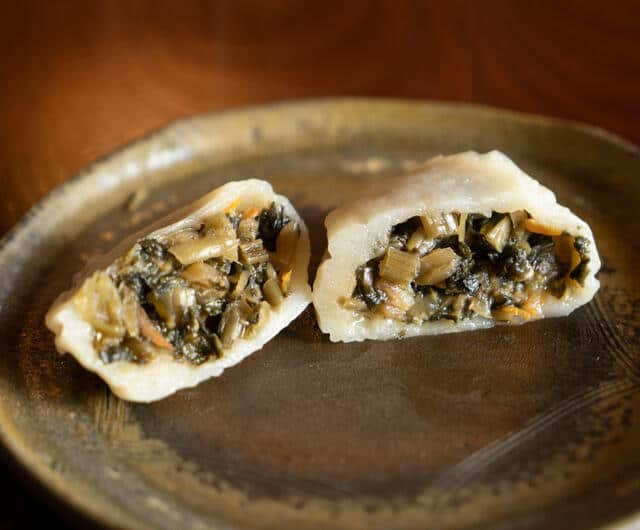 While Japanese has eaten dumplings as far back as the Edo period, they became truly popular following World War II, when Japanese soldiers returned home from Manchuria and brought back with them an appetite for crispy Chinese dumplings and plenty of tasty recipes.
Are dumplings healthy for the body?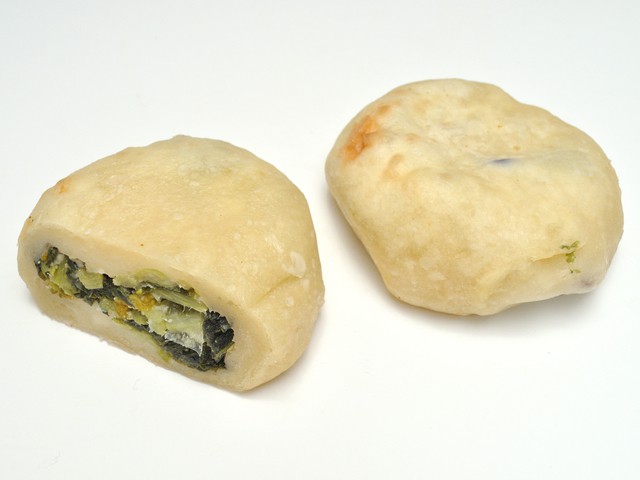 Dumplings are usually very healthy as they hold lots of whole ingredients which can offer a large variety of different micronutrients. However, there is a poor balance of macronutrients as most of the calories will be coming from carbs and fats.
Recommended Oyaki Restaurants
Irohado Main Store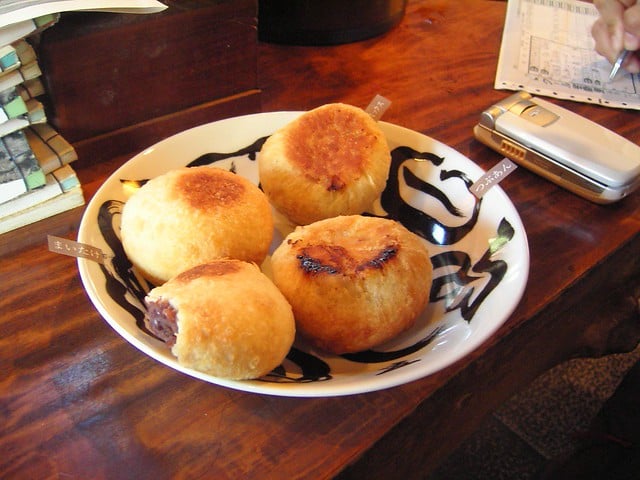 The store serves 7 standard types of Oyaki. Such as Nozawana, green onion miso, dried daikon radish, and red bean paste. Depending on the season, oyaki with plenty of seasonal flavors such as wild plants and mushrooms are also available. Irohado Main Store uses a dough – a mixture of wheat flour and buckwheat flour, stuff it with plenty of ingredients, fry it, and then bake it. With this unique manufacturing method, the outside is brown and the inside is chewy.
Irorido Suwako SA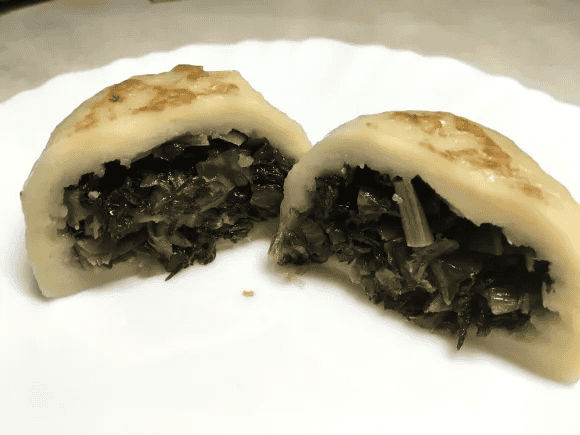 You can enjoy in this restaurant 10 kinds of oyaki. Such as venison oyaki using venison from Shinshu, Shinshu beef, red bean paste, pumpkin, eggplant, vegetable mix, creamy cheese with Western-style mushrooms, and spicy miso meat eggplant. Customers are satisfied with the thin dough which is filled with ingredients.
Nishizawa Mochiya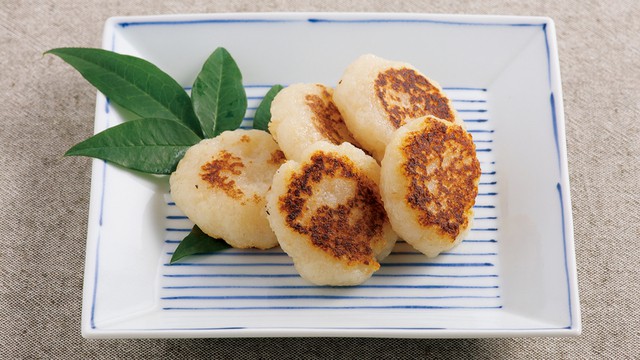 "Nishizawa Mochiya" has been keeping its simple taste without using chemical seasonings and preservatives since its establishment in 1952. They serve 21 kinds of Oyaki ingredients. Such as eggplant, nozawana, pumpkin, garlic chives, walnuts, edible wild plants, burdock, corn, red bean paste, broad beans, uguisu, and sweet potatoes. These include rare Oyaki such as miso-flavored corn, sweet and sour-flavored apples, and chestnut oyaki with a whole chestnut.
Azumido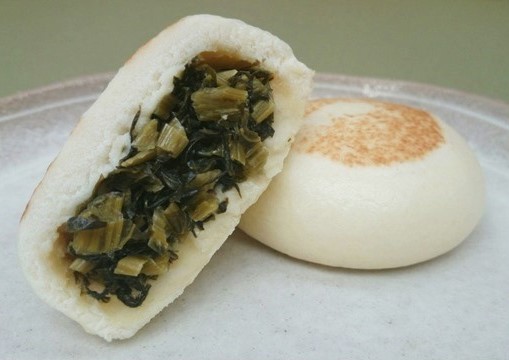 They not only serve Nozawana, which is typical of Shinshu but also seasonal oyaki such as bamboo shoots and mushrooms are available. There is also a premium type that uses 100% powdered seeds from Nagano prefecture and contains Shinshu beef, which is the taste of Nagano prefecture.
Conclusion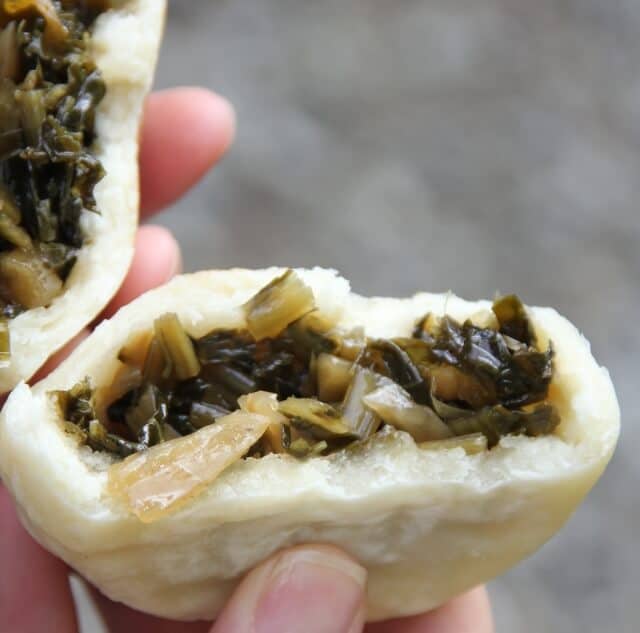 Nagano is a genuine food bowl in Japan thus, it is a location of stunning mountains and abundant farmlands in the middle of Honshu's main island. Blessed with ample clear water and lush land, the area produces some of Japan's greatest fruit, vegetables, meat, and rice. And this includes their own specialty – Oyaki. Visiting some of Nagano's numerous farms, orchards, and breweries, or enjoying Nagano's famed food culture at a local restaurant, opens up a gastronomic world that is guaranteed to please, giving a lasting sense that Nagano is a land of flavor, taste, and plenty.