Speaking of Japanese sweets, wagashi (Japanese traditional sweets) may be the first one to cross your mind. Daifuku, Dango, Dorayaki, Taiyaki, etc are the popular wagashi with ingredients such as red bean paste and mochi. However, apart from wagashi, there is also Yogashi, Western-style Japanese confectionery. We would like to introduce Japanese short cake, one type of yogashi that you can find almost everywhere all over Japan.
What is Japanese Short Cake?
Short Cake is a general term for cakes and biscuits that combine a sponge cake with sauce. In Japan, they have their own version of Japanese Short cake which consist of a sponge and cream layered, topped with strawberries, etc. Because the cake known as "shortcake" in Japan is not famous elsewhere, they considered it a Western confectionery born in Japan.
However, Japan is the only country in the world with a culture of eating strawberry shortcakes at Christmas. The reason why Christmas cakes are strawberry shortcakes is that the red of strawberries and the white of whipped cream are the colours of celebration for Japanese people.
Etymology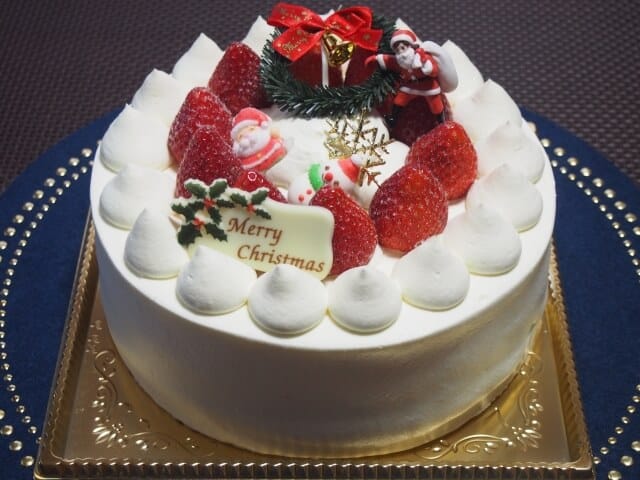 There are various theories about the origin of the word "short." Such as the theory that it derived from shortening, which is the raw material of sweets. "Short" in English means "crunchy" or "crumbly". It can also be from the American sweets called "shortcake" or with a confectionery with strawberries and cream sandwiched between British shortbread.
Japanese Short Cake History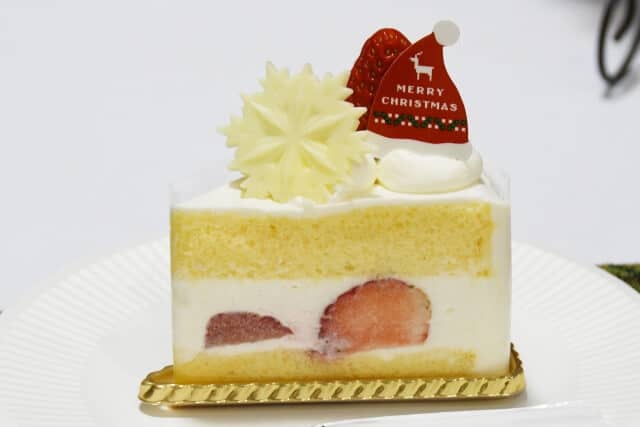 Sponge cake was brought to Japan from the Netherlands as castella, but strawberries were also brought to Japan by the Dutch at the end of the Edo period.
Although there are many competing stories on the origin of shortcake, locals believed that the original version was created roughly ten years after the Showa era began. In the American confectionery market in 1912, Rinemon Fujii, the company's founder, observed a "shortcake" prepared by stacking flaky biscuit dough, whipped cream, and strawberries like a scone. He published it in 1922 after arranging it to appeal to Japanese tastes. This is the start of shortcake in Japan.
The "Fujiya" shortcake's base was castella dough at its debut, and the "Colombin" shortcake's base was castella dough with the same quantity of egg yolk added to it the whole egg. Shortcake's popularity increased by the fact that castella, which first sold as "Nanban confectionery," became well-liked among Japanese consumers.
Japanese Short Cake Recipe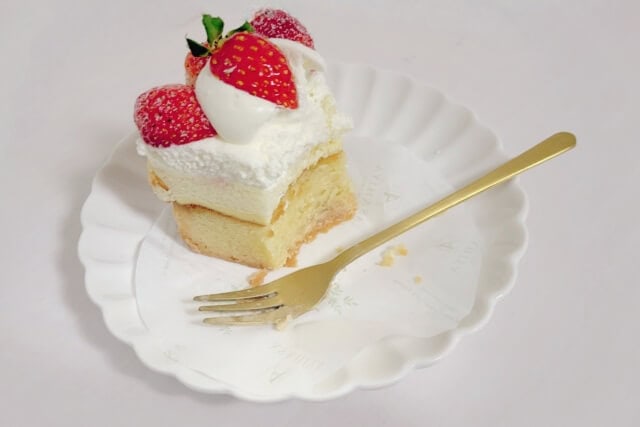 Japanese Short Cake Ingredients
| Ingredients of Japanese Short Cake for 6 persons | Measurements |
| --- | --- |
| A. Egg | 46g |
| Vanilla Oil | 5g |
| Sugar | 70g |
| Cake flour | 70g |
| Unsalted butter | 20g |
| Milk | 10g |
| | |
| --- | --- |
| B. Sugar | 15g |
| Fresh Cream | 230g |
| | |
| --- | --- |
| C. Sugar | 10g |
| Water | 20g |
| Rum | 20g |
| | |
| --- | --- |
| D. Strawberry | 150g |
| Powdered Sugar | 30g |
How to make Japanese Short Cake
Prepare the syrup
Combine the (C) syrup sugar and water and warm in the microwave. Line a 15cm round shape with parchment paper.
Whisking the eggs and sugar
Crack the eggs into a bowl, add the sugar from (A), and whisk with a hand mixer at high speed until whitish and thick. When it foams up, turn it at a low speed for about 30 seconds to adjust the texture.
Bake the sponge dough
Sift in the cake flour and mix lightly with a rubber spatula. When 80% of the batter is mixed, add the microwaved butter, milk, and vanilla oil from (A) and mix with a rubber spatula. Pour into a mold lined with parchment paper and bake in an oven preheated to 180°C for about 20 minutes.
Cut the strawberries
Whip the fresh cream from (B). Whisk for 6 minutes while immersing in ice water until stiff. Wash the strawberries from (D) and cut off the stems. Cut strawberries as they are.
Cutting the excess dough
Place the sponge dough on a bat, and cut off the bulging portion on top while rotating the bat with a bread knife. Slice the remaining dough in half.
Designing the cake
Place the first sponge on the tray and brush the combined syrup and rum on (C). Arrange the sliced ​​strawberries, and spread a scoop of cream on top with a rubber spatula. Pour syrup on both sides of another sponge and layer it on top.
Coating the sponge dough with cream
Put a scoop of cream on it with a rubber spatula, and use a spatula to prime the top and sides.
Putting toppings and serving
Arrange the uncut strawberries first, then fill in the gaps with the halved strawberries. Finished with powdered sugar on (D) and decorations.
Japanese Short Cake Day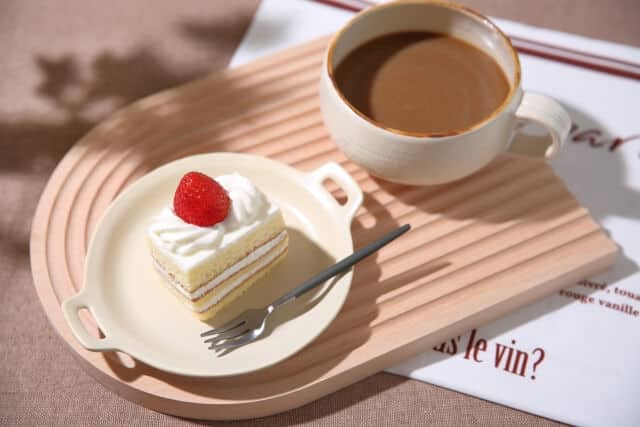 Exactly one week before the 22nd is the 15th. In the calendar, the 15th is on the upper tier of the 22nd. January 15th can be read as "(いちご) strawberry". Strawberry Day is January 15th. And since strawberry day is on the 15th they made shortcake day on the lower tier in the calendar which is on the 22nd.
The reason why Japanese loved it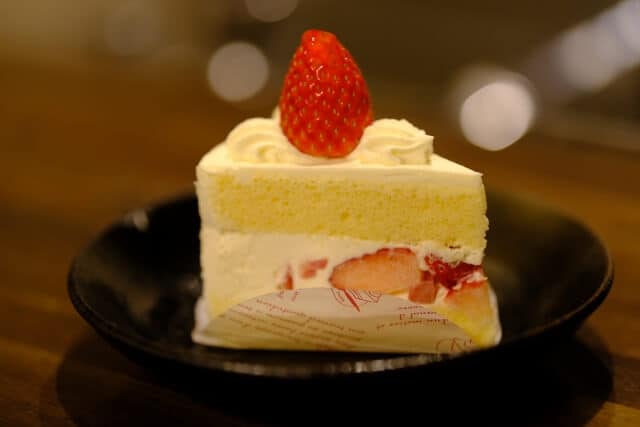 The real pleasure of shortcake is the balance of the soft and moist sponge, the fresh cream that melts in your mouth, and the sweet and sour strawberry. In Western countries with a drier climate than Japan, they prefer chewy dough and rich butter cream, but in Japan with a humid climate, a soft texture and melt-in-your-mouth texture are preferred. The texture of the shortcake is just ideal. In addition, the color combination of white fresh cream and red strawberries is familiar with the image of "Hinomaru" and symbolizes Japanese "celebration".
Japanese Short Cake Health Info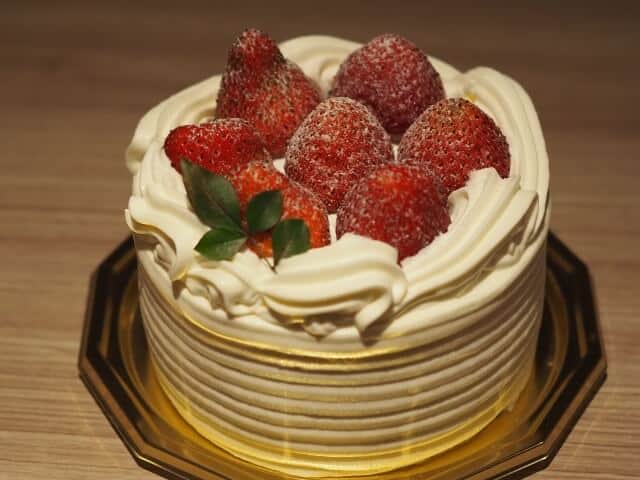 Shortcake has 308 calories per 100g, and an 18-inch cake divided into 8 slices has 366 calories each. Additionally, it's important to keep not only calories during diet restrictions but also carbohydrates and lipids. Shortcake has 25.3g of fat and 28.59g of sugar. It is a sponge cake with fruit and fresh cream on top. Fresh cream has a high sugar level due to the substantial amount of fat it contains.
Where to buy Japanese Short Cake
Shiseido Parlour (資生堂パーラー 銀座本店ショップ)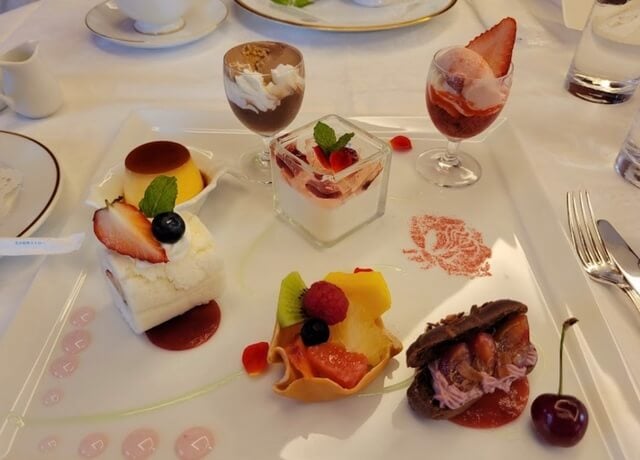 The 11-story building has a shop that sells sweets, a salon de cafe where you can enjoy desserts and light meals, and restaurants. The shop on the first floor sells a variety of seasonal sweets and baked goods. There are limited edition sweets that you can obtain here, so it would be a great souvenir. The signature product "Shortcake" (¥730) is a luxurious dish that uses plenty of sweet and sour strawberries on the top and cross section. The contrast between the pure white whipped cream and the bright red strawberries is very beautiful.
Patisserie SATSUKI (パティスリーSATSUKI)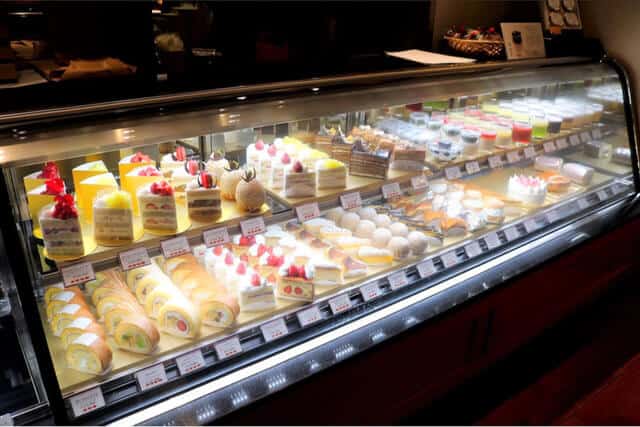 A popular shop where you can enjoy sweets made with the finest fruits and carefully selected ingredients. Eat-in is also possible in the adjoining coffee shop "SATSUKI". The store's popular "Strawberry Shortcake" (702 yen) is a classical dish that combines special sponge dough, vanilla-scented whipped cream, and large strawberries. The sponge fabric is fluffy, soft and very fine. The combination with fresh cream that melts in your mouth is also outstanding. Kirschwasser, a distilled cherry liquor, is used as a secret ingredient, giving it a rich flavour.
Fiorentina Pastry Boutique (フィオレンティーナ ペストリーブティック)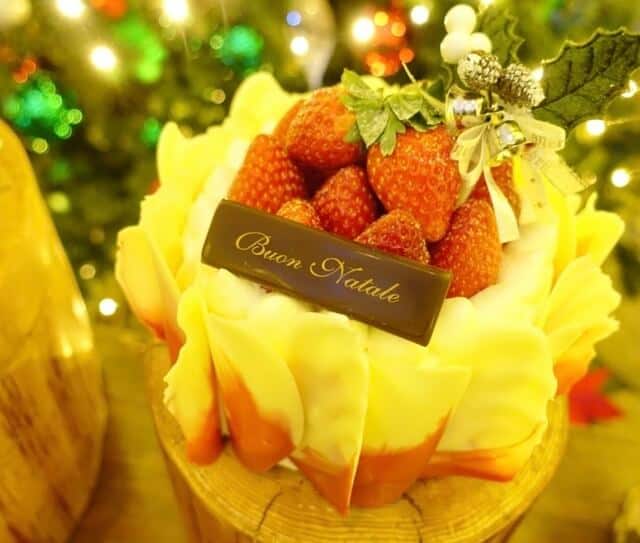 This is a shop where you can enjoy artistic and beautiful sweets made by pastry chefs who have won and won awards at world competitions. The eye-catching sweets made with seasonal fruits are so beautiful that they are all eye-catching. Their popular "Strawberry Shortcake" (¥670). Sliced ​​strawberries sandwiched between fresh cream and 3 layers of sponge dough. They baked the dough with rice flour and soaked it in raspberries, blueberries, and homemade berry syrup with liqueur. It matches the acidity of strawberries and the sweetness of fresh cream.
Final Thoughts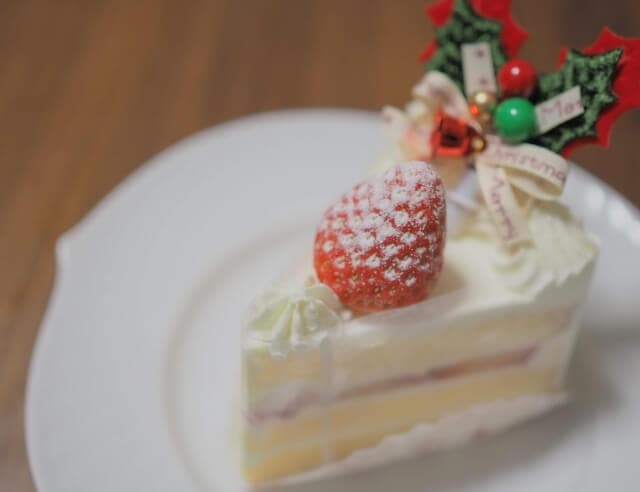 Christmas is nearing once again and we would like to be part of your Christmas guide on Japan. If you need some Christmas cake, you should choose the Japanese short cake. It's a Christmas dessert although strawberry shortcake is popularly consumed in Japan. But did you know that this is a distinct Japanese tradition? If you visit Japan around Christmas, you will see it sold almost everywhere. And if you say "cake," most Japanese will think first of this sponge cake with whipped cream and strawberries, and they will feel like having some, too!
There are Japanese Christmas food and Japanese Christmas cake you can try during the Christmas season.