Have you heard about Kumamoto Ramen? Anyway, who doesn't like ramen? It's not only full of flavors, but it's also satisfying and comforting. As a matter of fact, eating authentic ramen is like a part of every tourist's to-do things when visiting Japan. Indeed, ramen lovers will have a feast with many kinds available in the market! In this post, we will talk about a type of ramen that may be new to many. Are you ready?
What is Kumamoto Ramen?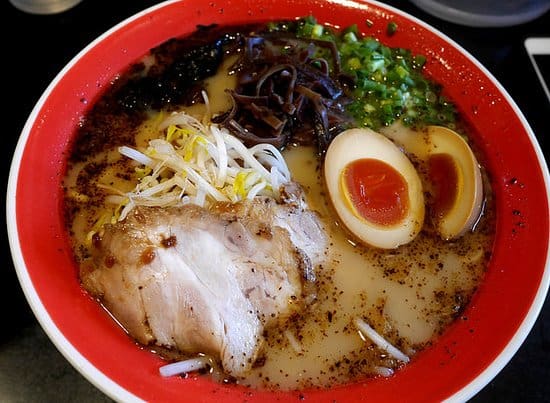 Kumamoto Ramen is a type of Tonkotsu ramen from Kumamoto Prefecture. Although it's almost the same as other Tonkotsu ramen, it still has a charm on its own. For instance, they would boil chicken bones and add the broth to the soup. When the chicken bones broth is combined with the mild pork bone soup, it gives a creamier taste. They would also top it with charred garlic and fried garlic oil. However, what really makes it interesting is the inclusion of wood ear mushroom in the recipe.
Another thing about Kumamoto Ramen is that the soup has a mild taste that is suitable for those who don't like strong-tasting broths. Despite using fried garlic oil or sesame oil, it's also less oily in comparison with other Tonkotsu ramen.
While there are theories that say the creation of Kumamoto Ramen is to make a variety for Kurume Ramen, the first one has developed with a unique style.
History of Kumamoto Ramen
Although Kumamoto Ramen is a local dish of Kumamoto City, it actually has a deeper connection with ramen from other areas. In fact, it has a long history of development from other ramen types.
Kurume Ramen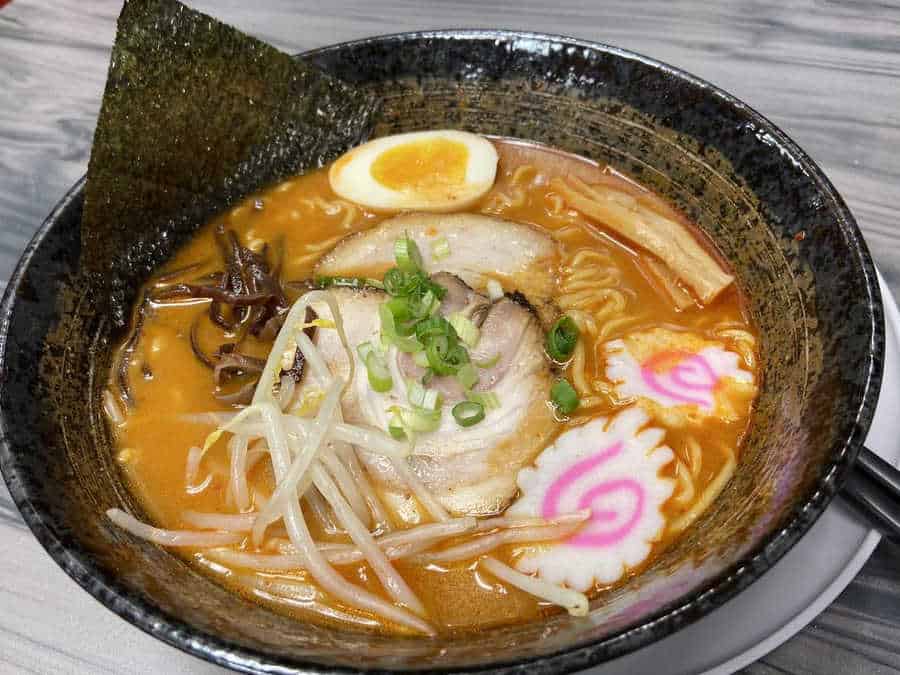 Many people believe that it is the origin of Tonkotsu ramen. Kurume Ramen's soup is made from pork bone soup that is simmered with water for a long time. Then, they would simmer it again after adding more water to the soup.
When a Kurume Ramen store opened in Tamana City, it became popular by word of mouth. As a matter of fact, the popularity reached even the people from Kumamoto City. Since then, it highly influenced all the other ramen in the Kyushu region.
Of course, Kumamoto is not an exception to this influence. They developed ramen that's almost similar to Kurome Ramen but improved the noodles and soup.
Even the famous stores such as Ajisen and Komurasaki are believed to have been inspired by the Kurume Ramen from Tamana. Later on, they established stores in Kumamoto City. These stores drew popularity that they have opened branches in the Kanto region as well.
What is the difference with Hakata Ramen?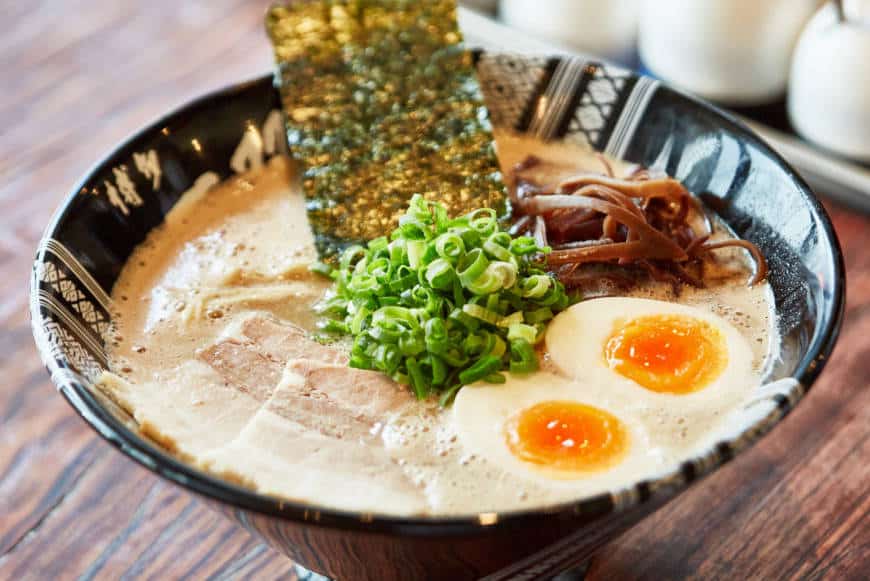 While both are born on the island of Kyushu, Hakata Ramen and Kumamoto Ramen have their own charm and style. Some people would often mistake these two ramen types are just the same. Even so, the two delicious ramen have remarkable differences.
For example, the noodles of Kumamoto Ramen are not as thin as Hakata's. In fact, it uses a ball of chewy, straight, and medium-thick noodles. On the other hand, the noodles of Hakata Ramen are straight and very fine making them easier to stretch. With this in mind, it requires a small amount of noodles to create the dish.
Meanwhile, both of them use the same soup which comes from mild pork bone broth. However, they would add chicken bones broth to the soup of Kumamoto Ramen. Hence, the soup becomes lighter than Hakata's.
Not to mention, the unspoken rule is to use the soup on the same day. This practice not only keeps the soup fresh but also lessens the smell of Tonkotsu.
The addition of charred garlic and fried garlic oil also makes the taste of Kumamoto Ramen even better. In addition to that, the aroma of the fried garlic will surely increase your appetite. Some also use sesame oil for extra flavor.
Although the soup of Kumamoto Ramen is creamier, it's lighter and not overwhelming. Both ramen also uses wood ear mushrooms which add a little earthy flavor to the soup.
Kumamoto Ramen Recipe
Similar to Hakata Ramen, it also uses mild pork bones soup. In addition to that, Kumamoto Ramen also has chicken bones soup added so it is milder than the first one.
Kumamoto Ramen Ingredients
| | |
| --- | --- |
| Good for 6 persons | |
| pork bones | 900 g |
| chicken bones | 900 g |
| garlic | 2 cloves |
| sesame oil | 60 g |
| canola oil | 28 g |
| soy sauce | 120 g |
| mirin | 240 g |
| sake | 240 g |
| sugar | 100 g |
| ginger | 15 g |
| shallot | 30 g |
| leeks | 250 g |
| mushroom | 170 g |
| scallions | 100 g |
| bean sprouts | 200 g |
| pork fatback | 450 g |
| medium-thick noodles | 600 g |
| water | 8-10 cups |
| wood ear mushrooms | as needed |
| nori | 6 small strips |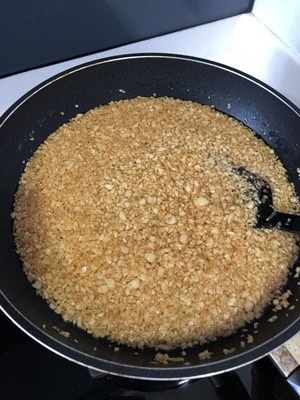 How to make Kumamoto Ramen?
Before anything else, the process of preparing the broth is meticulous. It's almost the same as Hakata Ramen but it also includes chicken bones soup in it.
To begin with, mix water, soy sauce, mirin, sake, garlic, ginger, shallot, scallions, and sugar. Then, submerge the pork bones into this liquid mixture and slightly cover with a lid. Next, place it in a preheated oven and let it boil for about three hours (3 hours).
After that, take the pot of pork bones broth out of the oven and add the chicken bones. Let it cook for an hour or until both the chicken and pork are tender enough.
Sauté some garlic, add some sesame oil, and set aside after. Then, sauté another batch of garlic in canola oi. and let it simmer for about ten minutes on low heat. After that, blend the garlic oil with sesame oil until it becomes thick.
Strain the scum from the boiled pork and chicken bones. Then, boil the broth again together with mushrooms, leeks, scallions, and slab pork fatback. Remove the pork fatback from the pot and slice thinly before setting them aside.
To prepare the individual serving, cook each portion of the noodles separately. Of course, use chopsticks to stir the noodles so they don't stick together.
After that, place the noodles in a separate bowl and add some fried garlic oil. Pour some broth into the bowl and place a slice of char siu and some wood ear mushrooms on top. Top with bean sprouts, chopped scallions, charred garlic, and a sheet of nori before serving.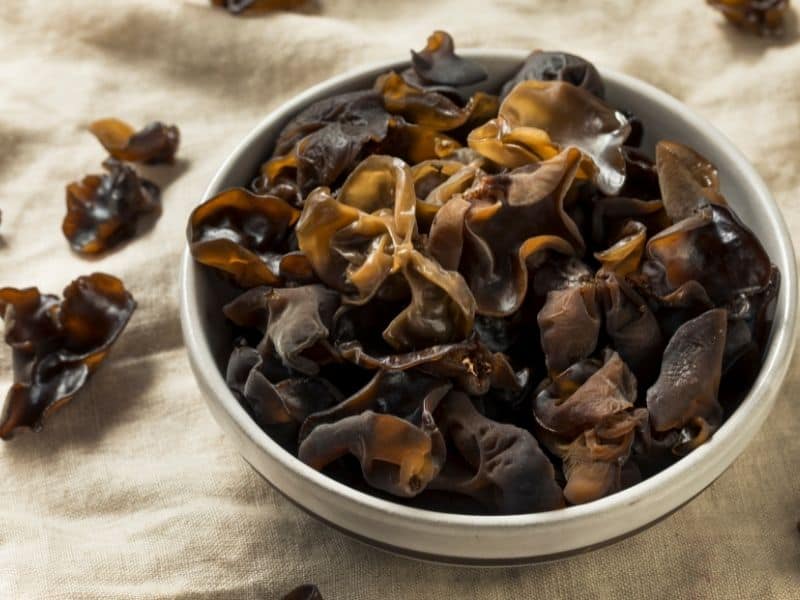 Tips
You can also put a ramen egg on top to add texture and flavor.
Removing the Iye from the broth eliminates the odor of the pork bones.
The longer the pork and chicken bones are boiled, the tastier the broth is.
You may also put Ajitama (Chinese-style seasoning) to add more flavor to the soup.
Making the soup cloudy and thick is important in cooking Kumamoto Ramen.
Where to eat Kumamoto Ramen?
When looking for the perfect place to eat this Kumamoto local food, make sure to include these highly recommended restaurants in your list.
Kokutei (熊本ラーメン 黒亭 本店)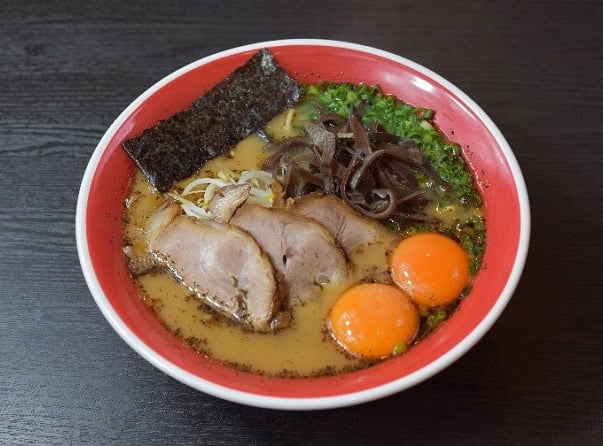 The restaurant is famous for its homemade noodles which is the best pair for their homemade pork broth. As a matter of fact, their Kumamoto Ramen is light and easy to eat for everyone. Kokutei is located just a few minutes away from the Kumamoto Station. Also, expect long lines during lunch and dinner time.
Komurasaki (こむらさき 上通中央店)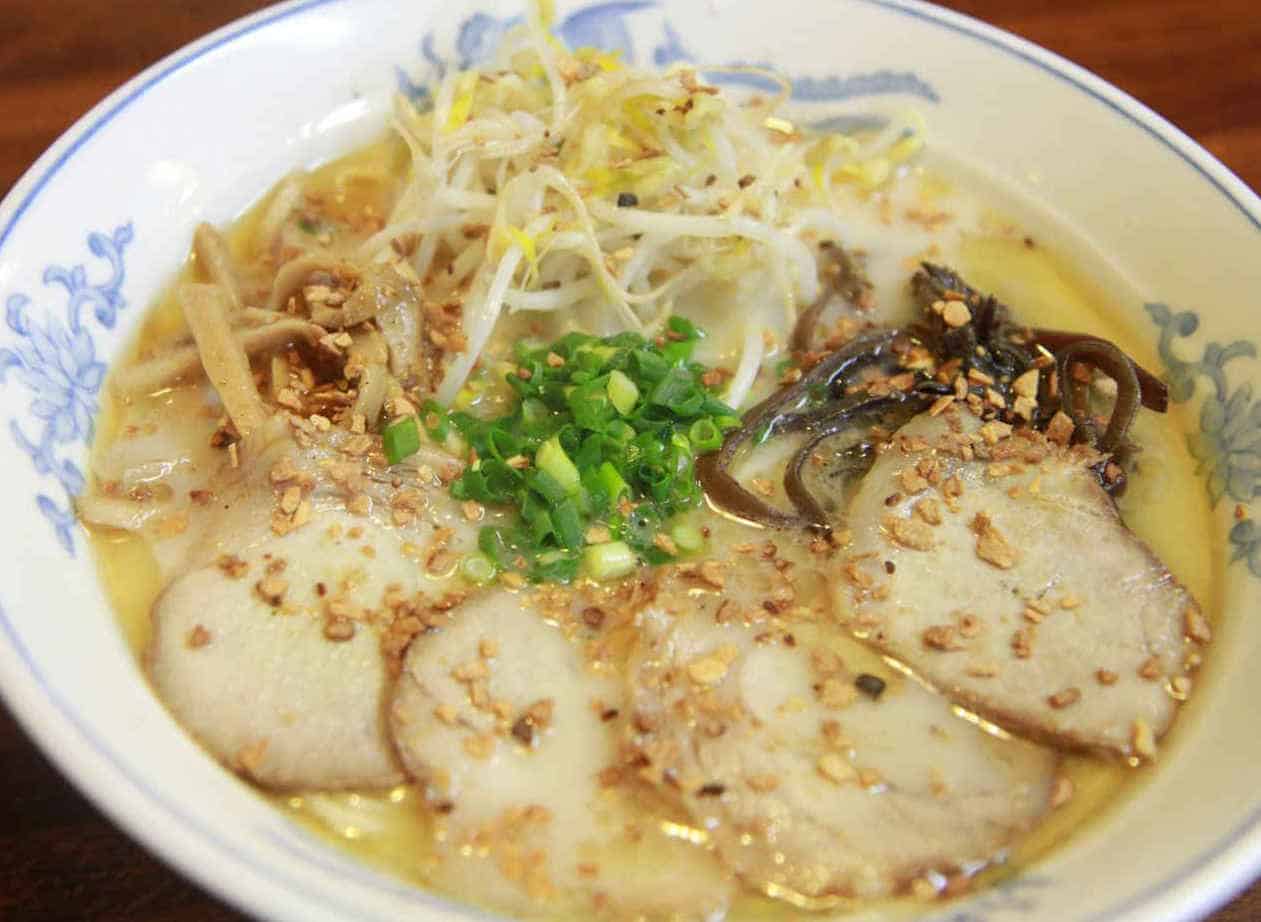 Komurasaki is one of the oldest Kumamoto Ramen stores in the area. The owner established the restaurant in 1954 and has been serving thick yet light soup to their customers since then. Their "King Ramen" which sells for 700 yen is also one of their best-selling dishes in the store.
Keika Ramen (熊本 ラーメン 桂花 本店)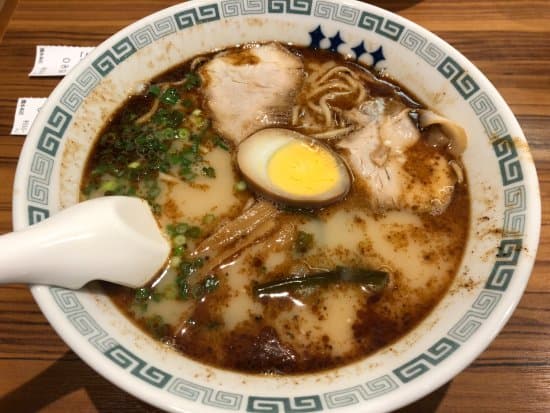 Keika claims to be the first store to serve fragrant mar oil (fried garlic oil) that goes well with the soup. In fact, their thick yet gentle ramen soup is refreshing and has the taste of milk. Also, instead of a regular char siu, Keika Ramen puts "Taro" or thick meat in their Kumamoto Ramen.
Sansui-tei (山水亭)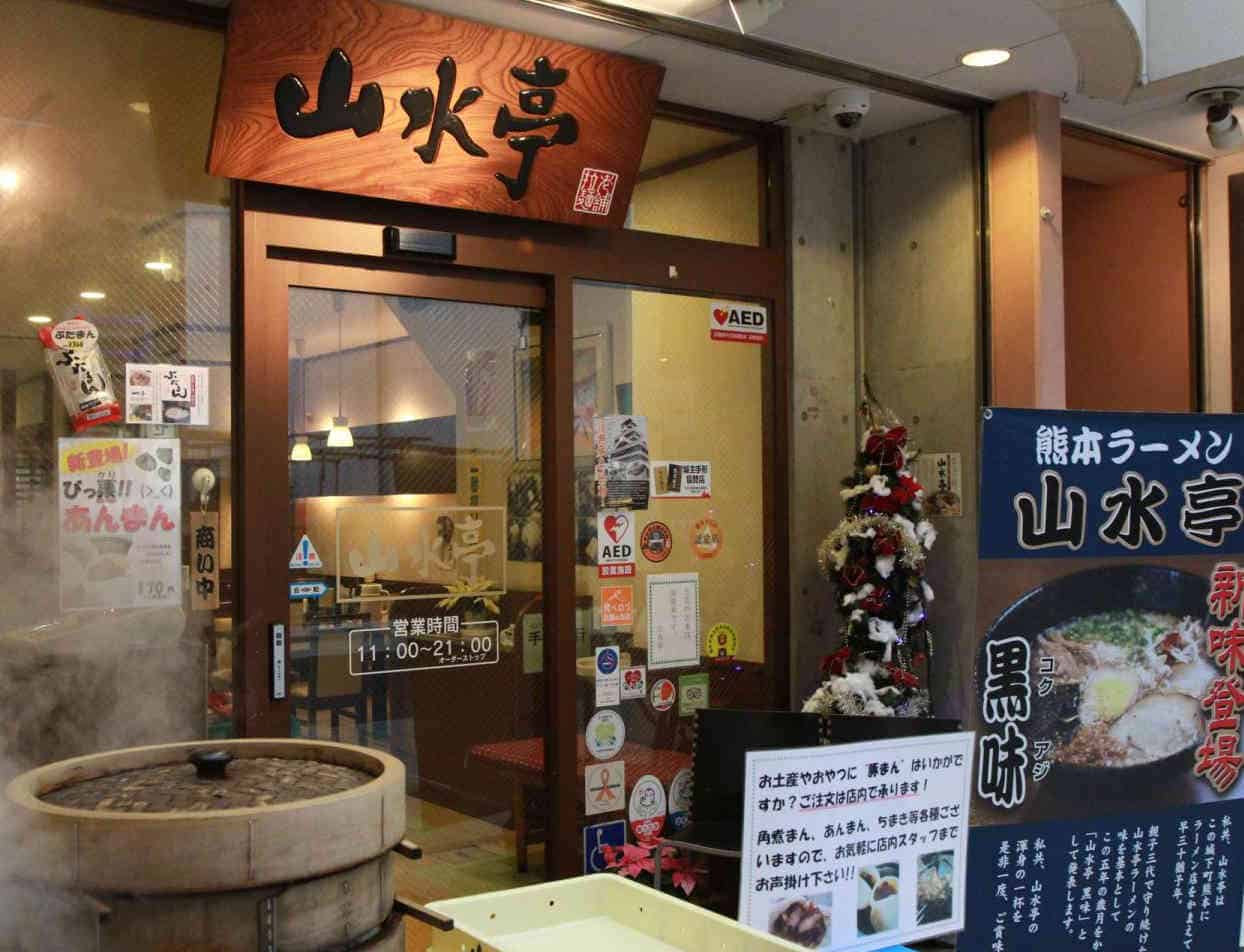 Sansui-tei is famous for its Kumamoto Ramen because 90% of its ingredients are homemade. It's also a long-established restaurant that has been serving for three generations already. Their ramen is simple yet it captures the hearts of adults and children.
Tengaiten (天外天 本店)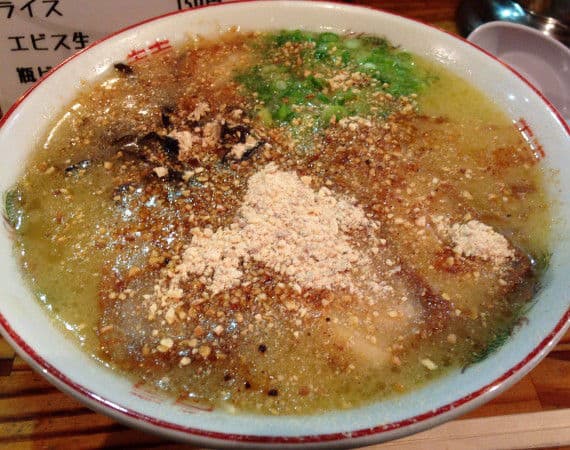 This popular ramen restaurant is one of the best in town. In fact, many people would visit Tengaiten whenever they are in Kumamoto City. Tengaiten's Kumamoto Ramen has a generous amount of char siu in it and a creamy yet light-flavored soup.
Tengaiten is just a 5-minute walk from the Shimotori Shopping Arcade and their menu prices are also reasonable.
Final Thoughts
Kumamoto Ramen is a Tonkotsu ramen that has a thick yet light soup. The soup is made from boiled pork and chicken bones. It is also thickened by mar oil or fried garlic oil and uses medium-thick noodles. It's one of Kumamoto's local food that is a favorite among many.
Ramen lovers will surely appreciate the lightness of the soup and the umami of pork and chicken bones. Food in Japan highly recommends ramen fans to include Kumamoto Ramen in their food itinerary when visiting the country. Entice your taste buds by checking out the different types of ramen in Japan!
You may want to check out other amazing cuisines from Kyushu. Don't forget to like us on Facebook to get notifications on our latest food blogs.