Udon is one of the most common noodles in Japan. Many people love to enjoy it in its simplest form. In addition to that, they consider it as their comfort as well. Hence, they were able to develop different dishes out of these thick noodles. For example, Kashiwa Udon in Fukuoka was born. If you want to know more about this traditional food from northern Kyushu, continue reading below.
What is Kashiwa Udon?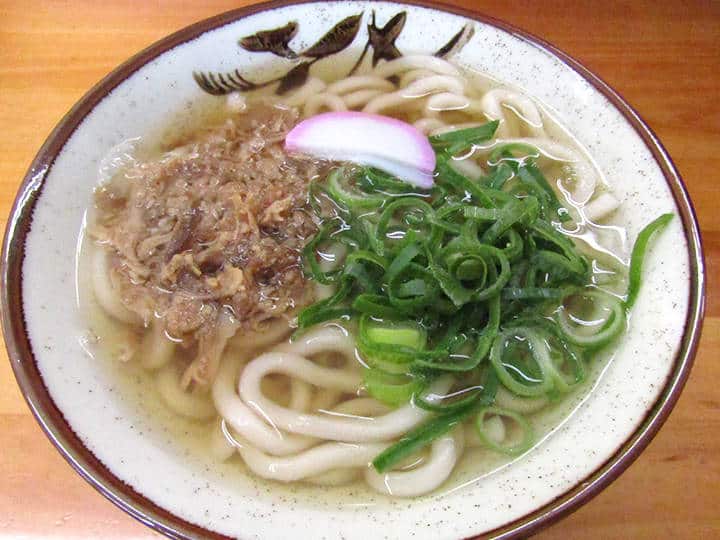 Kashiwa Udon is udon noodles with chicken broth and topped with sweet and spicy chicken also. It's local food in the Kitakyushu City of Fukuoka Prefecture. The chicken is often cut into small cubes but sometimes, it's shredded. In addition to that, the taste of Kashiwa Udon can be different depending on the restaurant. Local households in Kitakyushu may also have different recipes. Even so, it is a standard udon dish in the area.
It may not be common in the Kanto region, but Kashiwa Udon was included in the famous food manga "Cooking Papa". The manga showed the main character eating it in Kokura Station and also complimenting it as something very delicious.
What does Kashiwa mean?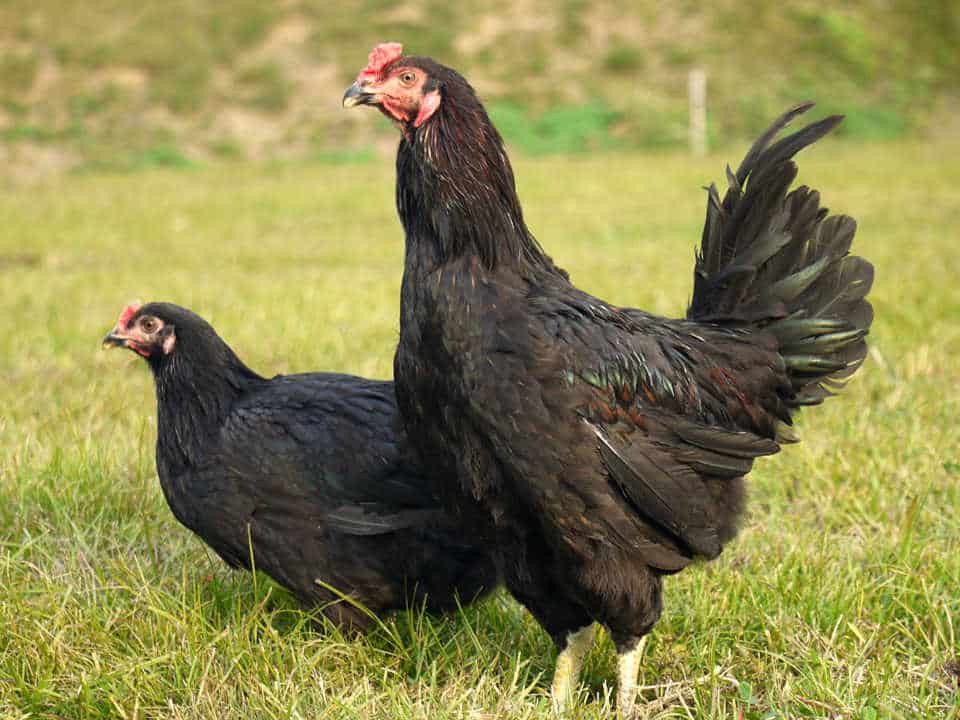 Although it may mean different things depending on the region, Kashiwa means chicken in the Kyushu region. With this in mind, several Kashiwa Japanese cuisines carry the name. For example, Kashiwa Meshi is a chicken and rice dish that is also famous in the country.
In Kansai, it may mean chicken fillet which is just a part of a chicken. Meanwhile, they use the term Kashiwaten in Kagawa Prefecture. This is also famous all over the country just like the name Toriten.
However, many people believe that it is not originally another word for chicken. As a matter of fact, they only used this for a certain type of Japanese chicken with brown wings. Later on, they began using it as a term for chicken in general.
What is the origin of Kashiwa Udon?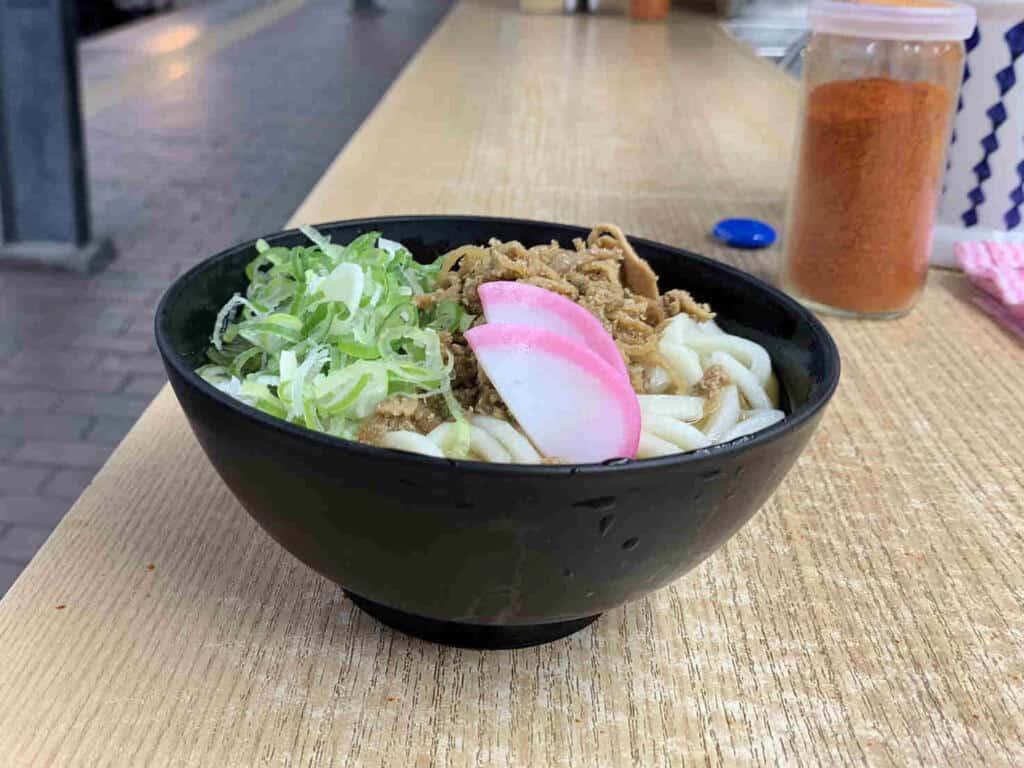 The history of Kashiwa Udon is quite not clear. However, many people believe that it began in a restaurant in Tosu Station in Saga Prefecture. Tosu Station is also one of the oldest stations of the Kyushu Railway. The name of the restaurant that originated the dish Kashiwa Udon is Chuoken. It's a long-standing store that began selling udon in 1956. In fact, the Kashiwa Udon they serve has light soup but with a rich taste. In addition, the soup comes from boiling dried sardines, kelp, soy sauce, sake, and mirin. It also has sweet and spicy chicken toppings just like the current recipe.
Meanwhile, another restaurant sold Kashiwa Udon in Kokura Station in Fukuoka Prefecture. The store began selling squid udon in 1958 and it's also the one featured in Cooking Papa manga. The name of the restaurant is Platto Pit and their udon is also famous for mixing mirin and sugar to create an exquisite taste.
Since then, locals especially those who frequent the station loved Kashiwa Udon. What also makes the dining experience a lot better is that the taste may differ depending on the restaurant. So, it's highly recommended to try eating Kashiwa Udon not just in one store.
Kashiwa Udon Recipe
People often describe this staple noodle dish from the northern Kyushu region as an udon dish with a generous amount of chicken. While there are many recipes available, the basic ingredients are always the same. Learn how to prepare Kashiwa Udon below.
| | |
| --- | --- |
| Good for 2 people | |
| udon (frozen or fresh) | 2 balls |
| chicken breast | 200 g |
| soy sauce | 1 tbsp. |
| Shichimi pepper | a little |
| leeks | 45 g |
| sugar | 1/2 tbsp. |
| Kamaboko (cured surimi) | 2 thin sheets |
| ginger | 2 sliced sheets |
| water | 600 cc |
| sake | 1 tbsp. |
| salt | a pinch |
| Hondashi (dashi granules) | appropriate amount |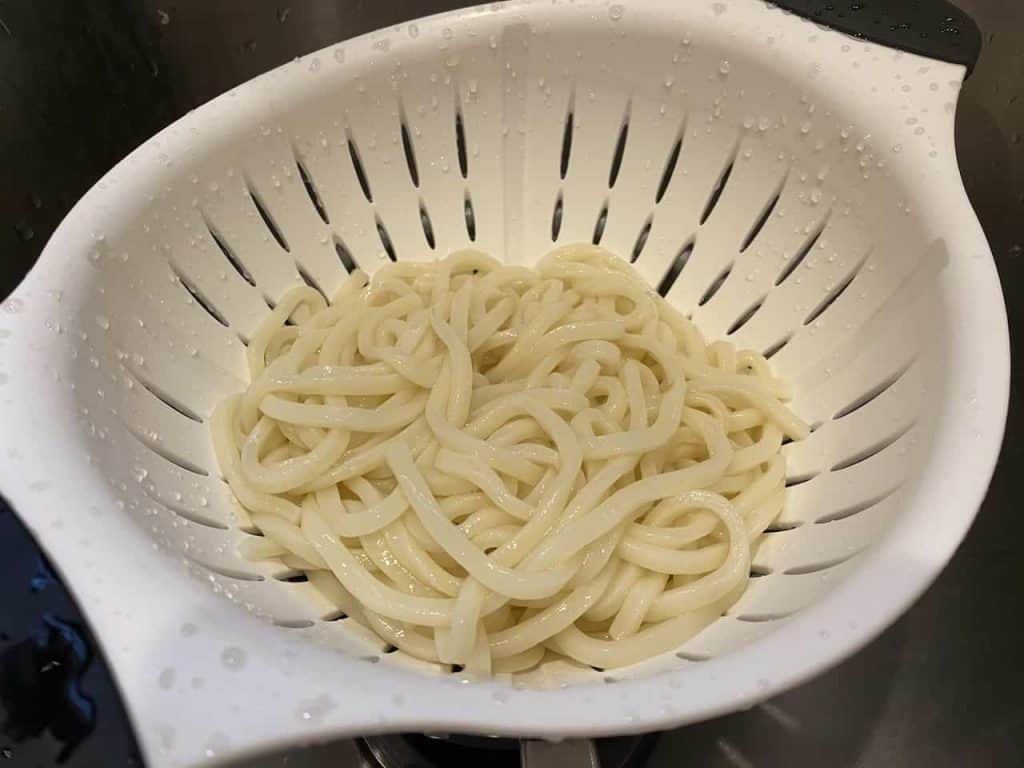 How to make Kashiwa Udon?
Chop the leeks into small pieces, to begin with. Then, cut the chicken breast into large bite-size pieces. Make sure to wash the chicken thoroughly and pat it dry before cutting.
After that, prepare the broth in a pot. Boil the chicken with water, ginger, sake, salt, and Hondashi. Then, let it simmer for about fifteen minutes (15 minutes).
As soon as the chicken breast appears tender enough, turn off the heat. Remove the ginger and set aside about 50 cc of broth.
Then, take out the chicken and separate the meat from the skin. Make sure to drain excess broth before shredding it into small pieces.
On a separate frying pan, put the shredded chicken meat, sugar, and chicken skin. Cook in medium heat. Once the sugar has melted, add the remaining broth and soy sauce. Then, let it simmer for about 3-5 minutes.
While waiting for the chicken and broth, put the udon in a heat-resistant bowl. Gently wrap the noodles before heating them in a microwave.
Once it's ready, divide the udon into two separate bowls. Pour the chicken broth into each of the bowls and top with chicken slices. Place a piece or two of Kamaboko before sprinkling with leeks and Shichimi pepper. Finally, serve while it's hot.
What are the health benefits of eating it?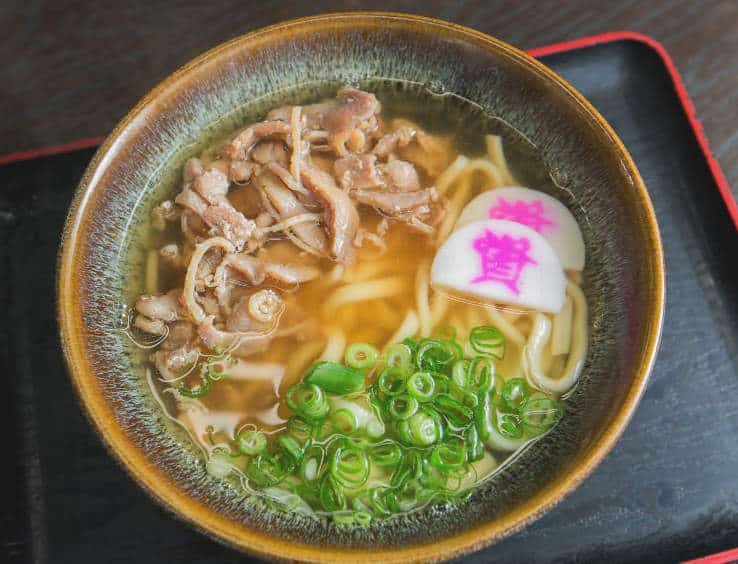 Of course, udon is a great source of complex carbohydrates. It's higher in fiber and our body can also digest it better than the simple one. In fact, it is mostly advised for a diabetic meal plan.
Udon is also rich in nutrients such as iron, zinc, potassium, magnesium, etc. However, its nutrient value depends on the quality of wheat used in making the noodles.
On the other hand, chicken is an excellent source of high-quality protein. It can also aid in reducing cholesterol and help maintain bone mineral density. In addition, chicken doesn't contain much fat especially when you eat lean cuts.
Where to eat Kashiwa Udon?
Many stores on different platforms sell Kashiwa Udon since it is a known "train station meal". Get to know where you can get an authentic taste of this regional food from Fukuoka.
Platforms 1 and 2 of Kokura Station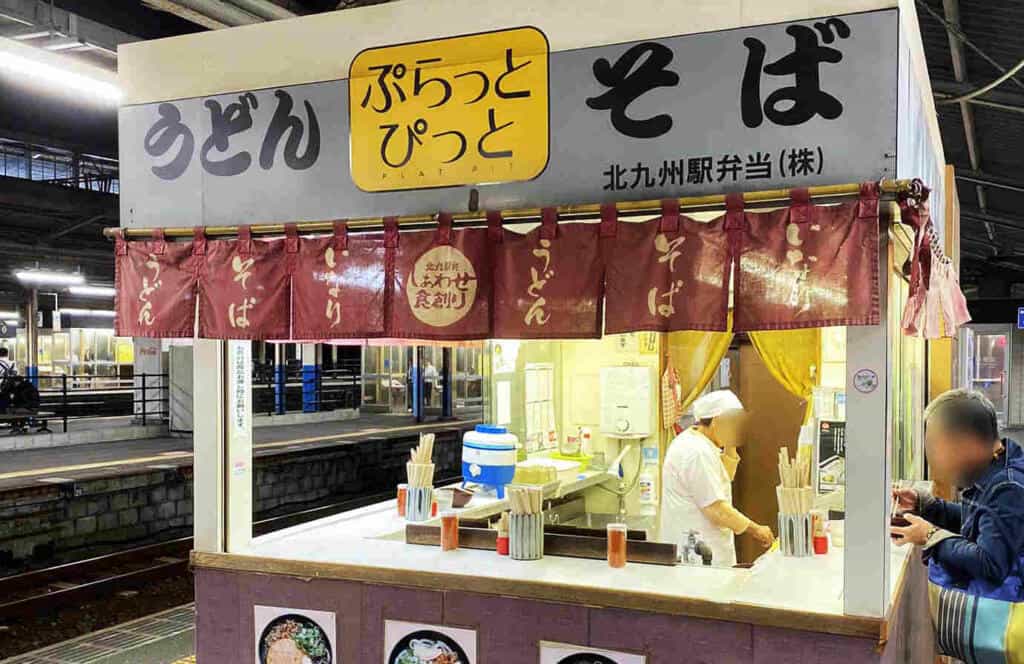 Platto Pit is the restaurant that was mentioned in the famous gourmet manga Cooking Papa. Kitakyushu Station Bento Co., Ltd. operates this store on platforms 1 and 2 of Kokura Station. Their Kashiwa Udon is 390 yen which is just the same as the one on platforms 7 and 8. Transportation cards such as SUGOKA and others can be used to buy from the store.
Platforms 7 and 8 of Kokura Station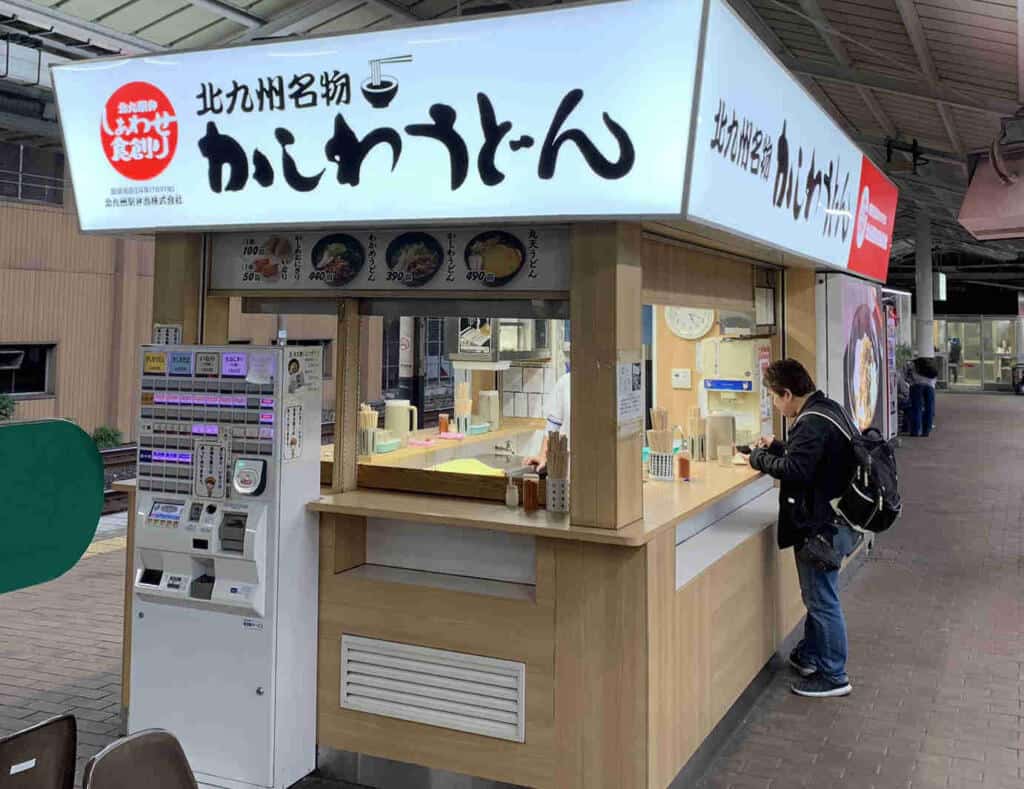 This store is also operated by Kitakyushu Station Bento Co., Ltd. Their Kashiwa Udon is a combination of sweet and spicy chicken meat and soft udon also. Frequenters often say that you will enjoy the soup down to its last drop. They're selling it for 390 yen which is already a great deal considering the taste and quality of the food. You can also use transportation electronic money like SUICA and PASMO to purchase meal tickets.
Platforms 3 and 4 of Kokura Station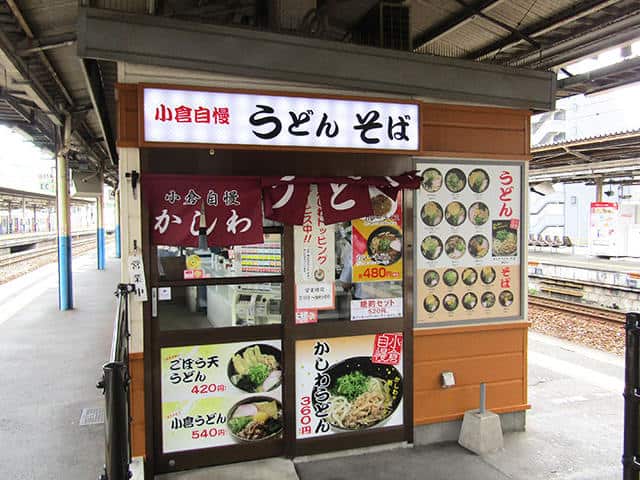 JR Kyushu Food Service Co., Ltd. operates this standing udon shop on platforms 3 and 4 of Kokura Station. The name of the store is Ogura Home Udon and you can also use transportation money cards to buy meal tickets. Their Kashiwa Udon sells for 360 yen which is a bit cheaper than the other ones.
What makes their version of Kashiwa Udon stand out is the strong taste of ginger and the inclusion of wakame seaweed. The noodles they use are also slightly thinner.
Kashiwa Udon Tamazo (かしわうどん玉蔵)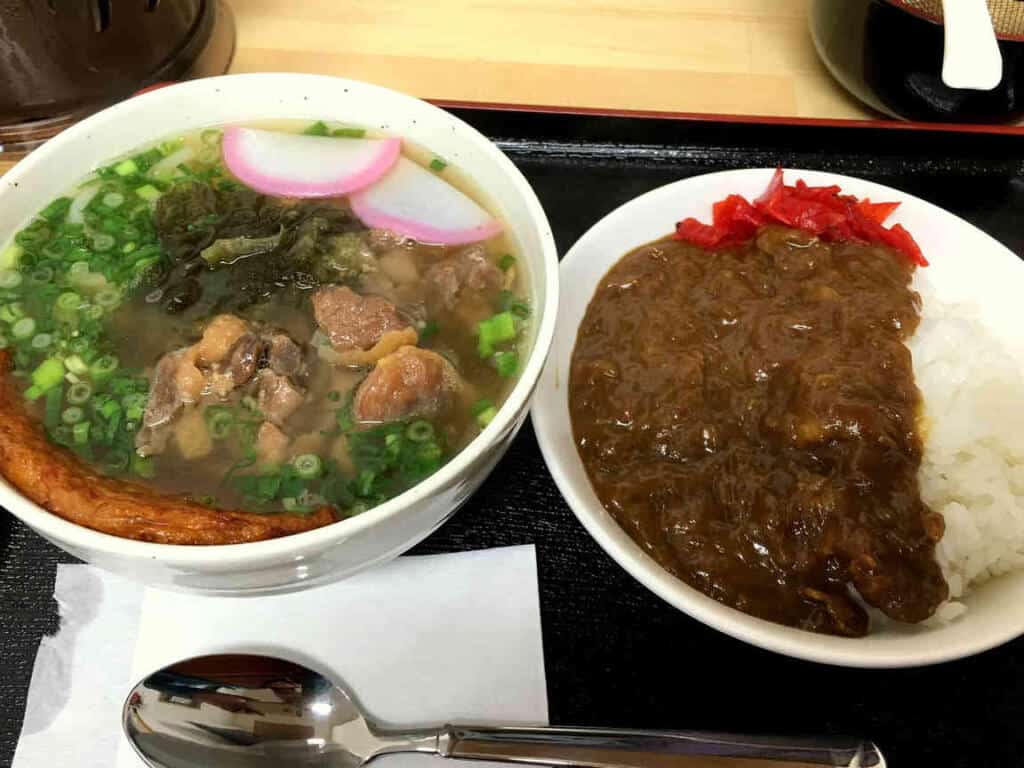 This restaurant is just a few minutes away from Kokura Station. Their Kashiwa Udon is known for its gentle soup but rich in flavor. They also sell Kake Udon and curry rich which are all highly recommended by their customers.
Kitakyushu Tourism Market (Online Store)
Aside from the physical stores, you can also buy it online and have it delivered to your home. Take note that this online store is operated by the government to promote food tourism in Kitakyushu. The price of Kashiwa Udon for one meal is 420 yen while the 6-person pack is 2700 yen. Usually, you will receive it in two to three days. All you have to do is heat it and it's ready to go!
Takeaway
Kashiwa Udon is a traditional food from Fukuoka which is characterized by using chicken broth and sweet and spicy chicken toppings. It's a famous udon dish that is sold on different platforms of Kokura Station. Aside from being healthy and delicious, people consider Kashiwa Udon as comfort food that you can easily make at home or buy in stores.
Check out other udon dishes that may entice your taste buds! Don't forget to check us out on Facebook to get the latest updates about the tastiest food in Japan.