Introduction to Hakata Ramen
Hakata Ramen is not just ordinary Japanese ramen, it is one of the "Japan's Three Great Local Ramen". Along with "Sapporo Miso Ramen" and "Kitakata Ramen", Japanese people loved this trio for a long time. Hakata Ramen is tonkotsu or pork bone ramen mainly offered in Fukuoka City, Fukuoka Prefecture. Its popularity easily exceeds the frame of local ramen, and it is spreading not only in Japan but also in the world. By the end of the article, you will be able to tell why is Hakata Ramen popular in Japan and the world.  Also, you will be able to learn how to make one on your own.
Etymology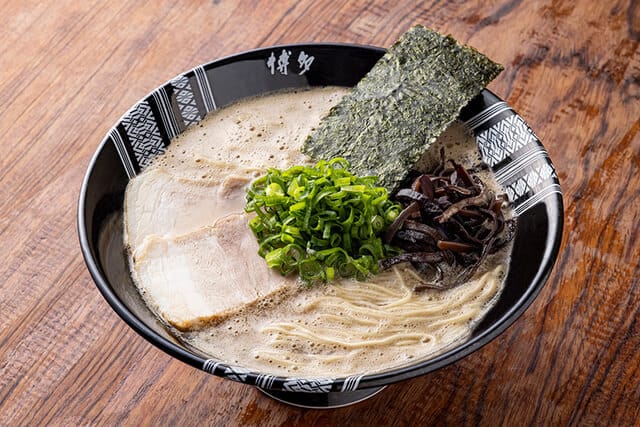 Hakata Ramen came from "Hakata (博多)" which is the name of a business district in Fukuoka City, Fukuoka Prefecture. In 1955, the founder of Hakata Ramen, Yasunori Tonomura invented the name "Hakata Ramen"  in Nishijin, Fukuoka. While it was named after its place of origin, now there are many Hakata ramen shops are all over Japan.
What is Hakata Ramen?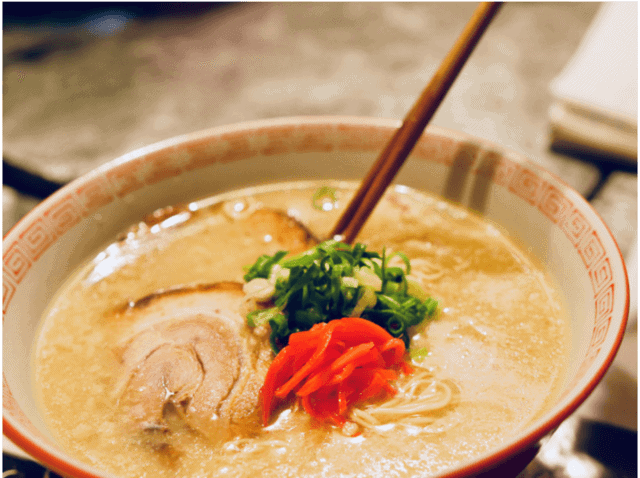 Hakata Ramen (博多ラーメン) is a traditional Japanese food that consists of ultra-fine straight noodles with a cloudy tonkotsu soup. It is a pork bone or tonkotsu ramen mainly offered in Fukuoka Prefecture. Additionally, the main features of Hakata ramen are its "thin noodles" and "replacement balls. This ramen is one of the  "Japan's Three Great Local Ramen" along with "Sapporo Miso Ramen" and "Kitakata Ramen". The seasonings and colors vary from store to store, but basically, the feature is a milky white soup made mainly of pork bones and extra-fine noodles. Since locals boiled the pork bones over high heat, the gelatin of the bones dissolves and the soup becomes cloudy. 
Its popularity easily exceeds the frame of local ramen. Due to the local ramen boom, ramen shops have increased and become established mainly in Fukuoka City and its suburbs. It is also popular as a sightseeing spot in Fukuoka, such as ramen tour planning and "Ramen taxi " service. With the nationwide expansion, stores opening in Osaka and Tokyo, opening stores in ramen food theme parks nationwide, and selling cup noodles bearing the name of famous stores, the name of this ramen has risen nationwide.
History of Hakata Ramen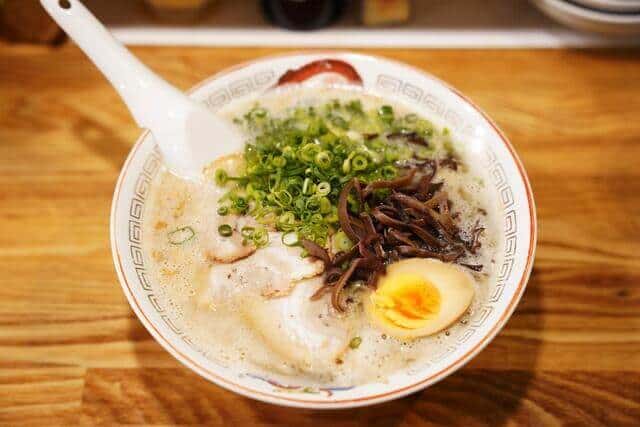 The history of Hakata Ramen goes back to the early postwar period. Some said that the roots of tonkotsu ramen spread throughout Kyushu in Japan by withdrawn people from Manchuria at that time. Many people think of Hakata / Nagahama when they hear it as tonkotsu ramen. However, the birthplace of tonkotsu ramen said to be the originator, is Kurume City, Fukuoka Prefecture. 
The beginning of Tonkotsu ramen in Kyushu is the ramen stand "Nankin Senryo". It opened on Meiji-dori in front of Nishitetsu Kurume Station in 1945. Then, around 1945, Mr. Tokio Miyamoto, the founder of "Nanjing Senryo" after getting information on Chinese noodles soup made by adding chicken bones and a small number of pork bones, which was popular in Yokohama and Tokyo at that time, trained at a local Chinese noodle shop. 
Initially, the tonkotsu ramen made in Kurume was eventually made in Hakata, and it developed uniquely as Hakata ramen. Anyway, people in Hakata have been busy with business or work. They have to work from early morning to late night in hours. So ideally, they need a meal that is easy to make and can be eaten quickly before going to work.
The Hakata Ramen Recipe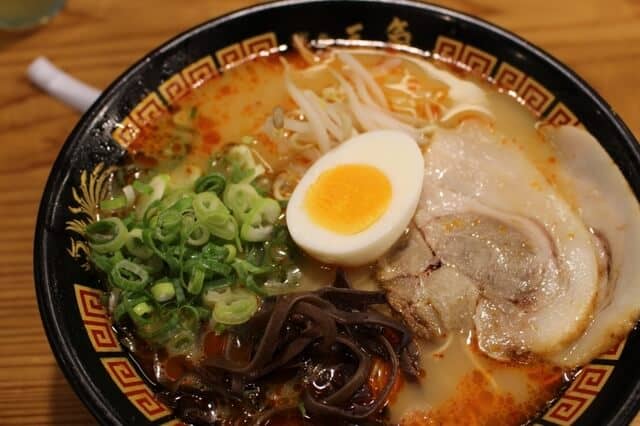 Hakata Ramen Ingredients
| | |
| --- | --- |
| Hakata Ramen Ingredients for 6 people | |
| Pork Bones | |
| slab of pork bone | 900g |
| soy sauce | 120g |
| sake | 240g |
| mirin | 240g |
| sugar | 100g |
| scallions, roughly chopped | 100g |
| whole garlic cloves | 30g |
| knob ginger, roughly sliced | 7g |
| whole shallot, split in half (skin on) | 30g |
| | |
| --- | --- |
| Mayu | |
| canola or vegetable oil | 60g |
| cloves garlic, minced | 50g |
| roasted sesame oil | 60g |
| | |
| --- | --- |
| Broth | |
| pig trotters, split lengthwise or cut crosswise into 1-inch disks | 135g |
| chicken backs and carcasses, skin and excess fat removed | 900g |
| vegetable oil | 28g |
| large onion, roughly chopped | 150g |
| garlic cloves | 60g |
| knob ginger, roughly chopped | 8g |
| whole leeks, washed and roughly chopped | 250g |
| scallions, white parts only | 360g |
| whole mushrooms or mushroom scraps | 170g |
| slab pork fastback | 450g |
| | |
| --- | --- |
| Noodles | |
| dry ramen noodles | 115g |
How to Make Hakata Ramen?
Preparation of pork bones
Preparing the pork bone
Roll the pork bone, then tie it with kitchen twine, which will prevent it from falling apart during cooking.
Setting up the oven
Set the oven to preheat to 275°F/140°C.
Adding all the ingredients
Add all the remaining ingredients, plus one cup of water, to a Dutch oven, then submerge the pork log into the liquid. Cover with a lid but not completely. Place in a preheated oven and cook for 3-4 hours.
Set it aside after
When done, transfer to a new pot, then cover it, and when at room temperature, refrigerate until cooled. Then, strain the liquid and reserve for the ramen eggs, remove the twine, then thinly slice.
Mayu
Sauté garlic then add sesame oil
Add garlic and canola oil to a pot, then simmer over low heat for 10 minutes, constantly stirring until blackened. Transfer into a blender, add sesame oil, then whiz for approximately 30 seconds, so the garlic completely disintegrates.
Store and set aside
Store in a sealed container in the refrigerator for up to two months.Store in a sealed container in the refrigerator for up to two months.
Broth
Cooking chicken and pork bones
Cook chicken and pork bones in a pot of cold water until boiling, then take off the stove.
Straining the water
Throw away the water and wash the bones under cold running water, removing all the blackened dirt and scum, and marrow on the outside and inside of bones, so they are spotless and white/grey.
Grilling other condiments
Grill the onion, the garlic, and the ginger for 15 minutes in an oiled pan, stirring often.
Adding other ingredients
Add the bones, the grilled vegetables, the pork fatback, the mushrooms, the leeks, the scallions, and the cold water into a pot, taking care that the bones and the vegetables are covered by about two inches (5 cm) of water.
Boil all of it
Cook over high heat until the water reaches a rolling boil. If any scum starts appearing, remove it, and also clean the inside sides of the bowl from any scum. When there is no more scum appearing on the surface, lower the heat to a mild simmer, then cover the pot with a lid.
Cook for another few hours
Cook for about 4 hours until the fatback is cooked, then take the fatback from the pot and place it in a sealable container and refrigerate until later. Continue to cook for 6-8 hours, adding more water if needed to cover the bones and the vegetables.
 Let it boil again
When the broth is done, turn up the heat to bring the broth to a boil. Let it boil until it reduces to 3 quarts (2.8 L).
Filter the broth
Throw away the solids, and filter the broth using a fine-mesh sieve. Finely dice the fatback and stir it into the broth.
Noodles and Serving
Cooking the noodles
Cook each portion of noodles separately.
Boiling water and adding noodles
First, for each portion, heat a liter of water to a rolling boil, then place the noodles in the water and cook according to instructions on the packaging, stirring with chopsticks or thongs, so noodles do not stick.
Dividing the broth
Divide the broth between 6 bowls, then season it with the mayu sauce according to taste.
Adding noodles and toppings
Add the noodles, stir, and top with chashu pork and chopped green parts of the scallions.
Placing eggs (optional)
If making the ramen egg, slice each in half lengthwise, then place two halves in every bowl.
Nutrition Benefits of Hakata Ramen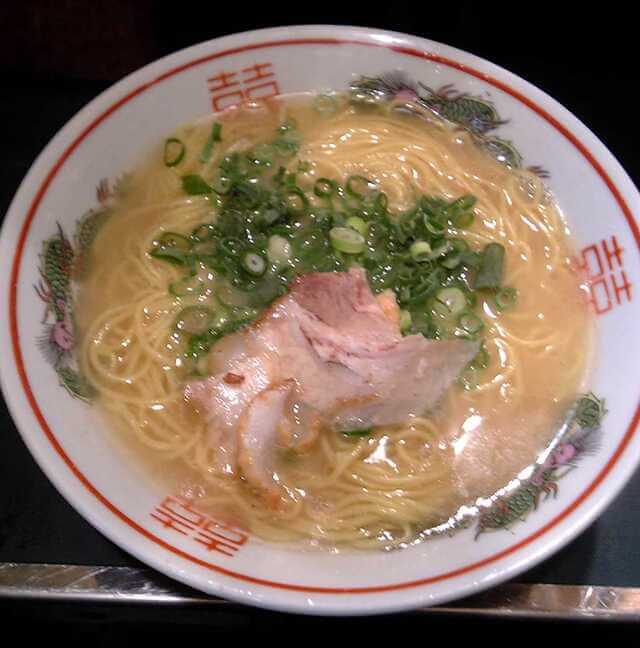 Tonkotsu ramen with rich soup entwined with noodles is especially delicious. Tonkotsu soup is rich in fat and seems to be high in calories, but the high calories and high sugar content of tonkotsu ramen are caused by noodles. Even the tonkotsu soup, which seems to be very high in calories, has only 32 Kcal. Compared with tonkotsu ramen and another ramen. All ramen is high in calories and sugar, but tonkotsu ramen is lower than miso ramen. If you really want to eat ramen while you are on a diet, you should choose a simple soup such as soy sauce or salt.
Difference between Hakata Ramen, Nagahama Ramen, and Kurume Ramen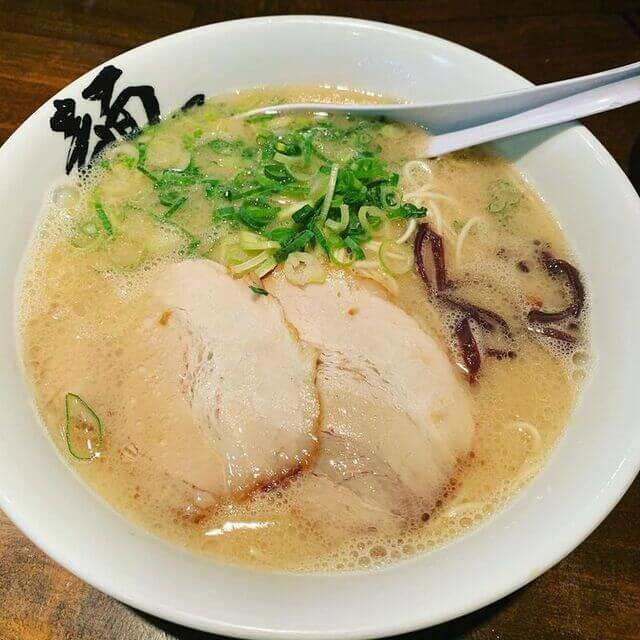 The big difference between other Fukuoka ramen like Hakata Ramen or Nagahama ramen and Kurume ramen is how locals extracted their flavors. Kurume ramen is made by cooking the broth in a round-bottomed cooking pot called a hagama. On the other hand, Hakata and Nagahama varieties are cooked in zundounabe stockpots. The broth is used up completely each time before being replaced, in a method called torikiri.
Why is tonkotsu ramen famous?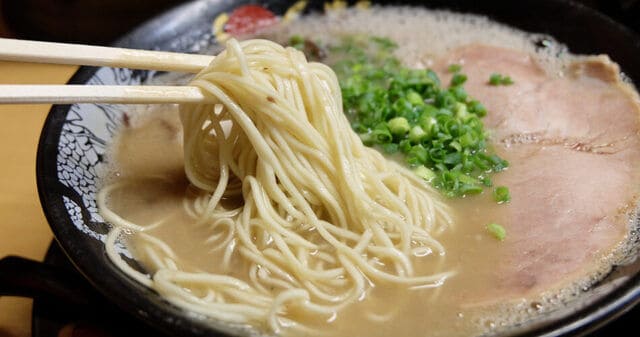 In the past decades, Tonkotsu flavour has been the mainstream of the Ramen industry, as it's the most tasteful and satisfying flavour of Ramen. Slow simmered pork bones turn into the rich, thick, and creamy soup that fascinates people around the world.
Recommended Hakata Ramen Restaurants
Hakata Issou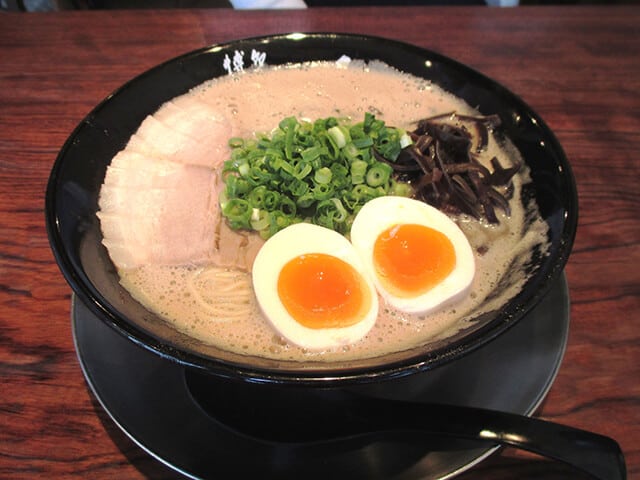 "Hakata Issou" serves another level of Hakata ramen. The foam that floats in the soup has been carefully cooked until the bones become tender and have a rich and creamy finish. The combination with the supple and smooth texture of the thin flat noodles, which boasts a replacement rate of 80% and is conscious of the entanglement of the soup, is exquisite.
Hakata Daruma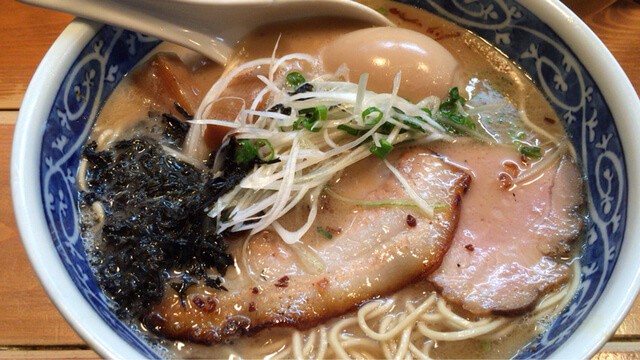 Hakata Daruma's hakata ramen is a cup that the owner created in pursuit of ideas that meet the needs of the times. While inheriting the rich and vivid soup made by the method of recalling the chewy ultra-fine straight noodles produced by the predecessor. This tonkotsu ramen is healthy ramen that does not use chemical seasonings and is particular about additive-free ingredients, making it truly modern.
Ikkousha Fukuoka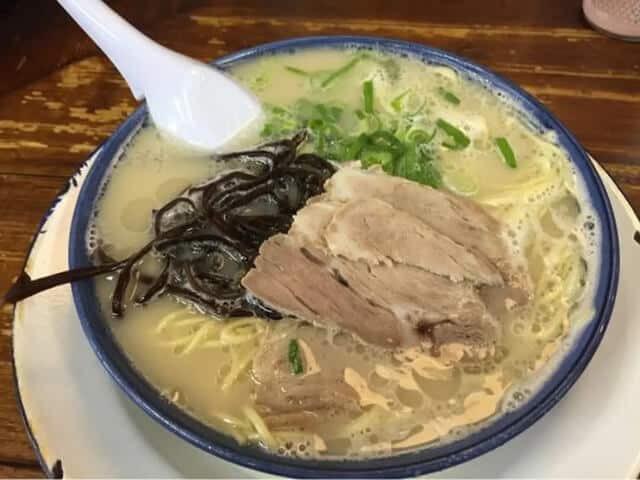 The restaurant was founded in 2004 by the owner, who is full of craftsmanship. The owner continues to have the desire to make the most delicious tonkotsu ramen in Fukuoka with a taste that does not belong anywhere. A soup that maximizes the creaminess and taste of pork bones. The scent of pork bones from this soup, the fat, and the water combine to create a delicate foam. Homemade noodles with a chewy and crispy texture go well with the rich soup. 
Hakata Genki Ippai!!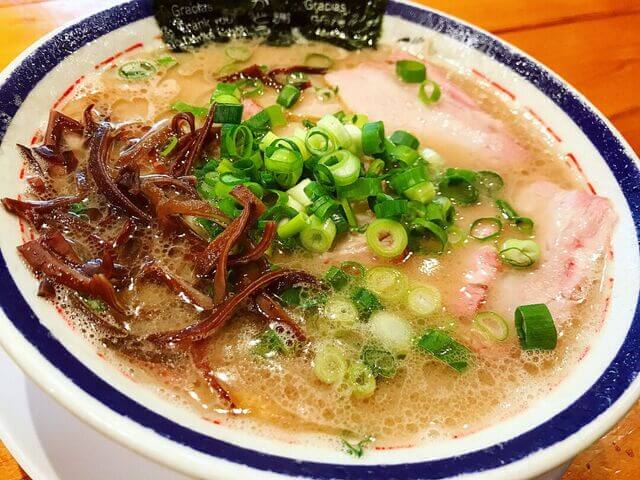 It is famous not only for its taste but also for its unusual ramen shop without a sign. The blue bucket that hangs in front of the entrance is a landmark for business. The owner makes the thick soup that looks like a pottage by cooking every part of the pork bones. This creamy tonkotsu soup is characteristic of the shop owner's self-taught research. The char siu has a perfect balance of lean and fat, and you can enjoy a moist and mellow texture. And the overall taste is smooth and slightly sweet.
Conclusion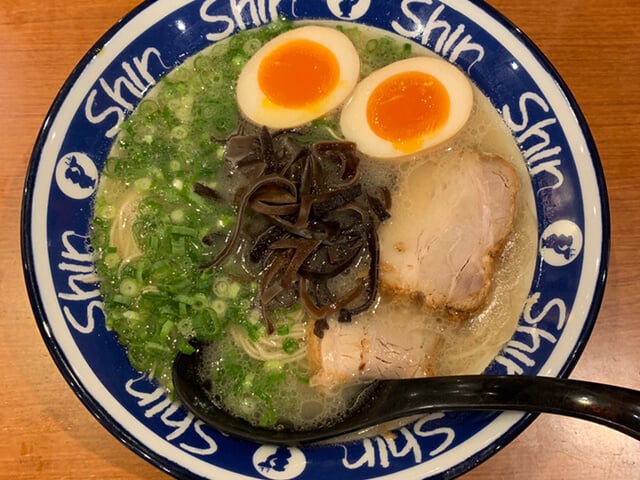 Ramen is quickly becoming the most popular Japanese food across the world. Outside of Japan, ramen restaurants have begun springing up in cities around the world in recent years in what can only be described as a "ramen boom."  It's a bit puzzling why Hakata ramen was the quickest to spread around the world. Indeed, other types of ramen such as classic Tokyo shoyu ramen have a long history. Additionally, they seemingly had more chances to spread to other countries due to the higher concentration of visitors to Tokyo. However, it seems that ramen enthusiasts from Fukuoka, for whatever reason, are the most gung-ho about spreading their special type of ramen to the rest of Japan and the world.