ORIGIN/ HISTORICAL BACKGROUND OF NEGIYAKI
Negiyaki Historical Background : Ever since a long time ago, people around the world, including Greeks and Romans, enjoyed pancakes. Back in the 16th century, there was a variety of pancakes called "funo-yaki" that was first enjoyed in Japan. It has a fried batter served with a sweet miso. Although funo-yaki disappeared in the Japanese diets and were absent for several centuries now, there are still some sweet Japanese pancakes that everyone can savor during lunch, dinner, or for snacks. Negiyaki is an example among them.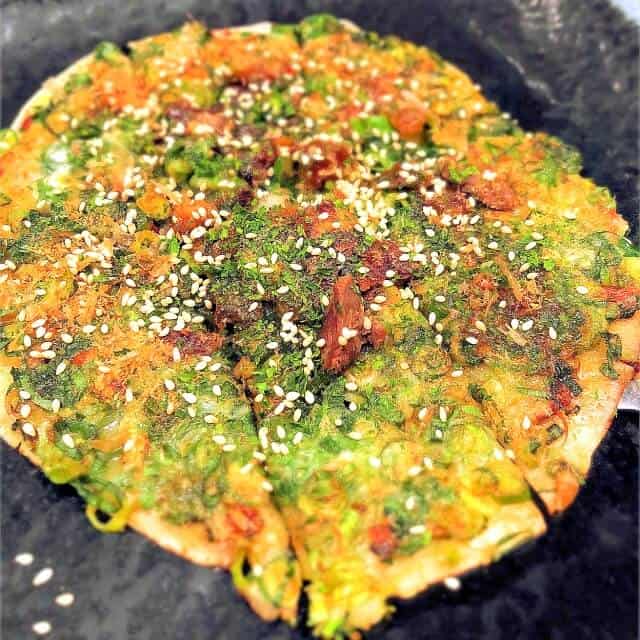 It is a type of Okonomiyaki but its characteristics are a bit different. Instead of cabbage, it is with green onions. It originated in the city of Osaka and is another type of savory pancake from the Kansai region. Negiyaki was born around the 40th year of the Showa era, just before the restaurant was established and in 1994, an Okonomiya restaurant called "Yamamoto" from Yodogawa-ku, Osaka registered its trademark name "Negiyaki". This restaurant became the founder of Negiyaki and has been providing the same taste ever since 1965. The dish originated after the hostess in the restaurant made it to feed her children after school. Some customers found out about this and they've requested the restaurant to include it to their menu. They called it the "Okonomiyaki with green onions" that time and just become "Negiyaki" by 1994. From then on, it became part of the shop and it was improved by many restaurants until it became its current style now. 
HOW IS NEGIYAKI MADE?
The Process of Negiyaki
Negiyaki, also known as Green Onion Pancake, is a savory pancake local food from the Kansai region and traditionally, it was cooked with a round-baked dough and a large amount of green onions and ingredients placed on top of it. However, due to improvising its taste, there are some shops that offer a "Mixed Grill" meaning they mixed the finely diced Japanese leek (negi) into the batter, resulting in a thinner pancake or they can add a small amount of cabbage and mix it with green onions.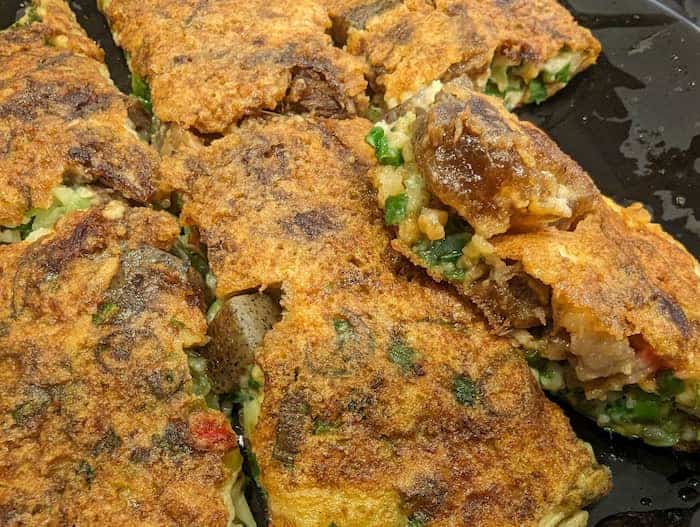 The main ingredients in making negiyaki are the same as with okonomiyaki. It is generally a "sujikon", a mixture of beef tenderloin and "konjac" or some type of taro plant that is sweet and spicy, and eggs may also be added. It is traditionally eaten with homemade soy sauce or some sweet barbecue style sauce with Japanese Kewpie mayo on top of it.  
What is so unique about negiyaki?
Being one of the sweet savory pancakes in Japan, Negiyaki, unlike the cabbage-based Okonomiyaki, gives off a scent that is peculiar to green onions. Once you smell this, it will arouse your appetite. And rather than paired with Okonomiyaki sauce, it is typically eaten with soy-sauce-based-dip and topped with additional green scallions. This special dip tastes so refreshing because it contains lemon juice and it harmonizes with the sweetness of the green onions. But in Kobe, doro sauce, a special Olive sauce made in Kobe, was used to partner it with the negiyaki ever since before war. 
RECOMMENDED NEGIYAKI RESTAURANTS
If you want to experience the aromatic taste of Negiyaki/ Green Onion Pancake, you can easily find them in Osaka. It is an Osaka's specialty after all. Here are some recommended Negiyaki's restaurants:
 Negiyaki Yamamoto Main Store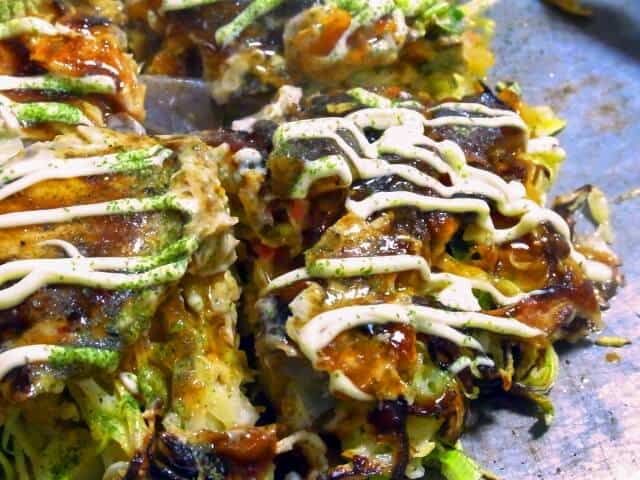 This restaurant, founded in 1965, made the first Negiyaki in Japan.  They added the dish to their menu and it became popular by then. This restaurant is a popular line-up shop. It is the best restaurant for Negiyaki that you can eat even if you are lined up with Osaka people who hate waiting.
Okonomiyaki "Mizuno" Restaurant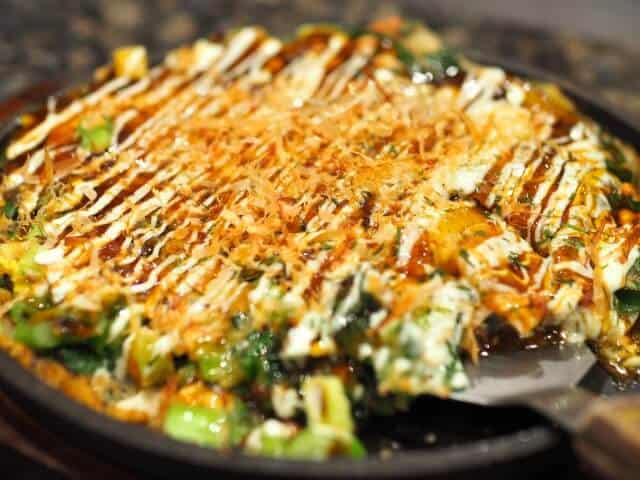 This restaurant serves an onion that was made by a well-known okonomiyaki restaurant listed in the Bib Gourmand section. It has an aromatic soy sauce and since it uses chopped green onions, you can thoroughly enjoy the original sweetness of the green onions and the texture as well, and the sesame and kaiware radish toppings are also effective. It is convincing that it has gained the No. 3 popularity among many menus.
Fukutaro Restaurant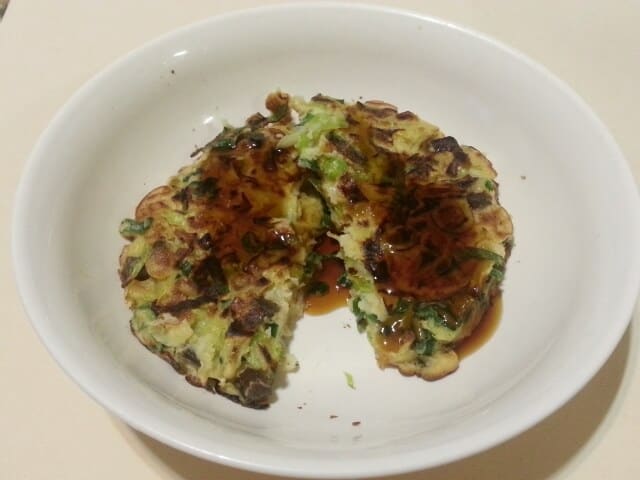 Fukutaro's green onion menu has a wide variety of dishes such as "pork", "mochi and cheese", and "mix" with pork, squid, and shrimp in addition to the standard "beef line". The perfect distribution of plenty of ingredients connected with a solid dough is an exquisite balance that you will not get tired of eating while being volume. You can enjoy the harmony of the taste on your tongue as it goes well with the rich homemade soy sauce.
Ajinoya Restaurant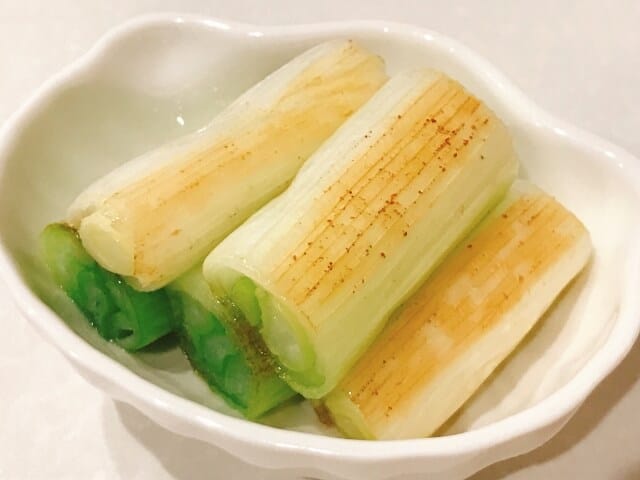 A long-established okonomiyaki store that has been protecting Naniwa's taste for over 65 years in the noisy Osaka/Namba area, is a well-known restaurant listed in the Bib Gourmand section of the Michelin Guide Kansai 2016. Green onion grilled with plenty of Kyoto's Kujo green onions is a style in which you can choose your favorite ingredients from seafood such as squid, shrimp and oysters and meat such as pork and beef and bake it. Enjoy the rich flavor of Kujo green onions, which changes depending on the ingredients used. 
Another Similar Food and Same Area Food
Another Oosaka Food
There are many other food in Oosaka and Kansai Area. Check here for Oosaka food, and here for Kansai Area Food
Similar Food of Negiyaki