Speaking of Japanese cuisine, you may think of popular dishes such sushi, ramen, takoyaki, etc. However, the special points of this food culture is not only in these traditional dishes but also the combination of traditional and Japanese style western dishes (or "Yoshoku"). In today's article, we are going to introduce Doria, which is a creative dish that originated in Japan. The rice used is butter rice or chicken rice while the sauces can be Bechamel sauce (white sauce), meat sauce or curry sauce doria, etc. In today's article, let's explore the meaning behind the origin of Doria, recipe to make it and where to find delicious Doria.
What is Doria?
Doria is a standard popular menu item at Western restaurants. It's a gratin-like dish with rice. In Japan, it is a dish made by pouring the white sauce over buttered rice or pilaf and grilling it over an open fire. It is similar to gratin but it is a savoury meat sauce over steamed rice, covered with melted cheese and baked in the oven. 
Although it was originally created in France, it is now found almost exclusively in Japan. It's basically a rice gratin; rice is either flavoured or topped with other ingredients such as bolognese sauce or sauteed prawns, covered in white sauce and cheese and then grilled. Seafood Doria is a dish that uses seafood such as shrimp and squid as a topping. There is also chicken Doria topped with chicken and curry-flavoured curry Doria.
Etymology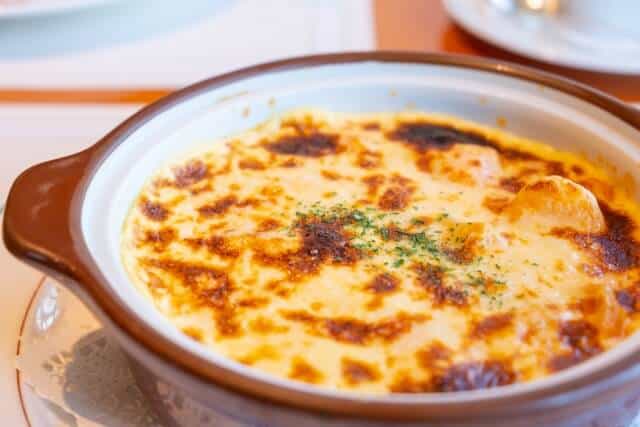 A Swiss chef who worked at a hotel restaurant in Japan invented the dish in the 1930s. It was a rice casserole with seafood (shrimp), covered with bechamel sauce and cheese, and then baked in the oven.  Originally, there was a dish called "Doria" in French cuisine, which they made for the Genoese aristocrats "Doria family" who were regular customers of the famous Parisian restaurant "Cafe Anglais" in the 19th century. Written in "Yokohama style", it is a dish using cucumbers, tomatoes, and eggs, and was completely different from the Doria made by Mr. Weil.
Doria History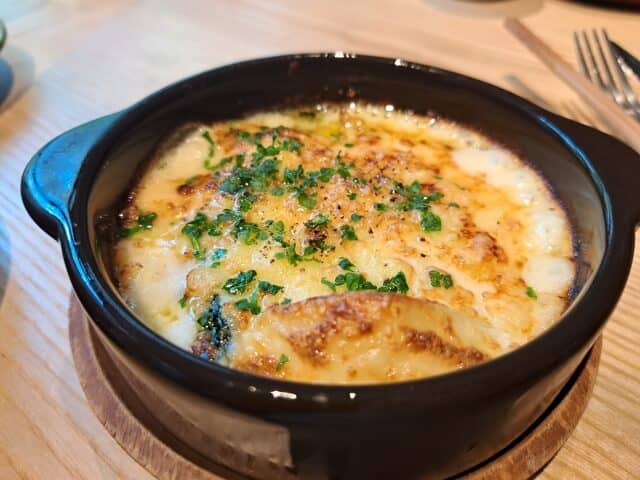 The prototype of the Doria we know today have been an impromptu dish that Sally Weil, first executive chef of the Yokohama Hotel New Grand, served around 1930 to a European banker who was ill. At that time, butter rice was topped with turf shrimp cream and bechamel sauce (white sauce) and baked in the oven.
Many believed that this is a European dish, but it is a creative dish that originated in Japan. At that time, shrimp in cream, which was popular in Europe, poured over pilaf, topped with bechamel sauce and cheese, and then baked in the oven. Doria was born. The Republic of Genoa is a commercial state formed in Italy in the early 12th century. 
Around the 13th and 14th centuries, it was a commercial nation that represented the Mediterranean along with Venice, but after that, the situation changed in various ways as it received interference from other countries. It has a history annexed by France from 1805 to 1814. In addition to Doria, born in Japan, there was once a dish named "Doria" created for the Doria family. Although the details are unknown, there is a record that it was a dish using tomatoes, cucumbers and eggs, and this dish represented the red, green and white of the Italian flag.
Doria Recipe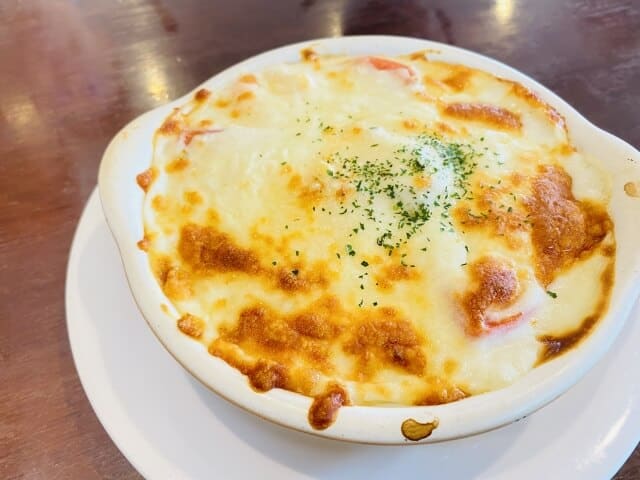 Doria Ingredients
| Ingredients of Doria for 1 person | Measurements |
| --- | --- |
| Minced beef and pork | 80g |
| Mushrooms (boiled) | 50g |
| Meat sauce | 175g |
| Salted butter | 10g |
| Cumin powder | 7g |
| Rice | 200g |
| Cheese for pizza | 50g |
| Parsley | 3g |
How to make Doria
Prepare the ingredients
Put the can of meat sauce, mixed minced meat, and mushrooms in a frying pan, and heat the minced meat while stirring so that it does not burn over medium heat. Add cumin and pepper and mix.
Seasoning the dish and put rice
Put the rice in a heat-resistant container, add salted butter and salt and pepper and mix well. Then, spread them evenly.
Bake the Doria
Sprinkle pizza cheese on it and bake in a non-preheated oven at 250°C for 13-14 minutes.
Serving
Once it's browned, sprinkle it with parsley and you're done.
Various types of Doria
Seafood Doria
Shrimp and Mozzarella Spiny Lobster Cream Doria
Enjoy the exquisite harmony of spiny lobster sauce and cream sauce.
Seafood Tomato Cream Doria
The combination of shrimp, squid, scallops and tomato sauce will captivate you.
Mentaiko and spear squid Edamame cream Doria
Yariika and mentaiko are a classic combination.
Vegetable Doria
Japanese-style cream with sweet potato and chicken
Topped with candied sweet potato and chicken. The compatibility of cheese and sweet potato is outstanding.
Meat Doria
Demi-glace hamburger
Hamburg steak & Doria finished with browned cheese and demi-glace sauce.
Cheese fondue-style hamburger 
Luxurious hamburger Doria with plenty of melty cheese.
Sukiyaki-style with beef and fresh vegetables
The soy sauce-flavoured cream sauce perfectly reproduces sukiyaki with Doria
Difference between Gratin and Doria and Risotto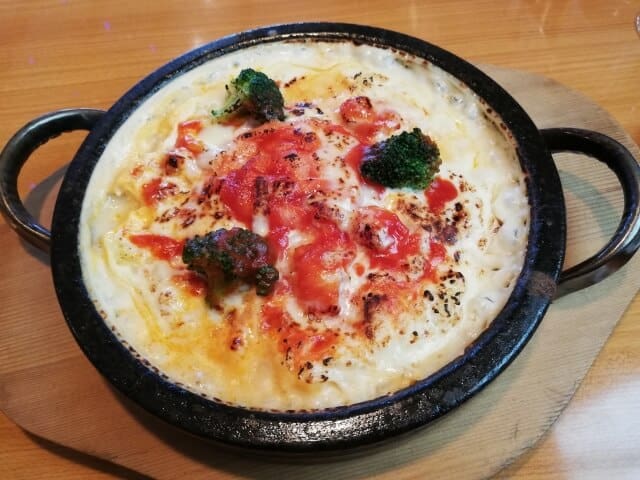 Although gratin and Doria look similar at first glance, they differ in the presence or absence of rice. Generally, the one with rice is called Doria, and the one without rice is called gratin. On the other hand, they described Doria sometimes as rice gratin. In other words, gratin that uses rice as an ingredient is what locals called Doria.
On the other hand, both Doria and risotto are Western dishes that use rice, but while Doria is a dish that originated in Japan, risotto is an Italian dish. Also, there is a difference in the cooking method, and they baked Doria in an oven. Risotto is by boiling the rice until it is soft. Therefore, risotto contains more water than Doria.
FAQ
 In what situations is doria typically eaten?

Doria is popular both as a home-cooked meal and as a restaurant menu item. At home, it is enjoyed in various situations such as dinner, lunch, and home parties.

What type of rice is recommended for doria?

Regular white rice is commonly used for it. Additionally, using seasoned rice such as pilaf or takikomi gohan can create a more flavorful doria.

What are some common mistakes when making doria? 

One common mistake when making it is having a watery white sauce. It is important to cook the white sauce thoroughly and evaporate the excess moisture before using it. Also, if the baking time is insufficient, the cheese may not melt, and if it is overbaked, it may burn. Adjust the baking time according to the recipe.
Where to buy Doria
Restaurant Komiya (レストラン香味屋)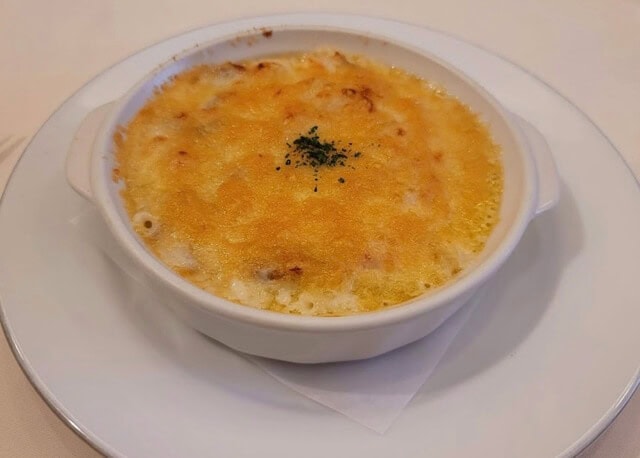 Restaurant Komiya is a Western-style restaurant in Tokyo listed as a Bib Gourmand in the Michelin Guide. It is a popular restaurant selected as one of the 100 famous restaurants on the word-of-mouth site Tabelog. They recommend their special Shrimp Doria at this restaurant. The carefully finished bechamel sauce has a deep flavour with a deep flavour of shrimp. 
Yoshoku Wine Fritts (洋食・ワイン フリッツ)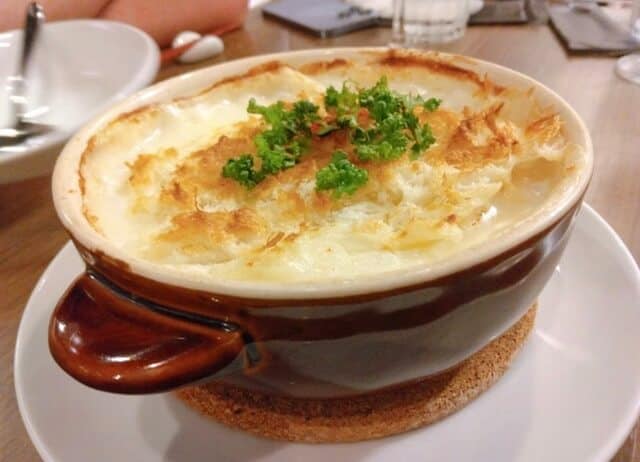 Western food and wine fritz is a Western-style restaurant listed as a Bib Gourmand in the Michelin Guide. An independent restaurant run by a chef who gained experience at a western restaurant in Akasaka, and is popular for its slow-cooking, juicy deep-fried food. They recommend the chicken Doria at this restaurant. Yoghurt-marinated chicken with spices and tomato sauce covered with white sauce, the restaurant's original taste is attractive.
Akasaka Tsutsui (赤坂 津つ井)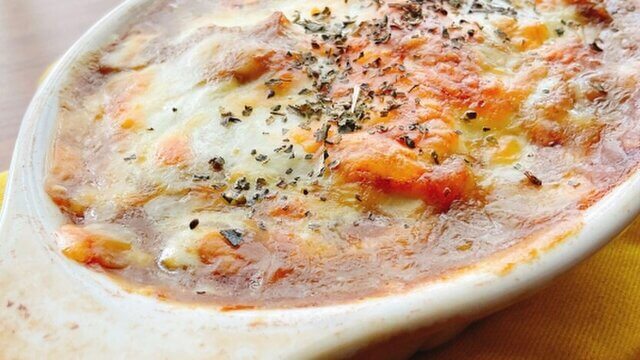 Akasaka Tsutsui Sohonten is a Western-style restaurant in Tokyo selected as one of the 100 famous restaurants on the word-of-mouth site Tabelog. This restaurant serves Western food that you can eat with chopsticks and featured in the media. The restaurant recommends their Crab Doria. They luxuriously used only crab for plenty of bechamel sauce, and they added the taste of crab to the deliciousness of the sauce. It also goes well with crispy cheese. 
Takeaway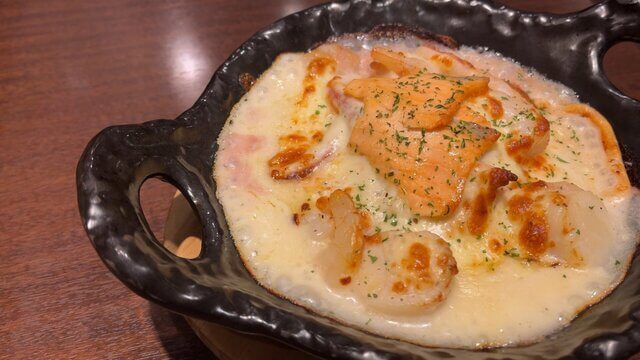 Similar to gratin, Doria is the savoury meat sauce over steamed rice, covered with melted cheese and baked in the oven. This Yoshoku (Japanese western meal) is a comfort dish from childhood for many Japanese.  It doesn't seem to be much like Japanese food, but they created Doria in Japan. It is a very popular dish that many young and older ones loved for a long time.
There are other Japanese dishes that you can try and have when you visit Japan.