Introduction to Tokyo Banana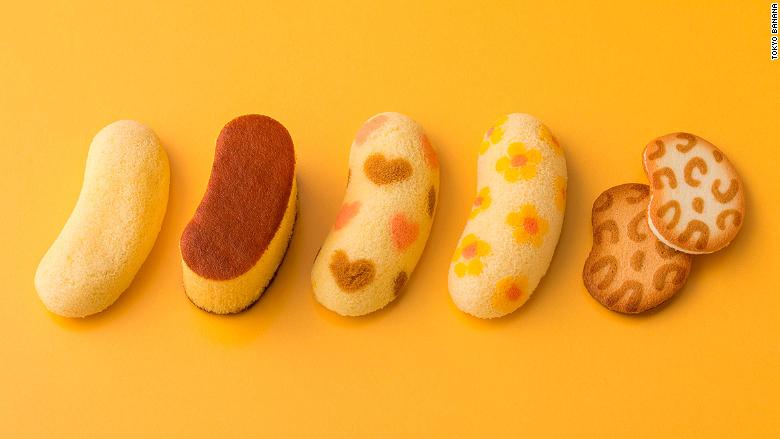 This Japanese sweet is everyone's favorite souvenir. Usually, you see this product as soon as you land in Japan. This is also every tourist's favorite souvenir. Now let's talk about Tokyo Banana! It has the shape of a banana sponge cake with cream filling. It is the official souvenir sweet of Tokyo and is manufactured and sold by Grapestone Co.
In addition, Tokyo Banana comes in many different flavors and is usually has individual packaging in plastic. The original flavor is Tokyo Banana Miitsuketa. It is filled with banana custard cream that uses strained banana puree. After baking, the sponge cake is steamed to bring out a soft texture.
As you all may know, everyone can purchase Tokyo Banana across stores in Tokyo and in several major Japanese airports.
What is the history of Tokyo Banana?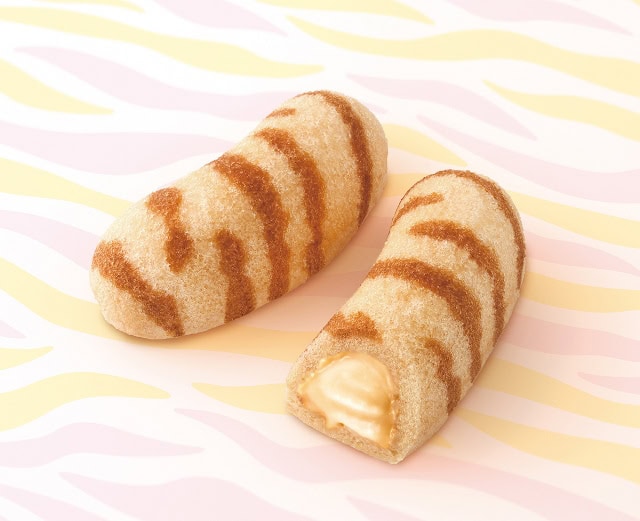 Tokyo Banana began development in the midst of the bubble era in 1989 and was born in 1991." As per the spokesperson of Graprestone co., they want to make their own new shape of Tokyo souvenirs that are always familiar to them but will make us feel nostalgic if we eat them. That's why the development started. It's easy to hold and fit in your hand. Well, it's not too cute, and it seems that fathers returning from work can buy it without being shy.
Additionally, Tokyo Banana Miitsuketa (見ぃつけたっ), the original custard flavor, first went on sale in 1991. Even before Tokyo Banana, there were a large number of souvenir cakes in Tokyo, but Tokyo Banana was the first to include "Tokyo" in its product name. As of 2016, the yearly sales are roughly 4 billion yen.
When is Tokyo Banana day?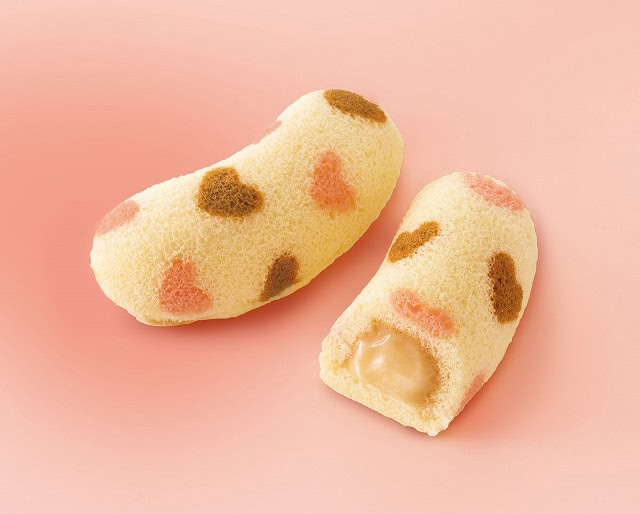 August 7th is the anniversary of Tokyo Banana. The date is from the pun that reads "Ba (8) Nana (7)". The purpose is to convey feelings of gratitude to those in Tokyo and those who visit who choose "Tokyo Banana" as a souvenir. The anniversary was certified and registered by the Japan Anniversary Association in 2018. In addition, many varieties and many other products are on sale.
What are the other flavors of Tokyo Banana?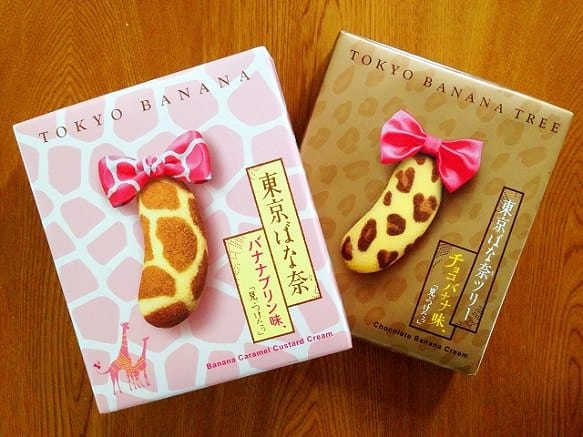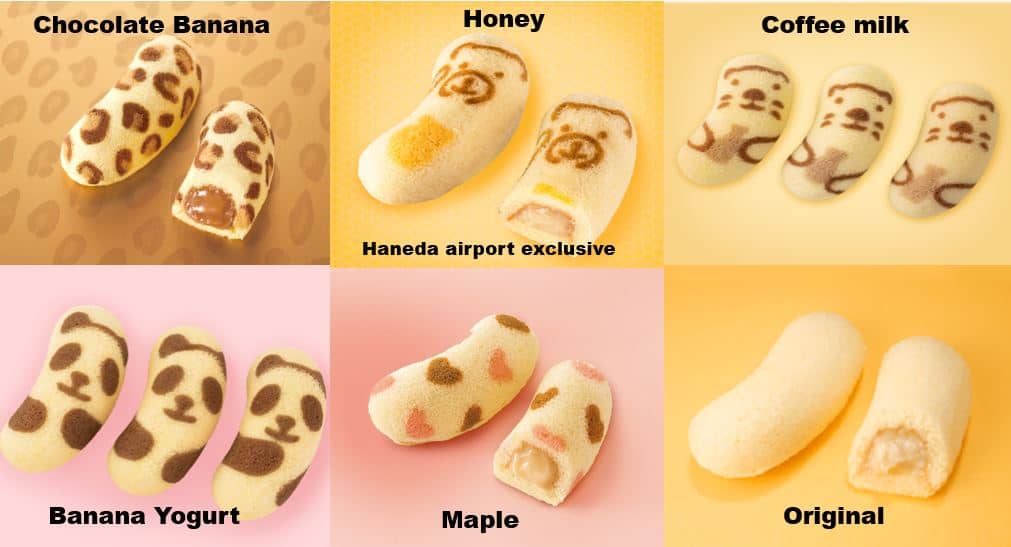 Undeniably, Tokyo Banana is one of the most popular sweet souvenirs you can buy in Japan. So before buying, make sure you get to know its different flavors first. Here they are:
Original Tokyo banana – The Original Flavor. It is light and fluffy sponge cake filled with banana custard cream. 
Honey Tokyo Banana – The Honey Flavor is only available at Haneda Airport. It is noticeable with its stripe pattern similar to that of a honeybee. 
STAR Almond milk cream – This flavor has decoration of stars and only available during the winter season.
Tokyo Banana Heart Maple – This flavor consists of a maple-flavored custard filling. 
Banana Caramel custard cream – Banana Caramel Custard Cream is a popular flavor due to its classic taste and the cake's giraffe design. 
TREE Chocolate Banana cream – Chocolate Banana Cream is known for its leopard spots made from cocoa dough. 
ROAR Caramel – The ROAR Caramel Flavor has a design of tabby cat stripes. 
TOKYO BANANA Castella Cake maple flavour – There's this flavour which is only available at Haneda Airport. Another version of Castella cake is topped with crystal sugar. 
Tokyo Banana Baumkuchen – a moist, light, and fluffy triple-layered baumkuchen.
The matcha cake from Ginza – This is a newly introduced item. It is a sponge cake filled with stone-ground Uji matcha, adzuki bean paste, and matcha milk cream.
Tokyo Banana Lineup
This fluffy little banana-shaped sponge cake filled with banana flavored custard cream with very cute packaging is one of the most popular souvenirs from Tokyo today. Here below is the official lineup of the Tokyo Banana series as shown on its official website. As of now, there are 15 flavors in the official lineup from Tokyo Banana website. It changes from time to time and by season so check it out here! They are highly recommended to take home as souvenirs!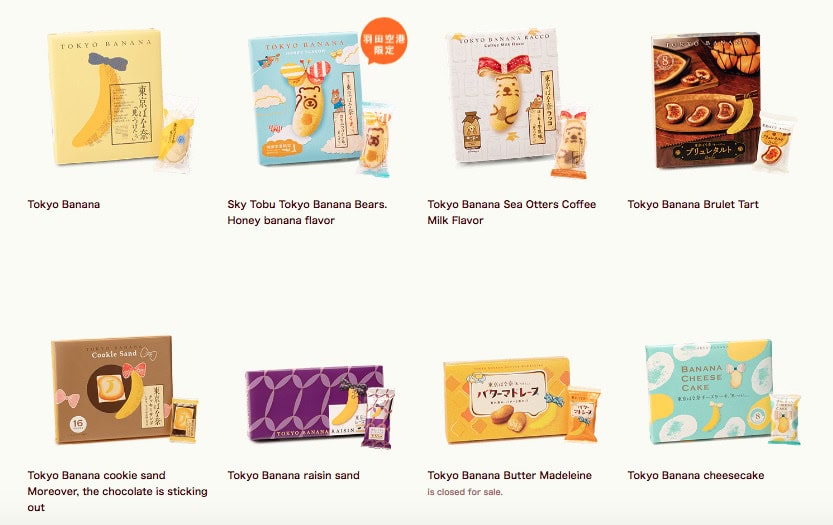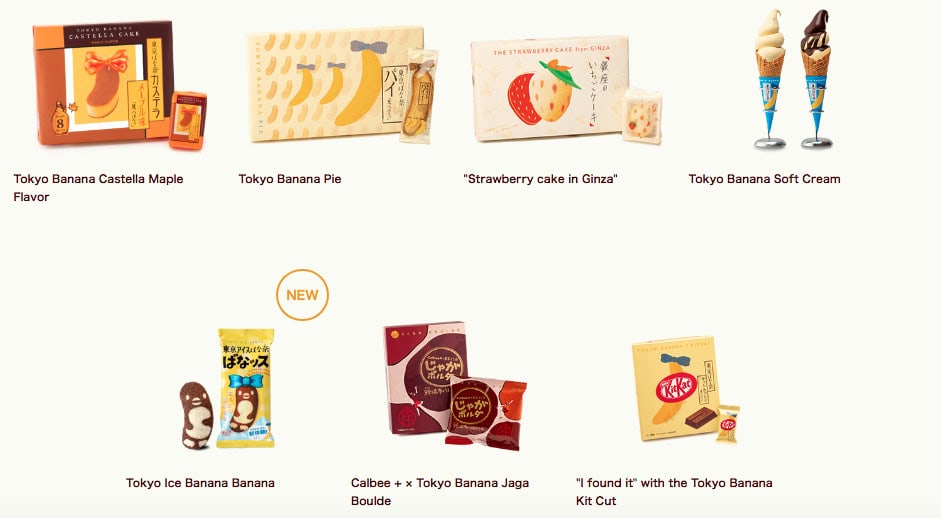 What are the recommended stores?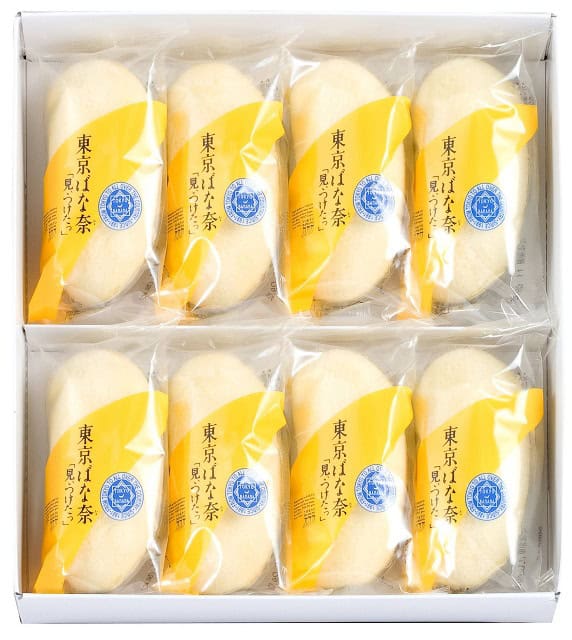 Daimaru Tokyo Store Tokyo Banana Studio 1F
In Daimaru 1F, here you can find the famous Tokyo Banana flavors and not to mention the famous Doraemon flavors! Here you can also find the strawberry cake, banana cheesecake, and more!
Daimaru Tokyo Store Tokyo Banana Studio B1F
There are famous flavors of Tokyo Banana being sold here. Also, on the 2nd floor, you can find the Pikachu Tokyo Banana series! You can also find the coffee milk flavor with Sea Otter design, strawberry cake in Ginza flavor, and as well as cookie sand.
Tokyo Station Disney SWEETS COLLECTION
In this store, you can purchase Disney-themed flavors! Such as Mickey & Friends Mitsuketta. This is perfect for Disney lovers. Also, a perfect souvenir if you came from Disneyland! There are lots of other stores as well located in Tokyo station, click here to know more.
Haneda Airport Terminals
You can see Tokyo Banana almost everywhere at the airport. Located at any souvenir shops in Haneda airport in arrival, departure, and inside the boarding areas. Additionally, the honey flavor is only available at Haneda airport. To see the other exact store location in Haneda Airport, click here.
Narita Airport Terminal 1 Restaurant
Aside from the original flavor, here you can find Pokemon and Pochama Tokyo Banana collections! The sponge cake, which is soft and fluffy like a Pochama, has plenty of "buttermilk-flavored banana custard cream" with butter from Hokkaido.
Conclusion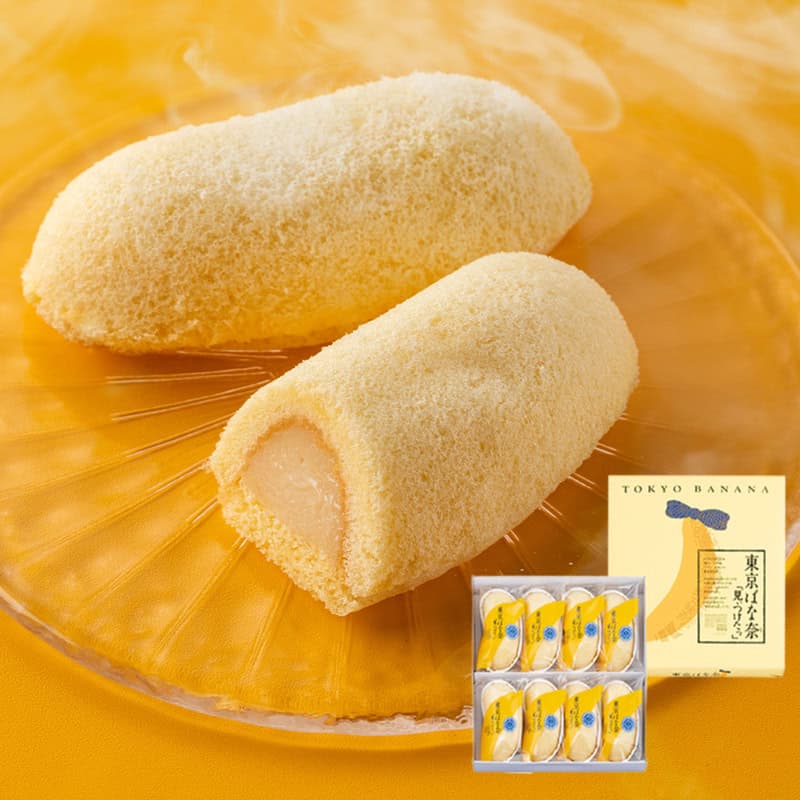 In conclusion, this famous treat is indeed famous for every tourist or even non-tourists. Usually, it's only available to purchase in Tokyo at airports, train stations, and souvenir shops. But you can now purchase it online even you're from overseas. Tokyo Banana is a delicious, sweet banana-shaped fluffy sponge cake. Yes, it is too cute to eat especially the other flavors with different designs but it is really tasty especially for banana lovers. They have smooth custard cream made with real strained bananas. Moreover, Tokyo Banana has captivated many people's hearts. That is why it is a perfect souvenir or gift item for Japan lovers, friends, family, and colleagues. Don't forget to bring this home if you come to Japan soon!