Introduction to Taiyaki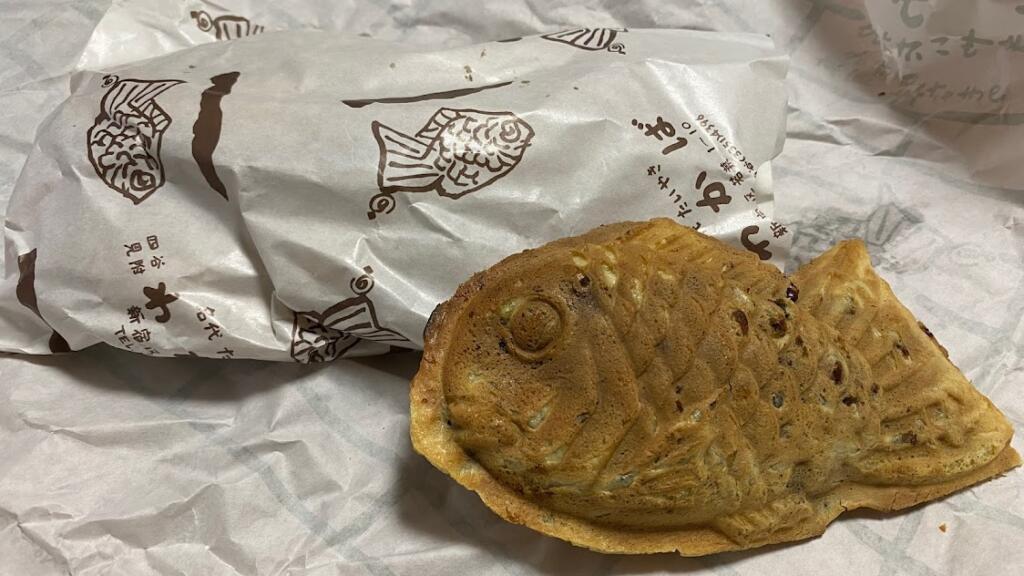 Now we have another Japanese sweet dessert that is popular worldwide as Japanese snacks and Japanese candies! Taiyaki is one of the most popular Japanese street snacks where you can see it almost everywhere in Japan especially in Tokyo. Taiyaki is a fish-shaped waffle-like cake with red bean filling. Don't worry, it doesn't even taste like a fish. The red bean paste completes the entire experience. It is famous at street fairs and festivals in Japan.
In addition, the common filling is red bean filling. However, other common fillings may be custard, chocolate, cheese, or sweet potato. Some shops even sell taiyaki with okonomiyaki, gyoza filling, or a sausage inside. Taiyaki are similar to imagawayaki, which are thick round cakes also filled with sweet azuki bean paste or custard.
Etymology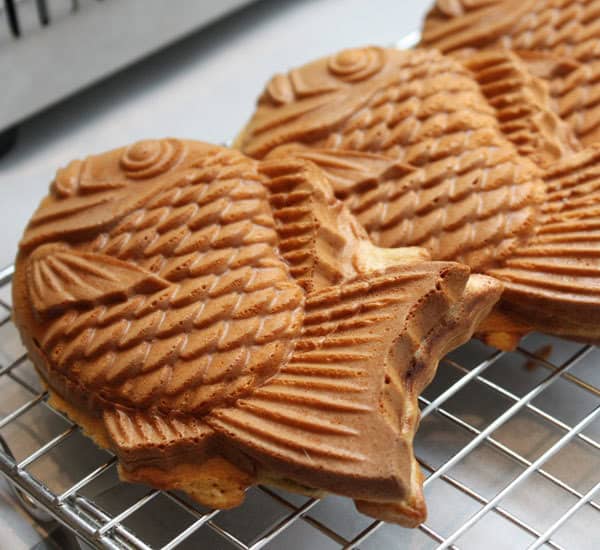 Taiyaki in Japanese is たい焼き. The tai of taiyaki (たい) means the red sea bream fish which take its shape from. Yaki (焼き) means baked or grilled. It is most more comparable to a waffle. Therefore, Taiyaki is a baked waffle in red sea bream fish shape, with a red bean paste as a filling.
What is the history of Taiyaki?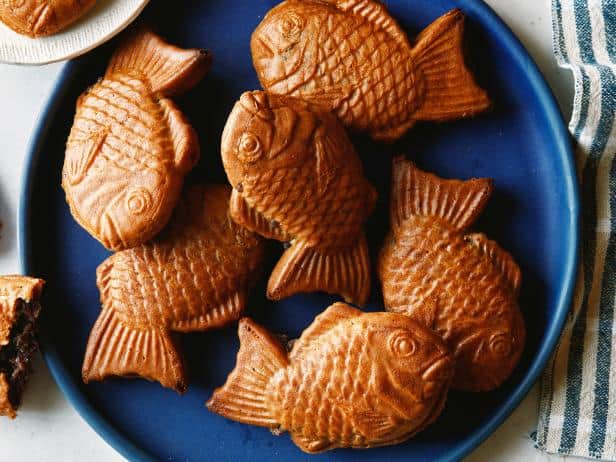 Taiyaki was first sold in Japan in 1909. It is essentially a reshaped form of "Imagawayaki", a popular snack made by wrapping bean paste in flour. During that time, Seijiro Kobe was having trouble selling his imagawayaki, so he decided to bake the cakes into fish shapes resembling tai, or red seabream. He was the founder of the store Naniwaya Sohonten. Tai is considered a symbol of luck and fortune in Japan. Additionally, it was an expensive fish only affordable by the higher classes or on special occasions. Masamori Kobe, the fourth owner of the store, stated that Seijiro wanted to give the ordinary people a taste of the expensive fish at low prices.
Since its creation, it has evolved into many variations, with different ingredients being used for filling and batter, as well as variations in shapes and sizes. Moreover, Taiyaki was introduced to Korea during the Japanese colonial period, where it is known as "bungeo-ppang".
In addition, during the postwar period, it spreads to other Asian countries, as well as to the United States.
What are the various types of Taiyaki?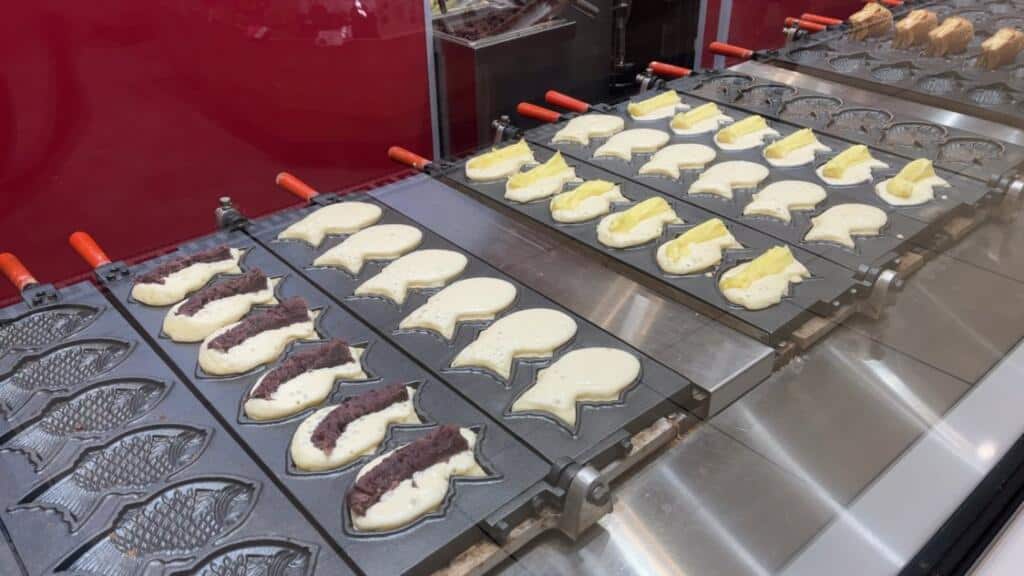 In addition to red bean paste, there are also shops that have custard cream and chocolate cream as fillings. There is also a version of Taiyaki that has a taste of Western confectionery, such as cheese cream and caramel cream based on cream cheese. In this way, it can be used not only as Japanese sweets but also as Western sweets, and the ingredients inside are rich in variety.
Additionally, Taiyaki ingredients are not limited to sweets. There is also a meal-type that can be eaten like rice balls and sandwiches. There are various ingredients such as tuna, egg, cheese, ham sandwiched, white sauce and curry, cabbage, and pork sandwich okonomiyaki. Even those who are not into sweets are familiar with these types of Taiyaki. In fact, it is a meal-type that can be made with cooking utensils that are common in the home.
Moreover, there are seasonal flavors such as cherry blossom bean paste in spring and sweet potato bean paste in autumn. In addition, Taiyaki has a variety of flavors such as refreshing blue ramune-flavored bean paste and potato salad stuffed with it. If you order it and stock it in the freezer, you can enjoy various flavors. Also, there are also other newest types such as croissant and white taiyaki.
What are the ingredients for Taiyaki?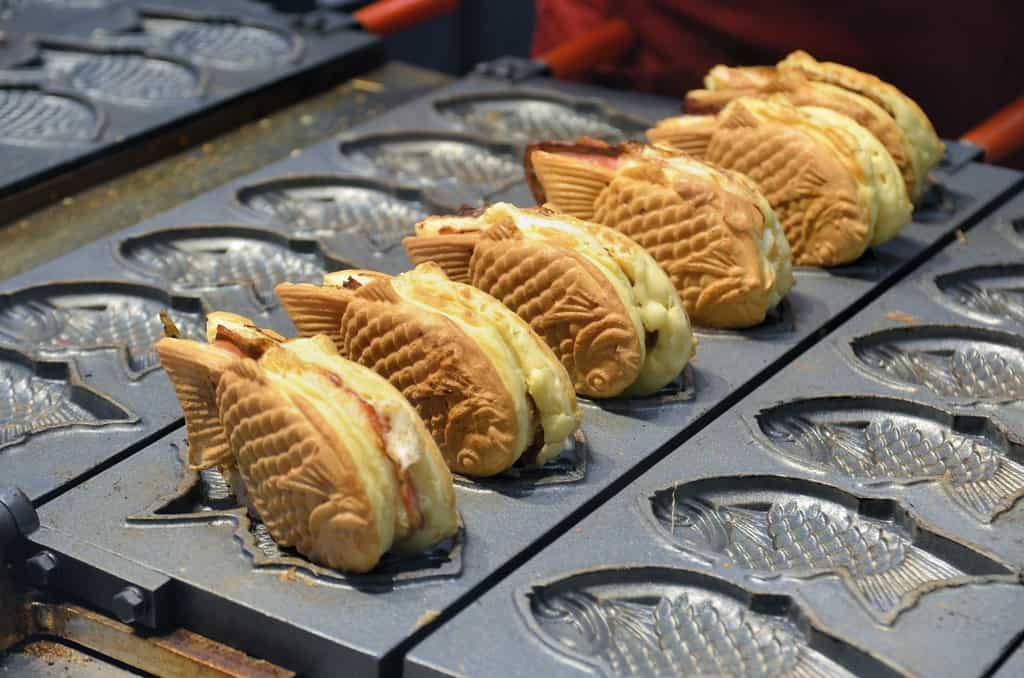 Making Taiyaki is actually easy especially when you're craving for it out of nowhere. You can find these ingredients almost everywhere. Here are the list of ingredients for making homemade Taiyaki:
| | | | |
| --- | --- | --- | --- |
| Ingredients: | | | |
| Cake Flour | | | 1 1/4 cup |
| Baking Powder | | | 1 tsp |
| Baking Soda | | | 1 tsp |
| Large Egg | | | 1 |
| Whole Milk | | | 3/4 cup |
| Sugar | | | 3 tbsp |
| Red Bean Paste or Anko | | | 5 tbsp |
| Oil | | | 1 tbsp |
| | |
| --- | --- |
| Material Needed: | |
| Taiyaki Pan or Mold | |
How to make Taiyaki?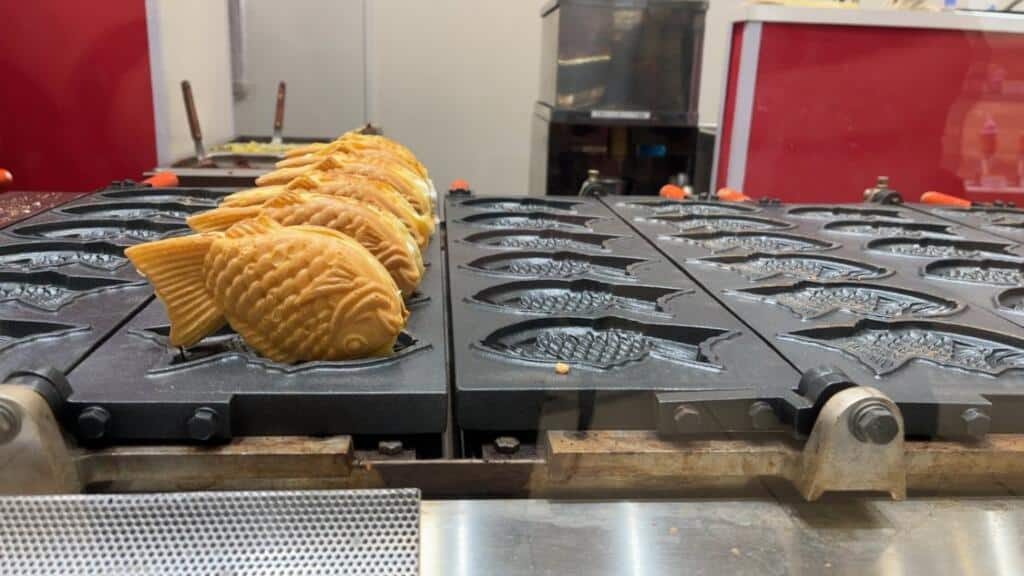 Prepare all the ingredients
Firstly, gather all the ingredients and your Taiyaki mold. Then sift the cake flour, baking powder, and baking soda into a large bowl. Add the sugar and combine well.
Add egg and milk
In a separate bowl, whisk the egg and add the milk properly. Combine the flour mixture (dry) and the egg + milk mixture (wet) together. Optional resting: Cover, place in the refrigerator, and rest for 30 minutes. Remove from refrigerator and gently mix. Additionally, this will give a fluffier texture.
Taiyaki Mold
After then, heat the taiyaki pan over medium. Brush with a little oil. Reduce heat to medium-low and pour batter into the taiyaki mold little by little. Add 2 tbsp of red bean filling then cover with more batter. Close the mold and flip. Cook until golden brown. Flip and cook on another side.
You're done!
Repeat with the remaining batter and red bean filling. You can have an option to try other fillings such as Nutella, custard, chocolate, cheese, or sweet potato, and more. Don't forget to share it with your family and friends!
What are the recommended stores?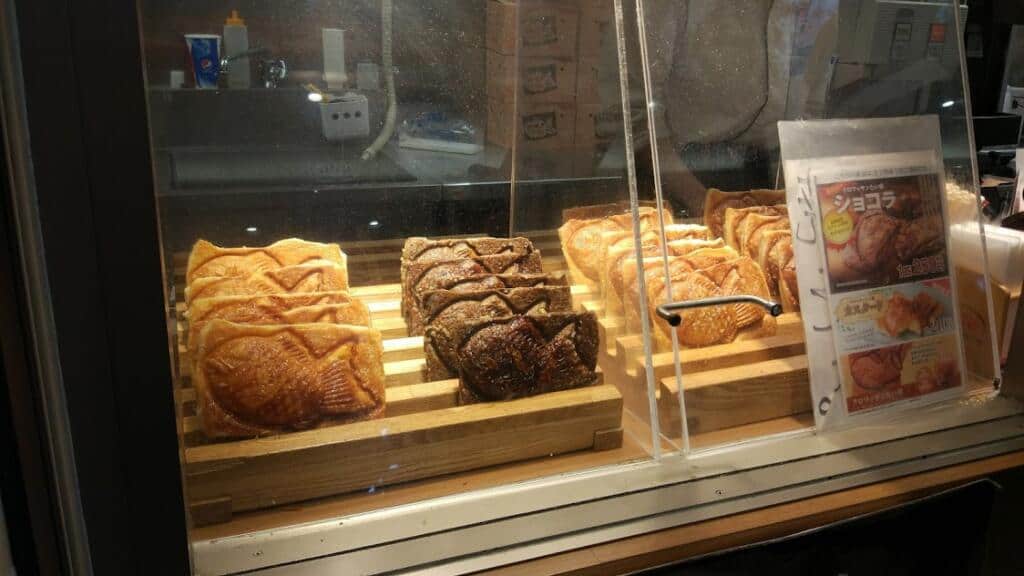 Naniwaya Sohenten
It is a long-established store that has been in business since the Meiji era in 1909. Their Taiyaki is characterized by a thin and crispy waffle. It is baked with wheat flour and azuki beans with a strong aroma from Tokachi, Hokkaido
Yanagiya
This is also a long-established store that is founded 101 years ago. At Yanagiya, they are particular about handcrafting anko every morning and using them all up that day so that they do not spoil the flavor of azuki beans. The amount of azuki beans used at a time is 100 kg, equivalent to 1,500 Taiyaki!
Wakaba
Along with Naniwaya and Yanagiya stores, this store is also one of Tokyo's Big 3 Taiyaki stores. Wakaba was founded in 1953. Their Taiyaki has a salty taste from the dough and it blends well with the sweet red bean paste. The tails are filled with paste so it feels heavy.
Sakuraya
Located in Shimbashi where there are lots of people in office attire. This store has choices of thick batter or thin. Sakuraya's thin Taiyaki costs 190 yen and the thick one is for 210 yen.
Conclusion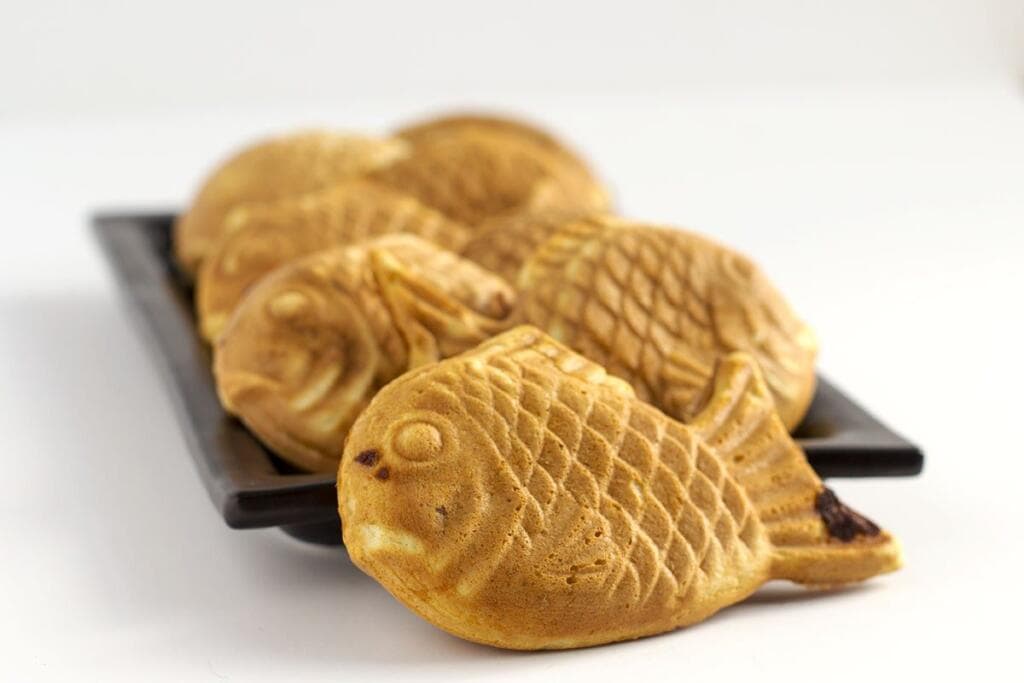 In conclusion, Taiyaki is indeed a memorable Japanese sweet snack by many. For anyone with an interest in Japanese food and culture, it is a good experience. There are also other Japanese sweets that are indeed delicious and memorable to people. This kind of street snack is also popular to tourists, in fact there are also Taiyaki stores outside Japan. They said that every person has their own way of eating and somehow reveal an aspect to each person's personality. If you eat it starting with the head, it is said that the person is optimistic. If you start eating from the bottom part of the tail, they are idealistic. And those people who start eating from the sides are energetic. Eating Taiyaki gives a lot of memories to many people. It is easy to spot Taiyaki everywhere in Japan as it is popular street food and loved by many. So, If you happen to visit Japan someday, don't forget to try Taiyaki!