INTRODUCTION TO CASTELLA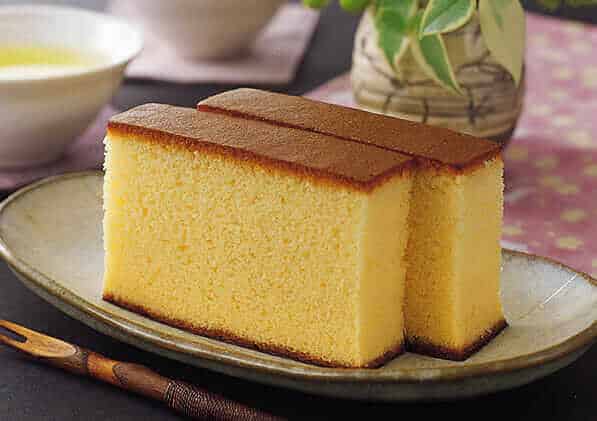 Castella is a Japanese confectionary , which is "wagashi" in Japanese. It's a simple sponge cake made with flour, eggs, sugar, and starch syrup, and baked in a rectangular mold. Castella was originally introduced by the Portuguese merchants to Nagasaki area in the 16th century. Additionally, it has a dark brown top and bottom crusts with a creamy yellow center which gives a beautiful contrast to the sponge cake. This delicate cake is very moist, smooth, bouncy, and has just enough sweetness with a fragrance of honey.
Moreover, castella cake is usually in long boxes, with the cake inside being approximately 27 cm long. Nowadays, it has different varieties to choose from. Castella is Japan's one of the most favourite traditional dessert. This one is really lightweight and yummy! Read throughout the entire article to know more about Castella!
ETYMOLOGY
The name 'Castella Cake' is 'Kasutera' in Japanese. In katakana, it is カステラ. It's actually not a Japanese word. Thus, it doesn't exactly sound Japanese. Moreover, that's because the name comes from the Portuguese phrase "Pão de Castela" which means "bread from Castille".
Castille is an old kingdom that belonged to Spain. It was a large and powerful state on the Iberian Peninsula during the Middle Ages. In English translation, it means 'Castle'. So, basically one of the origins of the name Castella is Castilla, which is the Portuguese name for the Old Kingdom of Casitlla.
WHAT IS THE HISTORY OF CASTELLA?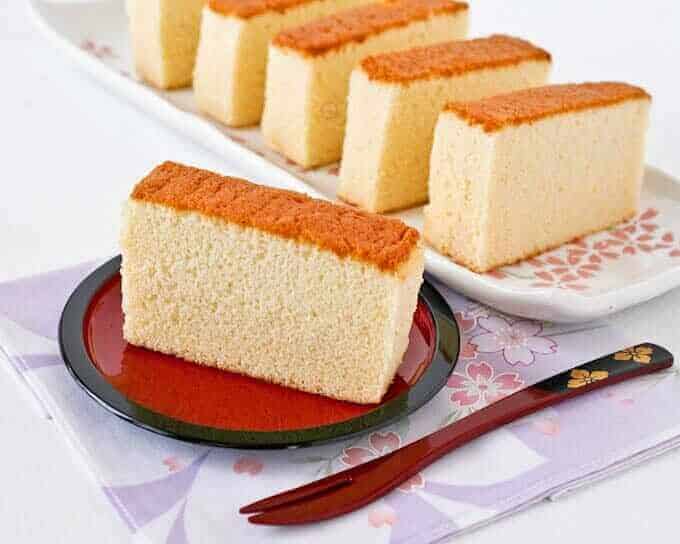 In the 16th century, the Portuguese reached Japan and soon started trade and missionary work. Nagasaki was the only Japanese port open for foreign trade. The Portuguese introduced many unusual things that time, such as guns, tobacco, and pumpkins. It was popular with sailors since they could bring the cake for long periods of time before going off. Moreover, during the Edo period the cake is very popular. However, it is also expensive to buy because of the cost of sugar. So, it was considered quite a luxury item. Over the years, it was changed to suit Japanese taste.
If you're wondering on how they bake during the Edo period. The "kiln" used to bake castella in the Edo period. Basically, it has the same mechanism as the current oven. The upper and lower part heats inside the kiln. However, the heat source is charcoal, and the atmosphere is quite different from the current one.
WHERE IS NAGASAKI?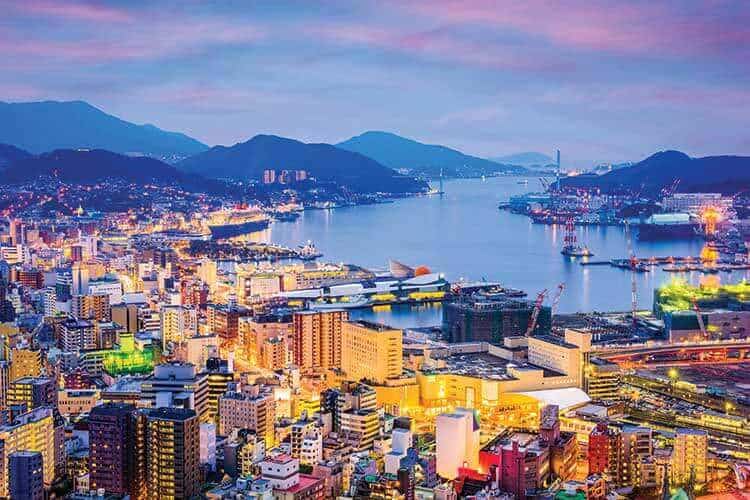 Nagasaki is an attractively port city on the island of Kyushu and the capital of Nagasaki Prefecture. As one of Japan's closest port cities to the Asian mainland, Nagasaki has played a prominent role in foreign trade relations for many centuries and was the most important of only a very few ports open to restricted numbers of foreign traders during Japan's period of isolation.
Additionally, if you want to travel to Nagasaki, you can reach by taking a train. Take the JR Tokaido/Sanyo Shinkansen from Tokyo to Fukuoka's Hakata Station and transfer to the JR Kamome limited express train to Nagasaki. There are also flights from Tokyo to Nagasaki Airport. If you want a cheaper route by air, book a flight to Fukuoka airport. From Fukuoka Airport, buses depart to Nagasaki every hour. The one way trip from Fukuoka Airport to Nagasaki takes 2.5 hours and costs 2620 yen. It's actually cheaper than flying directly into Nagasaki Airport.
WHAT DOES WAGASHI MEAN?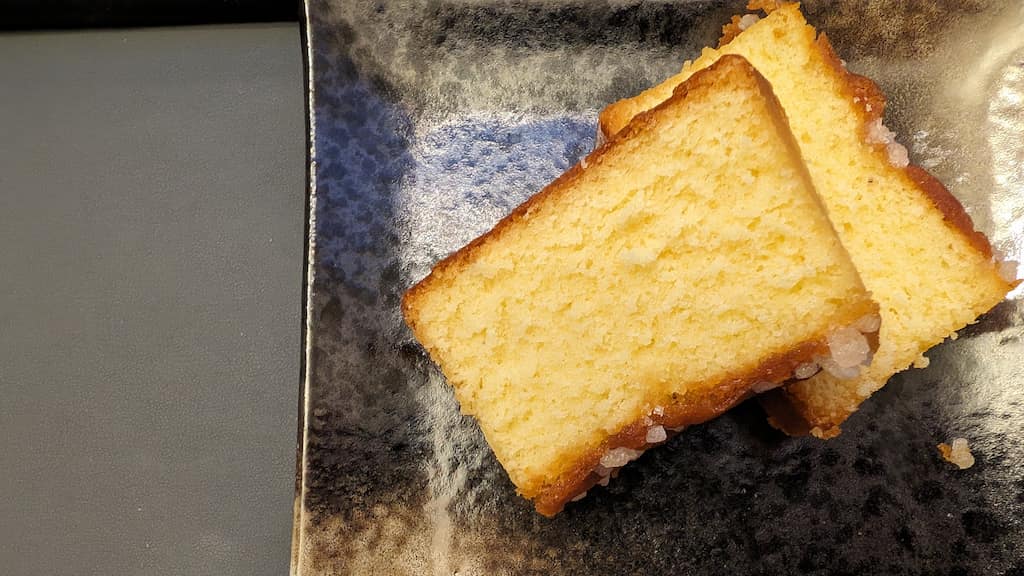 Wagashi (和菓子) are traditional Japanese confectionery, or Japanese sweets. Castella is a kind of wagashi. Originally developed in Japan based on the "Nanban confectionery" (confectionery imported from abroad to Japan during the Azuchi–Momoyama period). Some are popular across the country and around the year while others are only available regionally or seasonally.
Anyone can enjoy Wagashi especially at cafes, restaurants, temples and gardens where green tea is served. Tourists and locals can also purchase at specialty sweet shops, department stores, supermarkets, convenience stores and food stands.
There are also other most common wagashi types that tourists are likely to encounter, such as Namagashi, Daifuku, Dango, Dorayaki, Taiyaki, Manju, Yokan, Monaka, and more.
WHAT ARE THE OTHER VARIETIES OF CASTELLA?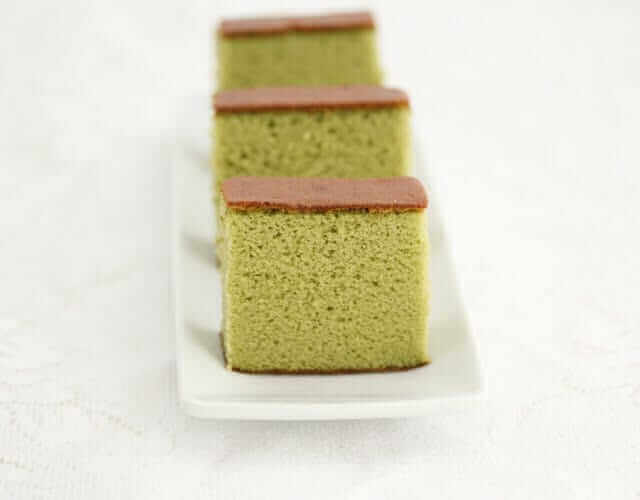 There are now many varieties made with ingredients such as powdered green tea, brown sugar, and honey. They may be molded in various shapes. In addition, a baby castella, which is a bite-sized version is popular in Japanese food festival. There is also variety called Siberia. It is a castella cake filled with youkan (sweet bean jelly). Also, Castella mix is used for the pancakes that are sandwiched together with sweet adzuki bean paste in the confection known as dorayaki.
In addition, Castella is served differently in different parts of the country. Other restaurants from different areas in Japan tend to prepare fresh with their own varieties of local fruit. In Okinawa, it is pineapple. Many areas serve castella with strawberries and whipped cream, which is extremely similar to a strawberry shortcake.
There is also a Nagasaki specialty peach castella. Peach castella is a beautiful sugar-coated castella. It has the shape of a peach, and used for celebrations in Nagasaki. Also you can see peach castellas in peach festivals, shrines, weddings, and childbirth. Recently, it is also popular as a souvenir for the tourists.
WHAT ARE THE INGREDIENTS OF CASTELLA?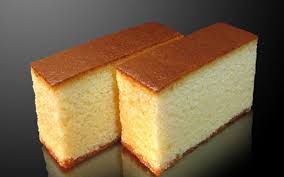 Castella is made with only 4-5 ingredients which makes it one of the easiest cakes to make! This is very popular confectionary in Japan. These are the following basic ingredients: Bread Flour, also called as strong flour. It has more protein than regular flour which results in the cake having a higher rise and more elasticity. Next ingredients are sugar and large eggs. Eggs must be in room temperature. Next is Honey, as the main flavour of castella. You will also be needing a water and a pinch of salt.
Why not try this delicious cake for your weekend baking project? If you want to learn how to make the basic Castella cake, scroll down below!

HOW TO MAKE CASTELLA?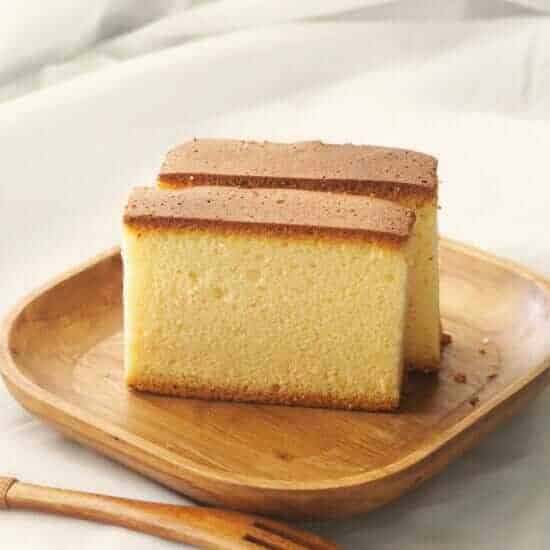 Treat yourself with this super moist sponge cake with a taste of sweetness from honey! Castella has been loved as a high-class confectionery for souvenirs and gifts since the Meiji era. However, it seems to be often used for sympathy because it is rich in eggs, nutritious and has a long shelf life.
Today, when microwave ovens have become widespread in the home, even castella can be easily made at home. Handmade castella is also a great gift for your close friends. Below is the recipe of Castella where you can make your own.
Prepare the strong flour
Firstly, sift the bread flour or strong flour. Bread flour has more protein than regular flour which results in the cake having a higher rise and more elasticity. The alternate for bread flour is all-purpose flour.
Add eggs and sugar
On a separate metal bowl, add the eggs and break it. Use hand mixer. It's very important that you do not use cold eggs as the temperature will affect the baking time. Add the sugar to the eggs and turn the speed to high. Mix for 4-5 minutes until the colour turns a pale yellow and the texture has thickened.
Add honey and water
Turn the speed down, then add the honey, water and pinch of salt. Whisk at low speed (Speed 2) until combined, about 30 seconds.
Add the bread flour
Add one third of the strong or bread flour and continue mixing until the flour is combined. Repeat this step twice more until all the bread flour has been combined.
Prepare the mold
Spray the loaf pans with oil and spread out evenly with pastry brush. Put the parchment paper in the pans and make sure the paper sticks to the pans. If not, add oil and spread out evenly with a brush. Then, put the batter.
Bake
Bake in an oven preheated to 180C for 10 minutes, then lower to 160 C and bake for another 30-40 minutes. Stick a skewer in the centre of the cake – if it comes out clean it's fully cooked. If not, leave it in the oven for an additional 5 minutes and do another skewer test.
Honey mixture
Mix 1 Tbsp honey and ½ Tbsp warm water in a bowl and apply the honey mixture on top of the cake with a pastry brush. Then, place a sheet of plastic wrap on the counter top. Take out the cake from the pan to the plastic wrap, top facing down. Gently peel off parchment paper.
Wrap and rest the cake
To give a cake more moist texture, wrap it with plastic wrap to keep the moisture and while it's hot. Additionally, store in the refrigerator overnight for at least 12 hours. Keep the top side facing down.
Slice
After resting it on the refrigerator, slice it for about 1-inch or slice it on the size of your choice. And yes, you just made a basic Castella cake! Now go enjoy it and pair with your favourite tea or lattes!
WHAT ARE THE HEALTH BENEFITS OF CASTELLA?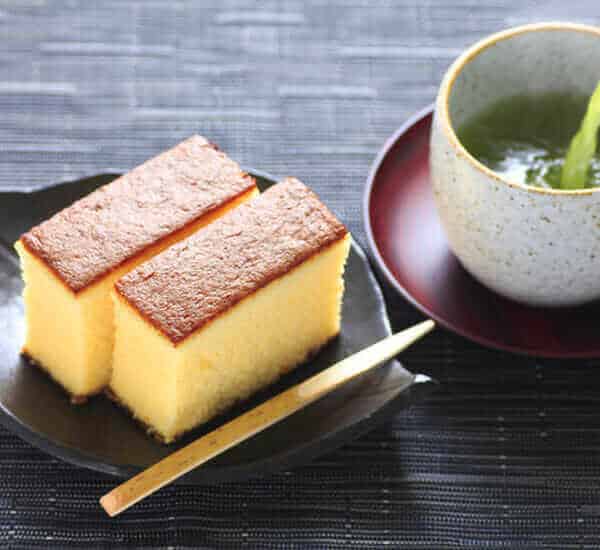 The main ingredients of Castella are basically flour, sugar and eggs. This egg contains good protein and provides essential amino acids that the body cannot synthesize. Many athletes as well eats Castella as their one of their diet. This is necessary for the repair and growth of the functions of the body including muscles. Also, compared to other sweets, it contains less fat and more sugar. Castella sugar keeps blood sugar levels in moderate. Thus, it is also good for endurance exercise and recovery from fatigue.
Castella contains proteins, carbohydrates, nutrients such as vitamins and minerals. In addition, there are also other health benefits in eating Castella. Such as immunity booster, recovery from fatigue, prevention of cancer, prevention of high blood pressure, prevention of anaemia, good eye health, maintenance of bone and teeth, anti aging, and also good for skin.
WHAT ARE THE RECOMMENDED RESTAURANTS?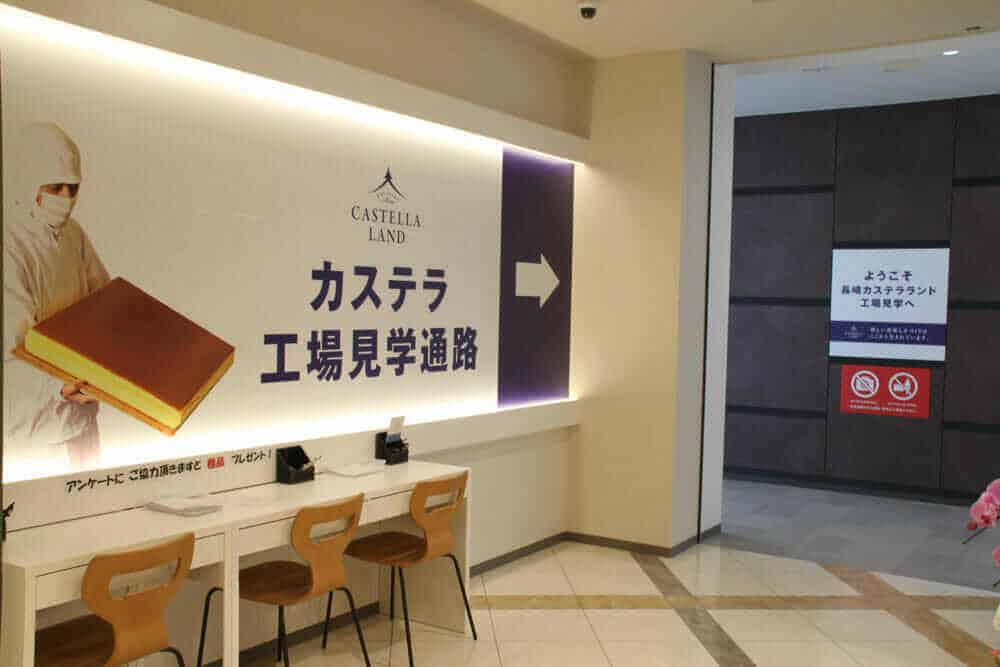 Fukusaya
It is the oldest castella maker and the original long-established brand known as "Castella Honke". You can feel the sweetness from their Castella. And you can also enjoy the crunchy texture since Fukusaya Castella has large grains at the bottom.
Castella's Ginso Nihonbashi Takashimaya store
Ginso's head store is in Osaka. However, you can also buy Castella souvenirs in this store. This one is located in Nihonbashi in Tokyo. Ginso's castella is different from traditional ones since it is more light, moist and spongy.
Bunmeido Cafe
This cafe has history of more over 100 years and one of the most famous castella shop. It has main store in Nagasaki as well as in Tokyo. Bunmeido's Castella has a rich taste and very moist texture. They do not just sell traditional castella but also modern flavours such as matcha and chocolate.
Cafe de Souvenir
Cafe de Souvenir is a Castella and Pancake sepcialty restaurant. The sponge-cake manufacturers Sakaeya are the one who runs this cafe. The restaurant is located on Prefectural Route 281 in Matsudo-shinden, Matsudo City. It is about 13 minutes on foot from Shin-Keisei Electric Railway "Matsudo-Shinden Station"
Castella Land
Castella Land has a view of the sea located in Nagasaki! It has a large and spacious shop where you can find a wide variety of popular souvenirs such as castella and Nagasaki's famous confectionery. In addition, the store's wall surface with stained glass is traditional craft that creates the uniqueness of Nagasaki. It remains from the old store. In the back of the shop, there is a passage leading to the Castella factory. However, no photos allowed.
In this restaurant, you can also order Castella egg omelette that is made of special Castella eggs and more!
CONCLUSION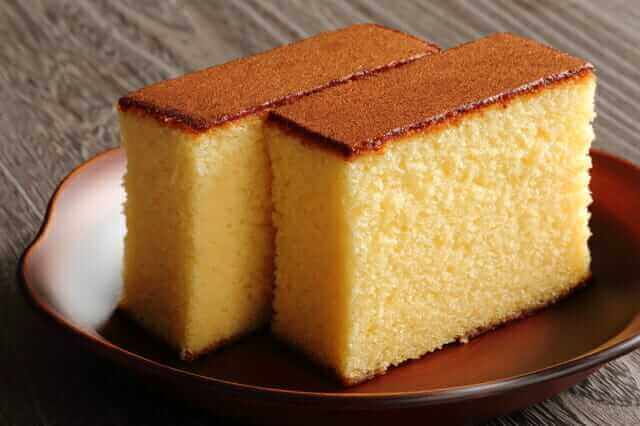 In conclusion, this traditional dessert is hard to avoid when you go visit to Japan. It would definitely find a way to your stomach. However, it's not that bad thing since it's light and moist that can absorb your body completely. Not to mention the ingredients are indeed healthy. You won't feel any guilt by eating Castella. This cake is good for health conscious that has a lots of benefits for our body. Nowadays, cakes are sweet that may cause bad side effects therefore, we should keep in mind to eat with moderate sugar.
Japanese desserts or sweets are not that really which is good. Actually not just in sugar but generally in their food they have less in almost everything. Less in fat, sodium intake etc. That is indeed a healthy diet for a health conscious person. Castella is made of ingredients with protein, vitamins and minerals that made your body in a good condition. It is a perfect souvenir as well for different types of occasions that is why Castella are tourists and locals favourite.