Shougayaki is one of Japan's representative home-cooked dishes that is really familiar with Japanese. How do you make Shougayaki at home? In fact, depending on the ingredients and seasoning, it can be a completely different dish. This time, let's learn out recipe to rank up the taste of your dish! Can you tell the differences between our recipes and the way you have been always cooking Shougayaki at home?! Remember these tips below and your dish will get much better.
What is Shougayaki
Shougayaki is a traditional Japanese dish of marinated grilled meat in ginger juice. It is a pork-based recipe, and shoga-yaki simply means "pork ginger-grilled." Locals in Japan make this by combining grated ginger, soy sauce, sake, mirin, and grilled meat. The aroma of ginger reduces the odour and oiliness of the meat, and the unique spiciness contained in ginger stimulates appetite. Because it is quick and easy to make, locals often made this at home. There are also examples of ginger-flavoured sauce applied to steaks and hamburgers.
Etymology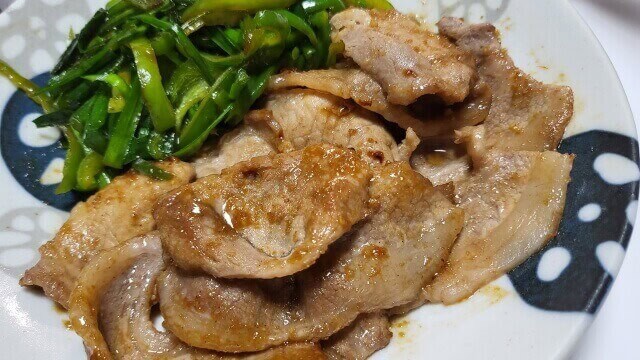 In Japanese, ginger is shoga (生姜) and "yaki" (焼き) means grill. In other words, it directly translates to "grilled with ginger." If you mention "shogayaki" in any place in Japan, most people will assume you're referring to pork shougayaki, but other variations with beef also exist.
Shougayaki History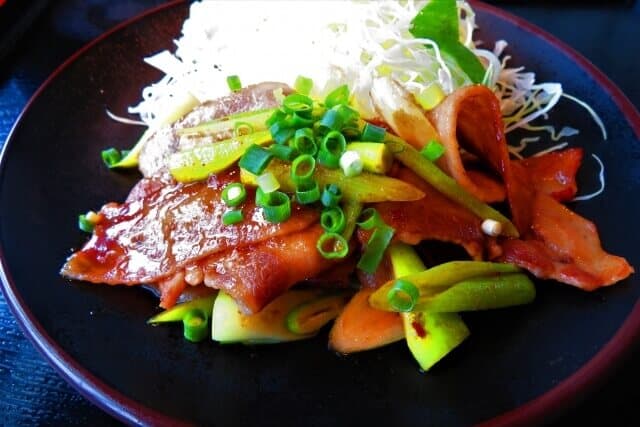 It got its name from the use of ginger to mask the animal odour of pork. However, until the Showa period, shoga-yaki and yakiniku were inextricably linked, with only the former, in which they grilled the pork with ginger soy sauce, and the latter, in which beef was grilled with garlic soy sauce, being considered. Furthermore, the colour of home cooking was strong, while awareness of the food served at the restaurant was low.
The commercialization of shougayaki began in the 1940s. When an izakaya in Ginza, Tokyo developed it as a meat dish prepared quickly and in large quantities, allowing it to respond to delivery orders. The owner, who received his training at the teppanyaki restaurant Benihana, used chopped meat in the sauce, which included ginger, soy sauce, mirin, sake, and onions. Following its success, shouga-yaki gradually gained recognition as a menu item for eating out, beginning with side dishes for catered lunches and restaurants. It was a local dish in the Kanto region until the Showa period, but with the development of the national chain restaurant industry, it is now a standard pork dish nationwide.
Shougayaki Recipe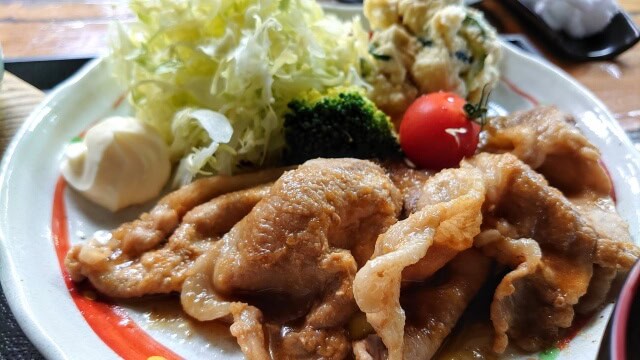 Shougayaki Ingredients
| Ingredients of Shougayaki for 2 persons | Measurements |
| --- | --- |
| Pork loin (for grilled ginger) | 200g |
| Ginger | 20-30g |
| Onion | 20g |
| Garlic | 10g |
| Shredded cabbage | 50g |
| Vegetable oil such as salad oil or rice oil | 7g |
| Mirin | 14g |
| Sake | 14g |
| Ginger juice | 2g |
| Soy sauce | 28g |
| Sugar | 14g |
| Ketchup | 14g |
| Sesame oil | 4g |
| Pepper | 2g |
How to make Shougayaki
Pork and sinew for ginger grill
The meat is first cut into strips. Spread the pork one by one on a cutting board, and since there are streaks between the lean meat and the fat, poke the tip of the knife into the streaks at intervals of about 1 cm and cut them off.
Pork marinade and sauce making
Grate the ginger and garlic together in a bowl. Then, spread the sliced ​​pork on a tray , add 1 tablespoon each of mirin and sake, and add a pinch of ginger and garlic that you squeezed earlier, squeeze it well and add the juice.
Making the ginger sauce
While the pork is marinating, thinly slice the onions and prepare vegetables such as shredded cabbage. After the pre-zuke is finished, add seasoning of soy sauce, sugar, sesame oil, ketchup, and a little pepper to the bowl where the ginger and garlic have been grated to make the ginger-yaki sauce.
Ginger grilled pork
Heat 1 teaspoon of oil in a frying pan over medium-high heat and lightly fry the onion. When it becomes a little translucent, move the onion to the edge and spread the pork. And, when you start grilling the pork, a little moisture will come out of the meat, so when the moisture evaporates and the grilled side is lightly browned, turn it over.
Serving
Occasionally turn the pork and onion upside down, and cook until the sauce boiled down and the pork is thoroughly entwined (approximately 2 minutes after adding the sauce). Removed the frying pan from the heat, and placed shredded cabbage in the back of the bowl, onions next to it, and ginger-grilled pork in front.
Health benefits of Shougayaki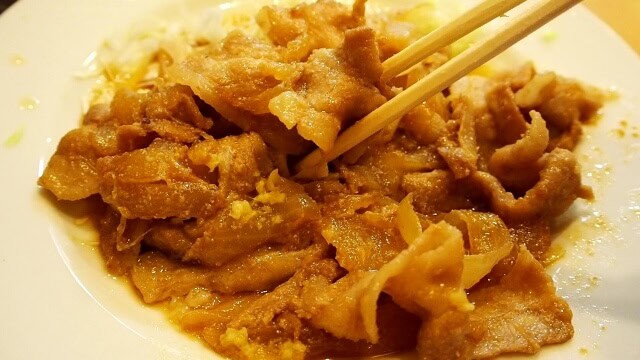 The ingredients used in shoga-yaki are pork and ginger, but this is a stamina menu with many ingredients that revitalise the body. Pork contains a lot of vitamin B1, which is great for fatigue recovery. This is due to the fact that vitamin B1 found in pork converts carbohydrates into energy. Ginger also has a peculiar spiciness when you eat it. The source of the pungency is the gingerols and gingerols contained in ginger. Which has the effect of warming the body and adjusting the condition of the gastrointestinal tract.
Vitamin B1 contained in pork and shogaol and gingerol contained in ginger make it a stamina dish that recovers from fatigue and leads to a healthy body.
Shougayaki contains nutrients such as vitamins, minerals, and proteins, and is effective in boosting immunity, recovering from fatigue, preventing cancer, preventing anaemia, maintaining eye health, preventing ageing, and beautifying the skin. It is a healthy dish because of its health benefits.
Where to buy Shougayaki
Mogame Shokudo (吉祥寺 もがめ食堂)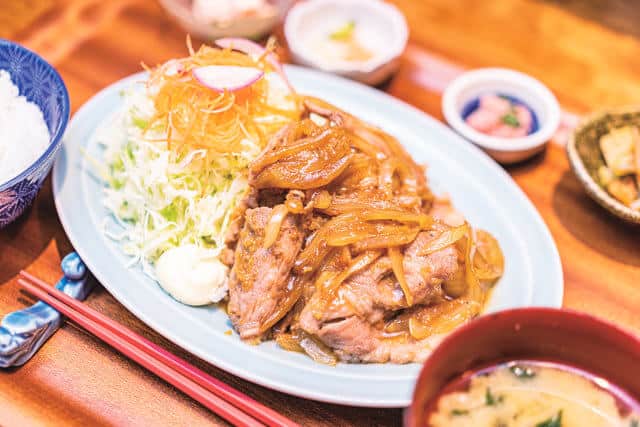 This first restaurant is popular for its special Shougayaki pork set meal which has a juicy texture of the exquisite thickness of the pork shoulder loin and the balance of sweet and spicy taste is truly a professional taste. The heat is perfect, more like simmering than grilling, and the meat is moist and soft.
Kayashima (カヤシマ)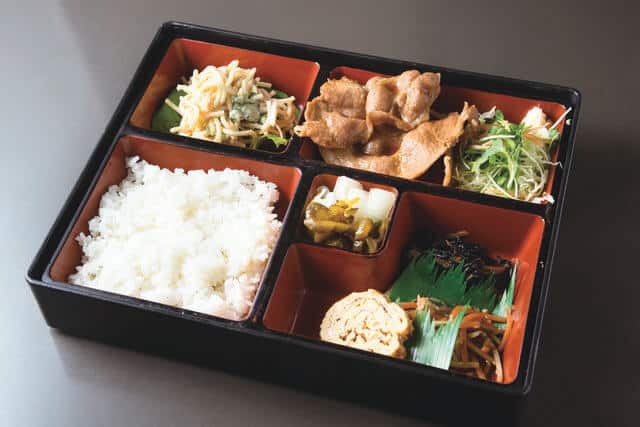 A speciality store that has been in business for 46 years. It seems that the original menu such as pork ginger, Neapolitan and omelette rice is "the taste that Japanese mother who worked part-time made when her child came home from work". The nostalgic flavour of the sauce is sure to make you addicted
Pololi Shokudo and pihakopi (Pololi食堂とpihakopi)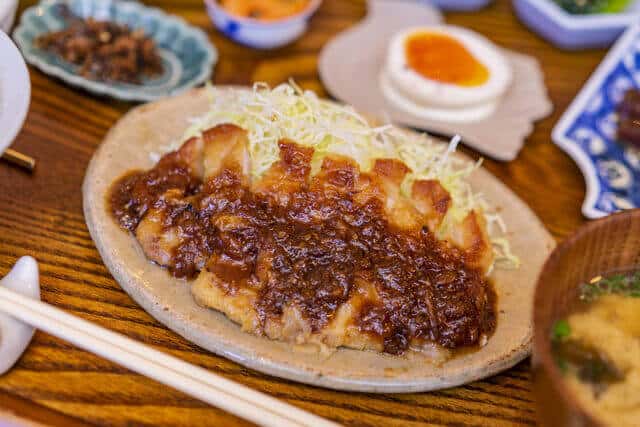 Their shougayaki set meal here costs about ¥1,500. They seasoned it like a Western restaurant, with pork loin grilled in olive oil and covered with a sauce made from ginger, garlic, onion, and honey. The owner, who lived overseas for a long time, is a master of using spices, and each of the small bowls is exquisite.
Takeaway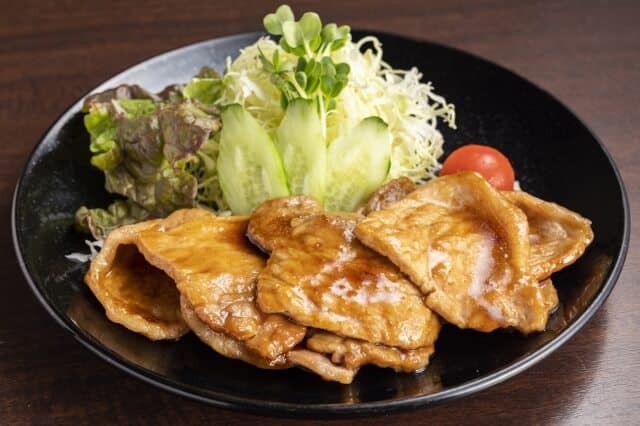 Shogayaki, along with Tonkatsu, is one of Japan's most popular pork dishes (or deep-fried pork). It's one of those recipes that you can pull up in minutes and serve with a crispy cabbage salad or rice. Try this simple and quick staple pork recipe the next time you're craving a meaty and slightly spicy Japanese meal.
There are other pork dishes that you would love to try when you're in Japan, such as Buta Don, Rafute, and Tonkatsu.