Melon bread is almost always seen when you go to a bakery, convenience stores and supermarkets. The inside is fluffy and the outside is crispy. It's also fun to see differences between bakeries even with the same name "melon bread". This melon bread is a name that has permeated as a matter of course, but is melon used? Where does the name come from? In this article, we will explain the characteristics of melon pan and the origin of its name.
What is a Melon pan?
Melon pan (メロンパン) or melon bread is a kind of confectionery bread that originated in Japan. Locals baked the bread with sweet biscuit dough (cookie dough) on top of the bread dough. The biscuit dough is thick and covers a wide area, which is not found in other bread and considered to be the greatest feature of this bread. It is a classic sweet bun that is popular with children and adults alike. There are two types of melon bread; circular (Enkei / round) and spindle-shaped (both / cylindrical, almond, or rugby ball-like)
Etymology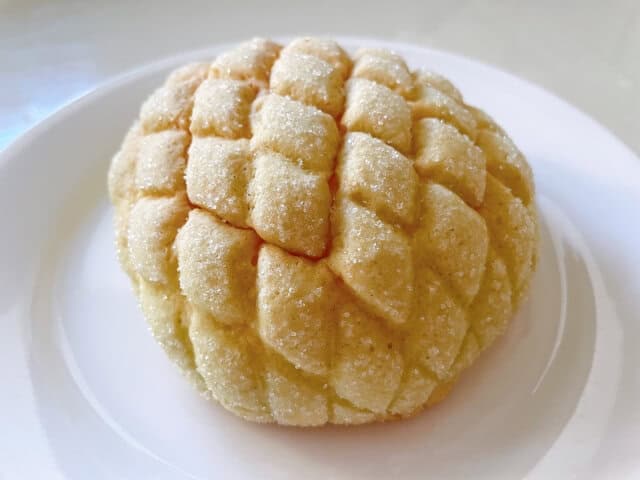 The etymology or the name meaning of Melon pan came from its grid pattern that resembled a melon. Additionally, it tried to take advantage of its popularity because it resembles a melon that was popular as a high-class fruit at that time. Some also believed that the meringue used for melon bread came to be "meringue bread", and that they have called this the "melon bread (メロンパン)".
Melon pan History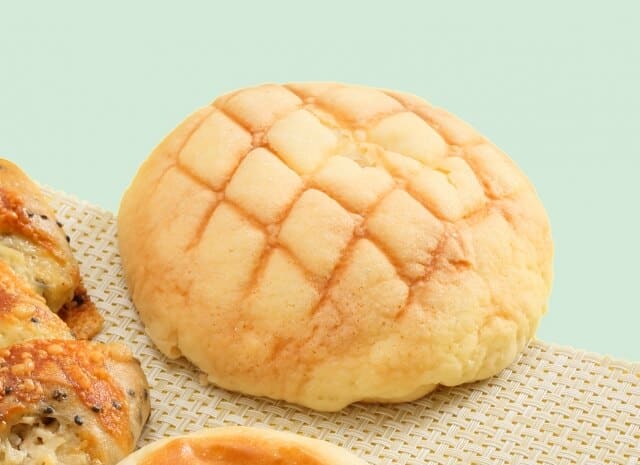 Many believed that the prototype of melon bread was born in Japan from the end of the Taisho era to the beginning of the Showa era. There are several theories about the origin of melon bread. Many theories of origin, such as the theory that imitated the Mexican "Concha" that entered Japan via the United States. In particular, Mexican concha looks just like Japanese melon bread.
In 1930 (Showa 5), ​​Komagome Kimuraya in Tokyo registered a practical new idea for the manufacturing method of sweet buns wrapped in biscuit dough so they sold the round bread in Tokyo in the early Showa period. However, it seems that locals did not call this melon bread when it first became a boom. Since it was in 1925 (Taisho 14) that the seeds of melons of Earl's species were imported from the United Kingdom to Japan and succeeded in greenhouse cultivation of melons, melons became popular as high-quality fruits and melon bread. Many believed that the origin of the name to be after the 10s of the Showa era.
Melon pan Recipe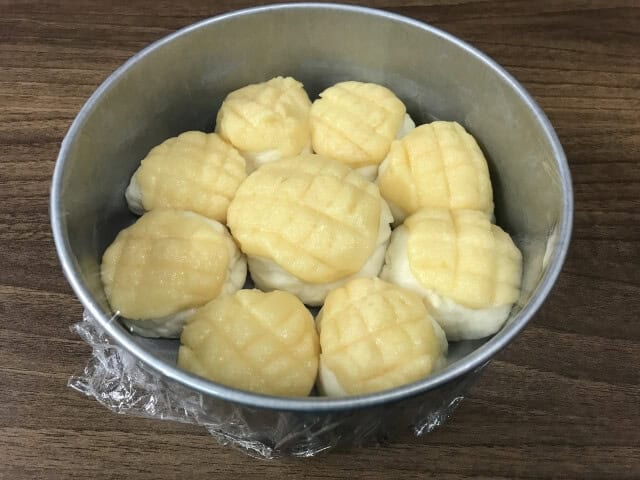 Melon Pan Ingredients
| | |
| --- | --- |
| Ingredients of Melon pan for 8 persons | |
| Strong flour | 200g |
| sugar | 60g |
| Granulated sugar | 20g |
| salt | 3g |
| Dry yeast | 4g |
| Egg (medium size) | 40g |
| Hot water | 110g |
| Unsalted butter | 70g |
| cake flour | 130g |
How to Make Melon pan
Preparing the bread dough in a bowl
Bring unsalted butter and beaten eggs to room temperature. Put the ingredients of the bread dough in the bowl in order and mix them. When it becomes a lump, remove it from the bowl.
Primary fermentation of the dough
Mix unsalted butter and knead until the surface is smooth. Put it in a bowl, wrap it, and use the fermentation function of the oven to ferment it at 40 ° C for 30 minutes.
Making the cookie dough
Make cookie dough. Put butter and sugar in a bowl and mix with a whisk.
Setting the dough for a while
Add the beaten egg and mix. Sift the cake flour and mix well. Next, put the dough together into a stick, wrap it in plastic wrap, and let it sit in the refrigerator for about 20 minutes.
Cutting it into 8 equal sizes
Roll into 8 equal parts, cover with a wet cloth and let rest for 10 minutes. Then, cut it into 8 equal parts, put it in a wrap, and roll it out with a rolling pin.
Putting it into the oven for fermentation
Add granulated sugar to the surface. Use a scraper to add a pattern to the surface. After, place them on a baking sheet lined with parchment paper, and ferment at 40 ° C for 10 minutes using the fermentation function of the oven.
Secondary fermentation
Remove from oven and ferment at room temperature for 10 minutes. In the meantime, preheat the oven to 180 ° C.
Baking it into the oven and served
Bake in an oven at 180 ° C for 10 minutes, then lower to 160 ° C. When the cookies are crispy, you're done.
Various Melon pan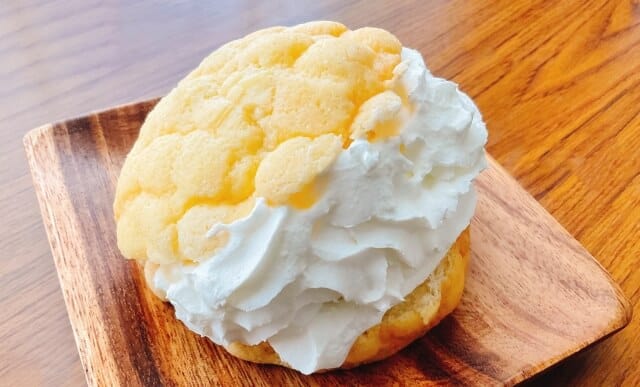 Crispy type
If you want to fully enjoy the texture of the cookie dough unique to melon bread, we recommend the crispy texture type. There is also a crunchy texture made by layering cookie dough on top of bread dough and baking it carefully.
Moist type
Moist melon bread is a type that many recommend for people who are not good at dry texture. This type of moist melon bread is perfect for when you are worried about the falling of bread crumbs.
Cream and Ice cream type
Fresh cream and custard are inside the melon bread, and you can enjoy fluffy bread and smooth cream at the same time. The type of cream varies depending on the product, including cream with melon juice and chocolate cream. Melon bread with ice cream will give you a new texture.
Rare type of melon pan
If you are tired of ordinary melon bread, why not try a different type. Maple flavor, milk flavor, chocolate chips, etc. are common. In rare places, there are also lemon-flavored, brown-sugar-flavored, and cheese-based melon bread that are sweet and salty.
Types of Melon Bread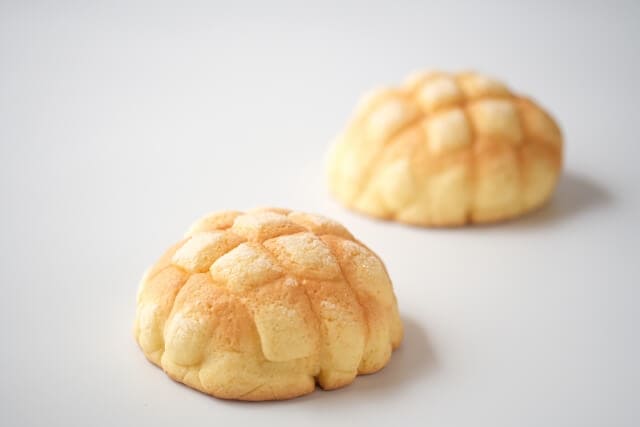 Round melon bread
When you think of melon bread, you might think of circular bread dough with vertical and horizontal grid patterns, but at first, it had a radial pattern instead of a grid pattern. This pattern is like the image of the warship flag used by the Japanese army. The warship flag has a red and white radial pattern that expresses the rising sun. So, at that time, Melonpan was called "Sunrise," which was an English translation of Asahi.
However, since it is easier to make a grid pattern than a radial pattern, it is becoming more common to make a grid pattern. Eventually, it came to be called "melon bread" and became established nationwide, but even now, in some areas of western Japan where the name "Sunrise" originated, it seems that there is a custom to call circular melon bread "Sunrise".
Spindle-like melon bread
Instead of covering the bread dough with biscuit dough, it is a spindle-shaped bread with margarine-added white bean paste. The reason why it is spindle-shaped is that locals made it using the metal mold used when making omelet rice at Western restaurants. And the shape of the finished bread is similar to the "Makuwauri" sold as melon at that time. Also, in Kure City, Hiroshima Prefecture, locals created a melon bread with custard cream in a spindle-shaped. Moreover, in some parts of Kure City, Hiroshima Prefecture, locals call the circular melon bread "koppe bread". "Koppe-pan" is generally a flat spindle-shaped bread that customers eat with one hand.
Different shapes and names depend on the region
There are also differences in shape and name depending on the region. Round dome-shaped melon bread is familiar in many parts of Tokyo and Japan. However, in some parts of western Japan such as Kyoto, Shiga, Hyogo, Kochi, and Osaka, melon bread is rugby-shaped-like rice at a Western restaurant. The latter does not use biscuit dough, and some contain margarine-added white bean paste (Kyoto and Kobe) and custard (Hiroshima).
Where to buy Melon pan
Asakusa Kagetsudo (花月堂 本店)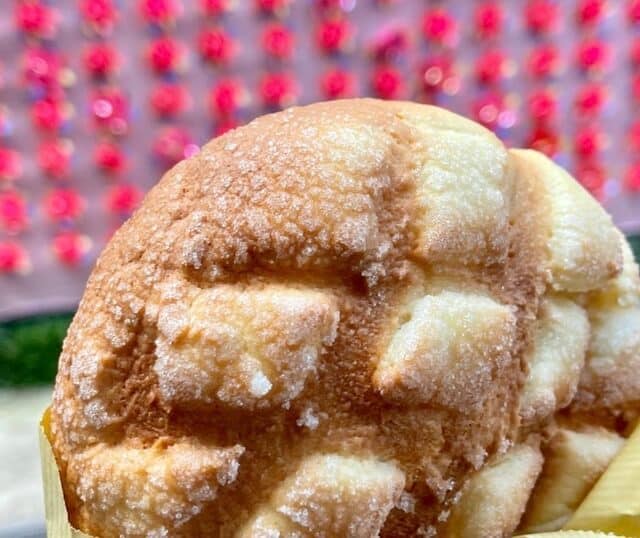 "Asakusa Kagetsudo" has a long history and was founded in 1945. The famous "Jumbo Melon Pan" is larger than the palm of an adult. The secret to the soft and crispy dough is the fermentation time. The owner who devised it took advantage of his knowledge of fermenting at university and came up with a method of fermenting it three times
Arteria Bakery (アルテリアベーカリー 浅草店)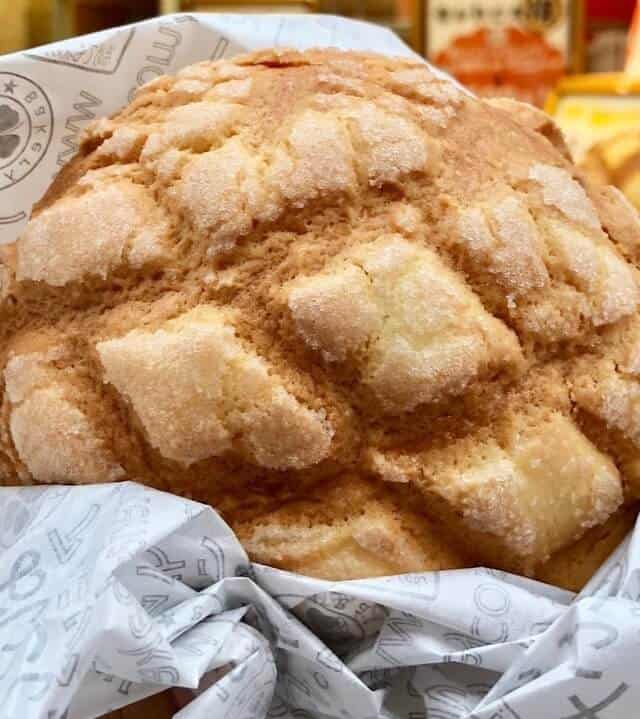 "Arteria bakery" is a popular shop where you can line up every day. Especially recommended is their "whipped melon bread". A generous amount of sweet whipped cream is in between the dough that they have baked. Rusk made from the most popular plain melon bread has a light texture with a modest sweetness.
8 Degrees (台湾菠蘿油)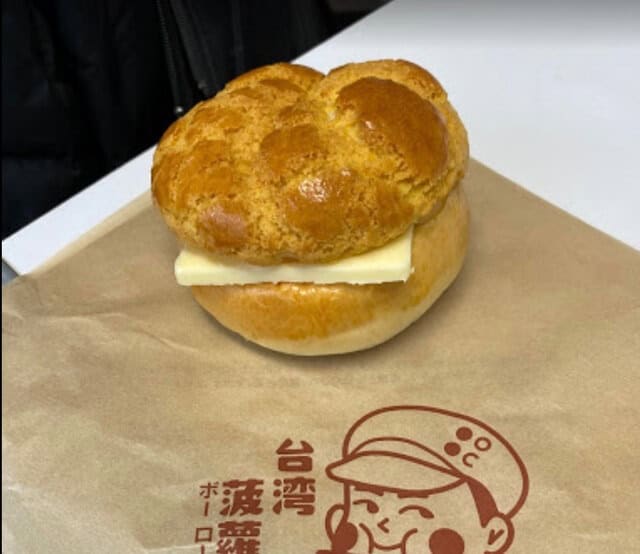 "8 Degrees" is often in the media as a "new sensation of melon bread." "Pineapple bun", which is also the name of the store, is a sweet bun with butter sandwiched between baked bread with cookie dough. Between the bread, sweet bean paste, and salty butter. The sweet and sour taste is addictive.
Tokyo Melonpan (東京メロンパン 神保町店)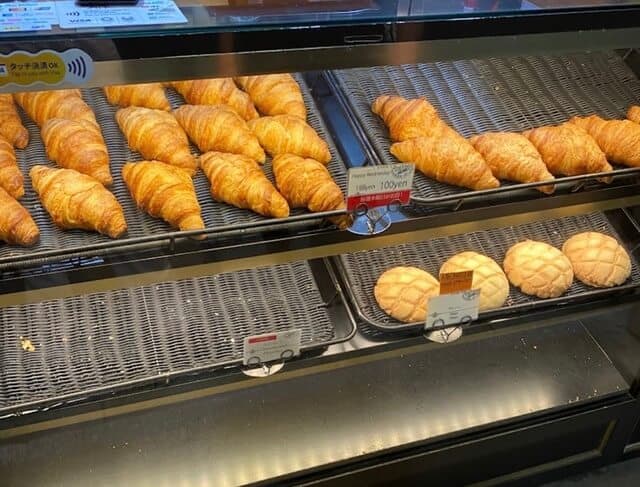 "Tokyo Melon Bread" has 11 stores in Tokyo. They lined up a showcase of fragrant baked bread. There are always 5 to 6 types of melon bread alone. "Chocolate melon bread" baked with chocolate cookie dough with low sweetness is popular with its crunchy texture that becomes addictive.
Takeaway
Melon pan is a popular Japanese sweet bread pastry. The characteristic cookie crust topping, which mimics the skin of melons, gives this bread its name. Melon pan has a sweet flavor and a fluffy interior with a crunchy outside, similar to a Mexican concha or French choux au craquelin. Melonpan, which is generally moderate in flavor, is known for its textural contrast.
If you are into Japanese bread or pastries, you can also try one of the famous Japanese bread – Curry bread or Curry pan.