Introduction to Hatahata Sushi
Hatahata Sushi (ハタハタ寿司) is one of the traditional Japanese foods that is classify as fermented sushi (izushi) and uses hatahata or Japanese sandfish. Moreover, Hatahata is a unique and famous fish in Akita prefecture. We all know that Sushi is the best-known Japanese food around the world. And hatahata sushi is one of its underlings. It is a famous dish in Akita prefecture where Inaniwa Udon, Jyumonji Ramen, and Kiritanpo are some of the prefecture's specialties.
As you go through this article, you will get to know more about the charms of Hatahata Sushi.
Etymology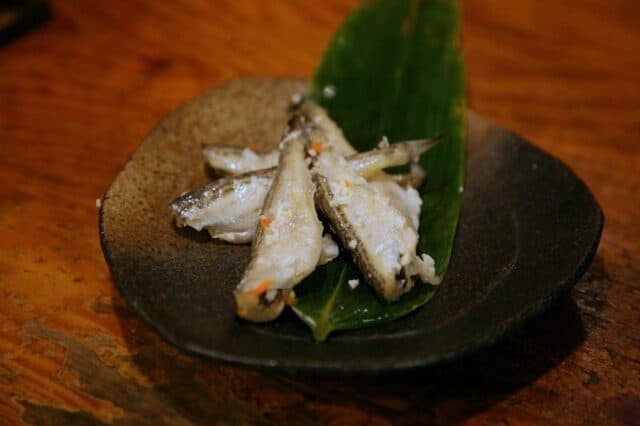 Hatahata sushi also has its origin in terms of its name. Its name literally means in English as "Japanese sandfish Sushi" or "God-Fish Sushi". By having two key words on it; Hatahata (ハタハタ ; katakana or 鰰 ; kanji), and Sushi (寿司).
What is Hatahata Sushi?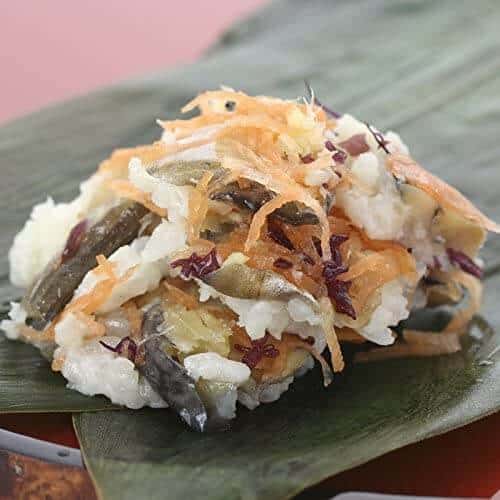 Hatahata Sushi is a unique and famous Japanese cuisine in Akita prefecture. It is a fermented sushi that uses Japanese sandfish as the main ingredient. If you still don't know, fermented sushi is among the narezushi classes or the earliest form of sushi in Japan. Locals also classify this dish as Izushi or rice sushi because it is sushi pickled with rice, malt, and vegetables.
It is the taste that tells northern Akita the arrival of winter. Consequently, Hatahata, which is sung in the folk song Akita Ondo, is a migratory fish that comes along the coast of the Sea of ​​Japan from November to December. The locals can boil or bake the fish. When locals catch hatahata, they salt it and make it into a thick sauce known as shottsuru, used as a seasoning. They also processed this to make hatahata sushi together with rice or rice-malt, used as a preserved food.
Beliefs on Hatahata Fish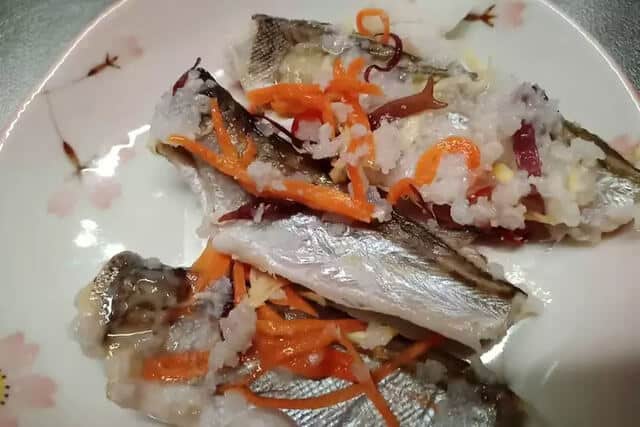 In Akita, they believed that Hata Hata comes to the coast when the waves are rough because it gets caught in the net when the thunder strikes in winter. However, it does not usually show up and comes to the coast when food is scarce during the winter season. Therefore, the fish, Hatahata "鱩" meaning "a fish grace from God" in kanji, is like God gave this to express people's feelings.
Hatahata Sushi History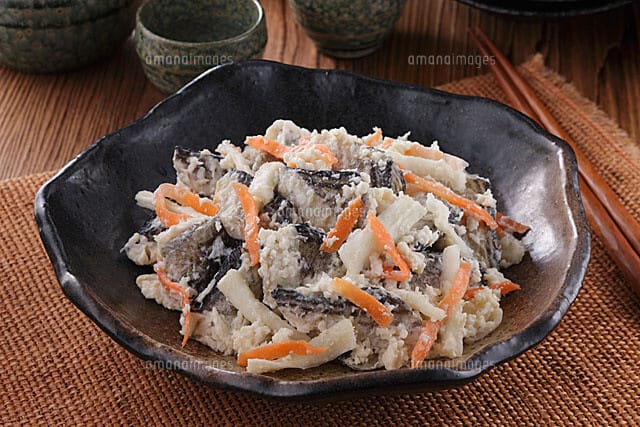 Many knew that Hatahata Sushi was made before 1602 when Mr. Satake of Hitachi Province transferred to Akita, Dewa Province. It is an indispensable item for Akita's New Year's dining table, and locals prepared it in early winter to make it in time for New Year. The dish has a long history, and was even in "Nihon Shokoku Meibutsu Zukushi'" (local dishes all around Japan). It is a compilation of publication during the era of Genroku (1688 – 1704).
In the past, families used to buy four or five boxes of miso soup, grilled fish, and hot pot dishes to eat every day.  The hatahata is a cheap fish that locals caught in large quantities. And there was an episode that even if it was on the road, it straddles a cat. On the other hand, as a valuable source of protein during winter, locals preserved it in salt or sushi. This was a useful technique until spring and it is for the taste of ordinary people. 
The catch of Hatahata, which was a matter of course for a large catch, has decreased since 1976. In 1991, it became a "fantastic fish" at its peak of 1/300.  As a result, Akita Prefecture banned fishing for three years and released young fish hatched from eggs, increasing the catch. Subsequently, locals call the eggs of Hatahata, "Buriko" and locals eat this as side dishes or snacks or sake.
Hatahata Sushi Recipe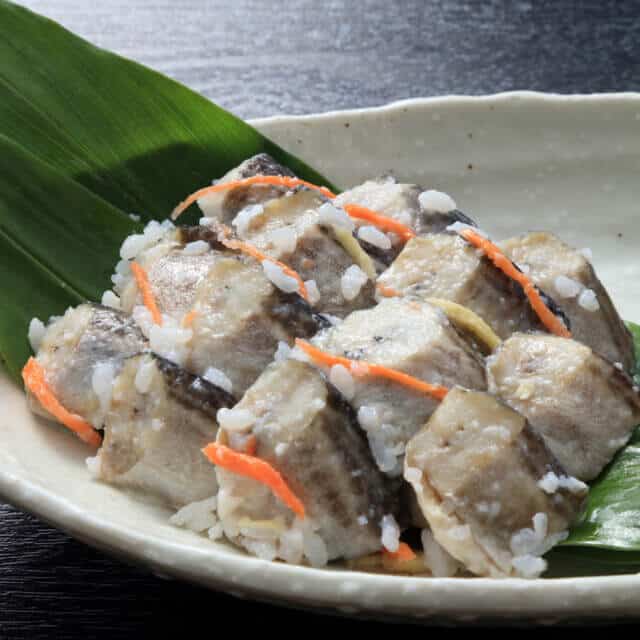 This section will let you know Hatahata sushi's recipe. Its ingredients are Hatahata or sandfish, rice, carrot, ginger, salt, vinegar, sake, mirin, and sugar.
How to Make Hatahata Sushi?
Soaking the sandfish in saltwater
Drop the head and soak the sandfish, excluding the internal organs, in 10% saltwater, weigh it, and let it drain overnight.
Discarding the pickled juice
Discard the pickled juice, wash with water while changing the water 5 to 6 times, and then soak in water for several hours.
Soaking in vinegar
Raise it in a colander, drain it thoroughly, and soak it in vinegar overnight.
Mixing with various condiments
Melt sake, mirin, and sugar then mix with warm rice, and then cool.
Put bamboo leaves
Spread bamboo leaves on the bottom of the pickling container and spread the rice thinly.
 Layering it with hatahata and chopped vegetables
Arrange the sandfish on top of the rice without any gaps. Hold it tightly with your palm from the top of the sandfish, then layer the rice and sprinkle the chopped carrots and ginger.
Completing the process
The rice is thickly layered on the top and covered with bamboo leaves to complete the preparation. After that, put it in a cool and dark place.
What is the seasoning for Hatahata Sushi?
Salted fish juice (shottsuru) is an indispensable seasoning for Hatahata hot pot. It is made by salting and fermenting sandfish, and it used to be a proud taste that shows the skill of housewives in each household.  It has a strong umami taste and a strong salty taste. Shottsuru goes well with white fish such as sandfish, cod.
What other cooking methods can be done with Hatahata fish?
There are various cooking methods other than making it as sashimi. Such as grilled salt, Dengaku, miso, and soy sauce-flavored sandfish soup, salted fish soup pot, and hatahata sushi. 
What is Narezushi?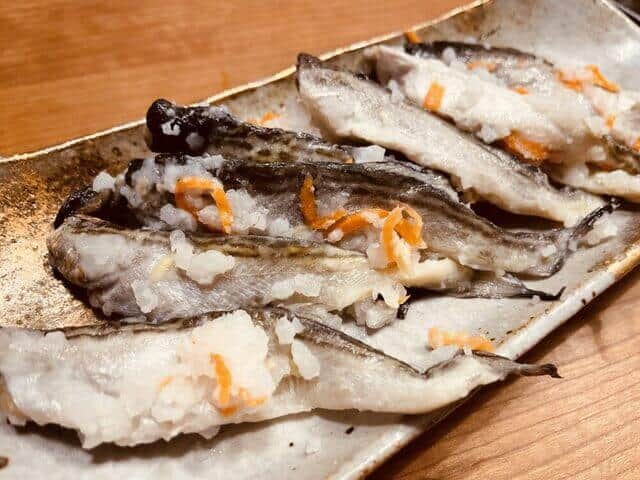 Narezushi is a preserved food for winter conceived in Michinoku Akita and Yuri coastal areas from ancient times in the Edo period and handed down to some restaurants up to this day.
What does Hatahata Sushi taste like?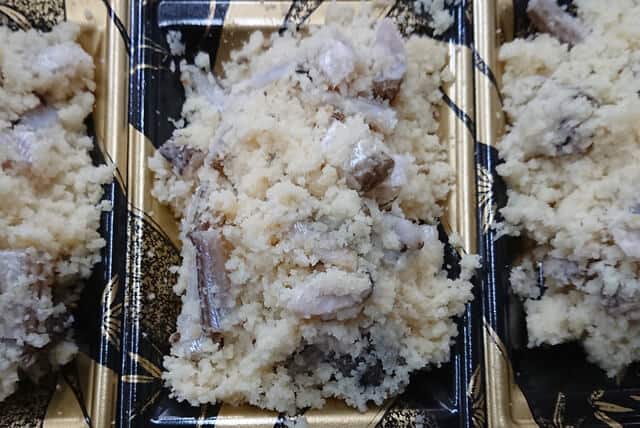 Many people think it is "astringent", but this is surprisingly delicious even in modern times. Unlike Narezushi, it does not undergo strong fermentation, so it has an elegant taste and aroma. It is soak with the umami of kelp and the flavor of yuzu, and the malt and rice bring out its sweetness.
Recommended Hatahata Sushi Restaurants
Nagataya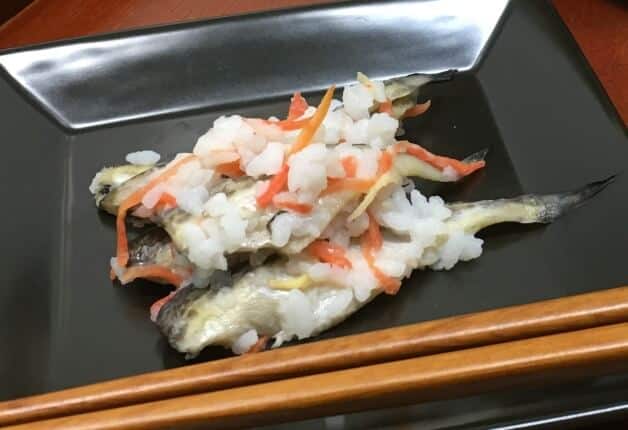 Nagataya is the originator of the manufacture and sale of "hatahata sushi" in the Yuri coastal region in Akita prefecture. They carefully layered and pickled the dish using the traditional pure handmade method. They sell it all year round. At Nagataya, they added rice, malt, salt, seaweed, etc., from Akita to the sandfish harvested and pickled it, but all the processes are handmade as before.
Akita Kiritampoya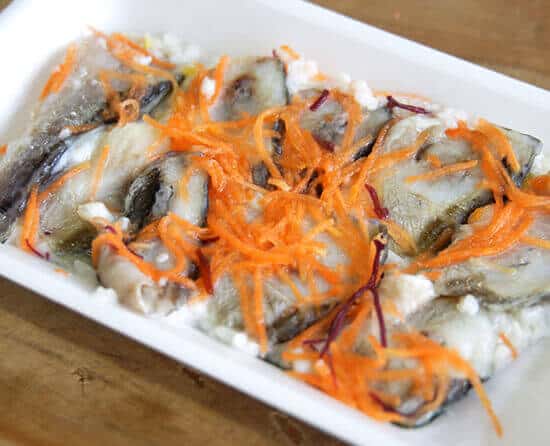 There is a calm atmosphere in the shop, and you can eat various things. It's a sophisticated shop with folk crafts in a private room.  Hatahata is a must-try item, so you can also grill the Hatahata with salt. The shop firmly contains the Hatahata and Buriko together, and the salt is vital, but Buriko neutralized it. As you can see, the white part of Hatahata is also very delicious.  Hatahatazushi is delightful sushi with a refreshing protein flavor that is slightly brew with vinegar.
Chawanya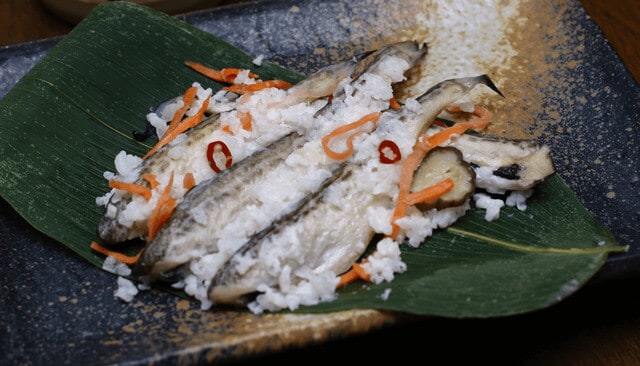 Chawanya is a shop near a hotel, and they offer sake and Hatahata baked or grilled with soy sauce. Additionally, they also serve shottsuru hot pot made from Hatahata. This Hatahata, like the winter season, has a sweet and fluffy body, and the sticky eggs have a solid taste and are pretty delicious. You can also try out their kiritanpo and other various Akita specialty.
Toppin Pararipu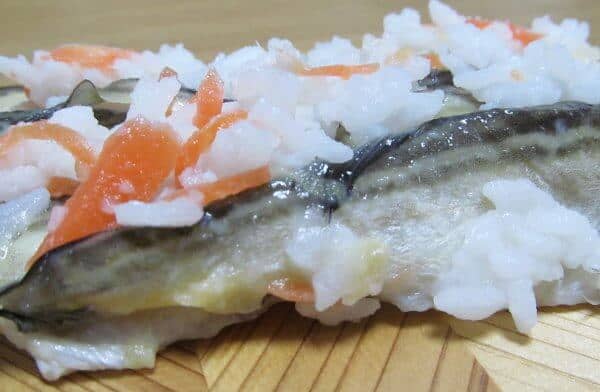 Highly acclaimed izakaya bar "Toppin Pararipu." They will accommodate you upon entering the shop until you leave. It is a high-class bar that mainly uses high-quality local ingredients. An izakaya bar where you can enjoy great sake, delicious charcoal grills, and Akita's local cuisine. You can choose to grill your hatahata or stick to making it a hatahata sushi. Their grilling in a bonfire-style is their best selling.
Conclusion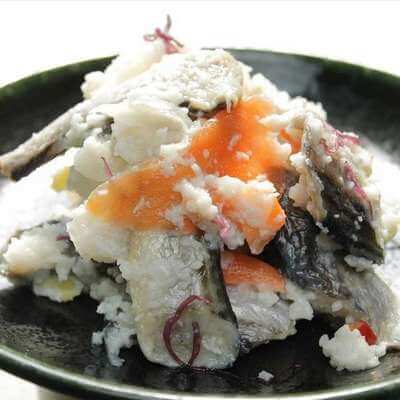 Japanese originally invented sushi as a means of preservation when they used fermented rice to store fish for anything up to a year. This dish was known as narezushi, and in fact, they threw away the rice and only consumed the fish. Sushi is pivotal in showing the identity of the Japanese people. In addition, there are many regional variations in names and ingredients, such as Bekko Sushi, Edomae Sushi, Sasa Sushi, and Hatahata sushi. Hatahata Sushi is a rare and unique Japanese cuisine.