Steer away from the regular ramen and try this one from Meguro, Tokyo. Jiro Ramen is a well-known ramen from the greater Tokyo area since the late 1960s. Curious about this gem that's been dubbed one of the best things to eat in the world? Then, continue reading below.
What is Jiro Ramen?
Sometimes called "Jirolian style" by enthusiasts, Jiro Ramen is a type of ramen that originated in Meguro, Tokyo. What makes it even more interesting is that it has its own fans. These fans are passionate and even call themselves "Jirorians". In fact, it's so popular that a chain of restaurants opened for this particular kind of ramen.
In 1968, Takumi Yamada founded Ramen Jiro in the greater area of Tokyo. To date, it is a chain of restaurants that are mostly located in Tokyo area.
Jiro Ramen is known for its large serving and distinct broth flavor. As a matter of fact, fans of this ramen type called this "Jirolian-style ramen". However, some people say that this is a twist of the famous Ramen Taro. Back in January 1967, Acecook released an instant ramen that quickly became a favorite.
Characteristics
Jiro Ramen is famous for its salty shoyu taste. The base is also similar to Tonkotsu Ramen with thick and dense noodles. Aside from the thick and creamy soup, it also contains thick slices of pork chunks. In addition to that, some people say that Takumi Yamada sought help from his neighboring Chinese restaurant. Thus, making this Tokyo ramen variant an instant hit for many customers.
What is the origin of Jiro Ramen?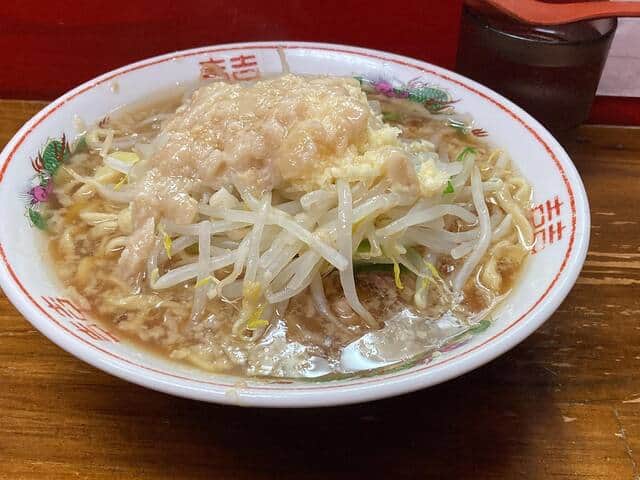 While some people speculate that it is of Chinese origin, it's actually not. As a matter of fact, the creator of this dish is a local of Meguro, Tokyo. However, he also acknowledged the Chinese restaurant that helped him create the Jiro Ramen we know today.
Originally, Yamada's Ramen Jiro served a thinner and lighter style of ramen. But with a few improvements, he started serving Tonkotsu-like and salty ramen.
Since the restaurant has close proximity to Keio University, it became popular among the students. During the city redevelopment in 1995, the owner had to move the location of the restaurant. However, the Keio University students petitioned to move Ramen Jiro inside the Keio Campus. Unfortunately, the school administration denied this petition. Eventually, Yamada managed to relocate the restaurant to another area in Mita. They also opened the second branch in Meguro in 1995.
The new location of the restaurant in Mita is where the flagship store stands nowadays.
Ever since the opening of its second branch, the franchise of Ramen Jiro has been steadily growing.
What is the difference between Jiro Ramen and Iekei Ramen?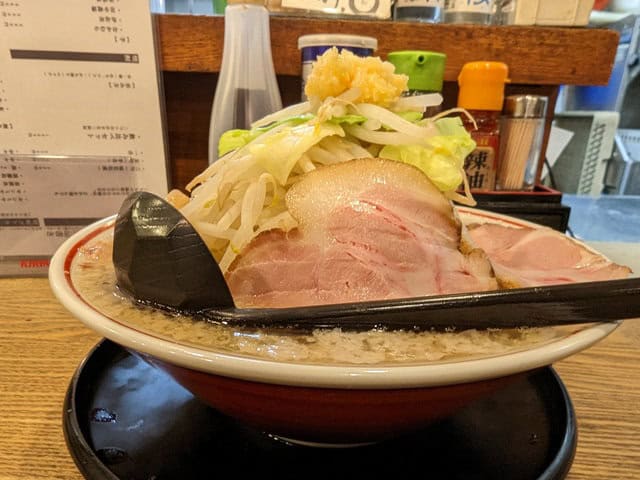 People often compare these two types of ramen. While both use a Tonkotsu-like base, they are still quite different. As a matter of fact, some locals believe that Jiro Ramen alone will fill you up. Meanwhile, they usually pair Iekei Ramen with rice. Also, the latter is characterized by its rich chicken flavor. Of course, this is because chicken is the main ingredient that gives this ramen its famous taste.
Iekei Ramen is a specialty from Kanagawa prefecture in which the soup is from tonkotsu style shoyu with Chinese soba. Among its many toppings, nori or seaweed strips is the most favorite among locals.
Shops that are inspired by Ramen Jiro
Since it became a hit, several Ramen Jiro-inspired shops were established in different locations. To date, this is called the Ramen Jiro System.
Former Ramen Jiro Family
Prior to its present name, the restaurant used to be called Ramen Jiro. Nowadays, they changed the name to Ramen Seiro.
Another shop is called Ramen Fujimaru which is in Kita City, Tokyo.
Jiro Foods System Co., Ltd. (Foods)
Since they can no longer use the name "Ramen Jiro" after it was trademarked, the name of the shops managed by the company changed to Ramen Store.
Horikiri
When the name was trademarked, the shop's name changed to Ramen Dai. Its branches are also located mostly in the Tokyo area.
Because they are not authorized to use the name and they have no proper training from the original store, some people call them the "counterfeit shop".
Jiro Ramen FAQs
What are the usual toppings of Ramen Jiro?

The most common ones are ninniku (chopped garlic), bean sprouts, pork lard, and concentrated soy sauce.

Why is it called the "cult of ramen"?

Some fans are too passionate about it that they even call themselves "Jirorians". There are dedicated fans who are actively promoting the spread of this dish not just locally but also globally.

Why do some people say that the staff in Jiro Ramen restaurants are rude?

They're not actually rude, but tough rather. Since this specific type of ramen is famous among rowdy teenage boys and salary men, it has become an unwritten rule to serve with "an attitude".
Jiro Ramen Recipe
The base of Jiro Ramen is Tonkotsu or pork bone broth. However, different parts of pork are simmered together to create a tasty pork extract. In addition to boiled pork, they also include grilled pork.
Of course, soy sauce is an essential ingredient in cooking this recipe. So, how to make Jiro Ramen?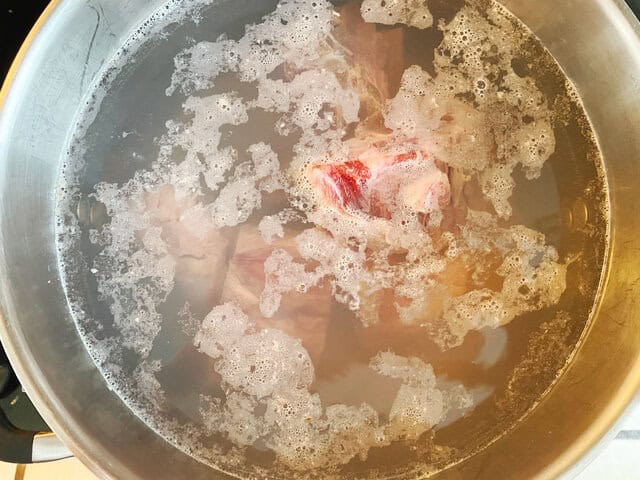 Preparing the soup
| | |
| --- | --- |
| Good for 2 people | |
| pork ribs (or pork belly) | 300 g |
| garlic | 1 clove |
| basic pork bone soup | 800 ml |
The pork broth determines whether this "cult ramen" will turn out delicious. So, it's important to prepare the soup right.
Tie the pork ribs.
Using a butcher's twine or a linen twine, tie the pork ribs tightly.
Then, simmer for at least 120 minutes.
Toss the pork ribs and garlic into boiling pork bone soup and simmer it for at least 120 minutes on low heat.
Add water.
Since the water evaporates, add more as needed. Also, don't forget to flip the meat if the water level becomes shallow.
The soup is ready.
When it's done, remove from the heat and take out the pork ribs and garlic.
Separate the lard.
Since the oil comes out of the pork belly, it will rise to the top when the meat is cooking. Scoop it up and store it in a glass jar. This lard will be used when finishing the ramen.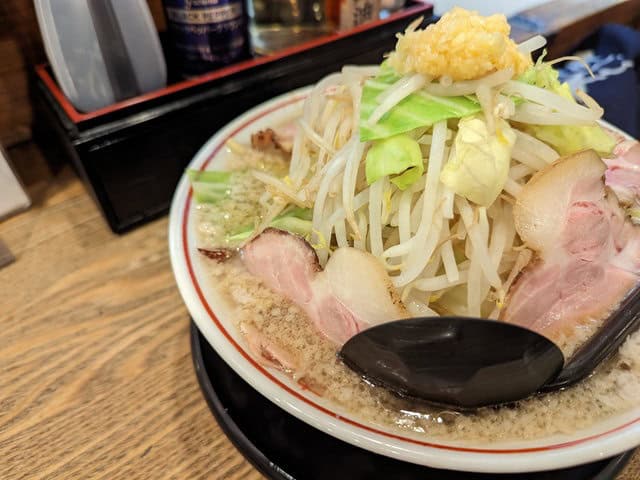 Preparing the meat
Meanwhile, the pork meat on top makes the pork flavor of the ramen even stronger. Read on to know how to make it.
| | |
| --- | --- |
| Good for 2 people | |
| pork belly | 300 g |
| dark soy sauce | 60 ml |
| mirin | 20 ml |
Create the soy sauce mixture.
First, combine the dark soy sauce and mirin in a clean bowl.
Marinate the pork.
Get a medium-sized ziplock and pour the soy sauce mixture inside. Soak the pork belly for about 2 hours.
If you have a vacuum machine, use it to remove the air. If not, you can use boiling water to create a vacuum effect.
Preparing the seasoned lard
Getting the backfat or lard ready for Jiro-style Ramen is quick and easy.
| | |
| --- | --- |
| Serving size depends on the amount of oil produced | |
| lard (backfat) | 60 ml |
| soy sauce | 15 ml |
Combine both ingredients.
Simply put together both ingredients and mix well. Then, set aside.
Preparing the noodles
Jiro Ramen noodles are extra thick like Udon. It's also tough and 100% low-water. In fact, the water content can be as low as 32% and both the salt and brine are 1%. It's also best to make the noodles a day in advance.
However, if you have no time to make your own noodles, you can just buy ready-made noodles in supermarkets and stores.
How to cook Jiro Ramen?
| | |
| --- | --- |
| Good for 1 person | |
| lard (backfat) | 95 ml |
| dark soy sauce | 2 tbsp |
| light soy sauce | 1 tbsp |
| mirin | 1 tbsp |
| garlic (grated) | 5 cloves |
| Ajinomoto seasoning | 1 tsp |
| bean sprouts | 2 bags |
| pork | 3 slices |
| noodles | 300 g |
| Jiro soup | 300 ml |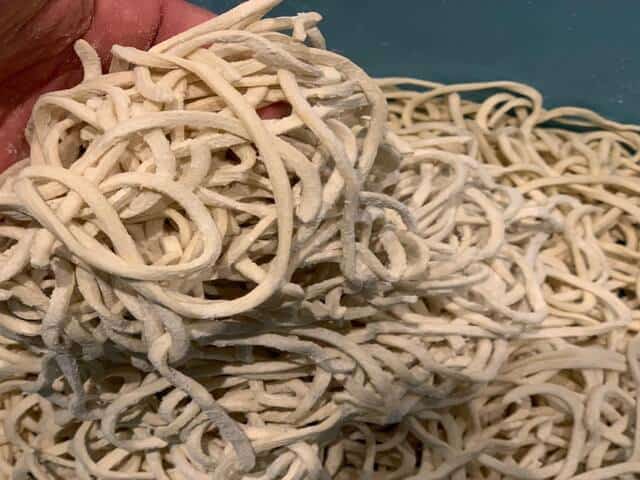 When all the primary ingredients are ready, you can start making your own Jiro-style Ramen.
Prepare the ingredients.
First, finely chop three cloves of garlic and mince the other two. Then, reheat the lard (backfat) and set aside. Wash the bean sprouts and drain excess water using a colander.
Cut the meat.
Using a clean knife, cut the pork into thick slices about the shape of Char Siu (Chashu).
Begin cooking the soup.
Put soy sauce, 50 ml of lard, and Ajinomoto seasoning in a small pot. Unlike other ramen variants, Jiro Ramen uses more oil and seasonings.
Boil the noodles.
While cooking the soup, start boiling the noodles in a separate pot. The estimated boiling time is about 6-7 minutes. Then, check the texture from time to time to adjust the toughness to your preference.
Ramen is almost ready!
In a clean bowl, pour some soup and add the hot noodles. Blanche the bean sprouts and put them on top of the noodles. After that, place the slices of pork on top. Finally, add the garlic and the remaining lard. Voila! Your Jiro-style Ramen is now ready!
Jiro Ramen Restaurants
Ramen Jiro Kanda Jinbocho (ラーメン二郎 神田神保町店)
This restaurant is famous for its large serving of ramen. The lines are almost always long, so it's highly advisable to come early. But although an hour of waiting is common, it's surely worth the wait!
Ramen Jirō Yokohama-kannai (ラーメン二郎 横浜関内店)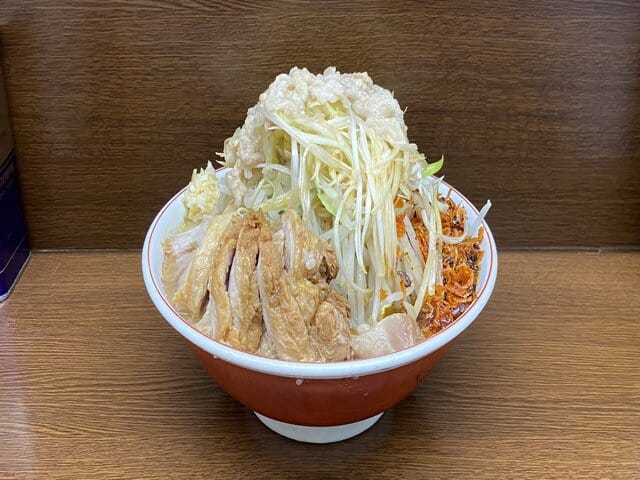 Located in Kanagawa Prefecture, Ramen Jirō Yokohama-kannai has a reputation for having just the right amount of noodles. Their Ramen Jiro has a little bit of sweetness which is one of the best in the area. In addition to that, you can also ask to add more garlic and red pickled ginger.
Ramen Jiro Hibarigaoka (ラーメン二郎 ひばりヶ丘駅前店)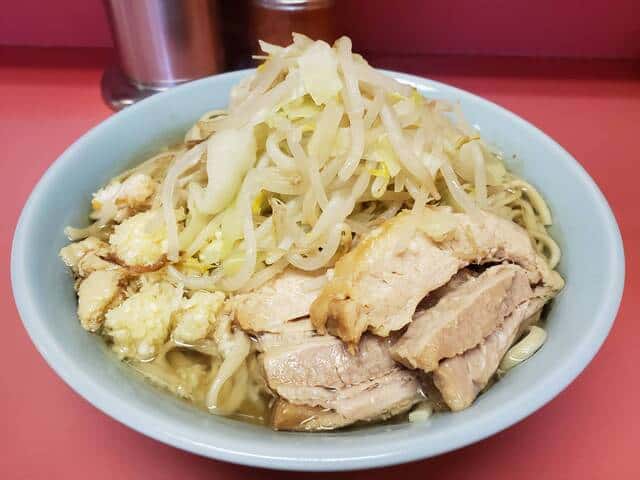 Known for its nickname "Hibaji", it is a popular restaurant that serves high-quality and delicious ramen. Their Jiro-style Ramen has an exquisite taste and a balance of all its ingredients. It tastes really good that it usually tops the survey for the best ramen shop in the area.
Takeaway
Jiro Ramen is loved by many. As a matter of fact, some people call it "cult of ramen". It's because some fans are so passionate about this type of ramen. Another thing that sets Ramen Jiro apart from other ramen variants is that it's always served in a huge portion. It has a strong taste but it's definitely worth a try!
Check out Tonkotsu Ramen and other ramen variants that use the same soup base here.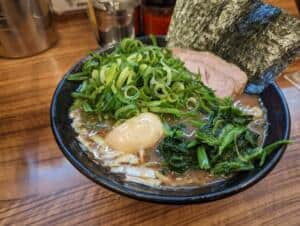 Iekei ramen (家系ラーメン)
【Introduction to Iekei Ramen】 Iekei Ramen (家系ラーメン) is a traditional Japanese dish consisting of soup based on tonkotsu shoyu mixed with thick Ch…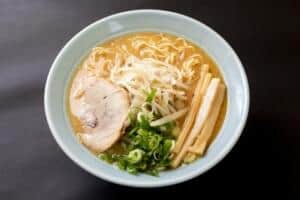 Hakata Ramen (博多ラーメン)
【Introduction to Hakata Ramen】 Hakata Ramen is not just ordinary Japanese ramen, it is one of the "Japan's Three Great Local Ramen". Along with "Sapporo Mi…
Okayama Ramen (岡山ラーメン)
【Ramen : A Staple in Japan】 Okayama Ramen is one of Ramen in Japan. Ramen is probably the most popular Japanes food. Travellers who will visit the country …