WHAT IS CHANKO NABE?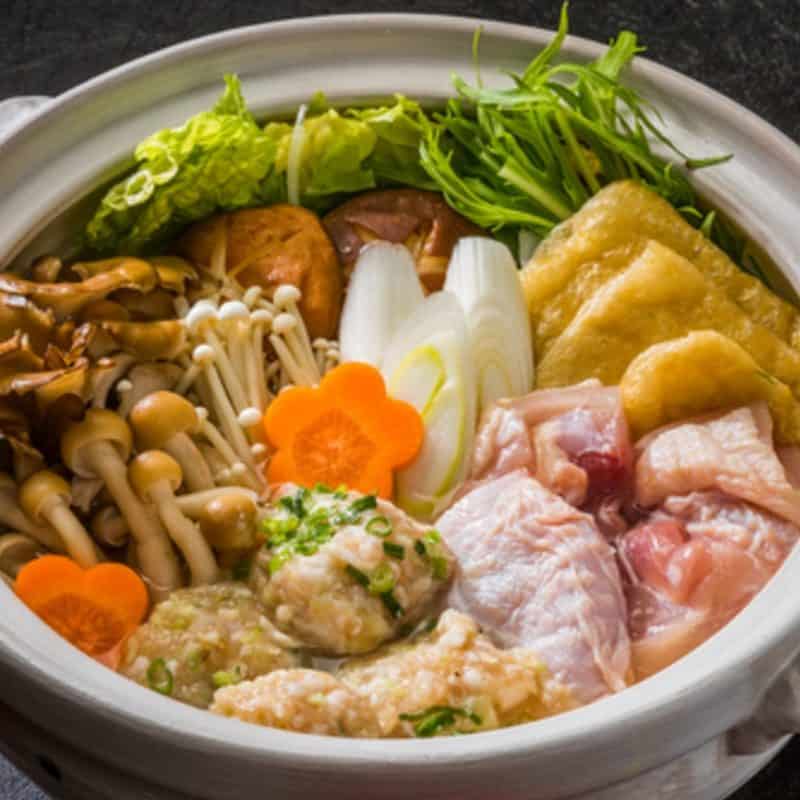 Chanko Nabe is a traditional Japanese food that is specialty hot pot at sumo stables. Sumo wrestlers eat this hot pot everyday after training to maintain and build strength. It is a famous dish that originated in Sumo wrestlers' kitchen. It is a "nabe" or hot pot filled with various types of vegetables and protein such as chicken, fish, tofu, or sometimes beef. Any dishes cooked by sumo wrestlers at sumo stables are called 'chanko' (ちゃんこ). If Japanese people asks what Sumo wrestlers eat, the answer is usually "Chanko." since Sumo wrestlers do actually eat Chanko Nabe often. 
It is also a perfect meal for a cold winter evening.
HISTORY OF CHANKO NABE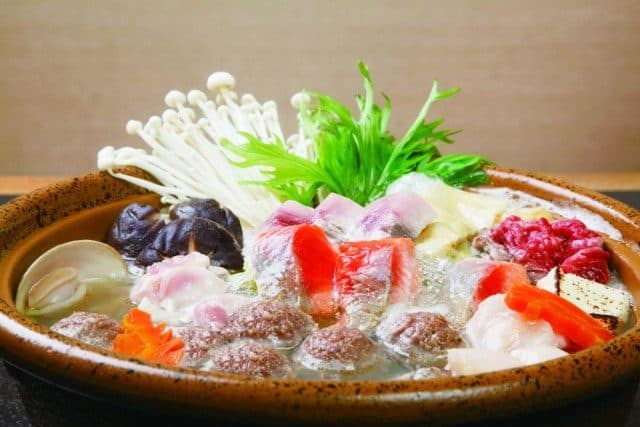 Towards the end of the Meiji era, sumo stables began to adopt hot pots in the wrestlers' dining menu. In order to gain weight, eating is said to be one of the professional duties of a sumo wrestler. For the preparation, stable members take turns to make meals for each other.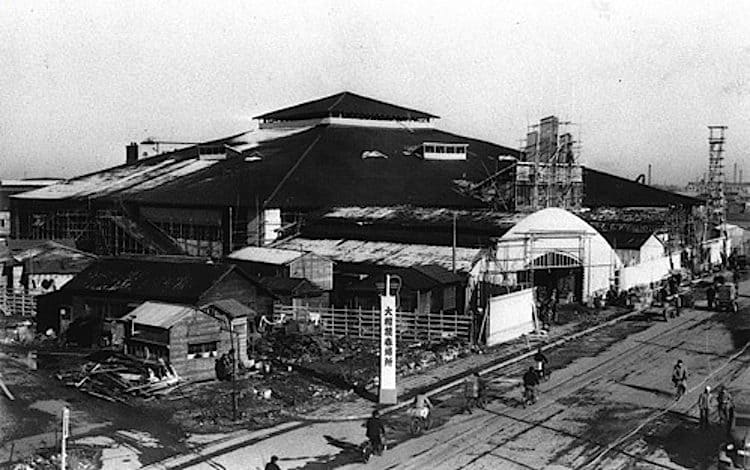 Ryogoku is the historic area for sumo wrestling in Tokyo, where the Tokyo sumo stadium ( called Kokugikan) is located.
Around the 42nd year of the Meiji era, when the Kokugikan was completed, the popularity of Hitachiyama Taniemon, who was a wrestler at the time, caused an increase in the number of beginners to the Dewanoumi stable, which is the sumo room of Hitachiyama. Since the number of beginners increased too much and it was not enough to serve them individually, Hitachiyama devised a form of eating one pot surrounded by everyone so, Chanko nabe was born here, and after that, hot pot dishes became a standard at sumo wrestling.
Japan's first chanko-nabe restaurant was opened in 1937 by a retired sumo wrestler, in Tokyo's Ryogoku district. After World War II, chanko nabe gradually spread among the general population as yet another pot dish.
HOW MUCH DOES CHANKO NABE COST?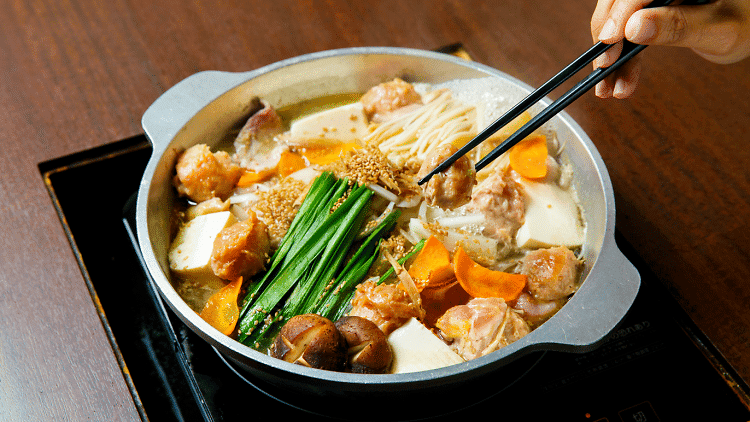 Chanko nabe is that type of meal you will want to eat in winter. A pot with a strong image of sumo wrestlers is a nutritious energy source with plenty of ingredients. Each sumo stable has its own recipe for Chanko Nabe. Also, there are different varieties of Chanko nabe that includes different types of meat or fish and vegetables so the price is different from every restaurant since there's no fixed exact ingredients. The price ranges from ¥4000 to ¥8000 depending on which store you will go to.
RECOMMENDED CHANKO NABE RESTAURANTS
In Japan, there are restaurants serving chanko nabe all across the country. The best restaurants serving this dish are definitely in the area where the Kokugikan is, namely in the Ryogoku area of Tokyo. When you come to Japan, don't forget to try chanko nabe. Below is the list of restaurants you might want to try.
Kawasaki (Ryogoku)
Founded in the early Showa period, the owner of this restaurant is a former sumo wrestler. He still keeps the taste of his father, who specializes in chicken dishes. It has a rich richness and harmonizes mellowly with the ingredients. The more you stew, the more delicious the soup stock will overflow from the ingredients.
Chanko Kirishima (Ryogoku)

Their chanko nabe uses pork bones and chicken bones to make soup stock. You can also choose the type of seasoning from soy sauce, miso, salt, and kimchi. The ingredients are slightly different depending on the taste of the soup. Also, you can also add seafood toppings.
You can also rent a private room.
Masuiyama (Morishita)
This shop is run by a former Ozeki. The soup stock of the famous "Chicken Tsukune Soy Sauce Chanko nabe" is made from kelp and bonito. This is one of the most popular so reservation is a must.
Mienoumi (Monzennakacho)
The shop is owned by Mienoumi Tsuyoshi, the 57th yokozuna. Mienoumi is currently the director of the Sumo Museum and is active in many fields. Their variety of Chanko nabe also won the Bib Gourmand award.
Kashino Arashi (Kiba)
"Kinoarashi" is famous as a famous chanko nabe restaurant located a 1-minute walk from Kiba Station. The small store is always crowded with many people. There are various types of seats, from table seats to tatami mat seats and digging-type seats. Their chanko nabe has a lot of ingredients from leafy vegetables to root vegetables, mushrooms, and a wide variety of ingredients such as pastes and more. It is full of volume and so powerful that it just sticks out of the pot.
Kotonofuji (Kagurazaka)
It is a small and cozy shop that stands quietly in the residential area of ​​Kagurazaka. Kotonofuji, who was born in Hokkaido and was a sumo wrestler in the Sadogatake stable, opened this restuarant after he retired.
"Soppu Nabe" is a refreshing hot pot based on chicken meat with a reasonable price of 1500 yen per person. The name comes from the fact that a wrestler with a plump body is called an "anko type" and a wrestler with a muscular body is called a "soppu type".
Rikishi cuisine Kotogaume (Kinshicho)
Kotogaume Tsuyoshi, who entered the sumo world in 1979, is the owner of this shop.
Their most popular "crystal pot" is salty chanko nabe. The chicken soup is filled with 12 kinds of ingredients such as chicken balls, chicken and cabbage. In addition, the soy sauce-flavored "sop hot pot" and the miso-flavored "kimchi hot pot" are popular dishes. There are plenty of arranged chanko that children can try, especially the "miso butter chanko nabe" and "curry chanko nabe".
Tamakatsu (Iriya)

It is a long-established store founded in 1958. Their variety of Chanko nabe has plenty of leafy vegetables such as local chicken and tofu, Chinese cabbage and chive, Japanese mustard spinach and spinach. It is also known for its unique soy sauce-flavored sauce with raw eggs, green onions, chili peppers, and green laver that goes great with leafy vegetables.
Noboru Saga (Tsukiji Market)
Noboru Saga is a very popular restaurant in the Ginza area. The taste is genuine because it was opened by Hiroshi Saganobori, a former Makuuchi wrestler from Saga prefecture.
You can choose from three types of chanko nabe: salty, soy sauce, and jjigae. The most popular is salt. The soup in this pot is made from bonito and kelp, and it has salty taste that you can enjoy the delicate taste of the soup stock.
Chanko Shibamatsu (Nakameguro)
Founded in 1957, Chanko Shibamatsu is a shop where you can enjoy authentic chanko nabe. At this shop, they are very particular about the soup stock of chanko nabe. After soaking in kelp and soup stock shiitake mushrooms from the day before, the soup stock is taken with a lot of vegetables, beef tendon, pig's trotters, chicken gala, etc. every morning for 4 to 5 hours. Moreover, It is a hearty dish where you can enjoy meat and fish such as homemade meatballs, bacon, pork roses, and seafood.
WHAT ARE THE COMMON INGREDIENTS OF CHANKONABE?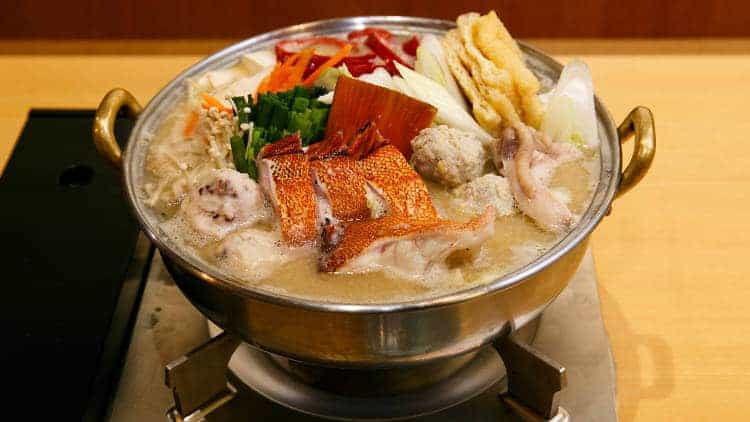 For Meat chanko
Soup: Chicken flavored or salt flavored based on konbu/bonito stock
Ingredients: Chicken, Chinese cabbage, chicken, shiitake mushroom, chicken ball, burdock, white radish, thin fried tofu, ground sesame
Optional ingredients: Leek, garlic, rice cake, konnyaku, cabbage, royal fern,
For Seafood chanko
Soup: Salt flavored with konbu and bonito stock
Ingredients: Horse mackerel ball, shrimp, white radish, carrot, burdock, thin fried tofu, udon, ground sesame
There's also variety called Kiritanpo style Chanko Nabe, a local specialty of Akita Prefecture. It is made by molding cooked rice around a stick that is then grilled. This recipe substitutes grilled onigiri rice balls for traditional kiritanpo.
FINALS THOUGHTS
In the world of sumo, chankonabe is the most essential dish. However, certain rules exist in meal preparations to bring luck to the wrestlers, it is said that raw materials from the mountain and the sea are not mixed in the same pot. Also, in sumo wrestling, placing any hand on the wrestling ring floor means defeat.
In addition, some sumo stables do not use meat of four-legged animals, such as beef or pork, in their chanko pots, although some others began using them since the late 60's. It is said that it is considered unlucky to eat anything with four legs. Meatballs are eaten often as they symbolize victory in matches.
It is always good to see how they keep their traditional food. That is why Japanese dishes are always interesting. If you happen to visit Japan, don't forget to visit Ryogoku, the sacred ground of sumo, and try chanko nabe. And if you're lucky enough, you might bump into sumo wrestlers and have your food prepared by them. It will be one of the most amazing and special experience!