INTRODUCTION TO NEGIMA NABE
Negima Nabe is one of those dishes that the Japanese made to combat long winter months or gloomy rainy days. Japanese embrace the elements of the wide variety of hot pot dishes. Hot pot is a cooking method that originates from China but in Japanese cuisine, the hot pot dishes are called nabemono.
Some examples of nabe or hot pot dishes are Kiritanpo Nabe or chicken hot pot with pounded rice which is a specialty of Akita prefecture. Mizutaki, another hot pot dish, a local specialty of Fukuoka in Kyūshū made out of chicken and vegetables. Another example of hot pot dishes in Japan is the Himeji Oden in Himeji City in Hyogo prefecture. They partner the Oden (hotpot dish type) with a kneaded Japanese mustard. Lastly, Chanko Nabe from the same prefecture, Tokyo, is a specialty hot pot at sumo stables.
Now, time for introducing Negima Nabe, one of the representative dishes of the Tokyo prefecture. Let's get to know it next.
WHAT IS NEGIMA NABE?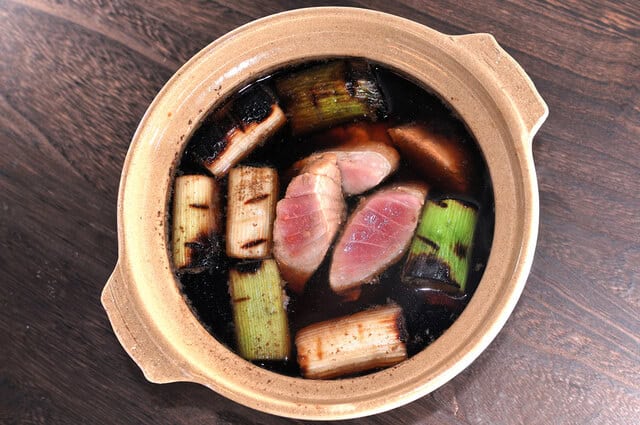 Along with Chanko Nabe, Negima Nabe is one of the representative dishes of Tokyo prefecture. One of the traditional foods in Japan and an Edo cuisine. You can enjoy a large amount of tuna soup stock with this dish. There are also some Tokyo specialty dishes like Kusaya, Bekko Sushi, Fukagawa-meshi, Shinagawa-meshi, Edomae Sushi, and Monjayaki.
Derived from Negima Nabe are green onions or Japanese leek, tuna, and hotpot.  Speaking of green onions, it is common knowledge in modern Japan that it is yakitori with chicken and green onions skewered. But in the Edo period, it was a dish of boiled green onions and tuna.
NEGIMA NABE ETYMOLOGY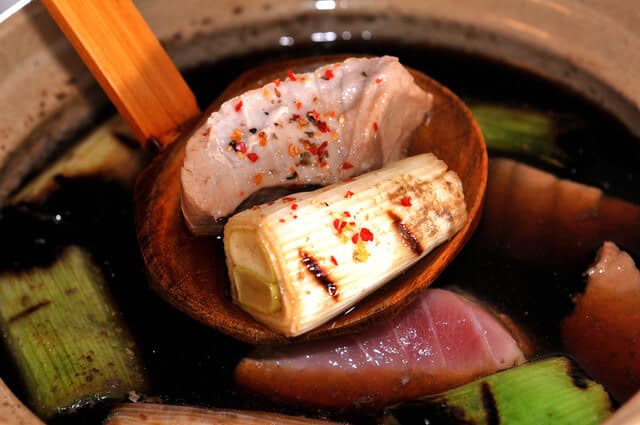 Negi (ねぎ) is Japanese long onion or Japanese leek while Nabe (鍋)means hotpot in the Japanese language. The "ma" (ま) is the first character of "まぐろ" which means tuna in Japanese. There are various theories about the meaning of ma (ま) for "Negima" in onion tuna pot. 
The first theory is that a tuna (ma) put in the onion tuna pot. The second theory is that to enjoy the Negima Nabe with tuna fat transferred to green onions. The umami that comes out of the tuna's fat melts in the soup and the green onions have absorbed this tuna fat makes it chewier. Lastly, the third theory was because tuna is between the green onions to make a hot pot dish. So, in English, Negima Nabe translates to "Onion Tuna Pot".
HISTORY OF NEGIMA NABE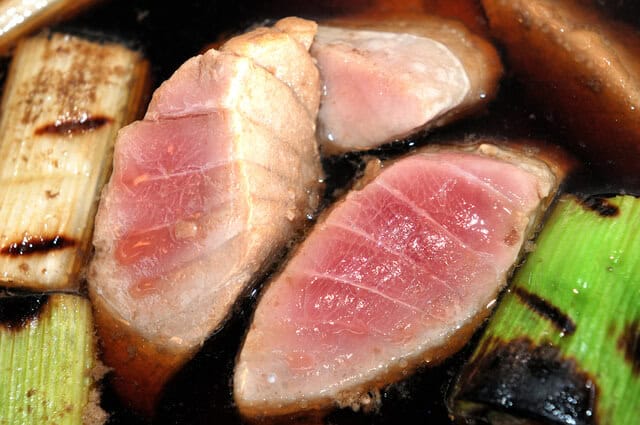 It became popular to use pots not only for cooking but also as tableware in the Edo period. They use it to boil ingredients in pots and eat them as they are at the table. The common people eat Negima Nabe during the Edo period. In the old days, tuna was soaked in soy sauce and stored.
The eating habits of the common people are very simple. The water was precious at that time and they didn't start a fire that many times. That is why "pots" have become so popular. A hot pot is like a combination of soup and simmered dishes. All you need is an iron pot and a brazier, and it's easy to make.
"Negima Nabe" was born by devising a way to eat the discarded Toro. There was a famous story that in the Edo period they threw away the Toro part of tuna. Because when there is no refrigerator, the fat part is easily damaged and causes food poisoning. Lean tuna is expensive and inedible for the common people.
NEGIMA NABE RECIPES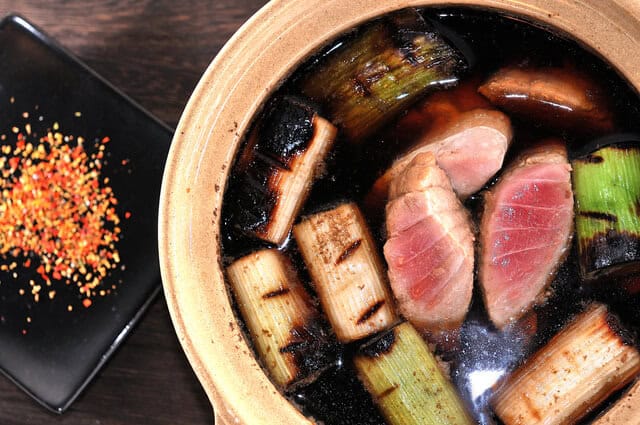 Negima Nabe recipes consist of the Japanese leeks or green onions, Tuna, soup stock, sake, mirin, soy sauce, and water. The key in eating the Negima Nabe is not to add a large number of ingredients and not to overcook.
HOW TO MAKE NEGIMA NABE?
So now that we know the Negima Nabe recipes, we can now make one. First, cut the green onions into easy-to-eat cylinders and arrange them on a grilled fish or frying pan. Next, cut the tuna into pieces into eatable sizes. Remember, if it is too thin, it will crumble when boiled. Then, make the soup stock by boiling all the mirin, sake, soy sauce, and water together. Lastly, add the roasted green onions to the pan, add half the amount of tuna first, and start eating. 
WHAT IS THE ORIGIN OF HOTPOT?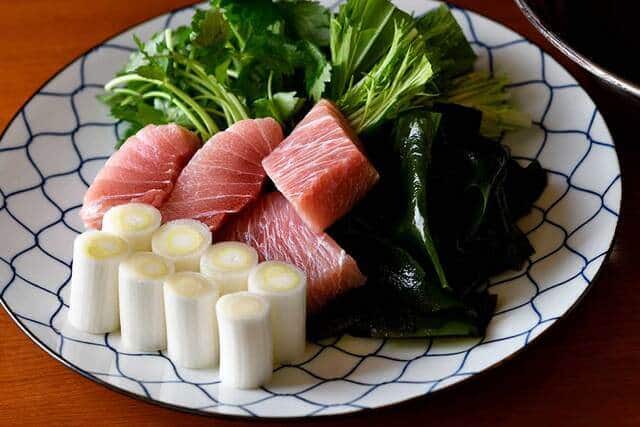 Hot pot is a cooking method that originates from China. Prepared with a simmering pot of soup stock at the dining table, containing varieties of East Asian foodstuffs and ingredients. Chinese cities turn up the hygiene heat on hotpot restaurants to protect foreign stomachs. Others believe it has its roots in the 14th century.
WHAT IS THE DIFFERENCE BETWEEN SHABU-SHABU AND HOTPOT?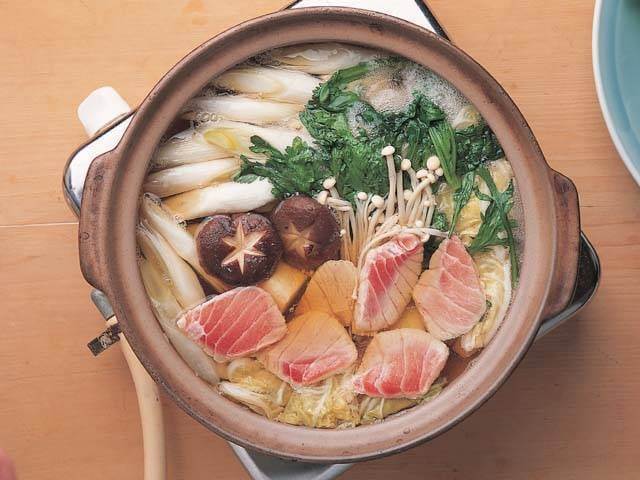 Hot pot is prepared in Japanese hot pots This cooking style is what the Japanese called the "nabemono" style. They cooked hot pot in shallow iron pots with sake, mirin, soy, and sugar. The one-dish meal frequently features ingredients dipped in beaten raw eggs before cooking. It keeps simmering as it is with vegetables and other foods like tofu and noodles. 
Shabu-shabu features a different cooking style, which is the main difference between the two cuisines. All thinly-sliced ingredients are swished around the pot. The dish gets its name from the Japanese onomatopoeia "shabu shabu" meaning "swish swish". It describes the light swishing of the meat in the simmering broth.
HOW TO MAKE HOT POT AT HOME?
You can easily enjoy making a hot pot at home in the Japanese style. First, combine mirin, soy sauce, water, and sugar in a small saucepan and bring it to a boil. Once boiling, turn off the heat and set aside. Second, cut the ribeye steak into paper-thin slices. Third, brush off any dirt on the enoki mushrooms with a paper towel. Also, cut off and discard the roots, tear into smaller bundles, and set aside. Then, cut tofu into ½-inch slices and slice the carrot. 
Next, separate the Nappa cabbage leaves from the stem, rinse them underwater, and set them aside. Place all the ingredients in a Japanese clay pot or an iron pot and pour the broth into the pot. The next step is to cover with a lid and bring to a boil under medium-high heat. Once boiling, turn to low heat, simmer (lid on) for another 15-17 minutes until all ingredients are cooked through. Lastly, sprinkle with chopped scallion to serve and enjoy.
IS HOT POT HEALTHY?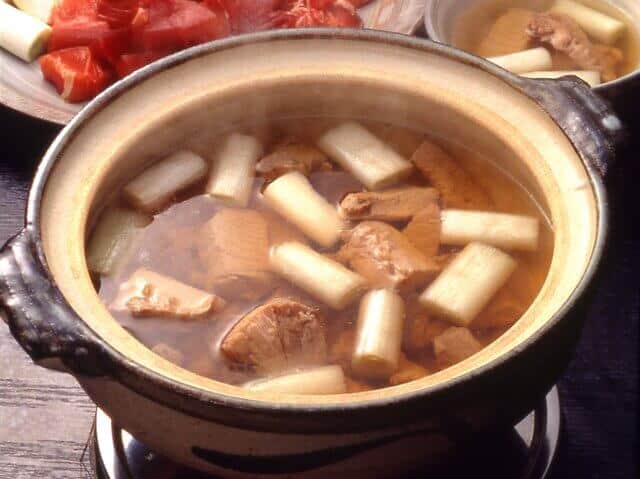 Hot pot can certainly be healthy. Provided, you choose your ingredients, base soup and dipping sauces carefully to avoid an overdose of sodium, saturated fats, and carbohydrates in your meal. The sodium content in a typical hot pot meal far exceeds the recommended daily salt intake.
RECOMMENDED NEGIMA NABE RESTAURANTS
Negima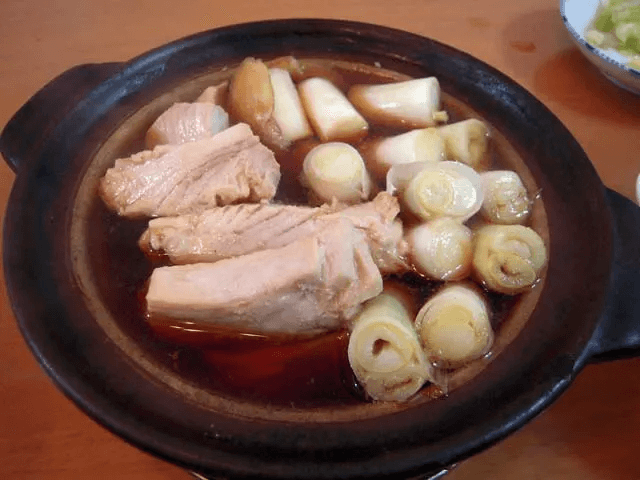 Negima is a small restaurant that looks like it appears in a drama. The shop opened in Kita-Ikebukuro in the summer of 2017. The menu starts from ¥4,300 for "Negima Nabe and Smoked Course" The ingredients of the Negima pot are bigeye tuna fatty tuna, green onion, wakame seaweed, and parley. In summer, parley changes to Mizuna and Mibu greens.
Yoshiume Ningyocho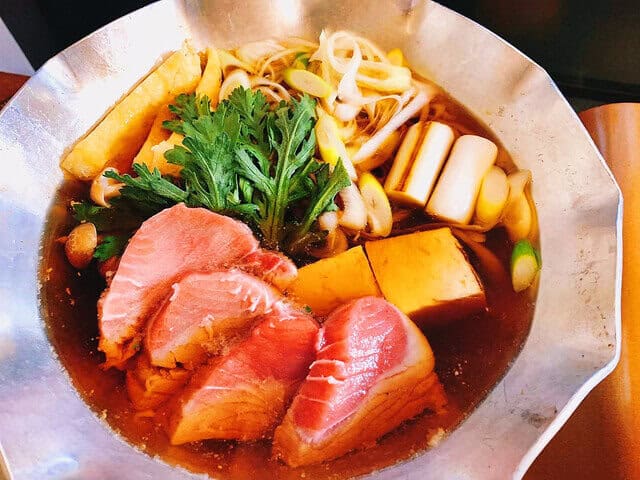 Yoshiume is one of the few restaurants where you can eat the Edo specialty "Negima Nabe." The Negima Nabe, which you should eat the toro of tuna that has been cooked quickly along with vegetables such as green onions, is healthy and delicious. The building, which was once a geisha house, has a calm atmosphere and is popular with foreign visitors.
Asakusa Ichimon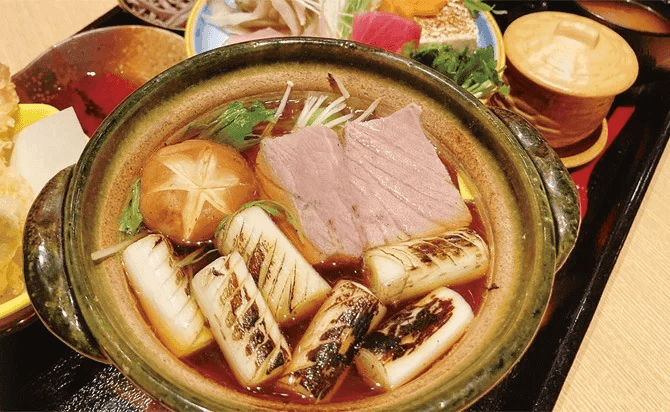 The Asakusa Ichimon main store is a 70-year-old house that serves a variety of single dishes. It has a room with a moat that reminds you of a distance, a hall for banquets, an onion pot, whale dishes, and Edo vegetables. The store recommended the Nashiro Edo Negima Nabe, their famous shumai, duck meatballs, stewed beef tendon, and stewed whales. 
At Asakusa Ichimon Main Store, there is a private room for banquets used only during the busy season. There is a wide selection of sake that goes well with dishes, including sake (local sake) and shochu. 
Fujiki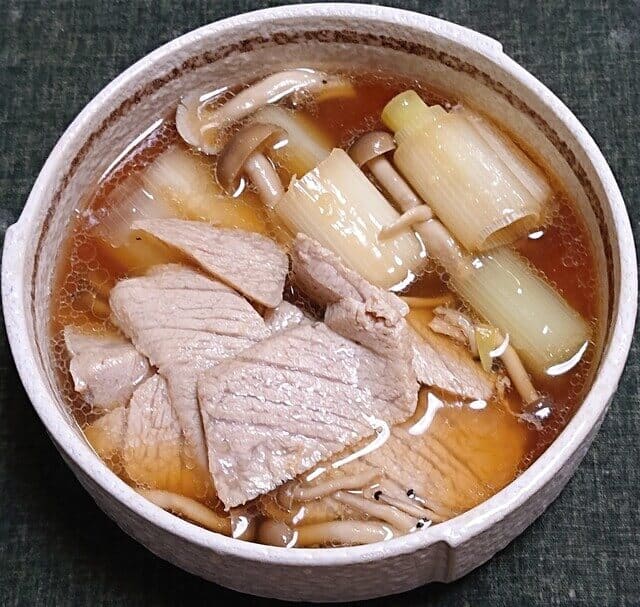 Fujiki has private rooms, private rooms for private tables, and counter seats. Private rooms are either large and small, so you can choose according to the purpose of your entertainment, dinner, and banquets and the number of people.
Negima Nabe is their specialty. It is a pot of carefully selected vegetables such as green onions and tuna (Toro). You can enjoy it all year round. For orders from 2 people, reservation is required by the day before. The price of the Negima Nabe course ranges from 8300 yen – 12,300 yen.
Ginza Janome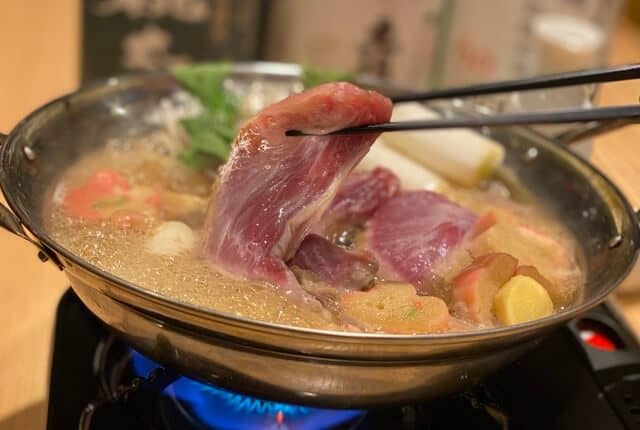 If you are near Ginza Subway Station and suddenly crave for a hot pot, you can try Ginza Janome. It is a 2-minute walk from Ginza Subway Station. While many local sake specialty stores are usually reserved, you can enjoy and feel free to drink local sake in this shop.
The table seats lined up in the open store can accommodate up to 35 people. Used for meals with a small group of 2 or 4 people. The place is perfect for a casual gathering with friends, including a drinking party on the way home from work. Janome's specialty tuna onion pot for 1  serving costs 680 yen(tax excluded).
CONCLUSION
Nabemono is a well-established Japanese culinary tradition that has been embraced by foodies the world over. We believe there's nothing more comforting than the warmth of hot broths, fresh foods and the social aspect of a nabemono brings forth. They are nourishing, easy throw-it-together kind of food, and so fun to eat. No wonder they are the wintertime favorites in Japan. And if you are like me who enjoys hot foods regardless of the season, you can even make nabemono year-round.