If you are a fan of Japanese cuisine, you may have heard or eaten Sukiyaki before before. However, have you heard about Kanto style Sukiyaki and Kansai style Sukiyaki? In this article, we will introduce about the history, characteristic and recipes of Kanto style Sukiyaki. Let's see what is the difference between the two style of Sukiyaki.
What is Kanto style Sukiyaki?
Kanto style sukiyaki (関東風すき焼き) is a traditional Japanese food and is a type of sukiyaki from the Kanto region made from boiled meat, vegetables, and other ingredients. Sukiyaki is one of the representative hot pots in the Kanto region. However, there may be a few foods with the same dish but different east and west as sukiyaki. In the Kanto style sukiyaki (関東風すき焼き), warishita (a mixture of sake, soy sauce, sugar, mirin, and dashi) is poured and heated in a pot. Meat, vegetables, and other ingredients are added and simmered together. Locals boiled all the meat and ingredients in a pot using Kanto-style. It was popular as "beef pot or gyu nabe" instead of "sukiyaki" until the Great Kanto Earthquake.
Kanto style Sukiyaki History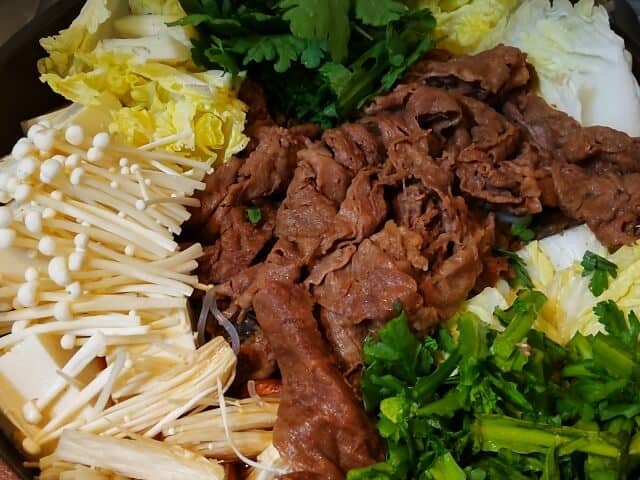 Start of spreading the Kanto style sukiyaki
Many believed that foreigners residing in the settlement introduced to Japan the meat culture when Yokohama Port opened in 1859, marking the end of the Tokugawa shogunate. Beef food steadily spread after the Yokohama cattle farm opens. Around this period, "Ushinabe," which is popular for creating Kanto-style sukiyaki, appears to have made its debut in an izakaya in Yokohama. Following the creation of a cattle farm in Tokyo, the consumption of beef gained popularity and came to be a sign of civilization. "Nakagawa", who opened the first beef shop in Edo in 1867 (Keio 3rd year), opened a beef pot shop in Shiba, Tokyo
The meat used
Because the technology for processing meat and refrigeration equipment was not available at the time, beef appeared to be hard and had a strong odor. Just because of that, unlike today, many of them contain miso, which helps cover odors, and vegetables, as opposed to the traditional practice of using solely green onions. Instead of being sliced as it is now, the meat allegedly seemed to be often chopped and placed in a skillet.
Embracing the sukiyaki in the Kanto region
In the Kanto region, where the Western culture began to rush from the end of the Edo period to the Meiji era, the custom of eating beef naturally took root. At first, they dislike the beef because they can't eat it like sukiyaki. But when it came in contact with the taste of sukiyaki, they gradually accepted it as an ingredient. As a result, beef sukiyaki took on its traditional form, and legend has it that this helped the dish spread throughout the Kanto region.
Kanto style Recipe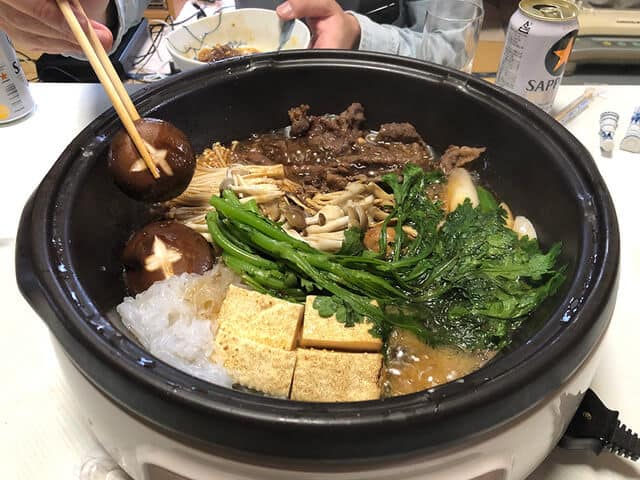 Kanto style Ingredients
| | |
| --- | --- |
| Ingredients of Kanto style sukiyaki for 2 person | |
| Beef | 300g |
| Japanese leek | 21g |
| Shirataki noodles | 200g |
| Mushrooms | 350g |
| Tofu | 20g |
| Beef tallow | 20g |
| Soy sauce | 50g |
| Mirin | 50g |
| Sake | 50g |
| Water | 50g |
| Sugar | 28g |
| Japanese-style dashi stock | 5g |
How to make Kanto style sukiyaki
Cutting the ingredients
Cut the ingredients into pieces that are easy to eat boil the shirataki noodles, and drain them.
Making the warishita
Put all the seasonings in a pan and let it boil for a while to make warishita (mixture of sake, soy sauce, sugar, mirin, and dashi).
Simmering all the ingredients and the beef
Then, put all beef and other ingredients in a pan with beef tallow, add warishita and boil.
Serving
When it's cooked, you can now serve it. Put the egg and eat it in order from the boiled one.
Meat used in Kanto style sukiyaki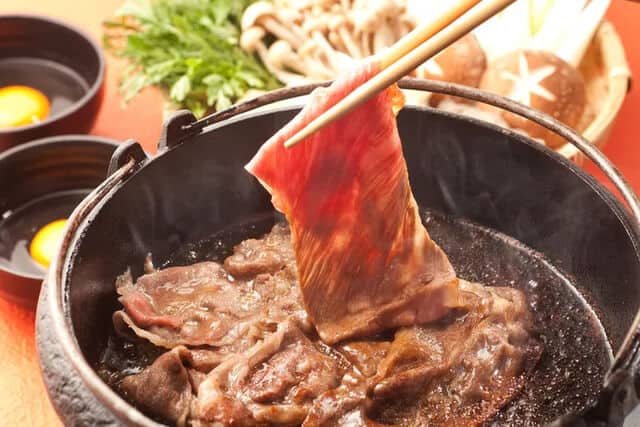 Japanese usually used premium beef in their nabemono or hotpot dishes including sukiyaki. Regarding meat potatoes and curry, there was a lot of beef onion in western Japan and more pork onion in eastern Japan. Even in different regions where there is almost no pork, there are four options: beef, pork, chicken, and others. The beef scallion showed an overwhelming majority in most prefectures in Japan. Pork is the next meat they use, followed by chicken. Only in Hokkaido, pork is dominant. The other 46 prefectures in Japan use beef.
Kanto-style sukiyaki vs Kansai-style sukiyaki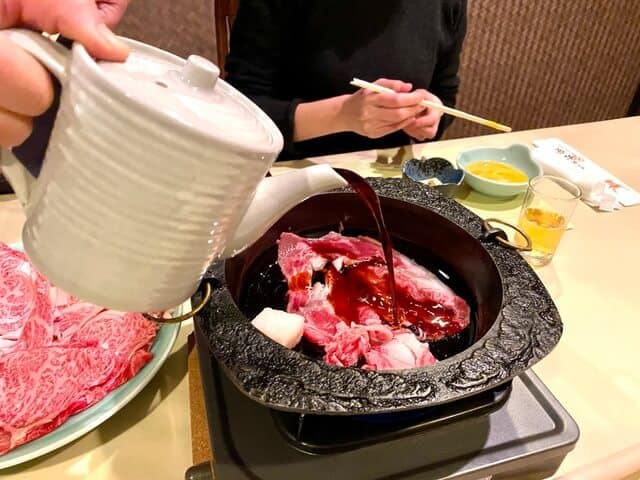 Both Kanto-style and Kansai-style are the same when locals eat it with beaten eggs, but the big difference is in the cooking method. Kanto-style sukiyaki uses a cooking method of "simmering," while Kansai-style sukiyaki uses a cooking method of "baking." In order to make sukiyaki, the locals first browned the beef with sugar in the Kansai region before combining it with liquid ingredients and vegetables. In contrast, the liquid ingredients are combined in the Kanto region to create a warishita sauce, which is then used to simmer the meat.
Locality of sukiyaki is not limited to Kanto and Kansai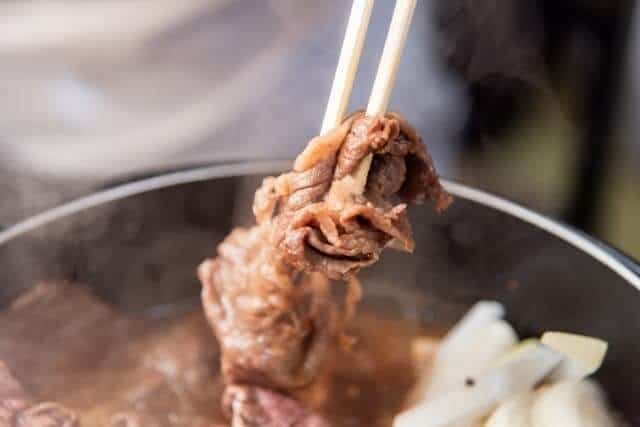 There are two ways to make sukiyaki, Kanto style, and Kansai style. From the method of making Kansai-style sugar directly, we got a glimpse of the locality of sukiyaki, but if we focus on the ingredients and names added to sukiyaki, we can see that there are other localities besides Kanto and Kansai. In the Tohoku and Hokuriku regions, "pork suki" using pork has become common because the beef was once expensive. In Shiga prefecture, "chicken sukiyaki" made from chicken is eaten, and in Nagoya, sukiyaki is called "hikizuri" because the meat is grilled by dragging it on a pot. You can discover the rooted sukiyaki culture and locality..
What is Kanto cooking?
While still being tasty, Kanto cuisine is defined by having stronger flavours than meals from the Kansai region in western Japan. Food from Kanto is popular with a wide range of people because it is the most populous region in Japan, home to over 42 million people who come from all over the country.
Where to buy Kanto style Sukiyaki
Ningyocho Imahan Main Store (人形町今半 本店)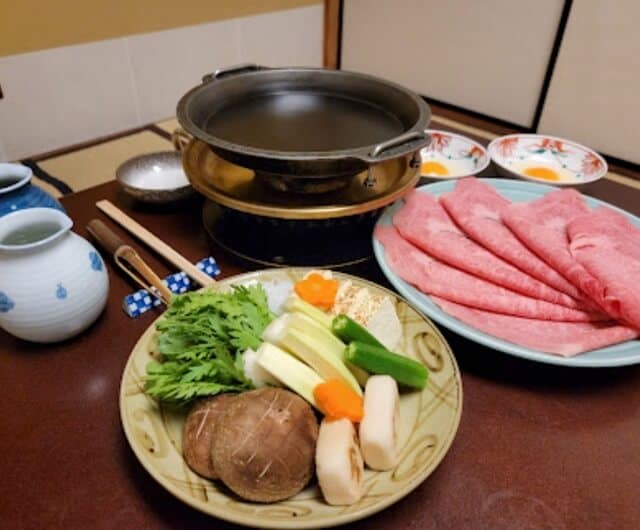 Founded in the 28th year of the Meiji era, Ningyocho is now halfway through the 31st year of the Showa era, a well-known store where you can spend a luxurious time. "Ningyocho Imahan" is particular about beef because it has "soft fat" that gives you a melting taste. In addition, the warishita is not too dark and have a moderate sweetness, which enhances the goodness of carefully selected materials.
Sukiyaki Kappo Hiyama (すき焼割烹 日山)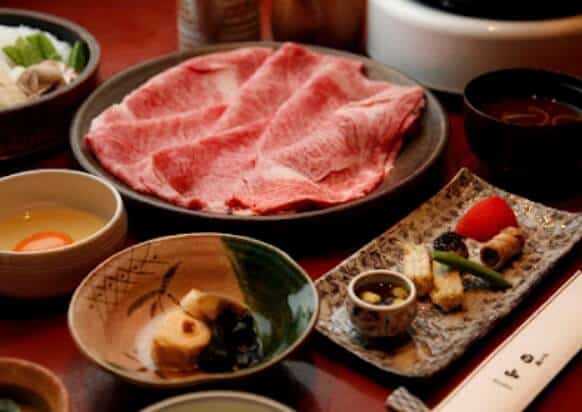 Hiyama is a sukiyaki cooking restaurant that has been running the current form of sukiyaki cooking since 1945. Each piece of meat is very large, and this size hasn't changed since it they established it. The warishita used has a slightly strong flavor, and you can feel the richness and sweetness of the soy sauce. The owner combine the high-quality beef entwined with this sauce, which has been boiled down and thickened, and the thick beaten egg.
Asakusa Imahan (浅草今半 国際通り本店)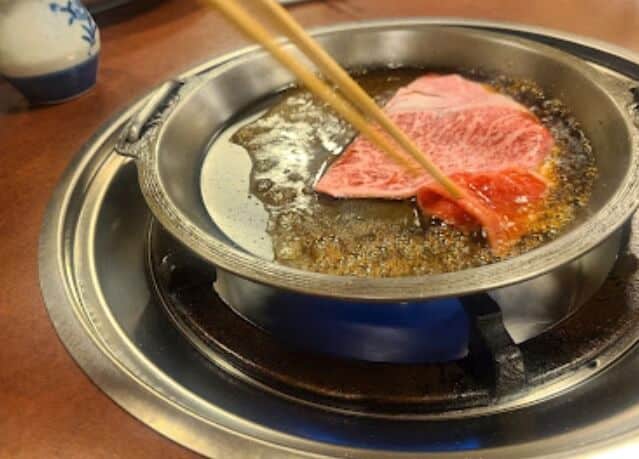 Their beef is a type with a firm sashimi, but they serve it in thin slices so that the customers can just enjoy the taste of fat instead of heavy. The warishita has a sweetness with sugar, which further emphasizes the original sweetness of beef. The owner established this restaurant in the 28th year of the Meiji era and was a beef rice shop. It gained popularity for its beef tsukudani and still holds a solid position.
Ishibashi (いし橋)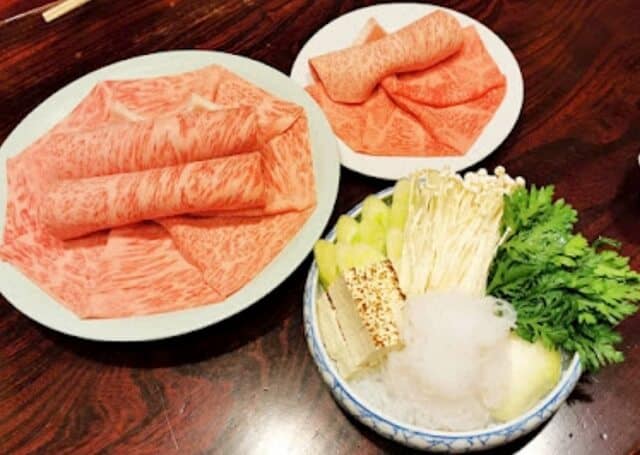 You can choose whether the beef you can get here is marbled or loin, and the feature is the thickness. The owner skillfully cooks high-quality beef that they cut luxuriously but it is so soft and tender to bite. Additionally, the light warishita they use enhances the taste of beef.
Final Thoughts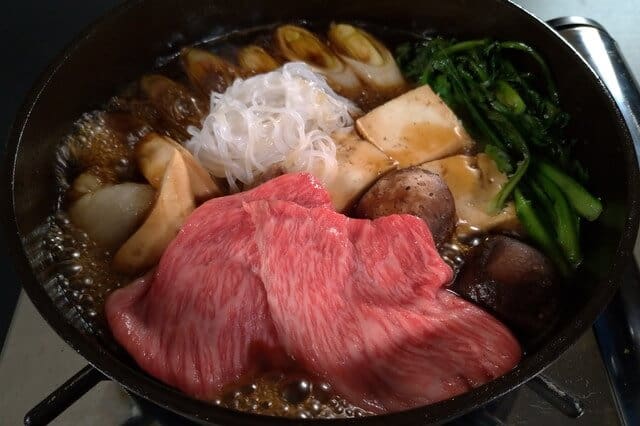 Sukiyaki is typically served on special occasions because it is more expensive than a regular dinner because it is made using premium meat. There isn't much history behind the meal itself. Without certain east-west regional variations, it wouldn't be Japanese food. Whether you're making sukiyaki in the Kanto or Kansai styles, you'll still end up dipping the ingredients into a raw egg yolk "dip" before devouring everything.
If you are hook on the Kanto style sukiyaki, you can also try to read the Kansai style sukiyaki, and also Shabu Shabu.