Ramen is a popular dish not only in Japan but also all over the world. However, do you know that ramen's taste can be differ depending on its place. Therefore, there are various types of ramen with different flavors such as Asahikawa Ramen (Hokkaido), Tsugaru Ramen (Aomori), Tofu Miso Ramen (Ibaraki), etc. Today, let's talk about Kagoshima Ramen and see what is so special about this speciality of Kagoshima.
What is Kagoshima ramen
Kagoshima ramen is a variety of tonkotsu ramen served at speciality shops in and around Kagoshima prefecture. Locals characterized this as relatively low fat and easy to eat, as represented by the soup made by simmering pork bones with chicken bones and vegetables. The noodles are soft and straight, and the ingredients include green onions, bean sprouts, cabbage, and other vegetables. Also, many shops serve pickled daikon radish and tea in a teapot. The biggest feature of Kagoshima ramen is that each shop serves a bowl of originality.
Kagoshima ramen History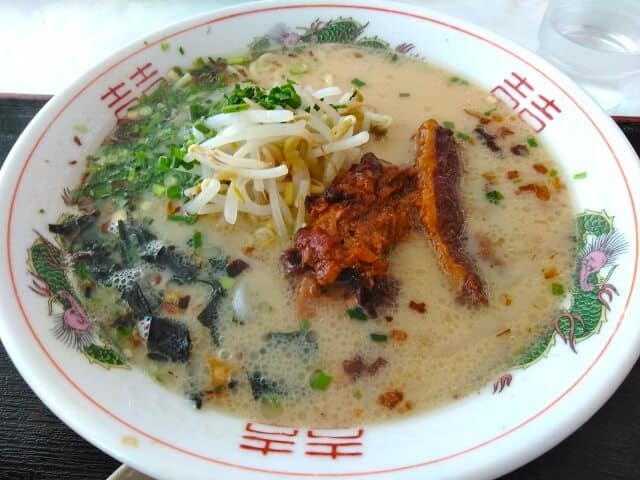 Kagoshima ramen is the only Kyushu ramen not influenced by Kurume ramen. The originator of Kagoshima ramen is Noboruya, founded in 1947. Even today, the shop is famous as a popular Kagoshima ramen shop. The founder, Tsuna Michioka, who was working as a nurse in Yokohama at the time, learned how to make soup from a Chinese patient, and arranged it to his liking.
As a long-established shop, there is "Komurasaki", one of the most famous shops in Kagoshima, along with Noboruya. Founded in 1949, this restaurant is popular by thin noodles made from rice vermicelli and a mild flavour with plenty of vegetables. These two stores are the roots of Kagoshima ramen, but as mentioned above, locals believed that the dish is not something that can be define, and there are long-established stores that follow the flow of other prefectures in Kyushu (Kurume-style, Kumamoto-style, etc.).
Kagoshima ramen Recipe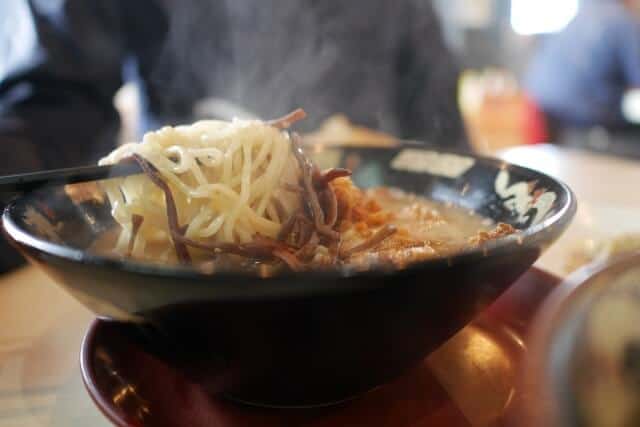 Kagoshima ramen Ingredients
| Ingredients of Kagoshima ramen for 2 person | Measurements |
| --- | --- |
| Pork trotter | 2000g |
| Chicken body bones | 1000g |
| Cut kelp | 26g |
| Green part of green onion | 10g |
| Cabbage | 50g |
| Onion | 15g |
| Apple | 20g |
| Carrot | 30g |
| Garlic | 5g |
| Ginger | 15g |
| Dried shiitake mushrooms | 85g |
How to make Kagoshima ramen
Boil the pork and chicken
In a large stock, pot adds pork trotters and chicken then fill it with water enough to cover everything. Bring it to a boil and continue to boil until the scum appears on top. Turn the heat off then drain
Add the vegetables
In a clean stock pot adds the pork trotters, chicken frames, leeks, onions, dried shiitake mushrooms sake, mirin and salt. Fill it again with water and cover it with heavy a lid then bring it to a boil. Once boiling reduces to simmering heat and simmers for 4 hours.
Simmering the stock
After 4 hours, turn the heat off then strain the liquid using a fine sieve into a separate pot, and reserve the bones. At this point, you need to have at least 3 litres of stock if not add water. Place the pot on the stove top then brings it to a boil, once boiling lower to simmering heat.
Making the tender pork skin
Scrape off the very tender fat and skin from the trotter bones until you have tender pork skin. Place them in a bowl then using a hand blender puree them until smooth in consistency, and pour this into the simmering soup.
Adding noodles and serving
Cook ramen noodles according to packet instructions. Place ramen noodles in a bowl then pour the broth, top with thinly sliced Chashu pork, wood ear fungus, chopped spring onions, bean sprouts and toasted garlic in oil.
Kagoshima ramen special ingredients
Kagoshima pork
Kagoshima's black pork is highly rated among branded pork in Japan. The meat has a fine texture and is extremely soft, and is famous by its high content of umami ingredients such as amino acids. The meat is firm and juicy, and you can feel the original umami and sweetness of the meat. The temperature at which the fat melts is also high, so you can eat it without feeling sticky. Kagoshima's black pork is a brand that was born through repeated breeding, and produced after meeting strict standards.
Toppings
The tonkotsu ramen is delicious on its own, but adding toppings makes it even more delicious. Recommended toppings include bean sprouts, boiled eggs, char siu, cloud ear mushrooms, and pickled ginger. The crunchy texture of the bean sprouts goes well with the slippery texture of the ramen, and when the boiled egg combined with the tonkotsu soup, the exquisite flavor is brought out. For char siu, of course, we recommend using black pork from Kagoshima.
Noodles
Noodles vary depending on the store, but they offered thick noodles or thin noodles like rice vermicelli. The noodles are soft at all stores, so it is also a ramen that is gentle on the stomach.
Price of Kagoshima ramen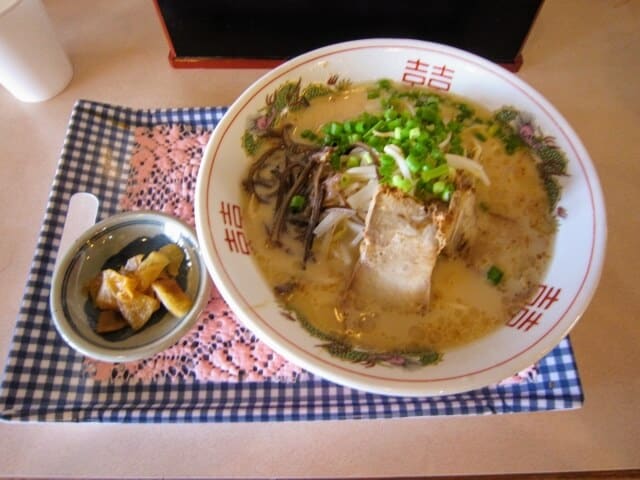 The general public has the impression that Kagoshima ramen is expensive. This is due to the high purchase price of noodles. Although noodles made in Kagoshima are more expensive than those made in other parts of Japan, people try to find unique noodles that go with their soup rather than buying the usual noodles made by noodle makers. In other circumstances, the quantity of production lots does not grow, so the buying price of noodles will be greater.
Kagoshima ramen compared to other noodles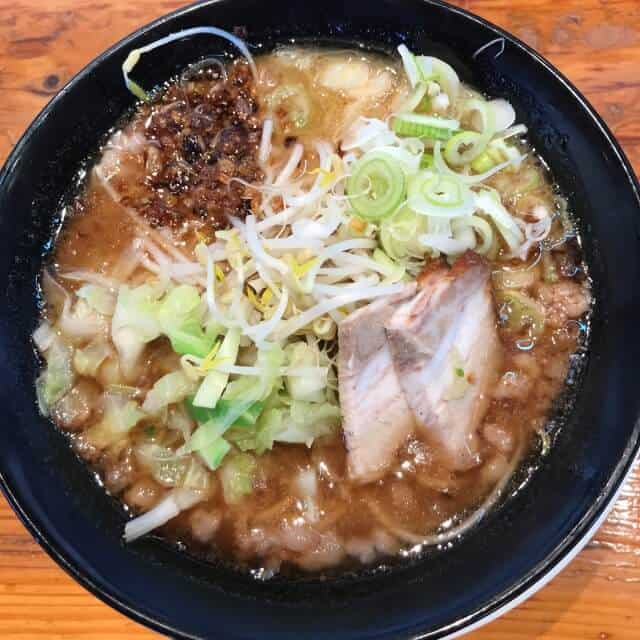 There is also an opinion that the distinguishing feature of Kagoshima ramen is that each shop has its own personality. In comparison to other prefectures, the noodles are softer, and more vegetables are used. In Kagoshima Prefecture, due to the influence of Okinawa, where pork has been eaten since ancient times, pork bone soup was used as the base, but it is not similar to ramen in other Kyushu areas and provides a soup that does not become cloudy.
Where to buy Kagoshima ramen
Komurasaki Tenmonkan (こむらさき 天文館店)
The first shop to introduce, where you can taste Kagoshima's recommended ramen, is "Komurasaki Tenmonkan". At "Komurasaki Tenmonkan", we recommend the "Ramen (with Kagoshima black pork char siu) Namimori" for ¥980 (tax included)! Pork, chicken, and shiitake mushrooms simmered for about 72 hours in a soup that mixes well with the special thin noodles, creating a flavour that will leave you wanting more
Garyufu Tenmonkan Honten (鹿児島ラーメン 我流風 天文館本店)
Here you can enjoy carefully selected soy sauce-based tonkotsu ramen. We recommend the broiled pork ramen with seasoned egg for ¥980. The original blended miso base contains plenty of minced meat and cabbage, creating a rich soup. In addition to ramen, they also have tsukemen and rice bowl.
Menya Batten Oyaji (麺屋ばってん 親父)
You can taste the exquisite Kagoshima ramen that has a great impact. The popular "Akamaru Tonkotsu Ramen" with plenty of green onions and garlic is ¥930. It is a hot topic on SNS. Because the fragrant oil heated to about 300 degrees applied to the finish, the fragrant scent of green onions and garlic spreads throughout the store.
Final Thoughts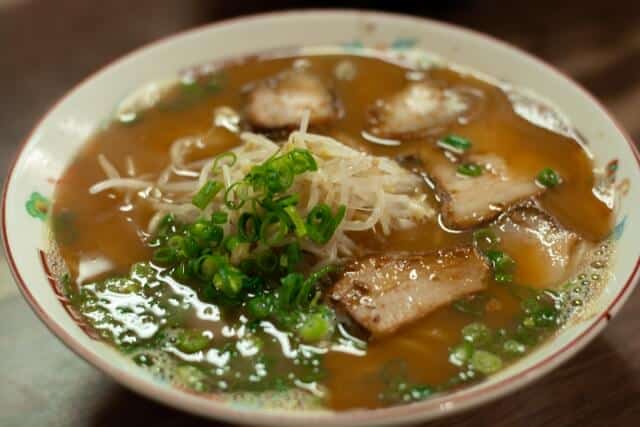 The characteristic of this ramen is that both the ramen itself and its surroundings are very different from other Kyushu ramen. The noodles are straight, whitish in colour, and soft and the soup base is pork bone broth with umami from vegetables and chicken. On Kyushu Island, only Kagoshima Ramen doesn't have its roots in Kurume Tonkotsu Ramen.
There are other ramen dishes that you can try in Japan, such as Kurume Ramen and Toyama Black Ramen.