Try this quick and easy Japanese Ketchup Spaghetti, known as Napolitan. Home cooks all across Japan prepare this simple recipe that elevates pantry staples with fresh ingredients like sausages, mushrooms, onion, and bell pepper. It's a savory and satisfying dish!
What is Napolitan?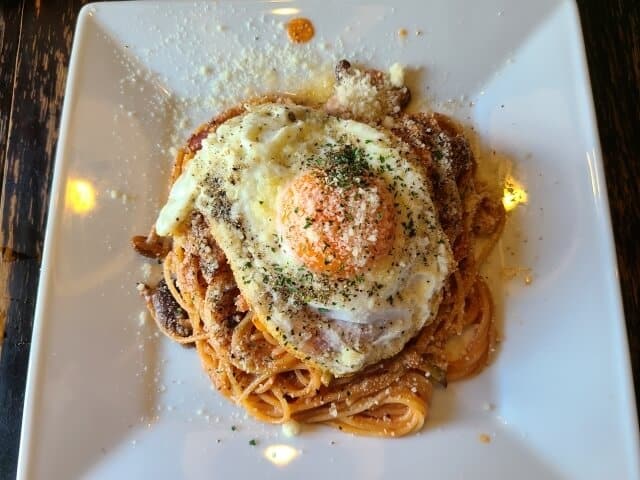 Napolitan is a popular Japanese itameshi pasta dish in which Japanese stir-fried boiled spaghetti with ingredients such as onions, green peppers, and bacon seasoned with tomato ketchup. It is a pasta dish that originated in Japan and is different from the similarly named Italian dish spaghetti alla Napoletana. Although there are a few variations where the sausages are replaced for bacon or ham, everything generally has the same sunny appearance of mouth-watering orange.
Napolitan Name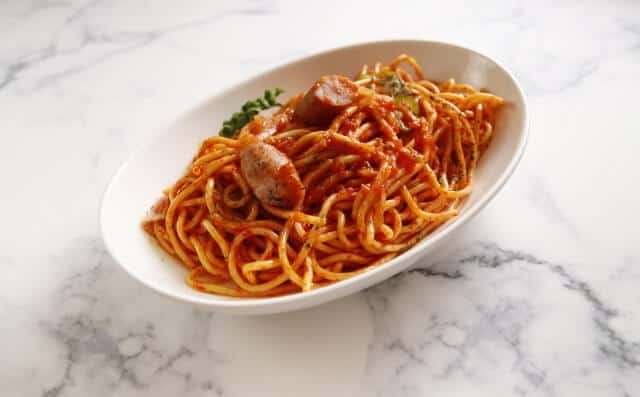 At the Hotel New Grand in Yokohama, Kanagawa in the 1940s, Shigetada Irie, a head chef, invented the Napolitan. Since tomato sauce was a rare ingredient, they used ketchup as a substitute for the pasta. He then named it Spaghetti Napolitan, after Naples, Italy. It is a standard pasta dish that men and women of all ages love at cafes, Western restaurants, and restaurants.
Napolitan History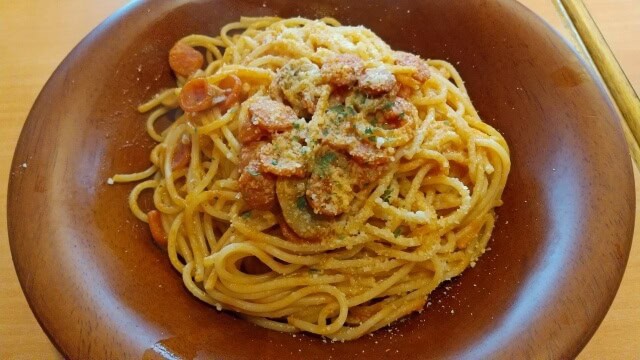 In August 1945, in the years following World War II, the most well-liked Japanese pasta of today was developed. After touching down in Yokohama, General Douglas MacArthur promptly left the airport to check into the Hotel New Grand, a classy hotel with a bay view unaffected by the war. The hotel served as MacArthur's headquarters for three days until they transformed it into a US officer's residence.
The hotel's initial head chef, a Swiss man, was taught by the current head chef, Shigetada Irie, utilizing traditional French and Italian techniques. For the General and his soldiers, Chef Irie prepared a pasta dish modeled after the local spaghetti and ketchup supper served by the American military. Several versions claim that Chef Irie used ketchup, but in reality, he used canned tomato puree, which was considered costly and in short supply at the time. But, because the General was staying at a five-star luxury hotel, the Chef got access to these ingredients.
The recipe also called for sautéed garlic, bacon, canned mushrooms, and chopped veggies in addition to tomato puree. After boiling the pasta for hours, Chef Irie allowed it to cool, creating an udon-like texture that is ideal for Japanese taste preferences.
Cooking method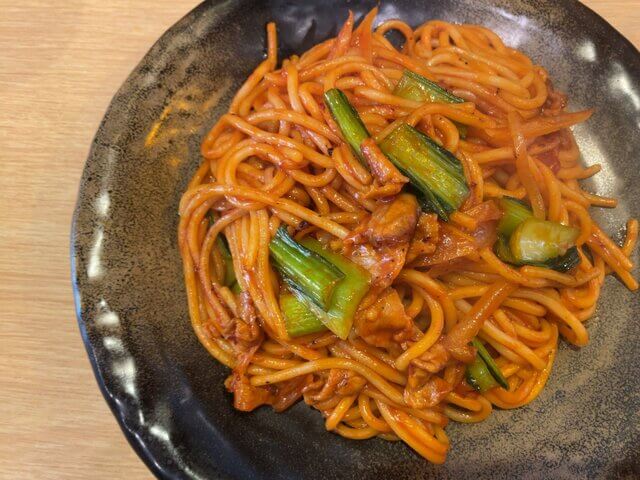 In a frying pan heated with olive oil, ingredients like bacon, onions, and green peppers are fried. Next, tomatoes and ketchup are added and further fried. Finally, the mixture is combined with boiled spaghetti and seasoned with salt and pepper. This is the Japan Pasta Association's recommended recipe. Sometimes sausage or ham is used in place of bacon. If you like, add cheese or Tabasco sauce over top.
Napolitan arrangements made with ketchup
Egg Neapolitan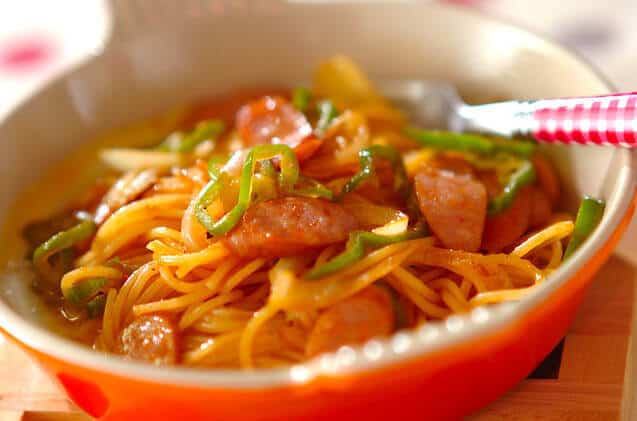 Nagoya people are sure to be familiar with the taste of "Teppan Neapolitan". A simple arrangement recipe for Neapolitan on top of a thin egg. It's easier to eat if you use a small skillet to make one portion at a time, but you can also use a large frying pan to make a lot.
Macaroni Neapolitan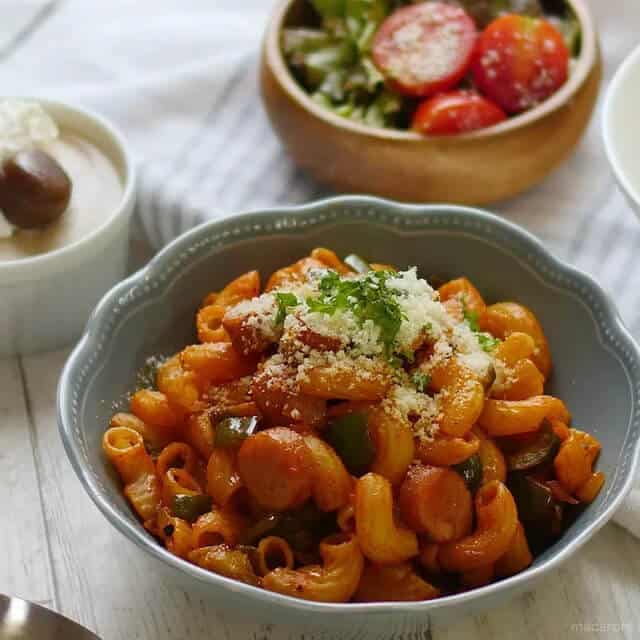 This uses macaroni instead of spaghetti for Neapolitan. Not only is it easy to eat, but the texture is also fun! Your child will surely love the taste. Please put plenty of grated cheese on it. Great as an accompaniment to meat dishes or as a side dish for lunch boxes.
Omelet-style egg sandwich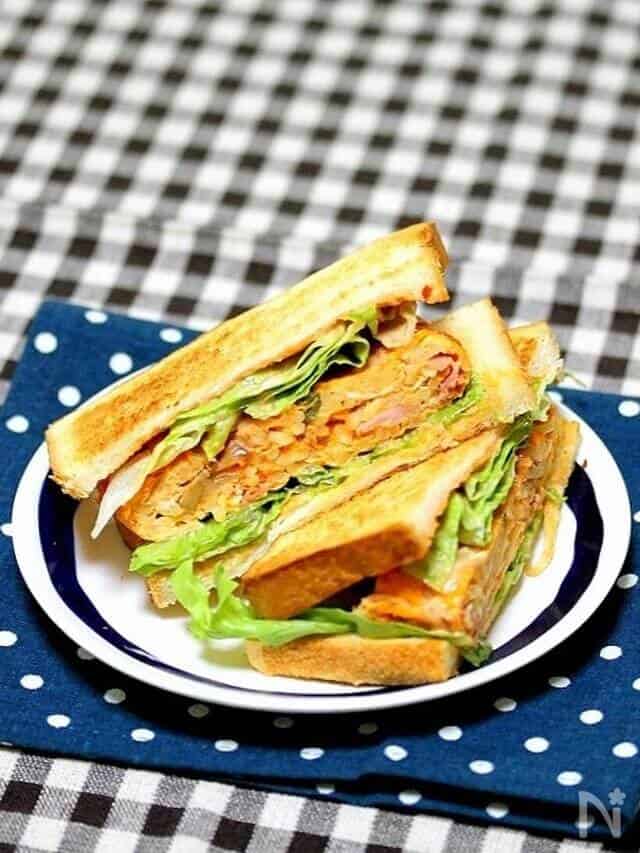 If you have a little leftover Napolitan, how about making a sandwich like this the next day? It's going to be a gorgeous sandwich that doesn't look like leftovers. Any kind of pasta is fine. 
Napolitan FAQ
What are the key ingredients in Napolitan pasta in Japan?

Napolitan pasta includes spaghetti noodles made from wheat flour and water, a tomato-based sauce made with ketchup, and various colorful ingredients such as onions, bell peppers, mushrooms, and wiener sausages, which are thinly sliced and add a salty and savory flavor. 

How is Napolitan pasta typically served in Japan?

The dish is usually presented as a mound of spaghetti noodles coated in a thick tomato-based sauce with various colorful ingredients mixed in. In some places, it may be served with grated Parmesan cheese or other toppings such as chopped parsley, sliced olives, or sliced green onions. 
Napolitan Recipe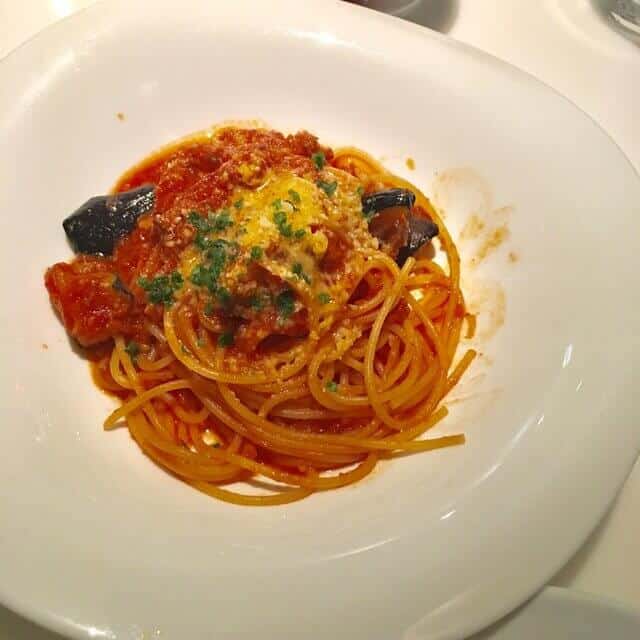 Napolitan Ingredients
| Ingredients of Napolitan for 2 persons | Measurements |
| --- | --- |
| Spaghetti (1.6mm) | 180g |
| Ham (or wieners or bacon) | 70g |
| Onion | 30g |
| Green pepper | 10g |
| Salt and pepper | 2g |
| Ketchup | 100g |
| Butter | 10g |
| Salad oil | 7g |
How to make Napolitan 
 Make preparations
Cut the onion into 5 mm wide slices. Then, cut the bell pepper in half lengthwise, then cut it into 5mm wide strips. Cut the ham in half and cut it into 7mm wide strips.
Start boiling the spaghetti
Boil plenty of water in a pot and add about 1 tablespoon of salt to 1.5L of hot water. Add spaghetti and boil. Boil for 1 to 2 minutes longer than indicated. It makes the sauce easier to tangle.
Fry the ingredients
Heat salad oil in a frying pan and fry the onions. Once the onions have softened, add the peppers and ham and sauté.
Season
Move the ingredients together to clear half the space in the frying pan. Add the ketchup to the space and simmer while stirring until it comes to a boil.
Add spaghetti and mix
After mixing the contents of the frying pan, add the boiled spaghetti and add about half a ladle of the boiling water.
Add butter
Season with salt and pepper, turn off the heat, and finally, add the butter and mix. Arrange on a plate and sprinkle grated cheese or Tabasco if desired.
Where to buy Napolitan
Hachi (HACHI(ハチ)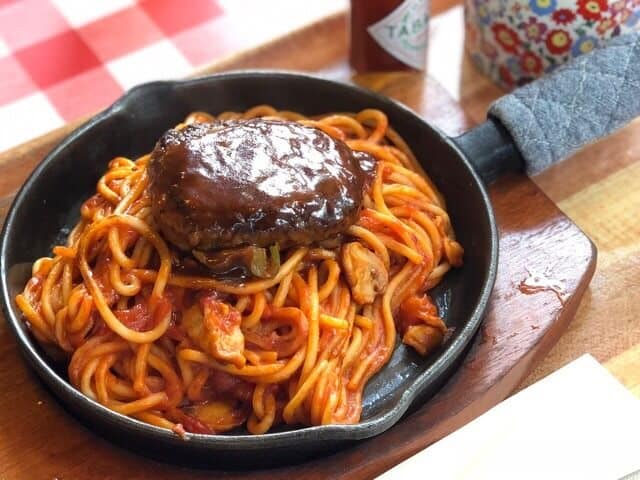 "HACHI" is a small Western-style restaurant that opened in 1979 in the suburbs of Natori City, south of Sendai City. This store is open from 7:30 in the morning at Sendai Station, so you can use it for breakfast. You can also visit here if you are staying at a nearby hotel and do not have breakfast, or if you are going to work in the morning. You can take out some of the menus including Napolitan.
Spaghetti Parlor Maruhachi Mitsukoshi (スパゲッチパーラーマルハチ)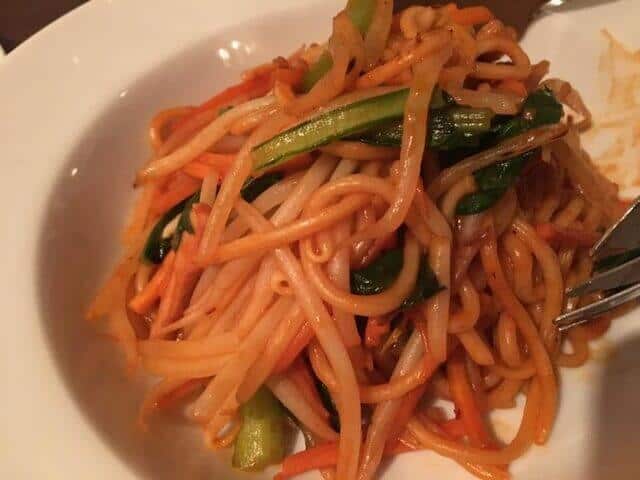 At Spaghetti Parlor Maruhachi Mitsukoshi, you can eat not only the basic ketchup-based Neapolitan but also various Napolitan such as soy sauce-based and carbonara-style Napolitan. Spaghetti Parlor Maruhachi Mitsukoshi has only counter seats, making it perfect for a quick bite. It's good for people traveling alone in Sendai.
Center Grill (センターグリル)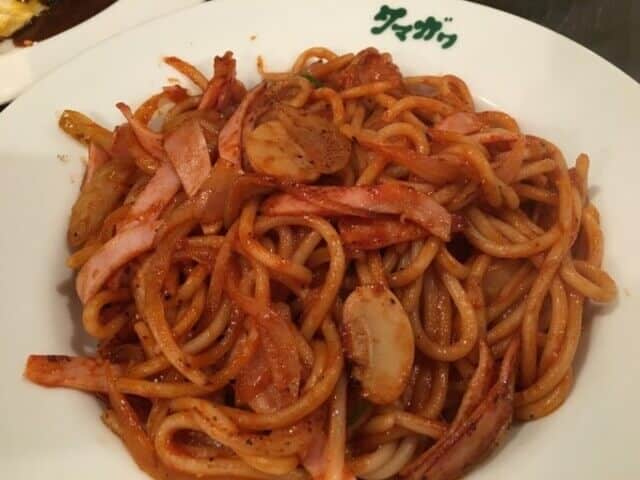 At Center Grill, you can take out many menus including this Neapolitan. The store isn't that big, so you might have to wait in line during the tourist season. In such a case, we recommended taking it out and eating it outside. On the other hand, during the off-season, it is a little-known restaurant where you can eat Hachi no Neapolitan without lining up.
Final Thoughts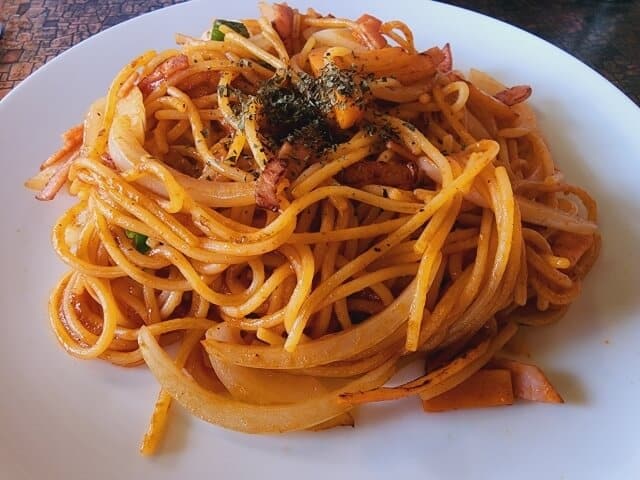 Napolitan pasta has become an iconic dish in Japanese cuisine and is loved by people of all ages. Whether enjoyed at a restaurant or made at home, the colorful and flavorful noodles are a nostalgic reminder of home-cooked meals and a comforting and satisfying meal.
You can check some Japanese dishes below that we know you would like to try too.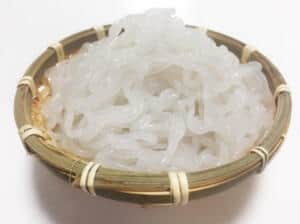 Shirataki (しらたき)
Shirataki refers to noodles made of konjac yams. Although this noodle is popular outside of Japanese cuisine due to its zero calories, no carbs, and high fib…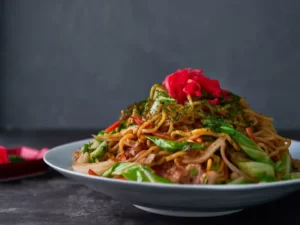 Yakisoba (焼きそば)
Who doesn't know Yakisoba? It's one of the most famous kinds of noodles available in many countries. In fact, plenty of restaurants worldwide have this on th…