Who doesn't know Yakisoba? It's one of the most famous kinds of noodles available in many countries. In fact, plenty of restaurants worldwide have this on their menus. Despite its origin tracing back to China, Yakisoba plays a huge part in the culinary history of Japan.
What is Yakisoba?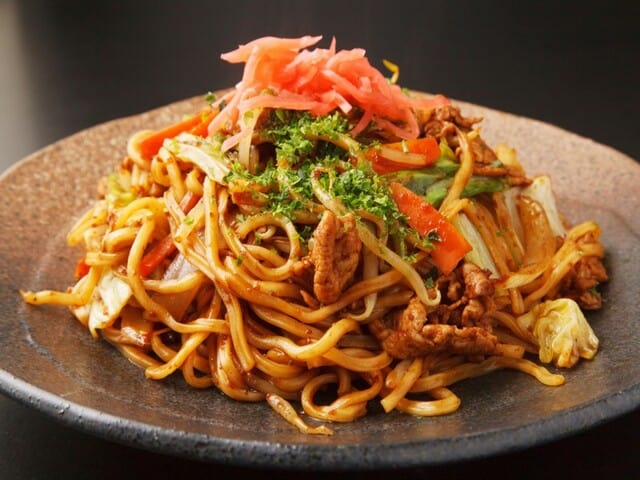 Yakisoba is stir-fried noodles with meats and vegetables. Meanwhile, some people call them Chinese noodles because of its origin. It's a well-known dish in Japan and has several variations from different prefectures. As a matter of fact, some of these dishes became traditional food representatives in many areas.
Unlike Japanese soba noodles, Yakisoba's main ingredient is wheat flour. Oftentimes, they would steam it and treat it with oil first to loosen it. Thus, making it easier and quicker to cook.
In addition to that, Yakisoba with Worcestershire sauce is so popular in the country. It also won the B-1 Grand Prix multiple times. Due to its fame, it gave birth to the Three Major Yakisoba in Japan. The list consists of the best Yakisoba recipes from three prefectures.
Since it's quite easy and fast to cook, it became a common home-cooked meal and a staple dish in many restaurants. Not only in restaurants but also food stalls and snack corners during festivals and school events.
Nowadays, instant and cup noodles Yakisoba have also emerged. With this in mind, a lot of people can take it with them overseas. And although fresh Yakisoba noodles are easy to cook, this innovation made it even easier and more convenient.
What are the Three Major Yakisoba in Japan?
Since there are several types of Yakisoba available in Japan, it's no surprise that they created this list. Even though all of it taste amazing, these three stood out. In fact, the three cities which these came from are actively revitalizing the Yakisoba industry. To know more about the Three Major Yakisoba, continue reading below.
Fujinomiya Yakisoba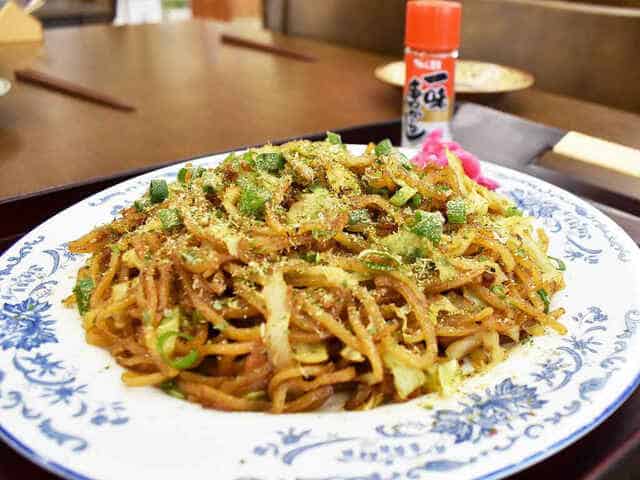 Fujinomiya Yakisoba is the most popular B-class gourmet. Although it's different from the typical yakisoba, it's full of umami and is a standout local dish of Fujinomiya City. Unlike the usual stir-fried noodles, the manufacturing and cooking methods are also different. Hence, some people disregard it as a type of Yakisoba due to its difference including the seasonings.
Another characteristic of Fujinomiya Yakisoba is the inclusion of Nikukasu or meat crumbs. It does not only add meat flavor to the dish, but it also adds texture to it. On the other hand, the special sauce that is made from Worcestershire sauce is smoother than others.
In order to call it Fujinomiya Yakisoba, the noodles should only come from the four major makers in the prefecture. These are Marumo Food Industry, Sanomen, Sogamen, and Kanoya. Due to its growing popularity, the participants of a citizen workshop created the Fujinomiya Yakisoba Society as well. They aim to keep the food culture going on for years to come.
Oota Yakisoba (Joshu Ota Yakisoba)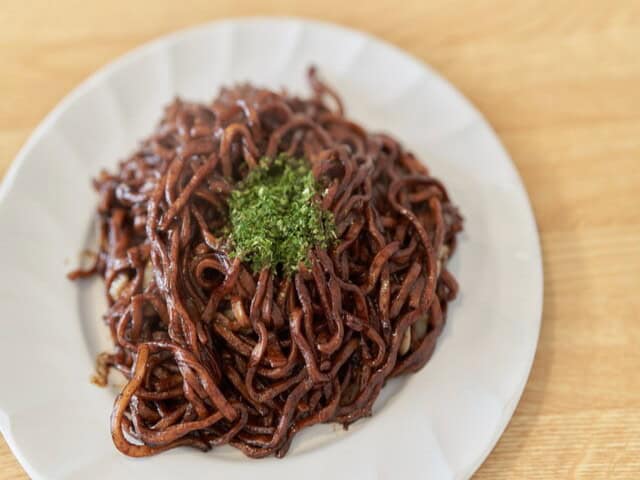 Oota Yakisoba or sometimes referred to as Joshu Ota Yakisoba is a regional food of Ota City, Gunma Prefecture. The traditional sauce they use has green seaweeds and pickled red ginger as toppings. Of course, thick noodles are necessary. Since it has fried cabbages, the sweetness of it blends well with the original wheat flavor of the noodles.
On the other hand, the dark sauce tastes spicy and slightly sour. Some people think that Joshu Ota Yakisoba is too salty, but it's not. Also, the flavors are not overwhelming and you can still taste the umami flavor of the meat.
The best thing about Oota Yakisoba is that there are no requirements for seasoning and methods of manufacturing. The thickness of the noodles and the toppings they use are also different. Thus, making this dish easy to make.
Yokote Yakisoba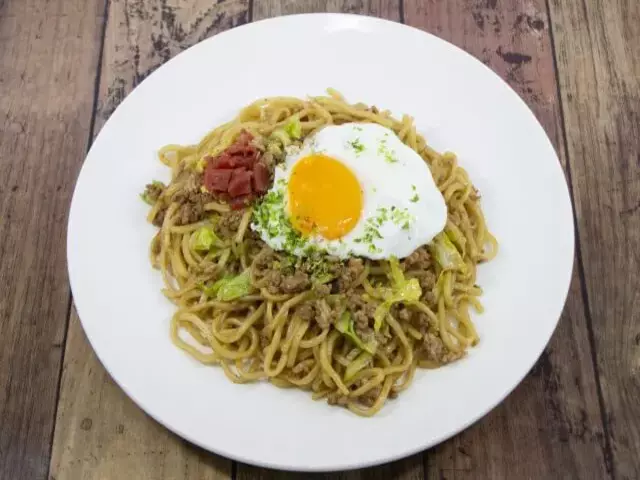 Yokote Yakisoba is local food in Akita Prefecture that has a one-sided fried egg added as a topping. The taste of the dish is relatively sweet because they season it with Worcester sauce, which is unique to each restaurant, so it contains a little more moisture. Other ingredients include cabbage, minced pork, and thick noodles of course.
After four years of competing, it finally got its first win at the B-1 Grand Prix. Thus, making it a national representative of Yokote city.
However, it is important to put a sunny-side-up egg on top for the noodle dish to be called Yokote Yakisoba. The taste is sweet but adding Worcestershire sauce into the dish gives it a unique and balanced flavor. Another reason why it became a trendy food is because of its reasonable price.
Types of Yakisoba Sauce
One thing that makes Yakisoba dishes special is the kind of sauce that is used in them. In fact, restaurants and food stalls are putting much effort into creating the perfect sauce for their dishes. The sauce also varies in every store and household. There are two major types of Yakisoba sauce that are commonly used in Japan, the Liquid type and the Powder type sauces. Below are some of the popular choices of Yakisoba sauce.
Liquid Sauce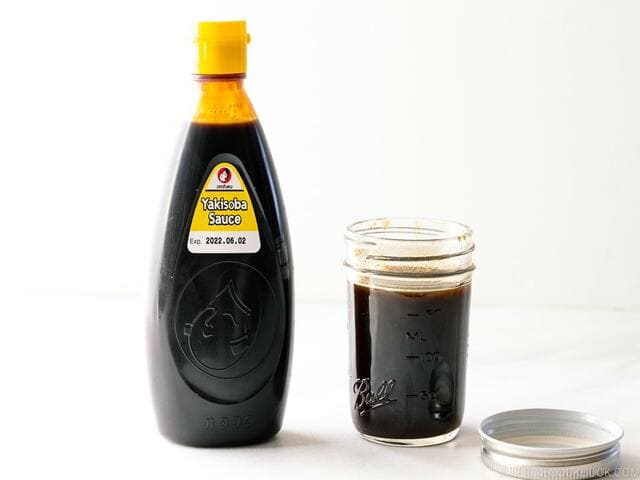 It's the common sauce to choose among the other types. Also, it's easy to use and mix with a large serving of noodles. However, be careful when buying large packaging of liquid sauce as it also comes with a shorter shelf life, so when buying liquid type sauce, make sure to buy the right amount that suites your noodles. Another thing to take note of is that not everyone likes to use Yakisoba sauce. Though the Liquid type sauce is the most common type of Yakisoba sauce, it has a wide variety that may best fit not only to the type of noodles used in your Yakisoba but also each person's tastes.
Kinds of liquid sauce
One is the "dark taste", not only that this imposes dark in color but also dark means strong food flavors. The "dark taste" sauces are best paired with thick noodles for it compliments well the blunt taste of each strand of thick noodles. As mentioned above, one major type of Yakisoba, the Oota Yakisoba, this uses "dark taste" sauce. Another type of liquid sauce is the Worcestershire sauce, Southeast Asian households has always known to have this condiment present in their kitchens so it's one of the most famous sauces used when cooking noodles.
If you like spicy food, this liquid type of sauce is for you, the "Kanto style" sauce. This sauce is one of the most famous Yakisoba sauces in Japan for it has the spicy yet light taste that goes well with thin noodles. Famous restaurants in Japan even street food stalls use "Kanto style" sauce for their Yakisoba. If you're a fan of sweet delicacy, the "Kansai style" sauce is for you. This sauce is also a famous sauce in Japan that has sweet taste with the distinct Japanese-style flavor based on "Bonito Dashi".
"Bonito Dashi" is also called "Katsuo Dashi", this is a type of broth made from Bonito Fish that is called "Katsuobushi" in Japanese.
Powder-type Sauce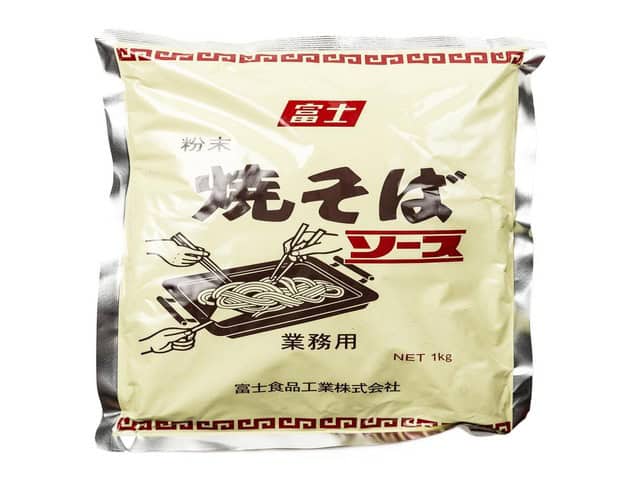 Unlike liquid sauce, powder-type sauces are less sticky and usually comes in Yakisoba cup noodles. If you don't use sauce often, we recommend using this type. It's more convenient for those who are not fond of sauces for it has a long shelf life. Moreover, since majority of production is packed in small packets, you'll get the perfect taste just by using a single packet or two.
Also, powder-type sauces bring out a spicy taste and aroma. In addition to that, it absorbs moisture, so the noodles become less soft. Powder-type sauces are limited in variation, it only has the regular Yakisoba taste with a hint of spicy flavor, another type is the salty ones, and lastly the powder-type sauce with Buckwheat.
Instant Yakisoba Noodles
As Yakisoba became a big hit in Japan, regions creating their own signature sauces, improvements for this dish are inevitable. Japanese people soon came up with Instant Yakisoba or as they call it, Yakisoba in a cup. There are wide variety of Instant Yakisoba noodles that are in broad production not only in Japan but also in entire Southeast Asia, the dish name may vary but the process and contents are the same. In connection to this, we will discover the top five of the best-selling instant Yakisoba in Japan. As you go along this article, Top 3 has been opted for there are same count of votes casted to certain products.
Toyo Suisan "Gorgeusa Sauce Yakisoba Noodles"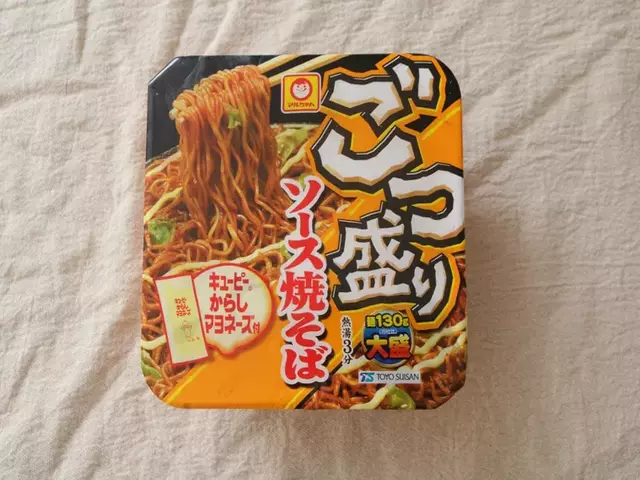 This 130g noodles landed on the 5th spot for it has a "Kewpie Mustard Mayonnaise" blended in rich Umami sauce that comes in a large square cup. Moreover, the noodles are not thick nor thin that incorporates well to its sweet sauce. For only 107 Yen or $0.71, you can enjoy this rich and flavorful Instant Yakisoba.
Toyo Suisan "Yakisoba Bagoon"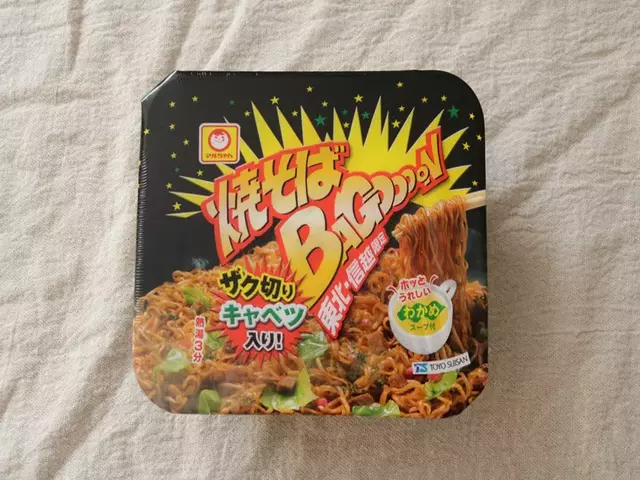 Tied in the 5th spot is "Yakisoba Bagoon". It has medium-thick noodles incorporated with Worcestershire sauce blended with fruity flavor sauce. Its ingredients include cabbage, chicken bits, aosa (dried seaweed), and red ginger. This large, portioned noodle also goes best with Wakame soup, eating this perfect combo will make you feel like eating in a street food stall in Japan. For only 194 Yen or $1.29 you can satisfy you Yakisoba cravings.
Toyo Suisan "Yakisoba Bento"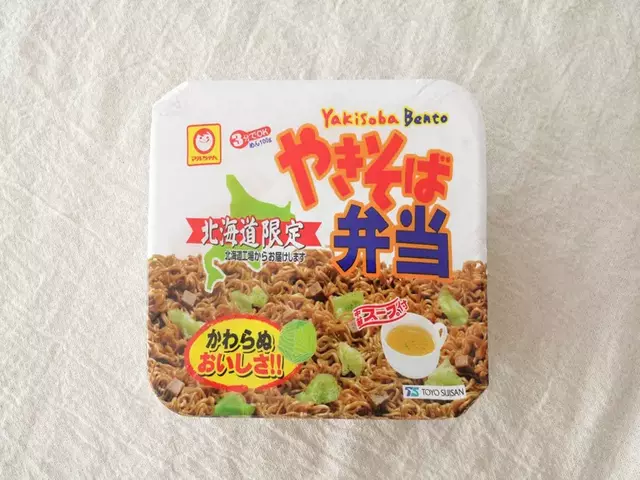 Taking spot number 4 is Yakisoba Bento. This irresistible delight contains crunchy yet firm noodles, sweet but timeless vegetable-fruity flavored sauce with cabbage bits, minced chicken and red ginger sprinkled with aosa. This particular brand is sold only in Hokkaido but thanks to Amazon, anyone may experience this mouth-watering treat for only 208 Yen or $1.41.
Meisei "Ippeichan Night Store Yakisoba noodles"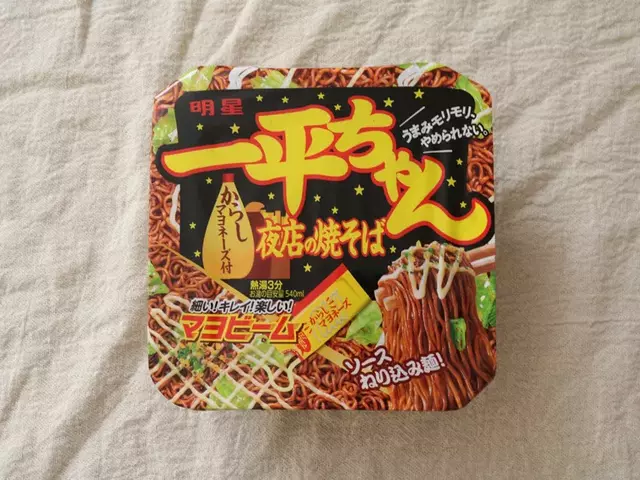 Landing in spot number 2 is the "Ippeichan Night Restaurant's Yakisoba noodles". Among most popular Yakisoba in a cup, this has the thinnest noodles of all. But never belittle this product, it didn't take spot number 2 for no reason, because of its thin noodles, the sauce incorporates well that it gives a flavorful strong taste. Moreover, you can add its Mayo-mustard packet half-way of your meal and experience a two in one delight that gives a more mellow taste that makes it even more addictive. Anyone can nibble this tasty treat for only 208 Yen or $1.41.
Maruka Foods "Baeyang sauce yakisoba noodles"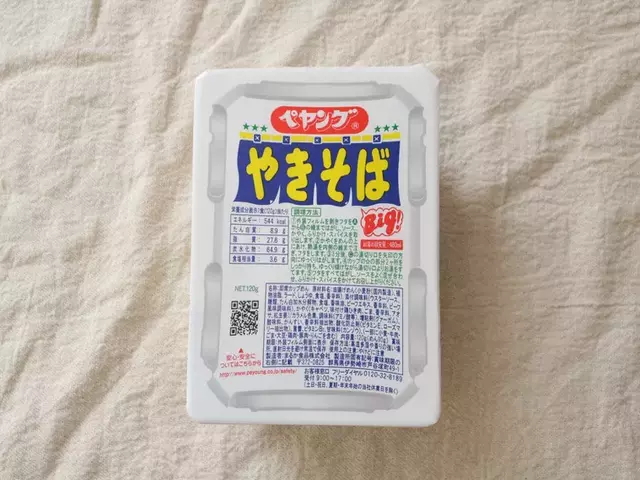 Tied in spot number 2 is "Baeyang sauce yakisoba noodles". This product has been the longest selling Instant Yakisoba Noodles in Japan since 1975. In addition to this, "Beayang Yakisoba" was the very first to create a square container for Yakisoba, not only that it is on-the-go but square containers make it easy for mixing the sauce and the noodles, this was inspired from their Yakisoba Festivals. "How about the taste?" you may ask, well when I was mixing the noodles first thought was it looks blunt but when I tried it, it has a very addictive taste, not too strong but just right to crave more and more, no wonder a lot of consumers patronize this product. You can enjoy this for only 208 Yen or $1.41, ironic as it seems both, top 2 has the same price as well.
Nissin "Nissin Yakisoba U.F.O."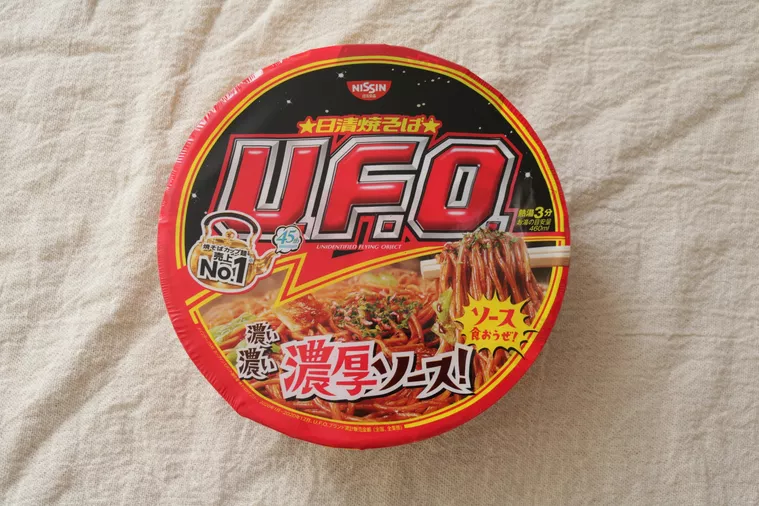 Finally taking the spot number 1 and the most popular Yakisoba in a cup is "Nissin yakisoba U.F.O.". Seeing the product name itself is really attention-worthy and this is not just a random name, there is a reason for this. The "U" stands for "UMAI" which means delicious sauce, The "F" stands for "FUTOI" which means thick noodles, and the "O" stands for "OKI" which means large, that describes the large cabbage ingredient. The richness and the aroma of the sauce delivers the authentic feeling of eating Yakisoba fried on an Iron plate. Moreover, the fragrant sauce stimulates the appetite. In totality, the thick noodles incorporate well with the rich sauce plus its ingredients, large slices of cabbage and pork, and red ginger sprinkles making it perfectly irresistible that will surely satisfy your hunger. You can enjoy this product for only 208 Yen or $1.42.
Yakisoba Ingredient and Recipe
Having known all this mouth-watering information about Yakisoba, you may wonder, what are the ingredients of yakisoba? How to prepare it? well wonder no more, you'll surely be a Yakisoba-genius after this article. I will introduce the basic ingredients, how it's done and run through various ingredients that produces other variety of Yakisoba.
Basic Ingredients of Yakisoba
Ingredients serves for 2 persons Measurement
| | |
| --- | --- |
| Chinese steamed noodles 2 Packets | |
| Pork Belly (sliced) 100g | |
| Salt to taste | |
| Pepper to taste | |
| Cabbage (small) 3 pcs | |
| Carrot 30g | |
| Onion 1/4 pc | |
| Bean Spout 40g | |
| Salad oil 1 tbsp | |
| Sake 2 tbsp | |
| Worcester Sauce 2 tbsp | |
| Soy Sauce 1 tbsp | |
| Aonori, Bonito flakes, Red ginger amount to taste | |
How to make Yakisoba
Preparing the Pork
Cut the pork into bite-size pieces and season with salt and pepper.
Preparing Vegetables
Cut the cabbage into bite-size pieces, carrots into strips, onions into thin slices, and remove beard roots and shoots from the bean sprout.
Preparing the noodles
Heat the Chinese steamed noodles in a microwave oven, set the temperature to medium and cook it for a minute and a half.
Combining cut Ingredients
Adding Noodles
Add the noodles heated in the microwave and stir-fry while adding sake and loosening.
Seasoning and completion
Turn in Worcestershire sauce and soy sauce and mix with the whole. Serve in a bowl, sprinkle with bonito flakes if you like, and garnish with red ginger.
Top restaurants in Tokyo that offer the best Yakisoba
Mikasa (神保町やきそばみかさ本店)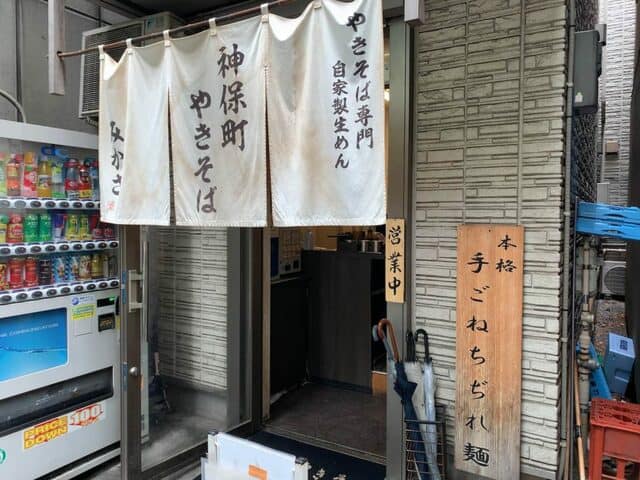 Located in Kanda Jimbocho, Chiyoda-ku, Tokyo, Mikasa specializes in yakisoba that only sells sauce yakisoba and salt yakisoba noodles. It is a 2-minute walk from Jimbocho Station on the Tokyo Metro Hanzomon Line, halfway between Jimbocho Station and Suidobashi Station. Look for the white cordon and the wooden sign next to the entrance.
The noodles used for this yakisoba are homemade small noodles. Made from 100% Hokkaido wheat. It is thicker than the noodles usually used for yakisoba noodles and is characterized by its flat and chewy texture. They are particular about noodles, so they close as soon as the raw noodles run out. The sauce used in the sauce yakisoba is a unique blend with a strong sweetness. It is characterized by its thick texture and rich taste.
Hand-made noodle yakisoba specialty Mauchi Mikasa Main Store (手打ち麺やきそば専門 真打みかさ 本店)
Located in Takadanobaba, Shinjuku-ku, Tokyo, "Hand-made noodle yakisoba specialty Mauchi Mikasa Main Store" is a shop opened by the first owner of "Mikasa". It is a 3-minute walk from JR Takadanobaba Station Toyamaguchi and has good access. The inside of the store has a clean and bright atmosphere, and it seems to be popular with female customers.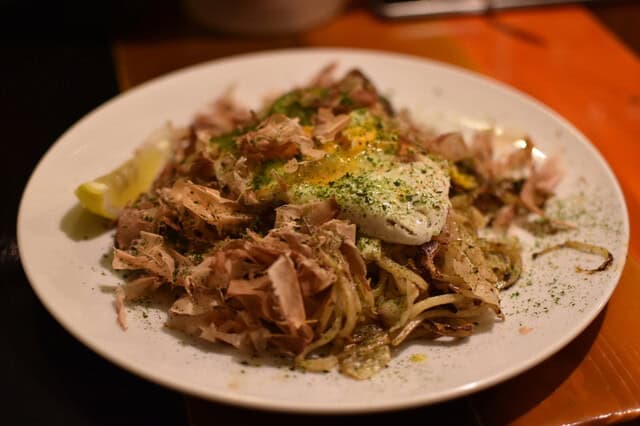 This is the standard menu "Sauce Namori". The noodles are thick and have a chewy texture. Cabbage, bean sprouts, pork, fried eggs, and plenty of other ingredients are included. It has a strong seasoning and is said to be extremely delicious when mixed with fried egg yolks.
This is "Shio-no-michi". Compared to the sauce, it seems to be lightly seasoned. It is recommended to eat it with lemon. This yakisoba has a large serving of salt and sauce. It's also great for those who want to eat a lot.
Abura-yakisoba specialty shop Ryo (焼きそば専門店 りょう)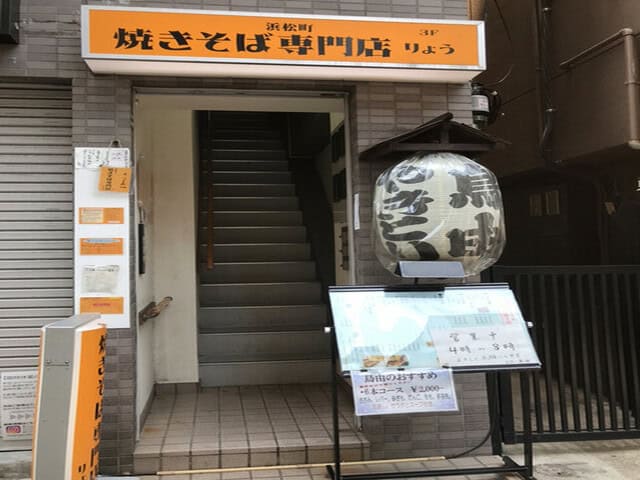 Located in Hamamatsucho, Minato-ku, Tokyo, Aburayakisoba Specialty Store Ryo is an oil yakisoba specialty store, and its location is a 1-minute walk from the Kanasugibashi exit of Hamamatsucho Station. "Abura-yakisoba noodles" is a yakisoba that is mixed before eating like abura-soba noodles and is the original menu of this restaurant.
This is "pork oil yakisoba noodles". The noodles have a chewy texture. The ingredients are pork, green onion, cabbage, and bean sprouts. It is served in a container like stone-baked bibimbap, and you mix it yourself and then eat it. If you add plenty of mayonnaise and chopped red ginger, it will be even more delicious.
This is the "Supe Oil Yakisoba noodles" with all the toppings. The sweet and spicy sauce is intertwined with the yolk of the fried egg, and it has a rich and mellow taste. There is special mustard mayo, blue glue, tenkasu, fish meal, etc. on the table, so it seems fun to find your own original taste.
Marusho Hongo 3-chome (まるしょう 本郷三丁目店)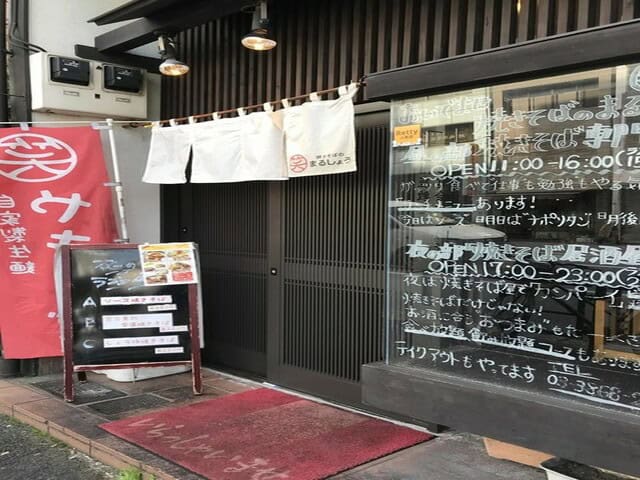 Located in Hongo, Bunkyo-ku, Tokyo, Marusho Hongo 3-chome is a restaurant where you can eat yakisoba with various flavors. In addition to standard flavors such as sauce and salt, they also offer unusual varieties such as soy sauce and Neapolitan.
This is the standard menu "yakisoba with sauce". It is said that they use a unique blend of sauces from a long-established manufacturer called "Tokiha Sauce", which was founded in Taisho 12. Since it is served on an iron plate, you can decide how long to grill yourself.
This is a different kind of menu "yakisoba with spicy curry sauce". It is a dish with standard ingredients such as cabbage, onions, carrots, and sausages. The taste of the sauce is strong, and the flavor of the curry is a good accent.
Okonomiyaki Kiji Marunouchi (きじ 丸の内店)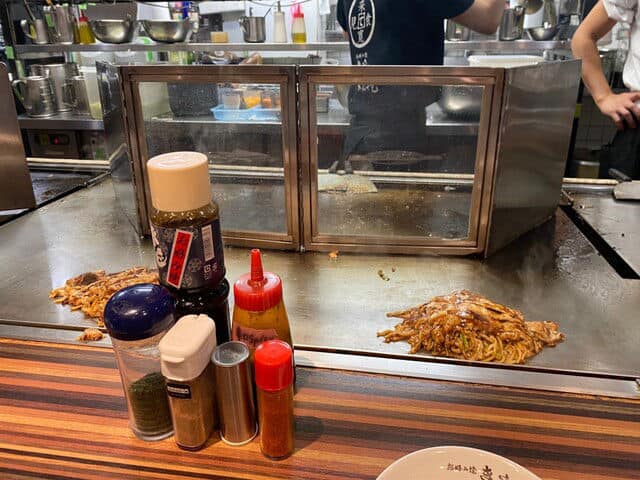 Okonomiyaki Kiji Marunouchi Store in Marunouchi, Chiyoda-ku, Tokyo is the Tokyo branch of Kiji, a famous okonomiyaki restaurant in Osaka. It has a reputation for enjoying the authentic taste of Osaka. There are a total of 42 counter seats and table seats, and the restaurant has a stylish atmosphere.
The yakisoba noodles of "Okonomiyaki Kiji" are exquisitely grilled. It is said that the noodles are fried together with the stir-fried pork by grilling them on an iron plate. The noodles are moderately moist, and the fragrant aroma of crispy grilled pork is irresistible.
This is the popular menu item "Modern yaki". It is a dish of pork yakisoba and squid grilled together with broth and eggs. It contains more air than regular okonomiyaki, so it has a fluffy texture. "Suji Modern Yaki", which is a mixture of beef tendon, is also popular.
Naniwaya Cafe (ナニワヤ・カフェ)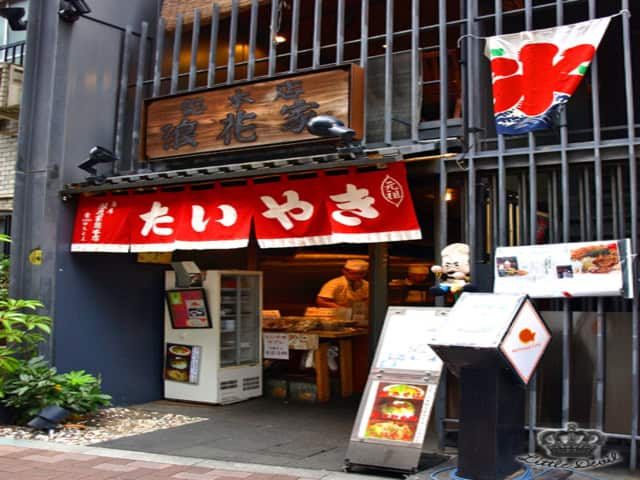 Naniwaya Cafe, located in Azabu-Juban, Minato-ku, Tokyo, is a long-established sweet shop founded 42 years ago. It is known as the birthplace of taiyaki. In addition to taiyaki, sweets such as shaved ice and roll cakes are also popular. A snack menu of yakisoba and udon noodles is also available.
Naniwaya Cafe, located in Azabu-Juban, Minato-ku, Tokyo, is a long-established sweet shop founded 42 years ago. It is known as the birthplace of taiyaki. In addition to taiyaki, sweets such as shaved ice and roll cakes are also popular. A snack menu of yakisoba and udon noodles is also available.
Tsukishima Komachi (つきしま小町)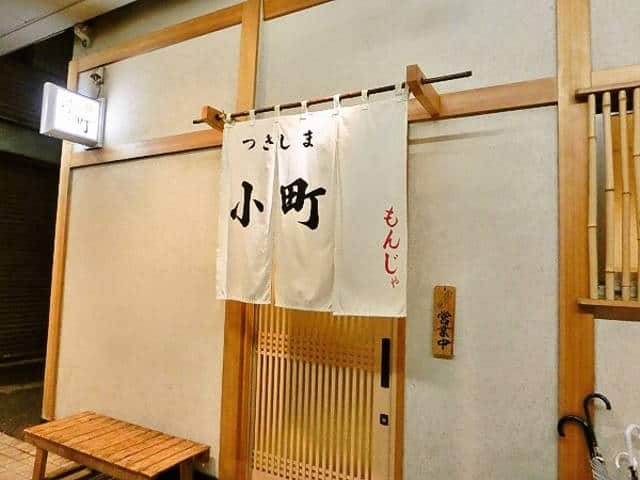 Located in Tsukishima, Chuo-ku, Tokyo, Tsukishima Komachi is a 5-minute walk from Tsukishima Station on the Toei Subway Oedo Line. It is a downtown gourmet restaurant in Tokyo, Monjayaki restaurant. It is small with a total of 18 seats, but there is also an annex that can accommodate 20 people.
This is "Gome Yaki Soba". It is a luxurious yakisoba with plenty of ingredients such as pork, squid, octopus, shrimp, onion, and bell pepper. The number of noodles is large and hearty. Even so, it is an excellent cost-effective dish at 1,000 yen.
Bailin (中国料理 梅林)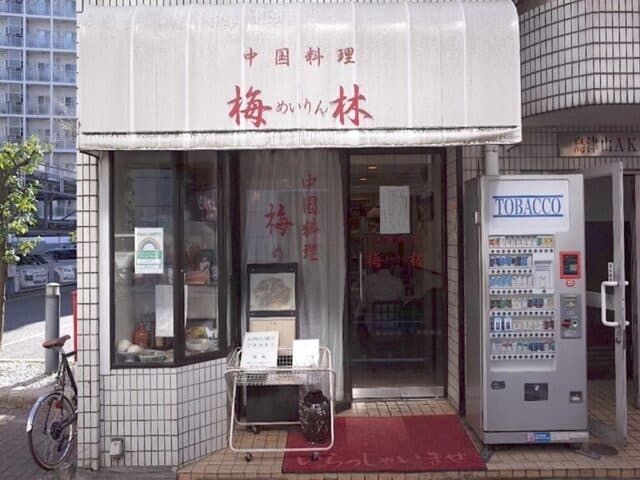 Located in Higashigotanda, Shinagawa-ku, Tokyo, Umebayashi is a historic restaurant founded in 1968. It is a famous restaurant for its big yakisoba noodles. 5-minute walk from Gotanda Station. Both the exterior and the interior of the store have a nostalgic atmosphere.
"Shanghai yakisoba noodles" is a soy sauce-flavored yakisoba with meat, cabbage, bean sprouts, and carrots. There are plenty of ingredients and plenty of noodles. Because it has a light taste, you can eat it without getting tired of it, even though it is voluminous.
This is "Gome sauce yakisoba noodles". The ingredients are simple, such as cabbage and meat, just like Shanghai yakisoba noodles. The sour sauce is intertwined with the thin noodles and is exquisite. If you add mustard to the taste, it will be a nice accent.
Conclusion
Yakisoba is a well-known dish in Japan and has several variations from different prefectures. It's a noodle dish that is mixed with fried vegetables, meat, and sauce. Its origin may trace back to China, but it has become a signature dish in many places in Japan. It's not just a traditional food but a comfort food to many.
Click this to know more about the different kinds of Yakisoba.