Shirataki refers to noodles made of konjac yams. Although this noodle is popular outside of Japanese cuisine due to its zero calories, no carbs, and high fiber content, the Japanese utilized it in many hot pot meals there. It is a great alternative to common wheat noodles. It is well-known for being a miracle weight-loss noodle and for being Keto-friendly. 
What is Shirataki?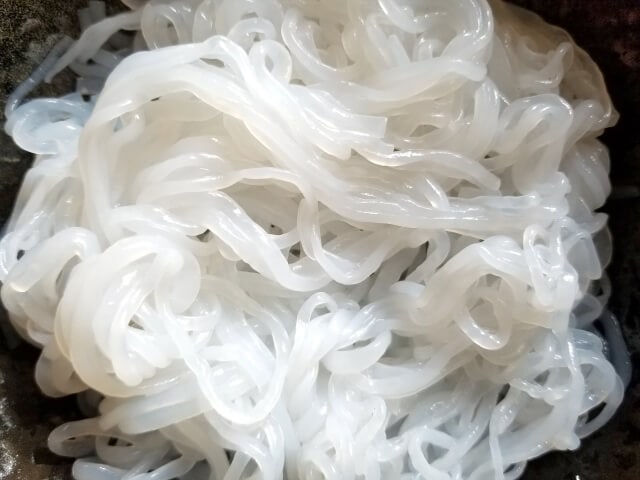 Shirataki are translucent, gelatinous Japanese noodles made from the starchy tuber of the konjac plant (also known as konjac yam or elephant yam). Shirataki are long, white noodles; locals often call them miracle noodles or konjac noodles in Japan. They have no calories, yet are very filling and full of healthy fiber. It is famous as a substitute ingredient for noodles and glass noodles for dieters and an essential ingredient for sukiyaki and nikujaga. They are part of traditional Japanese cuisine, but they are also appreciated by people with allergies or intolerances to wheat, gluten, or eggs, or by people on a diet. 
Shirataki History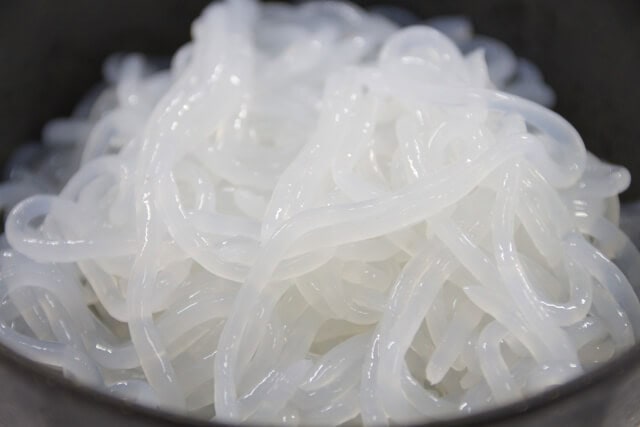 These well-known noodles had modest beginnings in Japan. Like many other varieties of Japanese cuisine, the Japanese have been consuming these noodles for a long time. The name konnyaku appeared in literature for the first time in Japanese history during the Heian Period. Japanese consumed this as a treatment for constipation during the Edo period and by monks at temples during the Kamakura period. Then, during the Edo era, a processing technique known as "pulverizing konnyaku" was found.
This discovery made it less common for individuals to handle konjac potatoes with their bare hands and made it easier to preserve them. The konnyaku cuisine so expanded across the country. Shirataki and Ito konjac was created in the Kanto and Kansai regions employing unique production techniques.
Should shirataki and ito konnyaku be used differently in cooking?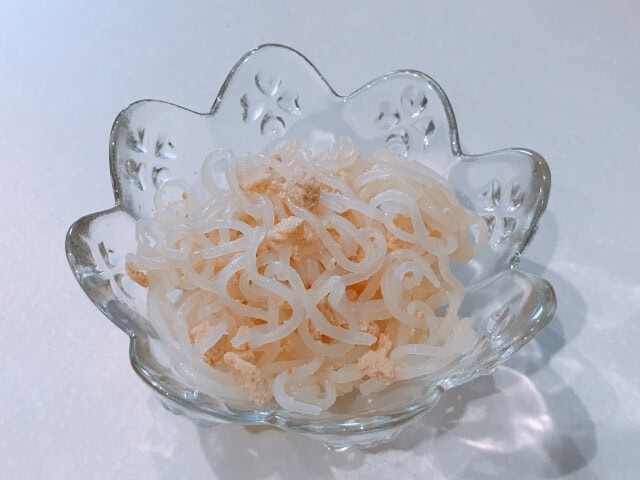 The only difference between shirataki and ito konnyaku historically is their names. Consequently, it makes no difference which one you use as a cooking component. Low-calorie konnyaku complements Japanese, Western, and Chinese cuisine. Additionally, if it is finely diced, you can use it in place of noodles and is simple to tangle up in soup and oil. 
How to eat Shirataki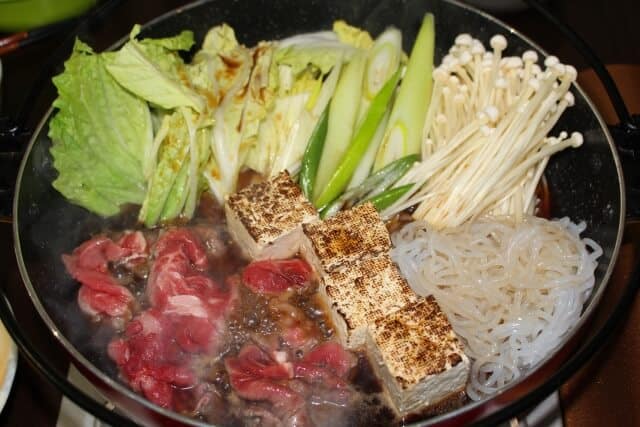 Boil and eat
The most popular way to eat shirataki is to put it in a pot or boil it and boil it before eating. Eating it in a pot is the easiest way to eat it, but you can also simmer it with a sukiyaki-style seasoning, or simmer it with onions in a Japanese style, and then top it with an egg.
Stir-fry and eat
Another delicious way to eat it is to cut the shirataki into bite-sized pieces, drain the water, and stir-fry it in a frying pan. If you use mentsuyu or sesame oil to finish the shirataki in a kinpira style, it becomes a side dish that goes well with rice. It is also delicious when stir-fried with meat and vegetables, like vermicelli, and eaten with Chinese-style seasoning.
Eat as a salad
We also recommend chilling the boiled and prepared shirataki and eating it as a salad with raw vegetables. It goes well with Chinese-style seasoning, and it's good to mix it with vinegar. 
Shirataki FAQ
What is the difference between konjac noodles and shirataki?

Shirataki are shaped like noodles, but konjac comes in a rectangular block. Konjac and shirataki have never gained popularity outside of Japan due to their lack of taste, smell, and consistency. In the Kanto region, it is called shirataki, and in the Kansai region, it is called ito konnyaku.  

What do shirataki noodles taste like? 

Shirataki noodles have a flavor that is not very similar to anything. They are extremely bland, much like normal spaghetti, and will pick up the flavor of any sauce you use. However, they might have a rubbery or slightly crunchy texture if they aren't properly prepared.
Shirataki Recipe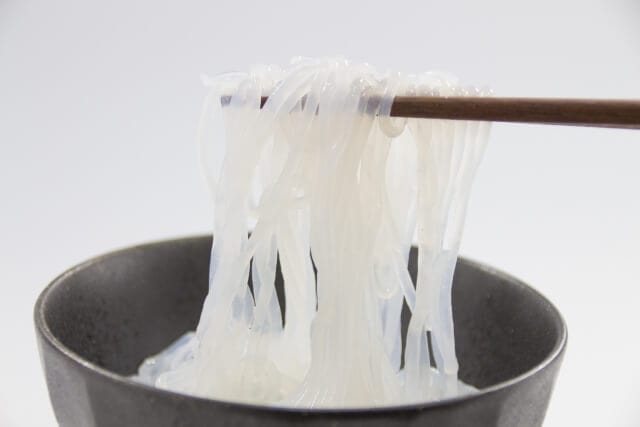 Shirataki Ingredients
| Ingredients of Shirataki for 4 persons | Measurements |
| --- | --- |
| Shirataki or konnyaku noodles | 400g |
| Bonito flakes | 20g |
| Salted plum | 20g |
| Sugar | 28g |
| Soy sauce | 28g |
| Mirin | 14g |
How to make Shirataki
Prepare the shirataki noodles
Rub the noodles with a little salt in a bowl of water, then drain in a colander. Cut into bite-sized pieces. Make sure to remove the seeds from the pickled plums.
Boil the noodles
Put the shirataki konnyaku noodles into a pot, and boil down the water. When the water has evaporated, add sugar and mix over medium heat.
Add the other ingredients and serve
Once the sugar dissolves, add mirin and soy sauce and turn up to high heat. Add the pickled plums and bonito flakes and boil it down until most of the juice has evaporated.
Where to buy Shirataki
Japanese can buy shirataki in every supermarket because it is a common ingredient they use in Oden including convenience stores like 7-Eleven.
Otako Main Store (お多幸本店)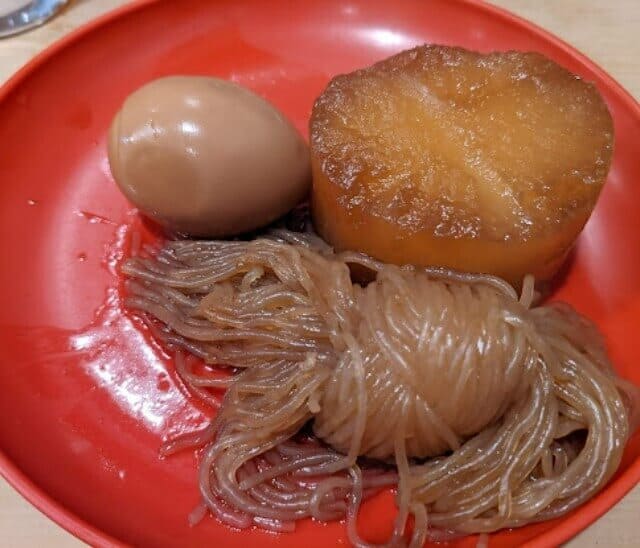 They have every ingredient you will need in Oden here. You can buy Shirataki for only 250 yen. Founded in 1923, the store has a wide variety of oden ingredients such as standard oden ingredients such as eggs and daikon radish, as well as other ingredients unique to Tokyo oden.
Asakusa Oden Otafuku (浅草おでん大多福)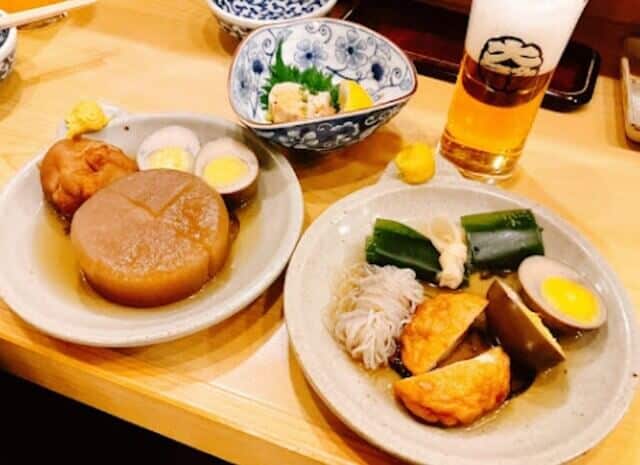 Asakusa Oden Otafuku is a well-established oden shop located inside a commercial building in Asakusa. You can enjoy as many mouthwatering dishes as you please to warm yourself up while learning about Japan's food culture. In general, ito konnyaku is thinly sliced ​​ita konnyaku, and shirataki is the one that sticks out in the hot water like a waterfall and is made longer. 
Reiten (レイテン-)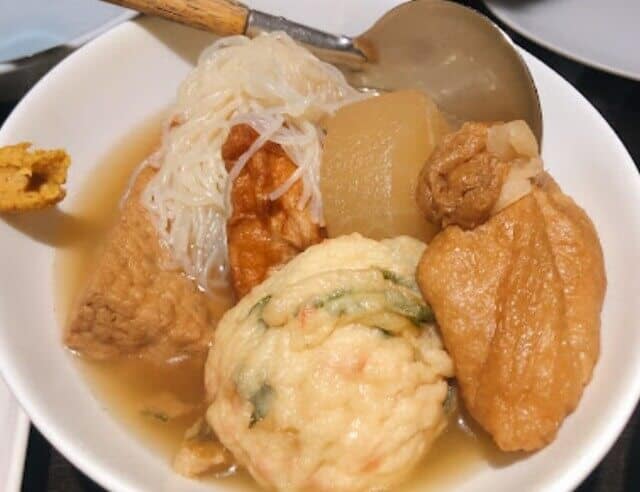 REITEN's oden, which is not overly flavorful, goes well with Japanese sake. They also have high-quality sake, and if you tell the staff what you like, such as sake that is suitable for cold sake or hot sake, they will provide you with something that suits your taste. 
Takeaway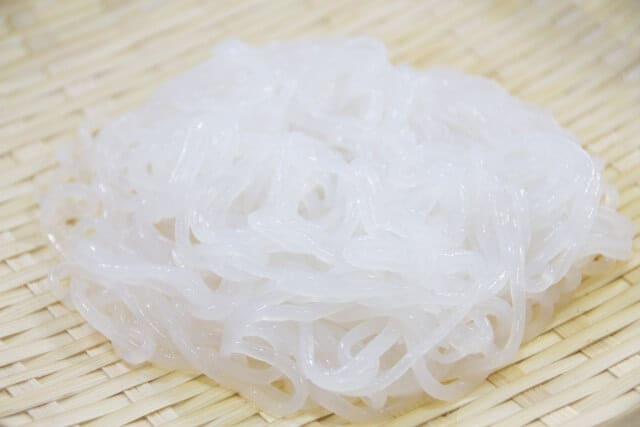 Shirataki are a great substitute for traditional noodles. In addition to being extremely low in calories, they help you feel full and may be beneficial for weight loss. Not only that, but they also have benefits for blood sugar levels, cholesterol, and digestive health.
You can try other related Japanese dishes around Japan, like Oden, Himeji Oden, and Hanpen.