One of the Japan dishes, chawanmushi, is an egg mixed with eggs and broth, steamed with ingredients such as shiitake mushrooms, lily root, and gingko in a bowl, and is treated as a steamed dish or soup.
It is said that the roots of chawan fumigation were a dish that was served as one of the course meals in the table style that was handed down during exchanges with the Tang people (Chinese) in the Edo period.
For details about the birth of it, let's find out in today's article.
What is Chawanmushi?
Chawanmushi (茶碗蒸し) is a traditional Japanese dish that consists of steamed or custard eggs in a bowl, and locals also considered it a kind of soup. As an appetizer or as part of Kaiseki ryori, the Japanese serve each portion of the dish in a tiny, covered cup. The custard is generally of an egg mixture that has dashi (Japanese stock), soy sauce, mushrooms, tofu, ginkgo nut, or steamed shrimp. You can have ingredients such as shiitake mushrooms, ginkgo nuts, lily bulb, kamaboko (mainly Itakamaboko), chicken, small shrimp, and grilled conger eel. Locals poured over a mixture of beaten egg, dashi stock, soy sauce, and salt, then they covered and steamed the cups. This method prevents overcooking while preserving natural flavors and nutrients.
Etymology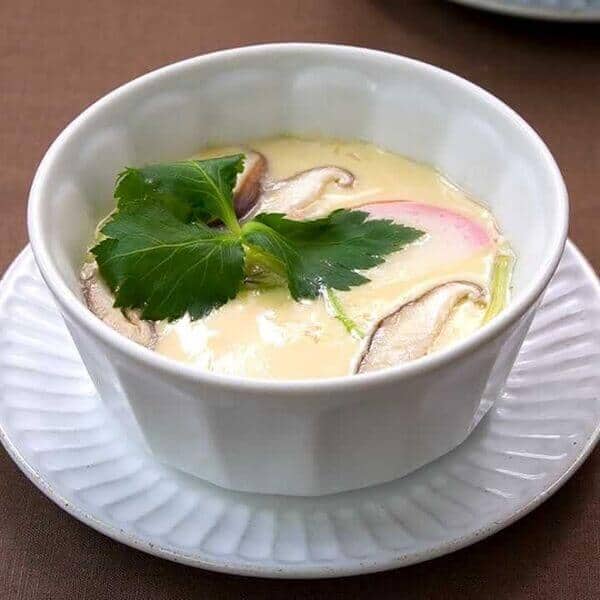 Chawanmushi (茶碗蒸し, chawanmushi, literally "teacup steam" or "steamed in a tea bowl"). "Chawan (茶碗)" means teacup or rice bowl and "Mushi (蒸し)" means steamed in Japanese, and it is indeed steamed food in a cup.
Chawanmushi History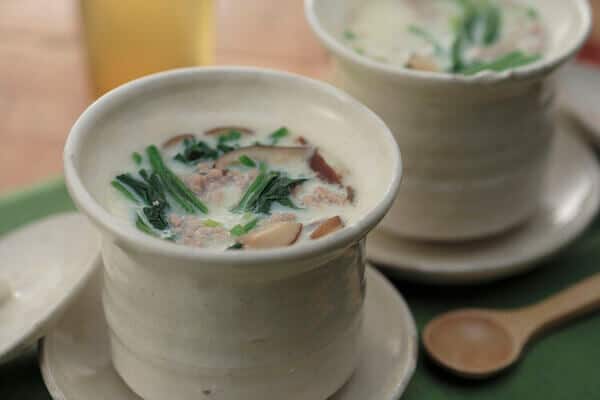 The era of Tsunayoshi Tokugawa, known for his decree of compassion. Nagasaki prefecture exclusively traded raw silk, sugar, and chemicals with China. The Chinese people who came to Nagasaki were free to stay anywhere in Nagasaki. But due to the flourishing smuggling, the Shogunate built a Tojin Yashiki in 1689 (Genroku 2). They housed the Chinese there. Many believed that the Chinese people introduced a dish they called "Shippoku" to entertain people, and that was the root of chawanmushi. 
Nobutake Yoshida, who was a feudal lord of Iyo Matsuyama, ate chawanmushi for the first time in Nagasaki and was impressed by the taste. So he opened the shop under the name Yoshimune. It is the oldest restaurant that serves chawanmushi. It is a restaurant specializing in steamed foods. Chawanmushi was not like the current chawanmushi from the beginning, but it was egg-steamed at first. The amount of soup stock gradually increased, and it became a chawanmushi that has been handed down to the present day.
This dish is both delicious and versatile: nowadays, it not only appears in kaiseki-ryori, Japanese haute cuisine but is also made and enjoyed at home.
Chawanmushi Recipe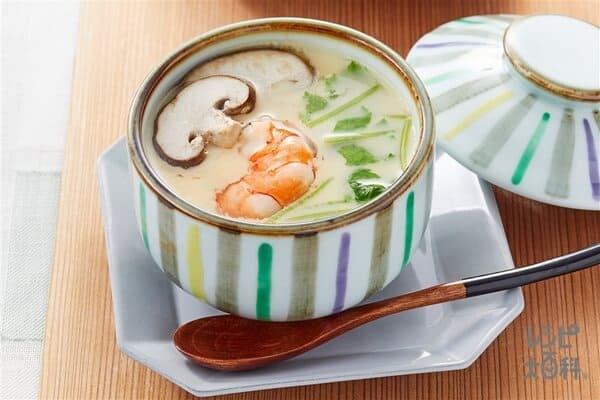 Chawanmushi Ingredients
| | |
| --- | --- |
| Ingredients of Chawanmushi for 2 person | |
| Egg | 50g |
| Dashi soup | 150g |
| Light soy sauce | 14g |
| Salt | 2g |
How to make Chawanmushi
Putting egg and soup stock at room temperature
If the soup stock is hot, it will harden when you mix it with eggs. On the contrary, if it is too cold, the heating time will be long. Prepare the egg and soup stock at room temperature.
Mixing the egg
If you mix eggs vigorously, bubbles will be formed and the texture will be affected. In order to create a smooth texture, the point is to lightly touch the tip of the vegetable to the bottom of the bowl and mix it so that the egg whites are cut.
Combining egg liquid with soup stock
Combining the egg liquid with soup stock and seasonings for a smoother finish. This is an indispensable process for making delicious chawanmushi. Ideally, fine-grained items such as tea strainers and sieves are ideal.
Amount of ingredients should be uniform
As a guide, the ingredients should be about 1/3 of the chawanmushi bowl. When making multiple chawanmushi at one time, add the same amount of each ingredient and egg liquid to make the finish chawanmushi.
Pouring the egg mixture gently into the bowl
If you pour the egg liquid vigorously, bubbles will form and the texture will deteriorate. Slowly pour the egg liquid from the edge of the bowl to prevent foaming. 
Ranking of ingredients used in Chawanmushi
1st place: Kamaboko
Kamaboko is probably the first standard ingredient for chawanmushi. It is easy to cook, and the number of kamaboko with characters is increasing in recent years, so it is also an ingredient that children will be pleased with.
2nd place: Shrimp
Shrimp is one of the ingredients for chawanmushi that is pleasing to men and women of all ages. The color changes when heated, so it looks gorgeous and you can enjoy a crispy texture
3rd place: Shiitake Mushrooms
Shiitake mushrooms are an indispensable ingredient when you want to make chawanmushi with dashi stock.
4th place: Chicken
Chicken, which goes well with chawanmushi, is also a standard ingredient. If you add chicken as an ingredient for chawanmushi, the oil and umami will come out, so the richness will be added. 
5th place: Ginkgo nuts
Although there are different likes and dislikes, there is ginkgo nuts, which are very popular as a standard ingredient for chawan mushi. When heated, it becomes sticky and has a flavor not found in other ingredients.
Golden ratio of chawanmushi eggs and soup stock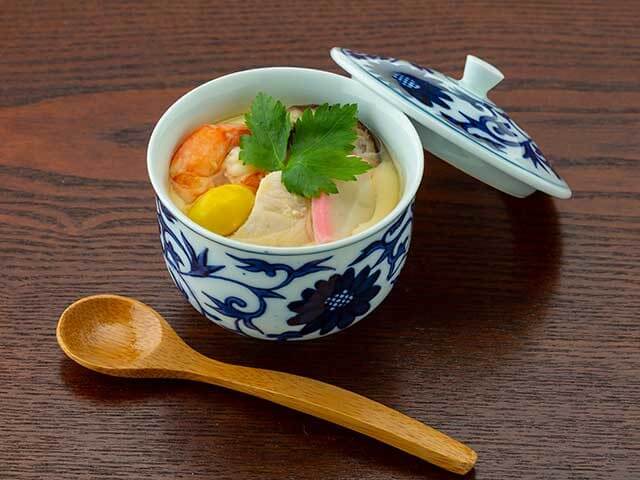 This ratio of 1:3 is the recommended balance for smooth chawanmushi. If the soup stock is less than this ratio, it will be hard, and if it is more than this ratio, it will be hard to solidify. Eggs have different contents depending on the size, so weigh each time with a measuring cup and prepare 3 times the amount of soup stock as the egg (without shell) to make chawan mushi of stable quality.
Is Chawanmushi served hot or cold?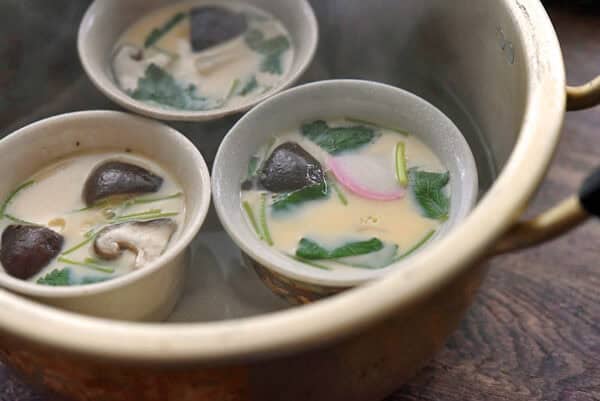 Chawanmushi means "steamed in a small bowl." Chawanmushi is a savory Japanese custard dish that is commonly an appetizer or a side dish in a specialized ceramic dish with a lid to keep warm. For this summertime version, "Hiyashi", or chilled in a glass is the way to go.
Where to buy Chawanmushi?
Honpo Inaho (茶碗蒸し本舗 稲穂 )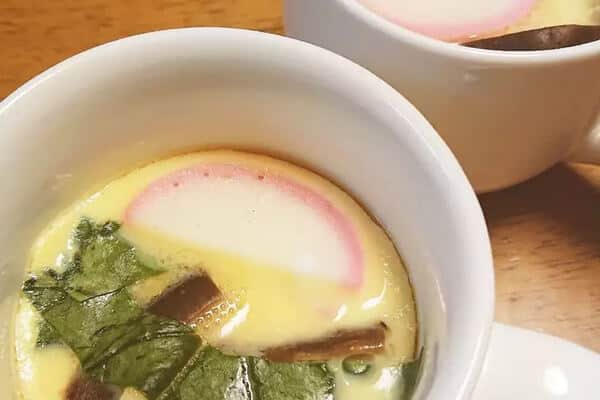 A small restaurant that mainly serves chawanmushi. The small counter and tatami room table are always full of customers. If you look at the menu, there are more than 20 types of standard chawanmushi. And seasonal chawanmushi and one-of-a-kind menus are also on the blackboard. As you continue to eat while stirring little by little, the flavor of dried bonito is a nice accent.
Ginza Yossou (銀座吉宗)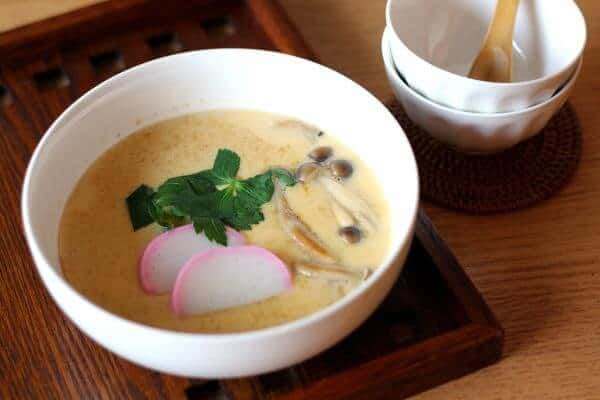 If you are looking for a Japanese lunch or dinner in Ginza, please consider Ginza Yoshimune. Our shop has been set up on Ginza Chuo-Dori since 1970 and plays a part in the Japanese food culture of Ginza. Chawanmushi is smooth enough to shake slowly when the lid is opened. When you break the surface, the broth gushes out from below. The eggs are so smooth that it makes you think that if you add more soup stock, they won't harden. There were kamaboko, shiitake mushrooms, conger eel, and wood ear mushrooms. 
Yoshimune Main Store (吉宗 本店)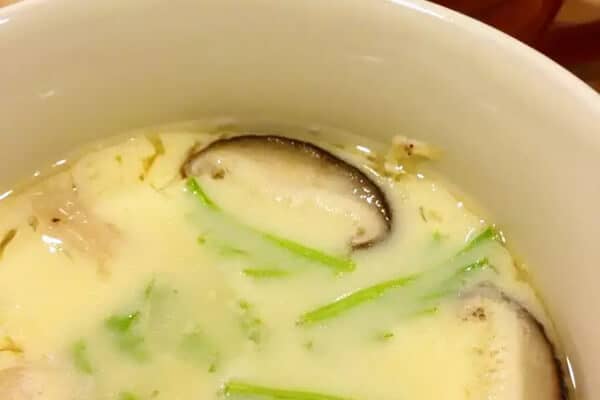 This store's hearty chawanmushi has a delicious soup stock. It is an elegant chawanmushi that consists of chicken, ginkgo, 2 kinds of kamaboko, shiitake mushrooms, wood ear mushrooms, bamboo shoots, shrimp, and yakimono. Chawanmushi and steamed sushi are famous It seems that this is a store in Hakata long ago, but now you can't eat it unless you come to Nagasaki.
Chawanmushi Hidaka (茶わん蒸し日高)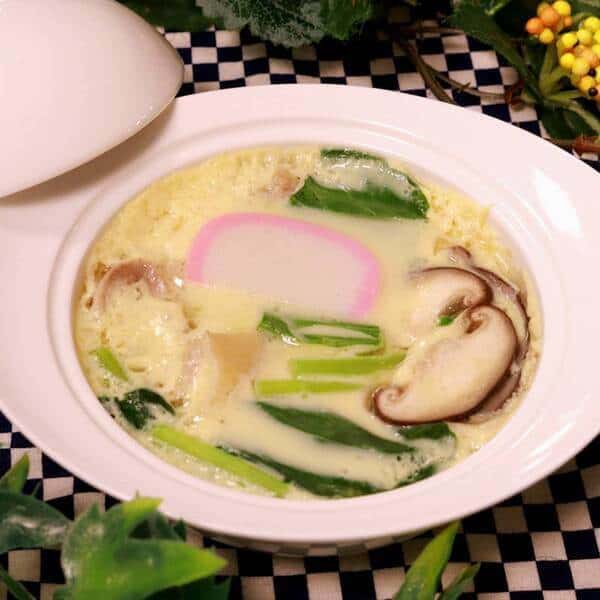 The smooth and delicious taste of chawan mushi. You can eat as much as you want and can also enjoy tomato cheese and rare things. You can enjoy about 20 kinds of chawan mushi. They have a wide variety of seasonal dishes, including standard menus such as "Tomato Cheese Chawan mushi" and "Ikura Chawan mushi".
Final Thoughts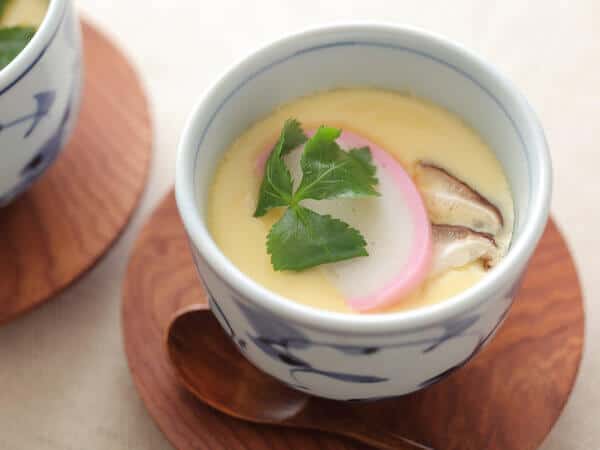 The Japanese have their version called chawanmushi, which they serve in individual lidded cups after a meal. Traditionally, each cup of custard contains a piece of shrimp, chicken, ginkgo nut, and vegetables such as mushroom or snow pea. This spicy egg custard from Nagasaki may be Japan's best-kept secret. Chawanmushi first appeared in shippoku cuisine, an old kind of Asian fusion combining Japanese, Chinese, and Western influences. About 300 years ago during the Edo era in the Kansai region, such as Kyoto and Osaka. There are other egg dishes in Nagasaki like Date Maki, and if you want you can also try their local sweet – Castella.