Modanyaki is simply Okonomiyaki with Yakisoba noodles. It has become a popular dish in Osaka and people call it "Modern Okonomiyaki" sometimes. So, what makes it stand out from the usual? Read on to know more.
What is Modanyaki?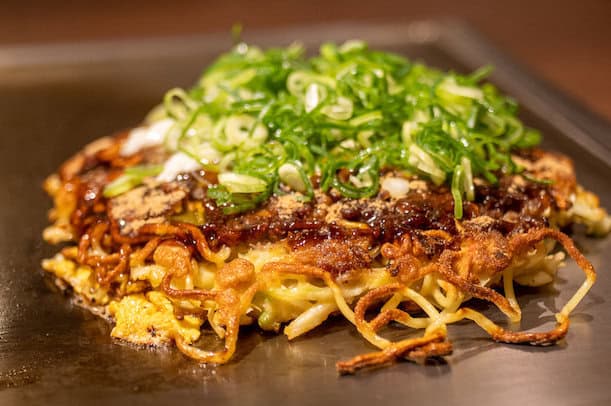 By all means, it is a savory pancake dish. It consists of wheat flour batter and people cook it in a frying or grill pan. But, what makes it different from the regular Okonomiyaki?
If you will look into it, these two are basically just the same. As a matter of fact, they have the same ingredients. In addition to that, both of them have the same method of cooking. However, Modanyaki has a special ingredient that Okonomiyaki does not have. To point out, the first one contains Yakisoba, or what most people often call Chinese noodles.
What is the difference between Modanyaki and Hiroshima-style Okonomiyaki?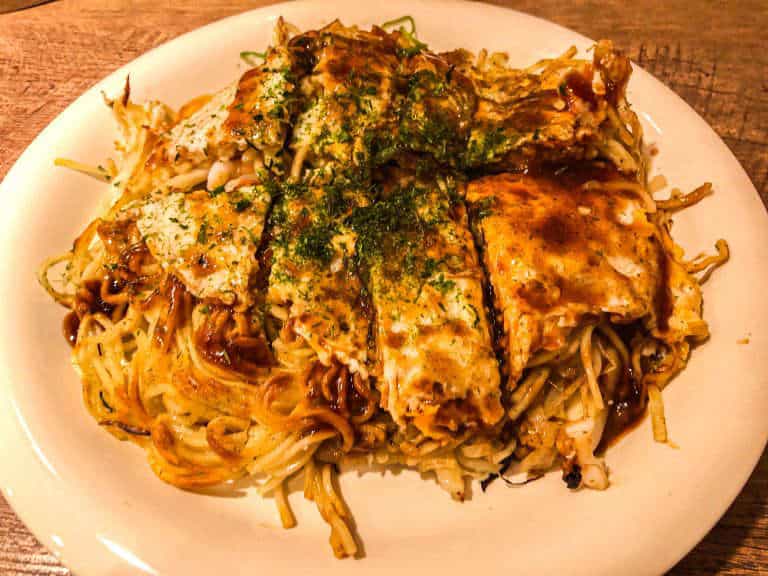 On the other hand, many people think that Modanyaki and Hiroshima-yaki are just one. Both of them have Yakisoba, in the first place. Even so, the cooking method is different for these two.
The latter does not combine the fillings with the batter. Instead, they appear to be a sandwich. People would place the shredded cabbage and noodles in between thin dough.
As for Modan yaki, they would combine the shredded cabbage to the dough before baking it.
Are Kansai-style Okonomiyaki and Modanyaki the same?
The answer is simply no. One could say that Modanyaki is a type of Kansai-style Okonomiyaki. They both combine the ingredients and the dough. However, the main difference is that the first one contains Chinese noodles or Yakisoba.
What is the origin of Modanyaki and its name?
Certainly, there are a few theories about the origin of this Osaka food. To begin with, some people believe that it dates back to 1950 in Kobe. As a matter of fact, they said that a shop in the city of Kobe is serving Okonomiyaki and Yakiudon.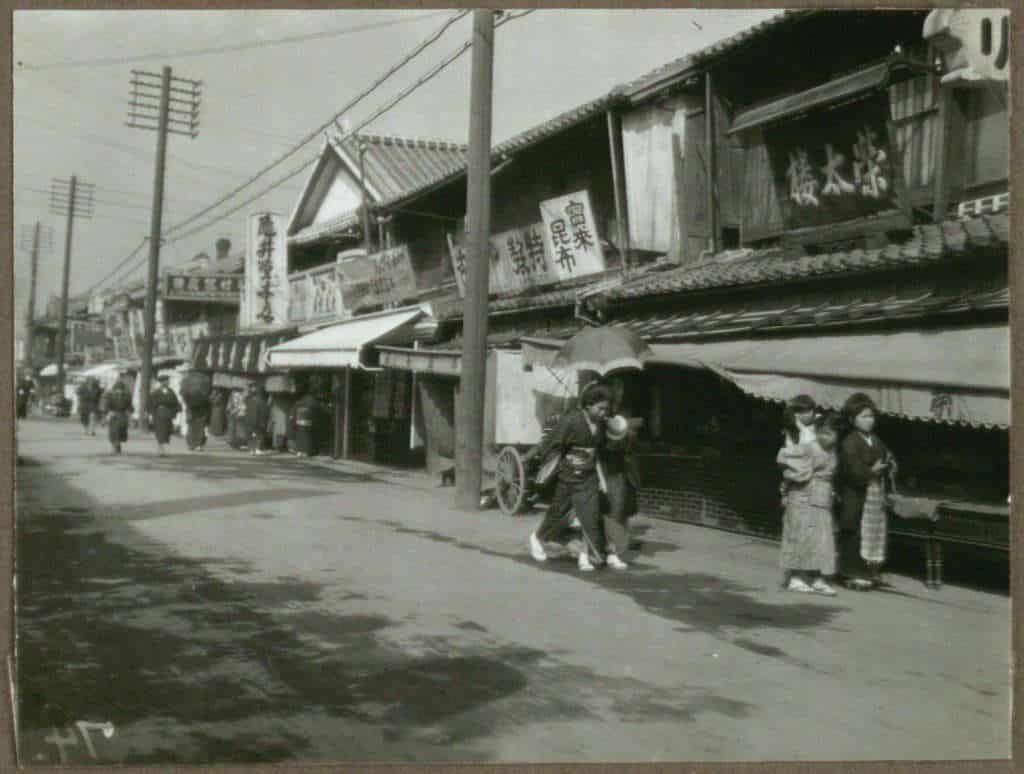 This dish became popular later on and people said that this was the start of the modern grilling method. Of course, more people talked about it. The news of its deliciousness spread like wildfire. Not only that its taste is divine, but it's also easy to make. Eventually, people from other regions began making Modern Yaki.
Another theory is that it started in an Okonomiyaki restaurant in Osaka called "Botejyu". Some people say that the first owner of this restaurant gave its name "Modern Yaki". The reason is that adding noodles makes it look modern.
While many people would think that the name solely came from the English word "modern", it is not just that. In fact, it has a more beautiful meaning which is kind of surprising too.
Modanyaki Menu
Since it's a famous food in Osaka, different types of Modanyaki are available in the city. People love the Modern Okonomiyaki, so they started creating varieties. Listed below are some of the best ones!
Tartar
The owner of the restaurant created this because he loves tartar sauce. So, he developed a homemade tartar sauce that has gentle sourness. He, then put it in his version of Modanyaki.
Cheese Fondue
Who doesn't love cheese? That gooey and creamy cheese fondue blends perfectly with Mondayaki's savory flavor.
In addition to that, they usually serve it in a separate pan. So, it's up to you if you want to drizzle it or just dip a bite-size Modern Yaki.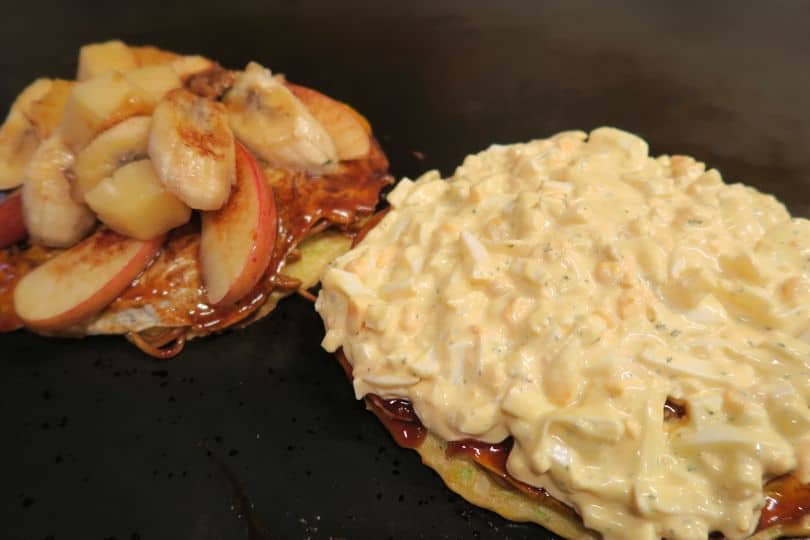 Fruits
What could go wrong with fruits? Apples are a favorite add-on to this kind of Modanyaki. Of course, the sweetness of the fruits balances the saltiness of the food. It also enhances the overall flavor of Modanyaki.
Curry
It's no secret that curry is an essential part of Japanese cuisine. For example, local foods like Curry Rice and Curry Bread are popular all over the country. So, it's also no surprise that curry goes well with Modan Yaki.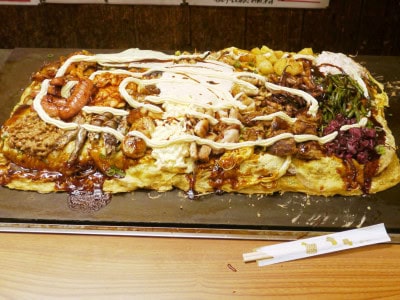 Deluxe
Sharing a huge serving of Modanyaki is also a thing in some of the restaurants. Nothing beats enjoying a meal with your family or friends. It's usually good for four to seven (4-7) people. Deluxe Modern Okonomiyaki also has about 18 or more ingredients.
Modanyaki Recipe
While there are new ways of making Modanyaki, the original and traditional one is still the best. Not only is it delicious, but it's also easy to cook. Learn how to make your own Modan Yaki in the comfort of your home.
Ingredients of Modan Yaki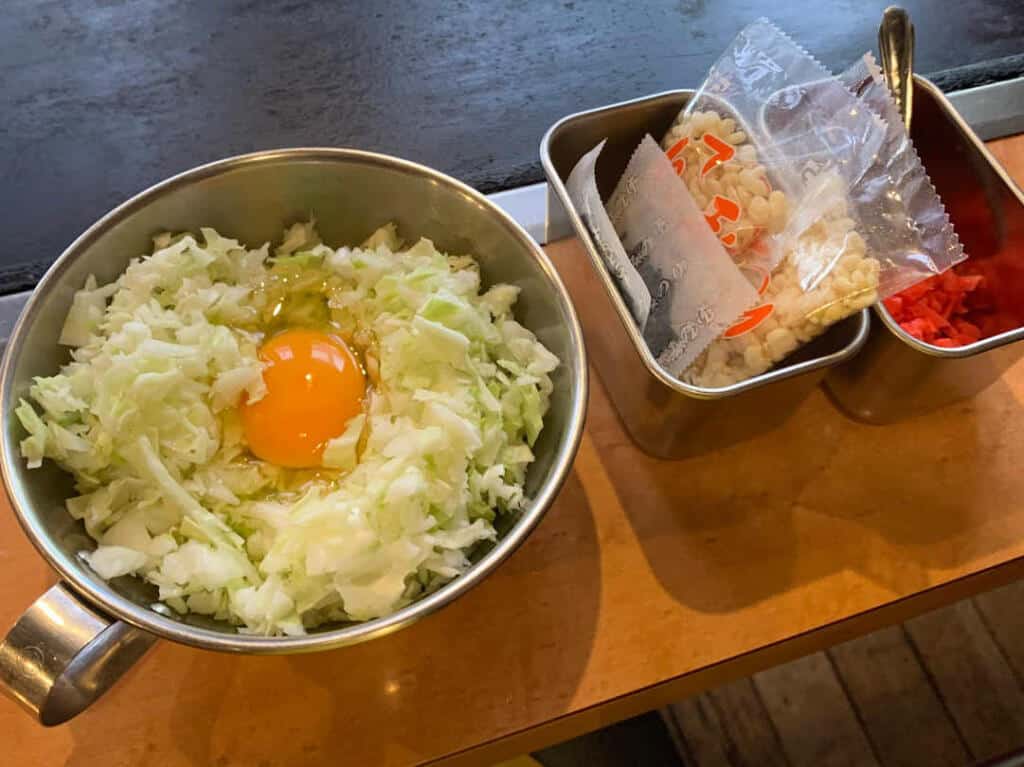 | | |
| --- | --- |
| Good for 2 persons | |
| egg | 2pcs |
| water | 120ml |
| Okonomiyaki flour | 100g |
| Yakisoba (Chinese Noodles) | 1ball |
| cabbage | 150g |
| pork belly | 100g |
| Tenkasu | 15g |
| salad oil | appropriate amount |
| salt | a pinch |
| pepper | a pinch |
| pickled ginger | appropriate amount |
Prior to cooking Modanyaki, prepare the Yakisoba by steaming it. Do not overcook it though. Cut the cabbage and pork belly into thin slices.
How to cook Modanyaki?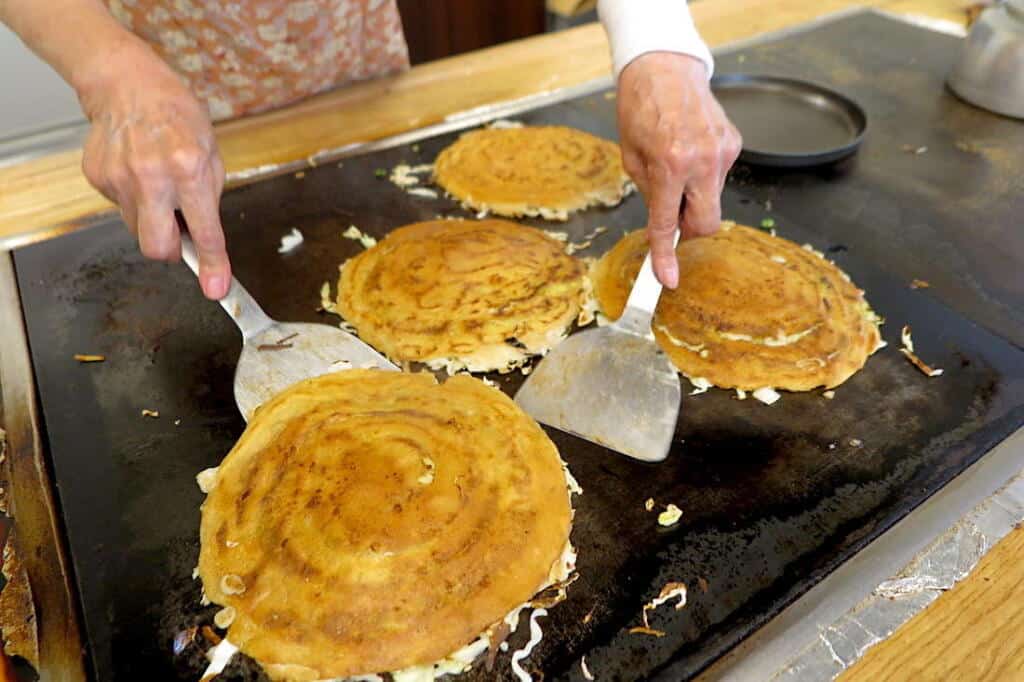 First, make sure that the ingredients are ready. Make sure that the shredded cabbage and sliced pork belly are about 5cm long only.
You can start making the batter then. Combine eggs, Okonomiyaki flour, and water in a separate bowl. Mix well until there are no lumps.
As soon as the batter becomes smooth and free of lumps, add the shredded cabbage, fried balls, and pickled ginger. Mix until they are all covered with batter.
Pour a little amount of oil into a heated pan and spread. Then, pour half of the batter mixture into the pan. Form it into a circular shape.
While waiting for the pancake to cook, fry half of the noodles next to it. Season with salt and pepper.
Then, layer the noodles, a little amount of batter, and pork belly slices. Bake both sides until its cooked.
Finally, drizzle with sauce and Japanese mayo.
You can use the regular Okonomiyaki sauce or Tonkatsu sauce. Some people like to include Yakisoba sauce as well.
Where to eat Modanyaki?
Indeed, Osaka is the home of Modanyaki. But, you can also eat this in some places like in Hyogo and Tokyo. Check out these places wherein you can get an authentic and satisfying taste of Modern Yaki.
Oshiyaki Utama (お好み焼 うしたま)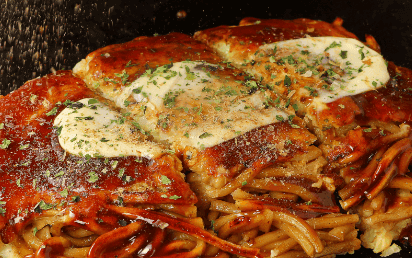 This famous shop is located in the shopping district of Sakai Ward. Shoppers can get a taste of Modanyaki after a day of shopping since the location is really great. The servings are generous and their Modan Yaki is also their cherry on top.
Okonomiyaki Mizuno (お好み焼 美津の)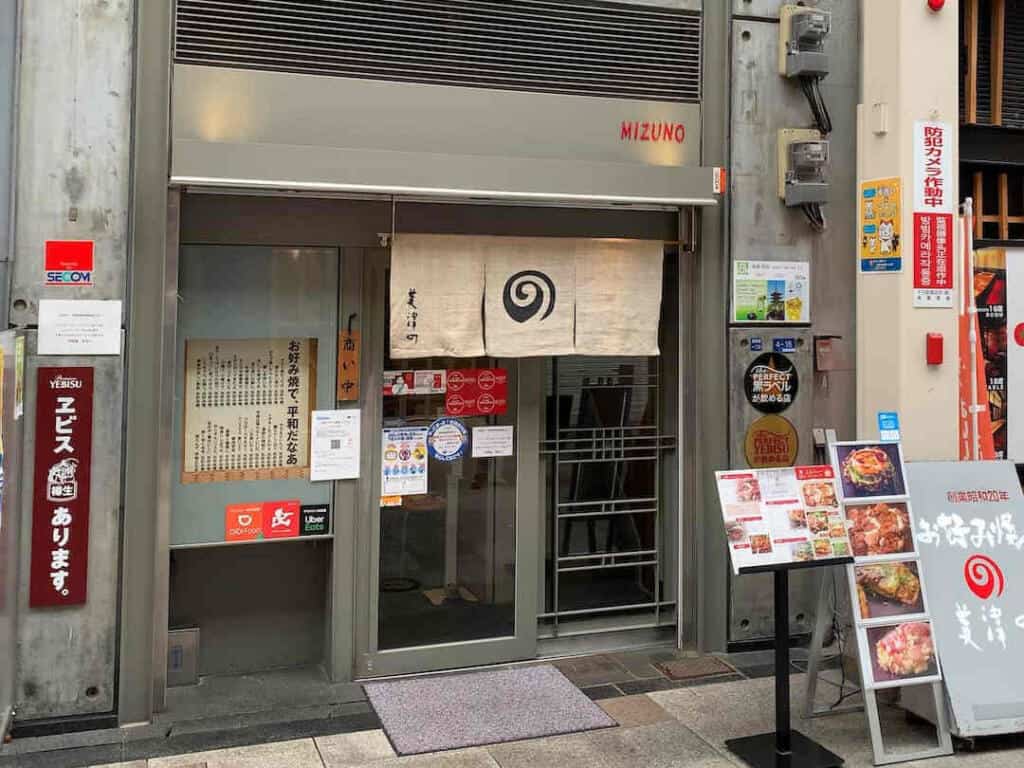 Locals know Okonomiyaki Mizuno for its pancake specialties with a variety of toppings. It's also located in the popular Dotonbori area. Not only do local shoppers go to this place, but it's also a famous place for tourists. They say it's one of the best places to eat savory pancakes in Osaka.
Okonomiyaki Kiji Marunouchi Store (きじ 丸の内店)
If you find yourself wanting to eat Modanyaki while in Tokyo, visit Okonomiyaki Kiji's branch in Marounouchi. Their Modanyaki tastes the same as the ones you can get in Osaka. In fact, a lot of people line up just to eat in this restaurant daily.
Ippei (一平)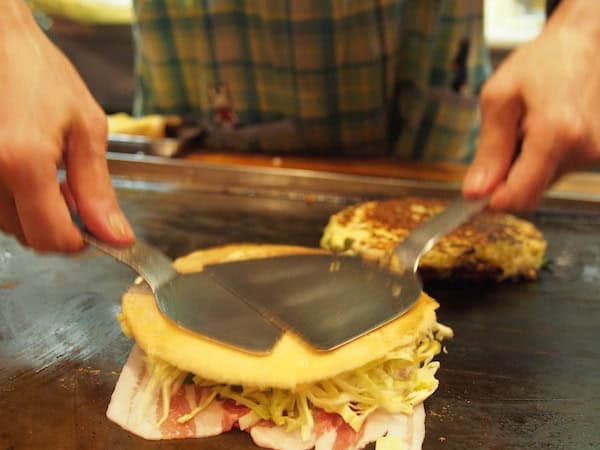 Ippei is a famous restaurant in Kobe that is owned and operated by a local couple. The craftsmanship of the couple alone is worth the visit.
Also, their version of Modern Yaki is crispy outside yet soft and tender inside. In addition to that, they put beef tendons that are cooked in sweet and spicy sauce.
Conclusion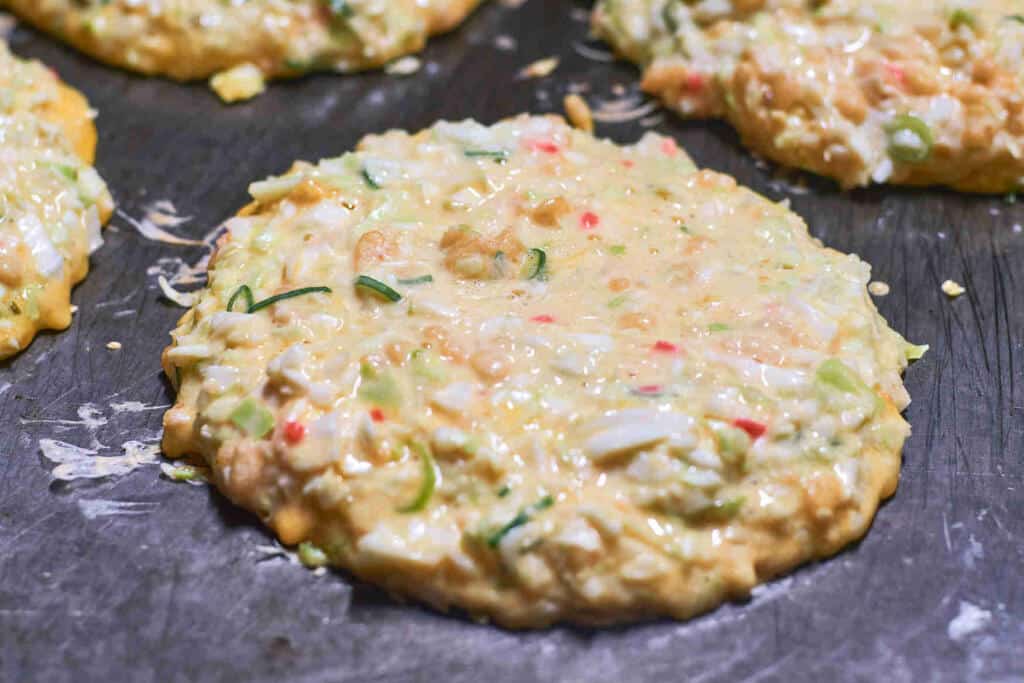 To sum up, Modanyaki is a modern Okonomiyaki. It has Yakisoba noodles just like Hiroshima-Style Okonomiyaki. However, the two differ in the cooking process. Nevertheless, Modanyaki is a must-try food in Osaka!
If you love Modanyaki, check other Okonomiyaki dishes here.