When you think of sushi, you probably think of a dish with sashimi on top of a cold shari. However, in Kansai, there is a hot sushi called "mushi sushi". In this article, we will introduce the detailed origin and history of steamed sushi, as well as how to easily make it at home and what to order. We also introduce methods that you can make it with easy materials, so please check it out below.
What is Mushi Zushi?
When you think of sushi, you probably think of a dish of cold rice topped with sashimi. However, in Kansai, there is a warm sushi with the name "mushi zushi".
What kind of sushi is it?
Mushi Zushi is an unusual dish in which chirashi-zushi is served in a bowl and heated in a bamboo basket. The name Mushi Zushi comes from the fact that it is served steamed (Mushi), and the ingredients are usually sea eel, shrimp, and other ingredients that are delicious even when cooked. Sushi Zushi is a local delicacy commonly eaten in the Kansai region, mainly in Kyoto and Osaka prefectures. A few restaurants offer it only in winter.
The mushi zushi looks like chirashi-zushi in a steamer basket, but its feature is the careful preparation of even the vinegared rice. Some have hamo or conger eel mixed in with the sushi rice, while others have the sushi toppings steamed on top. Recommended for when the temperature gets cold!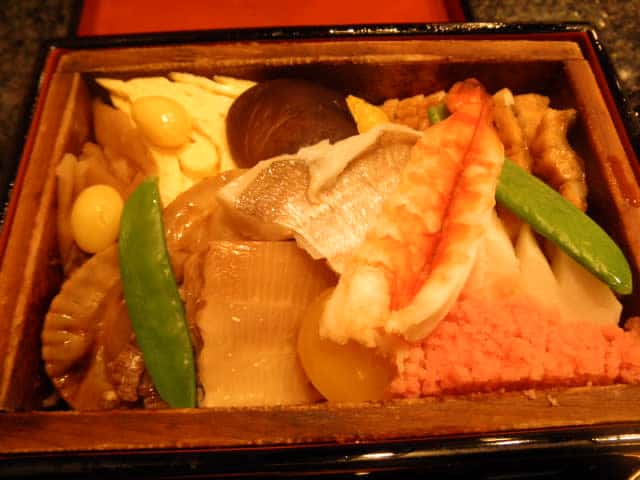 History of Mushi Zushi
Sushi is a Japanese food culture that began with the purpose of preserving fish for a long time. The history of sushi dates back to the Heian period (794-1185), when people used to ferment fish with rice and salt to make "narezushi". Eventually, in the 17th century, vinegar became available and people began to eat not only fish but also sushi rice, giving birth to"Bara zushi".
Mushi Zushi was invented by Yoshimune in 1866 at Yossou, and was served on a tray with not only steamed rice, but also steamed sushi topped with steamed conger eel, fish, and fried egg (Bara Zushi).
Currently, it is a dish that you can find often during the cold winter months, and is not really popular outside of these months.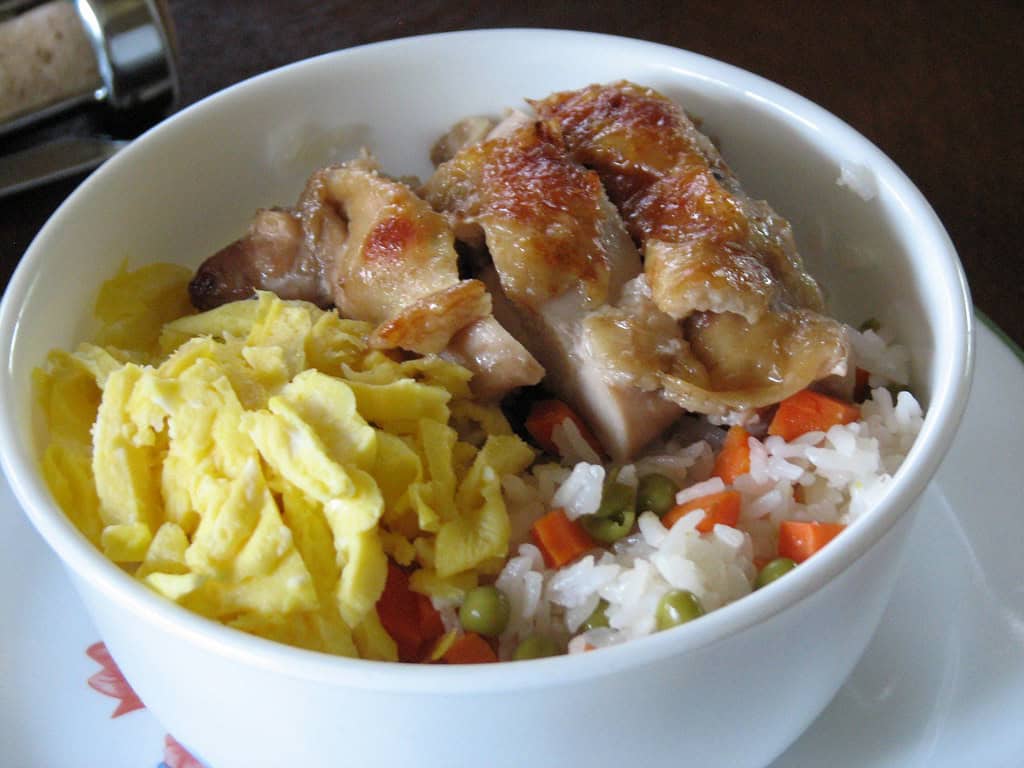 How to Cook Mushi Zushi?
Mushi Zushi Ingredient
| | |
| --- | --- |
| Ingredient of Mushi Zushi Shimp Version for 4 people | |
| Rice | 450g |
| <Mixture of vinegar and some other flavouring> | |
| Rice vinegar | 60ml |
| Sugar | 60g |
| Salt | 10g |
| | |
| Dried shiitake mushrooms | 6 pieces |
| Carrot | 1/3 of a carrot |
| <Seasoning> | |
| Sugar | 1 and 1/2 tablespoons |
| Soy sauce | 1 tablespoon |
| Hon Mirin | 2 1/2 teaspoons |
| Sake | 2 1/2 teaspoons |
| Dried shiitake mushroom stock | 1/2 cup |
| | |
| Shrimp | 4 shrimp |
| Poached egg(Kinshi Tamago) | 2 eggs |
| Pea pods | As needed |
Recipe of Mushi Zushi
Sprinkle well-mixed vinegar over hard-cooked rice to make sushi rice.
Soak dried shiitake mushrooms in water and cut into thin slices. Cut carrot into chunks.
Put [2] and seasonings in a pot, cover with a drop-lid, and simmer until the liquid is absorbed.
Boil the shrimp in salted water (do not use more than necessary).
Mix [3] into sushi rice and place in a bowl. Put the egg and [4] on top and cover. Steam over high heat for 10 minutes.
Garnish with boiled salted pea pods.
Recommended Restaurant of Mushi Zushi
Ginza Yossou (銀座吉宗)
Ginza Yossou is a restaurant in Tokyo where you can enjoy excellent Mushi Zushi. This is a long-established restaurant that opened in Nagasaki in 1866, specializing in Muzhi Zushi and Chawanmushi.

Ginza Yossou's signature dish is FuufuMushi, a perennial favorite that comes with a set of Sushi Zushi and Chawanmushi.
Ginza Yossou's Mushi Zushi consists of slightly sweetened sushi rice topped with three colorful ingredients: grilled anago (eel), broiled egg, and shrimp oboro. The combination of the fluffy sushi rice, moderate sweetness, and the perfect combination of ingredients makes this Mushi Zushi very tasty.
The "Chawanmushi" (egg custard steamed in a bowl), with its harmony of ten ingredients of nine different kinds and the egg liquid with soup stock, is also an excellent choice.
Suehiro (末廣)
Suehiro is a sushi restaurant in Kyoto, founded in the Tempou era (1868-1912) in Teramachi Nijo, south of the Kyoto Imperial Palace.
It was founded in the Tempou era as a stew vendor in Teramachi Nijo, south of the Kyoto Imperial Palace.
For almost 200 years, Suehiro has been keeping the taste of Kyoto Sushi, which has been nurtured by the people of Kyoto.
Suehiro is a restaurant that serves traditional Kyoto-style sushi received approval by the Imperial Household Agency.
Suehiro have been keeping the taste of "Kyo-zushi" for about 200 years. They offer a wide variety of sushi including "Saba-zushi", "Hakozushi", "Makizushi", "Inari-zushi", "Chirashi-zushi".
They offer "Mushizushi in winter season only.
Suehiro's Mushi Zushi is a beautiful dish with prawns, crab, starch, shiitake mushrooms, conger eel, plum bran, green peas, ginkgo nuts, quinoa pods, and broiled egg.
The sushi rice inside the Mushi Zushi is also full of ingredients, with chopped kikurage and conger eel coming out from inside. By steaming, the fat from the conger eel soaks into the sushi rice, giving it a richness that goes beyond the simple taste of sushi.
Otoha (乙羽)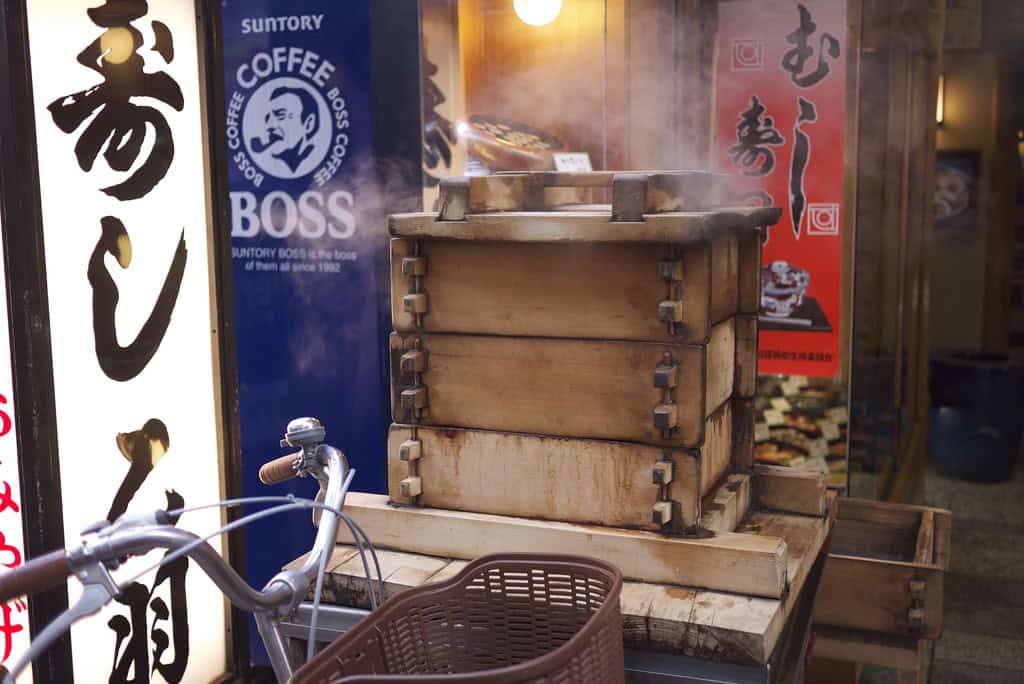 Otowa is a Kyoto sushi restaurant that was established in the middle of the Meiji era.
The store is located on Shinkyogoku-dori, an arcaded street lined with souvenir shops and restaurants.
It is a famous restaurant that is often featured on TV and in magazines, and during the winter months, there is often a line of people waiting to get their hands on the steamed sushi.
Otoha's steamed sushi has a layer of boiled conger eel underneath a broiled egg.
This steamed sushi is steamed in a large steamer in front of the restaurant.
Kyoto people feel winter when they see the steam rising from the steamer.
Naniwa Zushi (浪速寿司)
Naniwa Sushi, a long-established sushi restaurant established in 1887, is located in the Kyoten shopping district of Matsue City, Shimane Prefecture.
The restaurant's traditional "steamed sushi," which has been around since the first generation, is not only the signature product of the restaurant, but is also known as one of Matsue City's representative specialties.
Naniwa Sushi's Mushi Zushi has a variety of gorgeous ingredients such as grilled agonos, shigure-ni beef, eel, and shrimp. With the hot sushi rice, you can smell the appetizing aroma.
Conclusion
Sushi is often thought of as a cold food, but Mushi Zushi is a special kind of warm sushi eaten in winter. Mushi Zushi is a special kind of warm sushi that is eaten in winter.
Many restaurants only serve it in winter, but if you have a chance, I highly recommend trying it.
And of course, try some Edomae sushi!
You can find more information about Edomae Sushi here. Please take a look!