It's no doubt that Tonyu or soy milk is popular in Asian countries. It's not just healthy, but it's also a perfect alternative to cow's milk. In Japan alone, supermarkets and convenience stores sell different kinds of soy milk. Japan Agricultural Standards (JAS) has defined Tonyu as "an emulsion-like beverage" called "soy soy milky lotion".
What is Tonyu?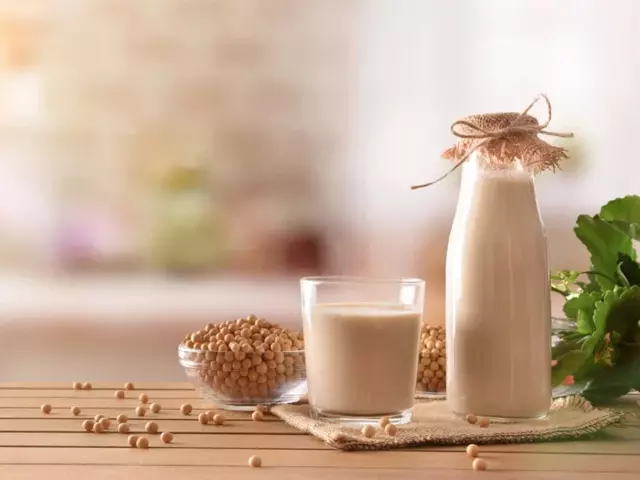 Tonyu directly translates to "soy milk". It is beverage made by soaking soybeans in water, grinding them, adding water and boiling juice. The taste is almost the same as tofu if it is not adjusted, that is why Japan discovered the three types of Tonyu or soy milk that we will discover on the later part, how each are made? and why consumers prefer each of the said types?
Moreover, soy milk is a rich dietary protein that is consists of soy saponins, lecithin, iron, and soy isoflavones, a type of polyphenol which is a strong antioxidant agent that has been recognized to suppress cancer cells from developing. it also has the nutritional benefit of lowering bad cholesterol and improving bowel movements.
When you add "bittern" in soy milk you will be able to create Tofu. Bittern is called "Nigari" in Japan, it is a food additive that is composed of magnesium chloride obtained from seawater.
History of Tonyu
It is said that "soy milk" was invented in China about 2200 years ago (BC story) by Liu An, King of Lingnan, during the reign of Han Gaozu. It came to Japan in the Nara period and was transmitted from the Tang Dynasty.
In Japan, the character "tofuko" is used in the ancient document of the Kamakura period, and "Niwa Kunko" this is today's "soy milk". This "tofukan" means tofu soup, and the yokan used in sweets today originally meant sheep meat soup.
In Japan, soy milk became recognized roughly around 1970's, and several food companies began to improve the taste of soy milk to make it easy to drink. It became even more popular when the soy milk boom was born in the 80's, and the name soy milk became widely known throughout the world. There are many records about tofu, but there is not much literature on soy milk.
Three Types of Tonyu
You might be wondering as to why there are three types of soy milk? as we all know it came from soybeans. Yes, you are right! that is the base component, or as experts call it, "Soy Solids". The three variation has different percentage of soy solids.
Unadjusted soy milk
From the name itself, this type of soy milk has no added flavor whatsoever, it is made plainly from soybeans and water. This has 8% or more of soy solids this is equivalent to 3.8% or more of soy protein, that the taste is similar with tofu, having its blue smell peculiar to soybeans. Many have come to love this flavor but for consumers who just started drinking soy milk, they find it difficult to drink unadjusted soy milk and for that reason, JAS has defined the adjusted type of soy milk.
Adjusted soy milk (Prepared soy milk)
Unlike the unadjusted soy milk, adjusted soy milk only contains 6% or more of soy solids, this is equivalent to 3.0% of soy protein. It also has added sugar, salt, vegetable oil, and flavorings, making it easier for other consumers to drink. The only disadvantage is it has lower amount of dietary protein compared to unadjusted soy milk.
Soy milk drinks
The third type of soy milk is made by adding fruit juices or coffee, making it the best soy milk for new consumers of the said product. Soy milk drinks with added fruit juice contains 2% of soy solids while those added with coffee contains 4%of soy solids. Its equivalent soy protein is 0.9% for 2% of soy solid and 1.8% for the 4% soy solid.
Nutritional Content of Soy Milk
Adjusted
Unadjusted
Energy
46kcal
64kcal
Moisture
90.8g
87.9g
Protein
3.6g
3.2g
Carbohydrate
3.1g
4.8g
Sodium
2mg
50mg
Potassium
190mg
170mg
Calcium
15mg
31mg
Iron
1.2mg
1.2mg
Zinc
0.3mg
0.4mg
Vitamin B1
0.03mg
0.07mg
Vitamin B2
0.02mg
0.02mg
Vitamin B6
0.06mg
0.05mg
Total Amount
of Dietary Fiber
0.2g
0.3g
Source: Ministry of Education, Culture, Sports, Science and Technology, "Standard Tables of Japan Food Composition 2015 (Seventh Edition)"
Health Benefits of Soy Milk
We know for a fact that drinking soy milk is healthy and clinical research have proven that including plant-based products in diets is much healthier than diets with meat consumption, but how does soy milk really affect one's body? What are the effects on men and women? and What are its benefits? We will answer all these questions and a lot more as go further this article.
Effects of Soy Milk on Men and Women
Both men and women are at risk of having various diseases because of an unhealthy lifestyle, in a way, soy products particularly soy milk, has helped in reducing these risk factors. Nutritionists have recommended drinking 200g of soy milk per day, with this daily intake effects on body are as follows:
| | |
| --- | --- |
| | |
| Reduces Carcinogen | Isoflavones |
| Builds muscle than fat | Soy protein |
| Reduces joint pain | Omega-3 fatty acid |
| Improves intestinal environment | Dietary fiber and Oligosaccharides |
| Lowers bad cholesterol | Isoflavones |
| Improves blood circulation | Sodium, Vitamin E |
There has been a myth circling that when men intake soy products, their male hormones lowers. The said reason for this is the isoflavone content of the soy, which is one of the Phytoestrogen (An Estrogen-like compound) and Estrogen is a female hormone. But clinical studies last March of 2021 have proven that soy milk doesn't affect the male hormones. In fact, their risk of having prostate cancer deteriorates.
Tonyu FAQ
Is Tonyu good for your stomach

The best thing about Tonyu is that it's lactose-free. So, it's a healthy alternative for dairy milk

What happens when you drink Tonyu or Japanese Soy Milk every day?

It can help regulate your cholesterol levels, reduce inflammation, and aid weight loss.

How long can you store Tonyu?

It usually lasts seven to ten days (7-10) in the fridge.
Tonyu Recipe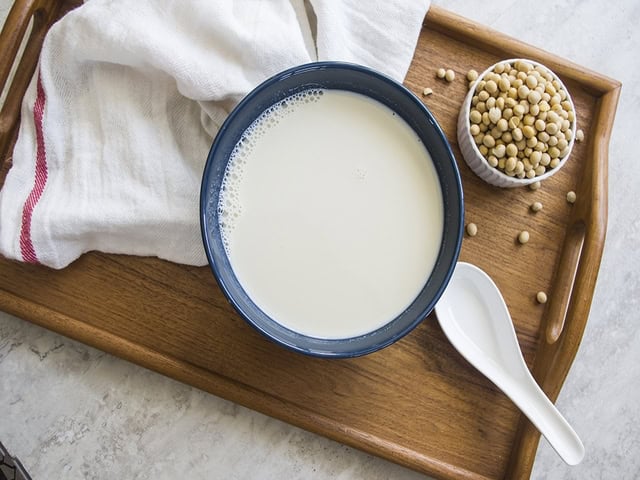 Tonyu Ingredients
| | |
| --- | --- |
| Good for 5 to 6 liters | |
| Dried Soybeans | 300g |
| Water | 6.5 L |
How to make Tonyu?
Prepare the dried soybeans
Quickly wash the dried soybeans, soak in 1 liter of water and leave overnight.
Crushing
Put the swollen soybeans with the pickled soup in a blender. Blend until it is smooth. The crushed mixture is called "raw kure".
Simmering
Put the raw kure in a pot, add 5.50 liters of water, boil in high heat, reduce the heat and simmer for about 10 minutes over medium heat when it bubbles. A lot of bubbles will come out, so be careful not to spill and burn. The trick is to stir from the bottom of the pan with a wooden spatula.
Strain
Strain with a fine filter net or cloth over a large bowl. Pour the mixture in and rub it while it is hot.
Squeeze
Squeeze firmly until few droplets are left from the filter. The liquid is your soy milk and the pulp is called "okara", you can use this to create sweet desserts.
Where to buy Tonyu
Mamemono (まめものとたい焼き)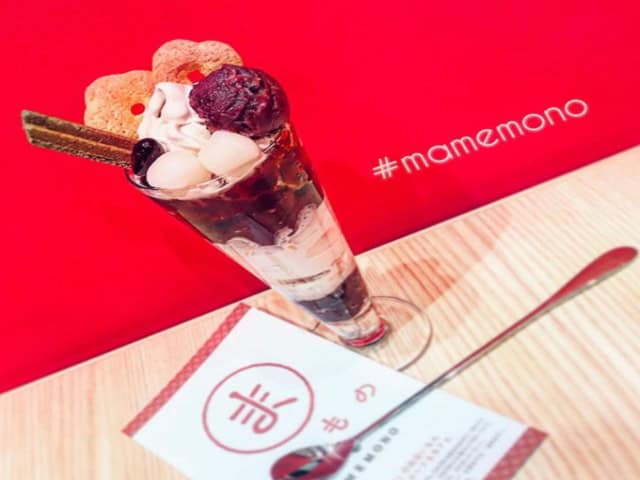 Located in front of Kitano Tenmangu Shrine in Kyoto, Toyokeya Yamamoto is known as the long-established Kyoto tofu shop with a 120-year tradition. You can enjoy soy milk sweets made using soy milk from such a long-established store at "Mamemono" on the second floor of Odaiba VenusFort, Koto-ku, Tokyo.
The menu includes parfaits made with soy milk, soft sundaes, and soft-serve ice cream. In addition to this, there are a wide variety of soy milk drink menus that are difficult to choose from. The best "Mamemono" parfait is the "Black Mame Jelly & Black Mame Soy Milk Soft Parfait" made of soft soy milk, you can enjoy the aroma of black blister and the gentle taste of soft soy milk.
Tofu ROOM DY'S 豆腐room Dy's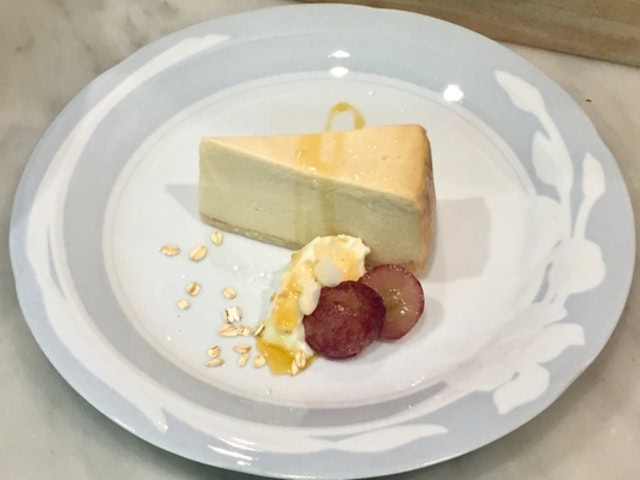 Tofu ROOM DY'S is located in Sendagi, Tokyo, they specialize in creative tofu dishes made by the owner, who was born in the long-established tofu shop. The restaurant has casual café-like atmosphere, and their popular menus include tofu sandwiches with carefully drained tofu and tofu soy curry.
The tofu that they use is fresh tofu made at their own shop. It is delivered directly every day, and the dishes they serve does not have any chemical seasonings or additives. Tofu ROOM DY'S, sweets using soy milk are also popular.
They also have a wide variety of soy milk drinks, including the "Yakuzen Tofu Hana," which is made by boiling ginger and cinnamon over time, and the "Soy Milk Coco Tofu Hana," which is a perfect match between soy milk and organic coconut sugar. Moreover, "Soy Milk Spice Chai", "Bubble Soy Milk Black Bean Macchiato", and even soy milk cocktails that alcohol lovers should definitely try.
Iseyuki 伊勢幸(イセサイワイ)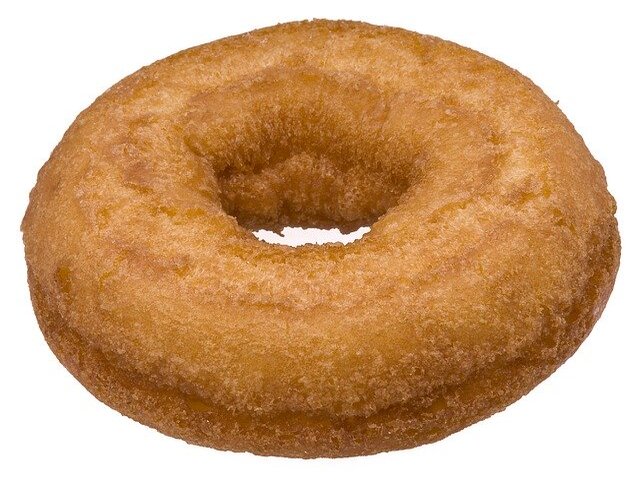 A 4-minute walk from Akasaka-Mitsuke Station, Iseyuki is an old-fashioned tofu shop. Tucked away in the middle of Akasaka. Not only that they sell handmade tofu, atsuage, and okara, but also sweets made with soy milk. Their soy milk pudding and soy milk with apricot seeds are few of their bestseller. However, they are well-known for their donuts made with soy milk. The donuts do not contain any wasted food are not too sweet, having a moderate moist texture, and also have an earthy taste.
Moon Shizuku Cafe Mizu no Tobira 月のしずくカフェ みずのとびら(ツキノシズクカフェ ミズノトビラ)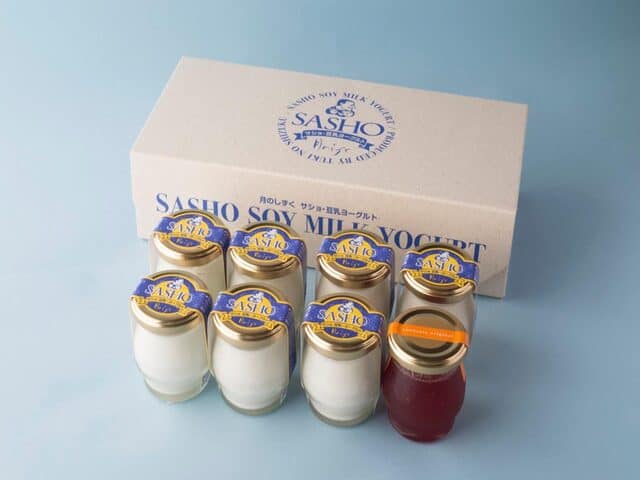 Moon Shizuku Cafe Mizuno Tobira is located in Monzennakacho. You can enjoy their delicious and healthy sweets made from soy milk yogurt, which they call "Sasho Soy Milk Yogurt". This special yogurt uses four powerful types of lactic acid bacteria from Bulgaria and Japan. It is surprising that two of the four types of lactic acid bacteria reach the intestines alive.
They also have waffles made with such special soy yogurt, white ball zenzai with again, soy yogurt that is perfect for the summer season, and sweets like mini parfaits that combines soy yogurt with sauce and granola. In addition, soy yogurt drinks like smoothies made with frozen fruits and vegetables are also popular.
Hara roll + café はらロール+カフェ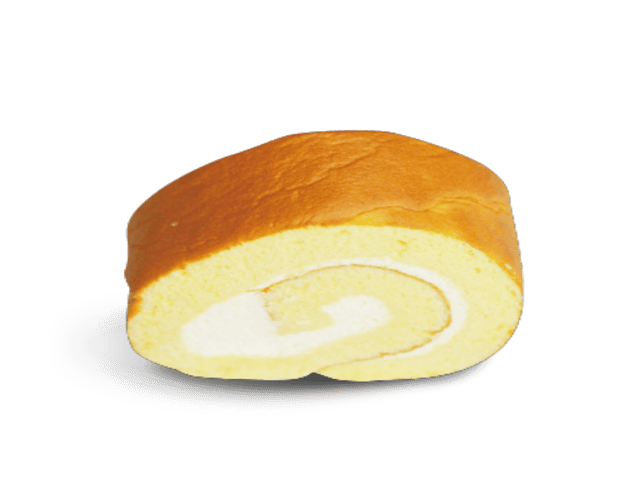 Located on the first floor of Lumine Tachikawa, just off Tachikawa Station, "Hara Roll + Cafe" boasts roll cakes using unadjusted soy milk from Kobe's long-established tofu shop "Hara Tofu Store".
They have a total of 8 types of luxurious roll cakes made by rolling up light and smooth soy milk cream with dough baked with domestic rice flour. The products may change depending on the season, but they have a lineup that makes you want to eat various types such as royal plain road, seasonal fruits, luxurious strawberries, rum raisins and raw chocolate.
Takeaway
Tonyu or Japanese Soy Milk is a go-to beverage in Japan. It's common to find ready-to-drink soy milk in supermarkets and convenience stores nationwide. In fact, it's also a famous ingredient for delectable Japanese dishes and desserts.
In addition to that, Tonyu is essential in making Tofu. Check out these delicious Tofu dishes that can be found in Japan!