Among wagashi (Japanese sweets), dango is one of the most popular even for Japanese people and foreigners. Since ancient time, it has been appeared and has a deep meaning in Japanese food culture. Although relating to rice, it is different from mochi and has so many types depending on the sauces served on or with it. Today, we want to introduce about Mitarashi Dango (みたらし団子). Let's see what makes it so different from normal dango, its history and where to buy the most delicious one!
What is Mitarashi Dango (みたらし団子)?
Introduction about Dango (団子)
Maybe you have heard about this sweet many times. But do you know what it really is? Dango (団子) is a Japanese dumpling made from rice flour mixed with uruchi rice flour and glutinous rice flour. Dango is often served on a skewer with three or five pieces of kushi-dango (串団子). There are a lot of types of dango such as anko, chadango, bocchan dango,… etc. Some types of dango relate to special events such as Tsukimi dango (月見団子) for Mid-autumn Festival or Hanami Dango (花見団子) for Hanami (flower watching) custom during spring season.
As a traditional food, dango has an important meaning in not only food culture but other aspects if Japanese's life. There is a even common Japanese proverb "Hana yori Dango" (花より団子, literally, "dango rather than flowers") refers to a preference for practical things rather than aesthetics.
About Mitarashi Dango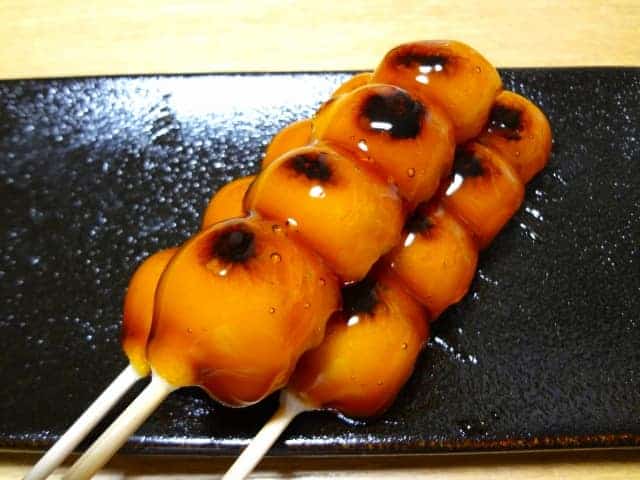 Mitarashi Dango, also known as "kushi dango" or "shoyu dango" are small white grilled dumplings on skewers dipped in soy sauce and sweet sauce glaze. It is featured by its glassy glaze and burnt fragrance.As a popular Japanese sweet, it has spread all over the country and is sold at food stalls at festivals and other occasions. The number of dumplings skewered differs between the Kanto region and the Kansai region, with four in the Kanto region and five or more in the Kansai region.
One of the characteristics of mitarashi dango is that it has various names depending on the region. Other common soy sauce flavored dumplings are called 'soy sauce dango', and yakidango from the Asuka region of Shiga Prefecture are sometimes called 'midarashi dango'.
The birth place of this Mitarashi Dango is believed to be 'Mitarai Festival' and 'Aoi Festival' held by Shimogamo Shrine in Shimogamo, Sakyo Ward, Kyoto. Let's find out more about its story in the next part of this article!
History: Mitarashi Dango vs Hanami Dango
Both "Mitarashi Dango" and "Hanami Dango" were born in Kyoto. Normally, there are 4 pieces of mitarashi dango on a skewer and 3 pieces of hanami dango on a skewer. Some people may think it is just a random number. However, there is reason for the "different number" between these two.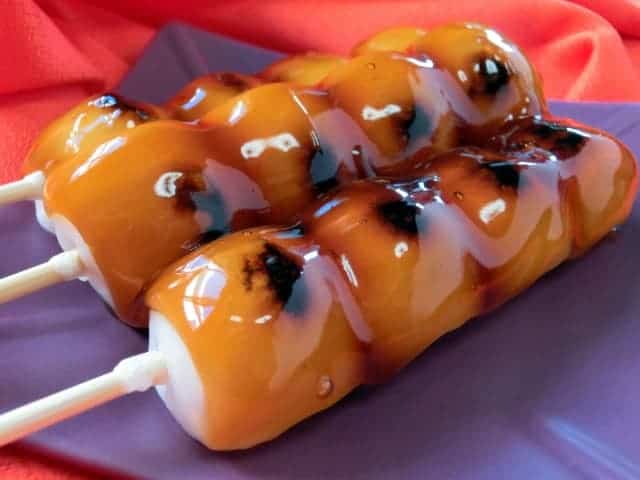 Mitarashi Dango
Mitarashi dango appeared in the late Kamakura period. In Kyoto, there was a pond called "Mitarashi Pond" at Shimogamo Shrine which was well-known for bringing good health. According to legend, when Emperor Godaigo (1318-1339) visit this Mitarai scooped up water from Mitarai Pond, one bubble first appeared, and after a short interval, four bubbles rose to the surface.
This incident was considered as a sign of good luck. Therefore, the dango, which had been served as an offering to Gods, changed its way of serving. The numbers of pieces in a skewer is the same as the number of bubbles that appeared.
In the Edo period, mitarashi dango, was introduced to Edo and was sold for 5 mon per skewer. The reason why the Mitarashi dango, which used to be 5 pieces, became 4 pieces was the birth of shimonsen (4-monsen) coin in 1768. This shimonsen coin could be used to pay for 4 1-monsen coins, quickly became popular because of its convenience. Therefore, a lot of dango stores reduced the price of 1 skewer from 5 mon to 4 mon as well as reduced the number of pieces in a skewer to 4. Since that time, mitarashi dango becomes a 4-piece skewer up until now.
Hanami Dango
On the other hand, hanami dango first appeared in the Azuchi-Momoyama period. The father of it is Toyotomi Hideyoshi.
He intended to hold a large-scale sakura viewing (hanami) event with about 1,300 guests at Daigoji Temple in Kyoto. He came up with the idea of colorful dumplings representing the four seasons of Japan. One skewer of dango represents the pink color of cherry blossom in spring, the white color of snow falling in winter and the green color of leaves in summer.
As you can see, although there hanami dango represent seasons in Japan but there is no piece symbolizing autumn. In Japanese, the phrase "no autumn" means "aki-nai" (あきない). The word "aki-nai" (あきない) also means "not getting bored" in Japanese. Therefore, there are only 3 pieces of kushi-dango representing spring, summer and winter (not including autumn) in hanami dango with the hope that people can enjoy eating it without getting bored.
Health info
Calories
As a popular Japanese confectionery, is mitarashi dango good for a diet? Therefore, we will introduce the calories and nutrients of mitarashi dango.
The average calorie of mitarashi dango is 197kcal per 100g . One skewer weighs about 60-80g, so eating one skewer will take in 120-160kcal. With this information alone, it may be difficult to tell whether Japanese sweets are high in calories or not. Therefore, let's compare the calories per 100g and per pieces with other representative Japanese sweets:
| | | |
| --- | --- | --- |
| Japanese sweets | Per 100g | Calories per piece |
| Mitarashi dango | 197 kcal | About 160 kcal (80g) |
| | | |
| Daifuku | 242 kcal | 242kcal (100g) |
| | | |
| Castella | 319 kcal | About 160kcal (50g) |
Looking in this table, we can see that mitarashi dango is relatively low in calories. Moreover, it is suitable for dieters who do not want to overeat as it is served in skewer.
Main nutrients
| | |
| --- | --- |
| | Calories |
| Calorie | 197 kcal |
| | |
| Lipid | 0.4g |
| | |
| Vitamin B1 | 0.04mg |
| | |
| Sodium | 250mg |
| | |
How to make Mitarashi Dango at home?
Ingredients
| | |
| --- | --- |
| Ingredients (for 4 people) | |
| Joshi powder | 75g |
| | |
| Sugar | 15g |
| | |
| Sauce | |
| | |
| Mirin | 1 tbsp |
| | |
| Water | 50 ml + 2 tbsp |
| | |
How to make mitarashi dango?
How to make coffee jelly?
Soak the gelatin
First, put Joshinko, shiratamako and sugar in a bowl and add 120ml of water. Remember to add an appropriate amount of sugar to the dough so that it gives a slightly sweet taste and makes it easier to maintain soft textures even when the dango cools down.
Use the spatula to gently mix everything together.
After mixing, add the remaining water (20ml) little by little and knead it by hand until the mixtures becomes smooth.
When the dough is ready, divide into 4 equal parts and then divide each into 4 equal part for a total of 16 pieces. Roll each piece into a ball by hand and place on a plastic wrap.
Boil the rolled ball in a pot. When the dumplings are cooked, they will float on the hot water.
Once boiled, soak them in cold water to cool down.
Put in the colander to drain the water.
Make the sauce
Put the soy sauce, mirin, sugar and water in a small saucepan and bring it to a boil. Stir with a spatula to dissolve the sugar.
Once the sugar has dissolved, mix well with potato starch and water.
Grill the dango (optional)
When the dango and the sauce is ready, you can eat it immediately. However, if you want the dango to be slightly brown, it is okay to grill it.
Serving
Your mitarashi dango is ready! Do not forget to enjoy it with drink such as tea for an even better taste.
Restaurants/ Stores
Mitarashi dango is really popular in Japan so you can easily find it at the supermarkets. However, if you want to try the delicious flavor of mitarashi, we would like to recommend you these below dango stores.
Mosuke Dango Toyosu Market (茂助だんご豊洲市場)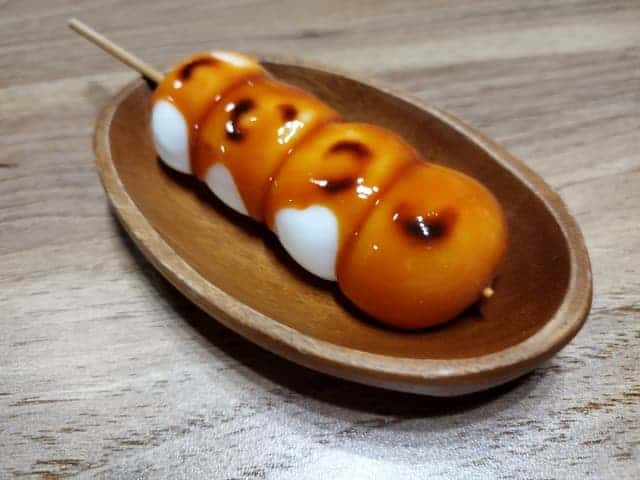 A long-established dango stores in Toyosu market, Koto city. These dango here are cutely wrapped in smooth red bean paste, making it a very popular gift for family and friends.
In addition to dango, it offers a variety of Japanese sweets, and is also popular as a Japanese cafe where you can take a break in Toyosu Market.
Mejiro Shimura (目白志むら)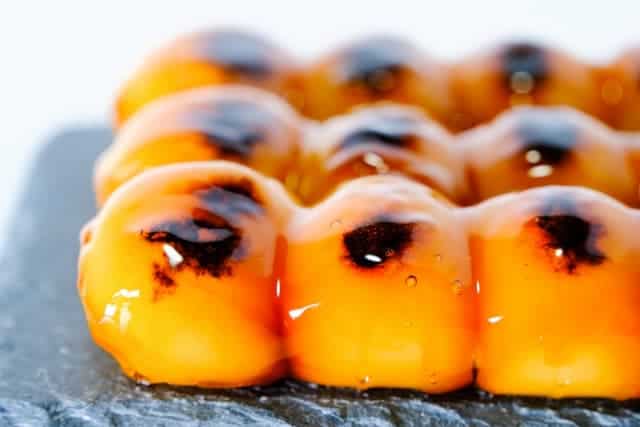 Founded in 1939 (Showa 14), this Japanese sweets shop is famous for its famous Mejiro confection, 'Tsukumochi'. The sweet shop in Mejiro has a tea room that can be enjoyed as a restaurant, and is widely loved by the locals. There are so may types of interesting and delicious dango here so do not hesitate to put this place in your list!
Furuya Koganean (ふるや古賀音庵)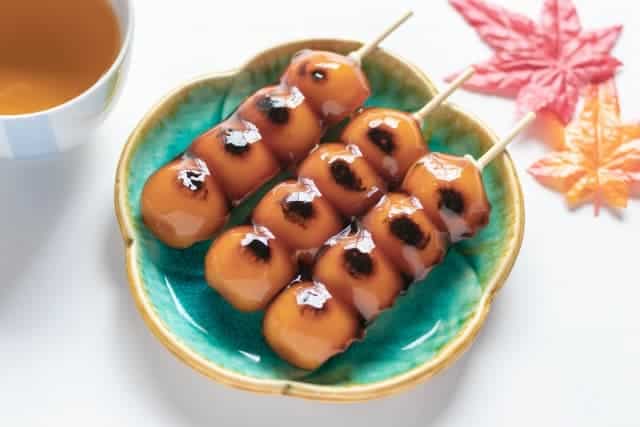 This is a famous dango stores that offers a lot of types of dango, including Mitarashi dango. Beside it, this store has the specialty dango sprinkled with wasanbon sugar and sesame seeds.
It is a specialty of Hatagaya where you can enjoy the soft and chewy dango that is freshly pounded every day and the gentle sweetness of wasanbon sugar.
Takeaway
Dango is a traditional Japanese confectionery that can easily find everywhere all around Japan. Other than the normal dango, you can try yourself Mitarashi Dango. Save our recipe and try it at home! Do not forget to enjoy it with tea for a perfect combination.
If you want to find out more about other types of dango, click here or here.