What is Kawara soba?
Kawara Soba (瓦そば) is a traditional Japanese dish of Shimonoseki City in Yamaguchi Prefecture. Locals make this by placing the cha soba and ingredients on a heated tile and eating it in warm noodle soup. Kawara soba is on numerous TV shows recently, making this regional dish gain nationwide attraction. This dish is not soup noodle-like ramen or Chinese noodles. Japanese bake the cha soba kneaded with matcha on an iron plate, so you can classify it as yakisoba. They served the noodles on a roof tile heated on the stove. There are few shops that offer it on the roof tiles, but many izakayas in the prefecture also incorporate it into the menu, making it a standard menu loved by the citizens of the prefecture. Kinshi tamago and sweet and spicy beef are its toppings. On top of that are seaweed, sliced ​​lemon, and grated autumn leaves.
Etymology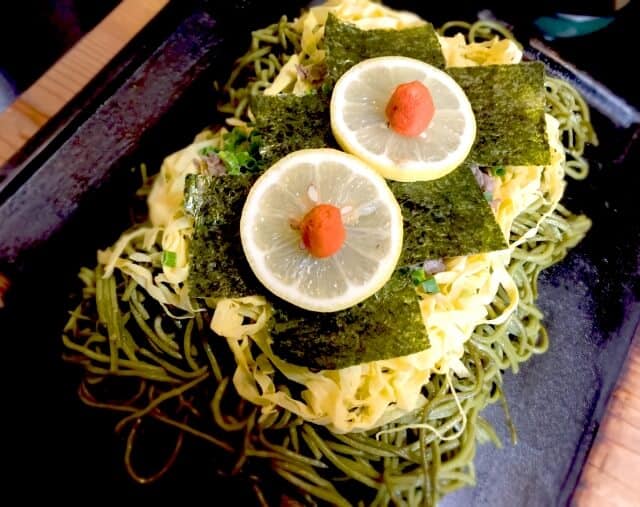 The name Kawara soba (瓦そば) came from "Cha Soba (茶そば)" or soba noodles made from green tea or cha for short and various ingredients cooked and served literally on a Japanese Kawara roof tile (瓦).
History of Kawara soba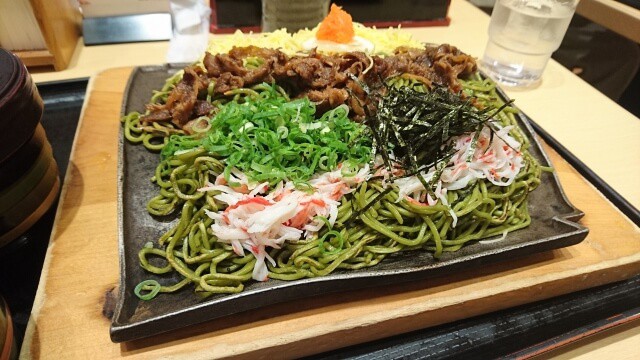 In 1961, referring to the story that soldiers of the Satsuma army surrounding Kumamoto Castle used tiles to bake wild grass, meat, etc. during the Satsuma Rebellion in 1877 (Meiji 10). They believe that Shinichi Takase, who runs an inn at Kawatana Onsen, developed it as a dish for guests in 1958. This became popular and they offered it at other inns in Kawatana Onsen, so it became a "special dish of Kawatana Onsen". Thus, it became popular as a local gourmet in Shimonoseki City and other parts of Yamaguchi Prefecture.  In some restaurants, they serve this on an iron plate for steak instead of tiles (in this case, it is often called "cha soba teppanyaki"). Locals eat this at home in Yamaguchi Prefecture, and they sell a set of steamed cha soba and soup for home use at supermarkets, etc. And locals sometimes cooked thus at home.
Needless to say, Kawara Soba's greatest feature is the usage of the Kawara tile as a plate. In the past, they served their dishes on the same Kawara tiles used for house roofs, but since they considered the painting and coating materials not suitable for serving food, locals made the alternative custom-made Kawara tiles designed to serve Kawara Soba.
Kawara soba recipe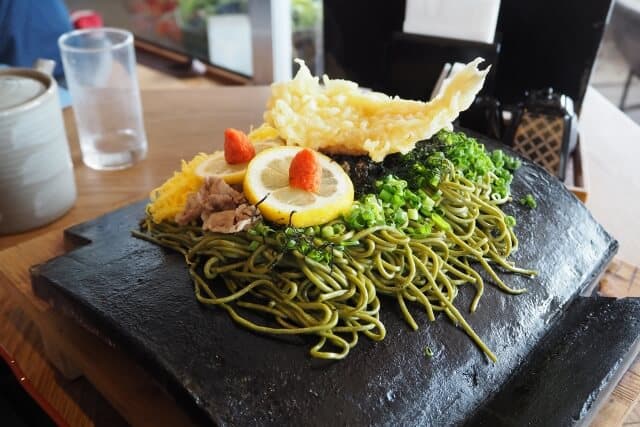 Kawara soba Ingredients
| | |
| --- | --- |
| Ingredients of Kawara soba for 2 person | |
| Cha soba | 200g |
| Hot water (for boiled) | 150g |
| Salad oil | 19g |
| Beaten egg | 23g |
| Chopped beef | 200g |
| Soy sauce | 14g |
| Cooking sake | 14g |
| Honey | 16g |
| Salad oil | 15g |
| Mentsuyu (double concentrated) | 150g |
| water | 150g |
| sweet sake | 14g |
| Shredded seaweed | 8g |
| Small onion (cut into small pieces) | 10g |
| Lemon (sliced) | 28g |
| Grated maple | 10g |
How to make Kawara soba
Boil water and the cha soba
Boil water in a pot and boil the cha soba for about 1 minute and 30 seconds shorter than the label on the package. Drain the hot water, wash with running water, and drain.
Make brocade eggs or Nishiki tamago
Sprinkle the cooking oil in a frying pan heated on medium heat, pour in the beaten egg, spread it all over, and bake. When it's cooked, remove it from the heat. When the heat is removed, cut it in half and cut it into julienne.
Make a Shigureni beef
Add salad oil to a frying pan heated on medium heat, add chopped beef, and fry. When it's cooked, add soy sauce, cooking sake, and honey. Then, remove it from the heat.
Frying the cha soba
Heat another frying pan over medium heat, grind the vegetable oil, add the boiled cha soba and fry for about 3 minutes until browned, then remove from heat.
Serving
Put the ingredients for soba soup in a pan and heat it over medium heat. After boiling it, remove it from the heat. Serve on a plate in the order of cha soba, tamago, and shigureni beef, add toppings.
This recipe uses honey. You can replace the honey with sugar. The sweetness varies depending on the type, so you can adjust it as you like.
How to eat Kawara soba?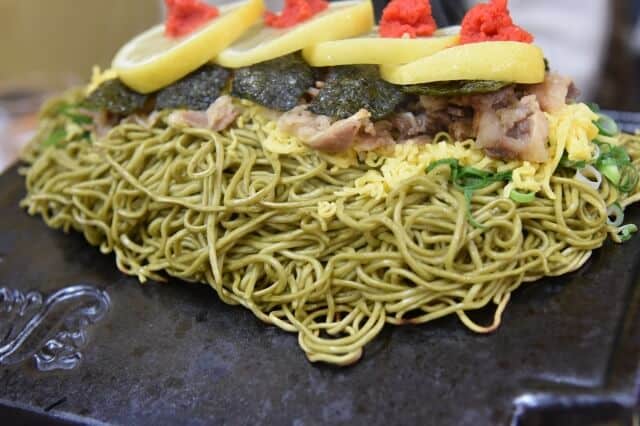 First of all, please be careful not to touch the tiles with soba as they are very hot. Unlike Zaru soba, locals eat it with a slightly sweet hot tsuyu. That's why it comes out in a pot, so they brought in the buckwheat and poured out a pickled bowl in the pot just before eating. Japanese recommended not to put lemon and grated autumn leaves on the top of the soba noodles in tsuyu yet. At first, you taste only the cha soba, meat, and kinshi tamago. After a while, when the sweetness remains in your mouth, you combine the lemon and the grated autumn leaves on the tsuyu at the right time.
What are the nutrition facts of cha soba?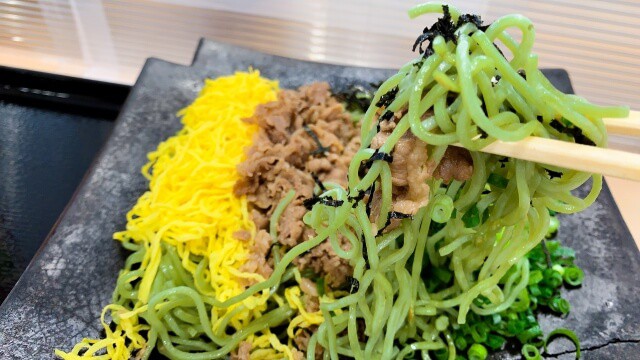 Soba is a healthy food, and cha soba also contains tea, so it is nutritious. To explain the characteristics of the nutrients contained in it, catechin is a type of polyphenol that causes the astringency of tea. Caffeine is an ingredient that is involve in the bitterness of tea and is in coffee and black tea in addition to matcha. In particular, unlike ordinary tea extracted from hot water, green tea is drunk in powder form, so it has the advantage of being able to properly ingest nutrients contained in the leaves.
Are soba noodles healthy?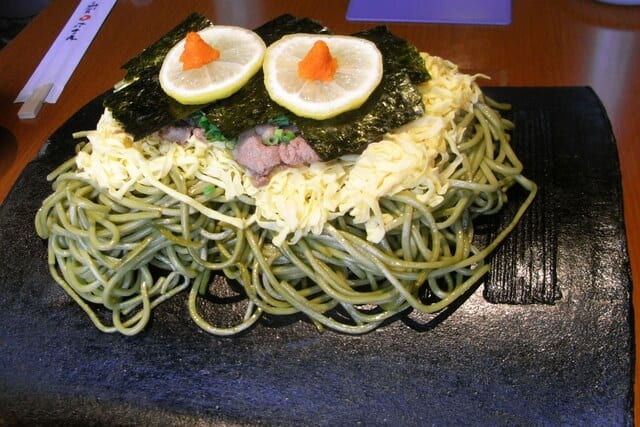 Fortunately, soba noodles are some of the healthiest options out there for carbohydrates. Unlike ramen noodles, which often contain oils, fat, and salt, soba noodles' calories (especially pure buckwheat) are very low in fat and cholesterol, provide healthy carbs and give you protein.
Where to eat Kawara soba?
Original Kawara soba Takase Main Building (元祖瓦そば たかせ 本館)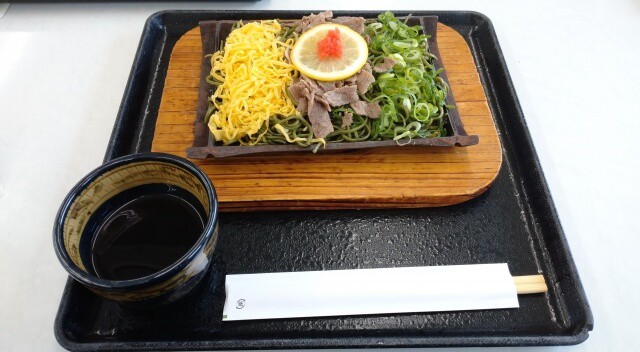 The cha soba used varies depending on the shop, but they knead the cha soba here with high-quality Uji matcha and have an outstanding flavor. Beef, broth egg, seaweed, grated maple, and lemon are on top. "Unameshi" is as popular as Kawara soba and is often ordered together. The way to eat it is the same as Hitsumabushi. 
Soba Main Store Otafuku (瓦そば本店 お多福)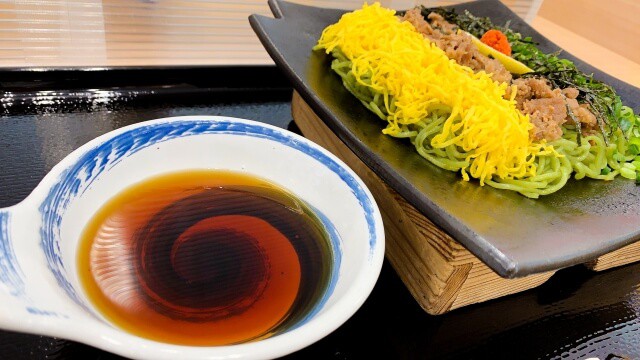 There is a set menu such as sushi as well as Kawara soba. It is a popular spot for those who want to stay overnight, including hot springs, as well as trying Kawara soba, and those who want to enjoy a day trip hot spring plan. It is this shop that devised the "Kawara soba in a box for souvenirs" that they sold at stations in the prefecture.
Dandan-Jaya (福の花 新山口店)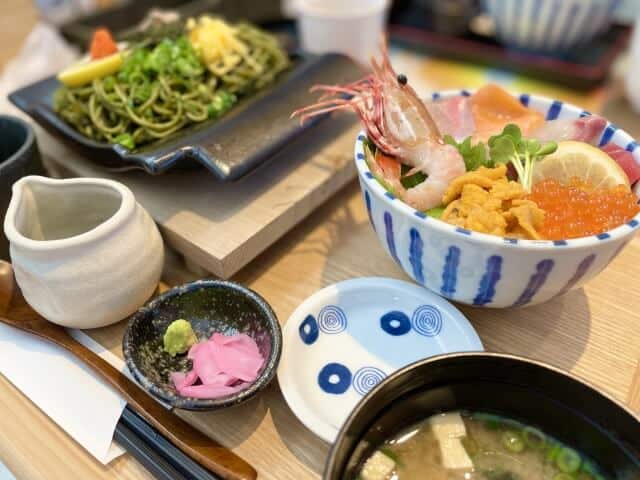 About an hour to an hour and a half by car from the birthplace of Kawatana Onsen. It is an izakaya located in Yamaguchi City This restaurant has open for a long time and locals love this restaurant. It has always incorporated Kawara soba into its menu. Unfortunately, it is not on the roof tile, but it is on the iron plate instead of the plate, so you can enjoy the taste close to the real thing.
Choshuya Yuda store (長州屋 湯田店)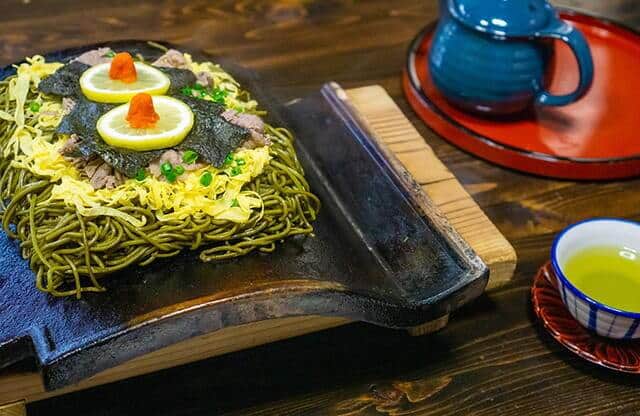 In places other than Shimonoseki City, even if Kawara soba is on the menu, most of it will appear on iron plates and plates. Tourists who do not have time to go to Shimonoseki and commercial people will come aiming for Kawara soba on roof tiles properly. The only drawback is that it is so popular that it's hard to get in, and it has a lot of menus and good taste.
Final thoughts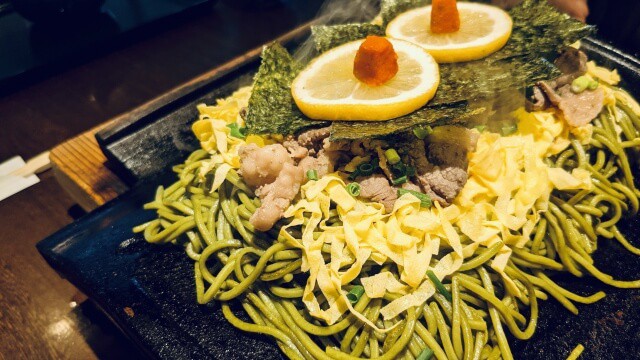 Soba restaurants, which had once disappeared due to the effects of the war, have been revived after the war and have increased in number. There are so much more kinds of soba in Japan such as Izumo Soba, Wanko Soba, Soki Soba, Togakushi Soba, and Hegi Soba. After that, some stores used various ingredients and competed with each other. Having multiple varieties of a dish to choose from isn't anything uncommon to all. It just proves that the Japanese discovered a new dish that they thought will fit the taste of the common people. There are other traditional dishes from Yamaguchi prefecture like the Fuku/fugu.