Japanese food always surprises us with a lot of amazing delicious dishes. Have you ever heard of tamago tofu (egg tofu)? Some people may think that it is a dish made by mixing eggs while producing tofu. However, this is not what that dish mean! In this article, we will introduce about egg tofu and simple recipe for you to make it by yourself at home.
What is Tamago Tofu (卵豆腐)?
Definition of tamago tofu
Tamago tofu is a dish made by steaming a mixture of dashi stock and chicken eggs in a square container. The Japanese-style dashi soup has a gentle and light flavor that is suitable for people of all ages. Originally, normal tofu uses soybeans but the main ingredient of egg tofu is just like its name, eggs. In Japan, tamago tofu is rarely considered as a main dish but mostly as a snack. Later in this article, we will introduce more about the health info and how to eat this dish.
Isn't tamago tofu not tofu?
The normal tofu is usually made by mixing soymilk extracted from soybeans and bittern (nigari in Japanese) while the raw ingredient of egg tofu is egg. Therefore, tamago tofu is different from tofu. The reason for this name is because of its silken tofu-like texture and appearance.
History
In Japan, poultry farming started by the Heian period. However, it was not common at that time to eat poultry products because of Buddhist idea of forbidding killing and eating living being. It was not until the Muromachi period that chicken and egg dishes gradually came to be incorporated into home cooking.
In the Edo period, the first tamago tofu began to be made. However, compared to the modern egg tofu that is made by steaming eggs and dashi stock without using any soybeans or bittern, tamago tofu at that time was steamed while adding eggs to the unsolidified tofu. Therefore, we can say that the very first tamago tofu in the Edo period is really tofu!
Health info
| | |
| --- | --- |
| | (per 100g) |
| Protein | 6.5g |
| Vitamin B2 | 0.17mg |
| Vitamin B12 | 0.7 μg |
| Biotin | 13.0 μg |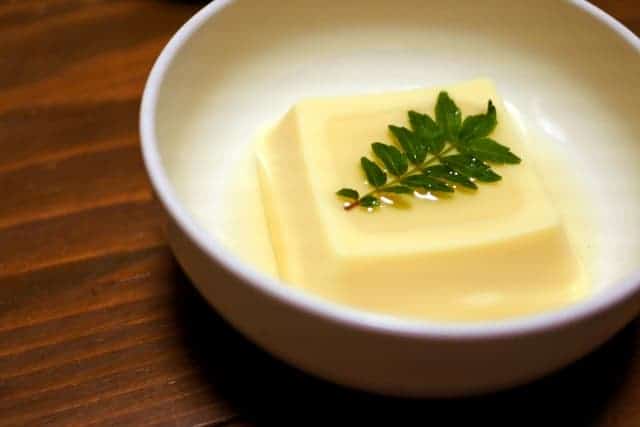 Protein
Protein is one of the three major nutrients along with carbohydrates and fats. It plays an important role as a component to to build the body' such as 's muscles and organs. It is also a component of hormones and enzymes that regulate body functions. If your body do not get enough of protein, it is not only muscle strength but also immunity could be affect, so be careful.
Vitamin B2
Vitamin B2 plays an important role in supporting lipid metabolism. Therefore, if you are on a diet, it is recommended to consume vitamin B2. It also help grow and regenerate nails, hair, skin, and mucous membranes.
Vitamin B12
Vitamin B12 is found mostly in animal foods and very little in plants. Its main role is to support the synthesis of proteins and nucleic acids, and the metabolism of amino acids and fatty acids. It also works with folic acid for normal red blood cells.
Biotin
Biotin is involved in energy metabolism as a coenzyme for sugars, fatty acids, and amino acids. It also helps maintain healthy skin, mucous membranes, hair and nails. If you do not have enough biotin, your hair may fall out easily and your appetite may decrease.
Is tamago tofu good for people who are on a diet?
Egg tofu is low in calories (76 kcal per 100g). Also, the sugar content of it is low at around 0.9g per 100g. If you eat too much sugar, your body can not consume all of it but store as neutral fat, which can lead you to obesity. As dieters, it is recommended to reduce the amount of sugar and calories. Therefore, if you are on a diet, do not worry because this dish is totally suitable.
Difference between tamago tofu and chawanmushi
Tamago Tofu
Chawanmushi
egg : dashi soup = 1:2
If you want to make a firm texture egg tofu, reduce the amount of dashi. Put the mixture in a square box and steam in a steamer for about 30 minutes. After that, you can put cool it in the refrigerator for a refreshing taste.
egg : dashi soup = 1:3
The ingredients are almost the same as tamago tofu. However, the difference is the ratio of ingredients. Therefore, tamago tofu usually have stronger egg taste.
If you want to find more detailed information about chawanmushi (茶碗蒸し), click here to visit out article.
How to make tamago tofu?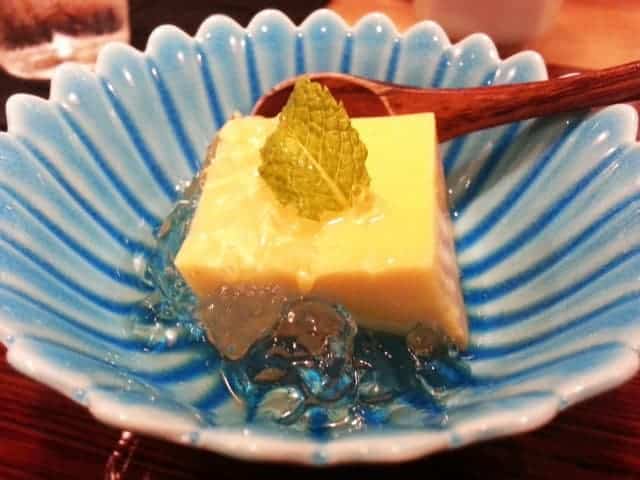 Tamago Tofu's recipe
| | |
| --- | --- |
| Ingredients | 4 servings |
| Egg white | 3 |
| Egg (whole egg) | 2 |
| Oboro tofu (or firm tofu) | 100g |
| Mirin | 50ml |
Learn to make the decious tamago tofu!
Prepare the tofu
If you do not have oboro tofu, you can use firm tofu instead. Put the firm tofu on a colander and leave it for about half a day to drain the water.
Mixing the ingredients
Put all the ingredients into the food processor and stir until the mixture is smooth.
Steaming
When the mixture is ready, put the mixture into chawanmushi bowls (or pudding cups).
Steam in a steamer for about 13-15 minutes.
Do not put the lid on the chawanmushi bowl.
Serving
After steaming, tamago tofu is ready to serve! Itadakimasu!
Before steaming, add plenty of water and leave the steamer under high heat. After put the chawanmushi bowls into the steamer, reduce the heat to medium. You can tie a piece of thin, large cloth around the lid so as to prevent condensation from dipping onto the food. Be careful not to catch fire on the cloth while steaming.
『江戸料理レシピデータセット』(CODH作成) 『日本古典籍データセット』(国文研所蔵)を翻案
This recipe is adapted from "Dataset of Edo Cooking Recipes" (by CODH) "Dataset of Pre-Modern Japanese Text" (Kokubunken)
Restaurants/ Stores
Tamago tofu is a popular dish that you can find at any supermarkets. However, if you want to have another amazing experience at restaurants, we would like to give you some recommendations. Get ready and take some note!
Tsunematsu Kyuzo Shoten (つねまつ久蔵商店)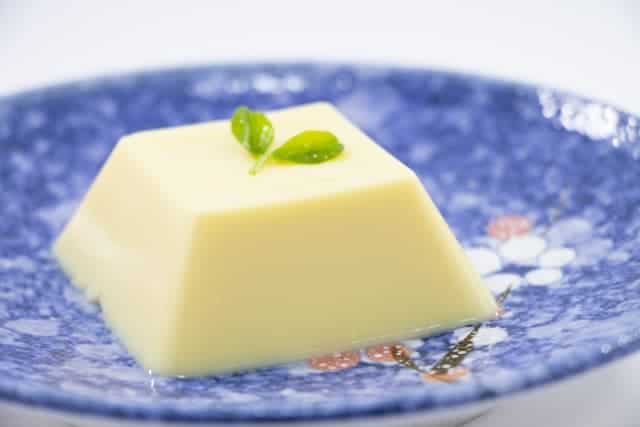 This is a standing bar in Tsukishima where you can enjoy sake with delicious side menu. Otona no tamago tofu is the signature side dish of the restaurant. It has a very gorgeous beautiful appearance and the taste of urchin and salmon roe is really amazing too. Beside, tamago tofu, there are also many good food, especially some kinds of rare seafood from Saiin.
Zakuro Muromachi-ten (ざくろ室町店)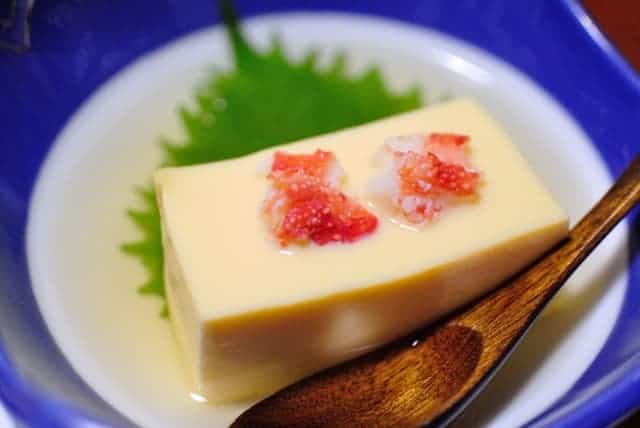 This is the restaurant where you can enjoy a variety of Japanese food such as shabu-shabu, sukiyaki, meat, etc. Although a lot of people come here for hotpot, the deliciousness of tamago tofu here can not be denied. If you are finding a place selling good tamago tofu, do not forget to put this place into your list.
Imahan Banyo (今半万窯)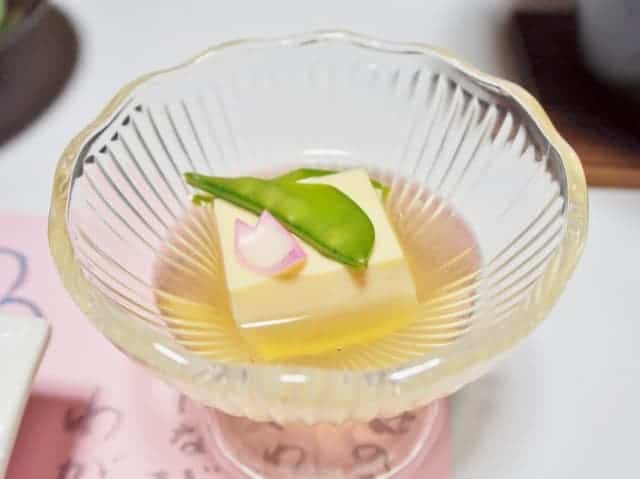 Another shabu-shabu restaurant with a calm and cozy atmosphere like a long-established restaurant. Beside egg tofu, you can also come here to enjoy the meat and sukiyaki, which is its famous dishes.
Takeaway
Beside popular dishes like takoyaki, sushi, okonomiyaki, gyoza, Japanese cuisine also has so many savory dishes. One of them is definitely tamago tofu. With only simply ingredients like eggs and dashi, you can easily make this light refreshing dish at home. Try once!
If you are a fan of tofu, click here for detailed information about delicious tofu dishes.