Miso Dengaku is a traditional Japanese dish that locals enjoyed for centuries. The dish is not only tasty but also has a long history and cultural significance in Japan. In this introduction, we will explore the origins and cultural significance of Misodengaku and how it has become a beloved dish in Japanese cuisine.
What is Dengaku?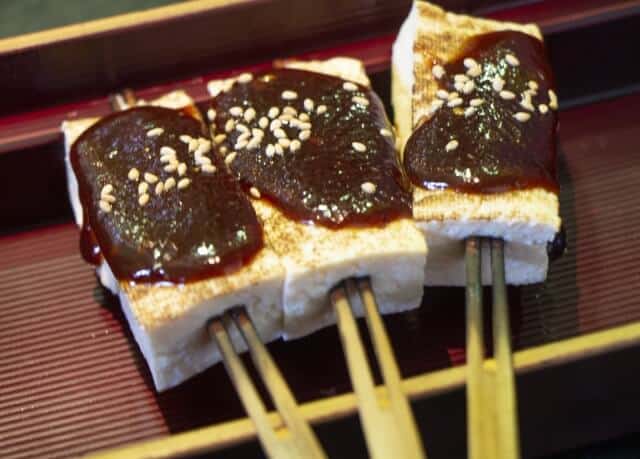 Miso dengaku is a Japanese cuisine comprising skewered and grilled tofu, taro, eggplant, konnyaku, and other vegetables, then coated with miso blended with sugar and mirin and flavored with yuzu lemon and Japanese pepper. It is a specialty from Aichi prefecture. For vegetables, the Japanese recommend taro, Chinese yam, and eggplant. They often eat dengaku miso with boiled daikon radish. The shape of skewered ingredients is regarded as 'Dengaku' because it resembles Dengakuhoshi. In other circumstances, the skewered food is briefly roasted after being covered with miso to bring out the flavor. Misodengaku is also closely related to the traditional performing art of dengaku. One of the dances of Dengaku is called 'Takaashi', in which people perform acrobatics while riding on a single piece of bamboo.
Dengaku History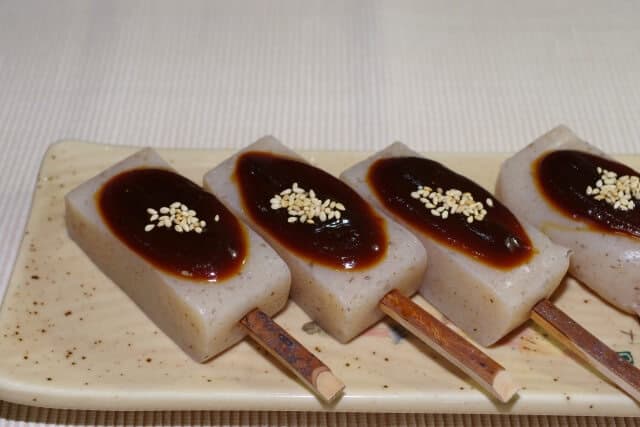 During the Nara and Heian periods, the nobility and samurai society consumed tofu as a valuable source of protein in Buddhist cuisine. The tofu cookbook "Tofu Hyakuchin," published in the Edo period, introduced many tofu dishes.
In farming villages from the middle of the Heian period, a custom known as 'Dengakumai' emerged, which involved dancing to the sound of drums during the rice planting season. Dengakuhoshi, who earned a living from this dance, donned a white hakama and a colored jacket and danced on a stick. It earned the name 'miso dengaku' or 'dengaku' because it resembled tofu dishes.
The 'miso dengaku' in Aichi has a long history, and its characteristics vary from region to region. Shops in the Mikawa area are renowned for their "saidengaku," a set of rice and dengaku. During the Edo period, "Saii Dengaku" was a specialty in post towns on the Tokaido. While in the northern part of Iwate Prefecture, when there is a celebration, there is a custom to eat "tofu dengaku" with miso mixed with garlic, ginger, and Japanese pepper.
Etymology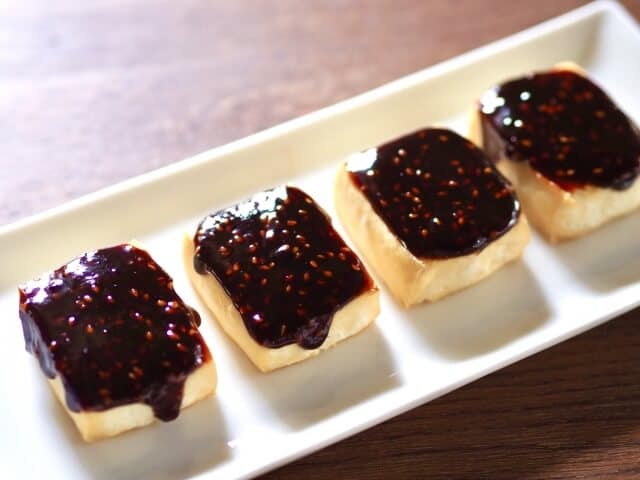 The name "Dengaku" derived from the custom of praying for a good harvest in farming villages during the Heian period. The custom is "Dengakumai", which is a dance in which the dancers wear white hakama and jump on a stick. The name comes from the resemblance of the shape of the skewered tofu to this costume. There is another name for dengaku, Japanese also call this as "Dengaku- Yaki or "Miso Dengaku".
Secret Sauce Ingredients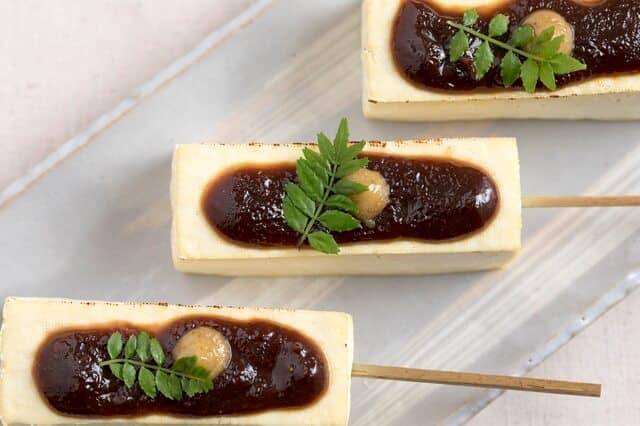 The richness of the miso and the sweetness of the mirin and sugar bring out the flavor of the ingredients. You can also add egg yolk, it will be even richer and more delicious. Locals recommend using red miso or white miso. They fermented the red miso for a long time, so it has a high salt concentration and a salty taste. If you use white miso, you don't need sugar because it's sweet enough.
Recommended Dengaku Cuisines
Sesame Miso Tofu Dengaku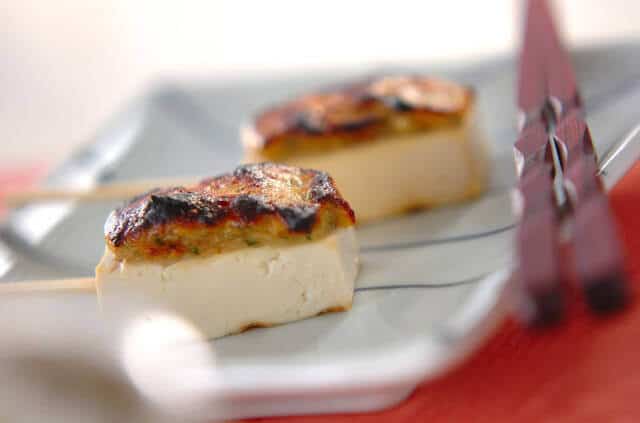 Tofu dengaku made with Saikyo miso. Smoothly mix sugar and mirin for a mild taste. A little browning will give it a fragrant finish.
Red miso konnyaku dengaku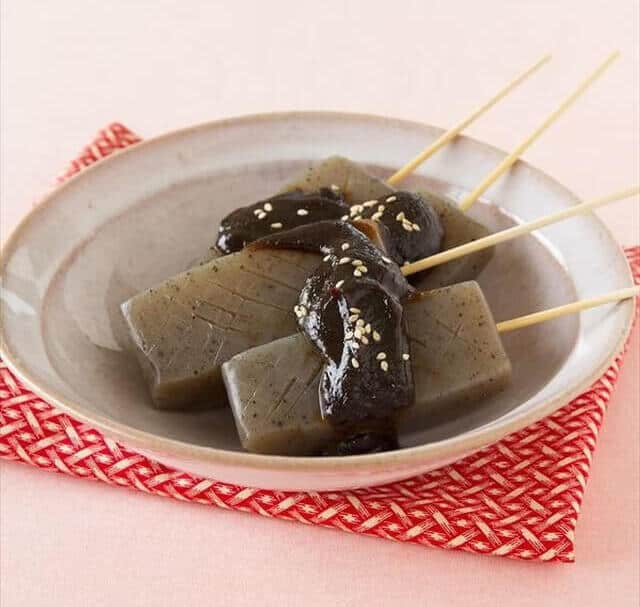 This is a konnyaku dengaku recipe that uses red miso. The saltiness of the miso and the sweetness of the sugar create an exquisite harmony, and the light konnyaku gives it a rich flavor.
Daikon dengaku with maple miso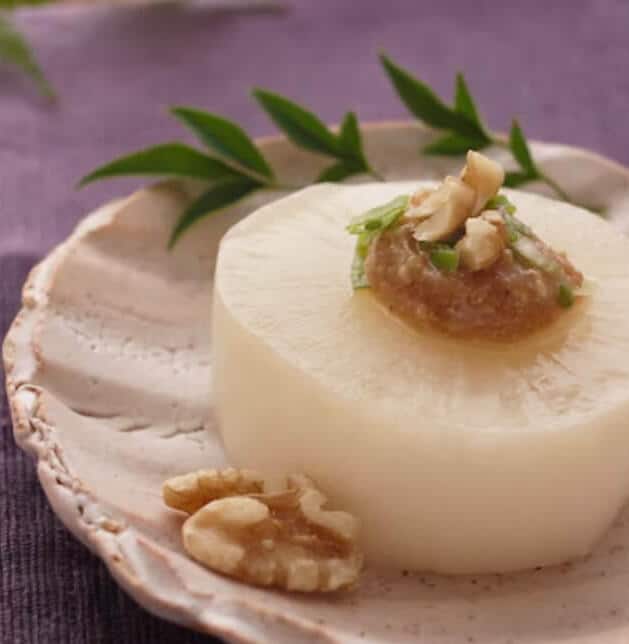 Maple syrup with a gentle sweetness. The miso sauce uses a sweetener that is for sweets such as pancakes.
Round eggplant Dengaku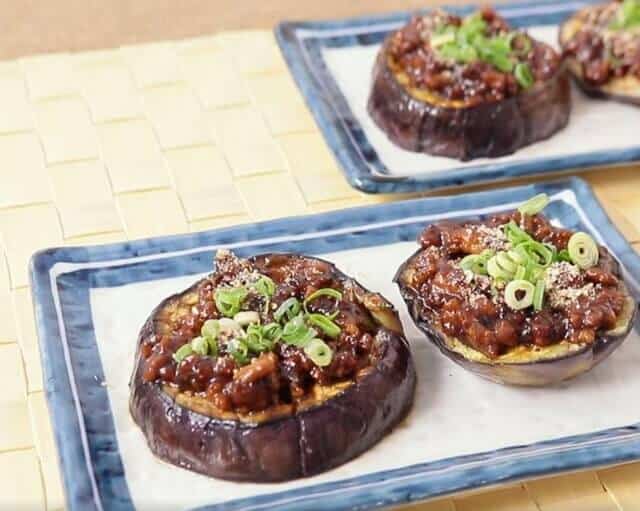 Round eggplants that are thickly cut, cut, and slowly grilled are juicy and go perfectly with the rich misodengaku meat. It's also perfect as a snack with alcohol. 
With Soft and Sweet Onions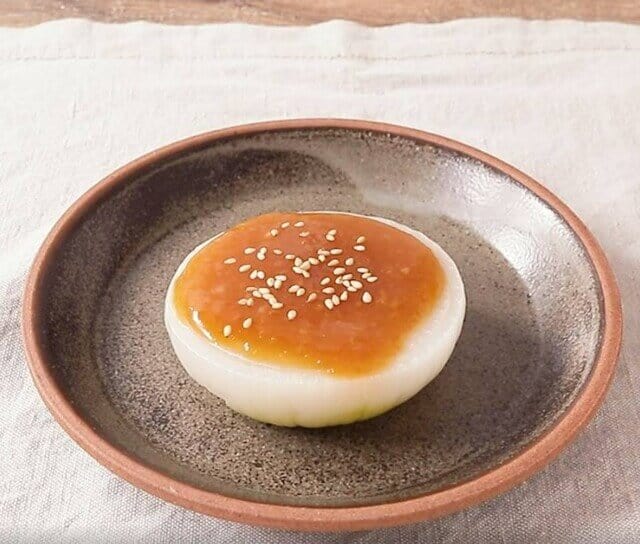 The sweet onions and the saltiness of the miso are a perfect match. You can cook it only in a microwave oven, so locals recommend it in hot weather or when you are busy. 
Tuna miso dengaku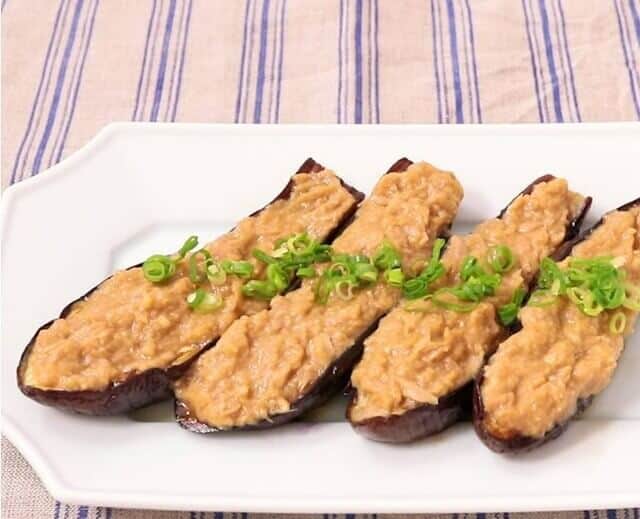 Mixing tuna with dengaku miso makes it milder and easier to eat. Japanese people recommend mixing the miso sauce roughly so that you can enjoy the texture of the tuna.
Dengaku FAQ
What is the season for eating Dengaku?

Locals initially consumed the dish during winter to warm the body, but it became a popular dish that signaled the arrival of spring. During the Edo period, consuming outdoors was a common dish and frequently served at cherry blossom viewing parties. It remains a popular dish for tourists to consume while walking around popular tourist destinations.

How to eat Dengaku?

Japanese cut the tofu into bite-size pieces, skewer them, grill them, and serve them with miso sauce. In Aichi, they use red miso, such as Hatcho miso, and mix it with grated buds or place it on top.
Dengaku Recipe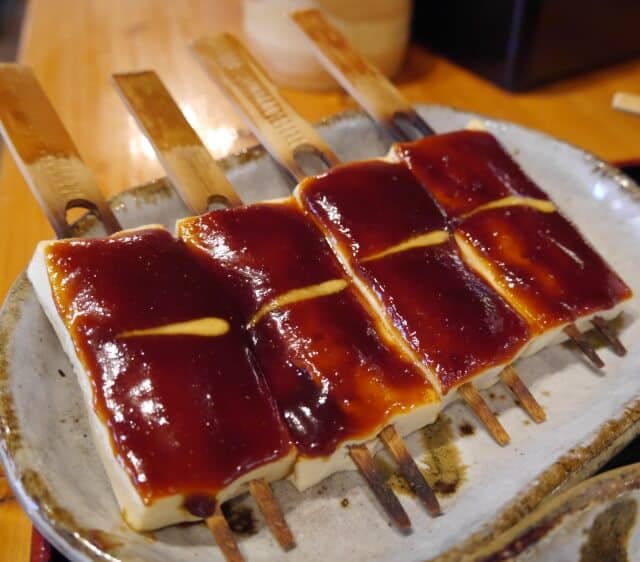 Ingredients
| Ingredients of Dengaku for 4 persons | Measurements |
| --- | --- |
| Firm tofu | 120g |
| Red miso | 100g |
| Sweet sake | 14g |
| Sugar | 55g |
| Dashi soup | 28g |
| Mustard paste | 5g |
| Japanese pepper/Tree buds | 20g |
| Bamboo skewer | 16 pcs/8g |
How to make Dengaku?
Prepare the tofu
Wash the tofu and cut them into 8 pieces and skewer them.
Making the miso

Put the ingredients for kneaded miso in a pot and knead until the raw miso is firm.
Bake the tofu
Bake tofu on both sides over high heat until the water dries.
Applying miso and baking it more
After baking, apply the miso and lightly bake the surface of the miso.
 Complete and serve
Garnish with the buds and kneaded mustard.
If the kneaded miso is not sufficiently kneaded, it will become soft and fall off when applied to the tofu and grilled again. You can mold the rice buns in a bowl with a diameter of 8 to 10 cm with plastic wrap. But, if you don't have the right size container to mold your rice buns into, you can make them without tools. If the rice sticks to your hands, it will lose its shape, so moisten your hands with water while you work.
Takeaway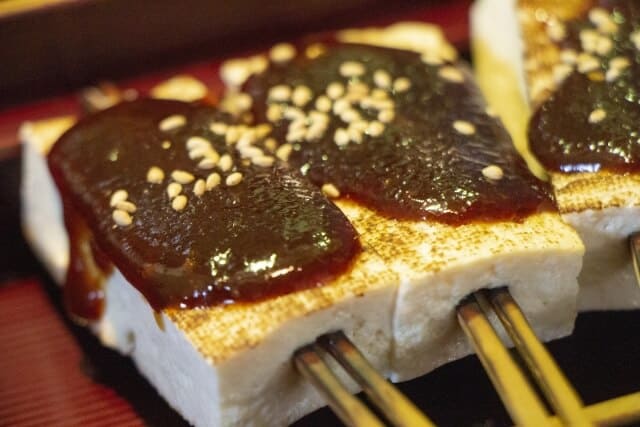 In conclusion, Miso Dengaku is a dish that truly embodies the rich cultural history and culinary traditions of Japan. Its savory, umami flavor combined with the smoky aroma of grilled tofu or vegetables is sure to tantalize your taste buds and leave you wanting more. Whether you're a seasoned traveler or a food enthusiast, trying Miso Dengaku in Japan is an experience you won't want to miss.
You can check some Japanese dishes below that we know you would like to try too.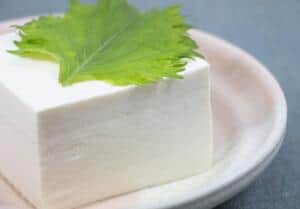 Tofu (豆腐)
Tofu is one of the most essential ingredients in Japanese food culture. There are so many different types and popular dishes that are made from tofu. Today, …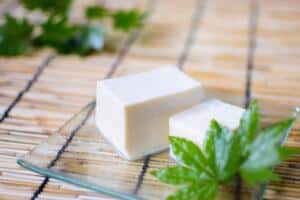 Kinugoshi Tofu (絹ごし豆腐)
Tofu plays an important role in Japanese traditional cuisine and is loved by most of Japanese. There are so many types of tofu that are on sales in supermark…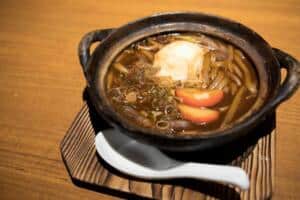 Miso Nikomi Udon (味噌煮込みうどん)
"Miso nikomi udon" is a dish made by simmering raw noodles in a clay pot with bonito flakes in the soup made with hatcho miso, which is a standard in the Nag…