What is the difference between Okinawa soba and Soki soba noodles? Before answering this question, we would like to introduce about Soki Soba, its feature and recipes. In addition, we will recommend some good restaurants to enjoy Soki Soba. If you are interested in any of these listed restaurants, why don't we give it a try?
WHAT DOES SOKI SOBA MEANS?
Soki soba came from the word "Soki" (ソーキ) which means pork spareribs in Okinawa. Soki soba is made by adding Soki meat on top of Okinawa soba. It is a traditional food in Japan and became Japanese food. The Japanese call the ribs of the pork that has a comb-like shape "Suku". Suku in Japanese means comb and it became Soki and was later on called Soki soba. They call the hard bone part of the pork ribs "Honsoki" while the soft bone part is "Nankotsu Soki." 
WHAT IS SOKI SOBA?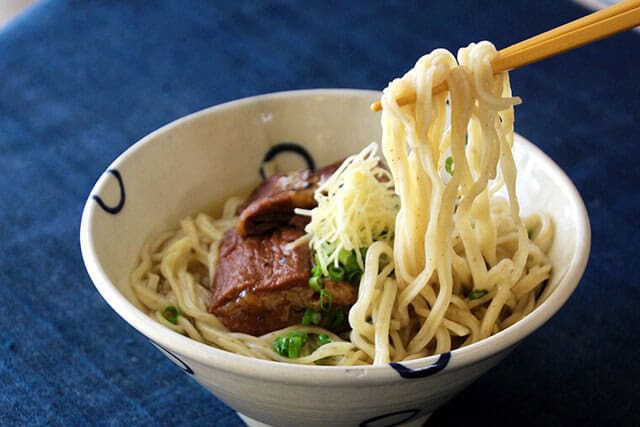 Soki soba is a traditional food in Japan, specifically in Okinawa prefecture. It is a representation of Okinawan cuisine. Soki meat is a boneless stewed pork spare ribs with attached-cartilage on it. Likewise, it is pork ribs in Okinawa. By adding Soki as the topping on the Okinawa soba. Aside from eating it as a soba ingredient, you can eat soki as soki juice and grilled soki. The prefecture calls it soba or in dialect, "Uchinasuba".
In general, soba is made out of buckwheat. Soki soba or Okinawa soba does not use buckwheat noodles. Although it is called "soba," the noodles used here are made of flour and kansui. This dish is called "soba" because of its sense in noodles even if it does not use buckwheat flour.
SOKI SOBA ORIGIN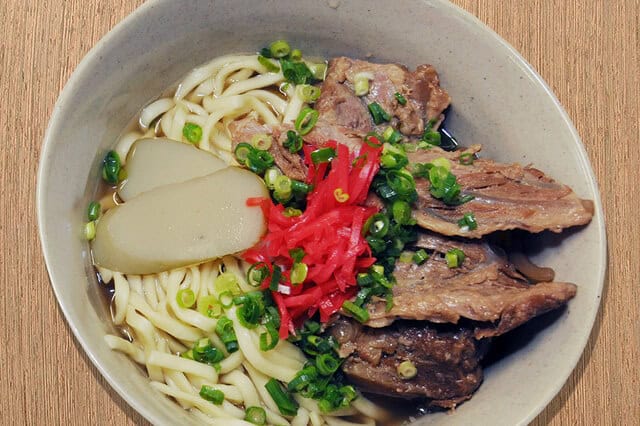 There are various toppings of Okinawa Soba, and Soki meat is one of them. Before Soki soba became one of Japanese food, let us find out about its origin. The origin of Soki soba and the origin of Okinawa soba are associated with each other. Several theories are known about the roots of Okinawa soba. Furthermore, it is also known as Chinese noodles. These Chinese noodles from China began around the 14th and 15th centuries. In the past, it was one of the court dishes because wheat at that time was a luxury item. It was in the Meiji era that it has gradually spread to the general public.
After the war, the US military distributed a lot of flour in Okinawa. And along with that, Okinawa soba shops became popular rapidly. At that time, the soup had a deep color with pork bone soy sauce, and the ingredients were just as simple as possible. Green onions and pork are its main ingredients. The salt-based soup and pork ribs have become mainstream now because of repeated improvements on it.  In the present time, you can eat it as local food at home or in restaurants. 
On October 17, 1978, Okinawa soba become its official name. The Fair Trade Commission pointed out that Okinawa soba should not be called Soba. Why? Because the Fair Trade Commission believes that it will be confusing with Japanese Soba that uses buckwheat flour. But this argument made Okinawans raise negotiations with the Fair Trade Committee in Tokyo. At that time, the dish has already become a soul food for the people in Okinawa. That's why it finally recognizes Okinawa soba as its official name. Soki Soba was born in the 1970s, long after Okinawa Soba.
SOKI SOBA INGREDIENTS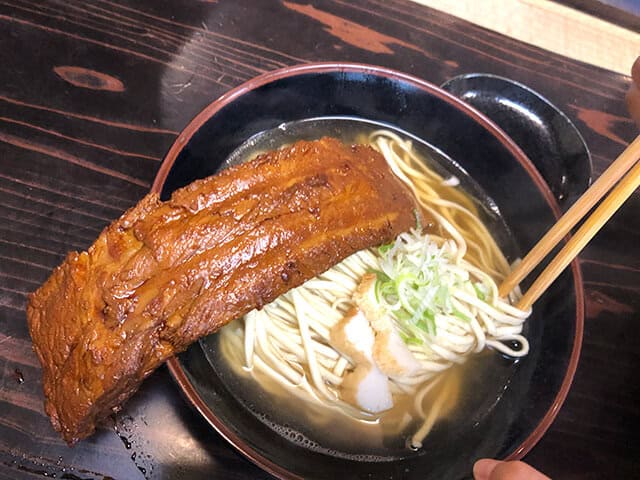 Okinawa soba and Soki or the pork ribs are Soki soba's main ingredients. Okinawa soba. The noodles came from 100% wheat flour. The soup stock is a combination of pork bones and dried bonito flakes. The toppings of this dish consist of Soki meat, kamaboko, pickled ginger, and green onions. Sweet and spicy pork ribs make Soki soba.
HOW TO PREPARE SOKI SOBA?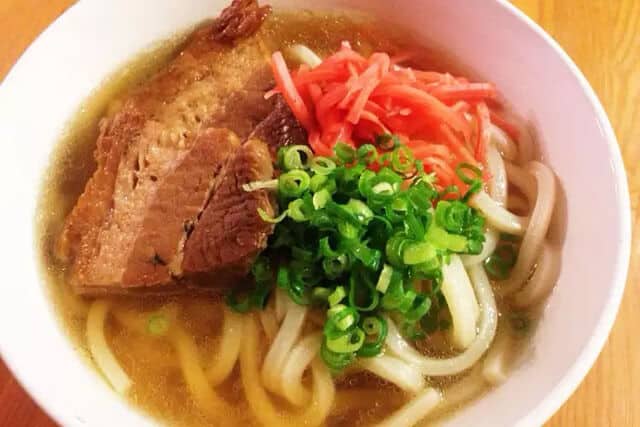 The general method of making soba is to add Okinawa's specialty brown sugar, awamori, soy sauce, dried bonito, etc. The soki meat serves as the topping of the soba. It takes time to cook the meat until it becomes soft so one can eat the cartilage. 
Mixing wheat flour with supernatant lye and soaking wood ash in brackish water containing sodium carbonate makes Okinawa soba. It develops a unique elasticity and flavor of the noodles with protein reacting on the wheat flour. The soup stock consists of pork bones and dried bonito flakes. It becomes turbid when you boiled it too much so you should prepare it with the utmost care. You can add plenty of dried bonito flakes to the carefully simmered pork bones. Some shops serve varieties of Soki meat, but they simmered it with sweet and spicy soy sauce and brown sugar. It has a rich taste that goes well with the light Okinawa soba soup.
WHAT IS THE DIFFERENCE BETWEEN SOKI SOBA AND OKINAWA SOBA?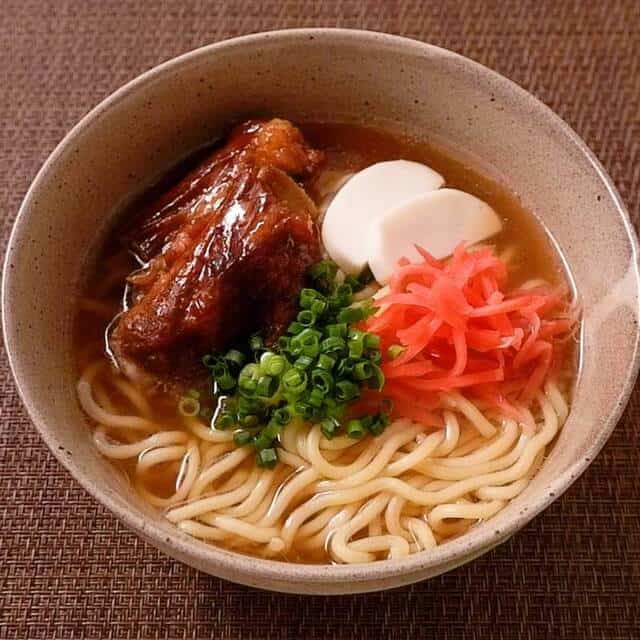 The difference between Okinawa soba and Soki soba is their toppings. Soki soba is an Okinawa soba with Soki as its topping only. There are various types of Okinawa soba, such as the vegetable soba, Tebichi soba, and Soki soba.
HOW MUCH DOES SOKI SOBA COSTS?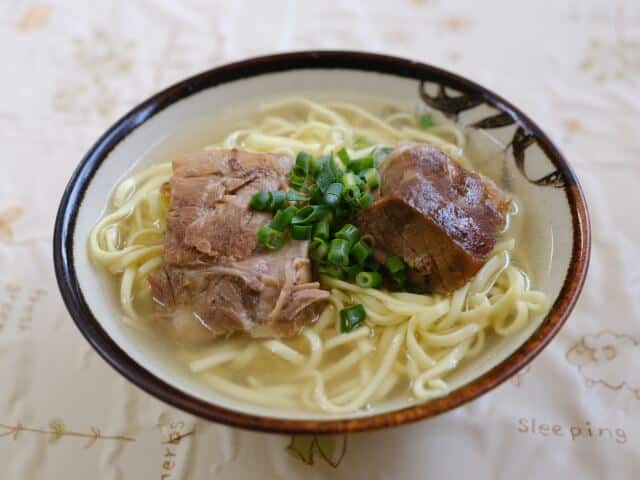 Okinawa soba restaurants serve different varieties of it that include Soki soba as well. Its prices usually vary between 500 to 800 yen around $5 to $8 per serving.
WHAT ARE THE OTHER TYPES OF OKINAWA SOBA?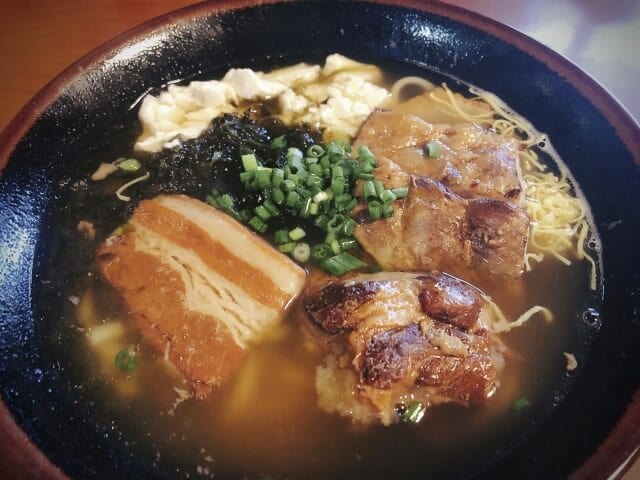 There are various types of Okinawa soba according to their toppings. One is the Soki soba that uses soki or pork spare ribs as its topping. It is one of the most popular kinds of soba in Okinawa. The second one is the Tebichi soba. Tebichi is a boiled pig's foot. Start the process, first by boiling it for several hours on low heat. By doing this, it will make them soft, glutinous, and easy to eat. The third one is the Sanmainiku soba. "Three-layered pork" is the dialect for Sanmainiku. Its fat is full of collagen despite looking like a chunk of fatty meat. Collagen is a good ingredient for revitalizing the skin.
WHAT ARE THE BENEFITS OF EATING PORK RIBS?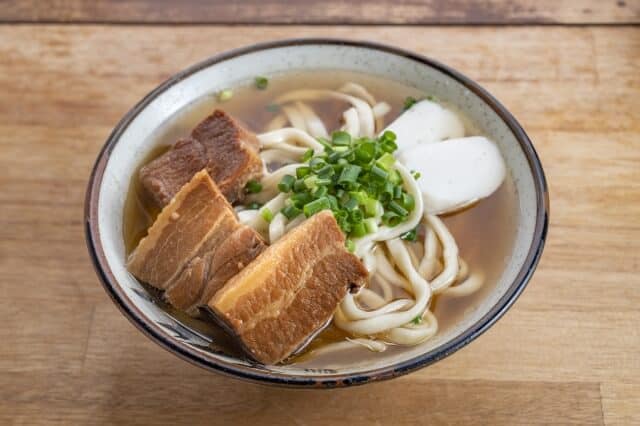 Pork ribs have Thiamin (B1) which contributes to your heart function, energy creation, and the maintenance of your mental and emotional state.  It also has Niacin (B3) which contributes to energy creation, mental health, nervous system function. Niacin B3 also contributes to the reduction of tiredness and fatigue and may play a role in cancer prevention. Pork ribs also contain Vitamin B6. It contributes to your immune system, mental health, blood health, the reduction of tiredness and fatigue, and supports healthy hair.
WHAT IS THE DIFFERENCE BETWEEN BEEF RIBS AND PORK RIBS?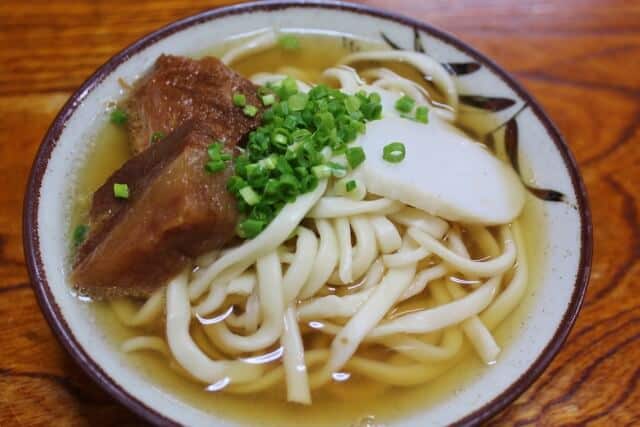 Beef ribs come from cattle, and pork ribs come from pigs. Pork ribs are pretty versatile. You can roast them in the oven, barbecue them on the grill (low and slow), smoke them, or cook them in a slow cooker. Pork ribs will usually cook in 1-2 hours. 
Beef back ribs are similar to pork ribs – in terms of cooking techniques. Beef back ribs can be barbecued on the grill (low and slow) or smoked. They will need to cook for 1-2 hours. If you cook beef back ribs on the grill or roast them in the oven, they will probably not be quite as tender as pork ribs.
RECOMMENDED SOKI SOBA RESTAURANTS
Sumanumeh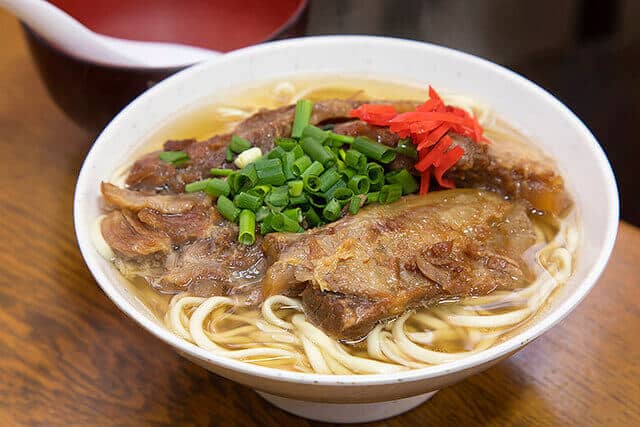 The first recommended restaurant where you can eat Okinawa soba is "Sumanumeh." The store atmosphere is fair as an old Okinawan house. It also has a cute Shisa figurine that will welcome you at the entrance of the shop. In Sumanumeh, not only the standard "Okinawa soba" is served. The store also serves "Soki soba" with spare ribs, "Tebichi soba" with pork leg, and healthy "Yushidofu soba." You can enjoy these four types of Okinawa soba. 
Ibe Sogawa Shokudo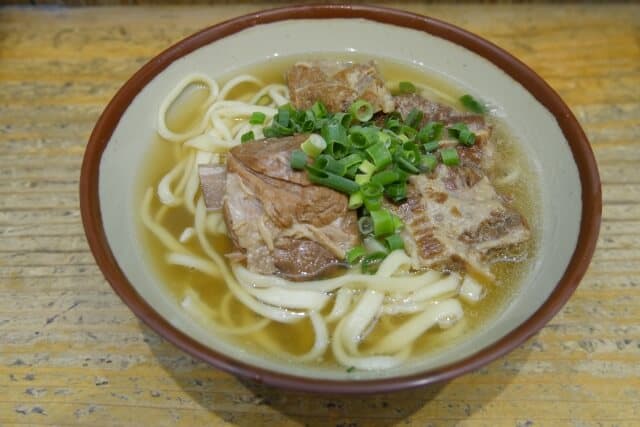 According to a well-known story, soki soba originated from this restaurant which is often eaten in the prefecture today. The "Soki soba" spread faster than this restaurant's development and became a standard "Okinawa soba" menu. Ibe Sogawa Shokudo is like a typical restaurant in Okinawa and consists of a table seat and a tatami-mat.
Shuri Horikawa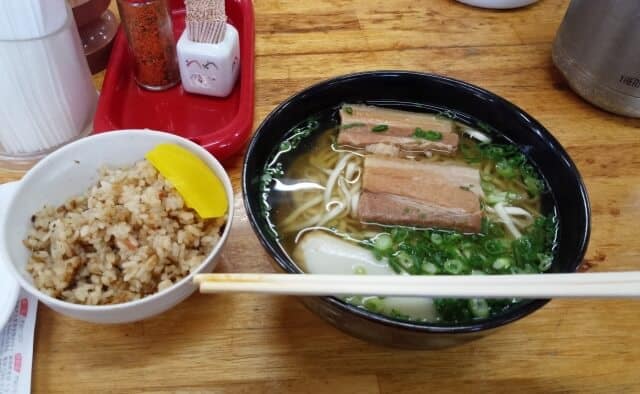 If you are near Shuri Castle, you can have an Okinawa soba or Soki soba in Shuri Horikawa. It is a 2-minute walk from Okinawa's world heritage site "Shuri Castle" and a 20-minute drive from Naha Airport. You can enjoy "Okinawa soba" with three kinds of meat and "Soki soba" with spare ribs. The carefully simmered thick pork and the thick turbid soup go well together. The flavor of dried bonito and ginger tighten the taste, making it irresistible.
Airport restaurant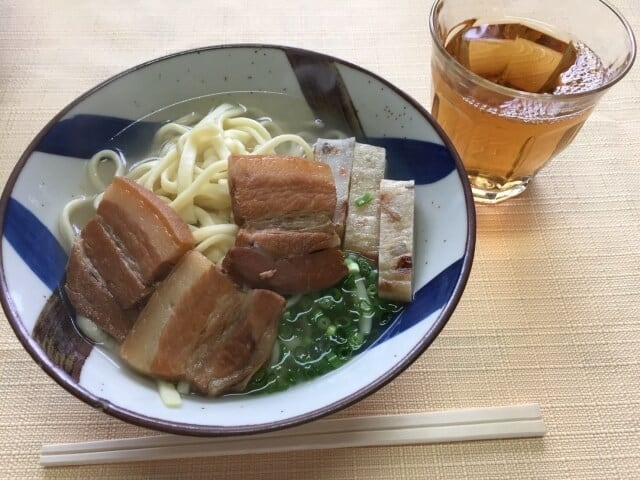 The trip to Okinawa after a flight makes a person hungry. The next recommended shop is the Airport restaurant. This shop is an employee cafeteria on the 1st floor of the Naha Airport Domestic Terminal Building. Here, you can eat various types of Okinawa soba. Soki soba, Vegetable soba, Pork egg soba, Tebichi soba, and Yakisoba are just some of those types that will surely get your taste. In addition to the six varieties of Okinawa soba, there is another well-known local gourmet "Chanpuru."
Sobaya Yoshiko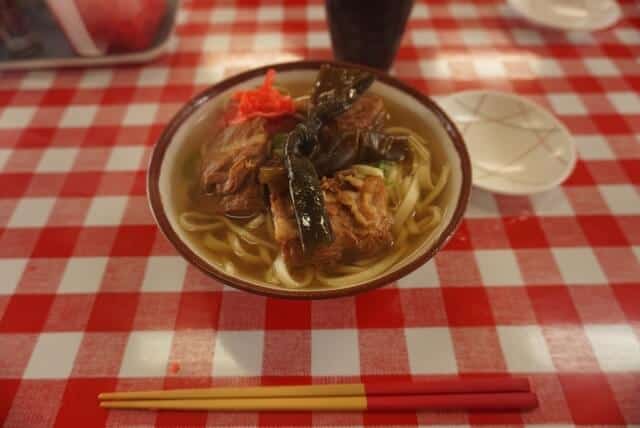 Sobaya Yoshiko is along Prefectural Route 84. There are many  Okinawa Soba restaurants here besides this shop. With 27 tables and 12 tatami rooms, the interior becomes spacious and spacious. You can order a mixed soba noodle with soki, pork belly, and tebichi. 
The soup consists of bonito and pork bone soup. Both bonito and pork are delicious. The saltiness is moderate and you can also add soy sauce. The pork belly is thick and chewy. The soki also has a crunchy texture of cartilage that is just right for your taste.
CONCLUSION
Soba restaurants, which had once disappeared due to the effects of the war, have been revived after the war and have increased in number.  After that, some stores used various ingredients and competed with each other. They used Japanese-style soup stock using bonito and kelp and developed it as a prefectural food. 
Having multiple varieties of a dish to choose from isn't anything uncommon to all. It just proves that the Japanese discovered a new dish that they thought will fit the taste of the common people. Okinawa soba shouldn't be mistaken for its types but, the mistakes became natural to Japanese locals.