In Japan, people celebrate Jinjitsu no sekku (or Nanakusa no sekku) annually on January 7. On this day, Japanese have the custom of eating Nanakusa gayu (seven-herb rice porridge) hoping for good health for the coming year. So, when did this custom begin and what are the seven spring flowers (nanakusa) eaten in this dish? Let's find out in today's article!
What is Nanakusa gayu?
After all the holiday indulgences, Nanakusa gayu or known as Seven Herb Rice Porridge is traditionally eaten in Japan on New Year's Day, Jinjitsu-no Sekku (人日の節句). It is a salty porridge made with ingredients such as the seven herbs of spring and rice cakes, eaten on January 7th to pray for good health for the year. The simple meal of rice porridge hits the spot after all the feasting and helps their overindulged stomach to heal and recover. The custom of eating rice porridge with seven herbs on Nanakusa Day is one of the five seasonal festivals, such as Joshi no Sekku (Peach Festival) and Tango no Sekku.
Seven Herbs of Spring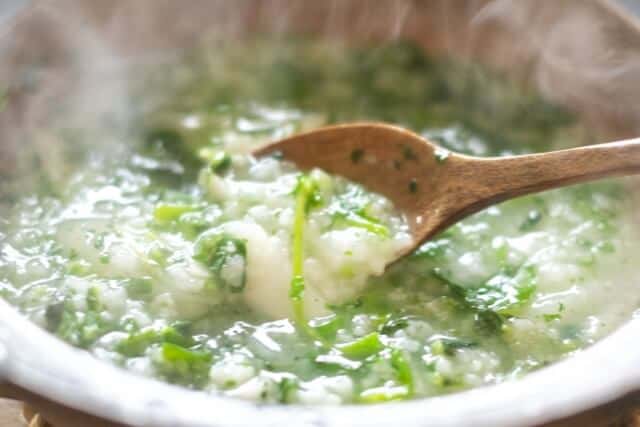 There is an old poem about the seven herbs of spring that no one knows about. "Seri, Nazuna, Gogyou, Hakobera, Hotokenoza, Suzuna, Suzushiro, these are the seven herbs."
Seri
It is a wetland plant with a height of about 30 cm, also called Shironegusa, and has an underground stem. The name "Seri" comes from the fact that it grows in clumps as if competing.
Nazuna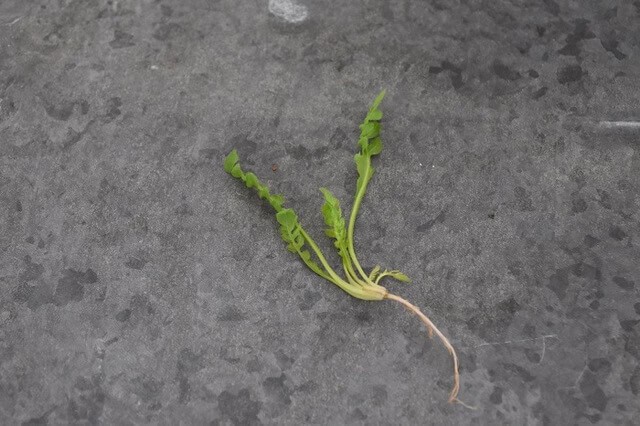 Shepherd's purse, which is about 20 to 40 cm tall, is a biennial herb. There are various theories about the etymology. "Natsu no" because it dries up in summer. In addition, the cute name is "Nadena".
Gogyou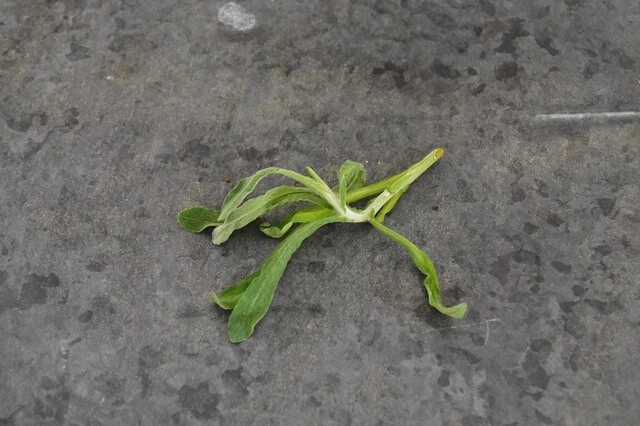 This grass, which is also called ogyo or gogyo, is a boxy grass, and its leaves grow like a rosette in winter. It grows to 20-30 cm in spring and has round yellow flowers.
Hakobera
It is a small grass about 10 to 20 cm long, and popular as food since ancient times, and still used as food for chickens.
Hotokenoza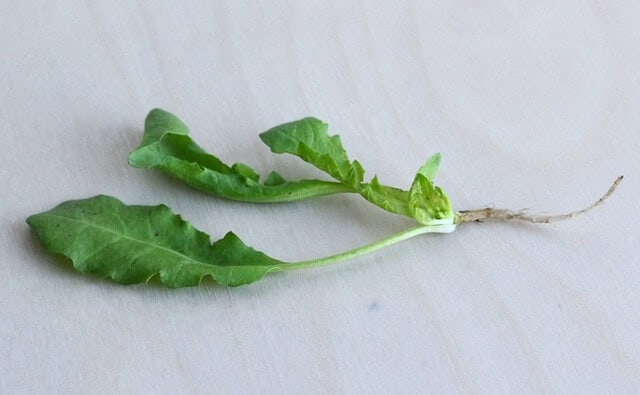 It grows in paddy fields and its young leaves are edible. Because the leaves spread like a rosette-like a dandelion, they called it "Buddha no seat" because it resembles the Buddha's seat.
Suzuna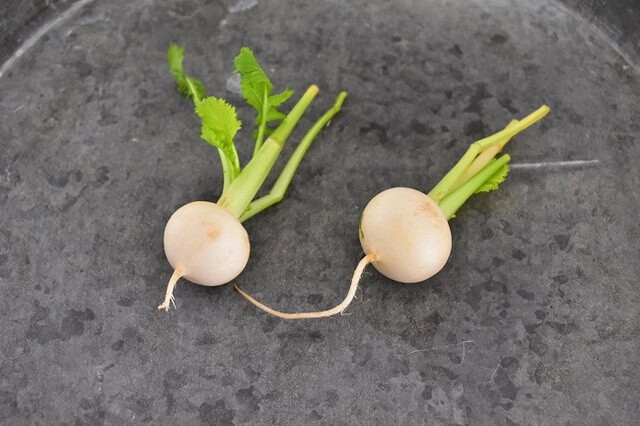 It is a turnip of vegetables that the enlarged root part is often eaten. Suzuna is also written as 菘 or Suzuna. Suzuna seems to be the etymology of flowers resembling bells.
Suzushiro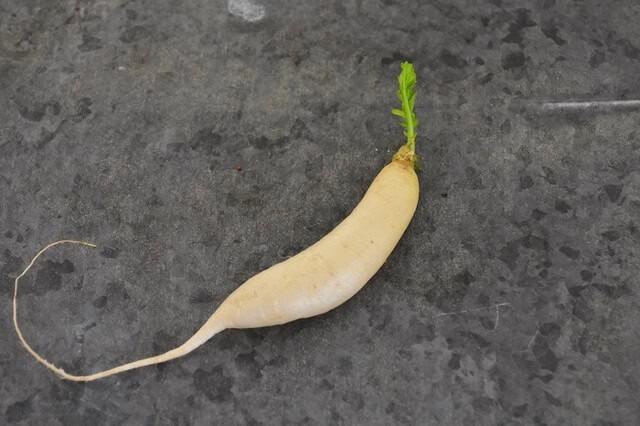 Like turnips, the enlarged roots are edible. The flowers are purple or white and resemble turnip flowers.
Etymology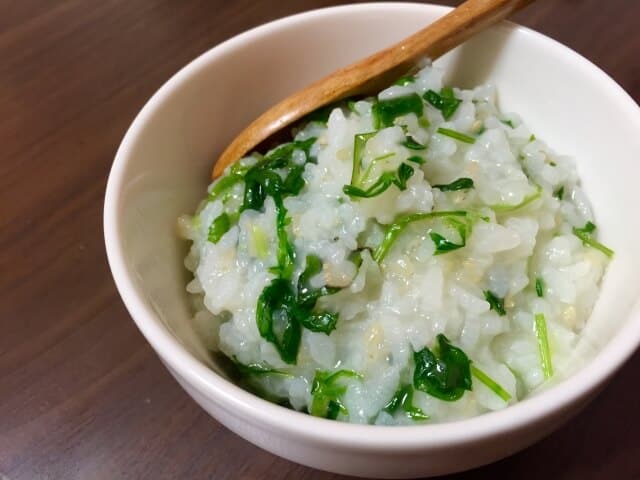 It is a type of okayu or rice porridge that consists of seven (七 nana) herbs (草 kusa). Japanese sometimes call it haru no nanakusa (春の七草), which means spring seven herbs, because young herbs that are available during this time of year are more tender and fragrant.
Nanakusa gayu History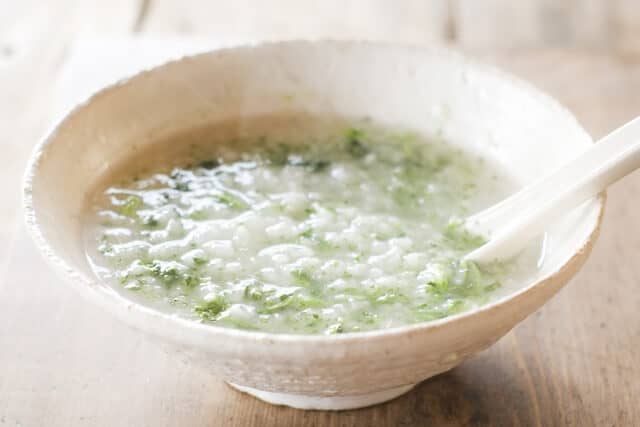 Nanakusa porridge originated from a Chinese custom. When China was called the Tang dynasty, on January 7th, at the People's Day Festival they served a soup with seven kinds of vegetables called shichishu Saiko (or shichishu no Saiko). There was a custom to eat and wish for good health. Customs similar to this can be seen in old records. The custom of doing so was practised in various places.
In Japan, since the Nara period, about 1300 years ago, there has been a custom called "Wakana picking", in which they picked young green shoots that emerge from the snow to receive the vitality of the plant. Manyoshu and Hyakunin Isshu also include songs about the seven herbs (picking young herbs).
Nanakusa gayu Recipe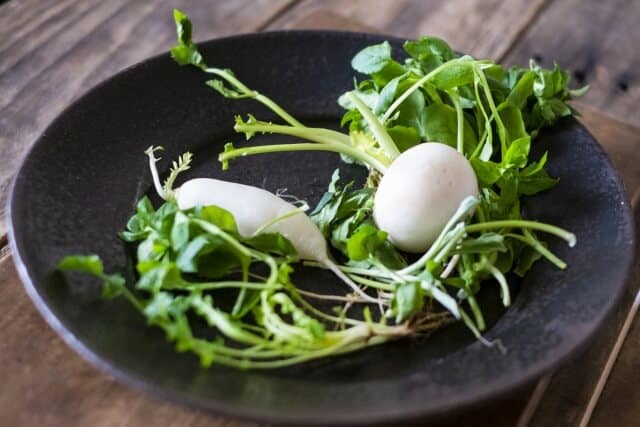 Nanakusa gayu Ingredients
| Ingredients of Nanakusa gayu for 4 people | Measurements |
| --- | --- |
| Rice | 150g |
| Seven Herbs | 10g |
| Salt | 3g |
| White sesame | 2g |
| Black sesame | 2g |
How to make Nanakusa gayu
Cook the rice
Drain the rice, put it in an earthenware pot with 900ml of water, and when it boils, reduce the heat to low and cook for 30-40 minutes. If it seems to boil over halfway through, slide the lid to let the steam escape.
Prepare the herbs and seasonings
Finely chop the seven herbs. 5 minutes before the rice porridge is cooked, sprinkle a little salt and mix it all over the nanakusa.
Serving
Place in a bowl and sprinkle with white and black sesame seeds.
Why do you eat nanakusa porridge?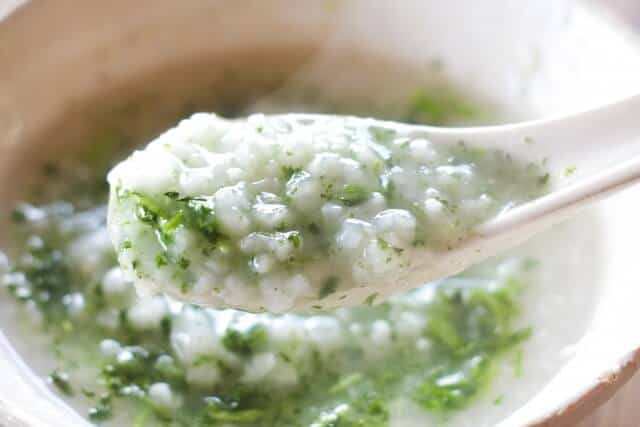 On January 7th of the New Year, the Japanese observe a tradition known as nanakusa no sekku (七草の節句), or the Festival of the Seven Herbs, by eating a healthy rice porridge called Nanakusa Gayu (七草粥). This time-honoured custom is believed to bring good health and ward off evil spirits for the rest of the year.
Song of Nanakusa Gayu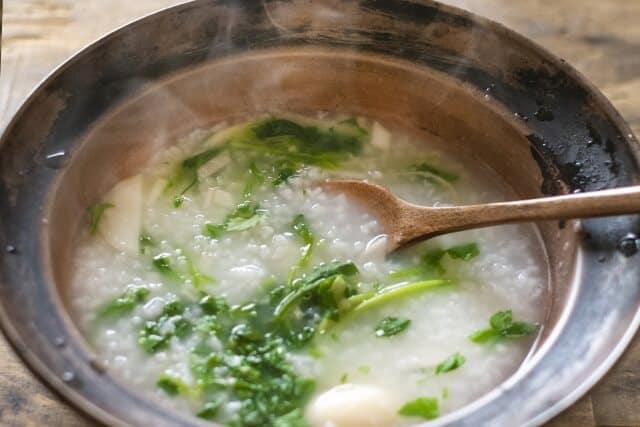 On the night of January 6th, the seven spring herbs harvested by picking young greens are chopped with a kitchen knife to prepare the rice porridge. When carving the seven herbs, locals sing a folk song called "Nazuna Nanakusa". Nanakusa-bayashi differs from region to region, but the lyrics include common words such as "Karachi", "Bird", and "Wandering". "Karachi no Tori" refers to Chinese birds, and Nanakusa Hayashi has the meaning of "Destroy Chinese birds before they come to Japan and destroy crops or bring diseases." rice field.
Why do Japanese eat Nanakusa Gayu?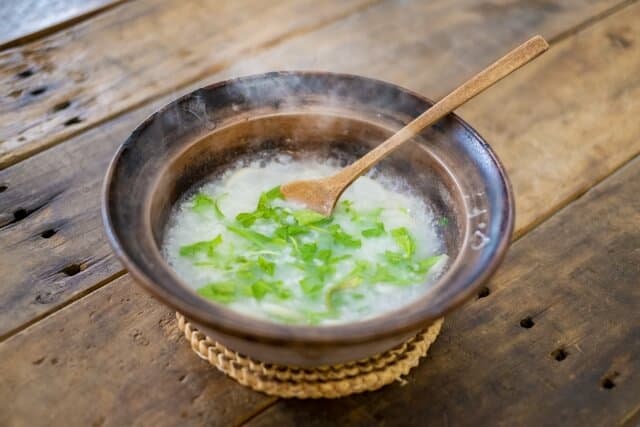 The seven herbs are said to ward off evil because they sprout quickly in early spring. In the old days, they also decided the number of times they chopped the herbs on the cutting board. It's nice to eat it like a charm, but actually, this nanakusa porridge is a custom that goes well with cooking. Nanakusa is a kind of Japanese herb, which locals eat in porridge that does not put a burden on the stomach and intestines. In addition, the light porridge has a very fresh taste after a series of slightly strong New Year dishes.
Where to buy Nanakusa Gayu
Porridge Restaurant Shinjuku Keio Mall (粥餐庁 新宿京王モール店)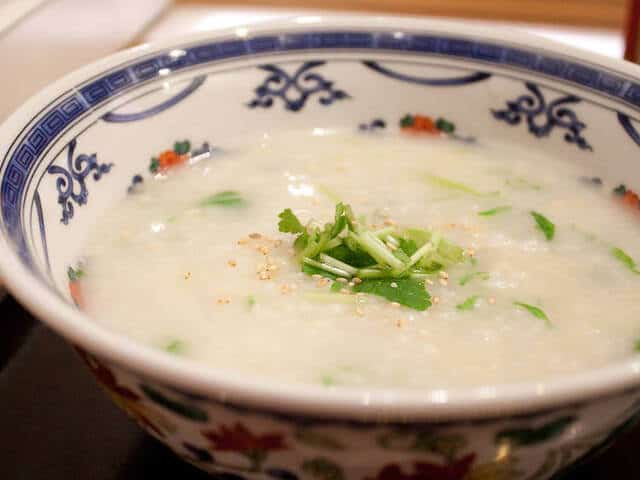 A specialty store of slow food "Kyu" with the concept of "Chinese cuisine of Japan's four seasons". Based on the idea that medical food is the same source, they prepare seasonal porridge every week so that you can stay healthy both physically and mentally by eating seasonal foods. Every year, they offer a limited amount of "Hokkuri Daikon and Nanakusa Porridge" (¥790) during the seven herbs season. It looks like a simple white porridge, but it is a dish with softly boiled daikon radish and seven herbs in the bottom of the rice porridge. 
Soup Stock Tokyo (スープ ストック トーキョー)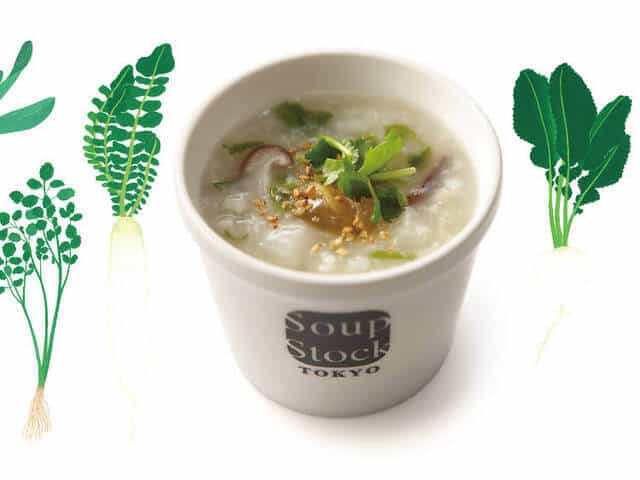 At Soup Stock Tokyo on January 7, Nanakusa Gayu, one of the traditional Japanese foods, will appear at all stores on January 7 only. What they offered is "Setouchi red sea bream porridge with seven herbs" (¥470, S size only). Just as the soup of the restaurant is a dish that brings out the original taste of the ingredients, the interior of the restaurant is a space that makes use of materials such as concrete, terrazzo, tiles, and wood.
Atago Shrine "Nanakusa Fire Festival" (愛宕神社)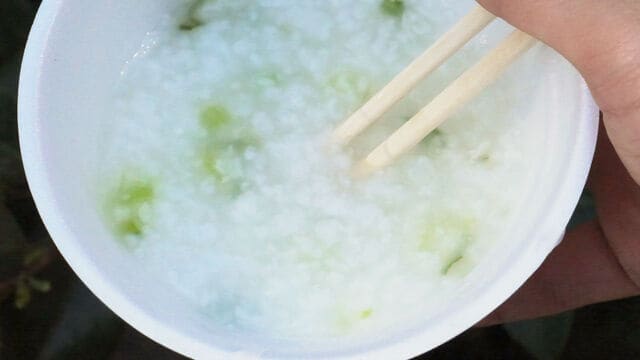 Since the Edo era, the business has been honoured as the deity of fire prevention in 808 towns. Every year on January 7th, a holy tree is in front of the altar, New Year's decorations and old banknotes tossed up, and "Saotome no Shinji," a performance of the nanakusa tataki's ancient words, is performed. Worshipers are served rice porridge with seven herbs at the end of the ritual, and the precincts are packed. The event will begin at about 11:00, and the amount of Nanakusa porridge will be lowered after the festival, around 12:00.
Final Thoughts
When people in Japan are feeling under the weather, they frequently eat a basic bowl of okayu since it is light, soothing, and easy on the stomach. It is an appropriate meal for healing any heavy sentiments or illnesses. It makes sense to eat nanakusa gayu as we close up the New Year festivities. Because there is little green during this time of year, the young herbs added to the porridge add colour to the table and symbolise renewal for the next year.
There are some other traditional New Year's cuisine from Japan that will surely make you want to try them, such as Osechi, Chorogi, Kuromame and Tadukuri.