We often say "Speaking of udon, Sanuki udon in Kagawa Prefecture", but what is the difference between Sanuki udon and other udon? Have you ever wondered? In this article, we will introduce the characteristics of Sanuki udon and how it differs from other udon. We will also introduce the characteristic way of eating Sanuki Udon in Kagawa Prefecture, so if you want to know about delicious udon and know about udon trivia, please check it out.
WHAT IS SANUKI UDON?
One of the traditional food in Japan specifically in Kagawa Prefecture called "Sanuki Udon" is characterized by many by its lightness and chewy noodles. Sanuki Udon was recommended when one has bad digestion and feels sick, also when one has no appetite. Originally, Sanuki Udon was mainly miso-nikomi udon seasoned with miso instead of the current bonito dashi and soy sauce-seasoned juice.
After that, Sanuki Udon was incorporated into people's diets as soy sauce spread nationwide which is also used in the udon soup. Sanuki Udon has been loved by lots of people even tourists cited that udon was the reason for choosing a destination and the first attraction of Kagawa for a long time and has been called "Udon Prefecture".
ORIGIN/HISTORICAL BACKGROUND OF SANUKI UDON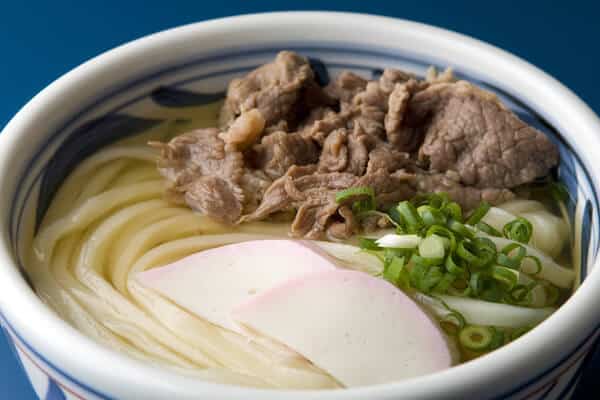 Udon is a simple food that can be made only with flour, salt, and water, but the workmanship varies depending on how the craftsmen make it. That's how profound it is. The main reason why udon has become popular in Kagawa Prefecture is that it was relatively easy to obtain the raw materials needed to make udon. Starting with wheat, the main ingredient, salt, and soy sauce. There are various theories about how Sanuki Udon emerged in Kagawa.
One was the "Kobo Daishi Kukai" theory wherein a priest of the Shingon sect, Kukai, traveled to Tang for a study abroad monk mission. He then learned the wheat cultivation method and the technique of making udon noodles there and spread this to the people of his hometown. He brought back a boiling kneaded wheat flour called "Konton" that everyone is eating in Tang. The name "Konton" becomes "kenton", and because it is boiled and eaten while hot, it becomes "onton", which in turn becomes "unton" and the current "udon".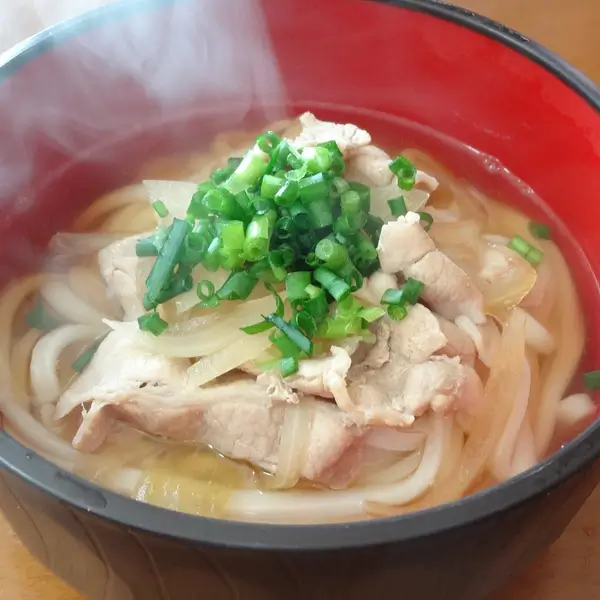 The last theory was about the "Dango soup" theory. This theory began with the spread of stone mills during the Muromachi period and it was presumed that the noodles at that time were shaped like crushed dumplings because in the middle of the Muromachi period, the stone mills became popular among the common people, and the eating habits of the general public changed drastically. Anyone can grind wheat flour, and "dango" will spread among the common people as a preserved food. This causes to become popular in various places in the form of "Dango soup" that gives a feeling of fullness other than rice.
It had evolved from the shape of dumplings into udon noodles, which are made into the current noodles that are easier to eat, such as making them easier to eat by chopping them and then spreading them thinly with your hands or fingers. However, both of the theories we have here have not yet been confirmed and so, the history of Sanuki Udon remains a mystery at the present day.
HOW IS SANUKI UDON MADE?
The Process of Making Sanuki Udon
Originally in the Sanuki region, due to the low rainfall, drought damage frequently occurred, and stable rice production was not possible and was regarded as a luxury item. Wheat was made instead of rice while being forced to live in poverty. Using this wheat, the people of the Sanuki region worked hard to make udon noodles and developed them into the current form of Sanuki udon noodles so that it can become a fine staple food rather than a substitute for rice.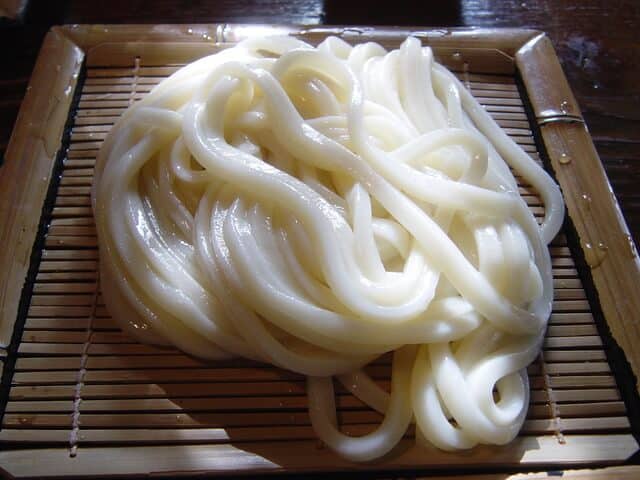 Sanuki udon is all about the noodles. Sanuki udon has a water content of which about 40% or more of the flour weight, a salt of about 3% or more of flour weight. The dough's aging time takes about 2 hours or more. And lastly, the boiling time is about 15 minutes and is expected to be sufficiently pregelatinized or the starch is gelatinized by adding water and heat to make it easy to digest. The unique elasticity of the udon is created by a large amount of water added to the dough and a significant amount of gluten that is seeped out during the process. Also, adding saltwater weakens the action of wheat proteolytic enzymes and prevents the dough from dripping, which is also a secret that creates strong elasticity.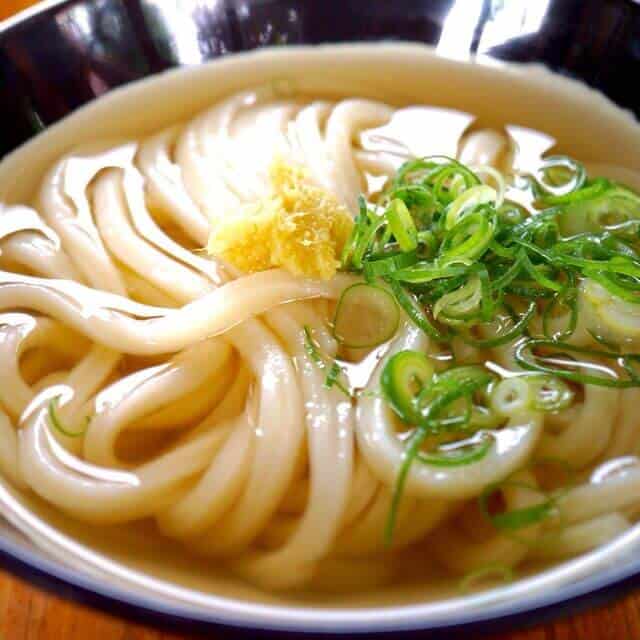 The udon food culture that has permeated the lives of ordinary people is also changing. The seasoning was said to be different depending on the region, such as the characteristics of it having a light taste and strong taste. Originally, it was mainly miso-nikomi udon seasoned with miso instead of the current bonito dashi and soy sauce-seasoned juice. After that, it was incorporated into people's diets as soy sauce spread nationwide, and it is also used in udon soup.
Sanuki udon also has half-raw udon noodles that are different from raw noodles and dried noodles. Half-raw noodles are noodles made by kneading wheat flour and saltwater and drying them with heated air to keep the water content higher than that of dried noodles. Noodles that eliminate the drawbacks caused by drying raw noodles, can be stored for a longer period than raw noodles, and maintain the original flavor of wheat flour compared to dried noodles.
What is so unique about Sanuki Udon?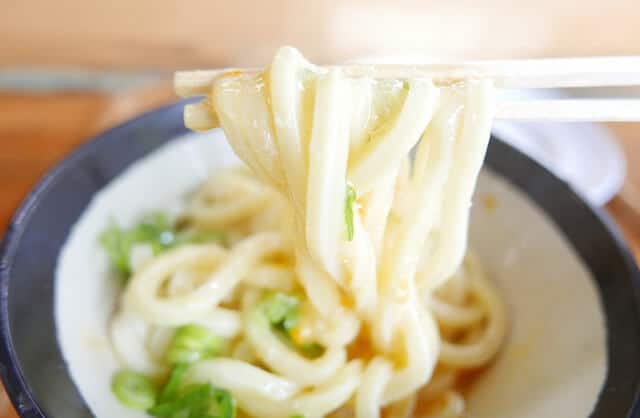 The biggest feature of Sanuki udon is its noodles. The noodles should be as soft as possible when you put them in your mouth, to have a chewy texture on them. The appearance of the Sanuki udon is more on glossy type udon, and the corners cut with a kitchen knife pass through. The texture is chewy and elastic, yet has a chewy and firm texture, and is characterized by its firmness that cannot be experienced with other udon noodles. It is smooth and soft to the touch, and you can feel the faint aroma of wheat each time you chew. Sanuki udon has a wide variety of ways to eat, such as kake, colander, kamaage udon, bukkake, and raw soy sauce.
Sanuki Udon is also characterized by the fact that ginger and green onions are often used as condiments, and these are compatible with Iriko soup stock. If you add spice with the strongest aroma to the soup stock, the flavor will be impaired, but the combination of Iriko soup stock and ginger will eliminate the odor and bring out the refreshing flavor of the udon noodles. In addition to this, red pepper and mustard, ground sesame seeds, Hanagatsuo, Sudachi have been used in the past. In recent years, the regional characteristics of foods have diminished and their availability has improved, and a wider variety of condiments has been offered.
RECOMMENDED SANUKI UDON RESTAURANTS
In the Sanuki Region, it has long been a custom to make udon noodles at home, and it has been eaten daily. Nowadays, it is less common to eat udon at home, but as many people eat udon every day, it continues to be loved as the most familiar food menu. Here are some of the recommended Sanuki Udon restaurants that one would love to visit.
Okasen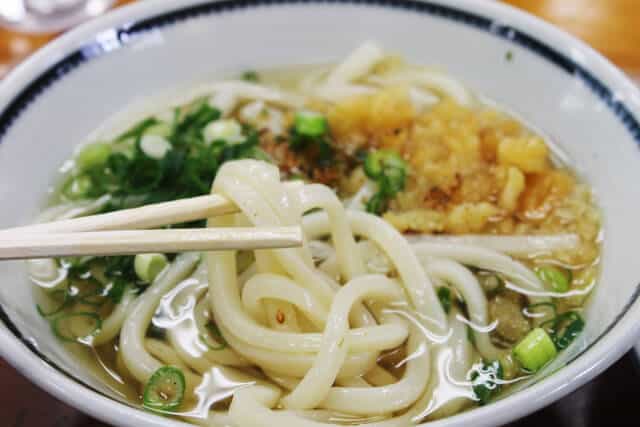 The first recommended store of Sanuki Udon in Kagawa Prefecture is "Okasen", which has been featured in the media many times as a famous store of Sanuki Udon, a specialty of Kagawa. You can see the essence of Sanuki Udon in this restaurant when it comes to its exquisite taste, its chewy and soft noodles, and its appearance. Many locals loved going to this shop just to eat because all the staffs are very accommodating and very friendly. Also, because it has been famous ever since when you went out to eat here during lunchtime, you will have to wait in line first before going inside the shop.
Gamo Udon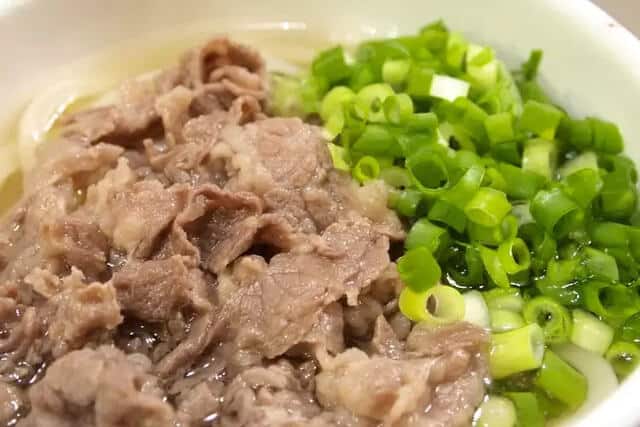 This shop is in rural scenery in Sakaide City, Kagawa Prefecture. It has been popular since the early Sanuki udon boom. The parking lot has expanded due to its popularity, but during the Golden Week holidays, the shops are often closed temporarily to prevent traffic congestion in the neighborhood.
A self-styled shop where you tell the general how many balls you want, whether the noodles are warm or cold, and when you receive the bowl, you choose the toppings yourself and sprinkle the soup stock. It's good to eat inside the store, but on sunny days it's recommended to sit outside on a bench and eat.
Hinode Seimen Jyo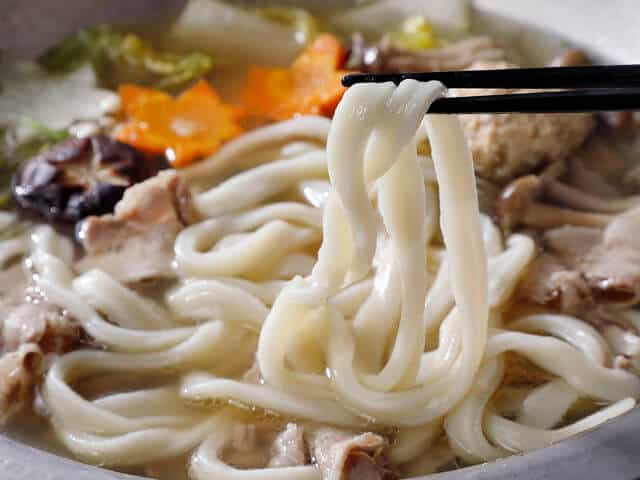 It is also famous for being open only for 1 hour from 11:30 to 12:30 at noon. Originally, it is a long-established noodle factory founded shortly after the war., but in response to the customer's desire to "eat on the spot", you can prepare a desk and chair for that time and eat. After only the noodles are brought in, the soup stock is sprinkled from the pot on the desk to eat. This shop offers a low price of udon yet you will be amazed by how delicious it was. The shop has given several past awards in the past and as of the present. The udon noodle itself is very pleasing and beautiful to the eye.
Suzaki Foods Shop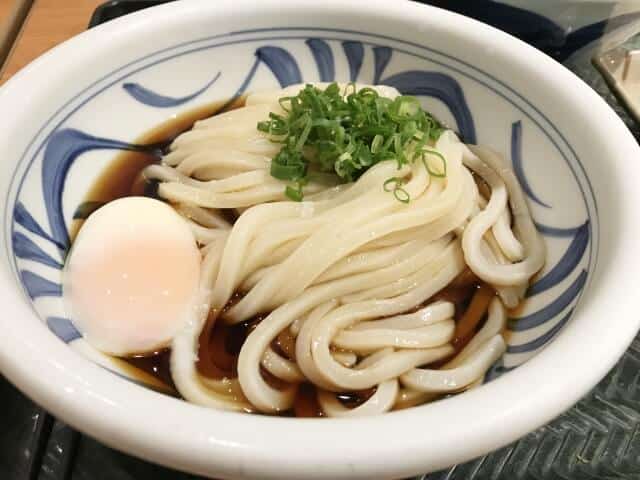 This shop at first glance is hard to tell whether it is an udon restaurant. You can savor your udon by sprinkling soy sauce on old-fashioned thick noodles which has strong elasticity. It is also popular to sprinkle eggs on it and eat it. It is a gem that you can feel the deliciousness and firmness of the noodles just by simple seasoning. The udon here is a popular source of deliciousness and you can eat it with soy sauce and eggs or whatever you want to eat it with. It also has a parking lot with 25 units capacity for those who would go out with their cars to eat here.
Handmade Udon Tamura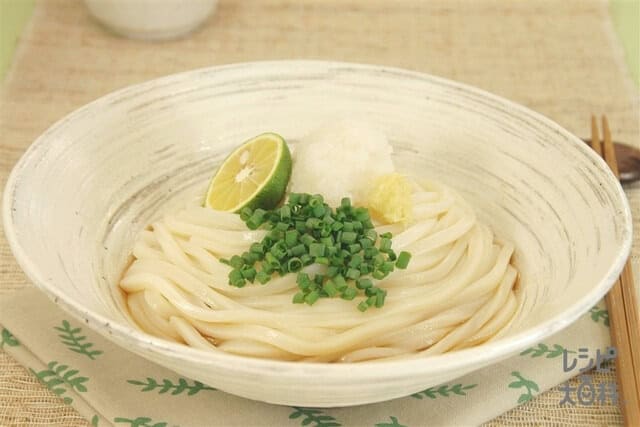 The shop has a simple exterior appearance. It is a well-known restaurant that became a rumor among local udon lovers before the Sanuki udon tour became a boom. Udon making has been taken over from the predecessor who was said to have the hand of God. The process of boiling the udon noodles in an iron kettle is top-notch. The shop is self-styled and the fee is postpaid. "Soy sauce udon", which is simply sprinkled with soy sauce to taste the strength of the body, is popular.
Another Udon in Japan
If you love Udon, Check another Udon in Japan! There are many Udon in various area.
Click here for it !