Have you ever heard of Wagashi (和菓子)? It is used to call traditional Japanese confections such as Dorayaki, mochi, dango, etc. Today, we would like to introduce Kibi Dango – popular Japanese sweet which has a very interesting folktale "Momotaro" behind its origin. Maybe some people have known this story, but do you know what Kibi Dango is and what is the connection between this sweet and the story "Momotaro"? Let's find out these interesting facts in this article!
What is Kibi Dango?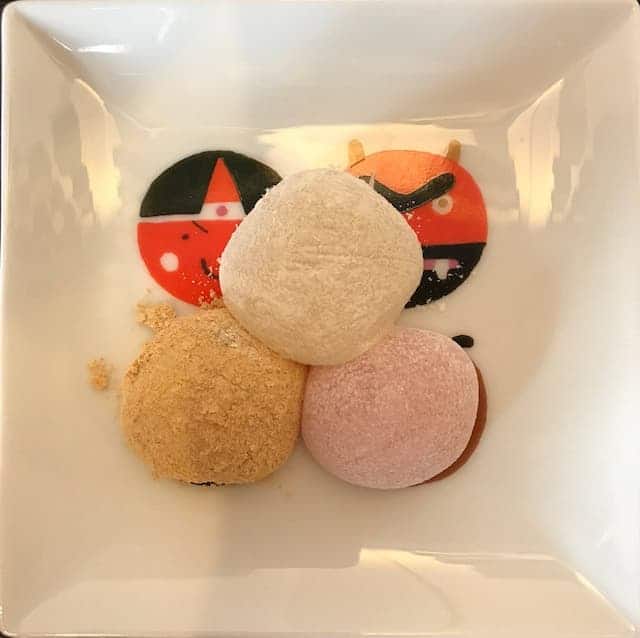 Kibi Dango (also known as millet dumpling) is a type of wagashi made using the kibi (millet) grain, characterized by its round shape and springy texture. This is a famous confectionery of Okayama City, Okayama Prefecture. Millet dumplings have a similar taste and look with mochi but these confections are traditionally made with millet flour, not sweet rice flour. Beside the normal Kibi Dango, there are also kibi dango made from kinako (roasted soybean flour) and anko (red bean paste).
Kibi (黍) means "millet" in Japanese. This is one of the five major grains in Japan including rice, wheat, beans, millet (awa and kibi). It is often used to boild to make Kayu (porridge) or made into rice cakes or dumplings. Kibi Dango is one of the most famous use of kibi in Japan.
History of Kibi Dango
The origin of Kibi Dango
Kibi Dango are dumplings made from millet, but that is not the only reason for the name. Millet dumplings are said to have originated at the end of the Edo period, when they were made by arranging gyuhi as sweets for tea ceremonies. Rumor has it that Asajiro Takeda first made it as a confectionery for a tea ceremony at the teahouse on the grounds of Kibitsu Shrine. It came to be called millet dumplings by crossing Kibi no Kuni with the raw material millet. Originally, kibi dango was sweet flavored with gyuhi pimple, and gyuhi seems to have been the main ingredient, not millet as today. In fact, most of the current millet dumplings use glutinous rice flour as the main ingredient rather than millet.
Another theory holds that the origin of kibi dango originated from the bountiful millet harvest during the Edo period. At that time, the harvest was so good thata lot of millet was harvested. As a result, it was made into confectionery and eaten. Millet was cultivated in Kibi Province, so it was named Kibi Dango. By the way, the Kingdom of Kibi (Kibi no Kuni) is now Okayama Prefecture. That is the reason why Kibi Dango becomes famous food of Okayama.
Kibi Dango in 19th century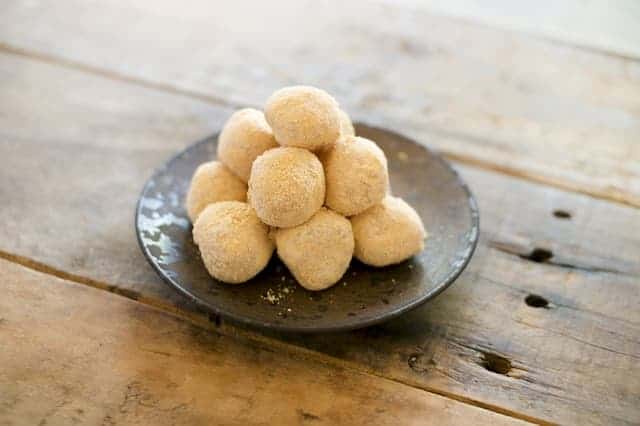 In the latter half of the Edo period, Hanzo Takeda, a wagashi craftsman at a shop called Hiroseya in the castle town of Bizen Okayama , improved Kibi Dango of Kibitsu Shrine (square-shaped wrapper and a red bean filling) and turned it into the protype of the current Kibi Dango (round balls contain no fillings). After that, Sanensai Igi (Tadasumi Igi), a chief retainer of the Okayama clan and a tea master, suggested to Hanzo that he should make Japanese sweets suitable for tea ceremonies. Further improvements were made to bring it closer to its present form, and it was finally named "Kibi Dango".
It wasn't until the Meiji period that millet dumplings became widely known as Okayama's famous sweets. In 1891, the Sanyo Railway opened and Okayama Station opened. As a result, kibi dango began to be sold at street vendors at the station, and became popular.
Momotaro and the connection with these confectioneries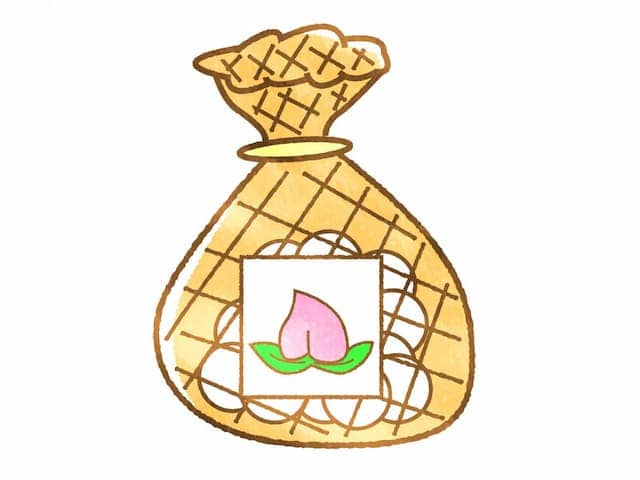 The folklore Momotaro
Momotaro (or "Peach Boy") is a popular Japanese folklore. There are also various books, films, animated shows and other media have featured this legendary hero. The tale can be summarized as follows:
Momotarō was born from a giant peach, which was found floating down a river by an old, childless woman who was washing clothes there. The woman and her husband discovered the child when they tried to open the peach to eat it. The child explained that he had been bestowed by the Gods to be their son. The couple named him Momotarō, from momo (peach) and tarō (eldest son in the family). When he was just five years old, he was able to cut a big tree with just an old knife.
When he matured into adolescence, Momotaro left his parents to fight a band of Oni (demons) who marauded over their land, by seeking them out in the distant island where they dwelled (a place called Onigashima or "Demon Island"). During the journey, Momotaro met and befriended a talking dog, monkey and pheasant, who agreed to help him in his quest in exchange for a portion of his rations (kibi dango or "millet dumplings"). At the island, Momotaro and his animal friends penetrated the demons' fort and beat the band of demons into surrendering. Momotarō and his new friends returned home with the demons' plundered treasure and the demon chief as a captive. (Source: Wikipedia)
The connection between Momotaro and Kibi Dango
In the early Showa period, in his hometown of Okayama, a story was born that linked the story of Momotaro with the legend of Kibitsu Shrine. After the war, as part of tourism PR, it began to be marketed as the hometown of Momotaro based on the legend of Kibitsuhiko and Ura of Kibitsu Shrine. Therefore, when it comes to Momotaro, people immediately think of Okayama while kibi dango becomes a staple of Okayama's famous sweets and Okayama souvenirs nationwide. As a result, Kibi Dango are now sold as the combination of Kibi Dango from Kibitsu Shrine and Momotaro's millet dumplings.
How to make Kibi Dango?
Ingredients
| | |
| --- | --- |
| Ingredients (for 4 skewers) | |
| Glutinous millet | 50g |
| Water | 100ml |
| Joshinko (rice flour) | 50g |
| Boiled water | 60ml |
| Caster sugar | 10g |
| Salt | a pinch |
| Topping | |
| Soybean flour | 3 tbsp |
| Caster sugar | 10g |
How to make?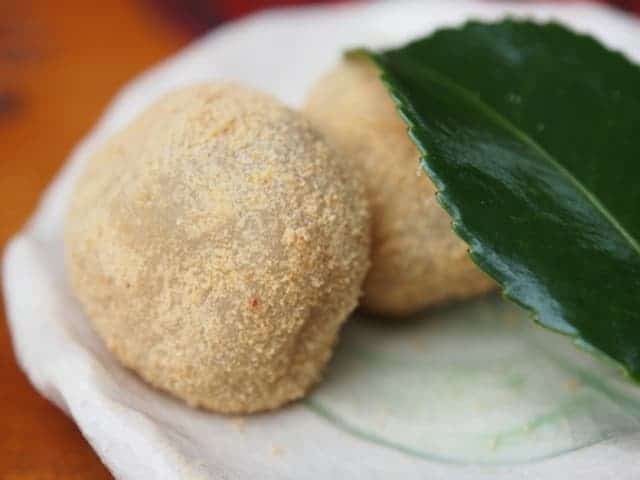 Preparing the glutinous millet
Firstly, soak the glutinous millet in water and drain it every 30 minutes.
Next, add glutinous millet and water in a heat-resistant bowl, cover with plastic wrap and heat in a 600W microwave for 5 minutes. Steam for 10 minutes.
Transfer to a mortar and grind with a pestle until sticky.
Preparing the Joshinko
In a heat-resistant bowl, add joshinko powder and hot water.
Next mix with a heat-resistant spatula, cover with plastic wrap and heat in a 600W microwave oven for 1 minute.
Mix with a heat-resistant spatula, wrap the mixture with plastic wrap again.
Heat in a 600W microwave for 1 minute. Add to mortar of glutinous millet and mix while crushing with a pestle. After that, add sugar and salt.
Rolling
Roll into 12 bite-sized balls. Then put the topping ingredients in tray and cover the balls with it.
Serving
Finally, add 3 pieces of kibi dango to each skewer and serve on a plate.
Various types of Kibi Dango to try
Momotorao (shoyu flavor) – Nakayama Shoyodo (中山昇陽堂)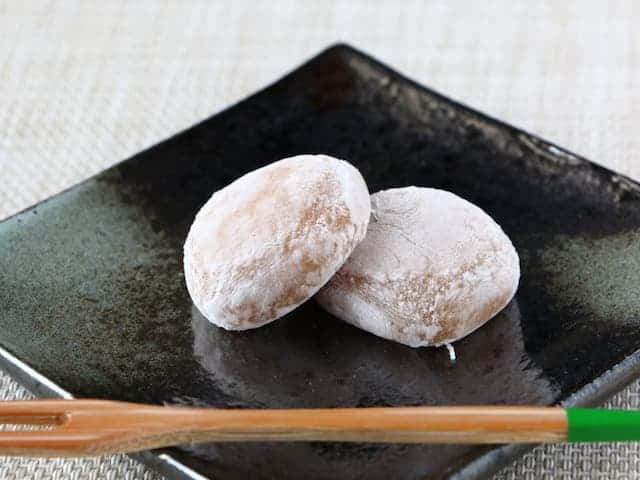 It is a creative Kibi Dango made by kneading the soy sauce of Tora Shoyu into the millet dumpling style of Nakayama Shoyodo. The name is based "Momotaro" and "Torao" of Tora Shoyu. The faint soy sauce flavor stimulates your appetite and makes you want to eat it again and again. To buy these sweets, you can easily order through websites and email, there is shipping service and various payment method including online payment or cash. Let's go buy some souvenirs for your friends and family!
KIBI DANGO (salted chocolate flavor) – Nakayama Shoyodo (中山昇陽堂)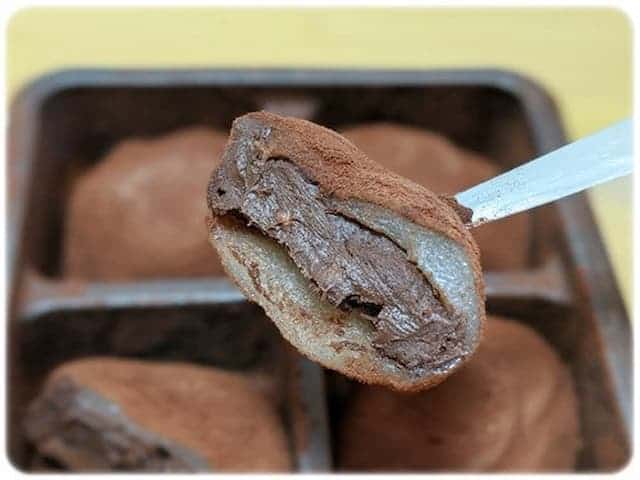 Another products of Nakayama Shoyodo. This time is chocolate with almond accents wrapped in salt-flavored gyuhi. It is a combination of Japanese and Western flavors, chocolate together with millet dumplings. If you want to try something other than traditional one, buy this one and give your own comment.
Ganso Kibi Dango (Sea salt flavor) – Koeido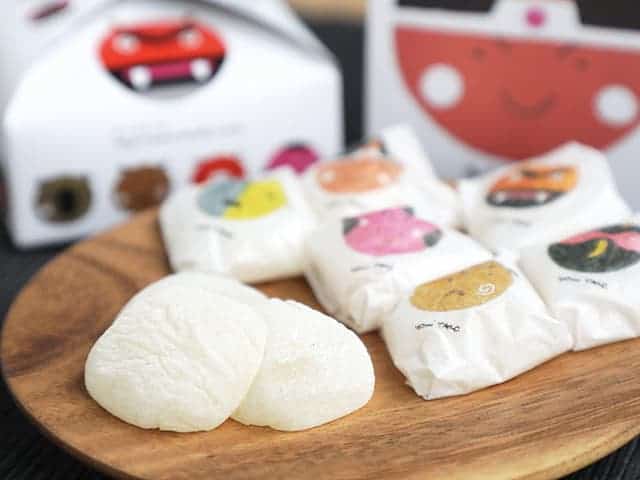 "Sea salt millet dumplings" use natural sea salt "Umisei" from Izu Oshima. The "sea semen", which is from seawater using a traditional Japanese method, contains enough minerals necessary for the human body. It's not too sweet and refreshing, so it's so delicious that you just can't help but eating it.
Mukashi Kibi Dango – Koeido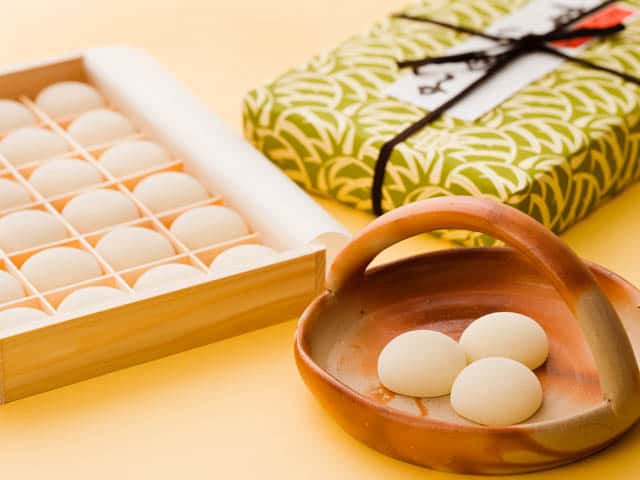 Koeido use specially cultivated rice grown in the Takamatsu district of Okayama City, which is famous for producing glutinous rice called "Mandokoro Mochi". Mukashi Kibi Dango is famous for its light sweetness and springy texture. It is a high-class millet dumpling, and it is often sold out on weekends.
Choco Kibi Dango – Yamawaki Sangetsudo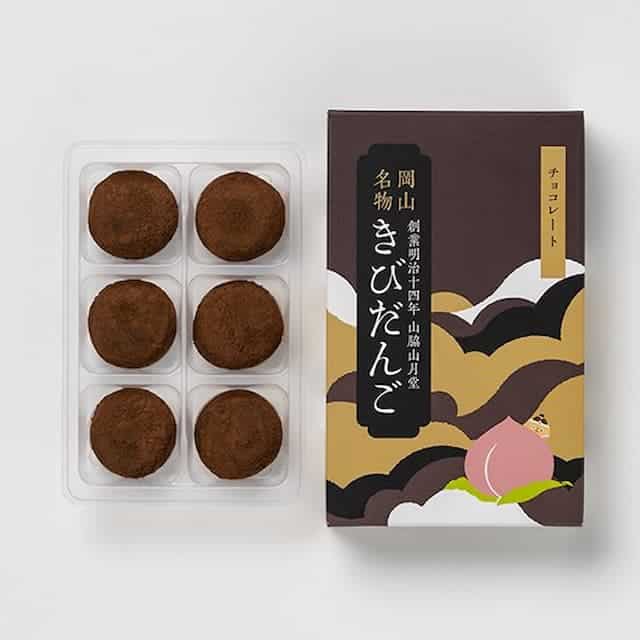 Soft chocolate with rich cacao flavor is in chocolate mochi. The rice cake is surrounded by cocoa powder, and it is delicious like sweets. If you want to buy some for yourself, just visit the website to order online or visit the nearest stores.
Muscat Kibi Dango – Takehisa Yumeji Honpo Shikishimado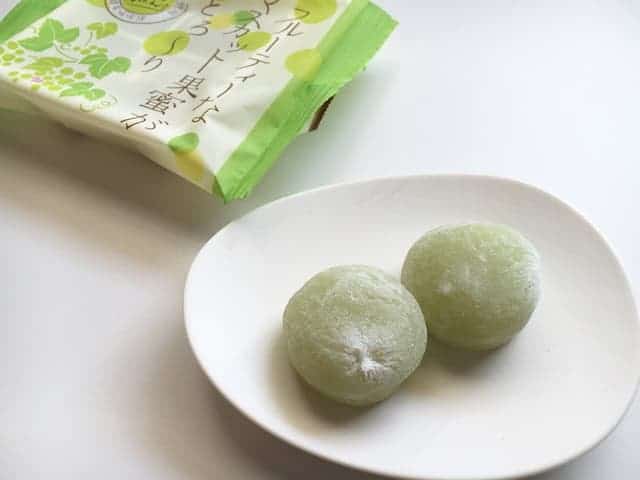 Muscat nectar from Okayama Prefecture is contained in the kibidango, and the fruity muscat spreads in your mouth is just something you want to experience more and more.
Takeaway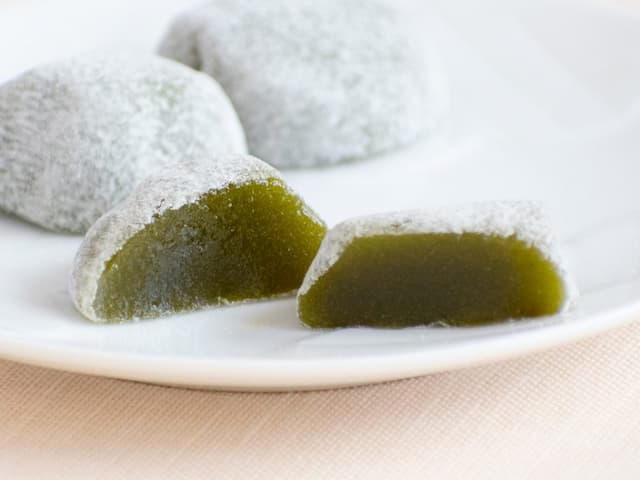 If you are a fan of sweet, especially Japanese sweets or wagashi, these confectioneries are must-try. With the spread of Momotaro, Kibi Dango is increasingly famous and eaten by a lot of people. In addition, there are a lot of different types beside the traditional one, some are really interesting and unique. If you are by chance in Okayama or simply curious about this food, just visit the websites we just introduce to buy some for yourself and your friends and family. How about enjoying kibi dango with some tea and chilling at home this weekend? Let's go and try it out!
If you are a fan of sweets, click here to find out more about wagashi.