Toyama Black Ramen is a pitch black soup based on soy sauce, and it has an outstanding impact in both taste and appearance. Why is it so black? Let' explore the reason in today's article. We are also going to introduce recommended restaurants that you should try when you visit Toyama prefecture. The taste of ramen is also unique to each store, so please find your favorite restaurant.
Toyama Prefecture's Unique Flagship Black Ramen
You can tell from a glance that the blackness of the soup is from soy sauce. You might think this ramen would be extremely salty, but these noodles are in fact light in taste and mixes well. The broth is a blend of the black soy sauce with fish stock and chicken stock. It has a variety of toppings that go with it and the side rice pairs perfectly. Adding the egg makes the soup more mild. Though the egg is not that common, the ground black pepper and chopped green onions are. The chosen protein for this ramen is pork. The taste is salty, yet so addicting that you will take bite after bite.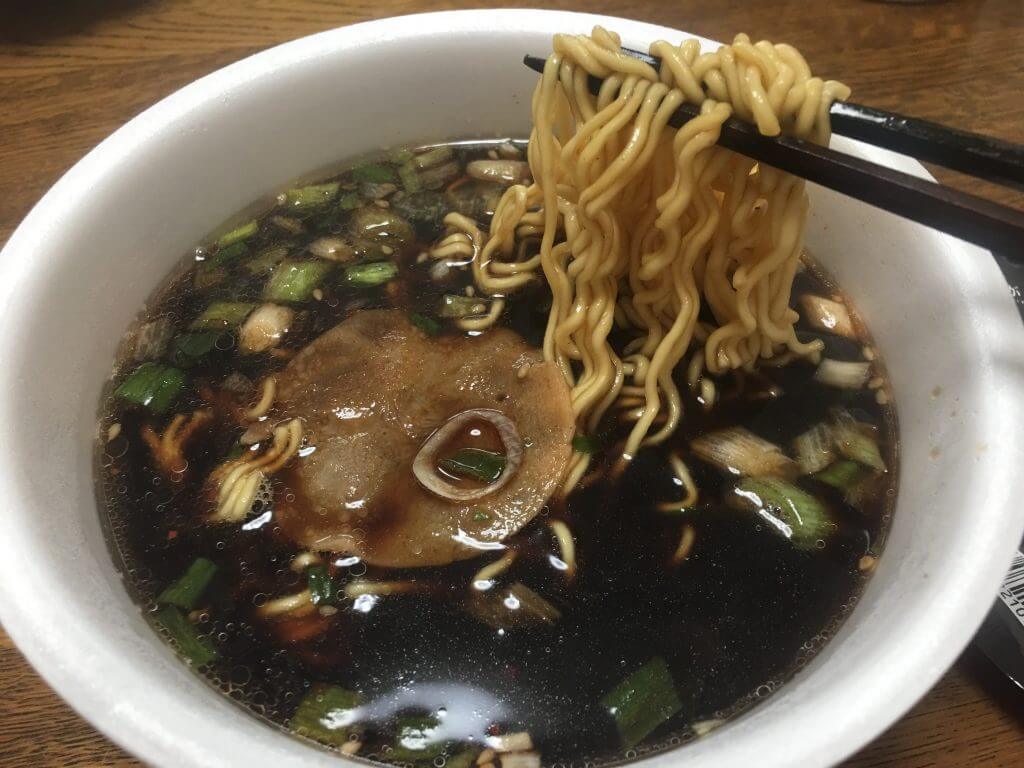 It looks so dark and mysterious!
Origins of the Black Ramen
As the name suggests, this black bowl of ramen comes from Toyama city in the Toyama prefecture. The history of black ramen dates back to around 1955 in this city. The soy sauce rich ramen was used as a good salt supplement for hardworking workers. There were a lot of manual workers for the reconstruction project of the Toyama bombing raid and this black ramen showed up in someones lunch. A hardworking origin.
It started out as a food stand, then later became a shop with the name Daiki. It then got turned into a brand name under Nishimachi Daiki. See the list of places to eat below for more information on this shop.
Toyama Black Ramen's Secret to this addicting bowl?
The famous Daiki restaurant does have a secret sauce recipe that has been passed down. The mix of the light noodles in the salty broth makes you keep slurping. The saltiness is paired with the sweetness of the rice on the side to make an addicting experience. The roasted pork simmering in the soup is also rich in flavor. This pungent flavor is increasing in popularity.
The Development and Renown of Toyama Black Ramen
The unique Toyama black ramen may not be the most known or popular bowl of ramen out there, but it has made a name for itself. Around Toyama city there are about 20 shops selling this ramen. The famous store Menya Iroha is known for serving the Toyama black ramen. The store has been featured in various media and even won the Tokyo Ramen Show three consecutive years since 2009. It has gone through great expansion with thanks to this bowl of addicting ramen.
You can even eat the amazing Toyama black ramen in cup noodle format. It makes for a great souvenir. It was first released nationwide in 2007 thanks to Meisei Foods. Then in 2009 Tokachi Niitsu Noodles and Kotobukiya Foods produced their own. A year later in 2010 Nissin Foods joined in too. Thanks to them you can now eat Toyama black ramen in the comfort of your own home.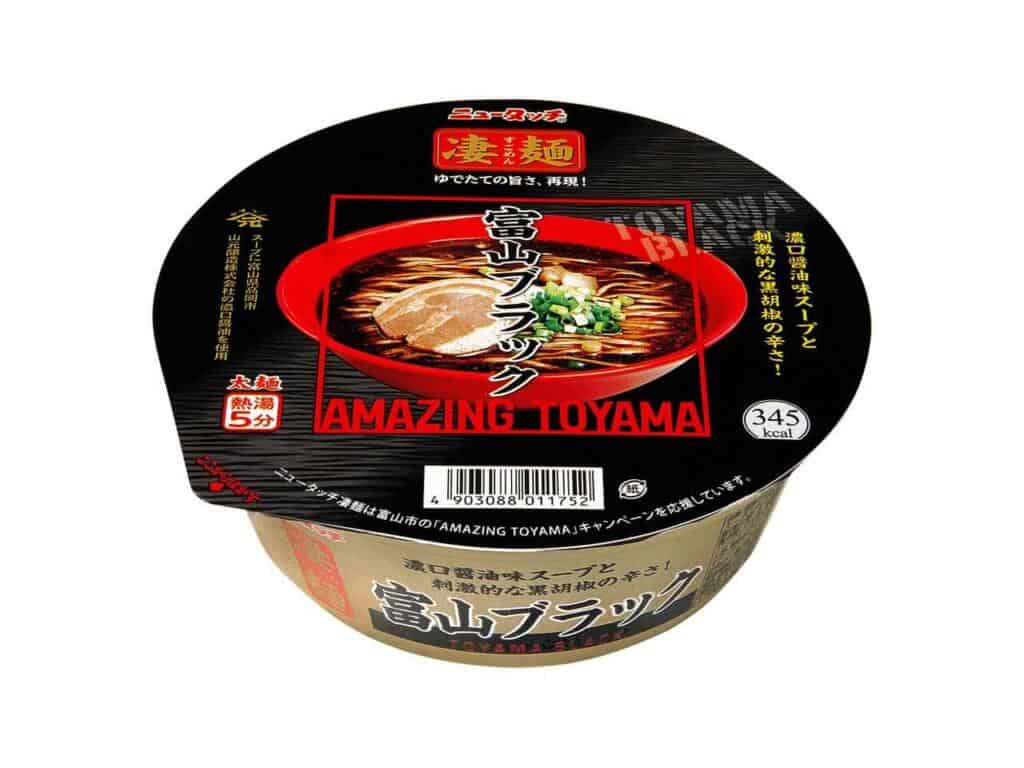 Restaurants of Toyama Black Ramen
To have the true authentic experience you gotta try this bowl of black ramen in the city it was born. Any ramen lover will have to put this ramen into their must try list. There is the restaurant that first started selling it, Daiki, and other great restaurants that serve it too. Customers keep coming back to it because it is that addicting.
Nishimachi Daiki Main Store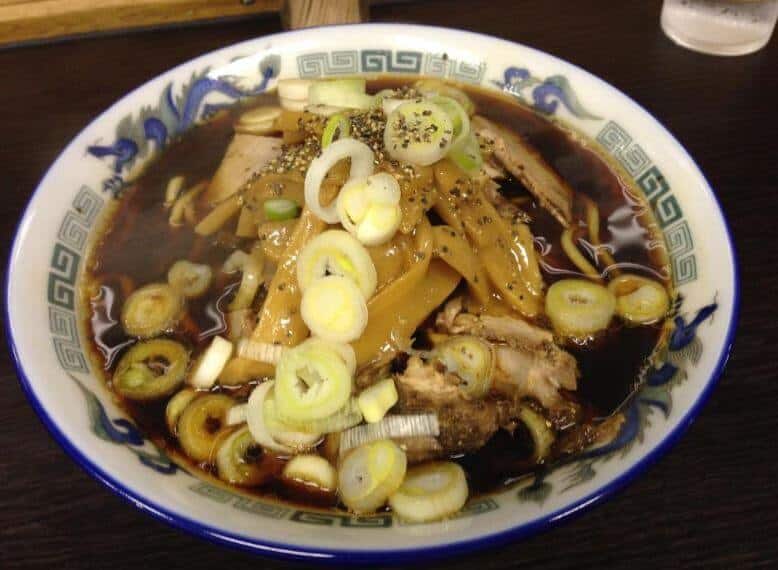 Can be referred to as "Nishicho Taiki Nishicho Honten", this is the original store of Toyama black ramen. Order a medium, large, or extra large helping and dig into this real nostalgic taste. They have a side menu for rice, where a lot of people will recommend the raw egg too, to help breakdown the saltyness. Their pork is well-seasoned and the noodles are perfectly chewy. Simple restaurant that only sells the traditional black ramen. The Toyama black ramen was seen as orthodox, but this shop became well-known for it. It has opened several stores and became easily accessible, one place being in conveniently in front of the Toyama station. Even though the original Daiki store has gone through changes of owners, it still stands as the original home. Their special secret sauce carries them still today.
Menya Iroha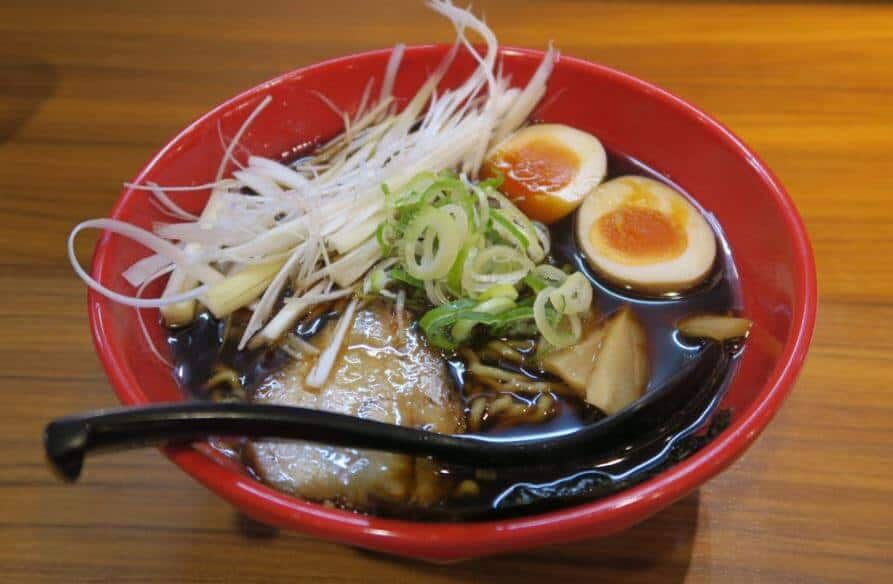 The popular and famous Menya Iroha has made a name for itself with the help of Toyama black ramen. It has become a chain restaurant with a permanent store in Ishikawa Prefecture and even stores overseas. They do not just sell black ramen, but have a wide variety of menu items. It is well known that a specialty here is the black ramen and some say it is lighter and less salty then other places. It is still rich in flavor and that is thanks to the fish soy they use. It is the mystery ingredient that they matured over many years, which is low in salt, but rich in flavor. There toro toro char siu is stewed for hours with their special black soy sauce and delivers a great taste and texture. The delicious black ramen here is a must try for anyone wanting to try this dish out.
Ramen no Shoryu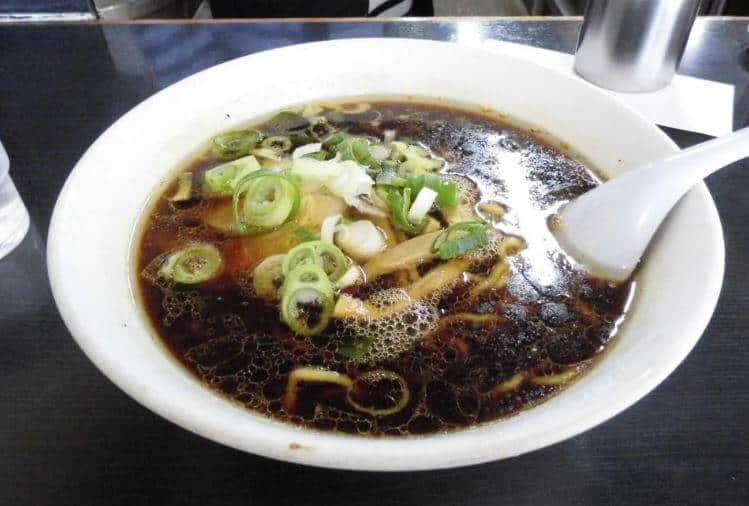 Here is a popular shop in the city of Takaoka. They serve a few different ramen and one of them is the Toyama black ramen. It is a highly rated and the jet-black ramen gets the customers intrigued. The noodles are home-made and the soup is made with chicken and pork bones. The main ingredient, the soy sauce, is made of two soy sauces, Noda soy sauce and Ono soy sauce. Its addicting taste brings the customers back for more.
Kihachi (Closed)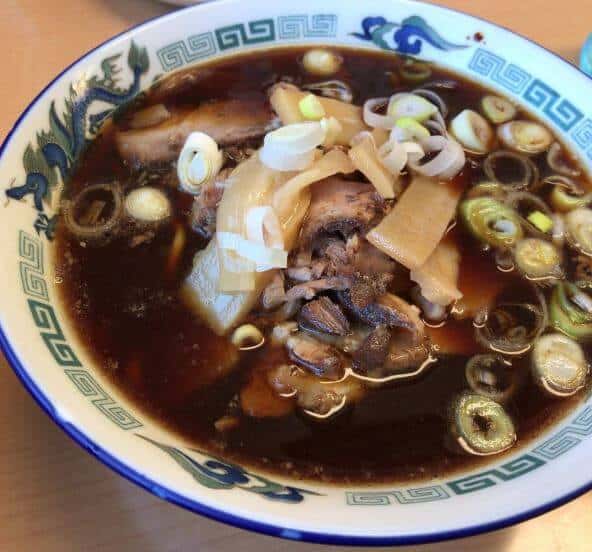 Another restaurant to eat the classic Toyama black ramen. The original taste will bring you back and feel nostalgic. They have a simple menu of the Toyama black ramen, Ecchu ramen, and a side of rice or rice balls. Simple yet that is all they need because the ramen brings in the customers. Their pork and menma are delicious, so give this place a try when looking for the nostalgic taste of black ramen in Toyama.
Ramen Makotoya
The restaurant main feature is the extremely thick noodles.
The extra-thick noodles go well with the deep-flavored soup that only Toyama Black Ramen can offer, making it a hearty dish in both taste and quantity.
Another Ramen in Japan