Talking about Japanese style street food, Gyoza is considered to be one of the most popular dish. Gyoza (餃子)is Japanese dumplings that usually consists of wheat flour based dough with various fillings such as meat, vegetables, etc. In China, the origin of Gyoza, steamed dumpling is the most common and often considered to be a main dish. However, Gyoza in Japan has some differences in preparing methods and ingredients that makes it become Japanese-style Gyoza, distinguishes from the original Chinese dumplings. There are several popular Gyoza in Japan but today, we will introduce Hamamatsu Gyoza.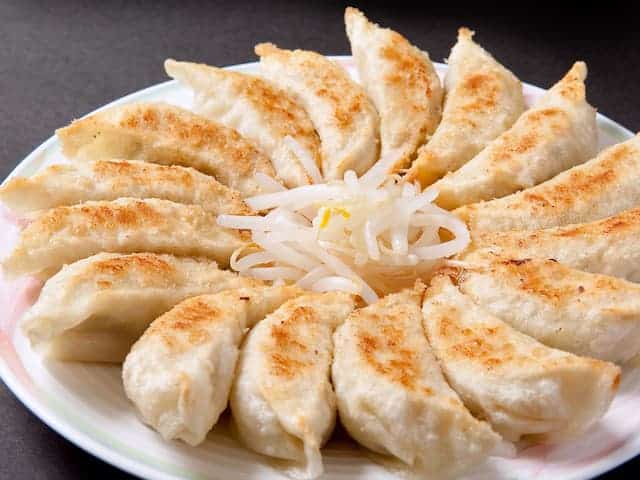 What is Hamamatsu Gyoza?
Hamamatsu Gyoza is local gyoza dish in Hamamatsu city, Shizuoka prefecture. In Hamamatsu, people have deep love for gyozas and they have become something familiar in everyday meals. Therefore, it comes as no surprise that Hamamatsu is regarded as "city of gyuza" along with Utsunomiya. According to Hamamatsu Gyouza Society, a group of gyoza lovers in this city, a Hamamatsu Gyouza maker has to meet the criteria "live in Hamamatsu for over 3 years and gyoza has to be made in Hamamatsu". Currently, there are over 80 gyoza-ya (餃子屋)- gyoza speciality shops and the number of restaurants that serve gyoza is about 300, including izakaya (居酒屋) and takeaways.
So what makes Hamamatsu Gyoza unique and among the most popular gyouza in Japan? The prevalent difference from traditional gyouza is that it is abundantly filled with cabbages. The sweetness of cabbages and onions and the richness of pork meat have made amazing taste for Hamamatsu Gyouza. In addition, it is also popular in Hamamatsu to serve gyouza with boiled bean sprouts. Another unique characteristic is the circular arranging style (Hanetsuke – gyoza with wings).
Japanese-style gyozas are commonly named by their cooking methods such as:
Yaki-gyoza (焼き餃子) = pan-fried gyoza
Age-gyoza (揚げ餃子) = deep-fried gyoza
Sui-gyoza (水餃子) = boiled gyoza
Hanetsuki gyoza (羽根つき餃子) = gyoza with wings
The difference between Hamamatsu Gyoza and Utsunomiya Gyoza
The friendly rivalry for the title gyoza capital
Each year, Japanese Ministry of Internal Affairs and Communications carry out a survey on gyoza purchase per household. Utsunomiya, long known for their obsession with gyoza, has hold the first place for 15 consecutive years until 2010. With the appear of Hamamatsu rival, in the last few years, the gyoza competition has step into a new phase with the two cities beat up for the title Japan's gyoza capital.
Up until now, the competition between the Hamamatsu and Utsunomiya has promote gyoza culture not only in these cities but also across Japan. Although the two gyozas originated from the original Chinese dumplings, there are still some differences and let's explore the charm of each city's gyoza!
Distinctive features of Hamamatsu Gyoza and Utsunomiya Gyoza
| | |
| --- | --- |
| Hamamatsu Gyoza | Utsunomiya Gyoza |
| more meat | more vegetables |
| or neighboring Aichi prefecture | |
| dipped with soy sauce | dipped with vinegar or chili sauce |
| | |
To sum up, Utsunomiya Gyoza is light and preferred by vegeterians while Hanamatsu Gyoza is more savoury with meat and chopped onion and grilled in circular shape. Both are amazing but I think it would be a good idea for you to order the two gyozas and compare them by yourself!
History of Hamamatsu Gyoza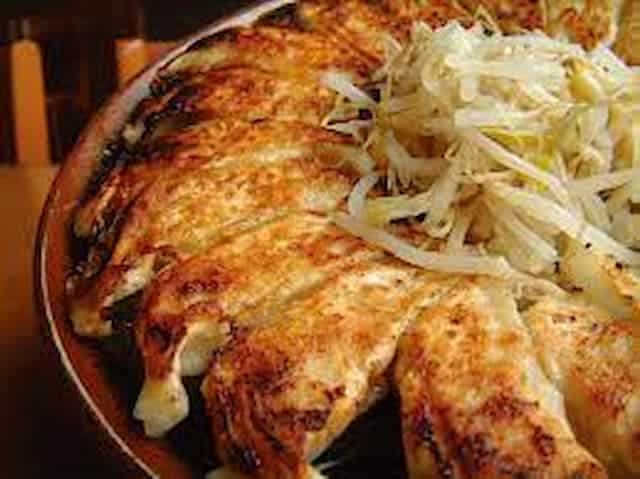 The apearance of Japanese dumplings dated back to the post-war period. After World War II, Japanese veterans came back from China, bringing the recipes of jiaozi (Chinese dumplings). In Shizuoka prefecture, Japanese-style gyoza was first sold near the Hamamatsu prefecture and gradually became more and more popular and the number of gyoza specialty restaurants in this city increased quickly.
Originally, the ingredients that are available in the region are used to make dumplings. For example, Chinese dumplings are made from Chinese cabbage and garlic chives. On the other hand, in Hamamatsu, all the ingredients used in gyoza are made in this region. Cabbage and onion are abundantly produced while pig farming industry is thriving. The combination of these ingredients created the popular gyoza that we know nowadays.
The take-away culture is also dishtinguishable and make not only foreigners but also Japanese people outside of Hamamatsu surprised. In the past, Hamamatsu people did not have the habit of eating out and they enjoyed eating at home. Eating out and delivery in food industry was not popular at that time too. With the appearance of gyoza restaurants, whenever they feel like eating, instead of delivering, they would come to the store and take it home. This take-away culture has been handed down through generations up until now.
How to make Hamamatsu Gyoza?
Ingredients
| | |
| --- | --- |
| Ingredients for 30 pieces | |
| Gyoza wrappers | 30 pieces |
| Minced pork | 100g |
| Cabbage | 1/4 head |
| Onion | 1/2 whole |
| Garlic | 1 clove |
| Ginger | 1 piece |
| Soy sauce | 1 tsp |
| Chinese soup stock paste | 1/2 tsp |
| Salt | 1/2 tsp |
| Sesame oil | 1 tbsp |
| Bean sprouts | as much as desired |
| Water | 200 ml |
Recipe
Preparing the ingredients
Boil bean sprouts until the color is translucent and drain them.
Chop cabbage and onion.
Grate ginger and garlic.
Leave the cabbage to soak for about 15 minutes. After that, squeeze out the water.
Add minced pork, cabbage, onion, sesame oil, seasonings and mix well in a bowl.
Folding the gyoza
After the mixture is ready, fill the gyoza wrappers with these mixture. It's very difficult to fold the wrappers with too much fillings so be careful and take only a little (~1 tsp) per wrapper.
To easily close the wrapper, wet the 1/4 edge with water, pleat toward one side until there is no top wrapper to pleat left and shape the gyoza.
Frying the gyoza
Add vegetable oil to the pan and arrange the folded gyozas in frying pan in a circular shape. Add water, put a lid on the frying pan and fry until all the water evaporates. In the frying pan, place a plate over the gyoza and turn it upside down.
This is the Hanetsuki gyoza cooking method that is commonly used in Hamamatsu.
Serving
Make the dipping sauce: mix soy sauce, grain vinegar and sugar well, add chili oil if desired.
Garnish the plate of gyoza with boiled bean sprouts. Serve with dipping sauce and ready to try Hamamatsu Gyoza!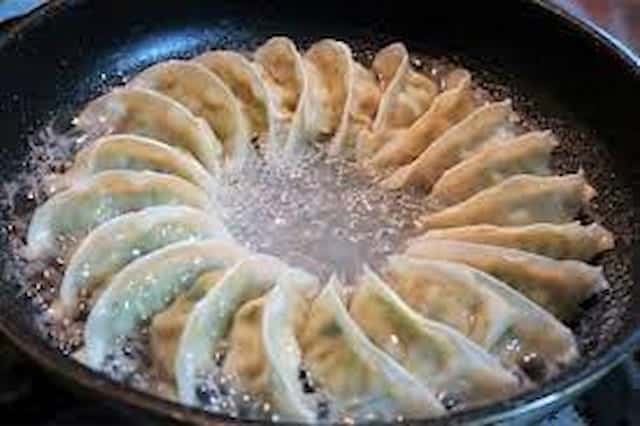 Three tips for a better gyoza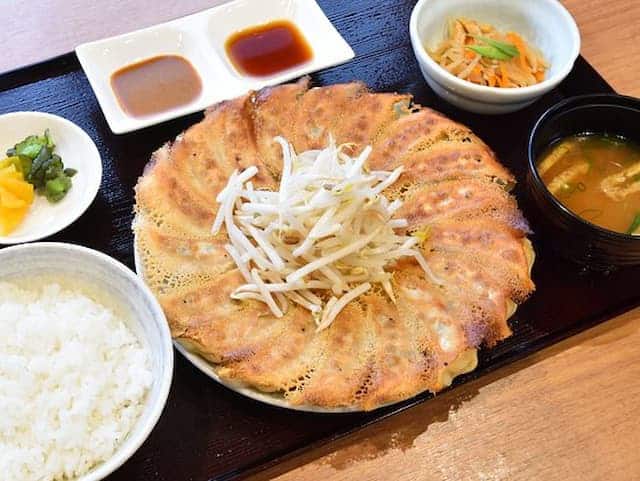 TIPS 1: HIGH HEAT
The key for a crispy gyoza is to keep the high heat from the beginning. In the first step, remember to heat the frying pan over high heat and then add vegetable oil and arrange gyoza in the frying pan. The next steps are as mentioned before.
TIPS 2: "IMMEDIATELY" IS VERY IMPORTANT
When cooking Hamamatsu Gyoza, prompt actions are needed. After arranging gyoza into the pan, you should "immediately" add water before the gyoza is grilled. After pouring the water, "immediately" cover the frying pan with a lid, the step should be done quickly before the water evaporates.
TIPS 3: THE "SNAP SNAP" SIGNAL SOUNDS
When you hear the signal sounds "snap snap" and the gyoza color turns golden brown, your Hamamatsu gyoza is ready to be served!
Where to eat Hamamatsu Gyoza?
Of course, Hamamatsu Gyoza have to be eaten in Hamamatsu. But among 300 places that serve Hamamatsu Gyoza, it would be different for you to choose one to try this specialty. In this section, we list some good gyoza shops, each has different style for you to experience this amazing kind of Japanese dumplings. Go ahead and note down your favourite one!
Ishimatsu (石松)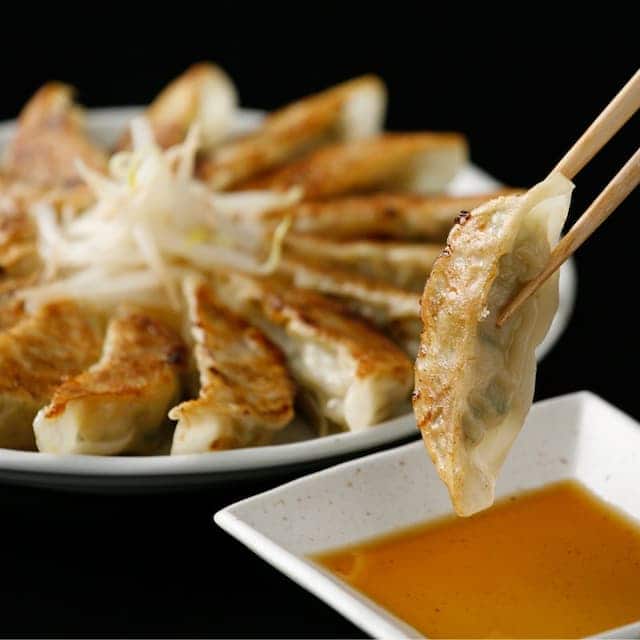 This is the famous restaurant, about 12-minute walk from Enshu Komatsu Station. Inside of Ishimatsu is like single-family restaurant and give off comfortable atmosphere. There are also tatami seats where customers can relax and signatures of celebrities who has visited here on the wall. Ishimatsu is famous for its light yet juicy combination of the cabbage and umami pork.
Mutsugiku (むつぎく)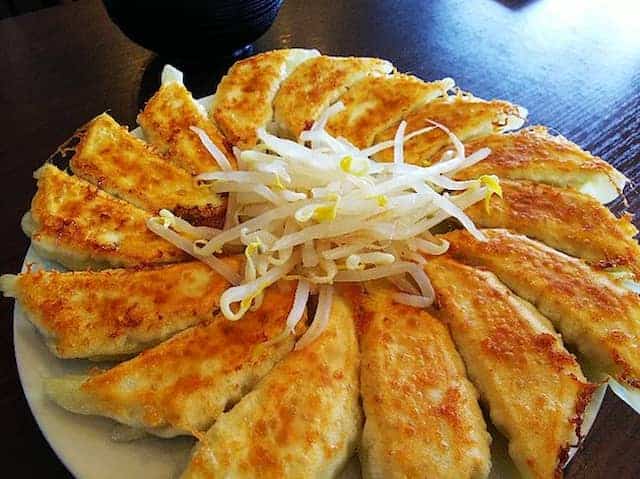 Mutsugiku is a popular gyoza shop near Hamamatsu station and always has long queue. This restaurant is popular for its delicious and crispy gyoza and the outstanding taste is definitely the sweetness of cabbage. Although Mutsugiku is a famous restaurant with a lot of customers, they do not use machine to wrap gyoza but still serve handmade Hamamatsu gyoza.

Gomi Hachichin Hamamatsu Station Building May One (五味八珍 浜松駅ビル メイワン)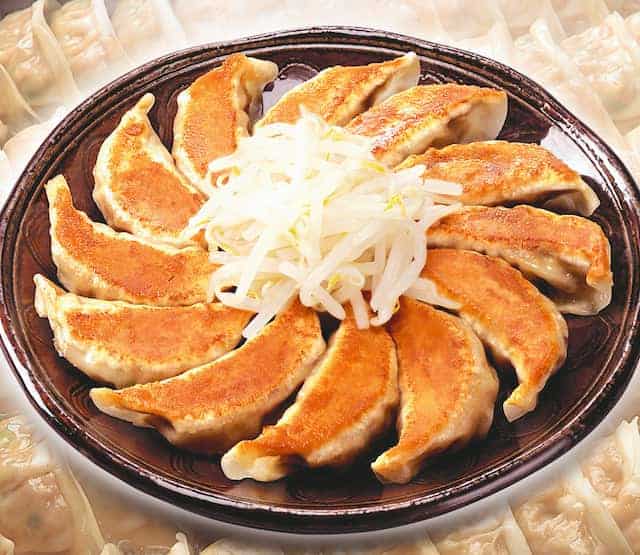 This restaurant has a convenient location and is very accessible. Hamamatsu Gyoza here is crispy, the fillings are juicy and make the whole combination very tasteful. Beside dumplings, ramen is also served here and the soup is recommended by a lot of people. If you are looking for a good gyoza shop with reasonable price, this is would be a great idea!
Fukumitsu (福みつ)
The distinctive feature that distinguish Fukumitsu from other gyoza shops is the golden-fried gyoza wrapper. Gyoza skin has a crunchy texture with well-seasoned meat and vegetables. Another awesome gyoza shops with reasonable price that you should add to your list!
Shodai Shige(初代 しげ)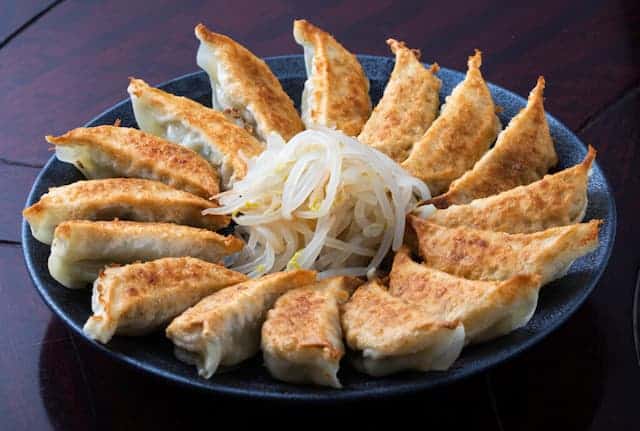 The interesting experience of Shodai Shige is that you get a chance to try 7 different types of Hamamatsu Gyoza which are only available here. Seven different dumplings with different ingredients and the amount of garlic added also differ depending on the dish. One characteristic of favourite Shodai Shige is the secret spice that maximize the flavour of ingredients. Besides, Shodai Shige also serve delicious food such as ramen, meal set, etc.
Takeaway
Gyoza takes an important role in Japanese street food. The deep love of Japanese for gyoza and their creativity have made the unique dumplings that can only be found in Japan. If you get a chance to visit Hamamatsu, do not forget to try Hamamatsu Gyoza, the best combination of domestic ingredients is waiting for you!
If you are interested in gyoza, click here to find out more information about Utsunomimya Gyoza.