Rice burger in Japanese, is a popular fast food item in Japan that has gained popularity in recent years. The rice burger has become a popular alternative to traditional burgers, as it offers a gluten-free option and a taste that is distinctly Japanese. It is now widely available in many fast food chains, convenience stores, and specialty shops throughout Japan, making it a must-try for any foodie visiting the country.
What is a Rice burger?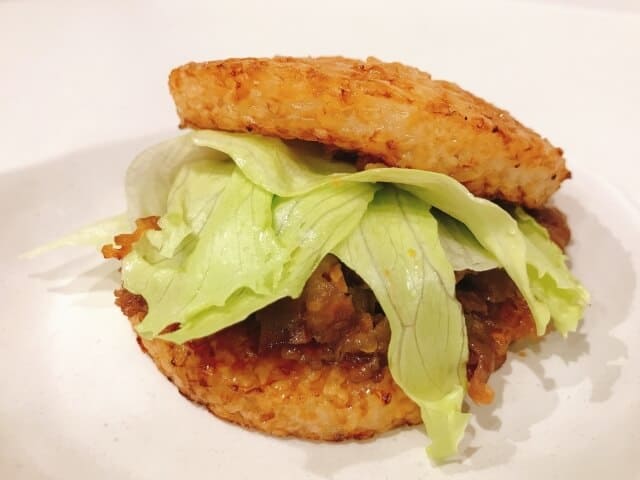 A rice burger is a modified version of the classic hamburger in which the Japanese uses compressed rice patties in place of the buns. It is a burger created with components smeared between rice plates that were grilled instead of using bread. The MOS Burger fast food restaurant chain first offered the rice burger in Japan in 1987, and ever since then, East Asians embrace it as a delectable dish.
As the name suggests, a rice burger replaces the traditional buns of a hamburger with rice patties. Locals form the rice into a patty shape and then grilled or fried until crispy on the outside. Then, they will fill the patty with various ingredients, such as meat, vegetables, and sauces, to create a delicious and unique burger experience. 
Rice burger History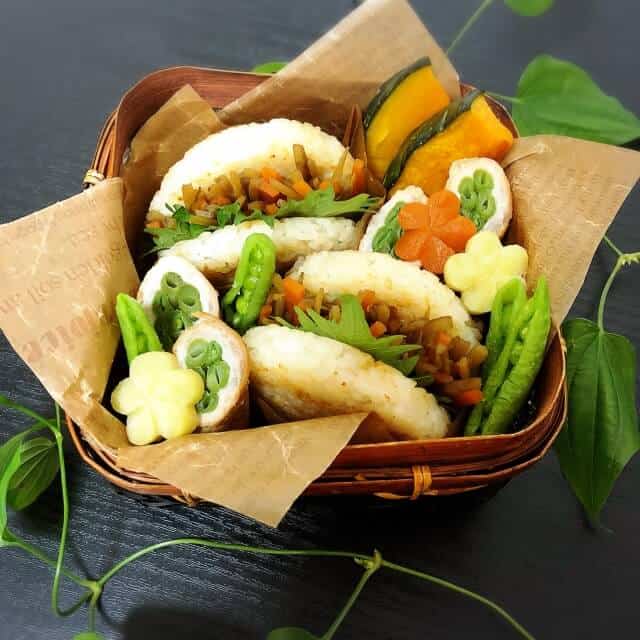 The fast food chain Mos Burger first introduced the rice burger in the early 1980s. Mos Burger was one of the first fast-food chains in Japan to offer a burger made with rice patties instead of buns. The idea for the rice bun came from a desire to create a more unique and Japanese-style burger that would appeal to local tastes. The company experimented with different types of rice and seasonings to create a patty that was both flavorful and held together well. They also added various fillings such as teriyaki chicken and shrimp, as well as lettuce and other vegetables to create a well-rounded meal.
Mos Burger's rice burger quickly became a hit with Japanese customers and helped to establish the company as a major player in the fast food industry. Since around 2005, McDonald's has also started offering rice burgers at Asian stores for various reasons. On February 5, 2020, locals sell it irregularly as a nighttime limited menu in Japan under the name "rice burger". In April 2019, the speciality store "Okomedoki" opened in Jingumae, Shibuya-ku, Tokyo. It features a neo-Japanese style of serving rice buns with one soup and three side dishes on Cat Street, a town for young people.
McDonald's Rice burger Version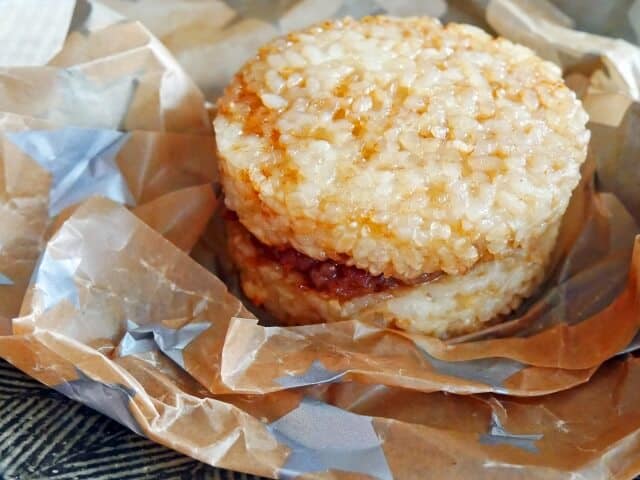 The "rice burger" announced by McDonald's Japan is attracting attention. Popular menu items such as "Teriyaki Burger" and "Chicken Filet-O" are sandwiched between soy sauce-flavoured rice instead of bread. There are three types of rice burgers: "Rice Teriyaki", "Rice Bacon Lettuce" and "Rice Chicken Filet-O". The price is 390 yen including tax for teriyaki and 410 yen including tax for the other two.
Various Rice burgers
Yokubari Ten Red Snapper and Kakiage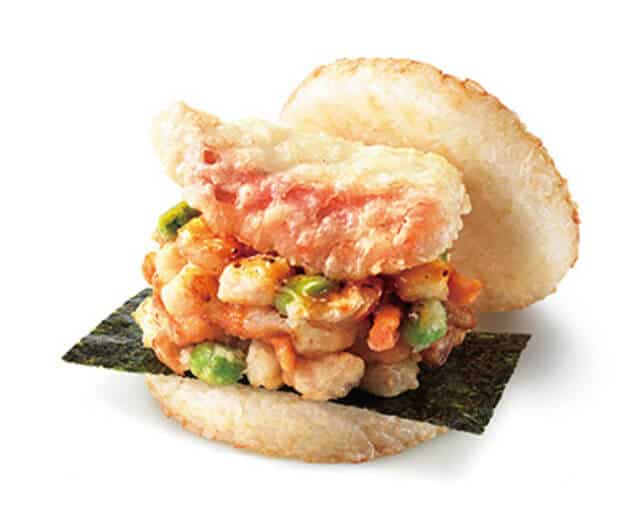 A hearty rice bun with seafood kakiage (salt sauce), alfonsino tempura and grilled seaweed.
Yokubari Yakiniku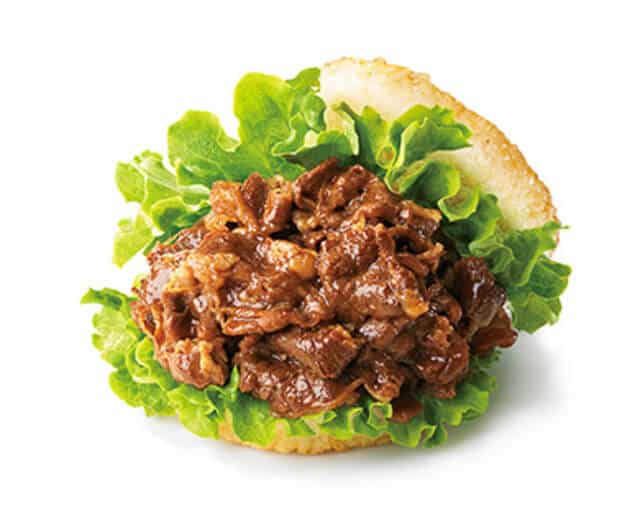 A luxurious and filling rice bun that uses 2 servings of grilled meat.
Burger Seafood Kakiage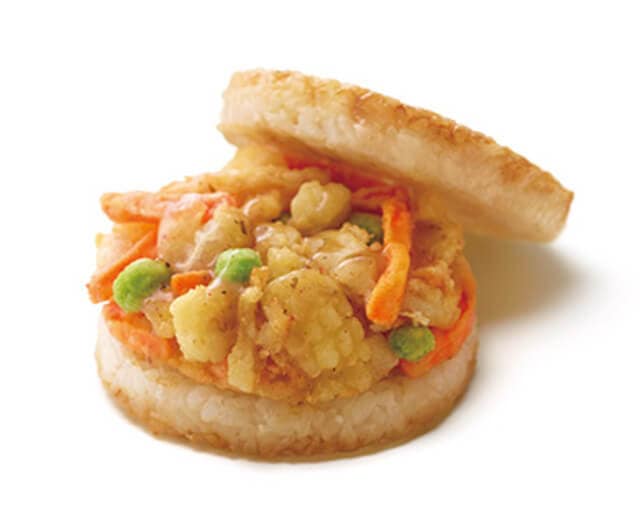 Locals added onions, carrots, and green soybeans to squid and shrimp seafood, and a special salt sauce with a rich sesame oil flavor for a refreshing finish.
Rice burger FAQ
How does the taste of a rice burger compare to a traditional burger?

The rice patty used in a riceburger is usually grilled or fried until it is crispy on the outside and soft on the inside. This gives the rice bun a slightly crunchy texture and a slightly nutty flavor, which is different from the soft and chewy texture of traditional burger buns.

What are some popular fillings for a rice burger?

You can use different fillings in a rice bun, but teriyaki chicken or beef, unagi, and tuna or salmon are the most popular. Some rice patties shops also offer seasonal or limited edition fillings, such as seasonal vegetables or seafood, to keep the menu fresh and exciting.
Rice burger Recipe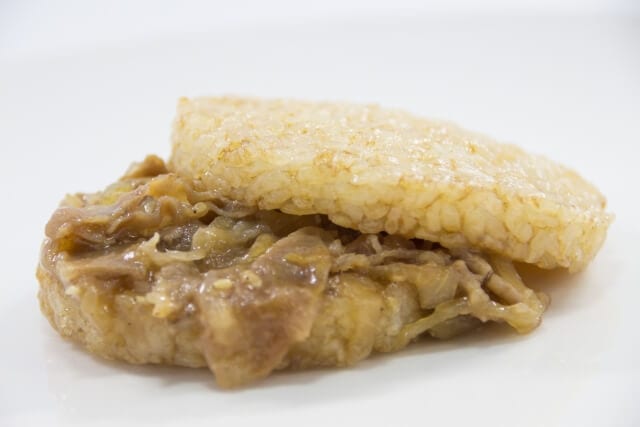 Kinpira burdock rice burger Ingredients
| Ingredients for 2 persons | Measurements |
| --- | --- |
| Small slices of beef | 100g |
| Burdock | 100g |
| Carrot | 30g |
| Cooked rice | 80g |
| Salad greens | 40g |
| White sesame | 2g |
| Sesame oil | 4g |
| Soy sauce | 25g |
| Sweet sake | 14g |
| Mirin | 7g |
How to make a Kinpira burdock rice burger?
Prepare and cut the ingredients
Scrape the skin of the burdock root and cut it into 5 cm long strips. Peel the carrot and cut into 5 cm long strips. Then, cut the beef into 1 cm wide strips.
Frying the meat and adding seasoning
Heat the sesame oil in a frying pan and fry the beef until it changes color. Add burdock and carrots, and when cooked, mix soy sauce and mirin.
Fry the rice
Divide the rice into 4 equal portions, wrap each portion in plastic wrap, squeeze tightly, and shape into a circle with a thickness of 1 cm. Heat sesame oil in a frying pan and fry until both sides have brownish color.
Complete and serve
Apply another soy sauce and mirin with a brush or spoon and bake lightly. Sandwich the salad greens and sprinkle with white sesame.
When forming the rice buns, firmly press the rice with your hands like you are holding a rice ball.
Where to buy Rice burger
Mos Burger (モスバーガー)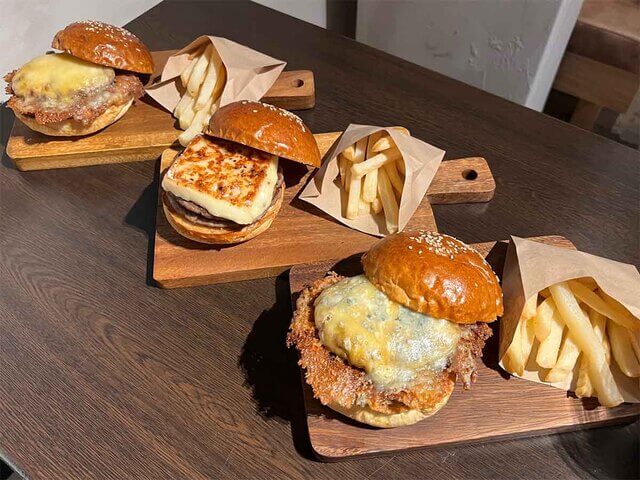 A fast-food chain called Mos Burger has its origins in Japan. They have various restaurant franchise establishments in different regions in Japan. Although everything on the menu is delicious, the riceburgers are the restaurant chain's speciality. In addition to the popular kinpira (fried burdock and carrot rice bun) and kaisen kakiage, which is a frittered fresh seafood shrimp rice bun, they added yakiniku, a grilled beef strip rice bun. 
Okomedoki (おこめどき)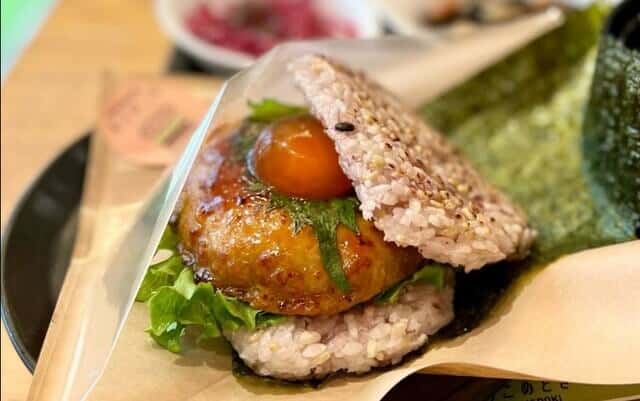 Rice burger in one soup and three dishes style. Feel free to enjoy the good old Japanese food culture in a new "riceburger" style. The interior of the store is stylish and modern Japanese. Enjoy healthy Japanese food in a relaxed atmosphere. You can choose from their four kinds of rice buns. They have special rice buns that are standard white rice. 
Asakusa Dining 88RB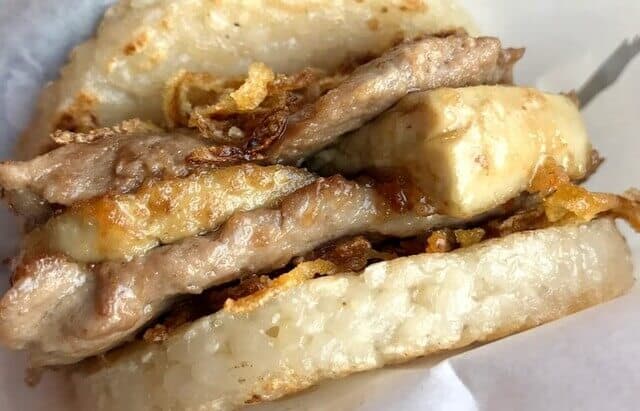 A newly opened rice burger specialty store in Asakusa. The inside of the store is small, but the scenery is good and the atmosphere is good. They made the rice buns from white rice or multi-grain rice. It is also recommended for health-conscious people. The store uses 100% Hinohikari from Kyushu, which has a deep flavor that you can chew.
Final Thoughts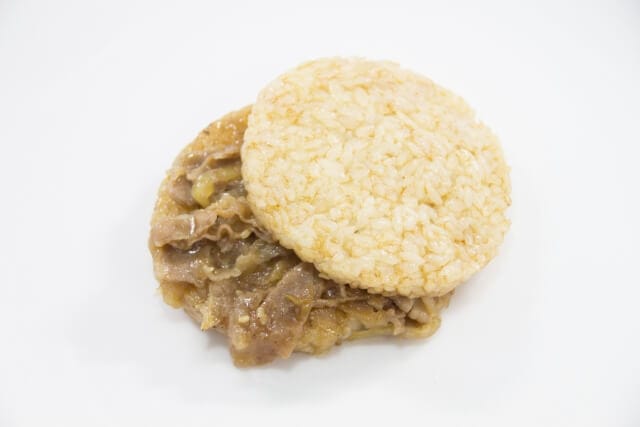 If you're a foodie who enjoys tasting new and unusual dishes, you should certainly try the riceburger while in Japan. The riceburger, with its crispy rice bun, exquisite fillings, and Japanese-style sauces, provides a food experience unlike any other burger. It's also an excellent choice for individuals who are gluten-free or seeking a healthier fast food option. Whether you're in a fast food restaurant or a specialty store, you're guaranteed to discover a range of delectable fillings to satisfy your taste buds. So why not venture out and try something new? In Japan, you could just find your new favorite fast food meal.
You can check some Japanese dishes below that we know you would like to try too.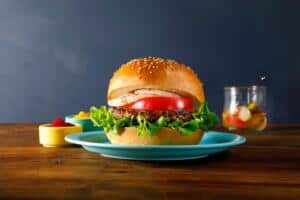 Yokosuka Navy Burger (ヨコスカネイビーバーガー)
【Introduction to Yokosuka Navy Burger】 Hamburgers are very popular in Japan. There are many restaurants that sell hamburgers, such as McDonald's and Burger…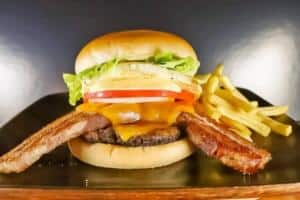 Sasebo Burger (佐世保バーガー)
Burger? Sasebo burger! Who doesn't like hamburger? Even though Japan is known for its mouth-watering ramen and smoky yakiniku, burgers are also extremely pop…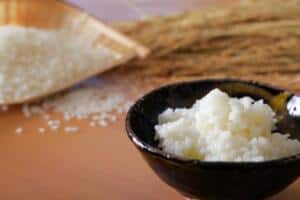 Koshihikari rice (コシヒカリ)
If you're a fan of Japanese cuisine, you may have heard of Koshihikari rice – a premium short-grain rice that is known for its sweet flavor and sticky textur…