Introduction to Jibuni
Jibuni (治部煮) is a traditional Japanese specialty dish that represents Kanazawa. It has been popular since the time of the Kaga domain, and one of its attractions is that it can be made with familiar ingredients. Traditional jibuni is mainly made from duck meat, spinach, taro, carrots, lily roots, mushrooms, and sudare-fu (dough wrapped in a bamboo screen and boiled). There are other specialties from Kanazawa such as Kanazawa curry. So, in this article, I will guide you to another specialty of them – Jibuni.
Etymology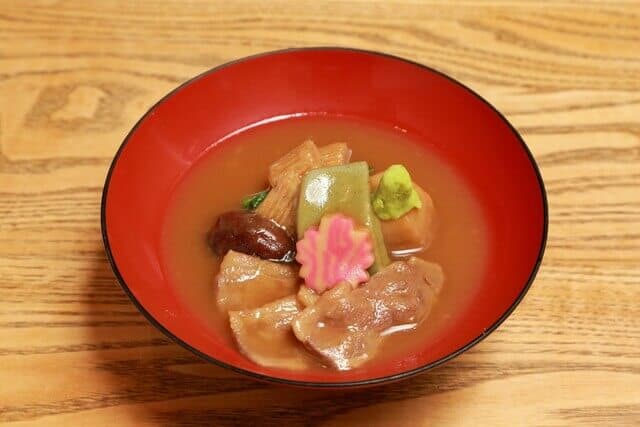 There are many theories about the origin of the name, but there is an interesting theory. According to one theory, the "jib" in " Jibu-ni " comes from the "jib jib" sound when boiling. There is also a theory that Portuguese food, which was handed down by Christian missionaries in the Edo period, is Japanese- style. In addition, there is a theory that the French word Jibie has become dull because of the use of duck meat. So they take the name of the food out of it.
What is Jibuni?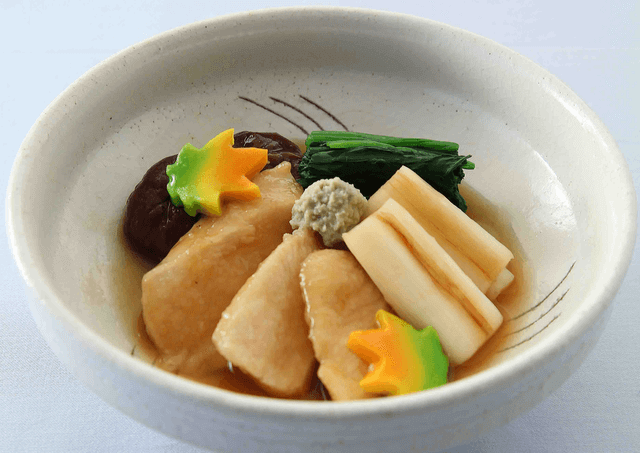 Jibuni (治部煮) is a traditional Kanazawa specialty consisting of duck or chicken meat, vegetables, and wheat flour. Locals make this by boiling duck meat or chicken sprinkled with wheat flour and vegetables in a shallow bowl. Powder sprinkled on meat traps the flavor and thickens the soup. The sweet and spicy juice that absorbs the umami of the meat is wrap-around with the ingredients, making it unimaginably delicious. The characteristics of Jibuni are that the meat is sprinkled with wheat flour (or potato starch) and boiled and paired with wasabi. So, by adding wasabi as a condiment, the refreshing spiciness harmonizes with the tender duck meat. 
History of Jibuni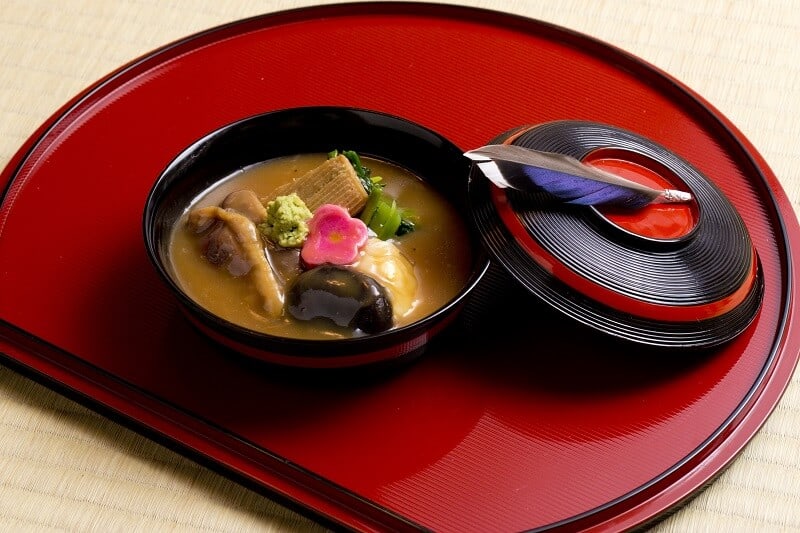 The history of jibe-ni dates back to the Edo period. At that time, it was not a high-end dish as it is now, but a dish that was popular from the samurai family to the common people. There are various theories as to the origin, but there are theories that iron pot dishes made from wild birds in mountain villages were sublimated as hospitality dishes for samurai, and that Christian daimyo Takayama Ukon, who was close to him, invented it.
The Jibuni Recipe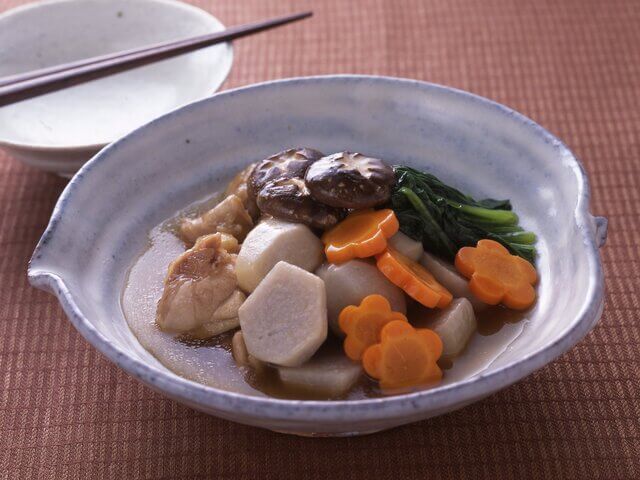 Jibuni Ingredients
| | |
| --- | --- |
| Jibuni Ingredients for 2 people | |
| Chicken thigh | 52g |
| Raw shiitake | 42g |
| Carrots | 22.5g |
| Komatsuna | 100g |
| salt | 5g |
| potato starch | 5g |
| Wasabi (grated) | 5g |
| dashi of Katsuo | 10g |
|  Kikkoman thin soy sauce | 16g |
|  Manjo rice koji mirin | 29g |
How to Make Jibuni?
Cut the chicken and season it
Cut chicken into bite-sized pieces and lightly sprinkle with salt.
Preparing the vegetables
Take the shiitake mushrooms and cut them in half. Peel the carrots cut them vertically to a width of 5 mm, and boil them quickly. Boil the Japanese mustard spinach, squeeze the water and cut into 4 cm lengths.
Boiling the ingredients
Boil all the katsuo, soy sauce, and manjo rice in a pan. Then, add vegetables other than Japanese mustard spinach and cook until warm.
Putting the finishing ingredients
Add the potato starch to the chicken in a pan while tapping it thinly, and when the chicken is cooked, add the Japanese mustard spinach and simmer. Transfer to a bowl and serve with wasabi.
How to eat Jibuni?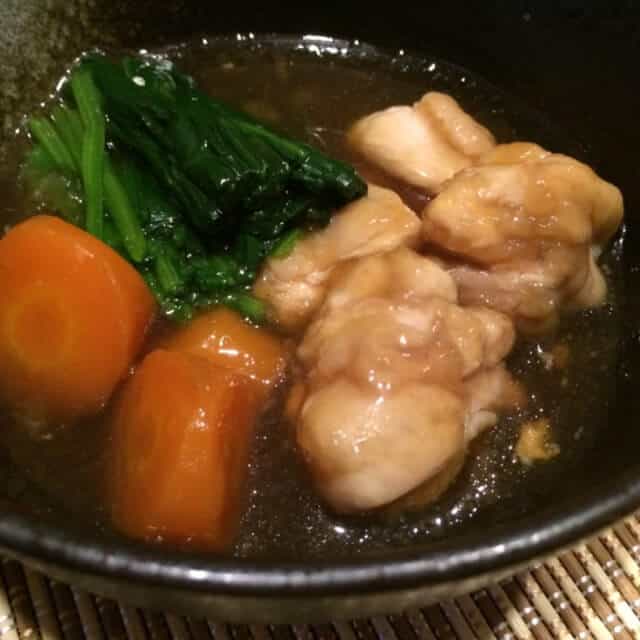 Large cut duck meat is covered with flour and boiled with soup stock and soy sauce along with Sudarefu and various vegetables. This wheat confines the flavor of meat and thickens the soup, making it warm even in cold winters. Seasonal seafood may be added depending on the season.
By adding wasabi as a condiment, the refreshing spiciness harmonizes with the tender duck meat. Since duck meat is a high-quality ingredient, you can replace it with duck or chicken when it is made at home.
What is the difference between Jibuni and Chikuzen-ni?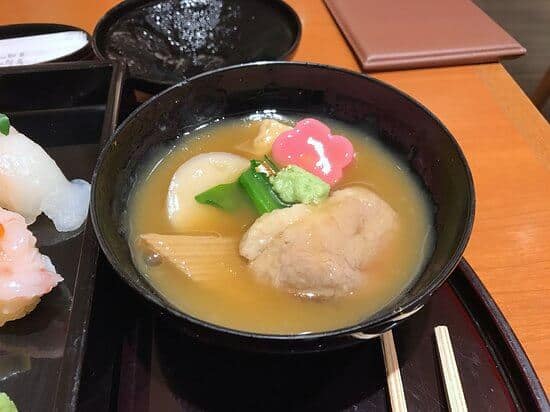 Chikuzenni is a local boiled dish from northern Kyushu. Locals cook this with chicken, carrots, radishes, burdock root, taro, shiitake mushrooms, konnyaku, etc., and seasoned with soy sauce. They call this sometimes "tortoise stew" in the area.
On the other hand, jibuni is a local dish in Kanazawa Prefecture. In other words, "local" is first different from Chikuzen-ni. In addition, locals make Chikuzen-ni by boiling it down until the broth is almost gone. And the difference between them is that Jibuni is to leave the broth and arrange it with the broth for the end.
Nutrition Benefits of Jibuni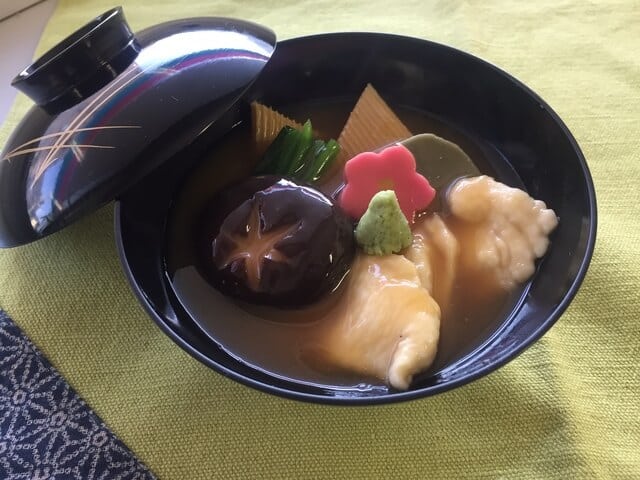 The calorie of Jibuni is 243.5g (for one person), which is 134kcal. Jibuni has a calorie of 55 kcal when converted to 100 g, and the standard amount of grams per 80 kcal is 145.45 g. It contains a large number of carbohydrates (16.07g), of which 11.74g is sugar, 14.17g is protein, and 1.73g is fat. Among vitamins and minerals, vitamin B12 and niacin are abundant.
Recommended Jibuni Restaurants
There are many jibuni restaurants in Kanazawa that would certainly satisfy your cravings. Here are some of those restaurants.
Tsubotei (Kanazawa)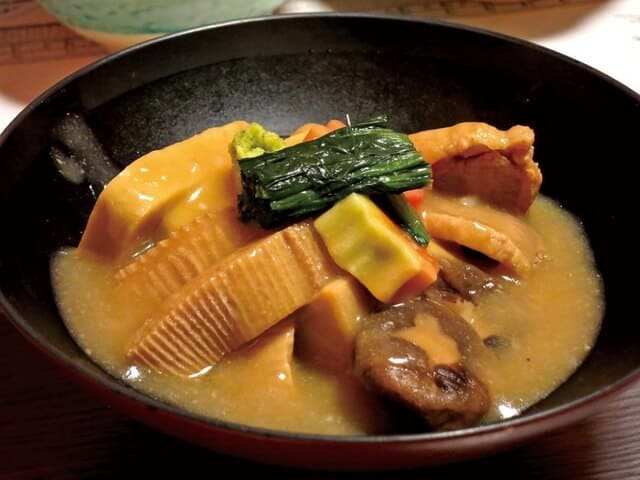 "Tsubotei" in the back of the shop is a restaurant where you can enjoy local cuisine using ingredients at Omicho Market. There are table seats and small raised seats. Especially, with a view of the garden on the 1st floor and a banquet hall on the 2nd floor, you can enjoy safe and secure additive-free cooking meals. The restaurant is particular about seasonings and ingredients. Their jibuni in a Wajima-nuri bowl with small bowls and desserts made with seasonal ingredients is certainly the taste of Kanazawa.
Ishiya (Kanazawa)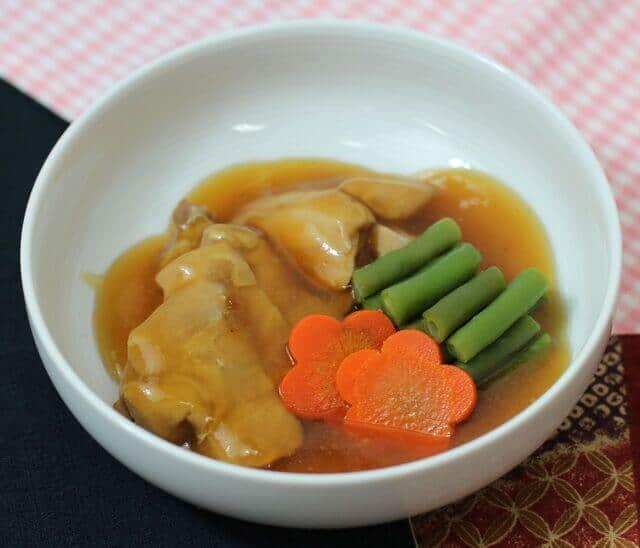 Founded in 1866, it is a restaurant where you can enjoy Kanazawa's local cuisine. With the concept of "creating a space where you can enjoy cooking and sake," they made various productions so that customers can relax. Such as gentle water flowing through the entrance, stepping stones in the flow, and a simple and modern Japanese space that is typical of Kanazawa. What customers want to eat here is their Kaga cuisine. The restaurant served this focusing on local ingredients. Among them, Jibu-ni, which represents Kaga cuisine, is an exquisite gourmet that locals loved for a long time.
Gyohan Bukeyashikimaeten (Kanazawa)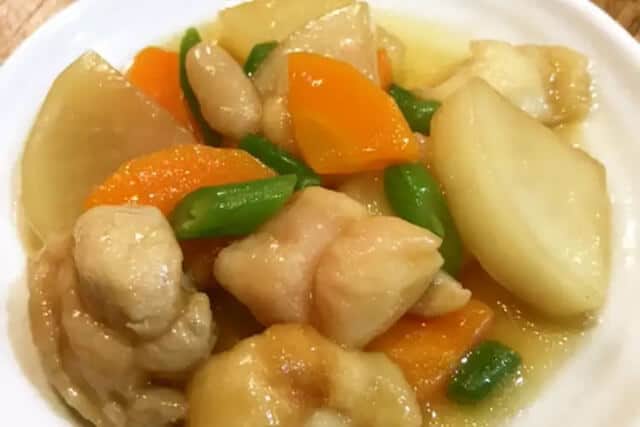 This restaurant serves seafood cuisine and also banquet dinners. Customers like this place because of its local and regional ingredients. There is also a coffee service after meals, and the atmosphere inside the store is relaxing. They have menu recommendations such as Jibuni for 1,080JPY.
Takumi Kaga (Saitama)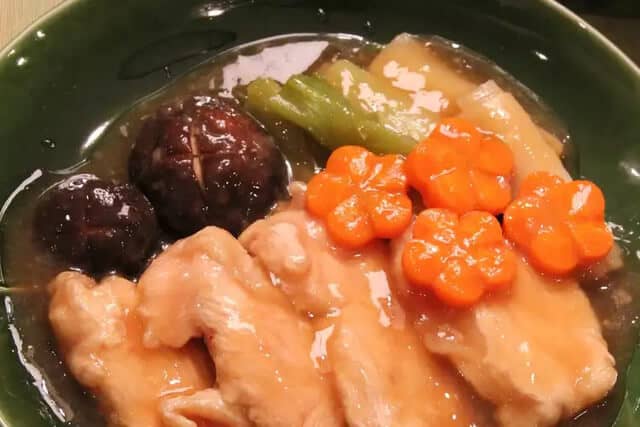 On the other hand, you can enjoy a seasonal "kaiseki cuisine" including "Jibu-ni", a typical local dish of Kaga in this restaurant. Takumi Kaga in Saitama has a very spacious private room that can be use for a wide range of purposes, from small groups to large groups, for celebrations, ceremonies, entertainment, and banquets.
Conclusion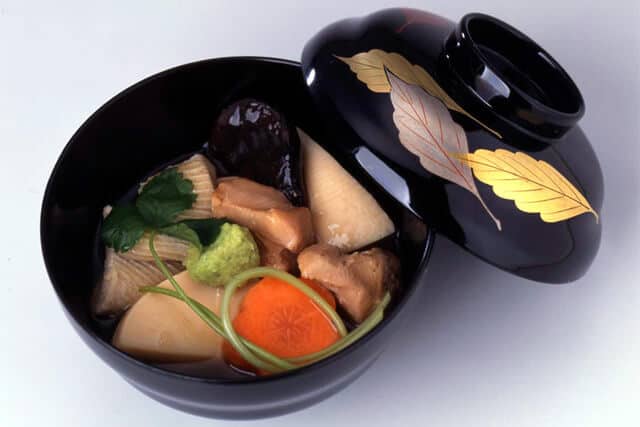 Duck meat is not widely enjoyed in Japan, other than in certain Chinese restaurants and a few others. It might be considered a special local delicacy in some rural areas, and people do enjoy foie gras at upscale French restaurants, but duck heads are not a Japanese thing. However, in Kanazawa, the Japanese enjoy duck meat such as Jibuni. Jibuni is one of their traditional delicacies that they are proud that become part of their Japanese cuisine's history.