If you come to combini (or "Convenience Stores") in Japan, you can find a dish called "Hiyashi Chuka" almost everywhere you go. This dish is usually eaten in Japan in hot summer days. Although it is so popular in Japan, there are not much people that know about its origin. What does this dish come from? And why it is so popular in Japan? Let's find out in today's article.
What is Hiyashi Chuka?
Hiyashi Chuka (冷やし中華) means "chilled Chinese"; however, it is a Japanese dish as a summer noodle dish, with colorful ingredients such as vegetables, roasted pork, ham, and broth egg placed on chilled noodles and sprinkled with cold soup. Cucumbers, ham, eggs, etc. are the standard ingredients for Hiyashi Chuuka. There are many various types, and any seasonal ingredients can be employed, depending on the region. In many instances, locals placed in the center and edges,  tiny tomatoes, quail, and boiled eggs. There are many different condiments, including mayonnaise, mustard, wasabi, and pickled ginger.
Etymology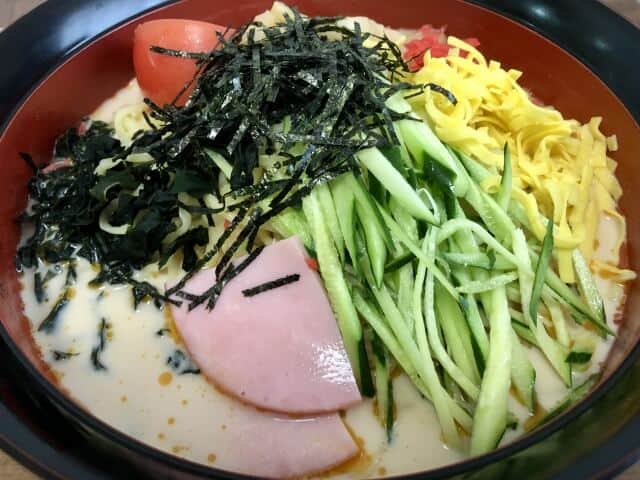 The name "Hiyashi Chuuka (冷やし中華)" directly translates to "Chilled Chinese," though it is not of Chinese origin. The name refers to the cold Chinese noodles that locals used in the dish.
Hiyashi Chuka History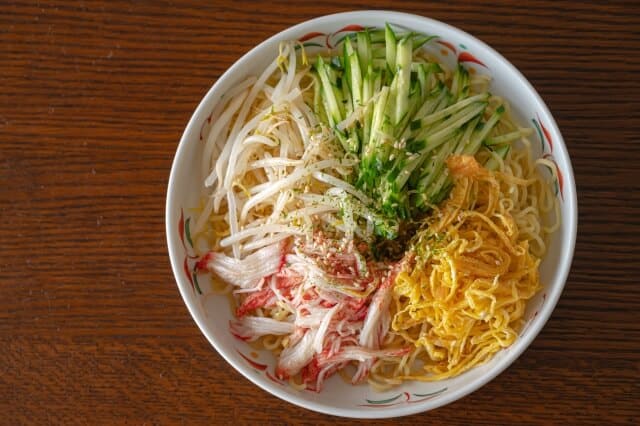 According to some reports, locals offered the meat in 1937 at Ryu-tei, a Chinese restaurant in Sendai City, Miyagi Prefecture. In order to address this issue, the owner of Ryu-tei created Ryan ban men (五色涼拌麺), which they served with a cool, sour soup made of soy sauce and vinegar. At the time, Chinese restaurants did not provide this type of service for customers seeking comfort from the scorching summer months. At that time, in addition to the usual cucumbers and tomatoes of today, toppings included cabbage and carrots.
In accordance with the second theory, locals created the Hiyashi Chuuka at Yosuko Saikan, a restaurant in Jimbocho, Tokyo.According to legend, they created the dish by go syoku Ryan ban men in 1933 and influenced by both Japanese zaru soba and Ryan ban men's Shanghai cuisine (cold soba noodles). The radial arrangement of shredded toppings, which is still in use today, is what defines this style. Furthermore, the snow-capped Mount Fuji provided the inspiration for this stylised arrangement of toppings.
Hiyashi Chuka Recipe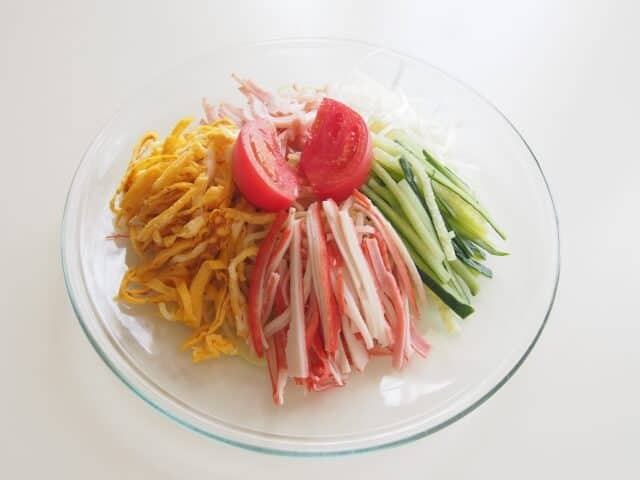 Hiyashi Chuka Ingredients
| | |
| --- | --- |
| Ingredients of Hiyashi Chuka for 4 persons | |
| Chinese noodles | 400g |
| Chicken fillets | 450g |
| Eggs | 100g |
| Cucumbers | 55g |
| Green Onion | 12g |
| Potato starch | 3g |
| Salt | 11g |
| Salad oil | 6g |
| Soy sauce | 56g |
| Vinegar | 45g |
| Sugar | 38g |
| Sesame oil | 10g |
| Shredded red pickled ginger | 8g |
| Parsley | 3g |
| Kneaded mustard | 4g |
How to make Hiyashi Chuka 
Boiling the chicken fillet
Put chicken fillet in a pan, pour enough water to cover it, and heat it over high heat. When it boils, reduce the heat, boil for about 5 minutes while removing the floating lye, and remove it when the color becomes whitish.
Making the sauce
Strain the boiled juice with a strainer then, transfer 1 cup to a bowl, add the sugar of the sauce while it is warm, mix and dissolve completely. Next, add the sauce and other seasonings, mix well, and cool in the refrigerator.
Mix the eggs, starch, and water
Dissolve the eggs in a bowl, add the potato starch and salt dissolved in the same amount of water, and mix well.
Bake the egg juice
Heat the vegetable oil in a frying pan over medium heat and wipe off excess oil with a paper towel. Pour 1/2 amount of egg liquid, spread and bake. Then, bake for about 30 seconds, take it out and cut it into 3 pieces, stack them, and cut them into small pieces.
Straining the noodles
Boil plenty of water in a pan and boil the noodles according to the time indicated on the bag. Raise it in a colander and wash it lightly under running water. This will remove the slime and make the noodles chewy. 
Serving
Serve 1/4 of the noodles on a plate, sprinkle chicken, cucumbers and eggs in a colorful manner, and put green onions and pickled ginger on top. Serve with parsley and mustard and sprinkle with sauce.
Soy sauce vs Sesame Sauce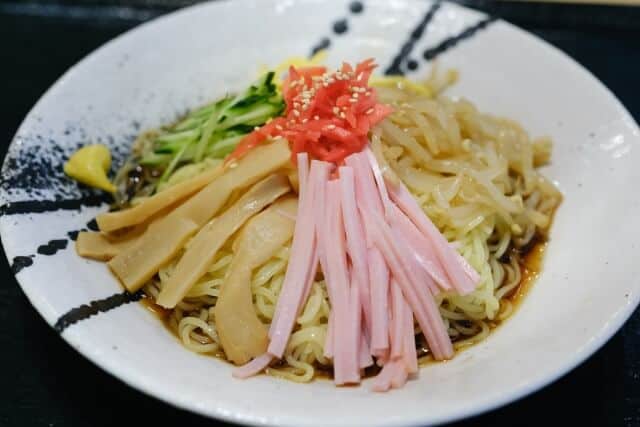 When talking about Hiyashi Chuuka, the sauce situation cannot be ignored. When asked whether it was vinegar soy sauce or sesame sauce,  57.8% answered "vinegar soy sauce" and 28.3% answered "sesame sauce". After all, it seems that there are many vinegar and soy sauce groups. Of the people who chose vinegar and soy sauce, the majority of the opinions said that it is "because it's refreshing ." It seems that they deeply engrave the taste of vinegar and soy sauce in their hearts.
Hiyashi Chuka ingredients popularity ranking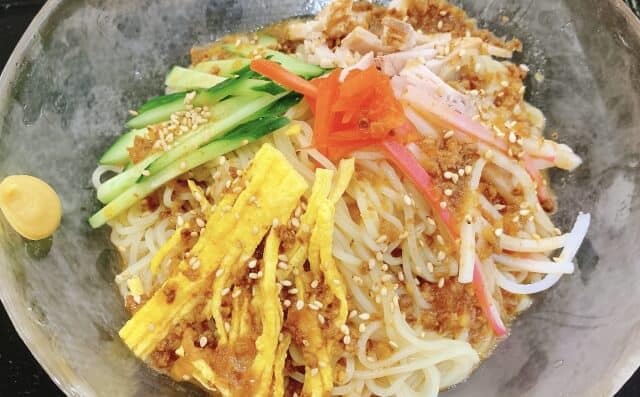 Cucumber
The crispy texture of the shredded cucumbers is indispensable for the summer noodles.
Ham
Ham is the second most popular and children may be dissatisfied without it.
Kinshi egg
This one is good to balance nutrition, and it's a great ingredient for moms.
Tomato
Tomatoes are also popular with people who want a refreshing taste.
Char siu
A well-seasoned char siu that creates a full-fledged atmosphere at once with just a little addition.
Is Hiyashi Chuka a Reimen too?
If you look up "Hiyashi Chuka" in the dictionary, you will find "boiled and chilled Chinese noodles with shredded broth eggs and ham, or a dish with vinegar-flavored sauce. However, some dictionaries say, "In Kansai, it's called cold noodles." So, is "chilled Chinese noodles" the same as cold noodles?" So, if you look up "reimen or cold noodles", you will find "Korean Peninsula noodle dishes. Something like a boiled and chilled chewy noodles with buckwheat flour and starch, added cold soup, and topped with meat and vegetables. But many people living in Kansai and Western Japan really do call the "Hiyashi Chuuka" and "Reimen", "cold noodles" in the same way.
Where to buy Hiyashi Chuka
Asahi (中華料理 あさひ)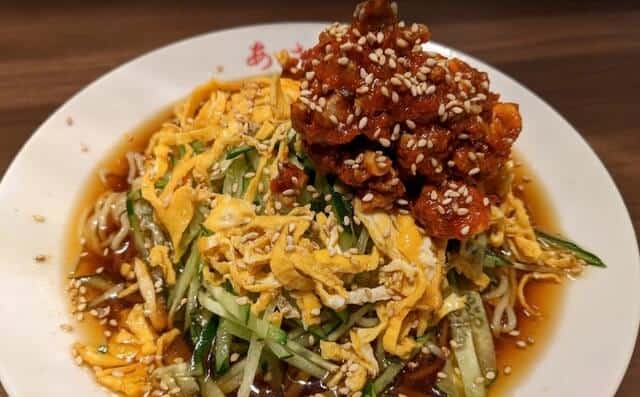 Behind Asakusa Kannon, there is a Chinese restaurant in the town that growls with high ability. "Asahi". The owner is the 4th generation. While preserving the taste inherited from his grandfather, he is eager to develop new menus. The base sauce is a soup made mainly of chicken bones and pork bones with a hidden taste, with soy sauce sauce added. The mild acidity, subtle sweetness, and depth of the dashi stock are in perfect harmony with the thin, chewy curly noodles. 
Long Kou Jiu Jia (龍口酒家)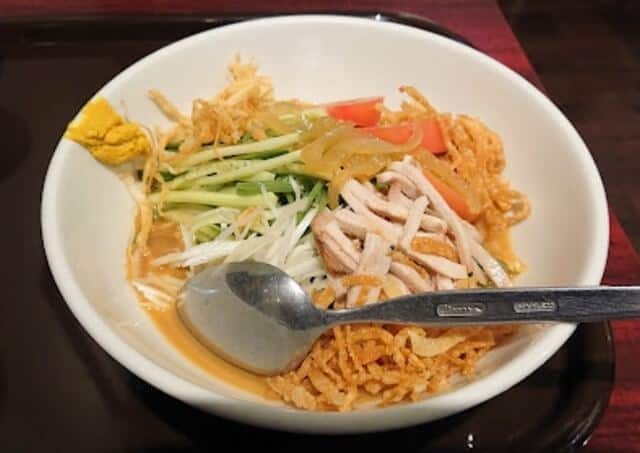 Long Kou Jiu Jia is a famous restaurant where you can enjoy Chinese food that is kind to the body and is based on medicinal food, using seasonal vegetables and sometimes Chinese food. They added the soy sauce, vinegar, and sugar to the base of Tahini soy sauce, and a little doubanjiang as a secret ingredient.
Mintei (珉亭)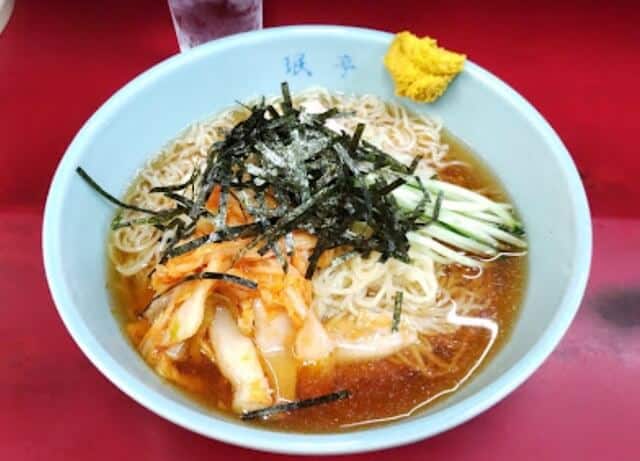 Their Hiyashi Chuuka is a refreshingly clear soy sauce soup that makes you feel happy and mesmerizingly clear sweet and sour soy sauce soup. The noodles are thin and crispy, with homemade char siu and cucumber using shoulder butt, lightly pickled kimchi, and chopped seaweed on top. This "chilled Chinese noodles" is one of the chilled Chinese foods offered all year round by "Mintei".
Final Thoughts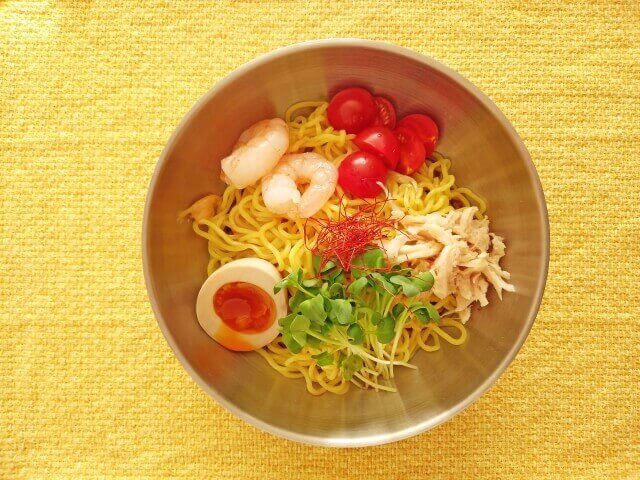 Summers in Japan are even more special thanks to various seasonal cuisines that everyone can enjoy. Hiyashi Chuka is a summer dish made with cold noodles and vegetables. During these hot and humid days, everyone wants to eat chilled dishes like cold soba, cold udon, and cold ramen or Hiyashi Chuuka.