Japanese food has a lot of popular and delicious food such as Tempura, Karaage, Sushi, etc. But if you get to know more about its cuisine, you would be surprised to find out that there are lesser known dishes but also have long history with amazing taste. Have you ever heard of "Kakiage"? This time, we are going to introduce about such dish, its history, recipes and comparison with Tempura – the dish that everyone has already known.
What is Kakiage?
Kakiage is a type of tempura made by wrapping small pieces of seafood, vegetables, and other ingredients in a flour batter and deep-frying them in cooking oil. Before eating, locals seasoned it with "tentsuyu" or "salt" like other tempura. Japanese frequently used this as a rice bowl topping on rice (kakiage rice bowl), hot soba or udon noodles, or as a side dish to zaru soba. Small shrimp, minced squid, vegetables such as sweet potatoes, potatoes, and lotus root mixed with leafy vegetables, and squid and shrimp mixed with vegetables are all common ingredients.
Etymology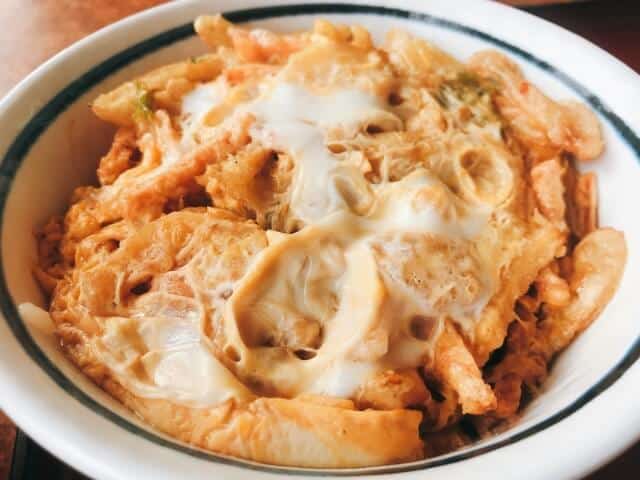 The kakiage is so-called because the ingredients are "mixed up" or kakimazeru (かき混ぜる) before being fried. The industry recognizes that the name comes from stirring and frying ("Tenkichi" shop owner, etc.). Yasaburo Ikeda also describes an anecdote that another cook gave the same explanation. At that time, he argued against complaints from customers who ordered oysters thinking that they were fried oysters without knowing the word kakiage.
Kakiage History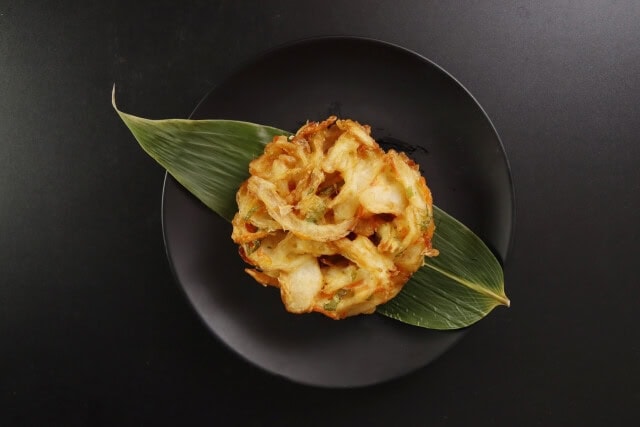 Origin of Tempura
The cooking method of tempura was introduced to Japan during the Muromachi period. Some claim that Portugal was the first to present it as "Nanban cuisine." Nagasaki City, on the other hand, is the birthplace of Japanese tempura. During the Azuchi-Momoyama period in the 16th century, the Portuguese introduced this style to the city. At the time, the batter is a dry mixture of flour, eggs, sake, sugar, and salt. The thick fritter-like batter was flavorful, and you could taste the ingredients and the batter.
However, oil was extremely valuable in Japan during the Edo period (1603-1868). Because tempura requires a large amount of oil, locals consider it a luxury item and they rarely consumed it with the general public. Around this time, tempura was popularised by skewering freshly fried tempura.
Origin of Kakiage
Morisada Manko (written 1837-1853) stated that they used Shiba Ebi shrimp in tempura served at soba noodle shops at the time. A soba researcher claims that tempura soba was invented around the Bunsei era (1818-1830), with Shiba Ebi shrimp kakiage as a topping. Former shogun Tokugawa Yoshinobu (1837-1913) was a frequent patron of Tenkin, where he would order an especially large kakiage served on a Nabeshima plate.
Kakiage Recipe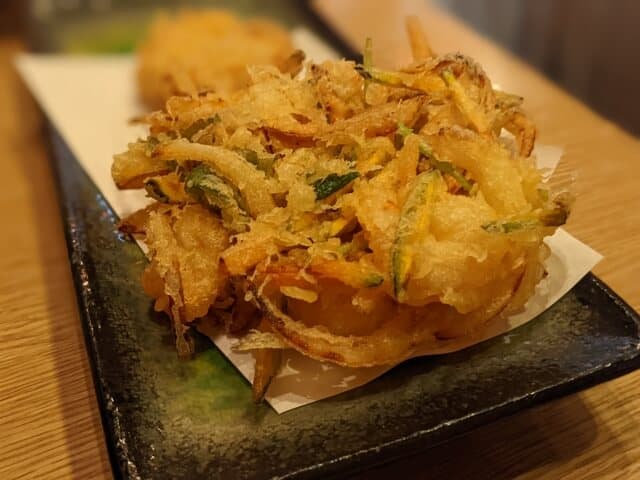 Kakiage Ingredients
| Ingredients of Kakiage for 2 persons | Measurements |
| --- | --- |
| Onion | 50g |
| Carrot | 50g |
| Burdock | 50g |
| Shiitake mushrooms | 200g |
| Trefoil | 8g |
| Salt | 10g |
| Flour for dusting | 14g |
| Frying oil | 50g |
| Flour | 42g |
| Cold water | 43g |
How to make Kakiage
Kakiage preparation
The key to make delicious kakiage is to combine different flavours and textures. Combine 5 items: onions, carrots, shiitake mushrooms, burdock, and trefoil. Cut the vegetables into slightly thick strips or thin slices so that you can easily entwine the vegetables when frying. 
Making the batter
Add ice water and mix roughly so that it does not become sticky. Using warm water and overmixing will draw out the stickiness of the flour. If it doesn't get sticky, it will rise quickly, so be careful. The method is to make ice water, mix it well with chopsticks, cool the water, and add the water to the flour.
Making the main course
Depending on the amount of oil and the size of the pan, divide the prepared vegetables into 2-3 equal parts. Divide the batter into 2 to 3 equal parts and mix the batter with the vegetables just before frying. Then, in a ladle, a spatula, or a small bowl, gather them into a frying size, and then drop them into the oil.
Cooking time
After dropping it into the oil, put the vegetables that were left on the ladle or scattered around. Leave it through the fire without touching it for about 30 seconds, then switch the top and bottom and fry for another 1 to 1.5 minutes.
Complete and serve
When the kakiage is deep-fried, hold the kakiage vertically and remove the oil from it about three times before pulling it out.
Difference between Kakiage and Tempura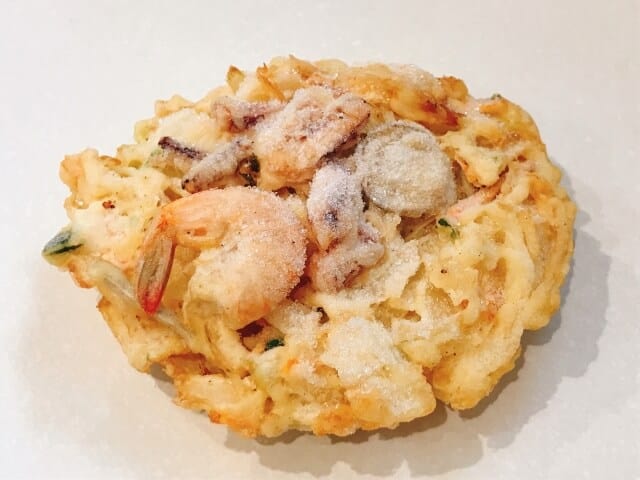 "Tempura" is a deep-fried food, in which locals coated the seafood and vegetables with a batter of flour and egg and fried in vegetable oil. On the other hand, "Kakiage" is one of the tempura dishes, and the Japanese coat the ingredients with the same batter as tempura and fried. Looking at it this way, you might think that both are the same dishes, but the difference is the cooking method, or rather, the frying method.
While locals fry the tempura individually, they make kakiage by cutting various ingredients into small pieces, mixing them with batter, and frying them together. Furthermore, "tempura" has only one type of ingredient such as shrimp, conger eel, pumpkin and sweet potato, and "kakiage" has various ingredients such as scallops, onions, shrimp, squid, burdock and carrots mixed in one kakiage. 
5 popular combinations of kakiage ingredients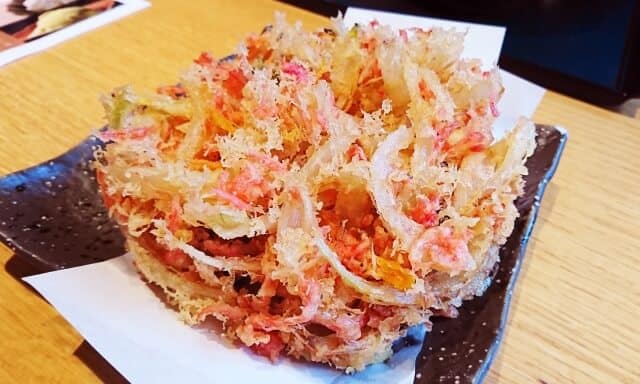 RANK 1: Squid, corn, chikuwa, perilla
The kakiage made with plenty of summer ingredients such as squid, corn, and perilla, and the sweetness of the perilla goes well with the freshness of the perilla.

RANK 2: Corn, Edamame, Pumpkin, Carrot, Chikuwa
A hearty kakiage made with plenty of summer vegetables. The carrots and green soybeans are beautifully colored, and the seasonal vegetables are highly nutritious, so you can get a variety of nutrients at once.

RANK 3: Peeled shrimp, carrot, burdock, onion
Kakiage with large peeled shrimp added to the standard combination of ingredients. Shrimp is one of the most popular ingredients for kakiage, and it is also a good luck ingredient.

RANK 4: Burdock, sweet potato, carrot
Sweet potatoes and long yam are added to the standard ingredients of burdock and carrots to bring out the sweetness. Grated long yam is added to the batter, giving it a unique fluffy texture.

RANK 5: Green beans, shimeji mushrooms, Shrimp
Kakiage filled with umami using shimeji mushrooms and peeled shrimp. Kakiage often uses carrots, but by using large shrimp such as peeled shrimp, the color will be better without carrots.
Where to buy Kakiage
Tenshige (天茂)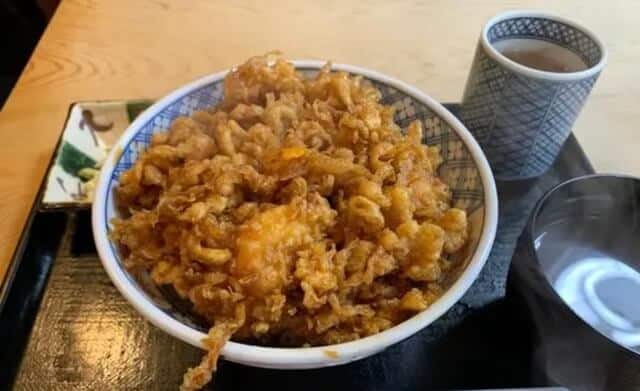 "Tenshige" is a long-established tempura restaurant, it is a popular restaurant that always has a long line. At lunchtime, many of the customers visit this store and eat kakiage rice bowls. Kakiage with a faint yuzu scent is not heavy and you can enjoy it quickly.
Tempura Fukamachi (てんぷら深町)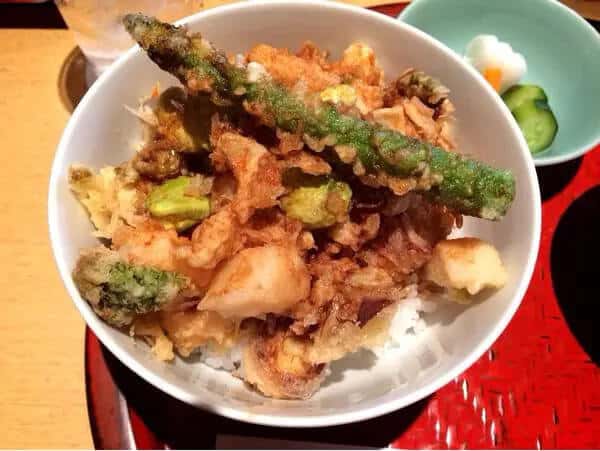 This is a famous tempura restaurant located a minute's walk from Kyobashi Station on the Tokyo Metro Ginza Line. The store is also known for having its name listed in the Michelin Guide. Here, you can have the "Special Kakiage Tendon". A new type of kakiage that brings out the flavour of the ingredients.
Momose (もも瀬)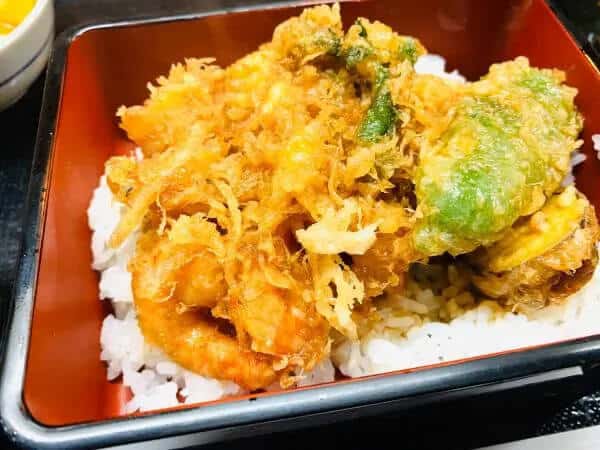 The shop is an 11-minute walk from Hanzomon Station on the Tokyo Metro Hanzomon Line. Although it is offered at lunchtime, "Kakiage Tendon" with small shrimp, one pillar kakiage and two vegetable tempura is 990 yen. It is reasonable to have crispy kakiage at this price. They served plenty of ingredients such as shrimp, green beans, and onions. It's full of volume.
Takeaway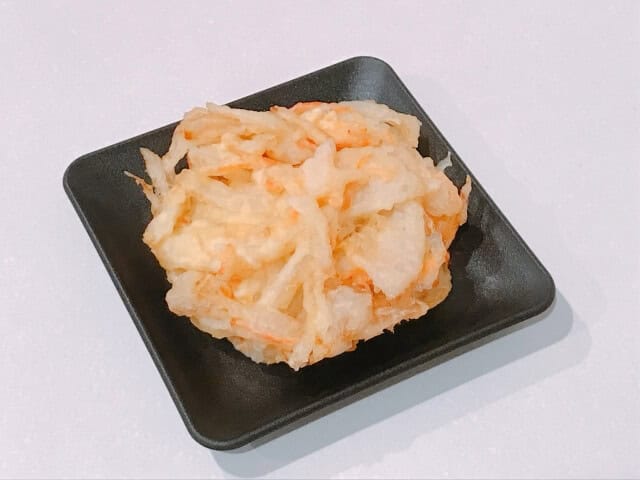 Cooking Japanese food frequently necessitates the use of readily available water, whether for steaming, boiling, or stewing. Furthermore, chefs use specialised knives to prepare various types of fish and expertly use dashi stock to enhance the flavour of vegetable and fish-based dishes. This vegetable tempura, also known as kakiage, is a light and crispy Japanese fritter made with onions, carrots, green beans, and mushrooms held together in a delicate tempura batter matrix.
If you're into Kakiage, you can also try Tempura, Toriten, and other Japanese dishes.