Sake is the national drink in Japan. As a matter of fact, it is available in every Izakaya and even in regular restaurants. Of course, drinking this alone can be quite boring. So, they created dishes that will go well with sake. One of these dishes is Karashi Renkon from Kumamoto City. Are you curious to know more about it? Continue reading below.
What is Karashi Renkon?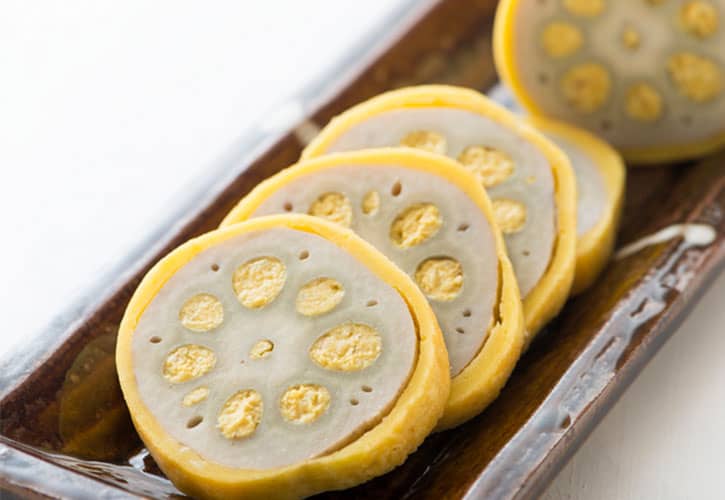 Karashi Renkon is a local dish from Kumamoto. It's a lotus root that is filled with karashi or Japanese mustard and miso paste. Before cooking, they would cover the lotus root with batter made from egg yolk and flour first. Then, they will fry it until it becomes crispy.
Although it is now a favorite among many, it used to be available to the elite only. Currently, Karashi Renkon is one of the 100 Best Local Dishes in Agriculture, Mountains, and Fishing Villages by the Ministry of Agriculture, Forestry, and Fisheries.
Taste and Texture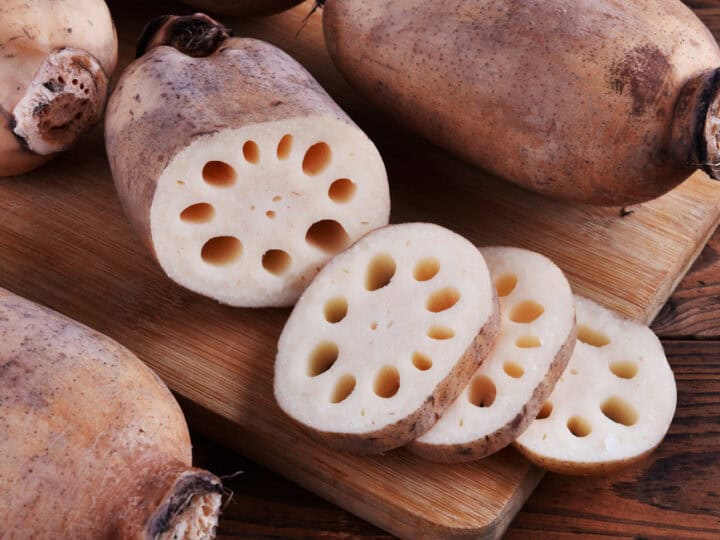 It's spicy since it has karashi filling. This type of Japanese mustard is slightly bitter and spicier than regular mustard. In fact, some people compare the taste of karashi to hot English mustard.
Meanwhile, the lotus root has a crunchy texture that is almost the same as celery. However, when you cook it for a long time, it becomes a little softer but still remains firm. The taste is also mild and a bit sweet.
On the other hand, Karashi Renkon is crispy due to the process of soaking in a batter and deep-frying.
History of Karashi Renkon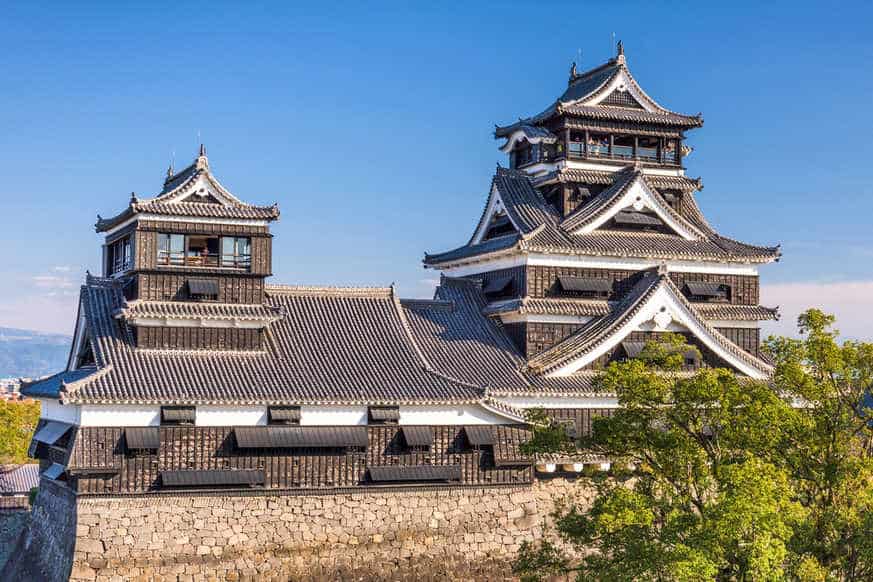 The origin of Karashi Renkon began during the Edo period. At that time, Tadatoshi Hosokawa, the feudal lord, was very ill. So, Kazuhisa Gentaku of Rakanji Temple worried for the lord and tried to find healthy food for Tadatoshi. Then, he found a Japanese-Kan book that says lotus root has a hematopoietic effect.
Of course, Kazuhisa recommended that Tadatoshi eat lotus root. However, the latter refused and said that it's dirty since the lotus root grows in the mud. Hence, they developed a way to clean the lotus root and make it appear enticing. That's when they began the process of making this healthy food which is the Karashi Renkon that we know now.
After cutting both ends of the lotus root, they were able to rinse it thoroughly. Then, they thought of stuffing it with the mixture of wheat miso and Japanese mustard or karashi. They also covered the stuffed lotus root with a batter mixture making it look elegant and delicious.
Tadatoshi said he was happy to eat this. In addition to his delight, his appetite increased and he recovered from the illness.
Since the sliced lotus root resembles the family crest of Hosokawa family, they didn't make it available to the public. As a matter of fact, they made Karashi Renkon exclusive to the elite only. Also, since it looks like the crest of Navagraha, Karashi Renkon can only be made in Kumamoto Prefecture.
How to eat Karashi Renkon?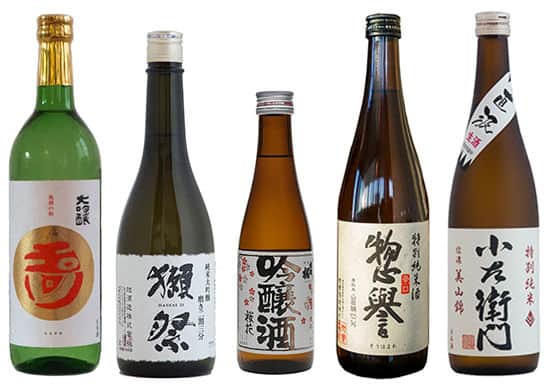 Of course, there are many ways how to eat Karashi Renkon. However, the Japanese often eat this with sake. As a matter of fact, it's one of the most popular snacks to go with sake. Thus, it is also available to order in many Izakaya.
Another way to eat Karashi Renkon is to have it as a side dish for rice. A typical Japanese meal consists of rice, meat, and vegetables. They also like to include seasoned side dishes because their rice is usually plain.
Eventually, it became a favorite along with Osechi dishes to serve during New Year's Eve.
Meanwhile, the latest trend in eating Karashi Renkon is to place it between bread like a sandwich. Thus, the spicy taste, the crunchy texture, and the taste of karashi make it a great addition to the softness of the bread.
Karashi Renkon Recipe
Although cooking Karashi Renkon is quite a work, the Japanese were able to preserve the original method. Learn how to make this Kumamoto's local cuisine in just a few steps.
Ingredients
| | |
| --- | --- |
| Good for 2-3 servings | |
| lotus root (medium) | 2 sections |
| vinegar | 2 tbsp. |
| miso | 100 g |
| karashi (Japanese hot mustard) | 33 g |
| kinako (soybean starch) | 20 g |
| sugar | 10 g |
| flour | 300 g |
| potato starch | 130 g |
| egg yolk | 2 large yolks |
| water | appropriate amount |
| cooking oil | appropriate amount |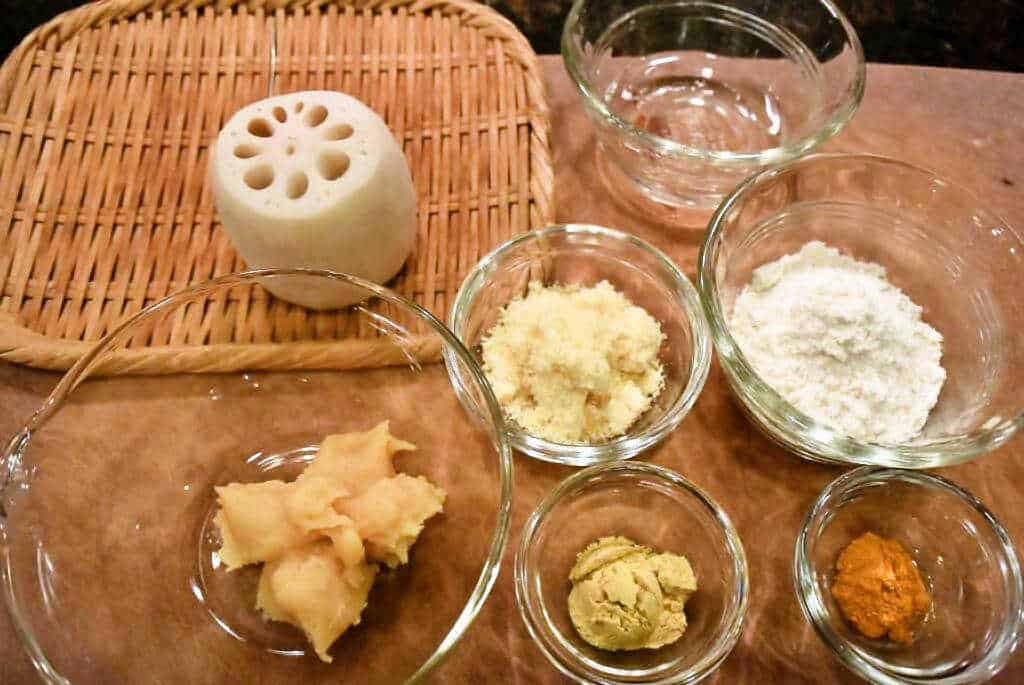 How to make Karashi Renkon?
Before doing anything to the lotus root, prepare the mustard and miso mixture first. Combine karashi, miso, 23 g of kinako, and sugar in a clean bowl. Mix well before kneading them together. Then, set aside.
On the other hand, wash the lotus root thoroughly after peeling. Once it's ready, boil it in a saucepan together with vinegar and the right amount of water. After that, pour it into a colander and let them dry.
When the lotus root is completely drained, stuff the holes with the mustard and miso mixture. In order to fill the center, press the lotus root against the mixture and pack it tightly. Leave it for two to three hours (2-3 hours).
Then, wipe off any miso that sticks out from both ends of the lotus root. When both sides are already clean, rub a small amount of potato starch all over the lotus root.
Meanwhile, start preparing the batter. Combine flour, potato starch, egg yolks, and a small amount of water in a separate bowl. Mix them well until the batter is free from lumps.
As soon as the batter is ready, put two skewers on the lotus root. Then, pour some batter onto it and make sure the lotus root is completely covered. Wait until the excess mixture runs down.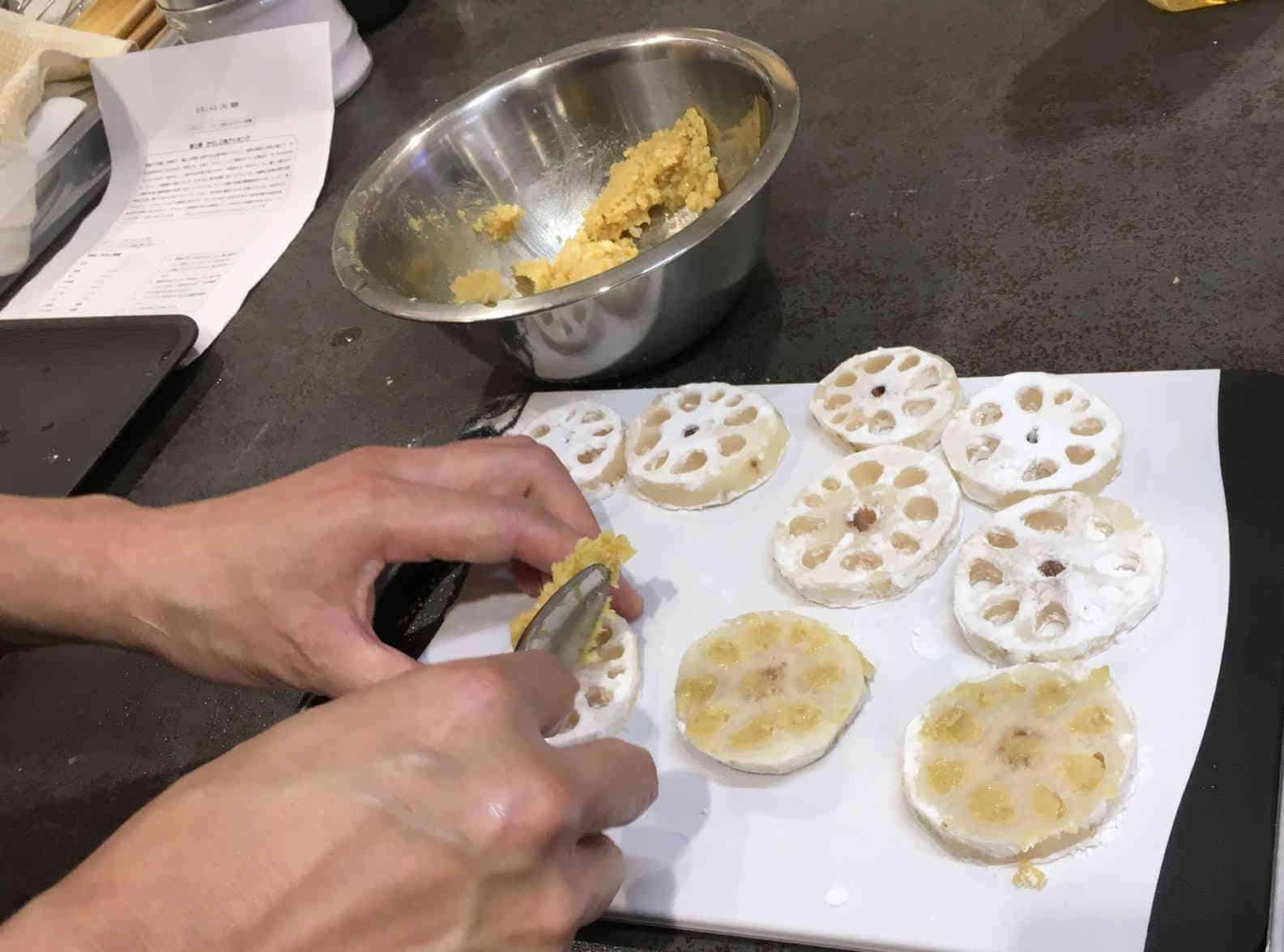 Let's get frying!
While doing step 6, heat oil in a frying pan that is fit for deep-frying. When the temperature of the oil reaches 160°, fry the lotus root one at a time. Frying them altogether may cause them to stick at the bottom of the pan.
When both sides are firmly set, remove the skewers and continue frying until it becomes crispy. As soon as the texture becomes crispy, remove the lotus root from the pan and wipe off excess oil.
After that, cut the lotus root into thin slices. Place them on a clean plate and garnish them to your liking.
Tips
Of course, do not overboil the lotus root. Instead of turning soft, it can be hard due to boiling too much.
It is also important to tightly press the miso and mustard mixture into the lotus root so there will be no gaps.
The batter must be thicker than the one they use for tempura. It's also best to make sure it doesn't have lumps.
Where to eat Karashi Renkon?
Karashi Renkon is a famous food that goes well with sake. Hence, many Izakaya in Kumamoto alone has this in their menu.
Murakami Karashi Renkon Store (村上カラシレンコン店)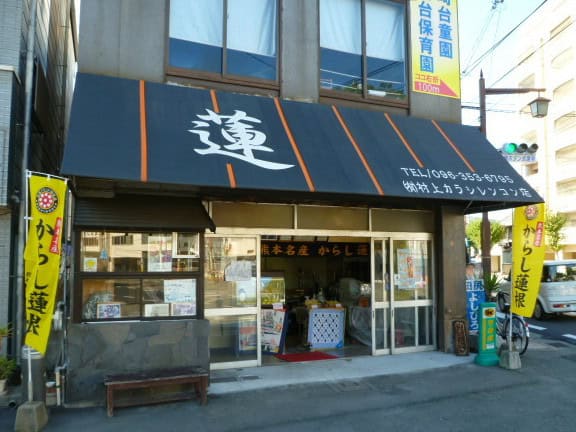 This business has been serving one of the best Karashi Renkon in Kumamoto for over fifty years now. Murakami is also known for creating dishes using lotus root. For example, they sell burgers and croquettes that are made from lotus root and improved with mustard.
Local Cuisine Aoyagi (郷土料理 青柳)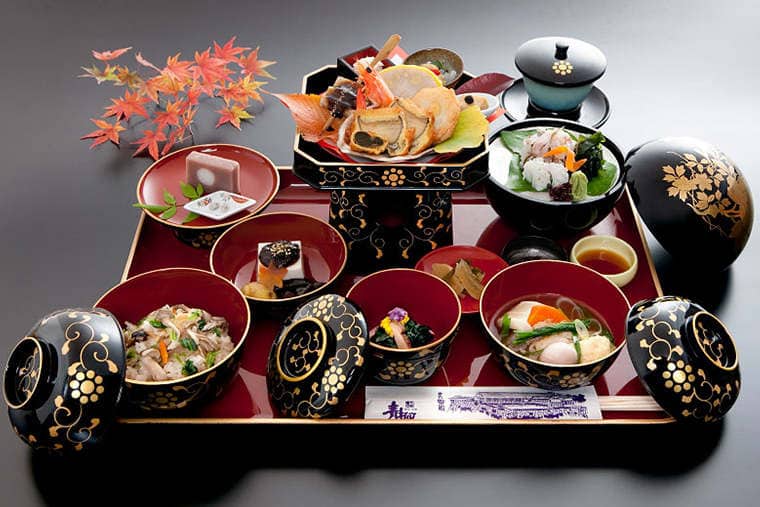 Aoyagi is a high-rated restaurant located behind Kumamoto City Hall. They have a wide selection of dishes that are perfect for their collection of different kinds of sake from all over the country. Aside from Karashi Renkon, Local Cuisine Aoyagi is also popular for its horse sashimi and Kaiseki.
Oda Shoten Kumamoto Station Store (おだ商店 熊本駅店)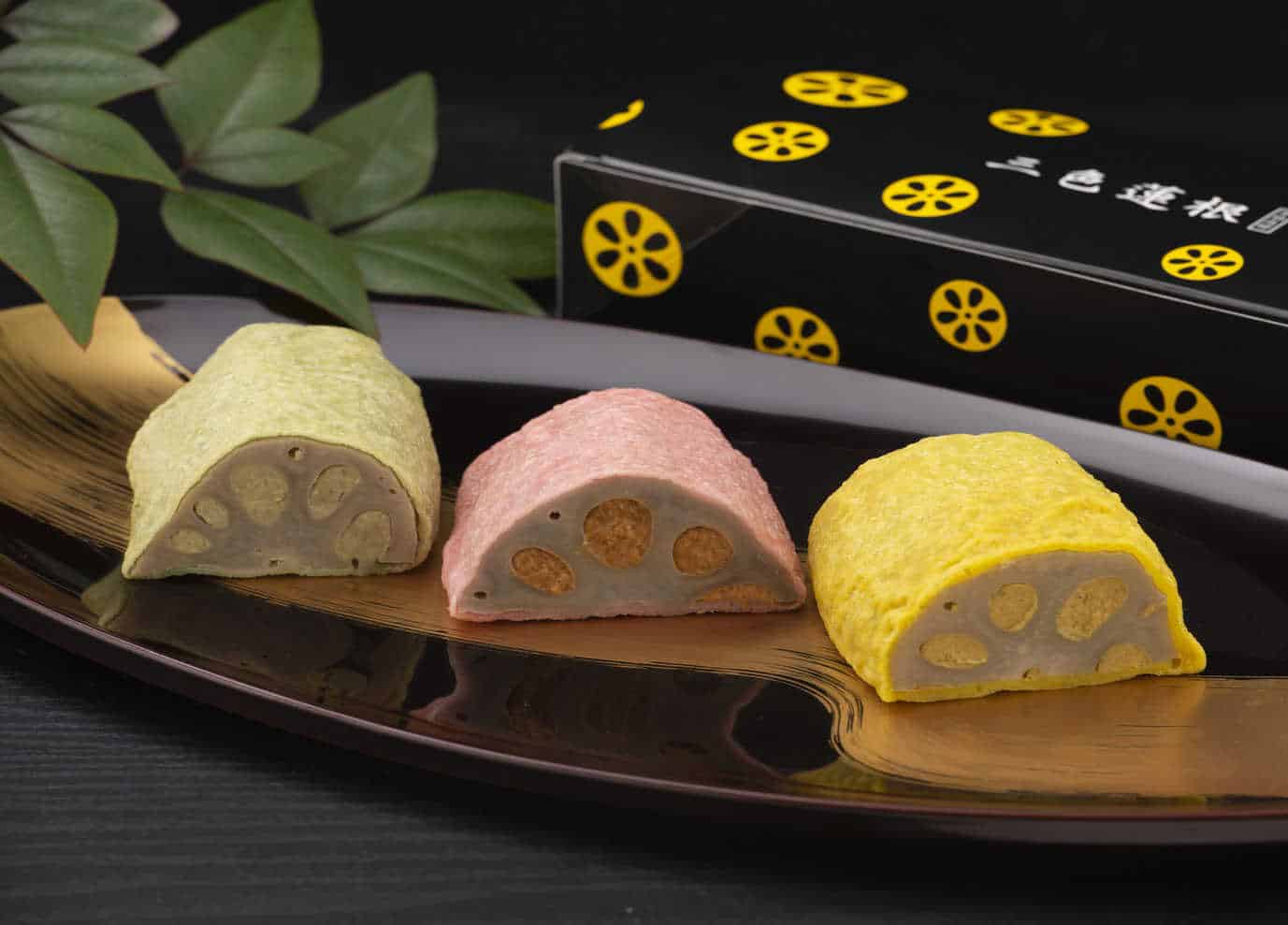 Oda Shoten is famous for their Karashi Renkon which comes in three different colors. Aside from the usual yellow Karashi Renkon, it also comes in pink and green. The yellow one, of course, is the classic Japanese hot mustard. While the pink one is called "Sakura Lotus Root" which is mixed with eight kinds of spices. Meanwhile, the green one is made extra pungent with wasabi.
The store is so popular that it is now available in three locations. However, the most accessible one may be the one in Kumamoto Station Store. In this branch, you can buy Oda Shoten's lotus root products. But, if you want to visit their main store, it is located in Matsubasemachi, Uki City.
Fudo Chikuwa Honpo (不動ちくわ本舗)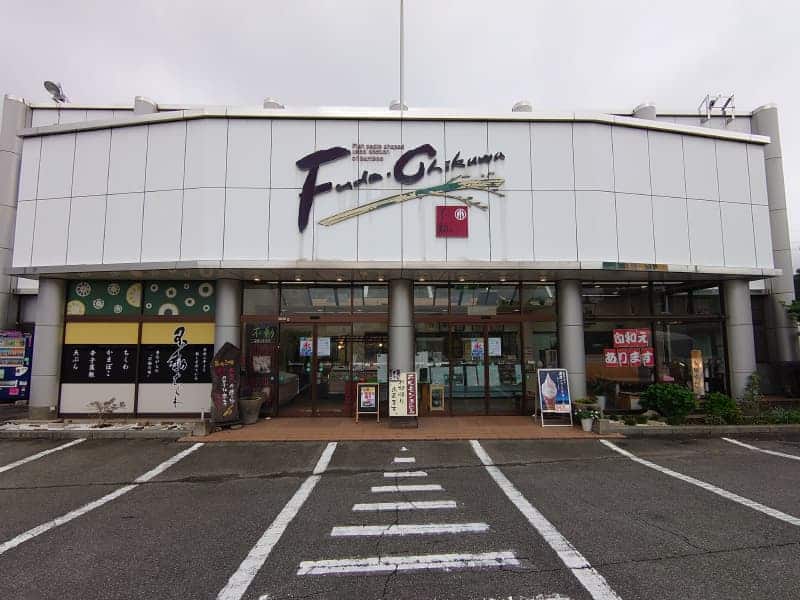 The history of Fudo Chikuwa dates back to the Edo period when the first Takichi moved to Kumamoto. Then, they said that he founded the shop about 160 years ago in Keio.
Nowadays, Fudo Chikawa continues to make Karashi Renkon in its traditional way. They also sell other products such as Yuzu-flavored mustard renkon hand-held rice ball.
Mori Karashi Renkon "Sakura no Koji" (森からし蓮根 城彩苑)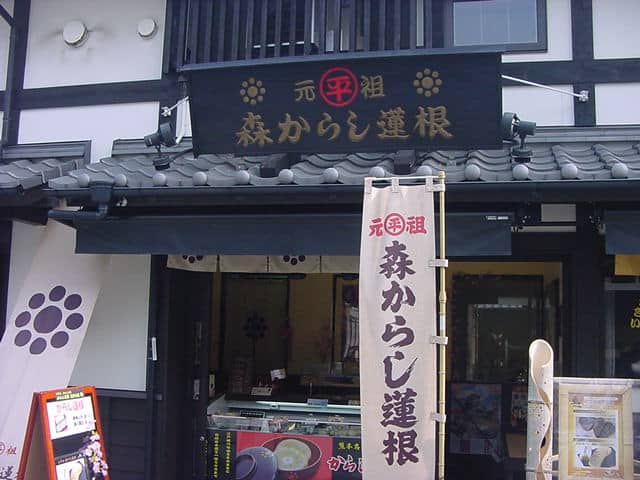 Mori Karashi Renkon is a long-established restaurant. In fact, the taste of their Karashi Renkon has been passed down through generations. Their crunchy mustard lotus root is so popular that the store now has different branches not just in Kumamoto but in other prefectures as well.
Check out the original and addicting taste of Karashi Renkon when you visit Mori. You may also want to drop by their main store which is located in Shinmachi.
Conclusion
Karashi Renkon is a deep-fried lotus root that is filled with karashi (Japanese hot mustard) and miso. It's a Kumamoto local food that was kept out of the gate until the Meiji era. It's spicy and crunchy which is why it's a favorite dish to eat together with sake.
Check out other local dishes from Kumamoto Prefecture and let us know which one is your favorite in the comments section below. Don't forget to like us on Facebook as well!