Dago jiru, a traditional Japanese soup, hails from Kumamoto, Japan. This hearty dish features handcrafted dumplings, seasonal vegetables, and savory seasonings. It's a comforting and beloved part of Kumamoto's culinary heritage, enjoyed throughout the year but especially during the fall and winter. In this article, we'll delve into the essence of Dagojiru and what makes it a cherished favorite among locals and visitors alike.
What is Dago Jiru?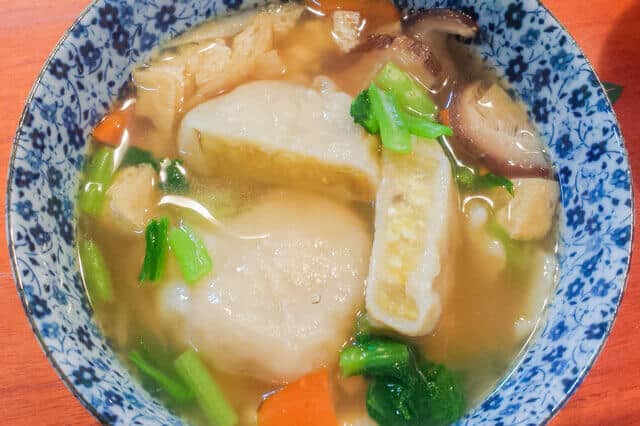 Dago jiru is a local dish in Kumamoto, Japan, made with dago (dumplings) crafted from kneaded flour, meat, and vegetables. The recipe can vary by region and household, with different ingredients and flavors. In Oita Prefecture, it's known as "Dango Soup" due to the flat, noodle-like dango filling created from flour kneading. Historically, this dish was a budget-friendly alternative to rice. In Kumamoto, particularly in the Aso region, it's miso-based and features mountain ingredients like pork, root vegetables, and shiitake mushrooms. In the coastal Ariake Sea region, it incorporates shellfish and chicken for a lighter, sumashi soup-style dago jiru.
Dago Jiru History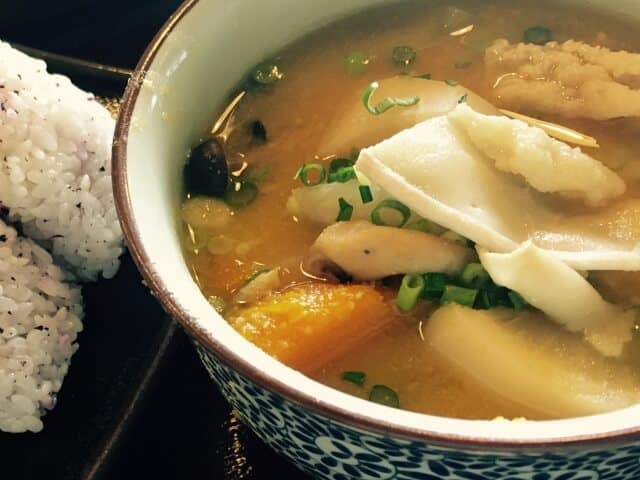 "Dakojiru," also known as "Dagojiru" or "Dango Soup," is a hearty soup popular in Kumamoto, Japan. It's made by mixing wheat or rice flour with water, letting it rest, and then adding hand-rolled and torn dumplings. This soup features seasonal vegetables like taro and burdock and is seasoned with miso or soy sauce. Dakojiru is easy to prepare, packed with nutrients, and has been a go-to snack for farmers during breaks. In Kumamoto, sweet potatoes are often used for the dumplings, resulting in unique varieties like "Ikinari Dagojiru," "Ohimesan Dangojiru," and "Anmochi Dagojiru." Different regions and households have their own recipes, making it a diverse and delightful dish. 
About Kumamoto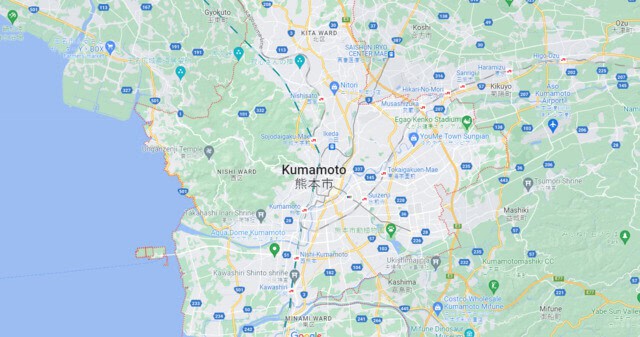 Kumamoto, a prefecture in central Kyushu, Japan, overlooks the Amakusa Sea and encompasses the Amakusa Islands, with its capital being the city of Kumamoto. Over the years, Kumamoto's economy has shifted from primarily agricultural to a robust mix of manufacturing and service industries. Agriculture still plays a vital role, with rice, fruits, vegetables, and livestock all contributing to its agricultural output.
Kumamoto is known for its diverse gourmet offerings, featuring specialty products like horse meat, red beef, seabream, prawns, purple sea urchins, taro potatoes, and red eggplant. One standout dish is horse sashimi, a delicacy celebrated nationwide. While horse sashimi or basashi available through general mail order mainly includes cuts like loin and ribs, Kumamoto boasts specialty shops where you can savor rare parts like tongue, heart, and ichimotsu. These unique cuts, such as "futaego" and "mane," offer a distinctive sweetness and texture not found in other meats. Despite their initial appearance of whiteness and fat, they are surprisingly light and pair excellently with Kyushu's distinct dark sweet soy sauce.
Why is Dago jiru loved by the Japanese?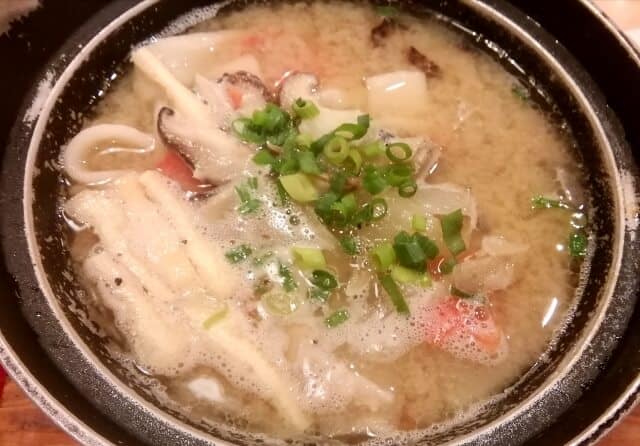 "Dagojiru" has remained a beloved home-cooked dish due to its convenience and versatility. It's quick to make and incredibly satisfying, suitable for any mealtime – breakfast, lunch, or dinner. The seasoning enhances the natural flavors of its ingredients, particularly the hearty root vegetables in the comforting broth. It's a tasty option that appeals to all generations, making it perfect for sharing in a communal setting like a hot pot meal.
Dago Jiru FAQ
What is the season of eating Dako jiru?

Dakojiru is a dish you can enjoy all year round, but it's particularly popular in the fall and winter when ingredients like taro and burdock are in season. During these times, you'll often find it featured on restaurant menus as a special seasonal treat. Many folks suggest enjoying it with a side of mustard greens rice for a tasty combination.

Is Dago jiru a popular dish in Kumamoto, or is it more of a local specialty?

Dagojiru is a dish that is popular in Kumamoto and is one of the local specialties of the region. While it may not be as widely known or available outside of Kumamoto, it is a beloved and traditional dish within the prefecture. Dagojiru came from the Kumamoto dialect and culture. It is especially popular during the fall and winter seasons when certain ingredients like taro and burdock are in season. 
Dago Jiru Recipe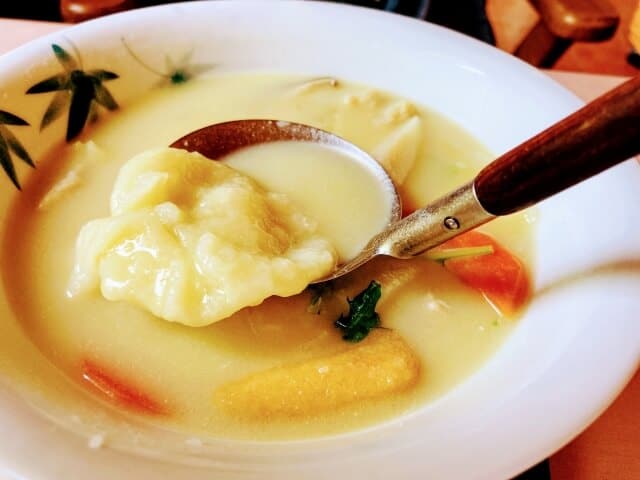 Dago Jiru Ingredients
| Ingredients of Dago Jiru for 10 persons | Measurements |
| --- | --- |
| Dried sardines | 100g |
| Dried shiitake | 200g |
| Burdock | 10g |
| Taro | 300g |
| Carrot (medium) | 25g |
| Flour (all-purpose flour) | 300g |
| Sticky rice powder | 150g |
| Light soy sauce | 100g |
| Water | 1200g |
| Green onion | 15g |
How to make Dago Jiru?
Soak and boil the mushrooms and sardines
Soak the dried shiitake mushrooms in water. Put water and dried sardines in a pot and heat. Once it boils, add the dried sardines after a while.
Cut the other ingredients
Cut the burdock root into large cubes, and cut the dried shiitake mushrooms into thin pieces. Then, cut the taro into large pieces and the carrot into small pieces.
Add other ingredients and boil
Add burdock root, dried shiitake mushrooms, taro, and carrots to a pot and bring to a boil.
Season and add the rice powder
Then, season with light soy sauce. Add water (not listed) to wheat flour and glutinous rice powder and knead to the consistency of an earlobe to make dumplings.
Complete and serve
When the taro is boiled, add the dango and bring to a boil. After serving in a bowl, top with finely chopped green onions.
Where to buy Dago Jiru?
Konotsu (だご汁茶寮 ここのつ)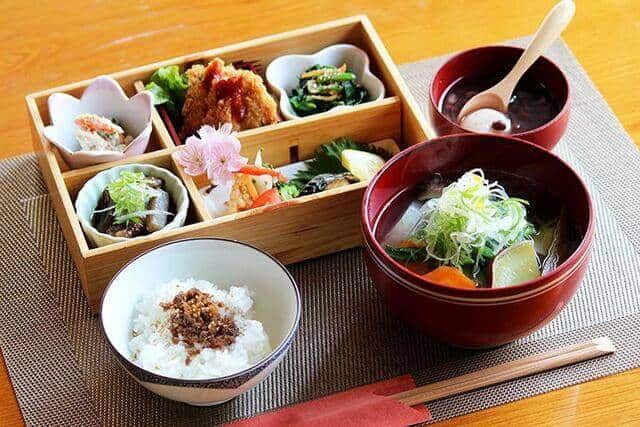 This restaurant specializing in "dago soup" is housed in a renovated private house, and since opening three years ago, it has become so popular that there are lines even on weekdays. What you can enjoy here is sumashi (soy sauce)-based dago soup with the aroma of elegant chicken stock. They filled the soup with the flavor of vegetables delivered directly from Aso farmers, and once you taste it, you'll never forget it.
Yamami Chaya (阿蘇庭 山見茶屋)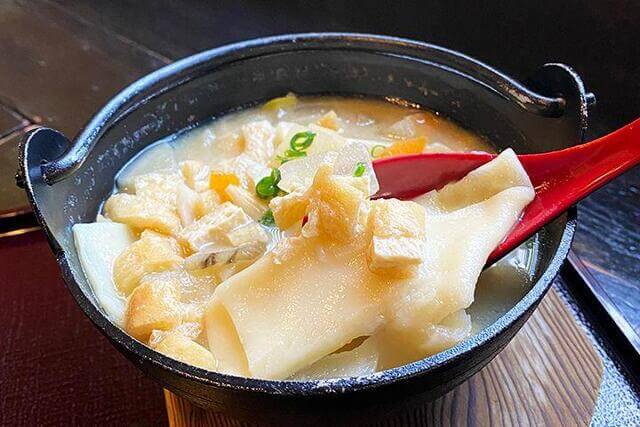 Their dago jiru is famous by a simple sweetness that makes you feel at ease, and the key to the taste is the rich vegetable and chicken soup stock and carefully selected miso. In particular, the miso is blended with rice miso from Kumamoto Prefecture, which combines with the dango and brings out its unique flavor and richness.
Nakamura (御食事処 なかむら)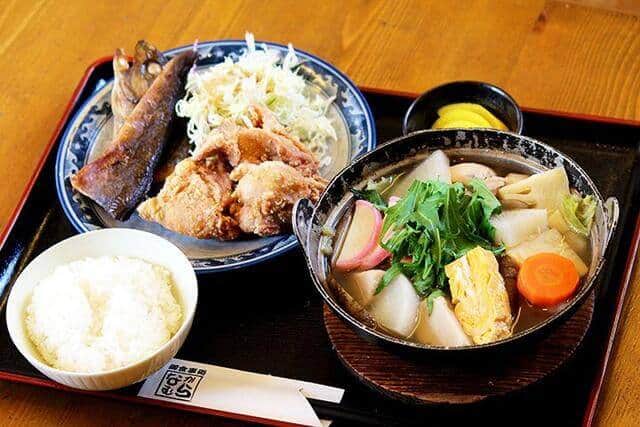 This is a long-established restaurant frequented by local office workers and families who are looking for a three-pronged lunch: delicious, cheap, and hearty.Among the menu items such as fried chicken and horse hormone set meal, the best choice is the pesticide-free vegetables. "Dagojiru"has a reputation for having a great aroma, and the reason for this is the soup stock, which they carefully made from shaved bonito flakes and dried shiitake mushrooms! They add the soy sauce to this stock, which further impairs the flavor.
Takeaway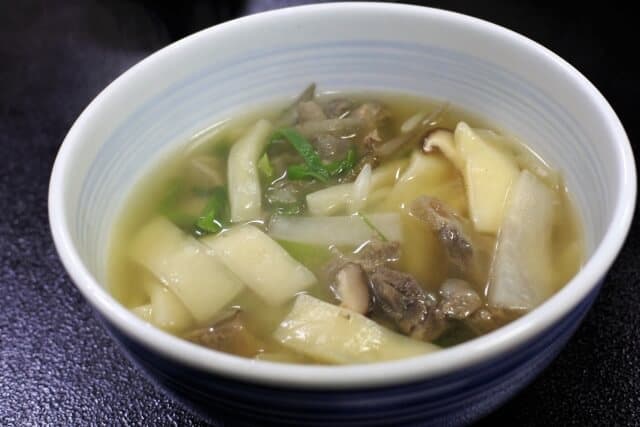 Whether you're savoring it in a cozy Kumamoto eatery or trying your hand at making it in your own kitchen, Dagojiru is a culinary adventure worth embarking on. We hope this article has provided you with a deeper appreciation for this delicious and heartwarming dish, and we invite you to explore the flavors of Kumamoto and Japan's diverse gastronomic landscape with open hearts and eager palates.
You can check some Japanese dishes below that we know you would like to try too.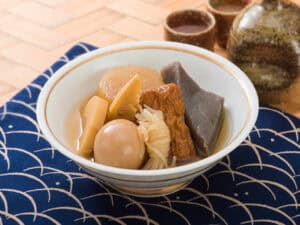 Kagoshima Oden (鹿児島おでん)
When it comes to Japanese comfort food, Kagoshima Oden truly steals the show. Hailing from the charming southern island of Kyushu, this dish has a special pl…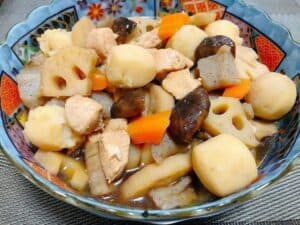 Gameni (がめ煮)
Gameni is a traditional Japanese dish that holds a special place in the cuisine of Fukuoka Prefecture. This flavorful dish, rooted in local customs and tradi…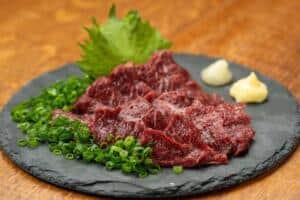 Basashi (馬刺し)
Nowadays, horse meat is attracting attention for its high protein content, low fat, and ability to be eaten raw. Since ancient times, there have been several…