Introduction to Motsunabe
In Japan, they love to eat hormone (ホルモン); the short term for internal organs. Therefore, they make a dish out of it which is called Motsunabe. Motsunabe is a hot pot dish that uses beef and pork motsu (hormone or pork offal) as its main ingredient. It is a local cuisine around Fukuoka City, Fukuoka Prefecture. Very popular among locals because it is cheap but is delicious. If you are one of those people who eat the internal organs of animals such as tripe. And also who do not like to throw away food, then this article about Motsunabe is just right for you.
Etymology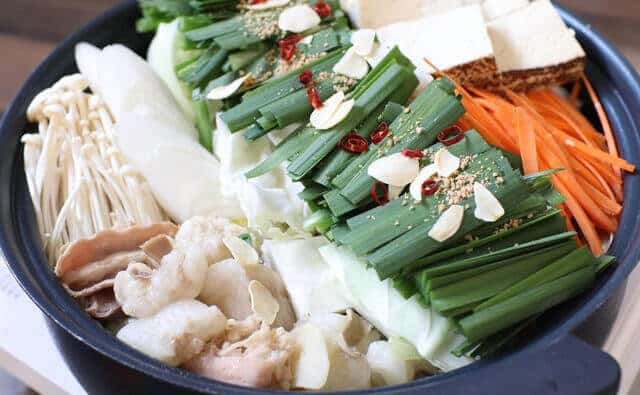 Hormones or motsu (ホルモン) are used as ingredients in Motsunabe, locals knew it as Motsu Nabe or Hormone hot pot. It comes from the Kansai dialect of "something to give up (放るもん)," or "throwing away (捨てるもの)." Therefore, it can be inferred that locals did not originally use hormones as ingredients. But rather, they could eat it because they had nothing to eat due to the postwar food shortage at that time.
What is Motsunabe?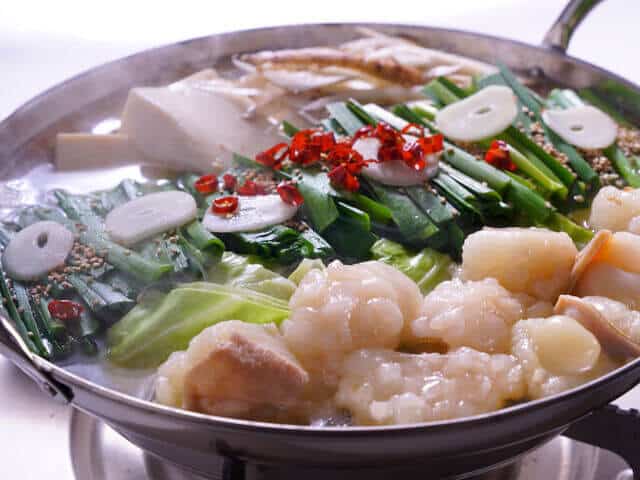 Motsunabe (もつ鍋) is a traditional Japanese hot pot dish consisting mainly of beef or pork internal meat in Fukuoka prefecture. They uses internal meat or organs such as the small intestine and large intestine, or what they call "hormone". Motsunabe is also called a "hormone pot" or "pork offal hotpot" in English translation. "Motsunabe" is exceptionally delicious with the sweet fat of the fluffy offal that bursts into your mouth. Locals suggested that you should not buy offal or hormones in supermarkets. Because the texture is completely different from eating at the store. The biggest point of Motsunabe is to use fresh domestic beef "raw offal". The plumpness and thick sweetness of offal cannot be achieved with "boiled offal".
History of Motsunabe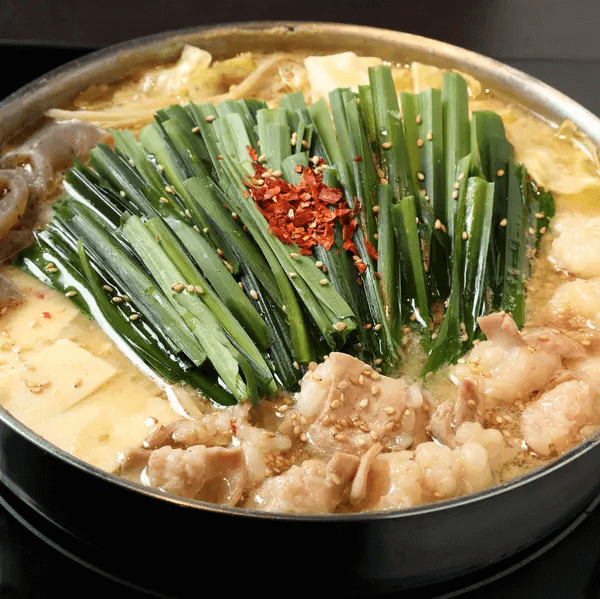 The roots of Motsunabe date back to World War II. It starts when Koreans who worked as coal miners at that time cooked hormones and leeks. They cooked this in aluminum pots and ate them with soy sauce flavor. Since then, in addition to beef and pork tripe and leeks, ingredients and flavors have changed little by little. So by the 1960s, sesame oil, peppers, green onions, etc. were added to the food in a sukiyaki style.
In addition, there are many kinds of seasonings these days. Locals added soy sauce and miso-based on bonito and kelp stock. Moreover, they also added cabbage and garlic as well as leeks, and falcon nails. In the Hakata area of ​​Fukuoka City, locals still do not know it until about 25 years ago. Motsunabe became famous in this area in 1992 after the burst of the bubble economy. That is when the Hakata-style Motsunabe store opened in Tokyo.
Motsunabe Recipe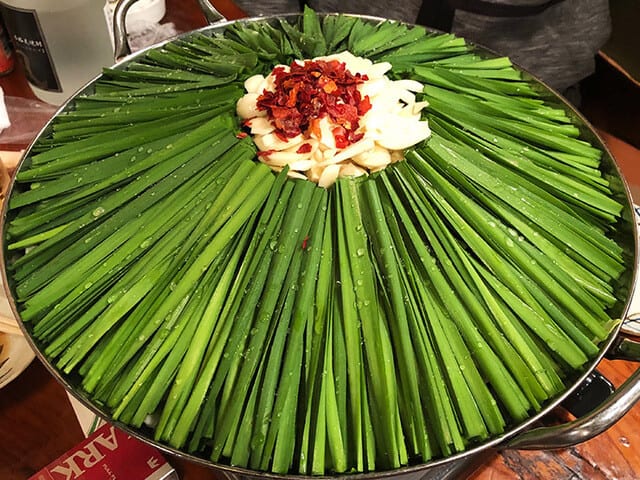 The Motsunabe Ingredients
| | |
| --- | --- |
| Motsunabe Ingredients for 4 people | |
| Pork offal | 400g |
| Cake flour (for glaze) | 26g |
| water | 236g |
| cabbage | 450g |
| garlic | 60g |
| bean sprout | 200g |
| | |
| --- | --- |
| Motsunabe soup | |
| water | 1000g |
| Chicken glass soup base | 43g |
| soy sauce | 33g |
| sweet sake | 28g |
| liquor | 28g |
| oyster sauce | 5g |
| miso | 17g |
How to make Motsunabe?
Prepping the cabbage
Remove the core from the cabbage and chop it into small pieces.
Cutting garlic
Cut the garlic into 4 cm width. Remove the core of the garlic and slice it thinly.
Pork offal coating
Sprinkle the pork offal with flour and wash it under running water.
Boiling the pork offal
Boil water in a pan, add the pork offal. Next, boil for about 1 minute, then remove into a colander before it is completely cooked.
Making the soup
Put the ingredients of the soup other than miso in a pan. Heat it over medium heat, and melt the miso when boiled.
Simmering all the ingredients
Place cabbage, bean sprouts, and boiled pork offal in that order. Then, cover and simmer on medium heat for about 10 minutes.
Sprinkling some garlic on top
When all of it is cook, remove the lid, line up garlic, and sprinkle it.
Nutrition Benefit of Motsunabe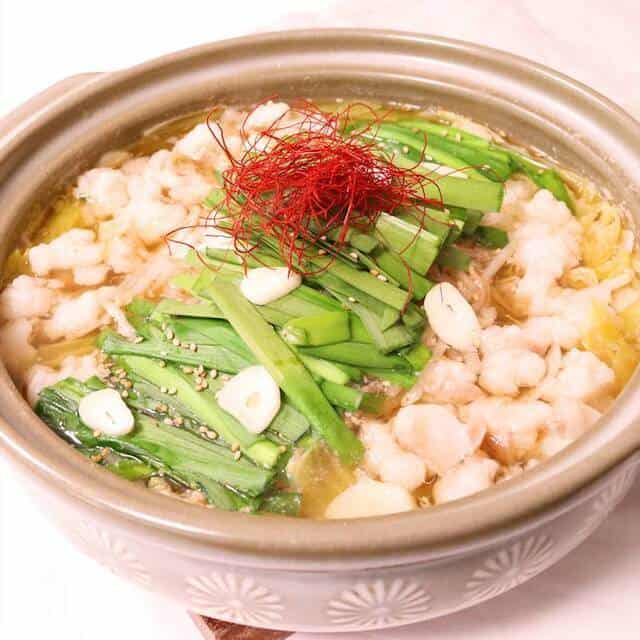 Offal contains more vitamins than ordinary meat. In particular, there are plenty of B vitamins that are effective in relieving fatigue and vitamin A that strengthens the skin and mucous membranes.
In addition, there are many minerals such as iron and zinc and essential amino acids, which are effective for boosting immunity and preventing anemia. You can also expect a beautiful skin effect. Vitamin C is also needed to make collagen work efficiently. When you eat offal, be sure to eat vegetables with it.
Mizutaki vs Motsunabe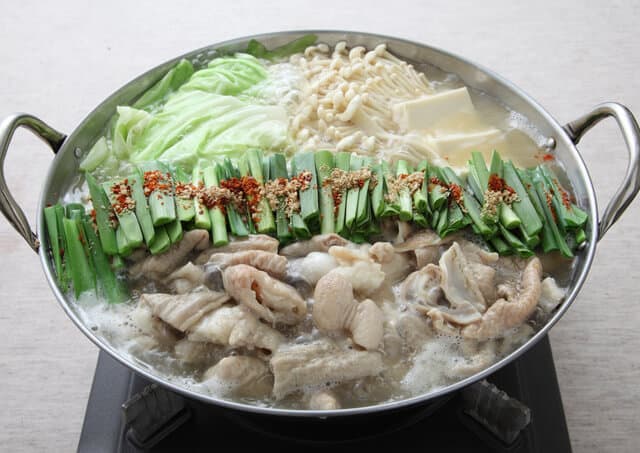 In Fukuoka, there are two types of famous "nabe" (hotpots): "mizutaki" and "motsunabe". Mizutaki is made with chicken broth, and the Motsunabe is made with innards.
What is Japanese Nabemono?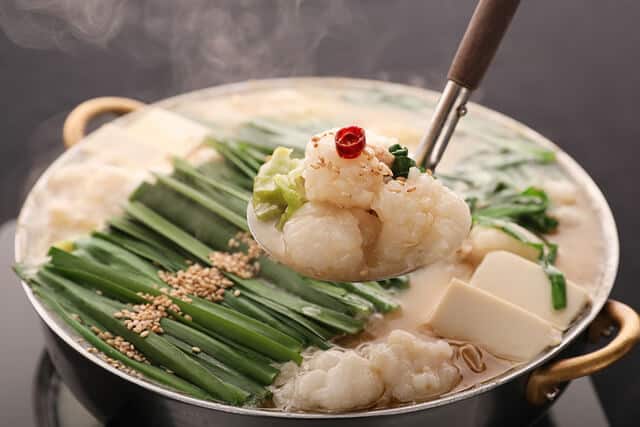 Nabemono, called nabe for short, is a category of Japanese hot pot dishes traditionally cooked at the dinner table in a donabe (clay pot). The word nabemono is a compound of nabe, which translates to "cooking pot" and mono, meaning "thing."
What contains Motsunabe?
Motsunabe contains pork or beef tripe, chicken gizzards, and a load of secondary ingredients. Such as cabbage, fried tofu, chives, garlic, shimeji mushrooms, and carrots, among others.
Recommended Motsunabe Restaurants
Rakutenti Hakata (Fukuoka)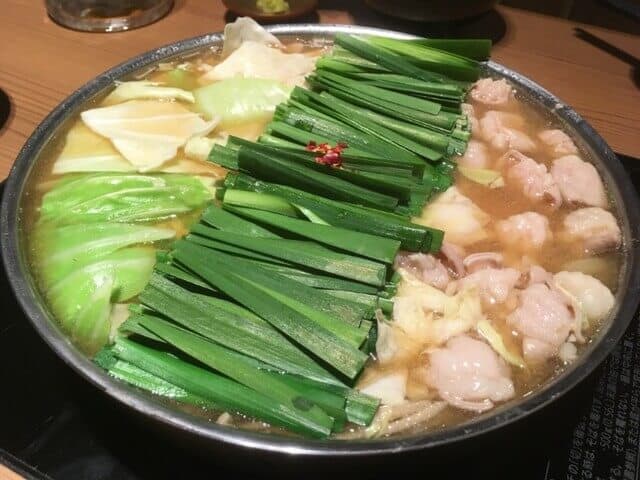 A special soup specially made by the shop's mother who has kept the same taste for over 40 years. An original soup prepared for Rakuten Motsunabe, which is a mixture of soy sauce and secret sauce. The shop uses JR Kyushu Farm Garlic Chives. The finest garlic is thick, deep green, and fragrant. The cabbage from Kuwano Farm, produced in Fukuoka Prefecture, is cabbage with outstanding sweetness with reduced pesticides made exclusively for Rakuten. They use Champon noodles made by a unique manufacturing method that is perfect for motsunabe soup with melted ingredients.
Hakata Motsunabe Ooyama (Fukuoka)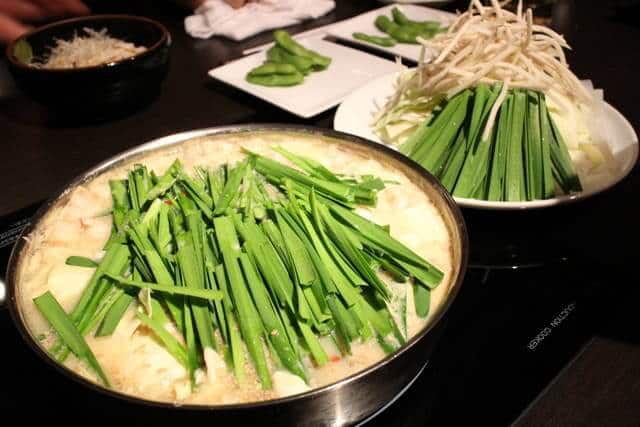 To devote all the shop's energy to the first bite of "deliciousness", they carefully selected the ingredients. They also commit and repeat trial and error in the soup to create a Hakata motsunabe from Oyama. It is a motsunabe with a triple soup stock of vegetables and seafood when it is added to a uniquely blended soy sauce. It has a gentle and mellow taste that makes the material stand out.
Arizuki Ebisu (Tokyo)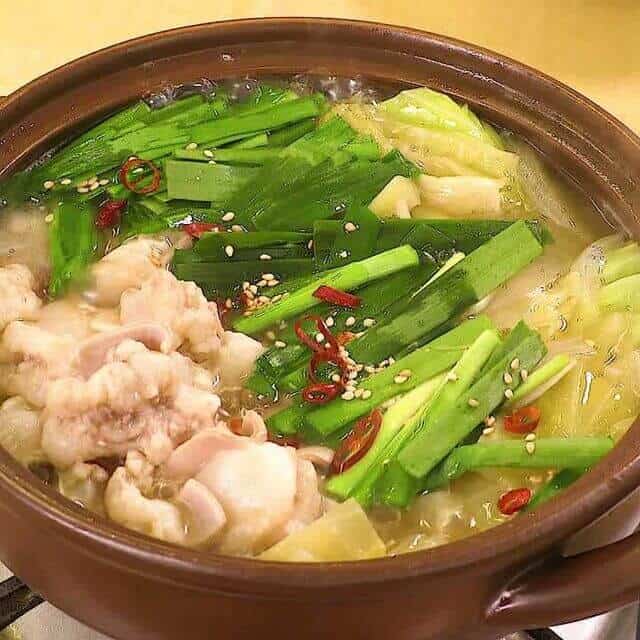 Arizuki is a famous hot pot restaurant with its main store that uses domestically produced offal. So customers can enjoy an exquisite motsunabe that is easy for anyone to eat. You can enjoy various flavors such as "white motsunabe" based on Kyushu miso and "red motsunabe" based on soy sauce. Besides offal, Aritsuki's special spicy cod roe and omelet are also very popular.
Hakata Motsudokoro Kirari (Tokyo)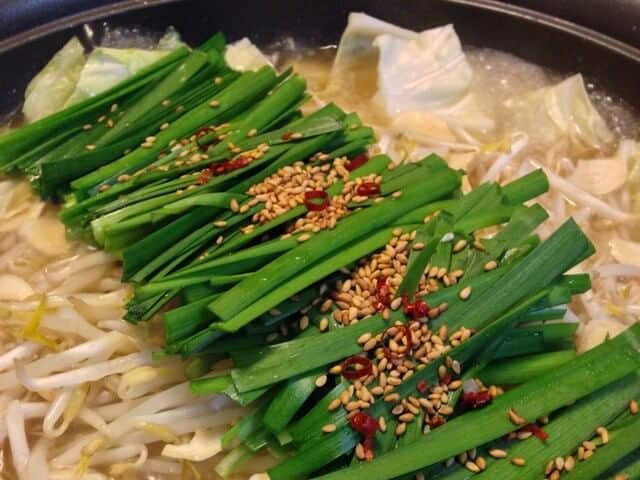 "Hakata Motsudokoro Kirari" is a shop particular about using most of the ingredients from Kyushu. You can enjoy a full-fledged motsunabe with a grave, which you can only get at such a shop. There are 6 types of motsunabe: miso, salty soy sauce, salt, spicy miso, black mar oil, and tororo. Black mar oil is an original menu only at the Meguro store, and the charred garlic oil works well and is delicious. Miso seems to be the most popular among women. It is a gem that the shop would like people who are not good at hormones to eat.
Conclusion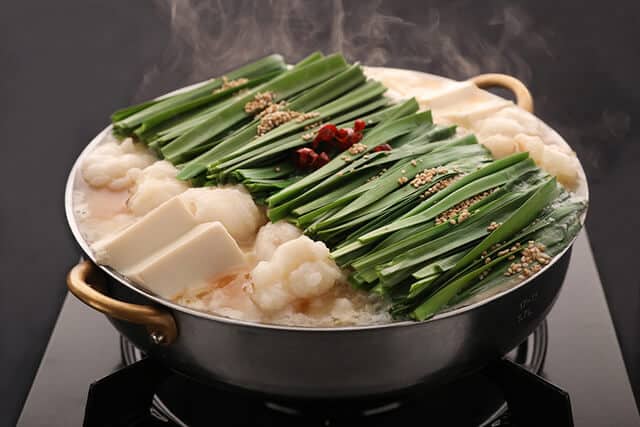 When traveling, the first thing people usually notice is how different or similar the food is to their own country. And if you don't come from Asia or are not familiar with Asian food, then you might be surprised to see many things that actually are edible and delicious. Motsunabe is one of those foods that may appear strange to foreigners but are quite delicious and findable in Japan.