Introduction to Karashi Mentaiko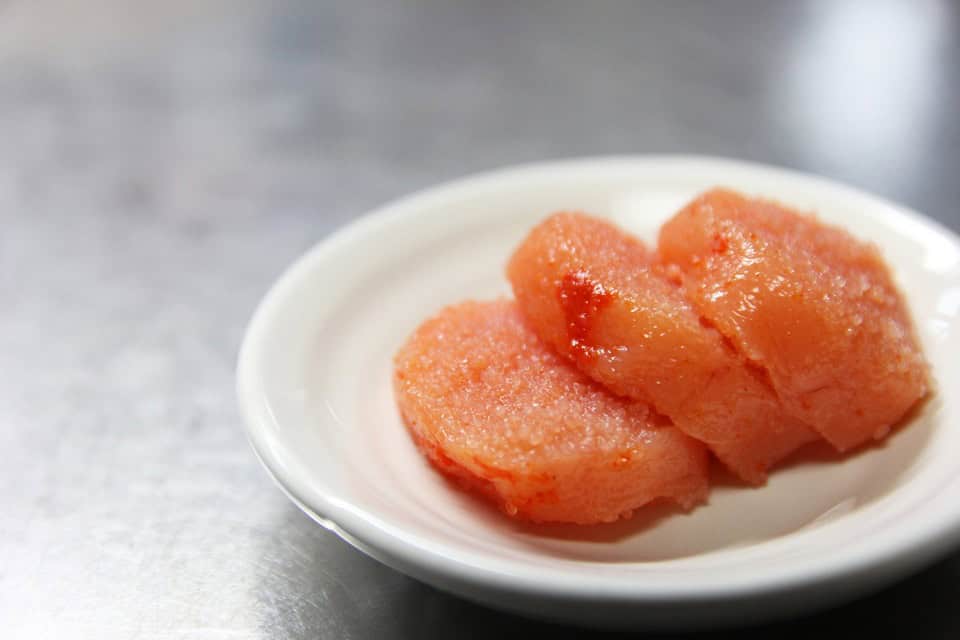 Karashi Mentaiko, or Japanese Spicy Cod Roe, is salted cod roe marinated in togarashi red chili peppers and other spices. It is made from a kind of cod, Walleye pollack, processed by seasoning it with red pepper sauce. It is one of the most popular food ingredients in Japanese cuisine and is enjoyed raw or cooked.
Karashi mentaiko is a specialty of Hakata in Fukuoka City, Fukuoka Prefecture. Additionally, it is also known as a souvenir from the Kyushu region and Yamaguchi Prefecture. However, it is now commonly found in food stores across the country.
Karashi Mentaiko is characterized by its distinctive salty, spicy flavor, and Japanese like eating the spicy walleye pollack roe especially with plain white rice at meals.
Etymology
Karashi mentaiko in Japanese Kanji is 辛子明太子. This entire word means spicy pollack/cod roe. "Karashi" means spicy in Japanese, so Karashi Mentaiko is the spicy version of mentaiko which has a mixture a liquid seasoning containing ground red chili pepper as a marinade. In addition, it is originally a traditional Korean food but now it has become a specialty of Fukuoka Prefecture in Japan.
Additionally, Salted walleye pollack was imported to northern Kyushu and Yamaguchi regions in the 17th century. As a result, walleye pollack have been called 'mentai' in these regions since the Edo period. In Japan, '明太' means cods and '明太子' means cod roe as '子' (ko) means a child or children. There is a food '辛子明太' in the Korean Peninsula, which is 'cod' with red peppers. Generally, '辛子' means peppers.
What is the history of Karashi Mentaiko?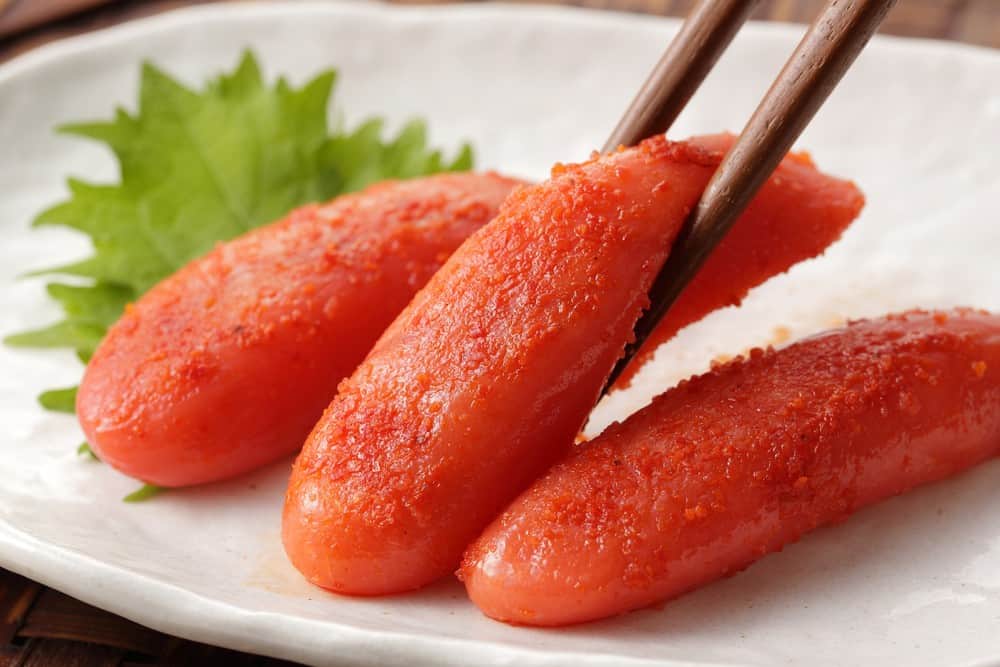 Karashi Mentaiko's taste has become an indispensable part of modern dining tables as the best partner for warm rice. But in fact, mentaiko has an old origin back to the 17th to 18th centuries.
During that time, Korean fishermen were eating fish by taking out the eggs because it's more delicious than the fish body. It is the prototype of Karashi Mentaiko. Therefore, it was originally popular as food for the common people in Korea.
After that, Mentaiko crossed the sea from Korea to Kyushu. In addition, Toshio Kawahara, the first president of Fukuoka's long-established spicy cod roe maker "Aji no Mentaiko Fukuya", got a hint from Korean kimchi in1949. It was the beginning of Mentaiko spicy cod roe that was commercialized on the 10th of March. In response to this, January 10th is a "Mentaiko Day" every year.
Karashi Mentaiko was derived from Kyushu to the whole country, and it became known all over Japan. Today, mentaiko is widely used as an ingredient in many dishes such as pasta and shumai, and is firmly rooted in the Japanese food culture.
What is Mentaiko?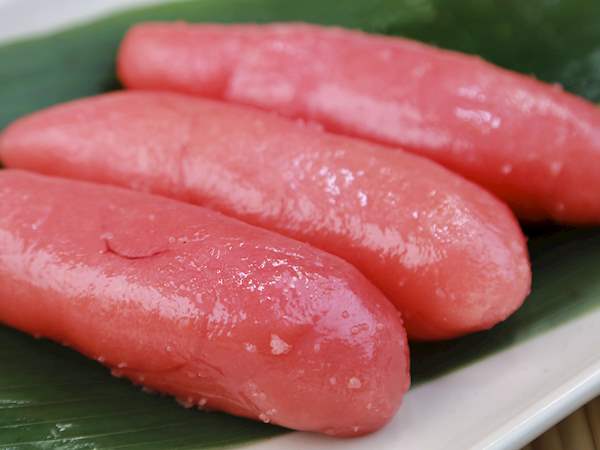 Mentaiko (明太子) is made from whole roe sacs of Alaskan pollack (a member of the cod family), which are cured with salt and marinated in various seasonings and spices. It is originated from Korean cuisine, however, mentaiko became popular in Japan after World War Two. In Japan, most of the mentaiko is from Fukuoka, a city in the southern island of Kyushu. There are over three hundred mentaiko producers in Fukuoka.
Additionally, Mentaiko is often enjoyed as a side dish to accompany steamed rice, or used as filling inside of Onigiri (rice balls). You can eat it either raw or cooked.
How do you eat Karashi Mentaiko?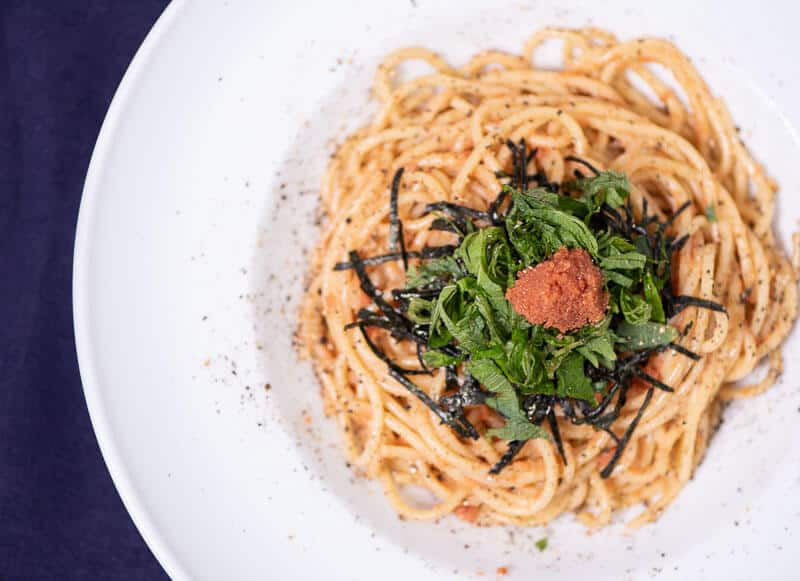 Spicy cod roe can be a side dish or cook it slightly depending on each one's preference. It also goes well with sake, or as an ingredient for Chazuke (boiled rice with tea poured over it). Additionally, it is often enjoyed as a side dish to accompany steamed rice or as a topping for Ochazuke. Also, most commonly in rice balls, also known as onigiri. or used. You can eat it either raw or cooked.
Another popular mentaiko dish in Japan is Mentaiko Pasta, a type of pasta where the noodles are coated in a simple butter or cream and mayonnaise sauce infused with salty and flavorful spicy cod roe. Additionally, it has toppings of seaweed or nori. Mentaiko mayonnaise is also available in shops, along with mentaiko flavored crisps and crackers.
Here are some ideas of other dishes that can be served with Karashi Mentaiko:
Mentaiko Cream Udon
Potato Meita Grilled Cheese
Rolled Omelet (Tamagoyaki) with Karashi Mentaiko
Mentaiko Potato Salad
Mentaiko Toasted Bread
Potato Salad
Mentaiko Fried Rice
Mentaiko Cold Pasta
Grilled Cheese Tofu Mentaiko
Shredded carrots with Mentaiko
Omurice Mentaiko
Radish and Mentaiko Salad
Karashi Mentaiko Spaghetti
What are the health benefits of Karashi Mentaiko?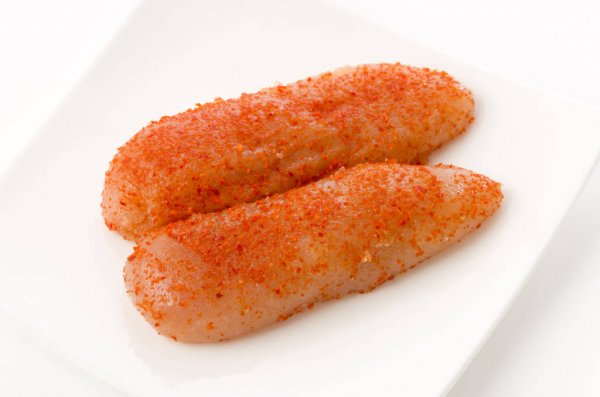 Mentaiko contains a good balance of nutrients such as vitamins, minerals, and unsaturated fatty acids. It is not just delicious but it contains a lot of nutrients necessary for maintaining our health. Vitamin is a natural source of having healthy food, and Mentaiko contains as many kinds of vitamins.
There's Vitamin A that is effective for eye health. Vitamin B complex that helps convert sugar into energy, helps metabolism, more source of protein, and helps the production of hemoglobin in the blood. Additionally, nowadays this is important to boost our immunity: Vitamin C. There's also Vitamin D, K for strong bones and, Vitamin E that prevents oxidation in the body.
In addition, as we all know minerals are important to our body for maintaining good health. Mentaiko contains minerals such as Zinc that helps regenerate cells, calcium for bones, iron that carries oxygen throughout the body and also, potassium that keeps our blood pressure normal.
Although, it's still better not to overeat any food. Mentaiko is a good for your health if you are careful not to overeat. Moreover, we recommend 20g a day.
What are the ingredients?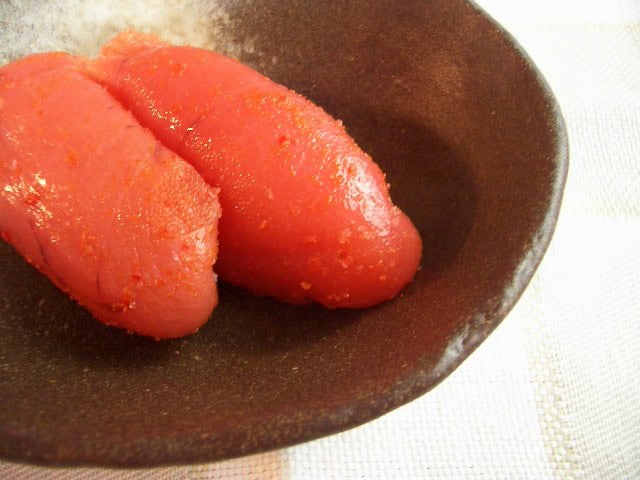 Karashi Mentaiko is an ingredient that goes well with different Japanese dishes. You can also buy these at supermarket these days, however, if you don't like a pre-seasoned cod roe, you can definitely make your own. Making this ingredient is easy, here's the list:
| | |
| --- | --- |
| Ingredients for Karashi Mentaiko: | |
| Raw Cod Roe | 120 g |
| Sake | 190 cc |
| Salt | 30 g |
| Katsuobushi | 6 g |
| Soy Sauce | 1/2 tbsp |
| Pepper Powder | 20 g |
| Sugar | 1 tbsp |
| Optional: Yuzu (Citrus) | 1/2 tbsp |
How to make Karashi Mentaiko?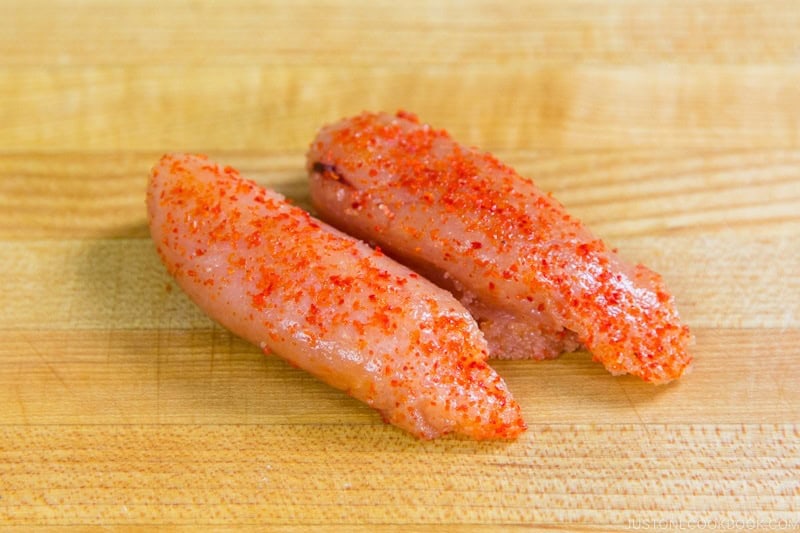 Prepare the raw cod roe
Sprinkle some salt into the raw cod roe and leave it in the refrigerator for about an hour. Put sake in cod roe and wash it with it to disinfect. Strain it and add salt and put it on the boil.
Continue to heat
For about 5 minutes, continue to put it on low heat. This is the seasoning liquid for pickling. After heating, remove from heat, fill a bowl with ice water, soak the whole pot and cool it.
Seal the raw cod roe
Put the raw cod roe in a plastic bag, put the seasoning liquid for pickling, and seal it tightly. Store it for about 10 hours.
Preparation of red chili peppers
Weigh in pepper, sugar, and soy sauce. Squeeze the citrus.
Seasoning
Make a seasoning liquid for main pickling. First, heat the sake for main pickling to a boil. Remove from heat. Then fill a bowl with ice water, soak in a pan. Add kelp and leave for 30 minutes. After 30 minutes, boil it then add the Katsuobushi. Heat on low heat for 1 minute, and then remove from heat.
Add the chili pepper
Add to the pepper while it is still hot. Soak this in ice water in a bowl together with the container. Let it cool sufficiently. This is the seasoning liquid for the main pickling.
Soak it for a week
Put the raw cod roe in a plastic bag, add the seasoning liquid for pickling. Then, seal it tightly. Put this in the ice temperature (0-5 degrees) in the refrigerator and soak it for a week.
After pickling completion
Put it on a strainer after pickling for half a day, and drain it in the refrigerator. If you can't eat it, wrap it one by one and freeze it for 2 to 3 months. NOTE: It doesn't have a bright color because it doesn't contain any coloring agent. now enjoy your own Karashi Mentaiko. Guaranteed no additives and clean!
What are the recommended stores of Karashi Mentaiko?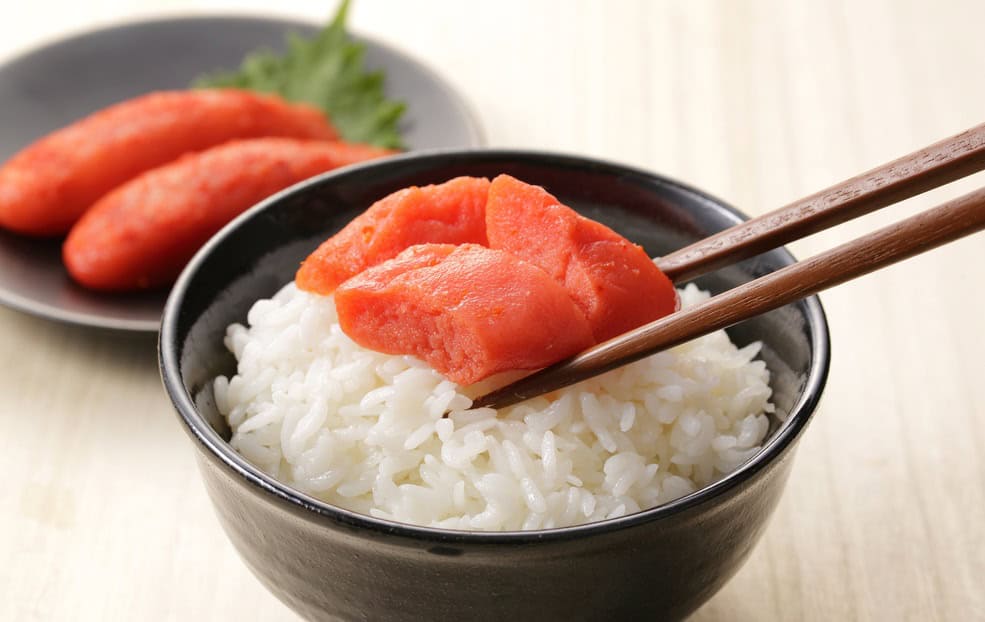 Yamaya Hamamatsucho
This restaurant is located at Hamamatsucho station, the gateway to the Haneda Airport. Yamaya came from Hakata, Fukuoka, and well known for Karashi Mentaiko. This restaurant offer eat all you can Takana (leaf mustard) and Mentaiko!
Fukuya Nakasu Main Store
The store sells specialty products from Hakata in Kyushu, such as spicy mentaiko, mentaiko spaghetti, and Hakata ramen, at reasonable prices for occasions!
Kanefuku Hakata Main Store
Kanefuku is the number one company in Japan in terms of sales and handling volume of Mentaiko. Karashi Mentaiko is the no. 1 product in mail order.
Shimamoto Hakata Station Sqaure
This store's recommendation is "original karashi mentaiko". Their version of spicy mentaiko has an elegant seasoning with a low saltiness. It is delicious even if you eat it with rice.
Conclusion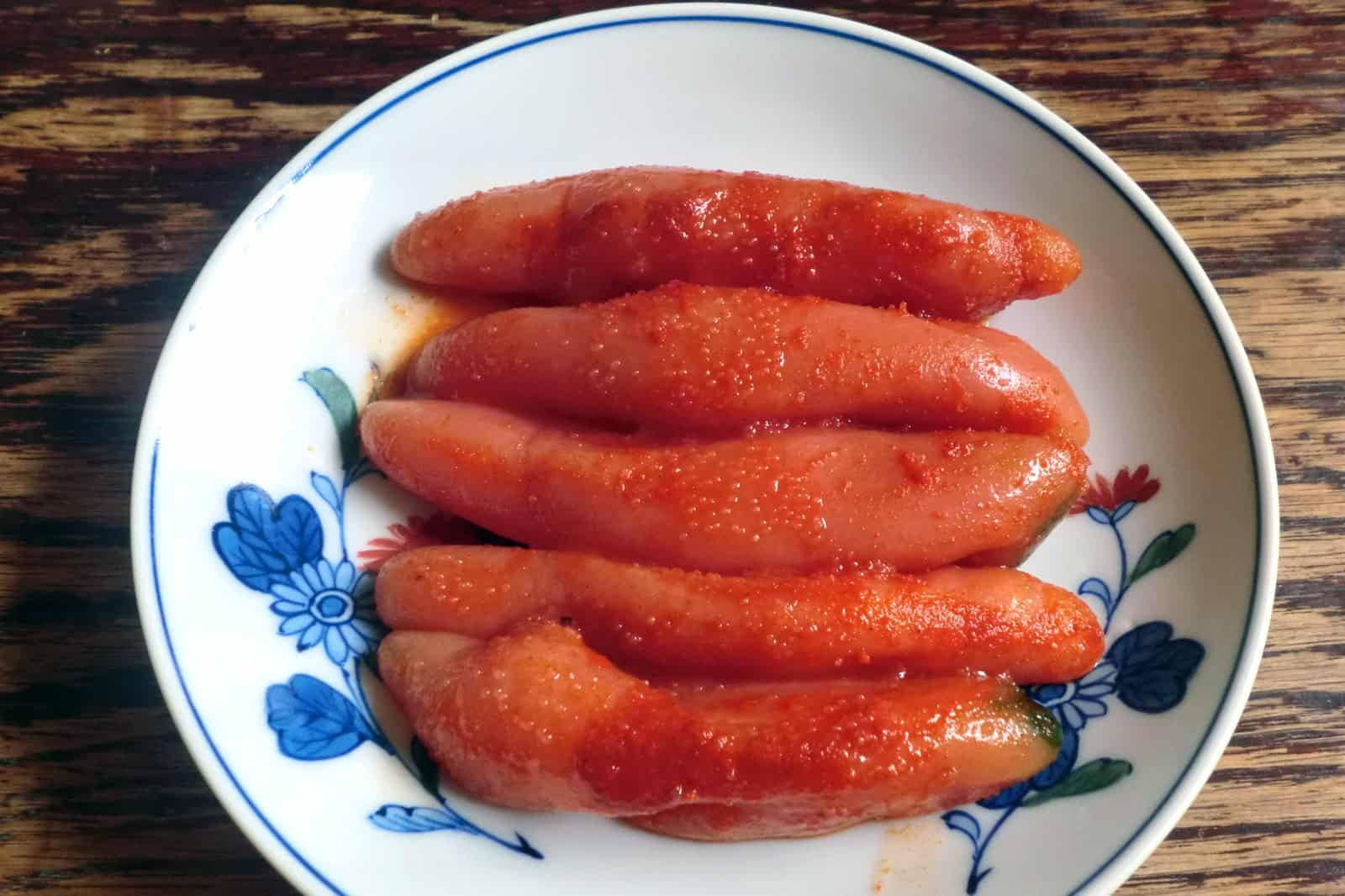 In conclusion, there are many different variations of flavors and colors for mentaiko. Such as from plain, to salted to yuzu, and spicy chili flavors. It is packed with the flavors of the sea and filled with seafood essence. Mentaiko has a kick and rich umami flavor due to the preparation of marinade and brine process. It goes well with rice alone. That is what usually people prefer, and of course, it complements alcohol as well. It also blends well with other dishes like pasta, bread, salad, and toppings for ramen and more.
Additionally, Karashi mentaiko has indeed a lot more kick thanks to the red chili peppers. It is widely used in many Japanese cuisines and also loved by many foreigners. Mentaiko can be sold as a frozen product. Nowadays, you can buy packed frozen Mentaiko from Japan and you'll have a chance to bring home the freshly packed Mentaiko.