INTRODUCTION OF TEMPURA
Tempura is a traditional food in Japan specifically the Tokyo prefecture. It is one of the "Edo Delicacies" and is an indispensable part of Japanese foods. Along with Negima Nabe, Kusaya, Bekko Sushi, Fukagawa-meshi, Shinagawa-meshi, Chanko Nabe, Edomae Sushi, and Monjayaki, Tempura is part of Tokyo's representative dishes.
Originally, the Japanese in Nagasaki City in Nagasaki Prefecture acquired the deep-frying with breading and batter from Portuguese missionaries and merchants. But, the whole dish is a Tokyo style during the Edo period. If you want to learn more about Tokyo's representative dishes, you can look here.
TEMPURA DESCRIPTION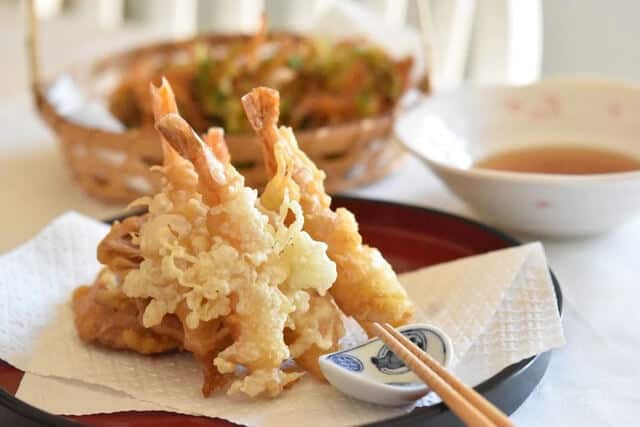 Tempura is a typical Japanese dish usually consisting of seafood, meat, and vegetables that have been battered and deep-fried. Japanese used various seafood and vegetables as the ingredients in traditional style.  It is not only popular with Japanese people but also with tourists. 
Tempura is now an indispensable part of Japanese food. It is a popular dish coined as one of the "Japanese food that you want to eat" and "Japanese food that was delicious" from foreign tourists. You can find it in many restaurants across the country. Served as a main dish, side dish, or as a topping for tendon rice bowls, or udon and soba noodle dish.
ETYMOLOGY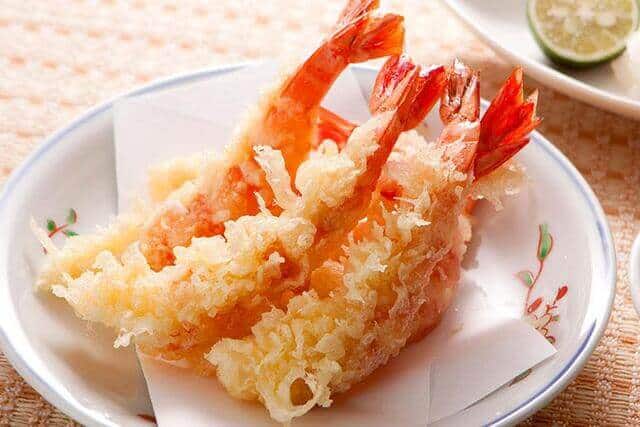 You will conclude that the dish came originally from Japanese but once you've learned its past, you will realize that another country influenced it. You can write Tempura in Japanese hiragana like this (天ぷら).  The word 'Tempura' may originate from the word "tempora," a Latin word meaning "times," or "time period." Both Spanish and Portuguese missionaries used this word to refer to the Ember Days (ad tempora Quadragesima), Fridays, and other Christian holy days.
The dish has gained popularity in southern Japan; it became widely used to refer to any sort of food prepared using hot oil, including some already existing Japanese foods.
ORIGIN OF TEMPURA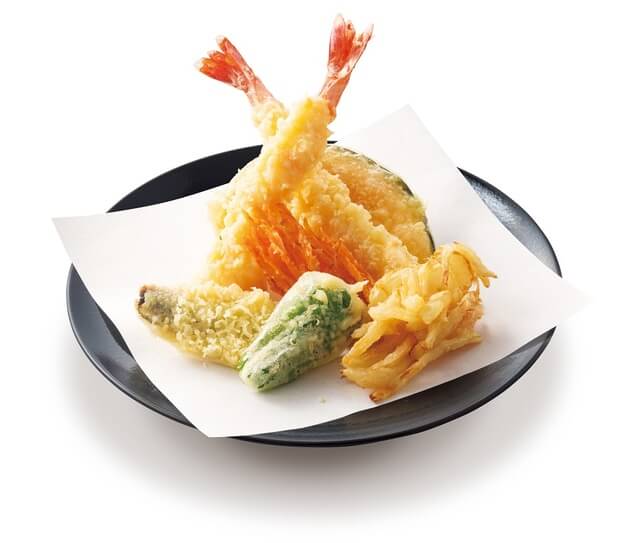 It was during the Muromachi period that introduced the cooking method of tempura to Japan. Some say that Portugal introduced it first as "Nanban cuisine". On the other hand, Nagasaki City, is the origin of Japanese tempura. Portuguese during the Azuchi-Momoyama period, the16th century introduced this style in Nagasaki City. The batter at that time is a mixture of flour, eggs, sake, sugar, and salt without using water. The thick fritter-like batter was well-flavored, and it tasted both the ingredients and the batter.
However, during the Edo period (1603-1868), oil was very valuable in Japan. Tempura uses a large amount of oil therefore, it is a luxury item and rarely comes into the mouth of the common people.  Around this time, tempura was in the style of sticking freshly fried on a skewer and eating it. 
From the end of the Edo period to the Meiji era (1868-1912), instead of stalls, stores such as restaurants and specialty stores began to be set up, and craftsmen who lost their jobs in the Great Kanto Earthquake (Taisho 1923) were all over Japan. They moved to and spread the tempura in front of Edo. Around the same time that it spread from Edo to the whole country, Kansai craftsmen moved to Tokyo and spread Kansai-style tempura. 
Today in Japan the mainstream tempura recipes originate from "Tokyo style (Edo style)". Japan first published the modern tempura recipe in 1671 in the cookbook called "料理献立抄". After the Meiji period, the Japanese no longer consider tempura as a fast food item but instead, it developed as a high-class cuisine. It has developed over the centuries into a popular Japanese dish both inside and outside of Japan. 
TYPES OF TEMPURA
EBI TEMPURA
Ebi or Shrimp/Prawn Tempura has shrimp or prawn as the main ingredient. It is a popular tempura ingredient that can be found on virtually all tempura dishes.
VEGETABLE TEMPURA
Vegetable Tempura includes Nasu (eggplant), kinoko (mushrooms), kabocha (pumpkin), shisho (perilla), and satsumaimo (sweet potato).  Nasu Tempura has eggplant as its main ingredient. Nasu is Japanese eggplants or aubergines. Depending on the size of the Nasu, you may either sliced it into rounds, cut in half, or cut into a fan shape before you battered and deep-fried it. Kinoko Tempura has mushrooms and they are popular ingredients for tempura. You can use different types of mushrooms especially, shiitake and maitake.
While Kabocha Tempura is a Japanese pumpkin with a thin, typically dark green skin and orange flesh. The skin is left on when cooking and is eaten together with the flesh. Thin, sweet, and starchy wedges of kabocha tempura are common items on tempura menus. Satsumaimo is a type of Japanese sweet potato with purple skin and yellow flesh. When you use it for tempura, it is slice thinly leaving the skin alone. Like kabocha, satsumaimo are sweet and starchy.
SAKANA TEMPURA
Sakana or Fish Tempura includes small fillets or whole small fish made into tempura pieces. Typically, locals use whitefish such as Japanese whiting, whitebait, goby, and sweetfish.
KAKIAGE
The last type of is Kakiage. Kakiage is a type of tempura patty made out of a variety of julienned vegetables and seafood mixed in tempura batter and deep-fried. It can be as an appetizer or side dish, or as a topping over rice or noodles.
TEMPURA RECIPE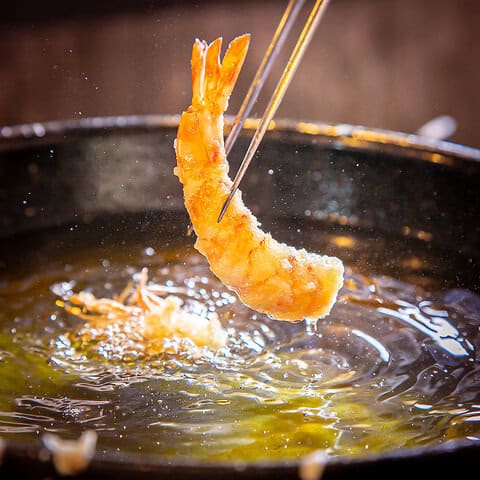 The common ingredient of Tempura is the shrimp or the prawn but do you know you can also make any other types of it? There are many standard ingredients such as shrimp and squid seafood, pumpkin, and eggplant vegetables. The vegetable ingredients, you can fry it lightly in a short time so you can enjoy the original taste of vegetables. 
In making vegetable tempura, the Japanese used vegetables like bitter gourd, celery leaves, mushrooms, pumpkin, parsley, red pickled ginger, Japanese ginger, and many more. In terms of making fish tempura, the fish ingredients include raw pike conger roll, cod, sardine tsukudani, and etc.
HOW TO EAT TEMPURA?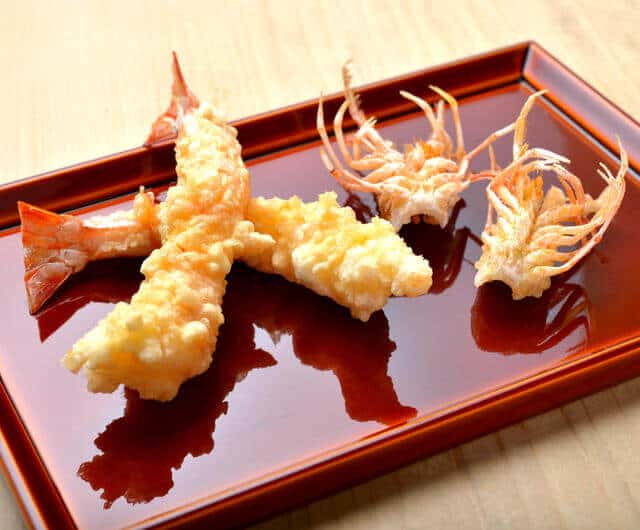 Serving Tempura starts with lighter flavored items like shrimp and fish, before moving towards stronger flavored items like root vegetables. You can eat the whole fish and shrimp tempura however, some people leave the heads and tails. They are usually individually seasoned with salt or dipped into a dipping sauce before eaten. Usually, only one of the two types of seasonings is available, depending on the shop. While dipping it onto the sauce, a small bowl of grated daikon (giant white radish) should accompany it.
Tendon rice bowls are served with sweet and savory sauce already drizzled over the tempura and usually come with pickles and miso soup. There is no need to further season it. It is also served as toppings in noodle soups and they do not come with any additional seasonings.
Japanese have a proper etiquette on how to eat something with chopsticks. In case of Tempura, before putting your chopsticks onto your mouth, you should cut it into biteable-sized as much as possible. It is not advisable to put it all in your mouth and then just chew it. This practice is an exception for those foods that are hard to cut with chopsticks, like squid.
There are rules when serving tempura.  It is a rule that the tasting is from light to the front.  By eating from light-tasting to deep-tasting, you can enjoy the taste of each tempura ingredient. Therefore, it is good manners to eat tempura from the front instead of eating it from your favorite ingredients.
TSUYU VS. SALT
There is a hot debate on whether tempura should be with "tsuyu" or "salt". What is the  most appropriate seasoning to add on it? Mentsuyu (めんつゆ), or Tsuyu (つゆ), is a Japanese soup base in soba and udon noodle dishes. The opinion about this topic is divided. Some say that salt is the one you will end up with and you should choose it when you eat at a restaurant. There are some locals who say that Tsuyu is overwhelming and that salt lovers are used to harsh stimuli, so they don't understand the mellow and complicated taste of tempura sauce.
If you are wondering why it is a hot debate among Japanese locals, you may also wonder what is the real thrill of eating it with salt? At tempura specialty stores, they will recommend you to eat it with salt. Eating it with salt maximizes the taste of the ingredients . Salt is the simplest seasoning. So the more you use the better ingredients, the more delicious you can feel by eating tempura with salt. Also, soy sauce is a liquid-type seasoning so if you dip tempura on it, the crispy texture will disappear.
You can just use salt but there are various types of salt such as matcha salt mixed with matcha and curry salt mixed with curry powder. But at the end, Tempura is a dish that leaves the seasoning to the customer, so it's best to enjoy it as one like. It doesn't matter what kind of seasoning you have at the restaurant. Tempura also emphasizes that it is a dish that enjoys the taste of the ingredients themselves.
IS TEMPURA GLUTEN-FREE?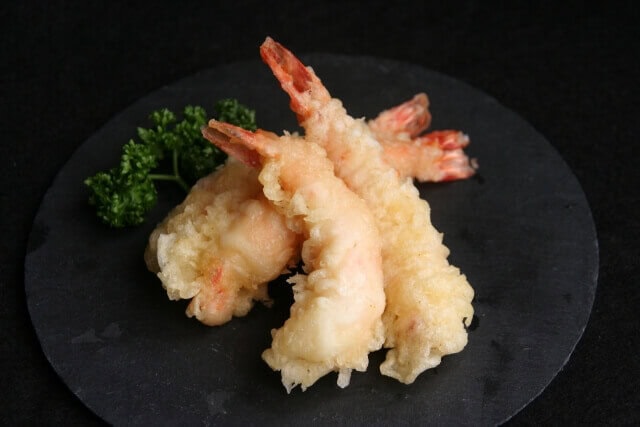 Tempura is not gluten-free because they use wheat flour, the tempura batter is the same as any wheat flour batter. It contains gluten. However, the cooking technique and theory used to prepare the batter can suppress the forming of gluten from the flour. Such as using ice water to make the batter and avoid overmixing the batter.

It is quite possible to make vegan tempura yourself. There are any number of starches or flours—cornstarch, potato flour, certain types of rice flour, and more—which can be coaxed to create a lovely crisp coating when turned into a batter and used for frying. In this case, it will be both vegan and gluten-free.
BENEFITS OF EATING LESS MEAT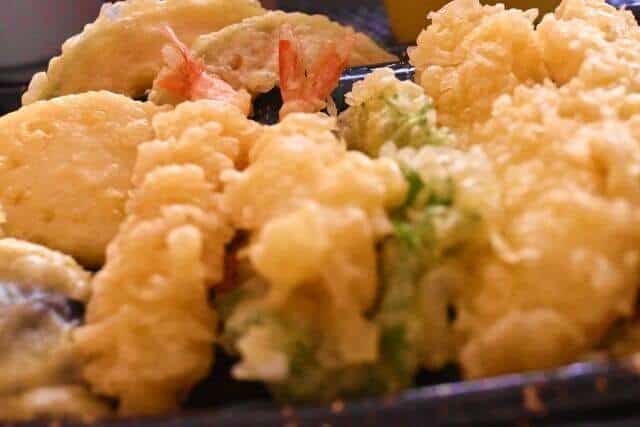 A plant-based diet, which emphasizes fruits, vegetables, grains, beans, legumes and nuts, is rich in fiber, vitamins and other nutrients. And people who don't eat meat — vegetarians — generally eat fewer calories and less fat, weigh less, and have a lower risk of heart disease than nonvegetarians do.
Though, you may feel tired and weak if you cut meat out of your diet. That's because you're missing an important source of protein and iron, both of which give you energy. The body absorbs more iron from meat than other foods.

According to a study, if everyone in the country reduced their consumption of beef, pork, and poultry by a quarter and substituted plant proteins, we'd save about 82 million metric tons of greenhouse gas emissions per year.
WHAT SEAFOOD IS BAD IN CHOLESTEROL?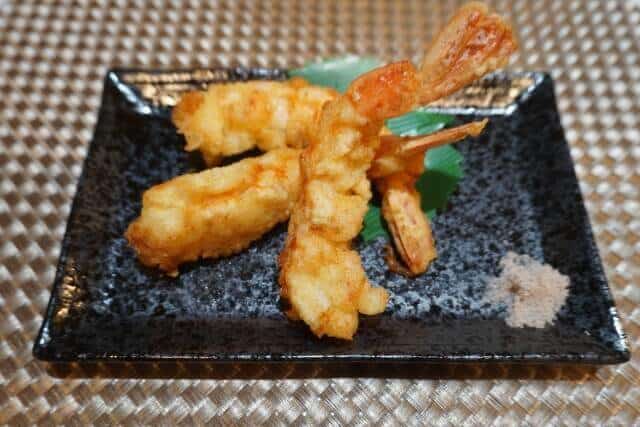 Shellfish such as oysters, mussels, crab, lobster, and clams contain large amounts of cholesterol, particularly in relation to their serving size. Shrimp are high in cholesterol and sodium; crab, lobster, and octopus are high in sodium. Battered and deep-fried shellfish and squid (calamari) top the charts in both cholesterol and sodium, which raise the risk for high blood pressure and heart disease.
HOW MANY CALORIES ARE THERE IN SHRIMP?
Shrimp has an impressive nutrition profile. It is quite low in calories, providing only 84 calories in a 3-ounce (85-gram) serving, and does not contain any carbs. Approximately 90% of the calories in shrimp come from protein, and the rest come from fat. One medium shrimp provides about 7 calories, which means a dozen add up to less than 85 calories—roughly 15 less than a 3-ounce chicken breast.
RECOMMENDED RESTAURANTS THAT SERVES TEMPURA
Tempura Kondo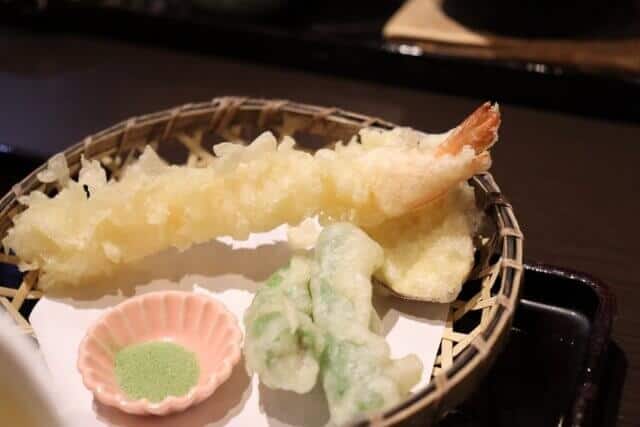 Tempura Kondo is a well-known restaurant that has been in Tokyo for a long time. One of the best tempura restaurants in Japan. There are many celebrity regulars in this shop. It is also a pioneer who began to actively use vegetables for tempura which was mainly seafood.
Onodera Namiki-dori (Ginza)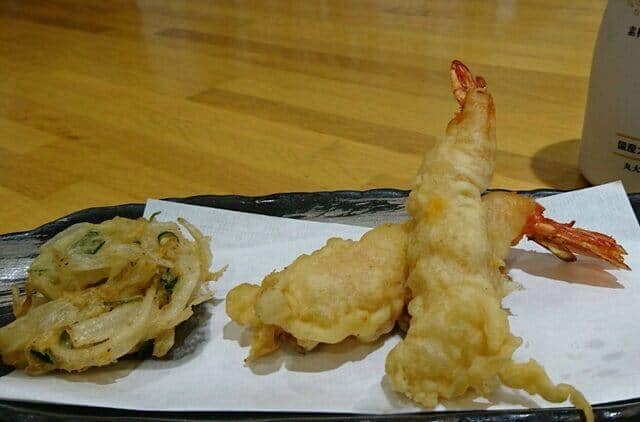 If you are near  Ginza Namiki-dori craving for a nice meal with Tempura, head over Tempura Ginza Onodera Namiki-dori. There are 10 Shiraki counter seats in an elegant and calm interior inside of the shop. The shop carefully selected ingredients for Tempura. From seasonal vegetables and seafood to frying oil and flour, it is the result of great craftsmanship with a crisp and light finish.

Tensei (in front Gaien)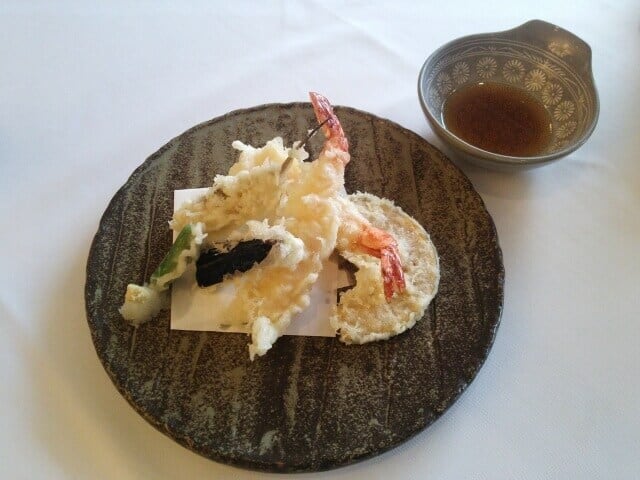 Tensei, a little less than 10 minutes walk from Gaienmae station. Inside the store, you can see the Shiraki counter that stands out. The store's furnishings are also arranged, creating a comfortable space for adults to enjoy. You can also use a private room, which is recommended for more private seats, entertainment, and business meetings. The shop also serves tempura made from carefully selected seasonal ingredients, in a light batter, and has a crispy texture with a wonderfully elegant taste.

Isshin Kaneko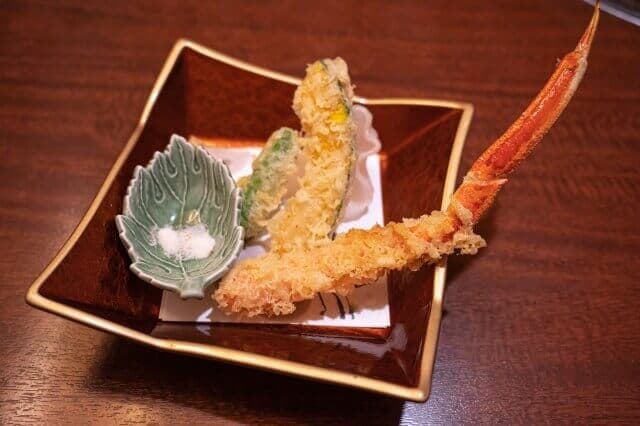 Isshin Kaneko, a tempura shop directly managed by Isshinkai was founded in Asakusa in 1883. At the pace of the guests, you can enjoy the exquisite tempura fried in front of you at the calm counter seats. There is a light course that you can enjoy in the daytime and a course that you can enjoy more traditional dishes at night. All of them have an attractive lineup that uses plenty of seasonal ingredients.

Motake (Ginza)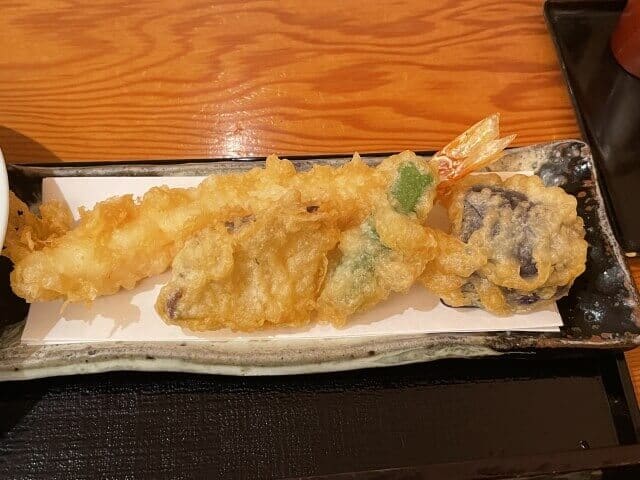 Founded in 1913, "Motake", a store near the Sukiyabashi intersection, is a long-established tempura store with a history of more than 100 years. The inside of the store is small and 8 seats are lined up at the counter. This shop uses sesame oil from Tamashime-shibori, a long-established oil shop dating back to the Edo period, and you can feel the meticulousness and traditional skills of the long-established store.

CONCLUSION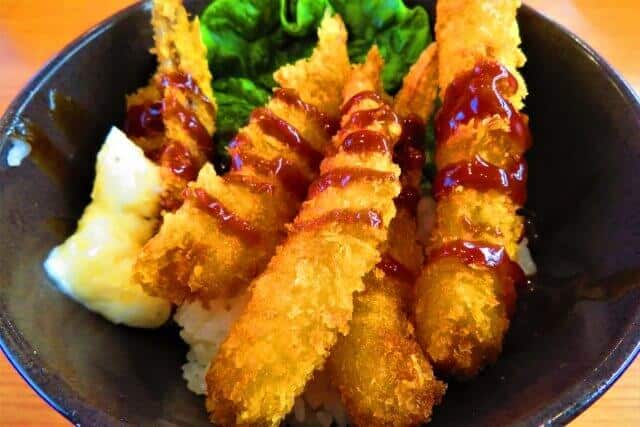 Cooking Japanese food often involves the use of abundantly available water, whether for steaming, boiling, or stewing. Moreover, cooks use specialized knives to prepare different kinds of fish and use dashi stock with great skill to make vegetable and fish-based meals even more delicious. Japanese cuisine encompasses the regional and traditional foods of Japan, which have developed through centuries of political, economic, and social changes.  The traditional cuisine of Japan is with rice or with miso soup and other dishes; there is an emphasis on seasonal ingredients. Side dishes often consist of fish, pickled vegetables, and vegetables cooked in broth. Seafood is common as raw or as sashimi or in sushi. Japanese cuisine has opened up to influence from Western cuisines in the modern era.