What is Kaminari Okoshi?
Kaminari Okoshi is one of the traditional Japanese sweets from the Kanto region of Tokyo. It is now a nationally recognised dessert in Japan and one of the most popular Asakusa souvenirs. They are colourful rectangular blocks of delicious rice crackers made traditionally of puffed rice grains, starch syrup, sugar, and tiny bits of peanuts. Kaminari Okoshi is a rice puff snack with a light, crisp, brittle feel. It has a refined sweetness and a pleasant-smelling scent from the puffed rice grains.
Locals combined the crispy rice with sugar and syrup before being pressed into a flat form and cut into squares. There are sometimes peanuts mixed in, but there are also many additional flavours, such as matcha green tea and sesame. The extra ingredients give the sweets distinct colours.
Etymology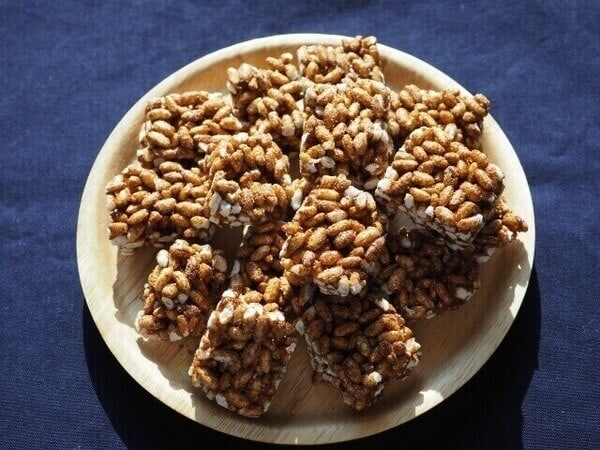 A fire destroyed the thunder gate in the late Edo period, around1800. When they rebuilt the gate, Asakusa street sellers began selling rice crackers as a fortunate charm to avoid a thunderbolt strike. Thus, the delicacy was christened "Kaminari Okoshi."(雷おこし)".  In its name, "Okoshi (おこし)" has meaning of "rebuilding" in Japanese. At the same time, the former word "Kaminari (雷)" stands for Kaminarimon (Thunder gate), so Kaminari Okoshi literally meant rebuilding the gate.
Kaminari Okoshi History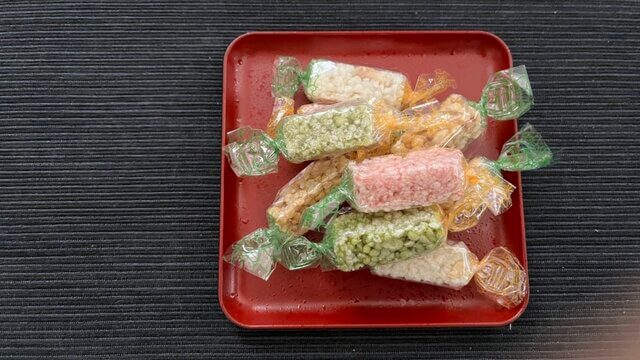 Okoshi has a long history, and its origin of it started in the "Chinese confectionery" brought to Japan by envoys to Tang Dynasty China. After that, locals repeated the improvements to make it more palatable to Japanese people. In the Edo period, okoshi spread throughout Japan as a sweet that even ordinary people could easily make. During the Edo period, Osaka was famous as the "kitchen of the world", and millet production flourished due to the low prices of high-quality rice and candy. 
Many also believed that Kaminari-okoshi originated in Asakusa and started to be sold during the mid-Edo period near the Kaminarimon gate, Senso-Ji temple's "thunder gate". The Kaminari Okoshi in Tokyo originated from the fact that locals sold this with slogans such as "a charm to ward off thunder".
Kaminari Okoshi Recipe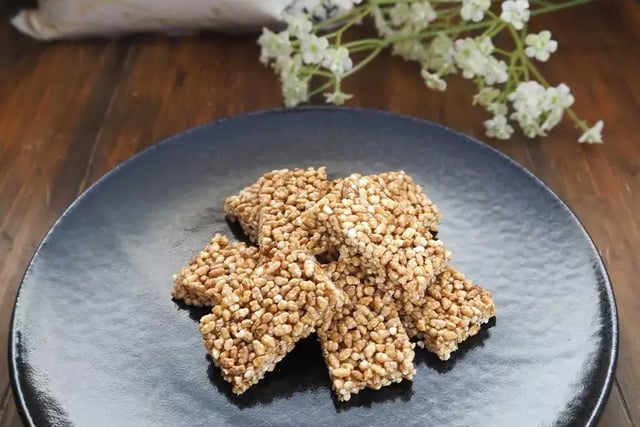 Kaminari Okoshi Ingredients
| | |
| --- | --- |
| Ingredients of Kaminari Okoshi for 2 person | |
| Rice seed | 75g |
| Water | 10g |
| Sugar | 20g |
| Starch Syrup | 30g |
| Butter or margarine | 7g |
How to make Kaminari Okoshi
Drying the rice
Spread the rice on kitchen paper and let it dry until it becomes dry. Then, stir it several times and dry it so that it does not form large lumps.
Fry the dried rice in a pot
Put salad oil in a tempura pot and fry the dried rice. Next, line a tray with kitchen paper to drain the oil.
Put the other ingredients
Put water, sugar, butter, and starch syrup in a pot and heat over medium heat. When it became brown, add food colouring first.
Adding the final rice seeds
It will start bubbling and become white and sticky. Then, add the rice seeds and stir quickly. When the whole is mixed, put it in a container lined with cooking paper.
Serving
Cover with kitchen paper from above and press with a flattening tool to adjust the shape. Before it cools down completely, cut it to the appropriate size and it's done.
How is Okoshi seed made?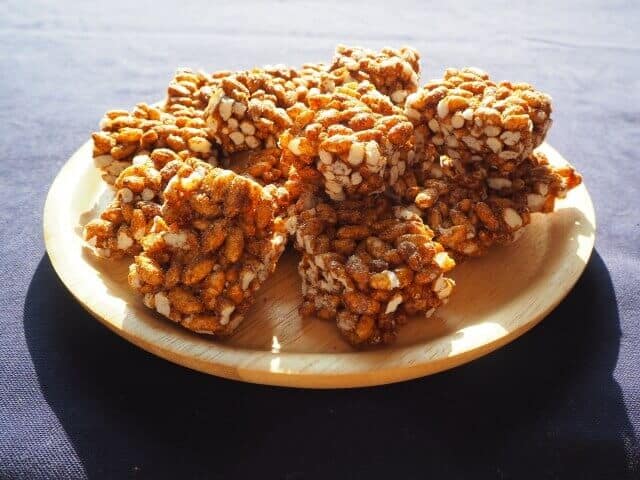 Brewing the raw materials (steaming)
First, locals make the raw seed, which is the raw material for kaminari okoshi.
The steamed dough is ready
Then, they made the Kaminari Okoshi from rice and flour.
Rolling with rollers
Next, rolled out the resulting dough thinly through rollers.
Dry the rolled dough
Dry the thinly-rolled dough in a multi-stage dryer here
Cut the dry fabric
Cut the dried dough in half here and cut into smaller pieces.
Allow to dry further
The fabric cut into small pieces is further dried using a rotary dryer.
Dried raw seeds
The fabric dried in the rotary dryer is ready. After that, crushed, sorted, and roasted the dough.
Roasted okoshi seeds
There you have the roasted crushed raw seeds and inflated rice seeds.
What is the flavour and taste of Kaminari Okoshi?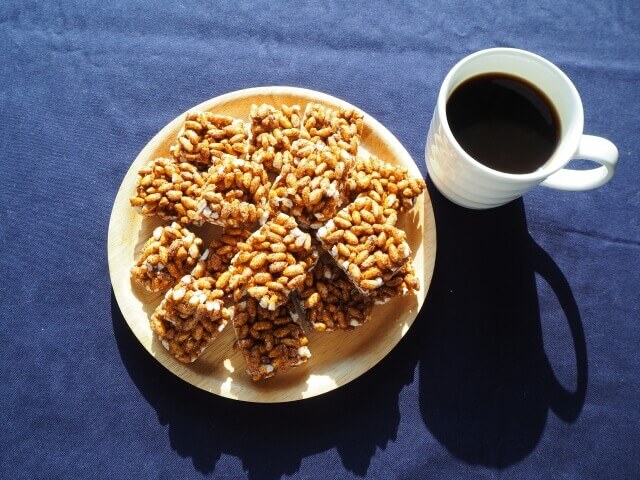 Okoshi is rice hardened with starch syrup, but the taste of okoshi varies from place to place in Japan. Iwaokoshi in Osaka is combine with ginger and has a slightly spicy flavour. Tokyo's Kaminari Okoshi is with peanuts. In addition, there is a wide variety of okoshi flavours, such as Kyoto's yuzu-flavoured okoshi, and Gifu's 'shikoran', which is from sesame and peanuts solidified in starch syrup without using rice and sprinkled with soybean flour.
Okoshi Types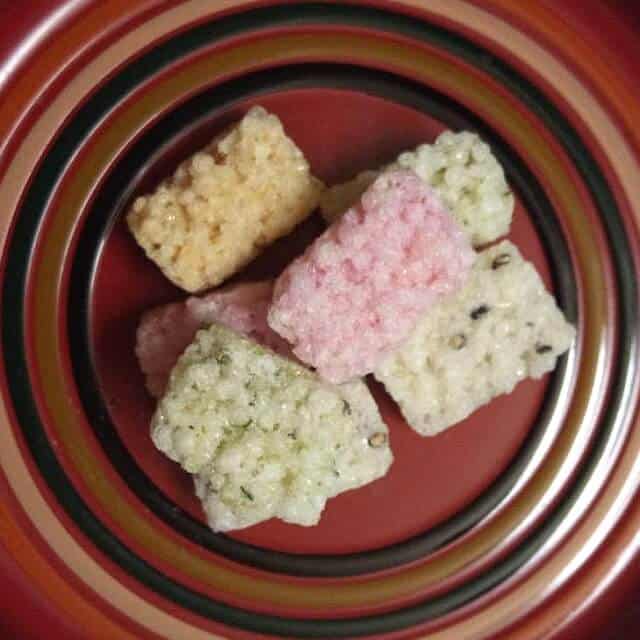 Even if you mention "okoshi" in one word, there are many different types of okoshi in Japan. Among them are "Iwa Okoshi" and "Awa Okoshi" in Osaka Prefecture, as well as "Kaminari Okoshi" in Tokyo. Iwaokoshi, which locals prepared by solidifying finely crushed rice with starch syrup, is popular for its hardness.
Awaokoshi has a light texture since they produced it from finely broken rice. Hard ones were popular in the past, but softer ones that are easy to eat are currently popular, according to Kaminari Okoshi. When it comes to soft okoshi, "Yutaka okoshi" from Aichi Prefecture features matcha candy sandwiched between the okoshi.
Okoshi is square in shape, however, in Kyoto, they are usually form in a triangular shape. Pop-arranged attractive rice cakes have also gained popularity in recent years, gaining attention as photographs that look wonderful on social media. In terms of size, many of them are bite-sized, making them easy to eat.
Where to buy Kaminari Okoshi?
Nakayama Confectionery (中山製菓)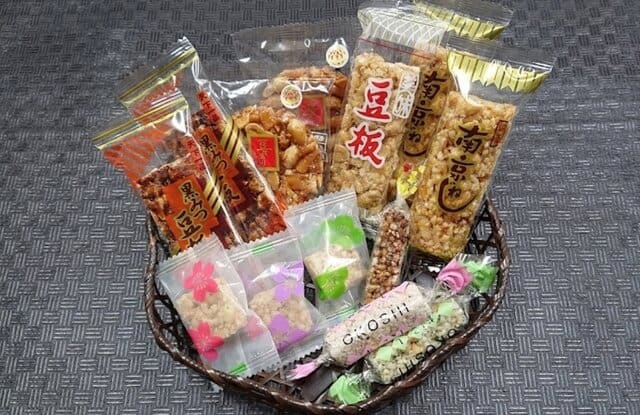 A sweet like Kaminariokoshi made by hardening peanuts with starch syrup. The flagship product is the bean board (two flavours, plain and brown sugar). They also have "Mame Temari" mixed with persimmon seeds which are also popular. You can sometimes see it in supermarkets, but it's a little cheaper in this store.
Tokiwado Kaminarimon (雷おこし本舗常盤堂雷門本店)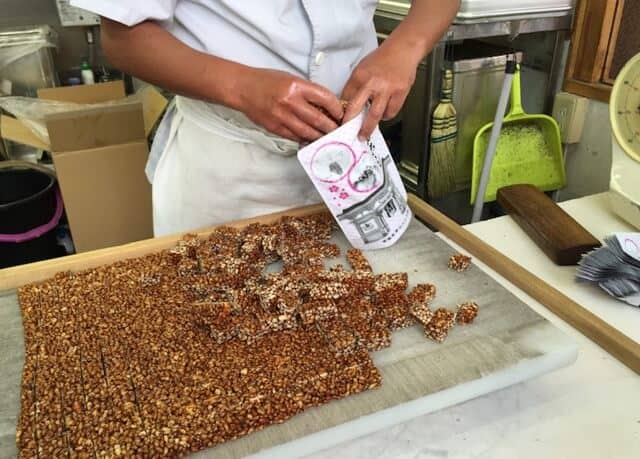 This store is the main store from the history of making Kaminari Okoshi. So this is their speciality, a standard souvenir from Asakusa, Tokyo. In addition, around 1892, they opened a shop next to the Kaminarimon gate (there was no Kaminarimon gate at that time), where it is now located and has been receiving many customers to this day. The store offers an assortment of two flavours, white sugar and brown sugar, in cans with a cute illustration of the god of thunder. 
Daishindo Kaminariokoshi (大心堂雷おこし 本店)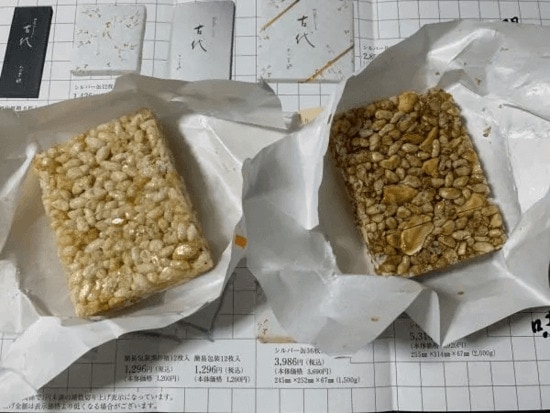 It is a long-established Kaminari Okoshi store, a classic souvenir from downtown Asakusa. A famous Kaminari Okoshi restaurant near Okachimachi. It seems that it started in 1897 (Meiji 30). The sweetness is modest, but that's not to say it's unsatisfactory. The flavor goes well with matcha, green tea, and even black tea. It also has a soft texture and does not feel hard at all. 
Final Thoughts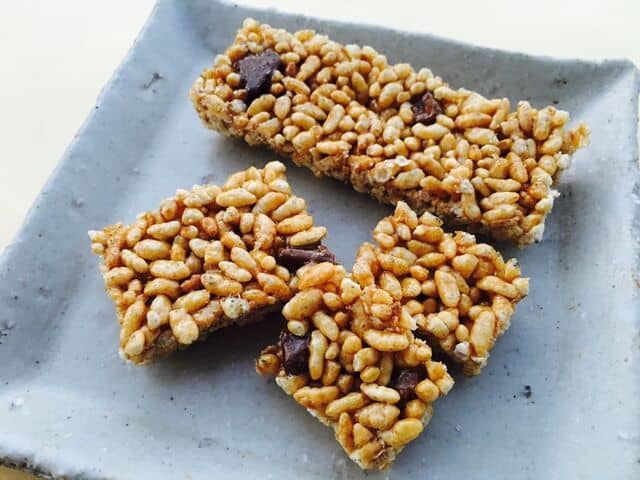 Kaminari-okoshi, often merely called okoshi, is a very popular souvenir from the Asakusa area in Tokyo similar to rice crispy treats. Many Japanese people buy souvenirs, called omiyage (お土産) in Japanese, as gifts for friends, family, and coworkers when they take a trip. Local food products are especially popular omiyage.
There are other rice crisps and rice crackers confectionery in Japan such as Yatsuhashi and Kawara senbei to name a few.