Introduction to Chirashizushi
Did you know that Japan has many types of sushi including Edomae sushi, Bekko sushi, Sasa sushi, Hatahata sushi, and Saba sushi? And today, we will add another type of sushi to the list. It is the Chirashizushi. Chirashizushi has 3 different variations, unlike other sushi. In this article, you will learn what is chirashizushi and all about it.
Etymology
The word chirashizushi comes from the word "chirashi" (散らし) meaning "to scatter", as in scattering fish bits all over the place. Moreover, the origins of chirashi come from wanting to get rid of extra, unattractive pieces of fish, after using the nice parts for proper sashimi platters or for nigiri.
Chirashizushi Definition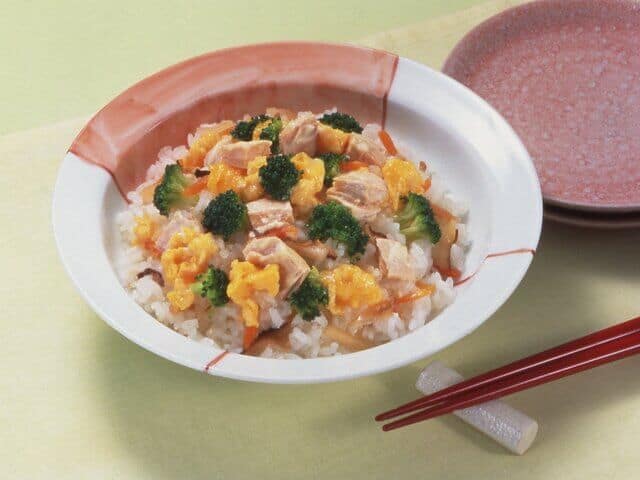 Chirashizushi, or simply Chirashi, is a type of sushi in Japan that is "scattered" (chirashi 散らし) with the contents mixed and topped over sushi rice. It's generally vegetarian, but if it's not, it's usually out of prepared foods like unagi instead of raw fish. Chirashizushi is also known as Gomoku Sushi (五目寿司), Gomoku Chirashi (五目ちらし), or Barazushi (ばら寿司), depending on the region. However, outside of the Tokyo region, this is referred to as Edomae Chirashizushi (江戸前ちらし寿司) or Kaisen Chirashizushi (海鮮ちらし寿司) to distinguish it from mainstream chirashizushi. On a side point, Kaisen Don (海鮮丼) refers to sashimi served over conventional steamed rice rather than vinegared sushi rice. 
History of Chirashizushi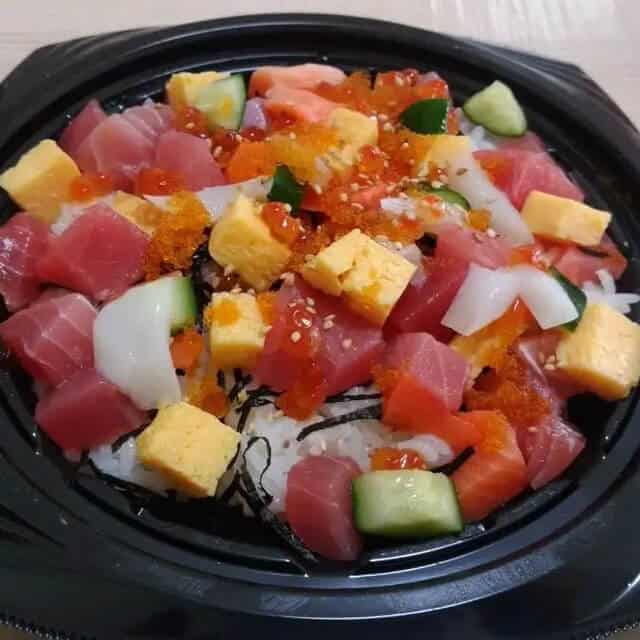 Theory of Box sushi theory
In the Edo period, various ingredients were placed on top of vinegared rice in wooden boxes, similar to that of roof tiles, so it was also called "kokezushi." Since then, bowls have been used, "chirashizushi" has begun. Eventually, the method of mixing ingredients into vinegared rice began to be adopted, which was called "mixed sushi," "gomokuzushi," "barazushi," and "kayakuzushi."
Okayama's Barazushi Theory
In the Edo period, Ikeda Mitsumasa, the first lord of the Bizen Okayama clan, issued a frugal decree to warn the people of luxury and stipulated that meals other than festivals were limited to one soup and one vegetable. It is said that in response to this frugal order, fish and vegetables were mixed into rice to make it look like a dish (there is also a theory that sushi for festivals became luxurious due to opposition to one soup and one dish).
Chirashizushi Recipe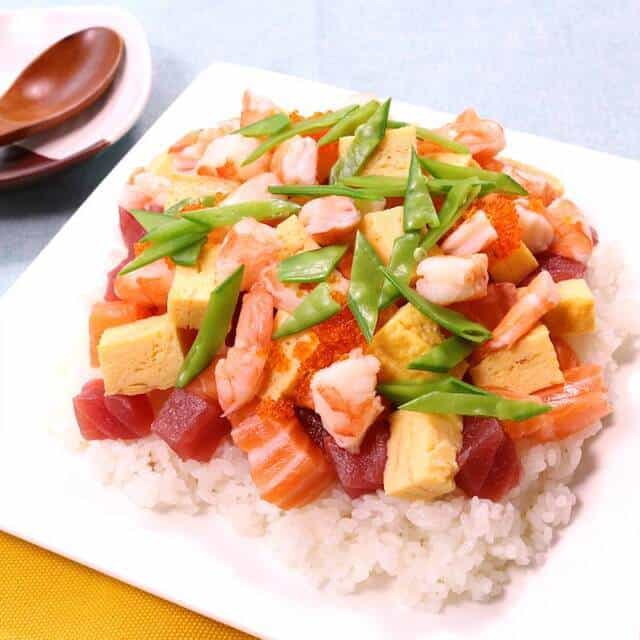 Chirashizushi Ingredients
| | |
| --- | --- |
| The Chirashizushi Ingredients for 4 people | |
| Rice | 300g |
| Rice vinegar or vinegar | 35g |
| sugar | 51g |
| salt | 7g |
| Steamed shrimp | 98g |
| carrot and lotus roots (each) | 30g |
| Dried shiitake mushrooms | 260g |
| Silk pod | 20g |
| egg | 100g |
| Liquor | 23g |
| soy sauce | 19g |
| salmon roe | 10g |
How to make Chirashizushi?
Cooking the rice
Firstly, wash the rice, put it in the rice cooker, and pour a little less water than the scale to cook the rice. Soak dried shiitake mushrooms in water to soften them. Transfer the freshly cooked rice to a bowl and rice vinegar, sugar, and salt. Add and mix by cutting with a rice scoop.
Prepare the other ingredients
Peel the steamed shrimp, and if it is large, cut it into pieces that are easy to eat. Then, cut the carrots into small pieces and lotus root into thin slices, soak them in vinegar water, and then drain them thoroughly.
Boiling the ingredients in a pan
Put the dried shiitake mushroom soup and water in a pan, sugar, sake, and soy sauce. After boiling, add carrots, lotus root, and dried shiitake mushrooms and stir-fry. Boil for about 5 minutes, turn off the heat when the water is low, and let it sit for a while to let the taste blend in.
Making brocade eggs
Break the eggs into a bowl and loosen them. Then, add and mix sake, a little sugar, a little salt. Sprinkle a thin layer of salad oil on a frying pan, heat on medium heat, and pour in half of the egg.
Bake then cut the rest
Bake the rest in the same way to remove the rough heat. Cut into small pieces and loosen them so that they are soaked in air. Add the ingredients of 3 to the vinegared rice of 1 and mix them gently.
Serving it all
Lastly, serve rice in a bowl and put broth egg on the whole. Add steamed shrimp, silk pods, and salmon roe in a well-balanced manner.
What are the different types of Chirashizushi?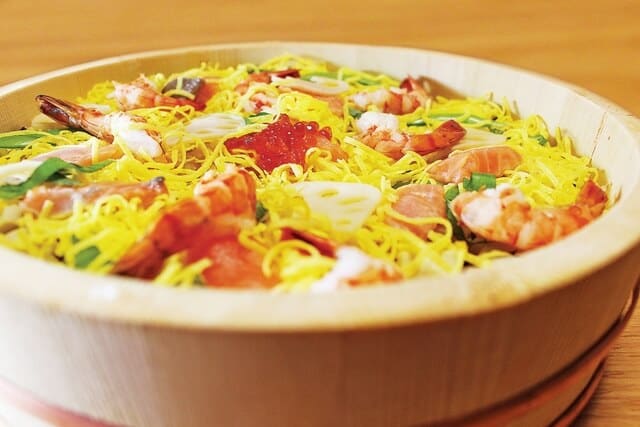 Kanto Chirashizushi
Chirashizushi in the Kanto region is by arranging fresh fish and various ingredients neatly on top of vinegared rice. They often served this for one person (also known as "Edomae Chirashizushi" or "Raw Chirashizushi"). If the locals sprinkle the ingredients on top of the vinegared rice, they call it "chirashizushi" in Kanto. It is standard to mix shiitake mushrooms, kaisendon, boiled garlic, vinegared rice, etc. It also will take a lot more effort to put the dried shiitake mushrooms back and season them.
Kansai Chirashizushi
Chirashizushi in Kansai is by mixing vinegared rice with small pieces of ingredients and sprinkling brocade eggs and seaweed on top. Locals do not use raw fish, but a boiled one, then they baked it and seasoned the ingredients. They often served it in large bowls (also known as "barazushi", "gomezushi", "kayakuzushi", "mixed sushi"). If the locals mix vinegared rice and ingredients, they call it "bara sushi" in Kansai. Bara sushi is a local dish of western Japan that mixes chopped ingredients with rice in Okayama prefecture. On the other hand, the mainstream type is to chop the ingredients into small pieces and mix them with rice.
Hinamatsuri Chirashizushi
Japan has this tradition they celebrated for the growth of the girls called, "Hinamatsuri" every March 3rd. And so, many families will decorate the gorgeous Hina dolls and celebrate with traditional sweets and treat like Chirashizushi. Chirashizushi is a Hinamatsuri food made by mixing vinegared rice with ingredients, and sometimes they put raw fish on top of it. There are no particular rules, so these days, there are various things such as making it like a decoration cake or serving it in a cup.
How many calories are there in Chirashizushi?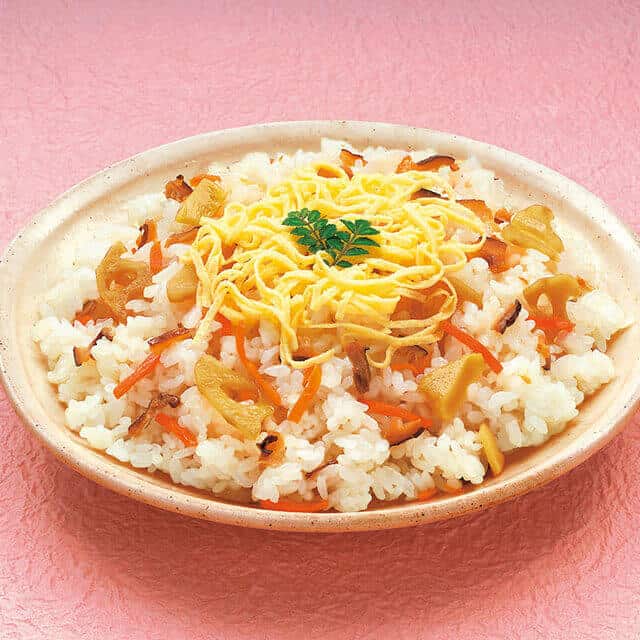 Since sushi vinegar is in the rice, the calories increase accordingly. The calorie per 100g of sushi vinegar is about 150kcal. Generally, about 30 ml of commercially available sushi vinegar is in 1 go of the rice. And since the specific weight of sushi vinegar is about 1.2 to 1.3, it is about 36 to 39 g in terms of grams. Estimating a large amount of 40g, the calories are about 60kcal. For vegetables, The amount actually used is small, and the calories per unit weight are low, so it may not be enough calories to worry about.
What is the difference between Chirashizushi and Kaisendon?
The Chirashizushi and Kaisendon with fresh seafood are very similar, but the rice is different. Chirashi Sushi is vinegared rice, and Kaisendon is white rice.
Why do Japanese eat chirashizushi at Hinamatsuri or Doll's Festival?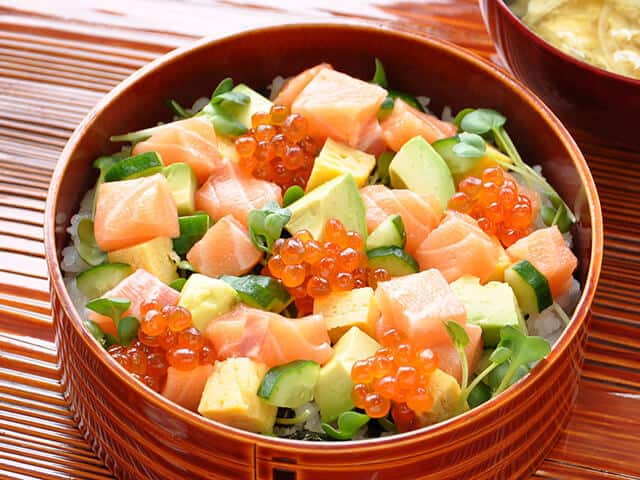 Chirashizushi looks very gorgeous and uses a lot of auspicious mountain seafood. It does not have its origin in the Hinamatsuri (Momo no Sekku) like Hishi mochi, but you can make a lot of chirashi sushi at once. And it is a food that everyone can eat and is suitable for celebrations. The Chinese character "sushi (寿司)" has often been used for festivals, as it means "to control longevity." In particular, many Japanese preferred having a gorgeous and auspicious chirashizushi for the Hinamatsuri, and it has become established as food for celebrating the Hinamatsuri.
Recommended Chirashizushi Restaurants
Roppo Sushi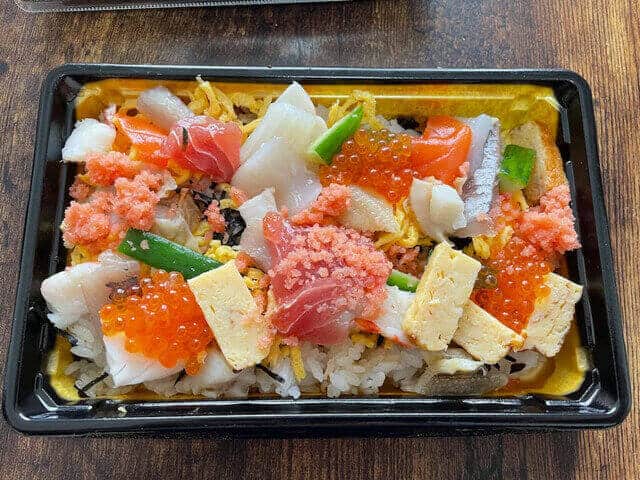 Roppo Sushi is a restaurant way back in 1971 and at that time only the counter inside the store existed. The owner made the "Chirashizushi" of "Roppo Sushi" by finely chopping various sushi dishes on vinegar rice, and they boiled, steamed, or pickled each fillet with vinegar or salt. The shop also applied the technique of Edomae sushi.
Aoyama Sushisen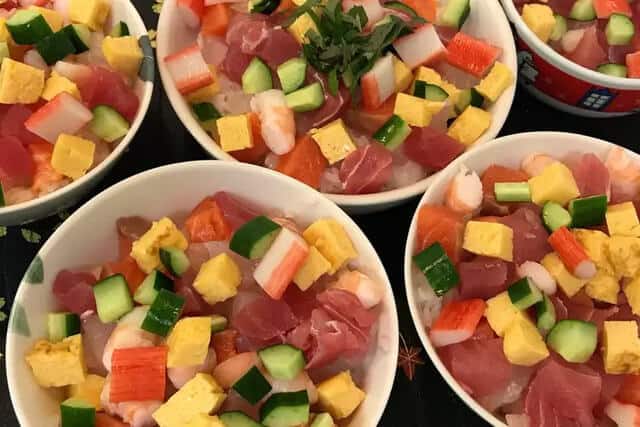 It is a sushi restaurant in Aoyama way back in 2000. Nowadays, it is gaining popularity as a representative restaurant of Edomae sushi. Here you can enjoy a limited lunchtime chirashizushi. Their chirashizushi has small ingredients and is a delicious and calculated arrangement no matter where you eat it. It's like a jewel box, and it's full of seasonal fish, mainly salt-water eel and eggs.
Kikumaru
Sweets made with anmitsu and matcha are popular at this sweets shop. The Chirashizushi that you can enjoy at such a shop is "Gome Chirashizushi with conger eel". This is a lunchtime limited product, and there is also Shitamachi Hayashi Rice, where you can enjoy the taste of Shitamachi. It is a restaurant with a nostalgic atmosphere that makes you want to eat dessert with your child.
Karaku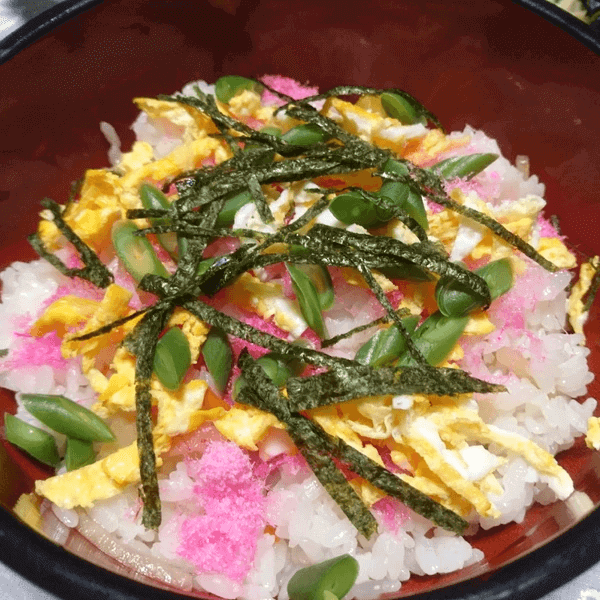 This is a restaurant where you can enjoy authentic Edomae sushi in Ginza. Here, you can enjoy three types of chirashizushi: Yorozu Chirashizushi, Chirashizushi, and Chirashizushi. Especially recommended is the colorful manchirashi. Some ingredients are easy to eat. Besides sushi, there are plenty of bowls such as seafood bowls. You may be wondering which one to eat.
Conclusion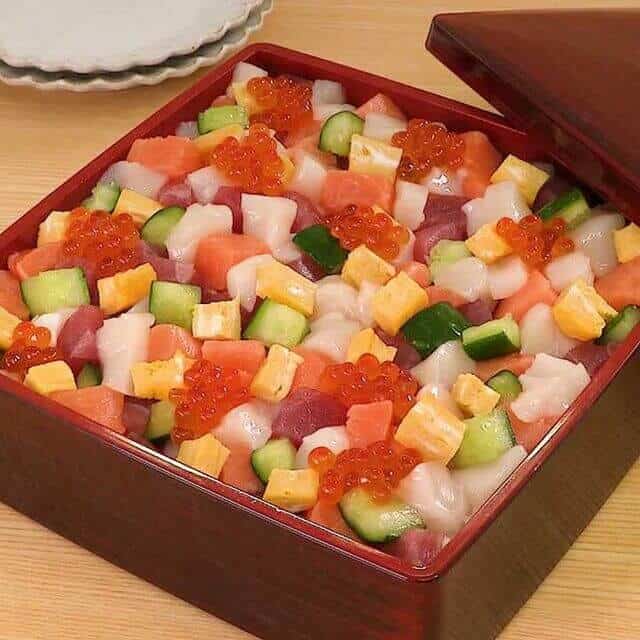 Chirashizushi is one of the Japanese food that is easier to make than the other popular form of raw fish, that is, sushi or sushi rolls. The reason is there is not much preparation for rolling out the sushi and just getting the prepared ingredients in the bowl. The flavors depend on the taste and the choice of the eater of what they want to eat according to their preferences and health restrictions. There are other types of Japanese sushi that you can read here.