Introduction to Toshikoshi Soba
After Christmas Day, everyone is looking forward to the new year to come. Wishing that the new year will be prosperous and will be a great year to look forward to. Even everyone is wishing to forget all the bad things that happened during the previous year. Every country has its own traditions when it comes to celebrating its new year. In Japan, one of their customs is to eat Toshikoshi Soba or what they refer to as "New Year Soba". They believe that eating this is to cut off the disaster of the previous year. There are different soba articles you can find here.
And so, this article will be your guide in knowing the deeper meaning of why the Japanese eat Toshikoshi Soba during New Year.
Etymology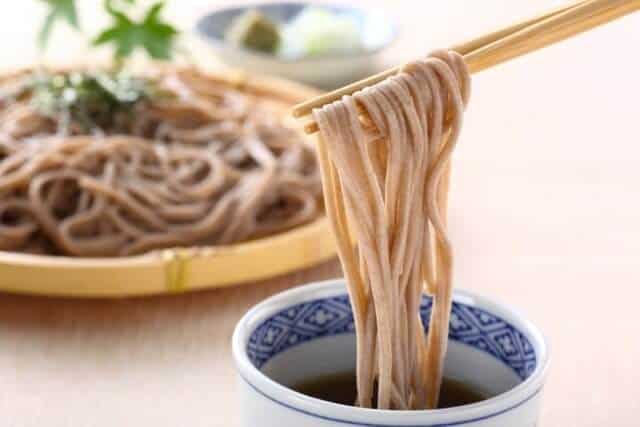 So what is the etymology of the word, "Toshikoshi Soba"? What does it mean? Toshikoshi (年越し) in Japan means to climb or jump from the old year to the new one. Meanwhile, soba (そば) is a thin Japanese noodle made from buckwheat.
What is Toshikoshi Soba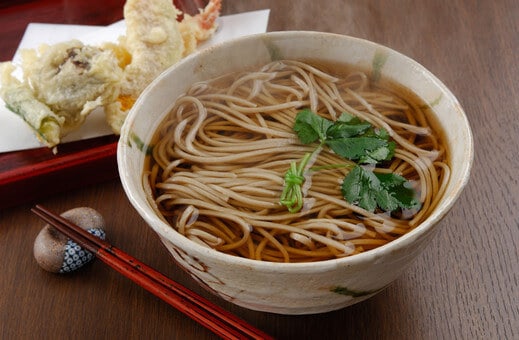 Toshikoshi Soba (年越しそば) is buckwheat noodles that the Japanese eat on New Year's Eve (December 31) for good luck. It is a custom and food culture that has become a feature of the end of the year in Japan. Locals characterized this soba by regional characteristics, and they referred to it as New Year Soba, last day of the month noodles, Tsugomorisoba, and many more.
History of Toshikoshi Soba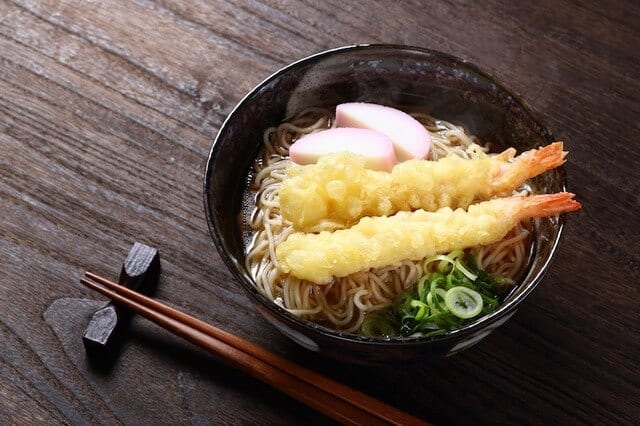 The history of Toshikoshi Soba begins in the Kamakura period. At that time, at a temple in Hakata, people who were too poor to live through the New Year were served mochi made of buckwheat flour called "soba mochi." Then, from the following year on, the luck of the people who ate soba mochi increased, and rumors spread that there was something good to eat. Since then, they have been able to eat it every year, and it has become what they call New Year's noodles. Originally, the Japanese eat soba as a vegetarian dish at temples. However, it gradually spread to aristocrats, samurai, and common people, and all over Japan.
Toshikoshi Soba Recipe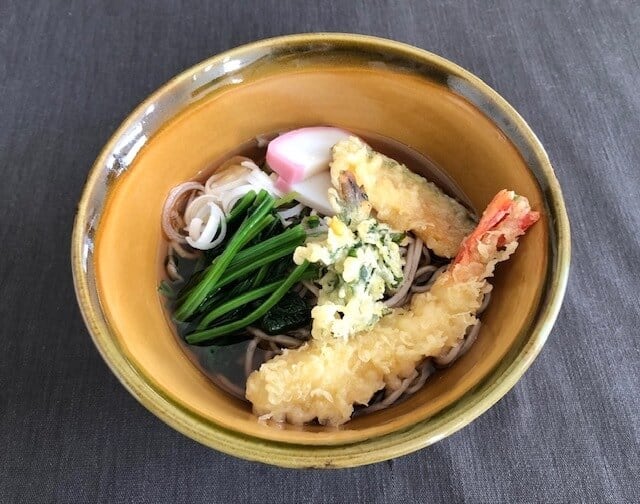 The Toshikoshi Soba Ingredients
| | |
| --- | --- |
| Toshikoshi Soba Ingredients for 4 people | |
| Shredded green onions | 630g |
| Soba | 112g |
| Mentsuyu (straight type) | 1000g |
| Shrimp tempura | 240g |
| Red and white kamaboko | 4g |
How to make Toshikoshi Soba?
Cutting the kamaboko into desired thickness
Cut the red and white kamaboko to a thickness of 5 mm.
Boiling the soba
Boil the buckwheat according to the label on the product.
Making the soba noodle soup
Put the soba in the bowl and pour the noodle soup.
Serving Toshikoshi soba
Complete with kamaboko, shrimp tempura, and "salad club chopped green onion" in soba soup.
What are the different meanings of Toshikoshi Soba?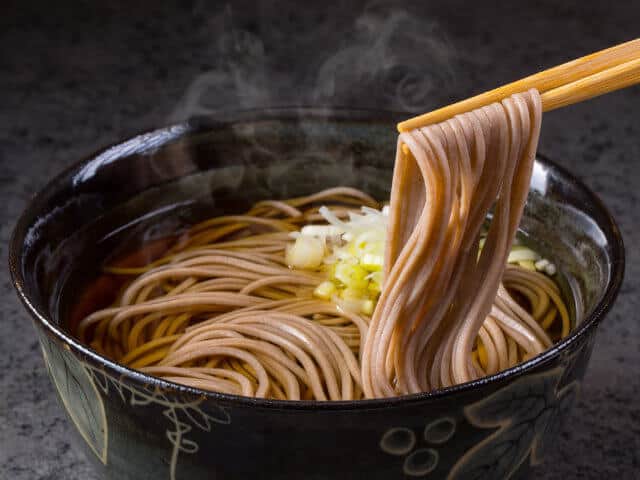 Eating Toshikoshi Soba during New Year is a Japanese culture that the Japanese established in the Edo period. Why? Because buckwheat is much easier to cut than other noodles, so they choose to eat this before the end of the year on New Year's Eve in the sense of "cutting off the disaster of this year". There are other deep meanings behind eating Toshikoshi Soba during New Year.
1. To live longer
Like soba, you can eat it hoping that you can spend it thin and long.
2. Cut off this year's bad luck and hope that next year will be fortunate
Since buckwheat is easy to cut, locals believe this year's hardships and bad luck will be cut off cleanly and the new year will be celebrated.
3. May your fortune go up
They also believe that old gold and silver craftsmen used buckwheat flour to collect gold and silver scattered by the craftsmanship. Therefore, collecting gold with soba would improve your fortune.
4. May I have no illness next year
Even if soba is expose to the elements, it will be rejuvenated when exposed to sunlight. Therefore, like buckwheat noodles, there is a desire to revive again and again. 
Is buckwheat soba healthy?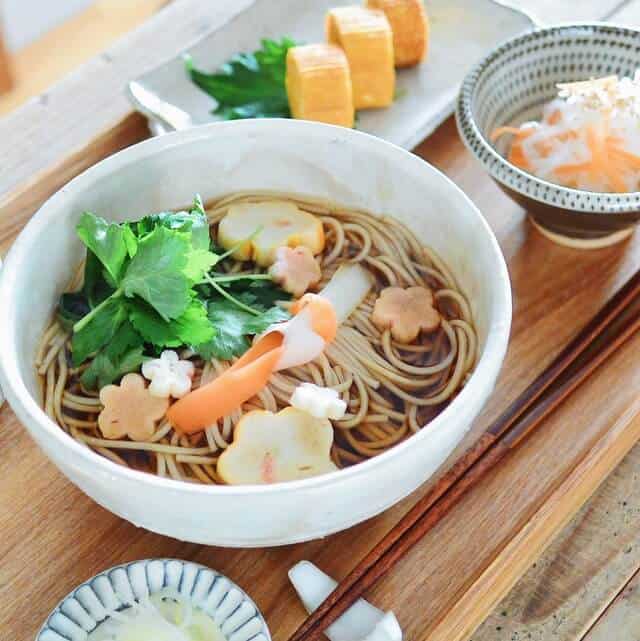 They're similar in nutrition to whole-wheat spaghetti and a good plant-based protein source. Soba noodles made mostly with refined wheat flour are less nutritious. Buckwheat has been linked to improved heart health, blood sugar, inflammation, and cancer prevention.
What is healthier rice or buckwheat?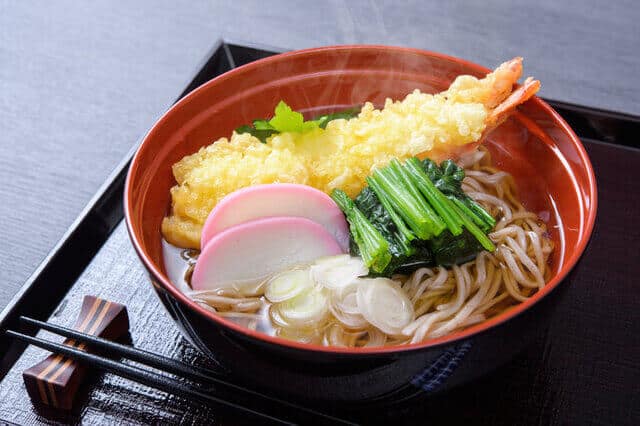 Buckwheat has a high mineral and antioxidant content, resulting in several health benefits. It contains more protein than rice and has higher essential amino acids, including lysine and arginine. Rice is lower in saturated fats than buckwheat and is lower in calories.
Warm or Cold Toshikoshi Soba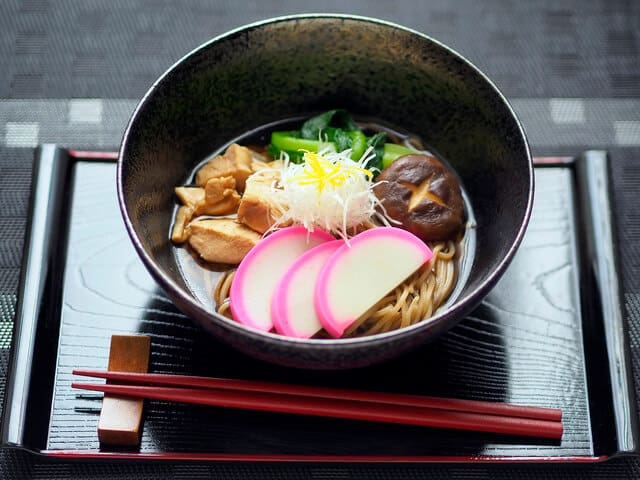 There are two types of soba: those that can be eaten warm in a soup, and those, called zaru soba, which are eaten cold by being dipped in a sauce. While some people worry about which kind of soba is the "right kind" for toshikoshi soba, it doesn't matter. Whether you want to warm your body before or after a shrine visit with a hot bowl of soba soup or enjoy them cold with a cup of hot tea is entirely up to you.
Recommended Toshikoshi Soba Restaurants
Yazawa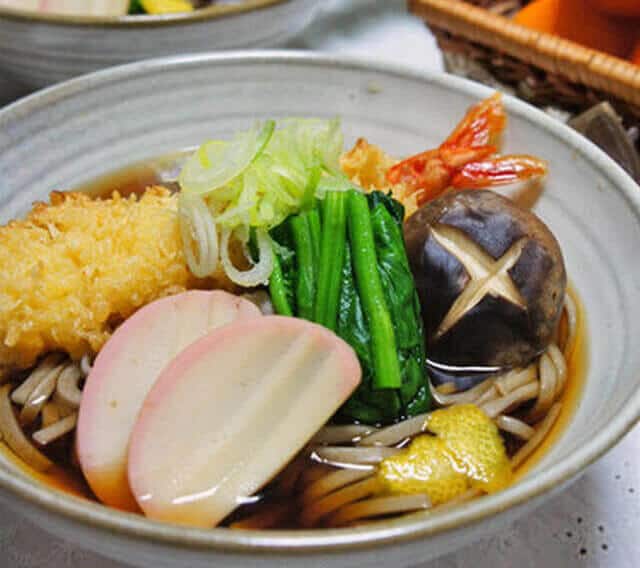 This shop is also a popular and famous shop that you can visit from afar for its taste. The characteristic of their Toshikoshi soba is a dish that has a good reputation for its wonderful aroma. The taste of soba is strong and delicious. The atmosphere of the store is nice and it was fairly crowded even on weekdays.
Kenjiro Tansoan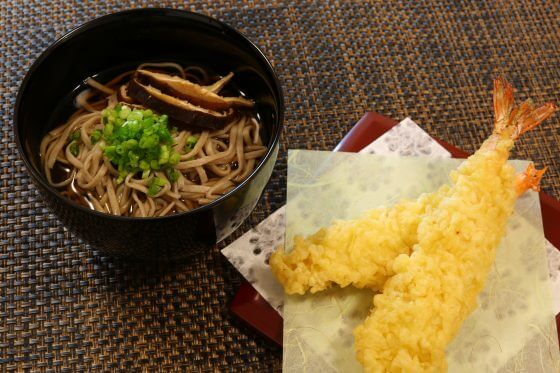 Kenjiro is a popular restaurant in the back alley of Asakusa, which is also a fierce battleground for Japanese cuisine. This is unique to downtown Tokyo, the shop's signature menu is 28 Edo soba noodles and countryside soba noodles. There are also a variety of single dishes and kaiseki dishes, soba noodles with sake. 
Daikoku-ya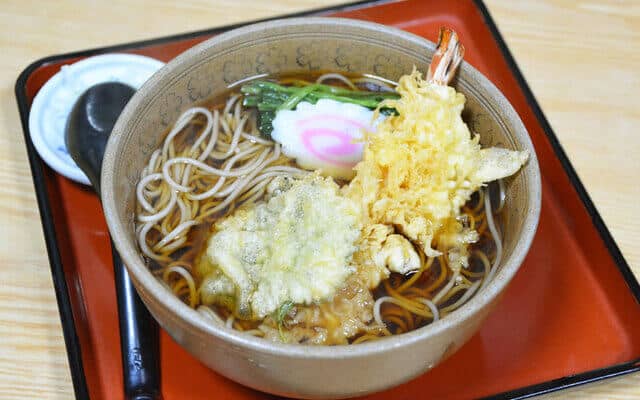 Daikokuya is a famous Asakusa restaurant with a unique and fashionable fan menu table. They serve soba with a slightly whitish texture, shredded and textured well. The recommendation of their shop owner is "Soba Toro", which you can put in the fluffy Tororo. The soba made by the owner, who has been fascinated by many soba lovers in Asakusa for more than 40 years, is true craftsmanship. 
Kyourakutei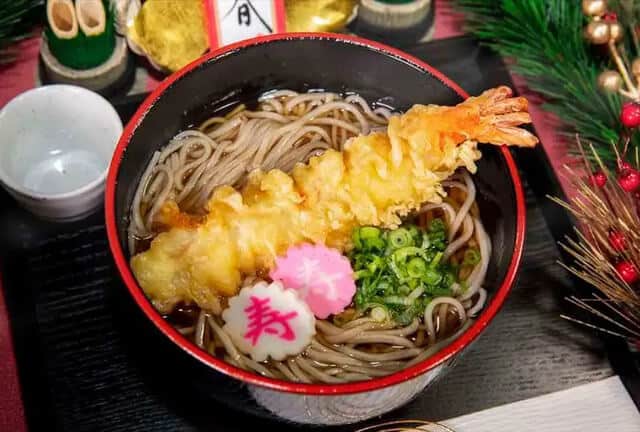 Kyourakutei in Kagurazaka, where you can not only eat soba but also feel the atmosphere and flowing air of the restaurant. It's a soba restaurant that is extremely popular in Kagurazaka, a fashionable and mature city that represents Tokyo. It is a shop that satisfies the tongue of many customers, including soba lovers. There is no doubt that you will be impressed by the taste of soba without any omissions.
Conclusion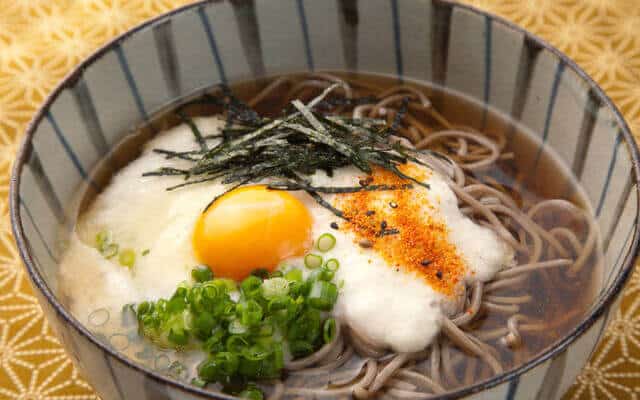 Many people use "demae," Japan's equivalent of catering and take-out services since toshikoshi soba is generally a lucky charm and to function better the tastier they are. As you might expect, soba businesses around the country are quite busy, especially during the New Year's season, so inquiring about buckwheat take-out on New Year's Day will almost always result in you being disappointed. Reservations are often necessary for dishes up to two or three days in advance, however, bear in mind that soba restaurants close in the evening. On New Year's Eve, there aren't many stores that deliver soba till late.