If you are a fan of Japanese cuisine, you may have heard of Okonomiyaki (お好み焼き) before. This dish can be found all over Japan, such as Kansai-style, Hiroshima-style, monjayaki in Tokyo, and dondon-yaki in Tohoku. Each region is unique for their own style, and if you understand the regional differences, you can reconfirm that this is a dish that is very popular with the people of each region. One of the reason why it is so ppopular in Japan is that it has a simple cooking method. Why not following our recipe below to make your own Okonomiyaki at home!?
What is Okonomiyaki?
Okonomiyaki is a type of Japanese teppanyaki that uses flour, eggs, cabbage, and sauce. You can use your favourite ingredients such as chicken eggs, vegetables, meat, seafood, noodles, etc. as a dough. Then you can grill it on an iron plate, and season it with sauce, mayonnaise, green laver, etc. Locals typically serve the grilled okonomiyaki with sauce and bonito flakes, but some restaurants also include dried bonito flakes, green onion, and mayonnaise.
Etymology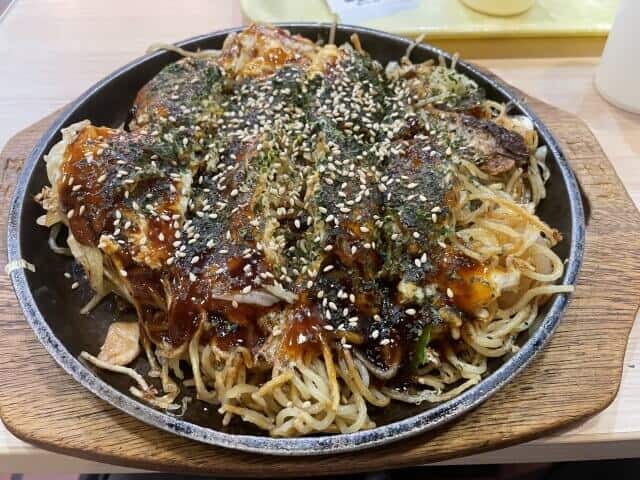 Okonomiyaki is mainly associated with two distinct variants from Hiroshima or the Kansai region of Japan, but is widely available throughout the country, with toppings and batters varying by area. The name derived from the word "Okonomi" (お好み), meaning "how you like" or "one cup's tea", and "Yaki" (焼き) meaning "cooked" or "fried." So, on the whole, the dish means grilling to your liking.
Okonomiyaki History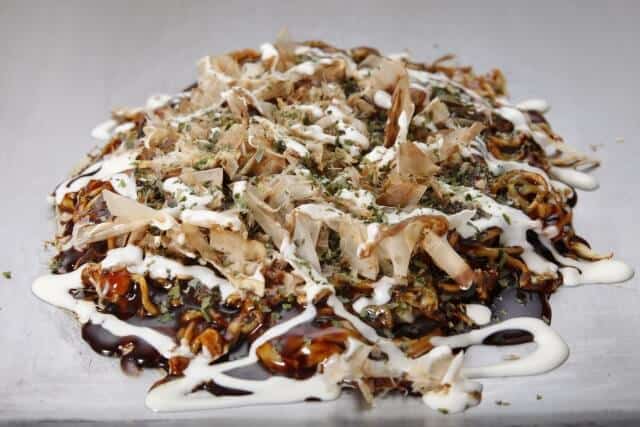 Okonomiyaki is a popular Japanese dish, but locals thought it to have originated in China during Confucius' time, not in Japan.
Originally, the Japanese made okonomiyaki by dissolving flour in water and baking it flat. It then made its way to Japan, where Sen no Rikyu established it as a tea confectionery and people began eating it. Choboyaki, the original form of takoyaki, was transformed from tea sweets to monjayaki during the Meiji period.
Wheat flour was supplied from the United States in the early Showa period after the war. It has a history of being used primarily in both Kansai and Hiroshima, despite the fact that it was helpful during the rice shortage. In the case of Hiroshima-style, "issen yoshoku" began with green onions placed on top of wheat flour dissolved in water, then switched to cabbage, which is cheaper than green onions and can increase volume, and added noodles to fill adult stomachs. The dish has evolved over time, leading to the current okonomiyaki.
The appeal of Okonomiyaki to the world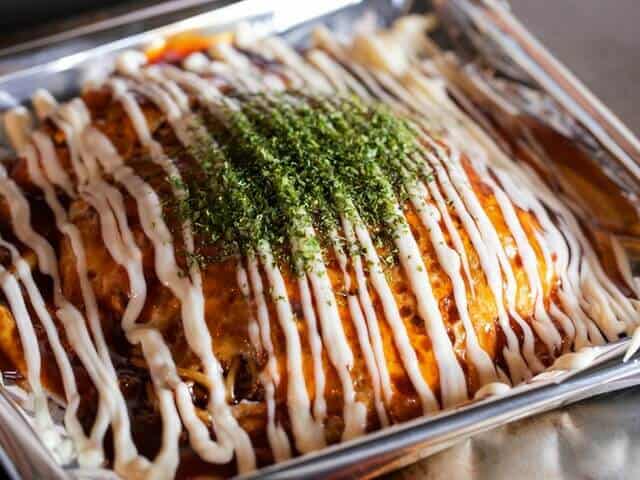 Okonomiyaki is a food that many people loved, and there are local flavors not only in Hiroshima and Osaka but also in other parts of the country. As the name suggests, you can easily make any okonomiyaki with the ingredients of your choice, but what they all have in common is the use of plenty of vegetables such as cabbage and green onions.
If you add meat, eggs, and other ingredients of your choice, you can have a healthy, well-balanced meal with just one meal. You can change the size and ingredients according to the time of day and age, and it is a menu that everyone from small children to the elderly can enjoy. The appeal of this dish is not only its nutritional balance.
Okonomiyaki Recipe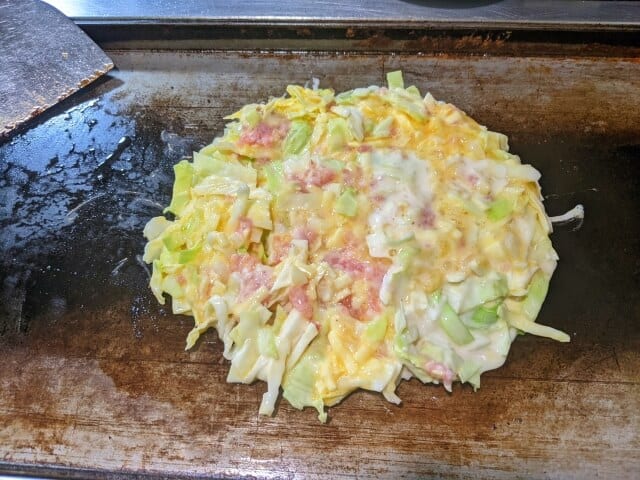 Okonomiyaki Ingredients
| Ingredients of Okonomiyaki for 2 persons | Measurements |
| --- | --- |
| [Dough] Flour (soft flour) | 100g |
| [Dough] Dashi | 100g |
| Grated long yam | 40g |
| [Dough] Salt | 1g |
| Cabbage | 240g |
| Egg | 46g |
| Tenkasu | 56g |
| Green Onion | 56g |
| Pork Belly | 160g |
| Red Ginger | 5g |
| Oil | 50g |
| [Topping] Aonori seaweed | 7g |
| [Topping] Flower bonito | 7g |
| [Topping] Mayonnaise | 10g |
How to make Okonomiyaki
Making the dough
Combine the dough ingredients to make the dough. Mix with a whisk to crush lumps.
 Chopped the cabbage
In a bowl, place the cabbage, 1 piece of batter, egg, and tempura crumbs. Poke the egg or batter into the finely chopped cabbage 3-4 times, turn the whole thing around from the bottom, and repeat this 5-6 times until you covered the cabbage with the batter and comes together.
Frying session
Put a thin layer of oil on a heated iron plate (medium heat for a frying pan, high 200-220°C for a hot plate). Spread to make a slight indentation in the center so that heat can easily pass through.
Baking the pork belly
After 3 minutes, add a lever and check if it is color brown. Arrange the pork belly in the shape of a river so that the fat is on the outside then bake it.
Completion and serving
Open the lid, turn it over again for 1 minute, add toppings such as sauce, and it's done.
Okonomiyaki on different regions
Okonomiyaki can be found all over Japan, such as Kansai-style okonomiyaki, Hiroshima-style okonomiyaki, monjayaki in Tokyo, and dondon-yaki in Tohoku. The types of okonomiyaki are unique to each region, and if you understand the regional differences, you can reconfirm that this is a dish that is very popular with the people of each region.
Hokkaido
Hokkaido does not have its okonomiyaki, but there are many chain restaurants, mainly in cities such as Sapporo.
Tohoku region
In the Tohoku region, you can find "dondon-yaki", which they derived from "monja-yaki" which originated in Tokyo, in each prefecture, showing the characteristics of each region. The main ones are "usu-yaki" from Iwate prefecture, and the half-moon-shaped "dondon-yaki" (locally called "okonomiyaki") from Miyagi prefecture.
Kanto region
The most popular okonomiyaki in the Kanto region is "monjayaki". A major reason for this considered to be the geographical proximity to Tokyo, where monjayaki was born.
Okonomiyaki Sauce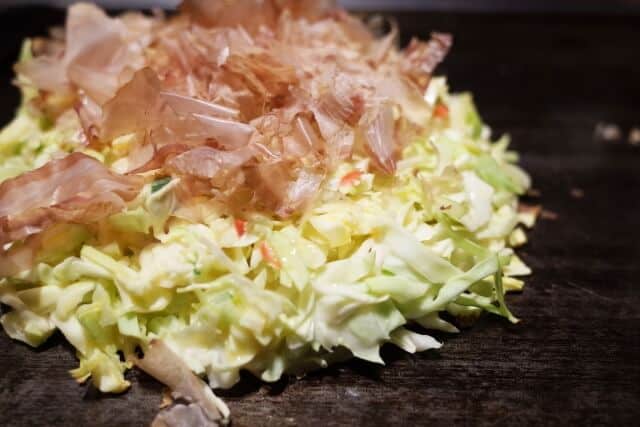 The secret to the flavor of okonomiyaki is the sauce. Many different producers offer a variety of goods. Some utilize fruits and vegetables as the primary ingredients and spices as the finishing touch. Try to discover the okonomiyaki sauce that you prefer because each producer has an original version. Additionally, there isn't much of a difference between okonomiyaki sauce and takoyaki sauce; in fact, takoyaki sauce has a higher sweetness.
Oliver Sauce Doro Okonomiyaki Sauce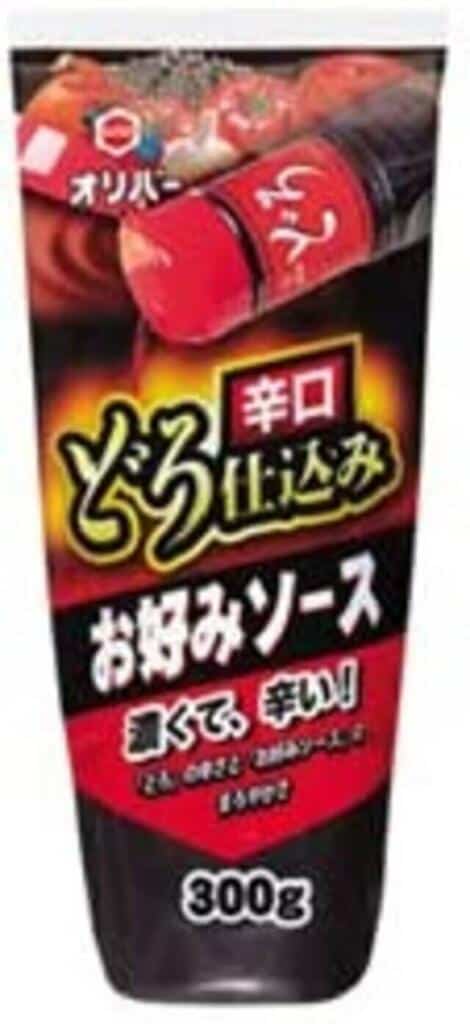 An okonomiyaki sauce with "Doro" that goes well with okonomiyaki that uses plenty of meat-based concrete. You can enjoy not only the spiciness but also the umami of fruits and bonito stock.
Bulldog Economical Okonomiyaki Sauce

The sweet okonomiyaki sauce is popular by being delicious for everyone, from children to adults. It is perfect for when you want to enjoy an okonomiyaki party with your family or a large number of people. Manufacturers of the sweet sauce include Otafuku, Tsuzumi Shokuhin, and Bulldog Sauce. 
Daikokuya Spicy Sauce

The dry sauce is from the highly viscous sediment that settles at the bottom of the tank during the sauce-making process. The sauce is full of vegetable, fruit, and spice extracts, and spices are inside to create a spicy sauce.
Types of Okonomiyaki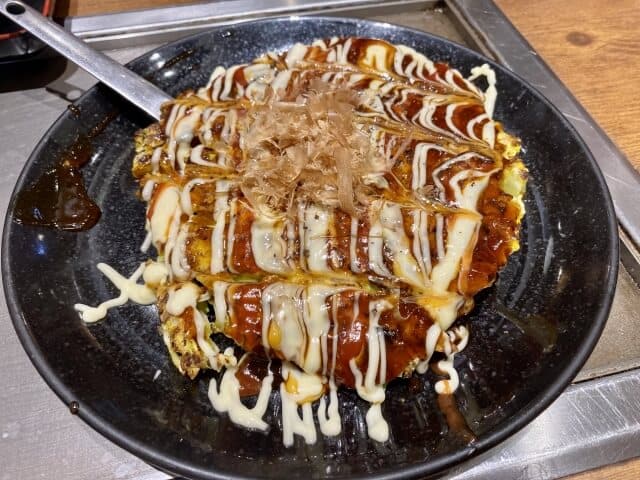 Kansai Style Okonomiyaki
The basic form of Kansai-style okonomiyaki is called 'mazeyaki', which mixes flour dissolved in dashi and chopped cabbage. Based on this dough, grated yam, chopped red pickled ginger, tempura bits, etc. are mixed in and baked. 
Hiroshima Style Okonomiyaki
Hiroshima's okonomiyaki is a "topping" type. With plenty of cabbage and bean sprouts, and noodles added, it's a filling dish. Locals season a thin layer of dough with fish powder, and shredded cabbage and bean sprouts are piled high.
Negiyaki
Negiyaki is another type but its characteristics are a bit different. Instead of cabbage, it is with green onions. It originated in the city of Osaka and is another type of savory pancake from the Kansai region. 
Modanyaki
Modanyaki is simply with Yakisoba noodles. It has become a popular dish in Osaka and people call it "Modern Okonomiyaki". Locals would combine the shredded cabbage with the dough before baking it.
Monjayaki
Monjayaki, also monja, is a traditional Japanese food and one of Tokyo's famous dishes. It is one of those savory Japanese-style pancakes. It is a type of Japanese pan-fried batter with various ingredients which are similar to Japanese pancakes but a lot more watery.
How many restaurants serve Okonomiyaki?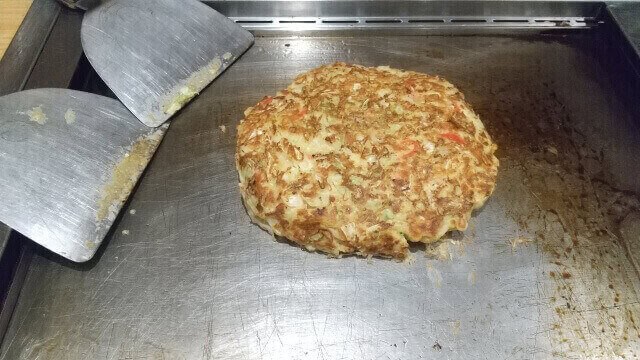 There are more than 16,000 okonomiyaki restaurants across Japan, with the three prefectures of Osaka, Hyogo, and Hiroshima accounting for 40% of the total. There are more than 1,600 okonomiyaki restaurants in Hiroshima Prefecture, and about 800 in Hiroshima City, which is more than a convenience store
Where to buy Okonomiyaki
Kiji Shinagawa (お好み焼 きじ 品川店)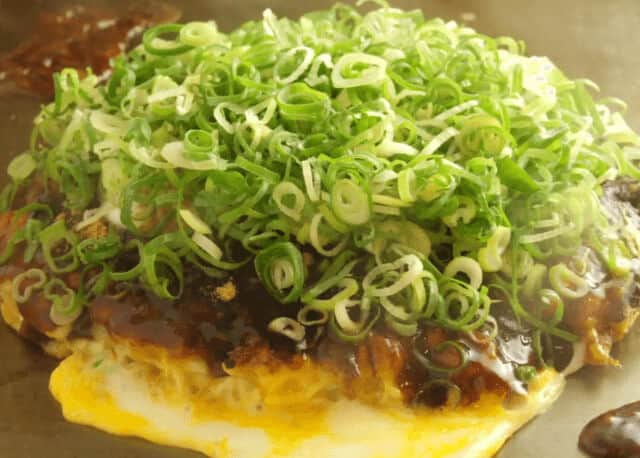 There are 34 seats at the counter with iron plates and table seats in the white and brown interior, so you can spend a relaxing time. Among the various menu items such as pork balls and yakisoba, the most recommended is "sujiyaki". Okonomiyaki made with beef tendon. The tender texture of the beef tendon in the fluffy dough is exquisite! The rich sauce and plenty of green onion scent are irresistible. Once you eat it, you will be addicted to it.
Momijiya (広島風お好み焼 もみじ屋)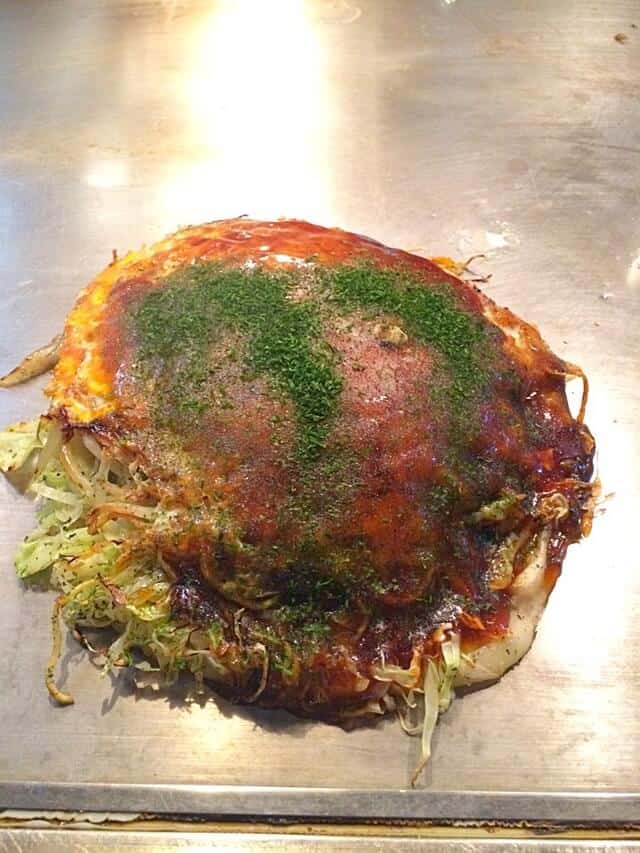 It all started when the former staff of the long-established Lemonya, which unfortunately closed down, founded it in Iidabashi. Although it is not a so-called affiliated store, known as a famous Hiroshima okonomiyaki store in Tokyo. Authentic Hiroshima-okonomiyaki made with carefully selected ingredients and reliable techniques is popular. The standard menu of the shop that keeps the authentic style is "Nikutama Soba". The combination of crispy cabbage, rustic noodles, and fruity sauce is irresistible. You can relax and enjoy lunch or dinner.
Hassho (東京 八昌)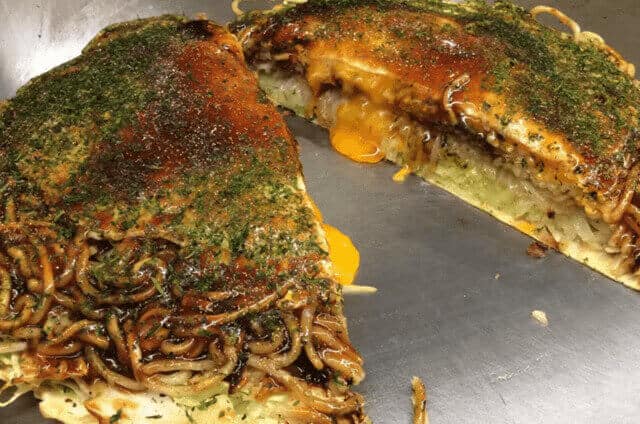 It is a famous restaurant that is often listed in the Bib Gourmand of the Michelin Guide Tokyo. Hiroshima okonomiyaki and Kyodo's original seasonal teppanyaki are popular. The meatball with soba noodles is the most popular, and its deliciousness is guaranteed. The pork is crispy, the outside is crispy, and the noodles are chewy and rich in texture and flavor. Many people also add toppings such as squid tempura and rice cakes.
Final Thoughts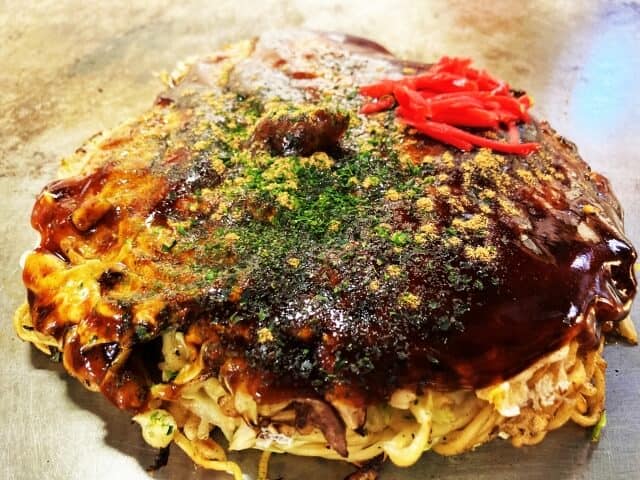 Although okonomiyaki is frequently translated as "Japanese pancakes," the only thing that resembles a pancake about them is their shape. They are a savory dish that mixes veggies, carbohydrates, and protein in one serving, making them the ideal choice for a snack, lunch, or dinner. This Osaka street dish is a fantastic way to use up leftovers from the fridge.
There are other types of Okonomiyaki in Japan that I bet you would want to try too. Like Negiyaki, Modanyaki, Monjayaki, Kansai-style Okonomiyaki, and Hiroshima-style Okonomiyaki.