A variety of bento boxes, such as hamburgers, makunouchi, and Chinese food, are lined up in shops. Among them, the nori bento, a classic bento box, has been proud of its "unchanging popularity" for a long time. Nori-ben has become a staple not only in homes but also in bento shops around town. 
What is Nori Bento?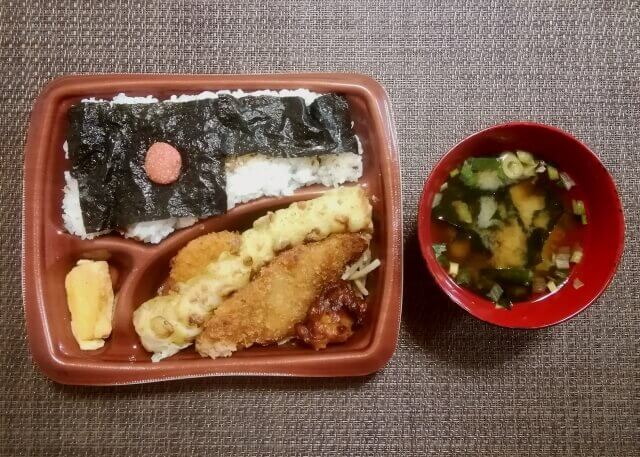 Nori-bento is a bento with seaweed on top of rice in Japan. It is a staple item at take-out bento chains and convenience stores. This alone may be called a "nori-ben", but you can't miss the kinpira, fried white fish, and chikuwa tempura. The basic format is a bento box filled with rice and covered with seaweed seasoned with soy sauce. Sometimes, it is stuffed with boiled rice and served with nori seaweed, or layered in several layers. Boiled bonito flakes and kombu in soy sauce on top of the rice is common to sprinkle.
Nori Bento History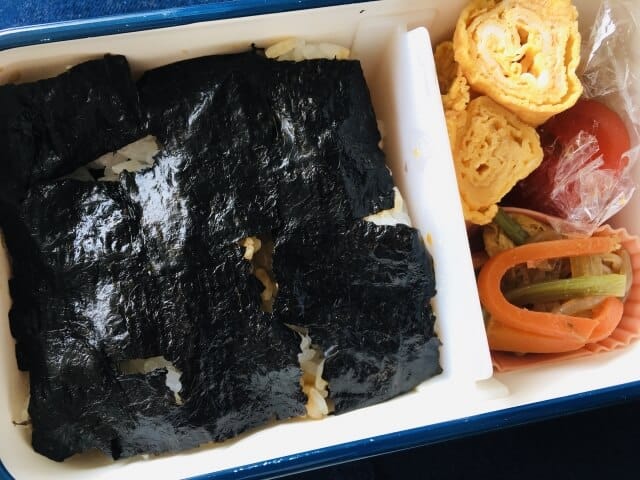 Bento boxes with the same shape as today's lunch boxes appeared in the Azuchi-Momoyama period, and board seaweed began making it in the middle of the Edo period. The model is the "Noriokaka bento," which was popular at home in the 1950s. It was a bento with white rice topped with bonito and soy sauce-covered cat manma. 
In 1976, when Hokka Hokka Tei opened its first store, it was sold as "Nori Bento". Hokka Hokka Tei started to sell nori-bento, a bento box topped with fried white fish and chikuwa tempura. It started and spread. At first, they served it with grilled hoki miso pickles, but since it took a lot of time, they changed it to fried fish.
Nori Bento Recipe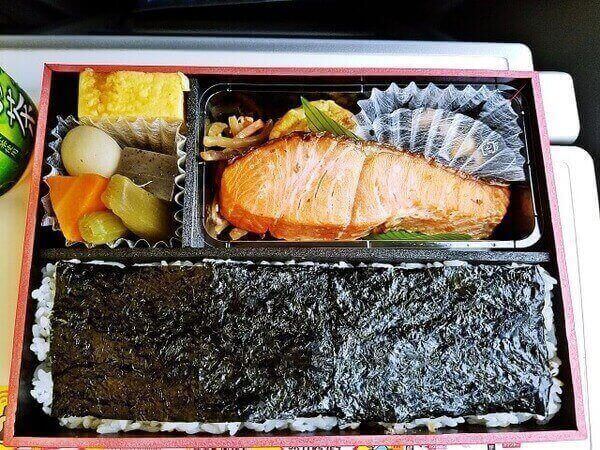 Nori Bento Ingredients
| Ingredients of Nori Bento for 1 person | Measurements |
| --- | --- |
| Rice | 220g |
| Okaka | 7g |
| Toasted seaweed | 8g |
| Whitefish fried | 25g |
| Isobe Grilled Chikuwa | 30g |
| Kinpira | 12g |
| Tamagoyaki | 30g |
| Aojiso | 10g |
| Pickles | 2g |
How to make Nori Bento
Prepare the rice
Cool the food after heating. Put the rice in the bento box, cover it with a kitchen towel and let it cool.
Sprinkle the rice with toppings
Sprinkle the bonito flakes over the rice. Cut the toasted seaweed into pieces slightly smaller than the bento box and place it on top. Place the kinpira in the back and the green perilla in front of it.
Putting the fried fish
Place the fried white fish so that it fits in the bento box and adjust so that the green perilla is visible.
Serving
Place the chikuwa grilled with Isobe and tamagoyaki in front of you. Look at the overall balance and adjust the placement.  If you notice gaps or lack of color, drain the juice and add pickles (using new ginger).
Various Nori Bento Types
Salted kombu seaweed sandwiched between rice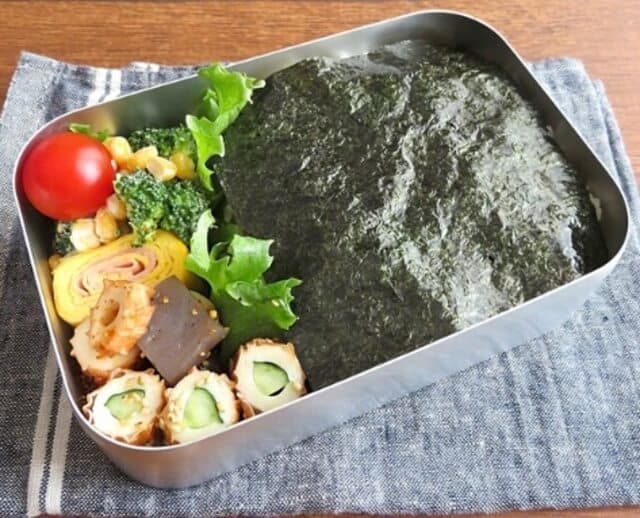 This "Nori-ben" has salted kombu seaweed and nori sandwiched between the bottom rice, and a homemade furikake mixed with bonito flakes, white ground sesame, soy sauce, and olive oil sprinkled under the top nori.
Nori-ben" made with multi-grain rice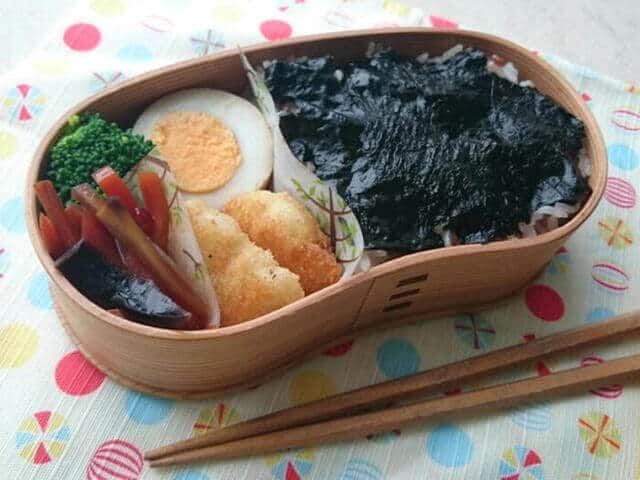 Although the surface is covered with nori, it is a healthy "nori-ben" with mixed-grain rice inside. You can find a new and different taste by using not only white rice but also multigrain rice or brown rice.
Sprinkle furikake under the seaweed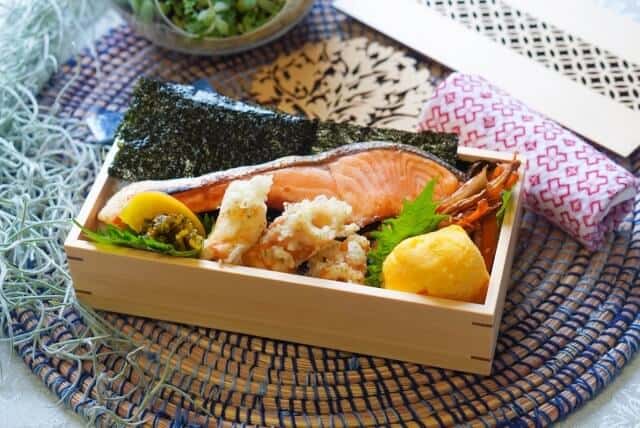 When stuffing, start with the nori and rice parts. They used the bento box vertically, so if the height is not enough, you don't have to put furikake between the rice. This is a recipe that sprinkles bonito flakes and soy sauce-flavoured kombu on top of rice and tops it with torn seaweed.
Tips for making Nori Bento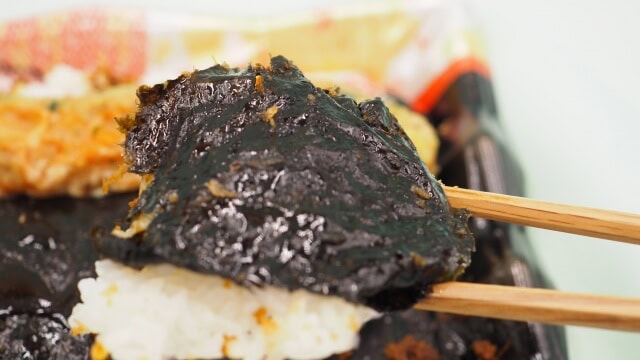 Use a glue cutter to make it easier for children to eat
If you use soft glue picked early, it will be easy to cut, but you can't use such a high-end product for your daily lunch.
Alternate layers of rice and seaweed
First, put the bonito flakes at the bottom and add a little soy sauce. Spread rice thinly and also a little bit of soy sauce. Then put the torn seaweed on top.
Nori Bento FAQS
What are the charms of Nori Bento?

Even when the seaweed is still moist, the scent of the seaweed is released by chewing it in your mouth and warming it up. Then, the pleasant scent of seaweed creates a sense of security and leads to a relaxing effect. Japanese recommended eating nori-ben with hot green tea. The scent of green tea also has a relaxing effect, so it was the strongest combination of noriben and hot tea.

Why is nori bento so popular?

Noriben is pack with umami. Seaweed is a very rare ingredient that contains all three typical umami ingredients, glutamic acid, inosinic acid, and guanylic acid. In addition, the rice and soy sauce used for nori valves are full of glutamic acid, and the bonito flakes are inosinic acid. Combining these ingredients enhances the umami, and according to one study, the umami is about eight times higher.
Where to buy Nori Bento
Hakejoyu Noriben Sannobori (刷毛じょうゆ 海苔弁山登り新橋駅店)
As a nori-ben speciality store, there are many types of nori-ben, but the most recommended is the nori-ben "Umi" with a huge salmon on top. Fatty salmon, deep-fried fish cakes, and tamagoyaki. The standard side dish of the seaweed dialect heavily included. Well-cooked salmon is delicious down to the skin. Side dishes such as shirataki seasoned with mentaiko and spinach namul are also a little elaborate.
Noriben Ichinoya (海苔弁いちのや 靖国通り本店)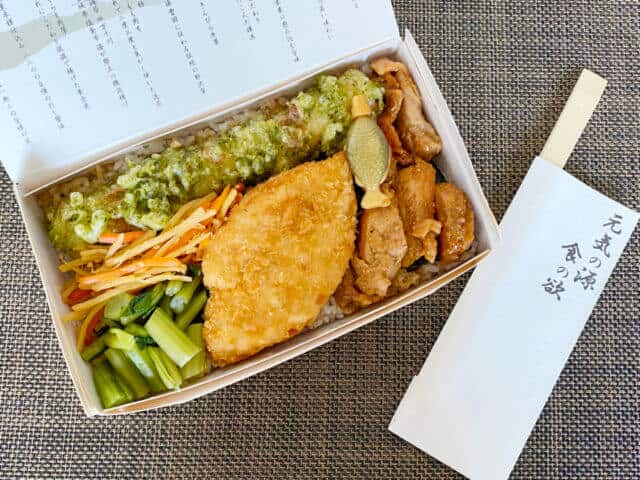 The menu at "Noriben Ichinoya" is the classic "Noriben" and the "Golden Noriben" which changes depending on the season. This time, we will introduce the "Noriben", packed with the store's specialities. When you open the lid, the fried white fish and deep-fried Isobe will catch your eye. Both are big standard side dishes of seaweed dialect. Next to that is miso-grilled chicken.
Five Star Noriben Bobogi (坊々樹)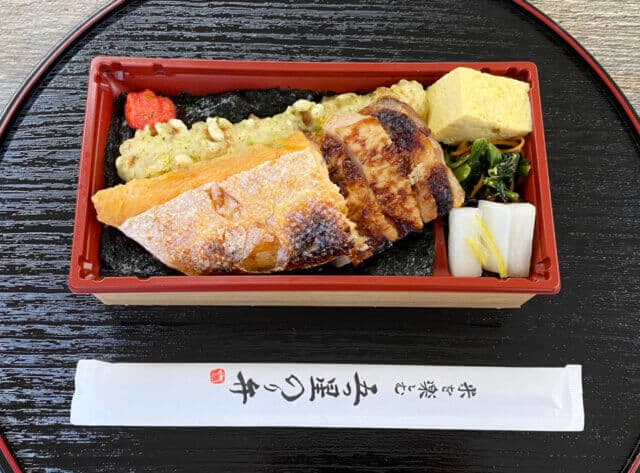 Five Star Noriben from the long-established Japanese restaurant "Bobogi" in Kinshicho, Tokyo's downtown area. This is a noriben where you can enjoy the deliciousness of rice. The rice is blended exclusively for the nori bento by a five-star Meister certified rice professional and is cooked using the ultimate rice-cooking technique directly taught by the Meister, resulting in rice with a distinct umami flavour at room temperature.
Final Thoughts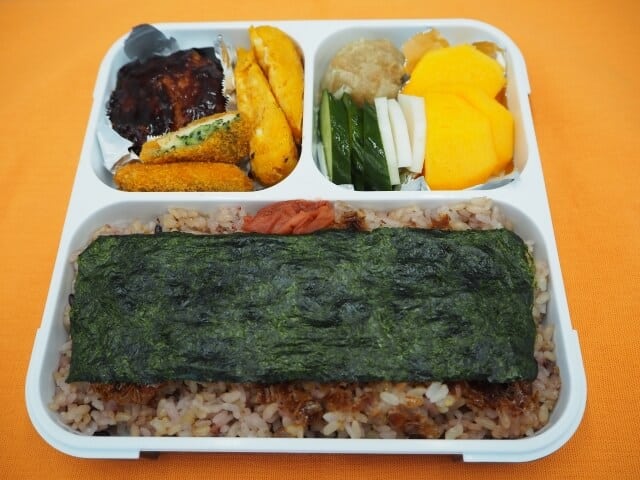 The concept of a bento is nothing new; the difference between an "obento" and a "bento" is one of formality; an "obento" is more formal. Boxed lunches are commonplace. The primary distinction in Japan is how pervasive and deeply embedded it is in society. Everywhere, people bring their lunches, but in Japan, it's a special meal because of how much time individuals spend away from home for work or school. Rice, nori sheets, soy sauce, and katsuobushi are the key ingredients of a Nori Bento, also known as Noriben.
There are other rice-related dishes you can try in Japan that we recommend such as Onigirazu and Onigiri.