In Japan, yakiniku is definitely one of the most favourite dish as you can eat it on special occasions with family, friends and colleague. Next time, if you want to try yakiniku in Japan, do not forget tasting gyutan, the classic menu of grilled meat. We will introduce about it in today's article.
What is Gyutan?
Gyūtan (牛タン) is a Japanese food that consists of grilled beef tongue.  Because gyūtan literally means "cow tongue," it is also used in Japan to refer to cow tongues. In 1948, the Japanese first prepared Gyūtan in Sendai, Miyagi Prefecture and they ate this with barley rice, tail soup, and pickles in the Sendai area. Yakiniku restaurants in other parts of Japan commonly offer Gyūtan. Many yakiniku restaurants refer to gyūtan as tanshio ("tongue salt") since it was originally intended to be season with salt.
Gyūtan with tare sauce is currently available in select places. The standard thinness is 1 mm or less, 1 mm to 2 mm, but if you eat high-quality meat with thick slices of 5 mm to 6 mm, and for steak, you can feel the meat quality and flavor of the beef tongue more. Japanese people recommend baking the tongue and the tongue, and simmering the tongue tip.
Etymology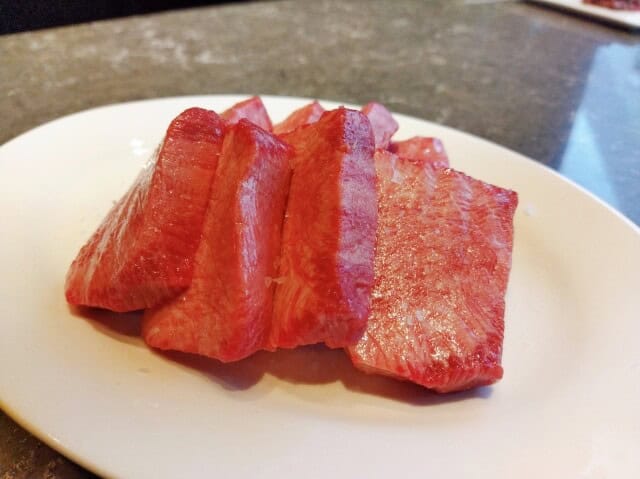 Gyutan (牛タン) is grilled sliced beef tongue and the Japanese word gyutan is a combination of the Japanese word for cow (gyu "牛") and the English word tongue (tan "タン").
Gyutan History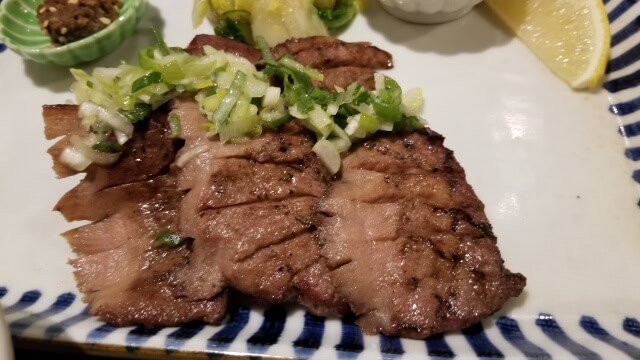 Sano Keishirō, the owner of a yakitori restaurant in Sendai, founded Gytan in 1948 when he built a new restaurant that featured cow tongue dishes. Tasuke (太助) was the name of the restaurant, and they still recognized this as one of Sendai's top gyūtan restaurants. Most locals falsely believe and actively promote that gyūtan began when Sano opted to use cow tongues and tails leftover by occupation soldiers stationed in Sendai following Japan's defeat in World war II. 
However, according to the official restaurant website, the ingredients were originally through shopping trips by steam train to neighboring Yamagata Prefecture. Gyūtan was initially popular back then as an unusual dish, but it gradually gained popularity throughout Japan, partly due to white collar workers who were transferred from Sendai spreading its reputation to other cities. When Japan's beef import limitations were abolished in 1991, gyūtan restaurants profited. After the discovery of mad cow disease in Japan in 2003, the Japanese government temporarily prohibited American beef imports. For many gyūtan restaurants, this was a crushing blow.
Gyutan Recipe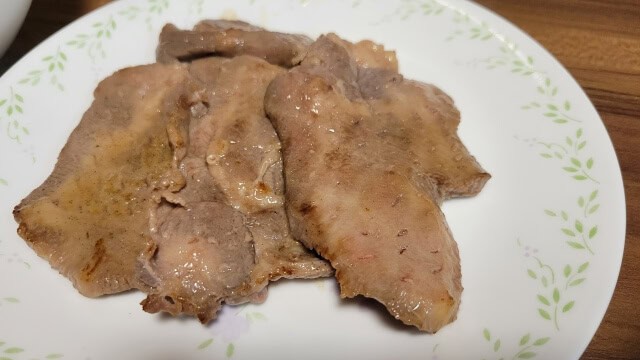 Gyutan Ingredients
| | |
| --- | --- |
| Ingredients for 2 person | |
| Beef tongue | 300g |
| salt and pepper | 3g |
| cooked rice | 100g |
How to make Gyutan
Preparing the beef tongue
Take out the beef tongue about 30 minutes before baking, beat it, cut off the fiber, and sprinkle it with salt and pepper.
Heat the frypan and put salad oil
Heat a frying pan, sprinkle a small amount of salad oil (without Teflon processing), and cook.
Turn over the meat
At this time, if you overcook it, it will become hard, so it depends on the thickness, but it is better to turn it over once in a while for 2 minutes and turn it over lastly for about 30 seconds.
Serving
Put rice in a bowl, stir-fried beef tongue, and sauce on top of it.
Don't overcook the beef tongue and don't put too much sauce on it. Take it out 30 minutes before and return it to room temperature to prevent it from becoming hard.
Health information about Gyutan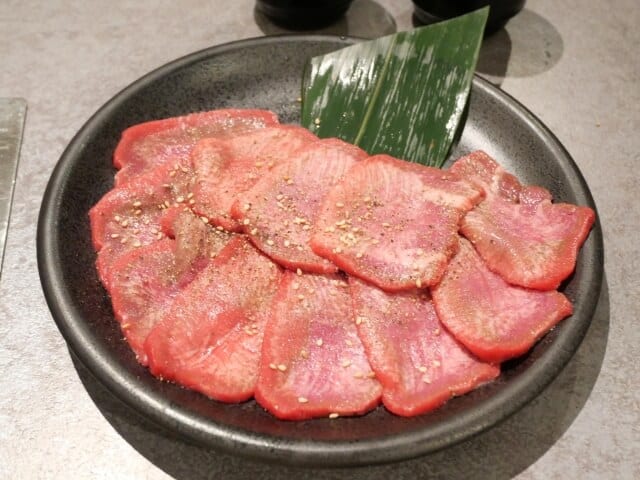 Beef tongue is a very high-fat food with almost 75% of its calories derived from fat. Although the calories are high, the calories are low compared to 100g of raw meat such as ribs and loin, which has about 500 calories. It is rich in nutrients essential for bodybuilding, such as protein, iron, vitamins A, B1, B2, B3 (niacin), and C. Therefore, locals recommend beef tongue or gyutan for growing children and dieters, as well as middle-aged and older people who want to avoid cholesterol and arteriosclerosis. 
Ways to eat Gyutan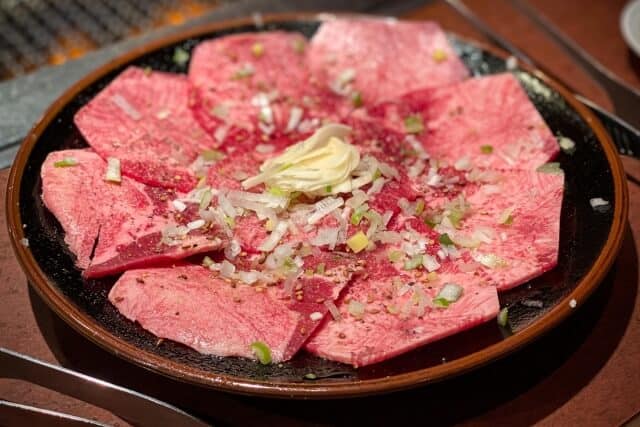 Beef tongue with salt
Slice the tongue thinly to about 1 mm to 2 mm, lightly oil it on a heated frying pan or a plate for grilling, turn it over over medium heat, turn it over quickly, and bake the other side in the same way. After that, it is best to add salt and eat.
Beef tongue sashimi
This one is often lined up with yukhoe on the menu of a yakiniku restaurant. The beef tongue has no peculiarity, so locals recommend to enjoy the raw flavor with wasabi soy sauce.
Beef tongue steak
Cut the tongue into thick slices of about 10 mm to 12 mm, bake one side sufficiently over high heat, turn it over, and bake the other side over medium heat for about 3 minutes.
Beef tongue stew
Cut the beef tongue into bite-sized pieces, season them, and then heat them in a frying pan. Season with sauce, ketchup, and chicken broth, and simmer on low heat for about 5 or 6 minutes to soften the beef tongue.
Different parts of Gyutan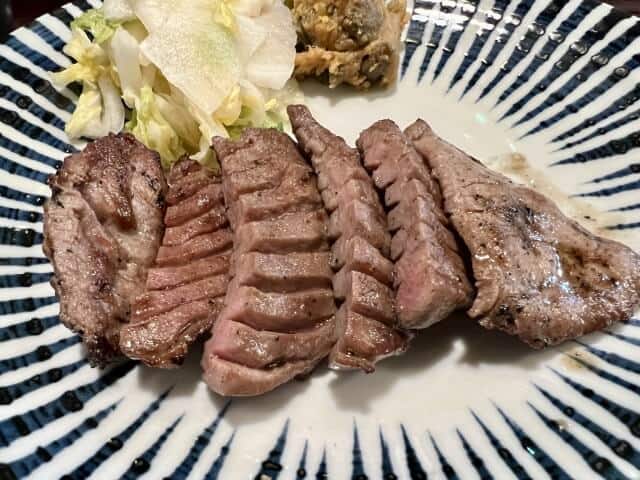 Roughly speaking, the part that is closer to the base of the tongue and does not move much is softer and greasy, and is delicious and luxurious.
Tan yuan (tan core / core tongue / tankarubi, both)
They call this special tongue or core tongue.
In the tongue
This is the upper tongue and is closer to the tongue.
Tongue tip
The normal tongue that is closer to the tongue tip.
Under the tongue
It is not generally offered at yakiniku restaurants because it is stiff at the part that hits the underside of the tongue.
Where to eat Gyutan?
Tanya Zenjiro (たんや善治郎 仙台駅前本店)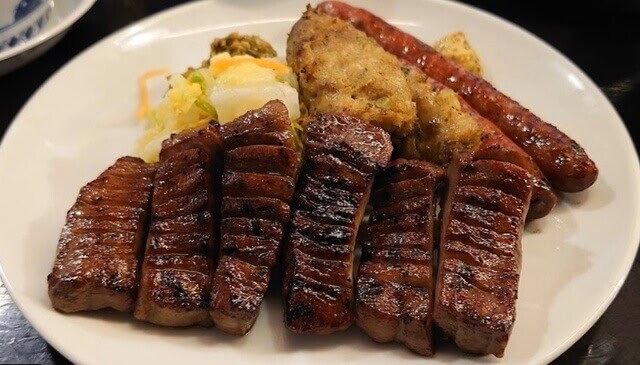 "Tanya Zenjiro Sendai Ekimae Main Store" is a Japanese-style building with a nostalgic feeling of hanging lanterns. In order to have the beef tongue taste delicious, they are particular about cutting the tongue, sprinkling it with salt, pickling it, and aging it all by hand. The restaurant's popular standard menu is the beef tongue set meal, which has an easy-to-cut texture and moderately salty meat that is truly exquisite. 
Kuroge Wagyu Beef One Cut Dateya (黒毛和牛一頭切り 伊達哉)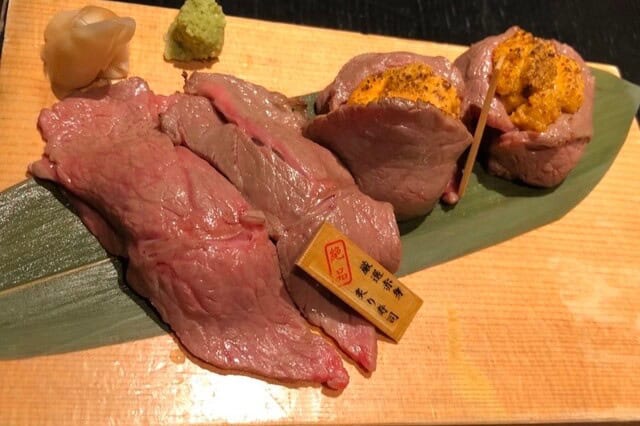 A popular restaurant where you can enjoy the rare parts of Sendai beef, is "Kuroge Wagyu Beef One Cut Dateya". You can enjoy various parts of Sendai beef's original brand "Date no Kuro". The shop's specialty is the recommended beef tongue, and the limited quantity of "Hanasaki Toro Beef Tongue", which they made by cutting the marbled tongue to a very thick thickness.
Aji no Ushitan Kisuke (味の牛たん喜助)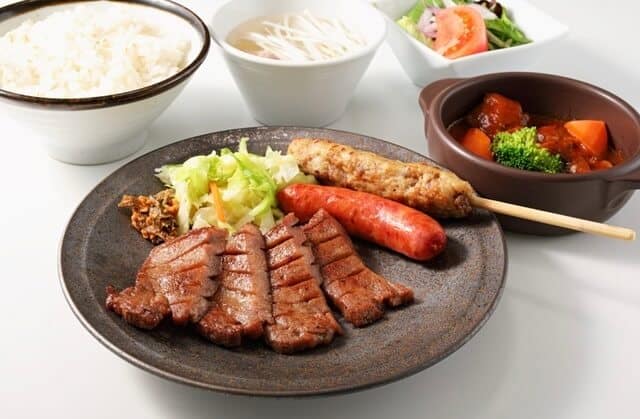 Founded in 1975, "Aji no Ushitan Kisuke" is a long-established store that is one of the sashimi that spread beef tongue all over the country. Beef tongue carefully selected by professionals is processed and aged at our factory to bring out the original taste of beef tongue. The popular menu "Special Cut Thick Grilled Set Meal" uses beef tongue cut into thick slices of about 1 cm. The crispy texture and juicy taste are exquisite.
Steak House Iseya (すてーきはうす伊勢屋)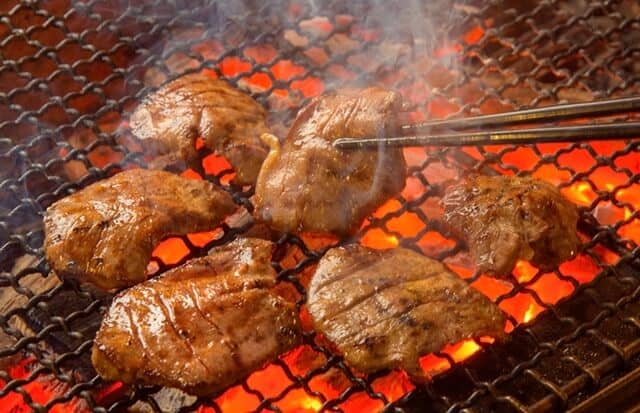 Founded in 1968, "Steak House Iseya" is a restaurant where carefully selected beef tongues. If you want to eat all the beef tongue, why not try their "Beef tongue sushi set", which is a set of beef tongue grilled with salt, beef tongue croquette, and beef tongue stew. In addition, beef tongue grilled with special domestic beef, which has a small distribution volume, is limited to 20 meals daily. 
Takeaway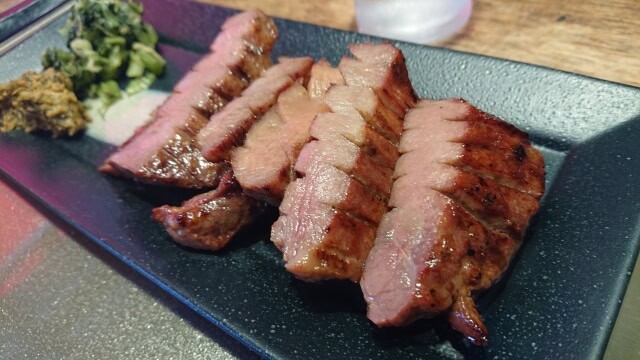 While the Japanese beef tongue, or "gyutan," is not a traditional ingredient in Japanese cuisine, it has gained well-deserved popularity as a meibutsu, or famous local product, in the Sendai region of Tohoku. If the notion of having gyutan during your trip to Japan makes your taste buds tingle, gyutan is indeed a Japanese ingredient that's both rich in flavor and history.